How to Add Instant Character to Any Niche in Your Home!
Today I am really excited to share how we used Weaber Lumber white wash weathered boards to add instant character to our home! We added these awesome boards to two different places in our home.

Weaber Lumber Brand Rep
As most of you know we live in a builder grade track home in Colorado. It is a wonderful home and the hubs and I have been adding our own touches of character for the past 10 years. So when the opportunity presented itself for me to become a Weaber Lumber Brand Rep over on Instagram, I jumped on it!
I was lucky enough to have them pick me and send 10 boxes of their White Wash Weathered hardwood boards. This gave me enough to complete two awesome projects in our home!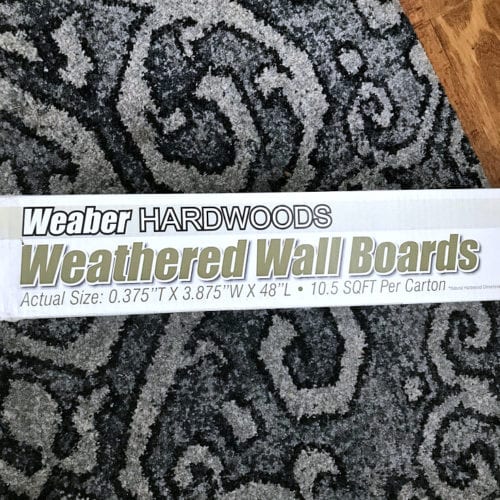 Project 1
The first project was the wall above our tub in our master bathroom. Each box comes with 8 pieces of wood and covers 10.5 square feet.  We used three boxes and I was able to pick and choose the pieces of wood that I liked. Some pieces have more color or variation than others.  This wall was rather easy since it was perfectly square with no unusual cuts needed.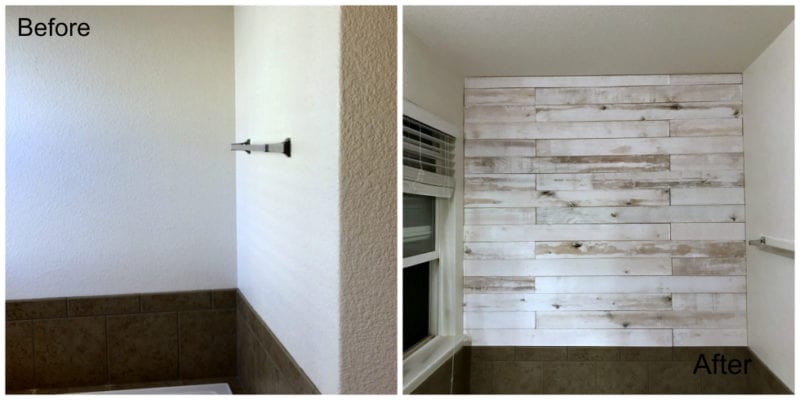 You can click HERE for a direct link to Weaber's website for a step by step of how to install these boards along with a video. Make sure you scroll to the bottom of the page. You can click HERE to purchase the boards or they can be found at Home Depot.

This project took just over an hour to fully complete. Once the wood was cut I was all about using the nail gun and it felt great to complete this project! We were surprised with how amazing it looked when it was finished!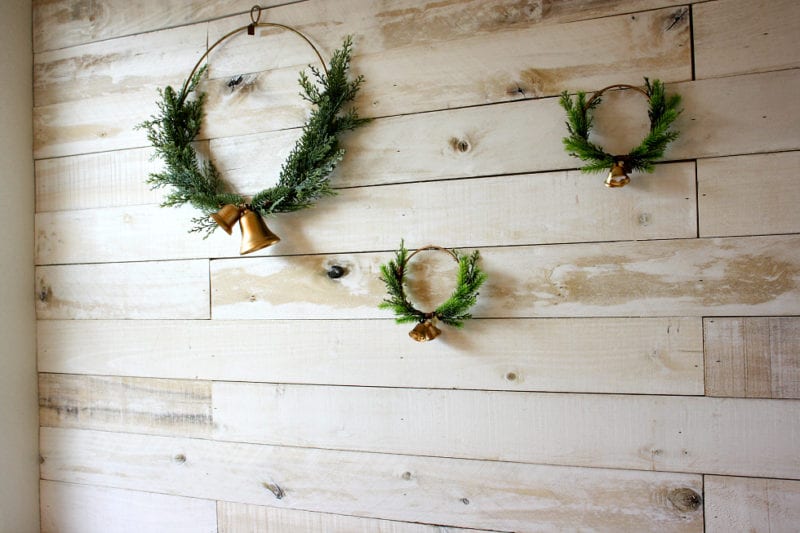 For now I have hung these wreaths for added texture and color but I am thinking of possibly adding open shelving.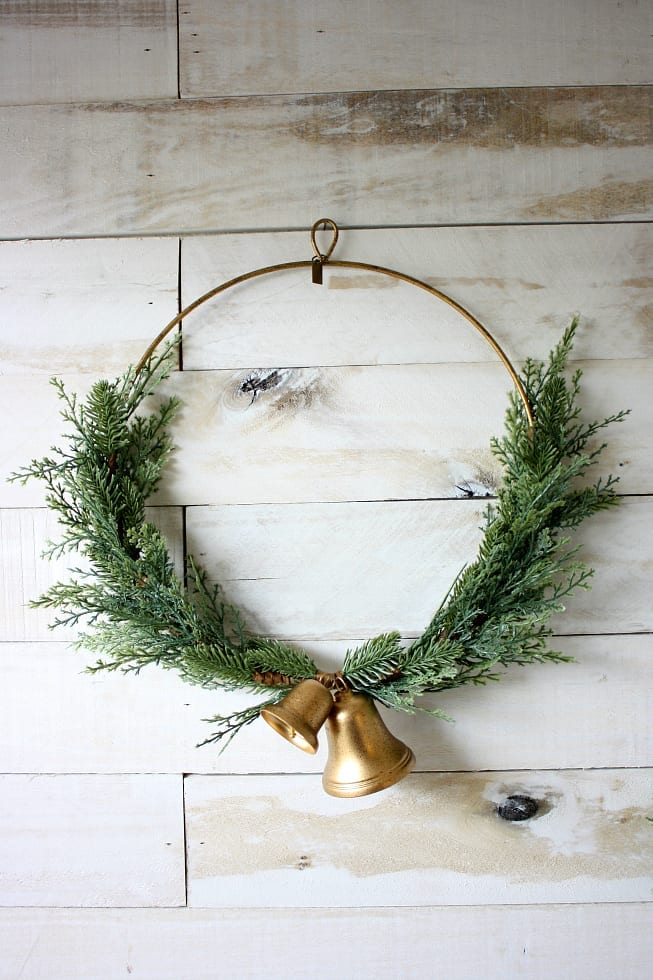 Project 2
We have several niches in our home and the largest is the one above our TV and fireplace. They have always driven me crazy because I am more of a straight lines kinda gal and not into the curved edges.  Plus they are rather boring. I had originally thought of painting the niche.  See below for the before pictures.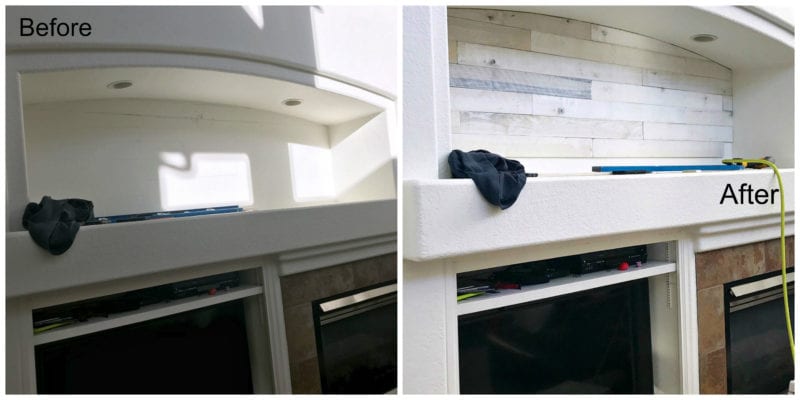 We knew we needed an easy way to add character. After loving how the wall boards turned out in our bathroom, I just knew they would be amazing in the niche above our fireplace. However, my DIY skills are a work in progress! Ha ha! I had no clue how to make rounded cuts! Previously I had mentioned the idea of putting the boards in our niche to some of my friends but that there was the issue of me not being able to make these rounded cuts.  I was lucky enough to have my neighbors offer some help since they are in the middle of finishing their basement. They were kind enough to send over the contractors who were waiting for the drywall mud to dry one afternoon. These guys knocked out this niche in no time! They even caulked the edges for the perfect finishing touch. Now it makes me want to re-tile our fireplace!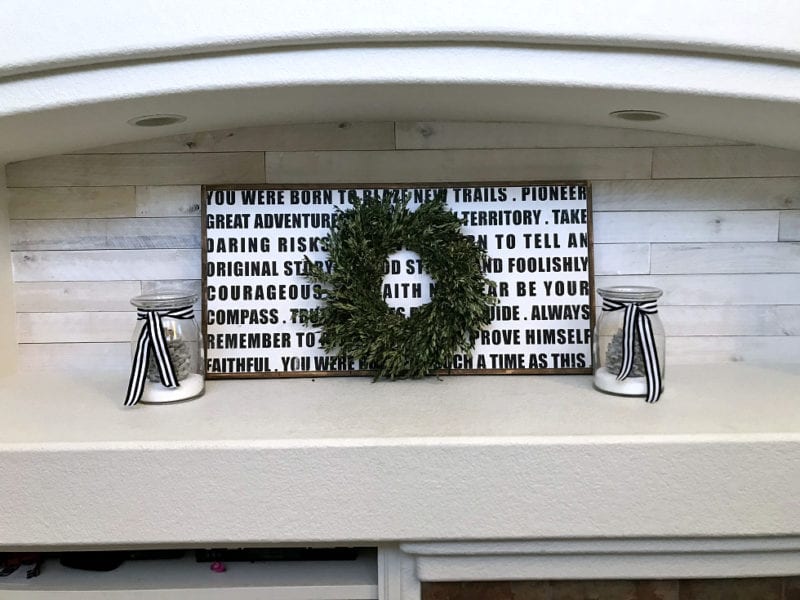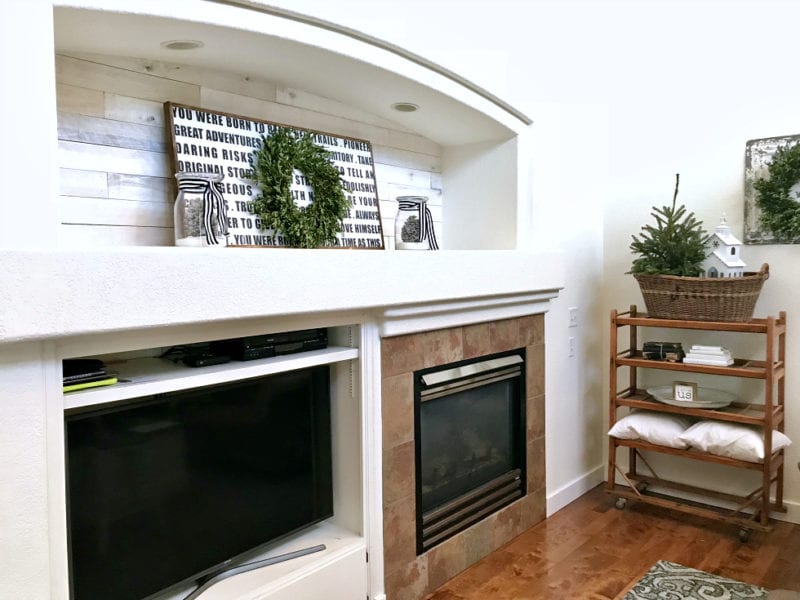 Instant Character
So what do you think? I am personally in love! Do you have any spaces in your home where these wall boards would work? Do they fit your style? I was worried they might be too rustic for us but after seeing them installed I've loved the coastal vibe they give off in both spaces. Now I am contemplating adding them to an entire wall of our house but that might have to wait.
Thanks for stopping by today and make sure to visit Weaber Lumber's website by clicking HERE. If you are interested in purchasing some for your house, you can click HERE.
See you soon!
xoxo,
Kelly
Pin this Image for Later