10 Beautiful Christmas Decorating Ideas On A Budget
I don't know about you but I LOVE decorating for Christmas! However, I don't like the price tag that can sometimes come with it. Today I am here to share 10 beautiful Christmas decorating ideas on a budget that won't break the bank.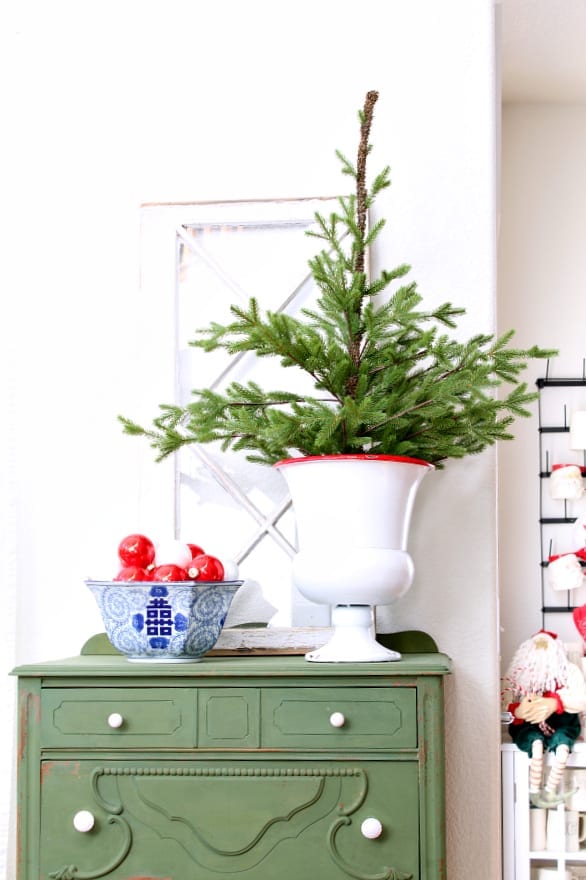 Bonus: I am also sharing a gift card giveaway that some of my friends and I have teamed up to give away!
A $125 Amazon Gift Card Giveaway
Each month I get together with the Thrifty Style Team hosted by Julie over at Redhead Can Decorate and we share DIY projects and decor inspiration that won't break the bank! Well this month we wanted to make our posts extra special and bless one of our followers with a $125 Amazon gift card!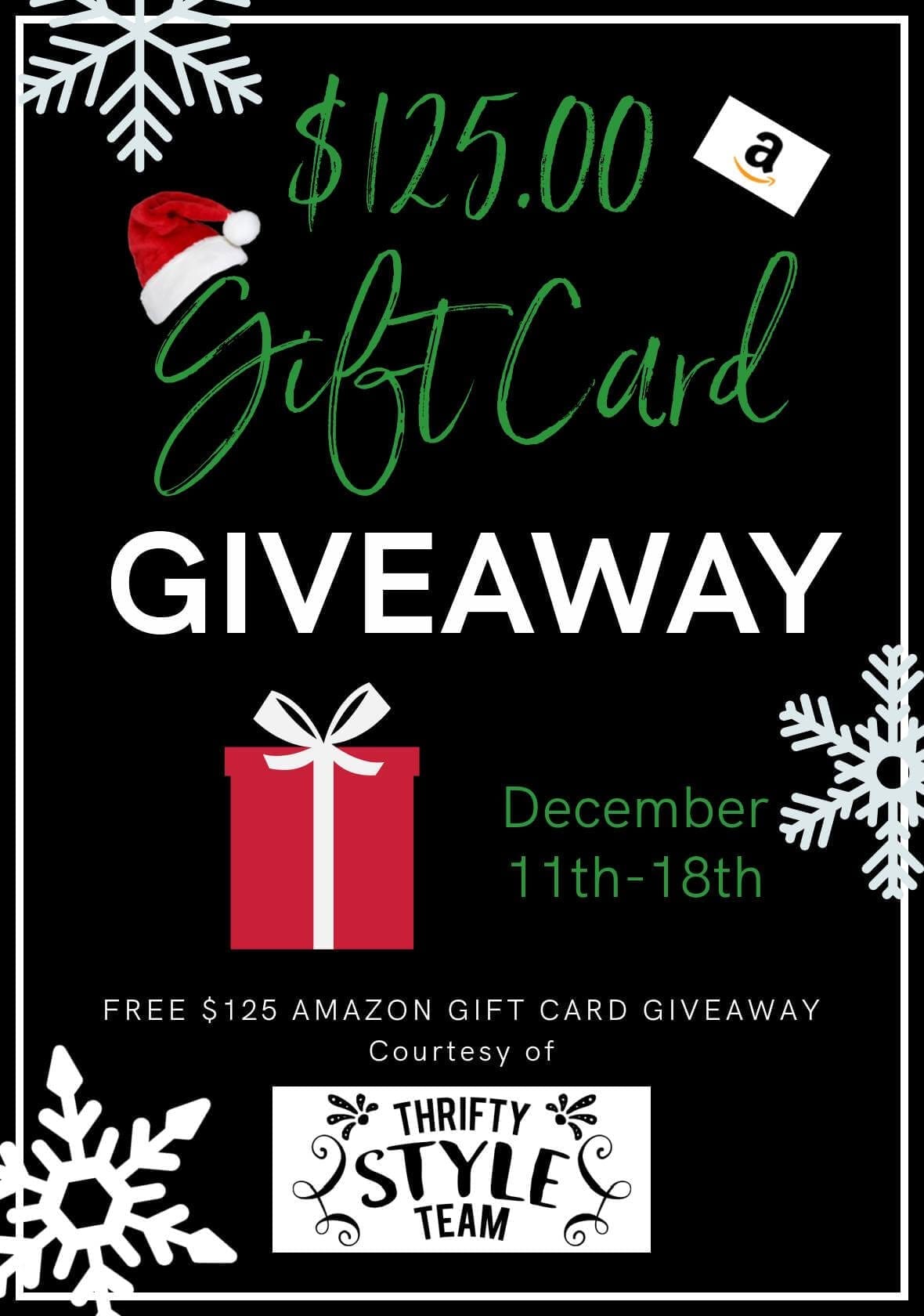 The rules for winning this giveaway are simple : You must be a subscriber to my blog and leave a comment below with your favorite budget friendly decorating idea for Christmas on this post.  The giveaway will run for 1 week beginning Friday Dec. 11th at 8am EST and closing at noon on Friday Dec.18th EST. This giveaway is open to residents of the US and Canada. The winner will be notified via email. Let me know if you have any questions!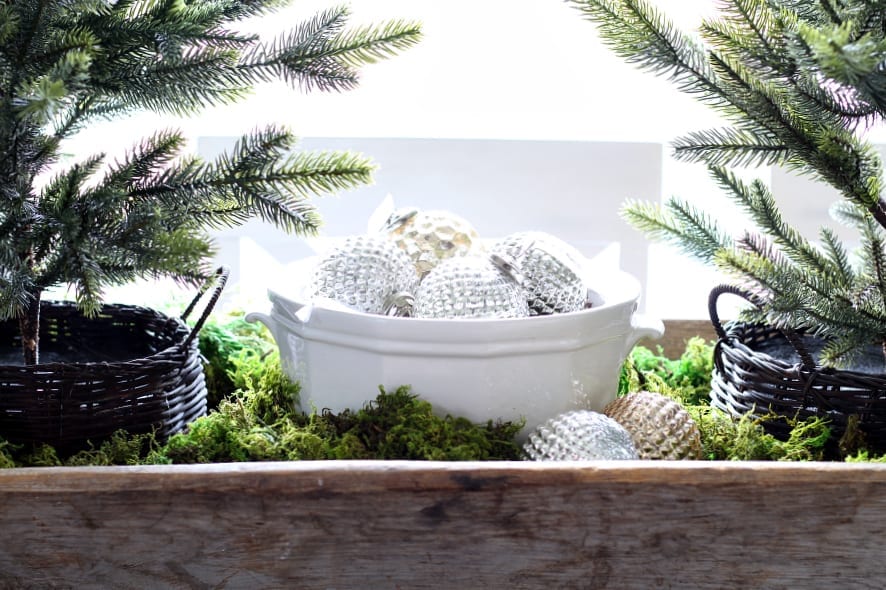 10 Beautiful Christmas Decorating Ideas On A Budget
It's no secret that decorating for Christmas is what I look forward to all year long. Today I am sharing my secrets about how I achieve beautiful Christmas decor on a reasonable budget. They are in no particular order and I am sure I have way more than 10 but these were the big ideas I find myself using year after year.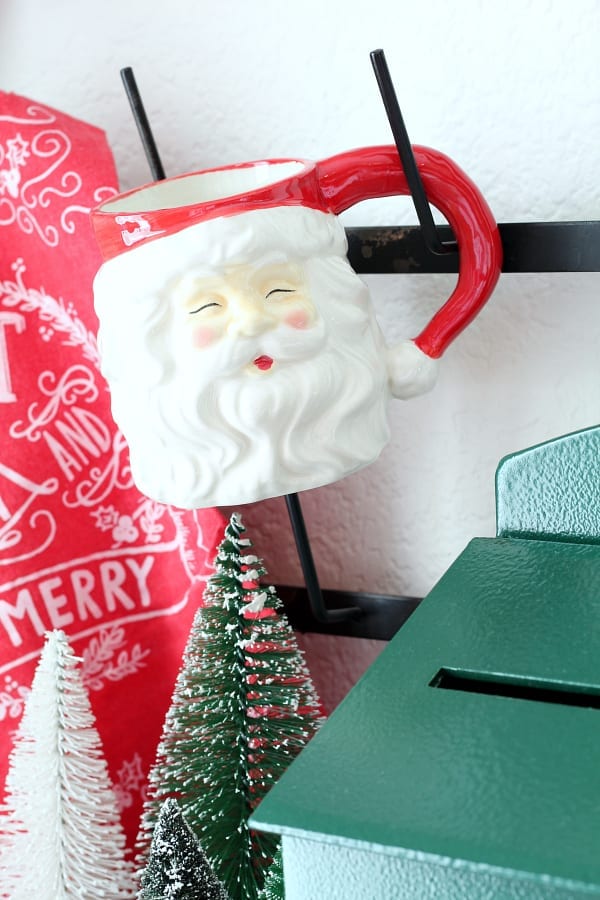 1. Buy Decor Off of FB Marketplace or At Flea Markets
My two favorite places to shop for budget friendly Christmas decorations are FB Marketplace and flea markets. The large candle holder you see below I scored off of FB Marketplace for $20. It is originally from Pottery Barn and looks great as a centerpiece!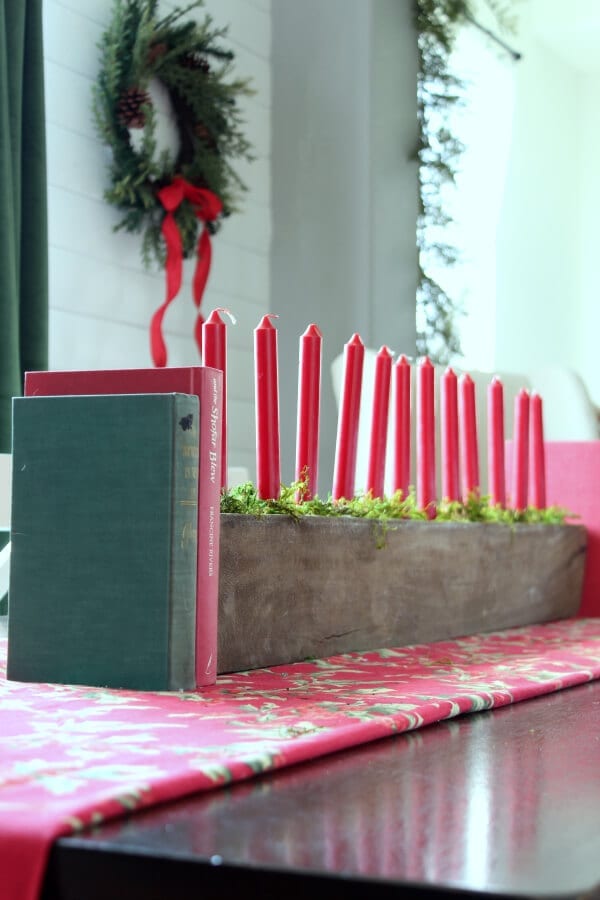 Sometimes you have to be willing to dig and scour the flea markets for items to use in your home around the holidays. My go to's at flea markets for Christmas are nativity sets, vintage ornaments, plaid blankets and old Santa mugs. Actually there are a million other things but those were my favorites this year.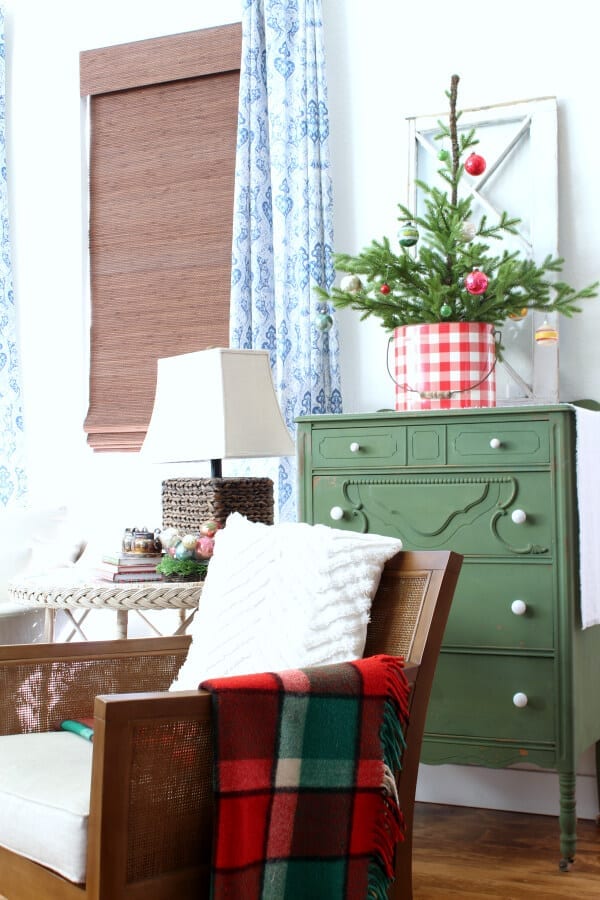 And don't forget, you can also sell your items you no longer want on FB Marketplace or at a garage sale to help you stay on budget!
2. Get Creative With Your Wrapping
One inexpensive way to add some color and charm to your Christmas decor is to change up your wrapping paper yearly. I love to hit up after Christmas sales for wrapping paper and I also find some of the best and most affordable wrapping paper at Home Goods and TJ Maxx.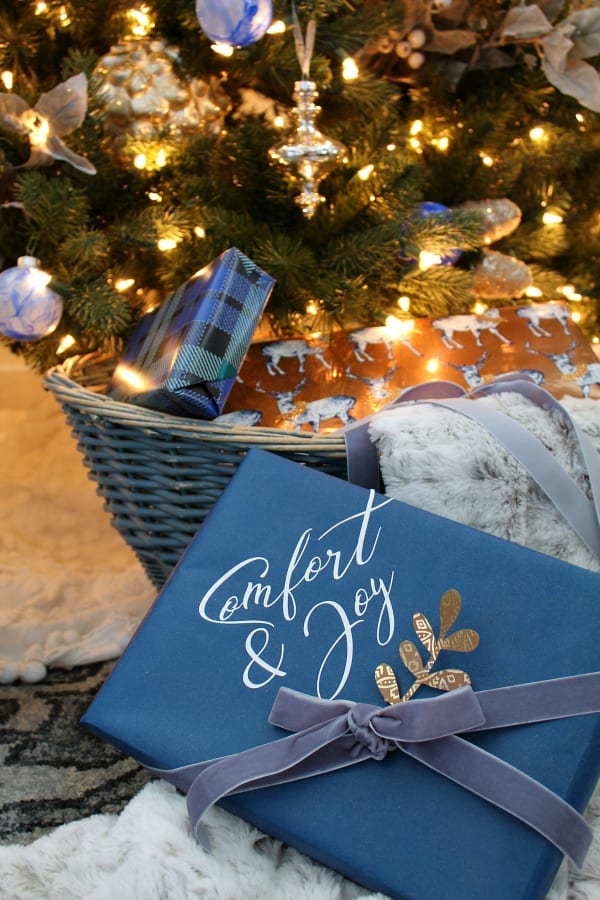 You can even get creative with vinyl words, gift tags and ribbon! On the gift below I added a mini brass horn for some extra charm.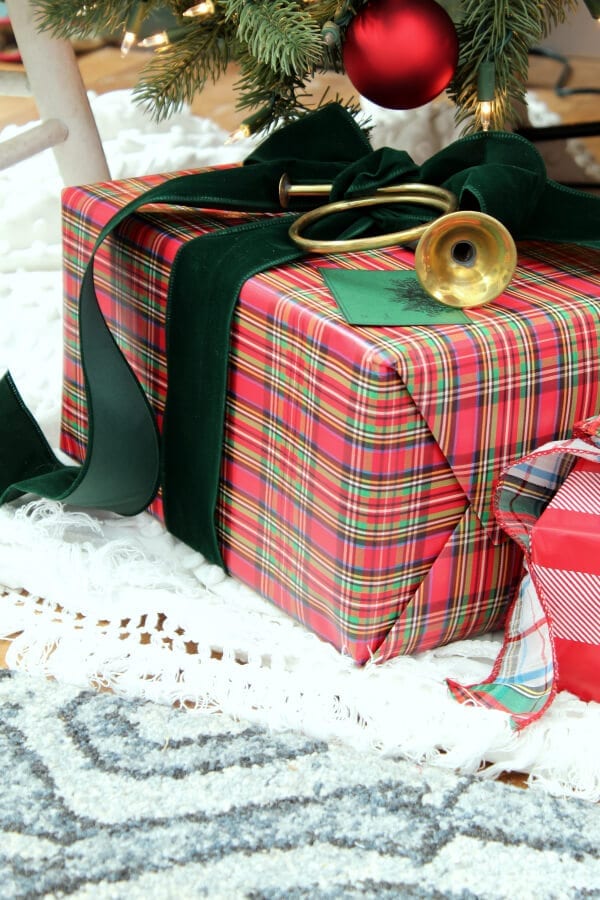 These simple and pretty Christmas wrapping ideas are easy to do especially if you have your Christmas shopping done early!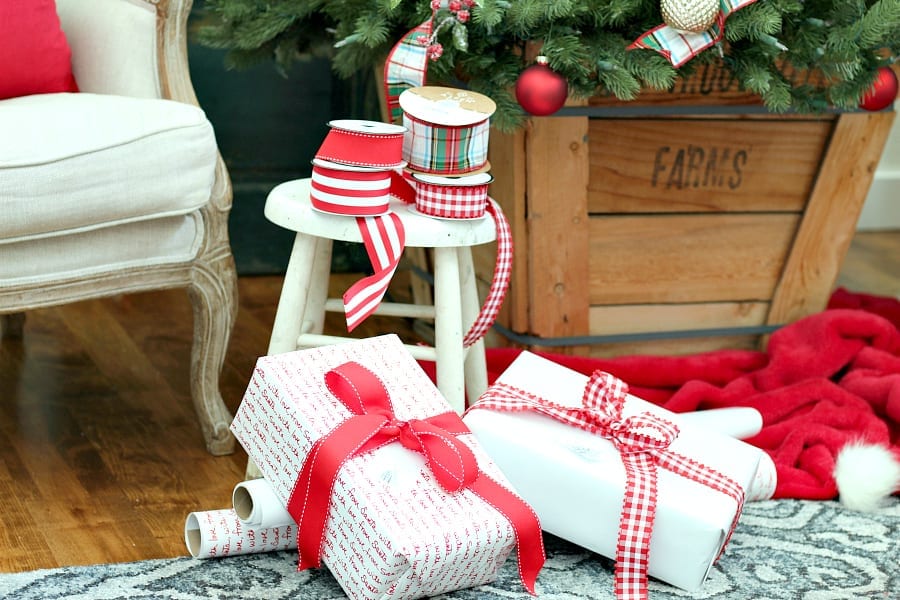 3. Make Your Own Ornaments
Making your own Christmas ornaments is a great way to save money. I made these blue ones using nail polish the year I decided to go from reds to blues. It was an inexpensive way to add a new color with out breaking the bank!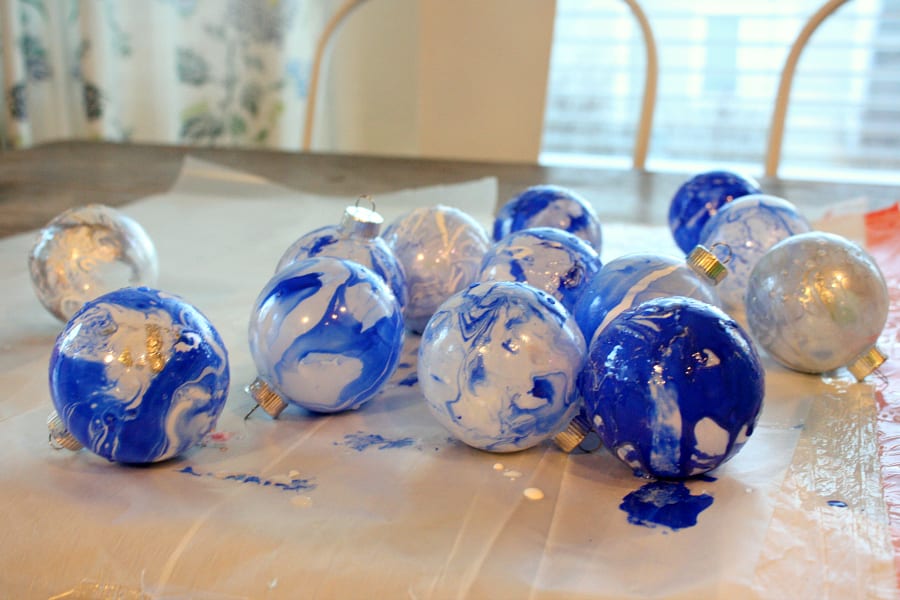 I was even able to get the kids involved which made it even more fun! If I decide to start decorating with pinks next year I will just make my own  ornaments again…I bet my girls would love pink. My husband and boys, not so much! Ha!

4. Buy Faux Garland and Real Garland
I always love using garland at Christmas whether it be real or faux! My secret trick to buying faux garland is to buy it either after Christmas when it is marked down or to buy it in the off season when there are big sales. The garland above our pew was from a local shop here in Northern Colorado and normally it was over $100! I snagged it at their after Christmas sale for almost 70 % off. I love a good deal.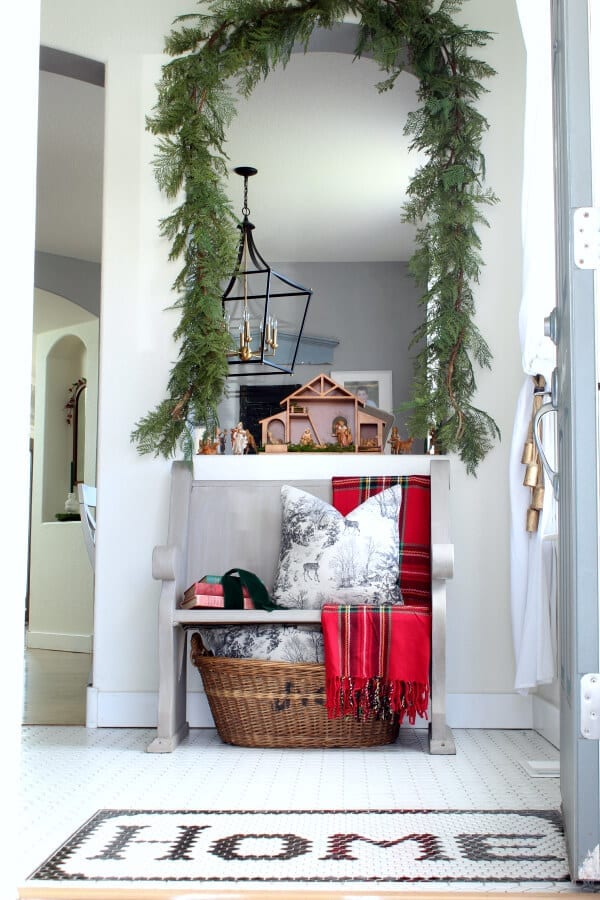 As for my live garland that I like to use on our porch…I buy mine at either Home Depot, Trader Joes or Costco. All of these places sell live gorgeous  25ft garland for under $20. So affordable! Also, places like Home Depot will let you take their tree clippings for free if you just ask!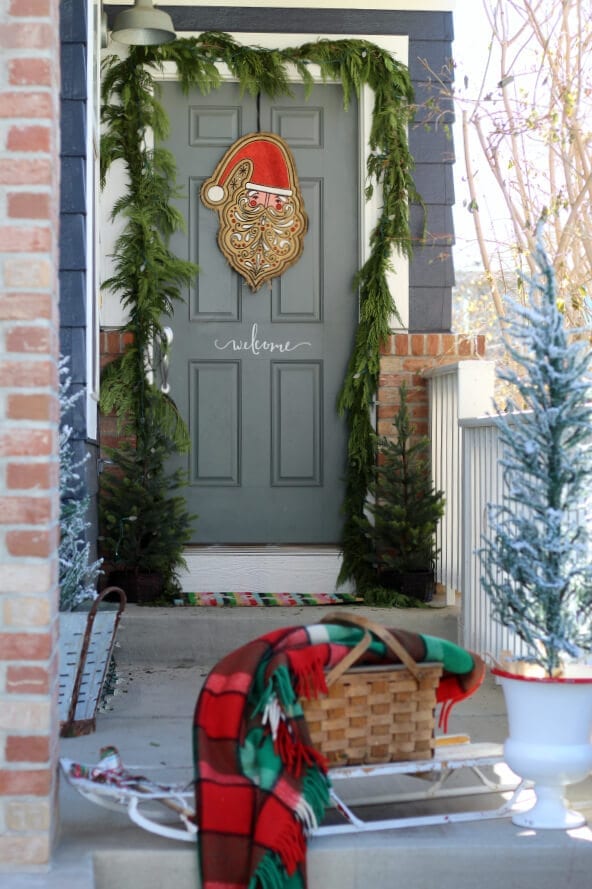 5. Use A Non-Traditional Tree Skirt or Collar
When decorating for Christmas I like to think outside of the box. I am constantly looking for basket, boxes, crates or anything that a tree can fit in. This year I found this gorgeous square shaped vintage basket that my tree fit in perfectly. It was less than $30 and so stinking cute. I placed an old chenille bedspread in there to soften it up. Sometimes I even like to use tablecloths. Everything is fair game when it comes to decorating my Christmas trees.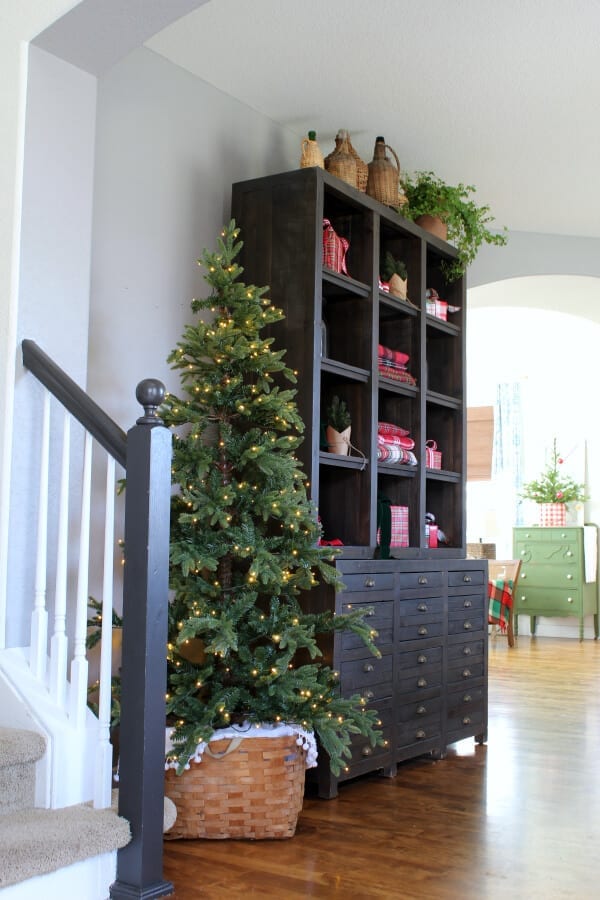 For several years I have placed our huge 9ft tree in this old tree crate. I loved how unusual it was! You can see the full tree HERE.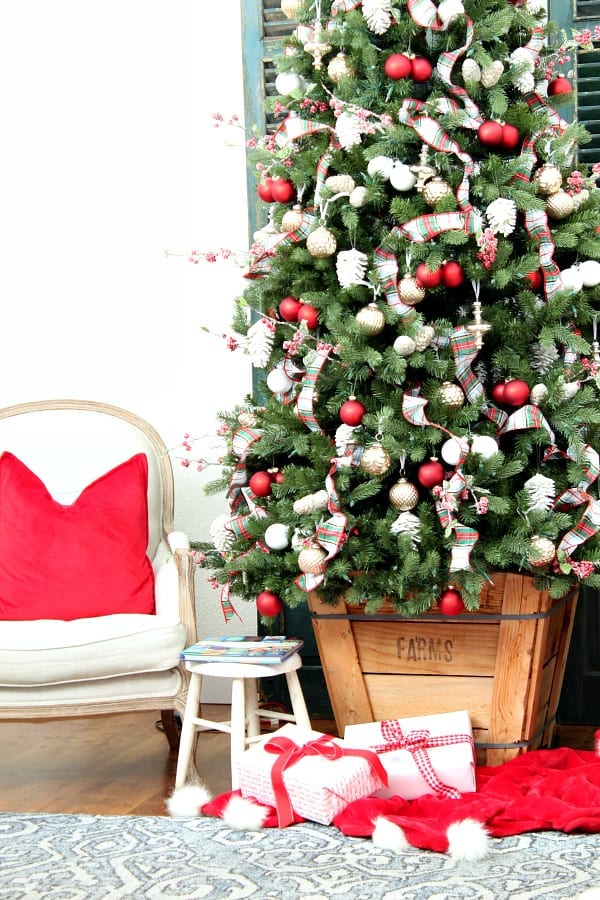 6. Use Books and More Books
Books are my go to when it comes to decorating all throughout the year. I have even made a book garland before! But at Christmas I think decorating with books is a budget friendly way to pop color. I love to look for red and green books at the flea markets all year long and save them for Christmas. To spice them up a bit I also like to wrap them in ribbon like the books you see below.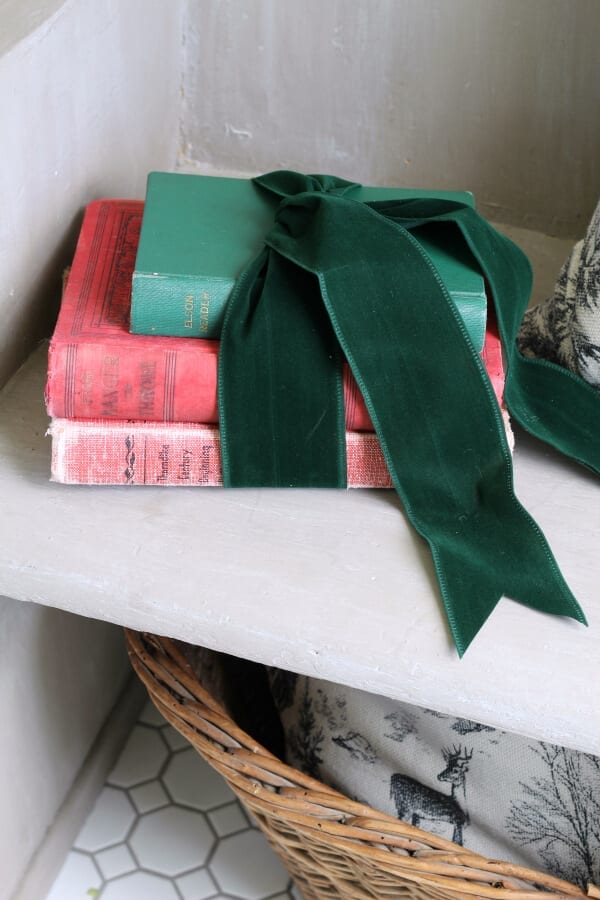 And sometimes I even like to wrap them up in wrapping paper! So easy and so budget friendly and beautiful!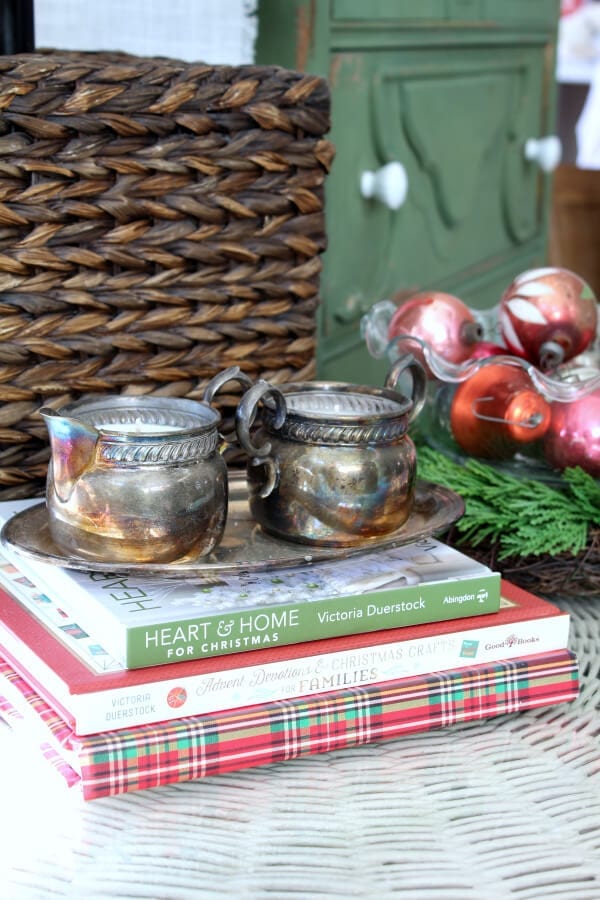 7. Make Your Own Wreaths
Who doesn't love a good DIY at Christmas? One of my favorite things to make are wreaths. This large outdoor Christmas wreath was simple and fun and I already had almost all of the supplies. It literally cost me under $30 to make.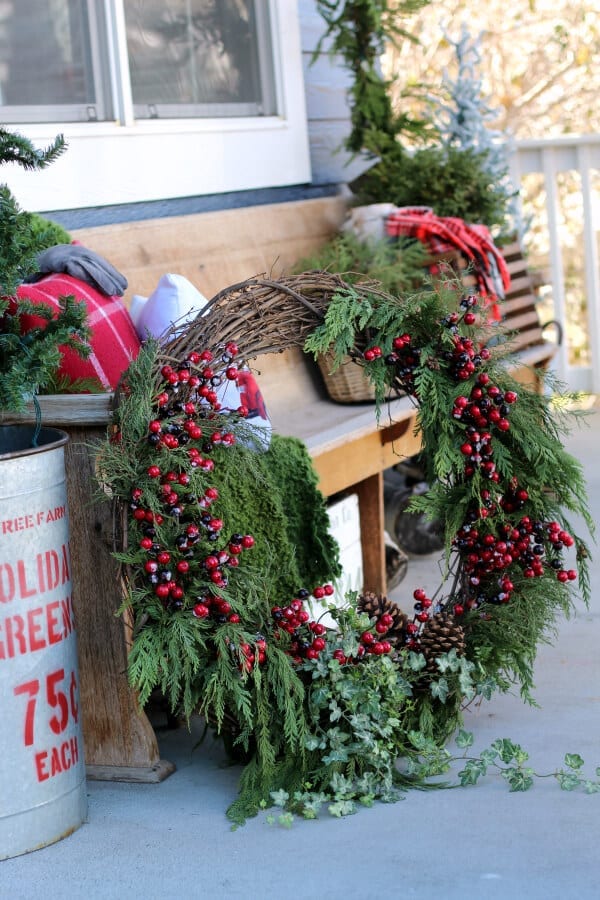 I also had fun making this DIY moss and glitter wreath with items from the Target dollar bins!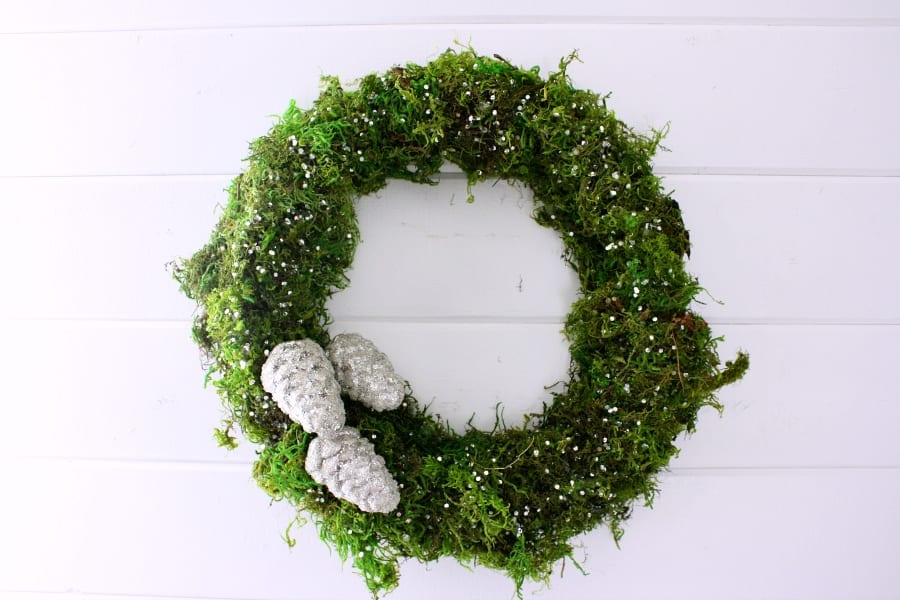 8. Change Up Your Ribbon
Each year I like to mix things up just a little bit when it comes to my Christmas decor. The first place I start is always my ribbon. My trick for good ribbon is to search for it not in the Christmas section but rather in the normal ribbon section of places like Hobby Lobby or Michaels. Also I have found some of my all time favorite ribbon at Home Goods, like the plaid ribbon you see below!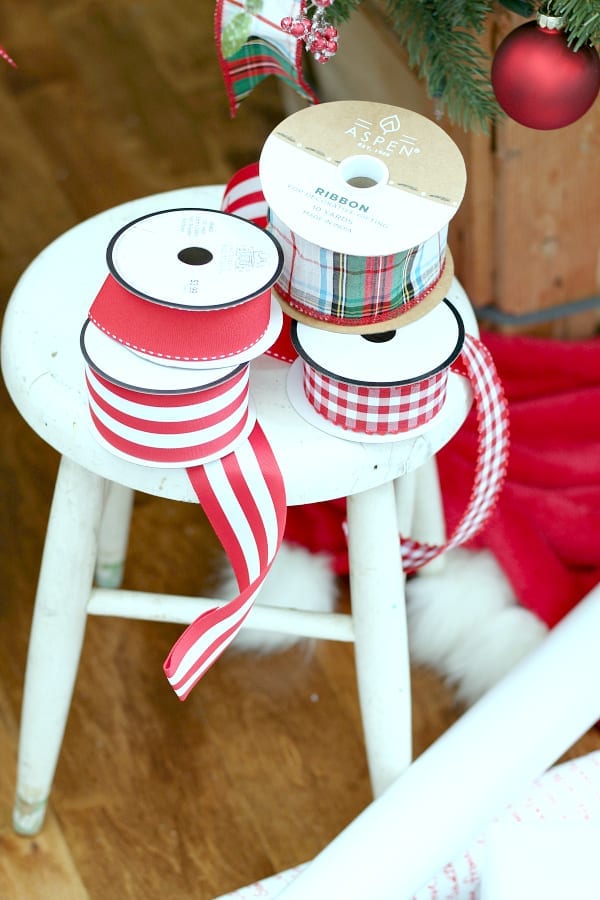 Mixing and matching ribbons and wrapping paper has quickly become a favorite way to spice up my decor on a budget. In our Christmas home tour I wrapped and placed fake presents in our printers cabinet with different ribbon for some budget friendly decorations. Cute, right?! My kids like to ask each year if they are real presents or my fake ones! They have learned my tricks!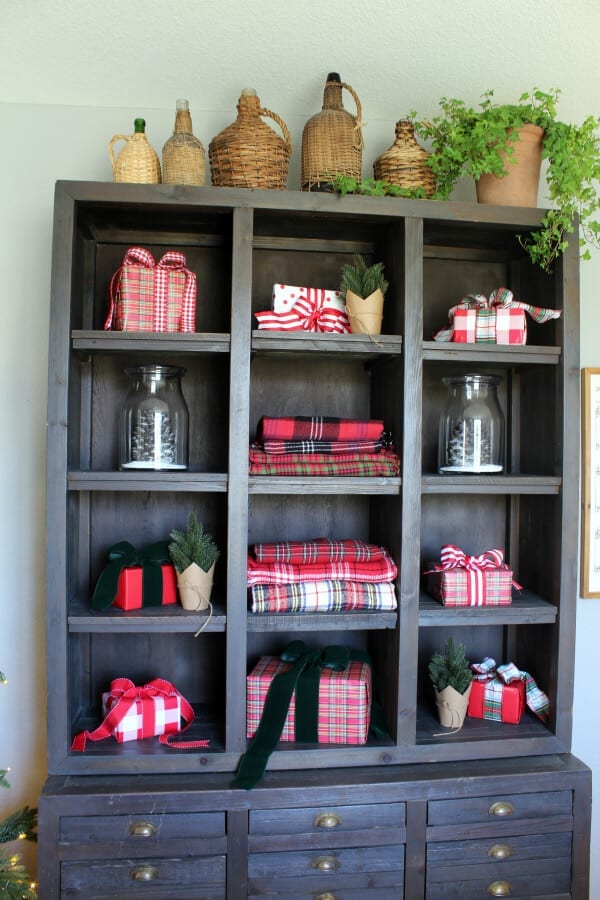 9. Display those Vintage Ornaments and Family Heirlooms
Vintage ornaments and family ornaments are absolutely beautiful and special especially when displayed for the holidays. I love adding them to bowls, trees or centerpieces to make them a focal point! The Shiny Brites on the tree below were my husband's granny's ornaments and we treasure them.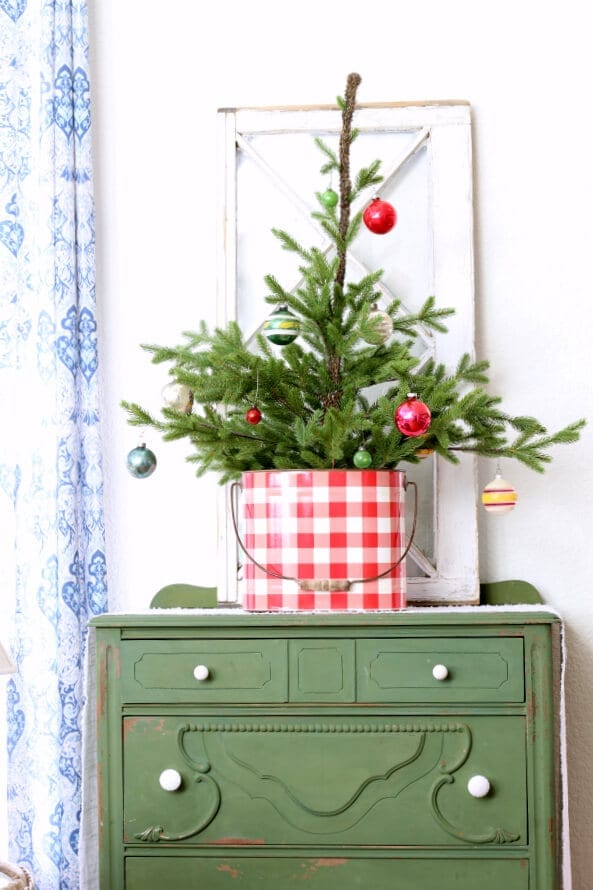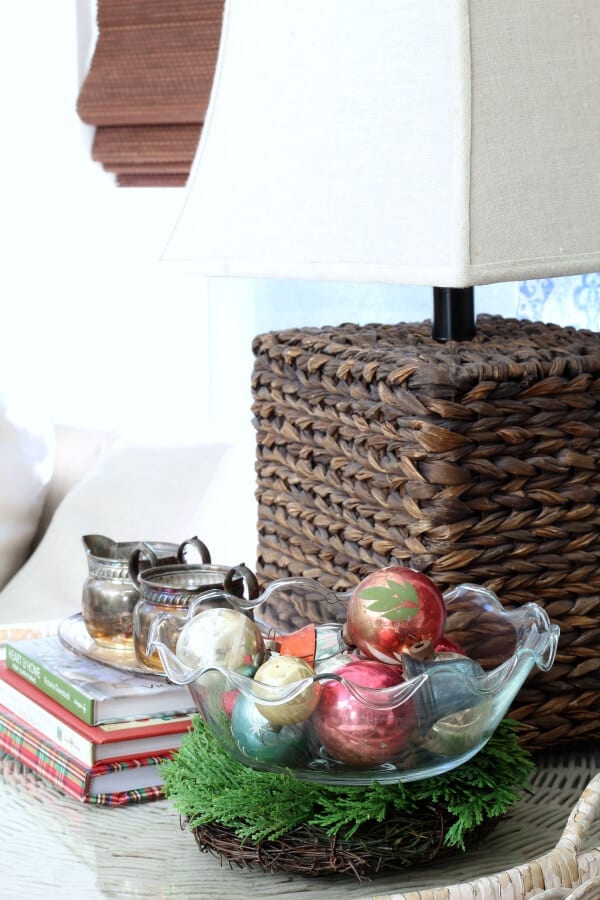 The large jar of all silver ornaments on my counter I found at a local flea market for less than $20 for the entire jar! I didn't have to do anything with them except place them in a wreath on my counter and BOOM…instant centerpiece! They steal the show on their own.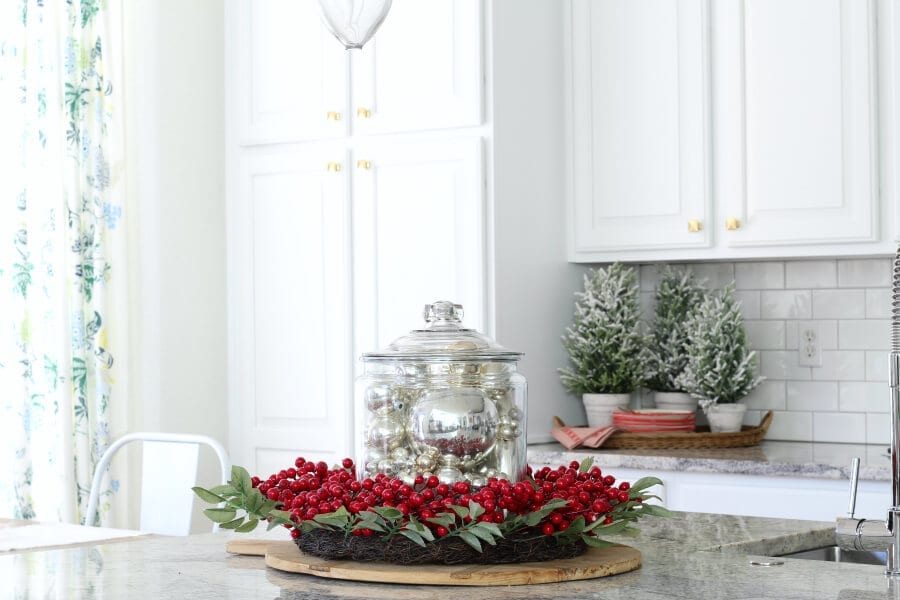 10. Use Free Printables
For me I love to search Pinterest and other blogs for fun and FREE printables. This year I created a Free Holiday Printables Bundle for everyone who subscribes to my blog. You can check those out here!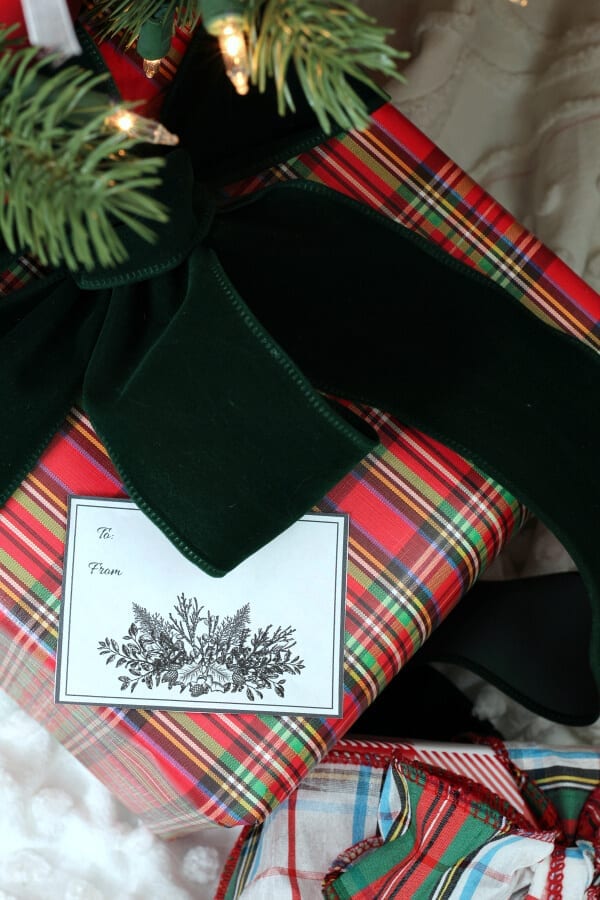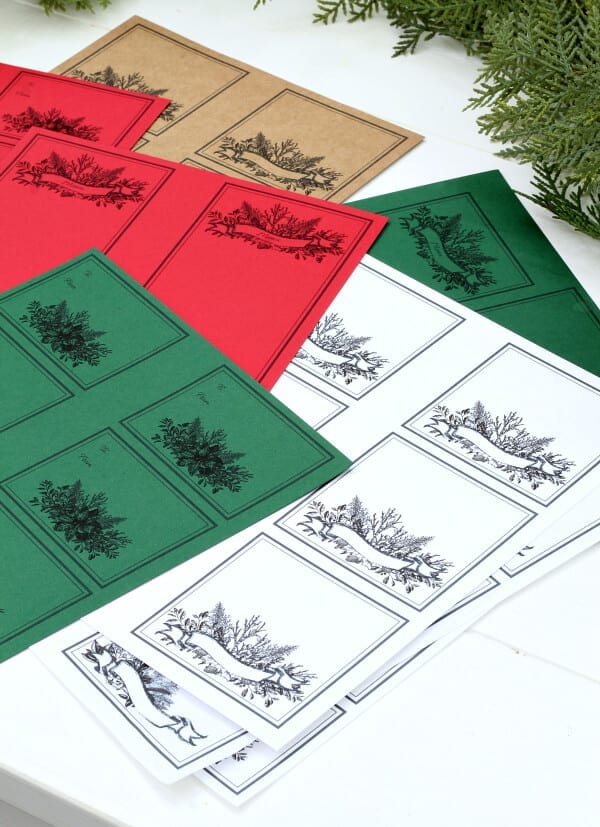 10 Beautiful Christmas Decorating Ideas On A Budget
Hopefully I gave you a few good ideas for Christmas decorating on a budget. My hope is that you found that it is possible to have a beautifully decorated home for Christmas even if you are on a budget! GIVEAWAY CLODED Remember to leave me a comment below with your favorite budget friendly Christmas decorating tip and subscribe to my blog for a chance to enter to win the $125 Amazon gift card. I appreciate you stopping by by today and I want to wish you and your family a very Merry Christmas!
XOXO,
Kelly
Did you like this post? PIN it for later!