A Colorful Little Girls Christmas Bedroom
Hey friends have you started decorating for Christmas yet? I know for some it may be a bit early… but if you know me, you know that I am a total Christmas gal and I have already started! Our girls colorful Christmas bedroom has me so excited!
I am over the moon excited to share my girls' Colorful Christmas bedroom all decked out for our favorite holiday and hopefully you will be able to find a bit of inspiration before you start decorating.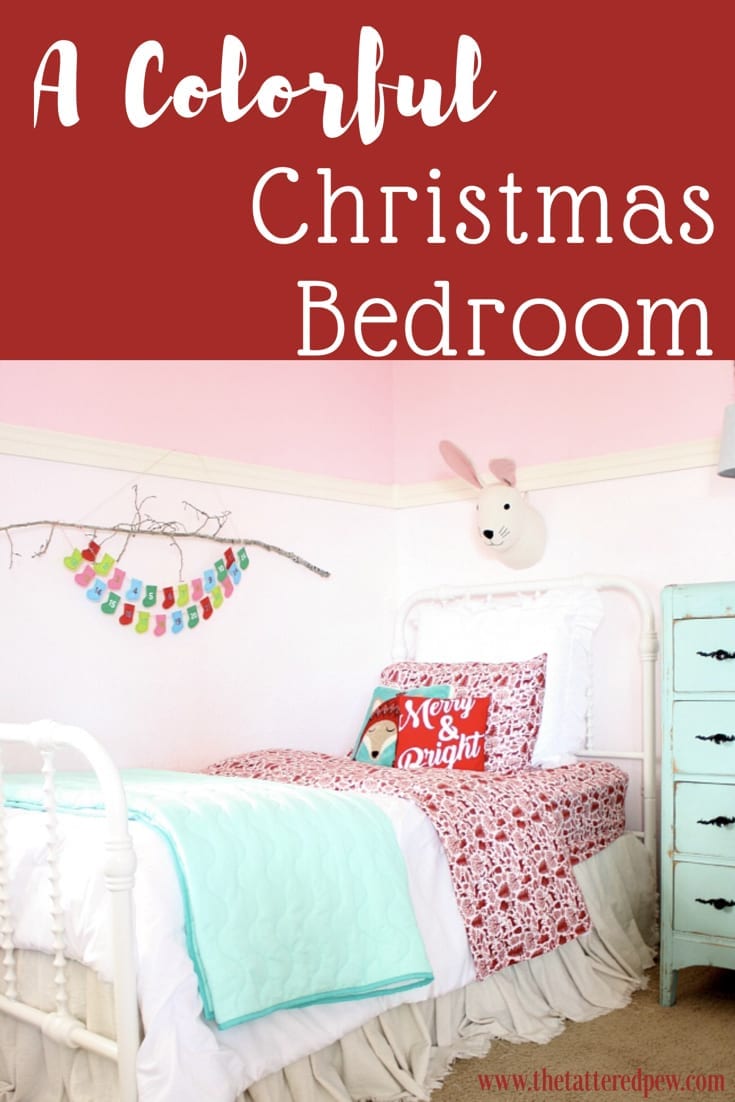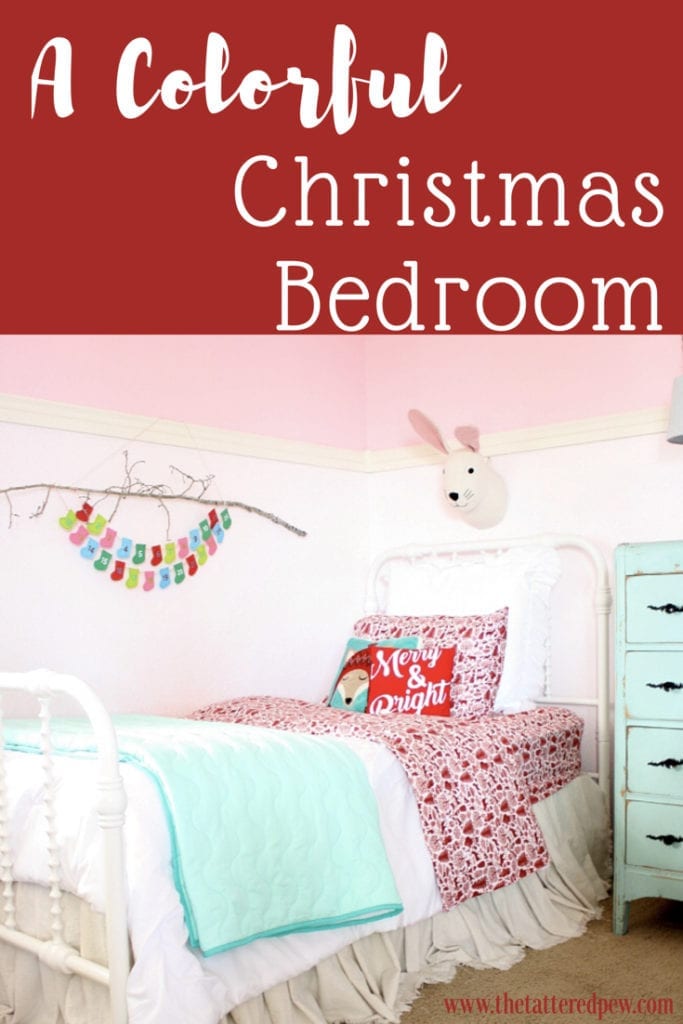 (This post may contain affiliate links. If you purchase a product through an affiliate link, your costs will be the same but The Tattered Pew will receive a small commission. This helps cover some of the costs for this site. I appreciate your support!)
The last time you saw their room I had just given it a makeover! For those of you new to my blog or just needing a refresh you can click HERE to see the before. It is probably my all time favorite makeover that I have ever done and one of my most favorite rooms in our house !
Today I have once again teamed up with 12 fabulous bloggers for Deck The Blogs… a Christmas Home Tour! You can take a peek at their incredible homes by clicking the links at the bottom of this post. I can guarantee some major Christmas inspiration will be found!
The Girls' Colorful Christmas Bedroom
If you know me you know I love color and this Christmas bedroom is ALL about the color and whimsy! Just like me my 8 year old and 5 year old daughters LOVE Christmas too! So when I suggested we decorate their room AND get their very own tree for their room, they were all about it!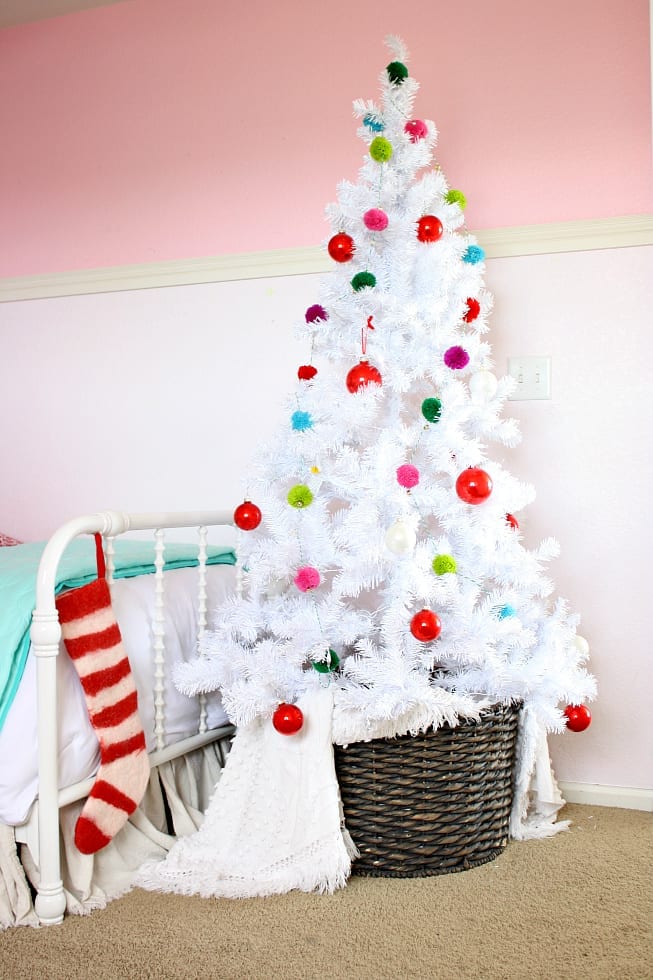 They fell in love with this all white tree from Walmart and I fell in love with its price! This 6.5 ft tree was only $39! We had fun decorating it with these darling colorful poms from the Target dollar bins and red and white ornaments that I already had.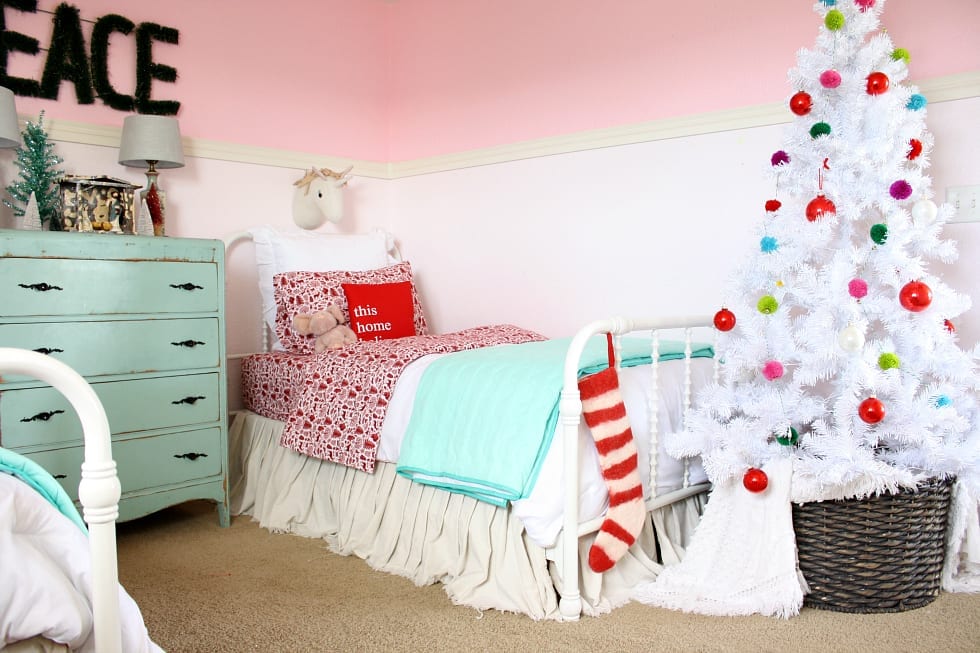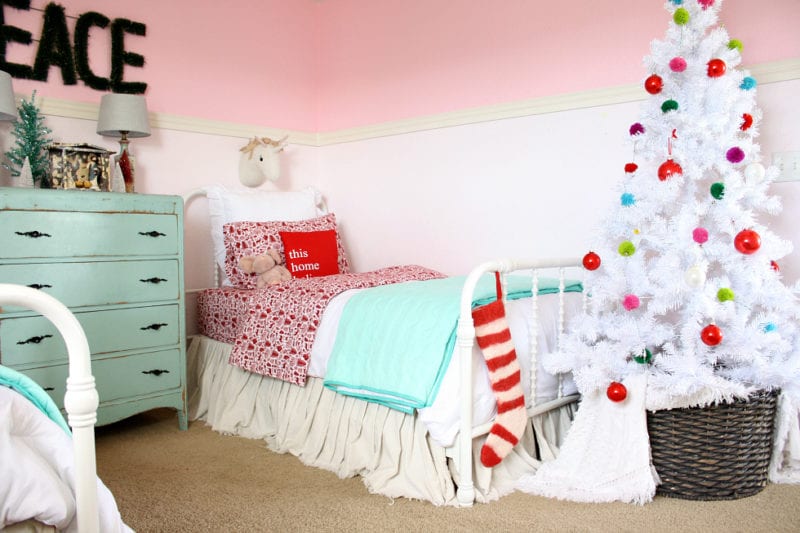 I thought this stocking added the perfect touch on the end of the bed! The basket that the tree sits in is one that normally holds the girls' stuffed animals. I found it at Home Goods but several years ago. I love to set trees in unexpected containers! Just wait until you see what our family tree sits in! I will share that one in another post soon!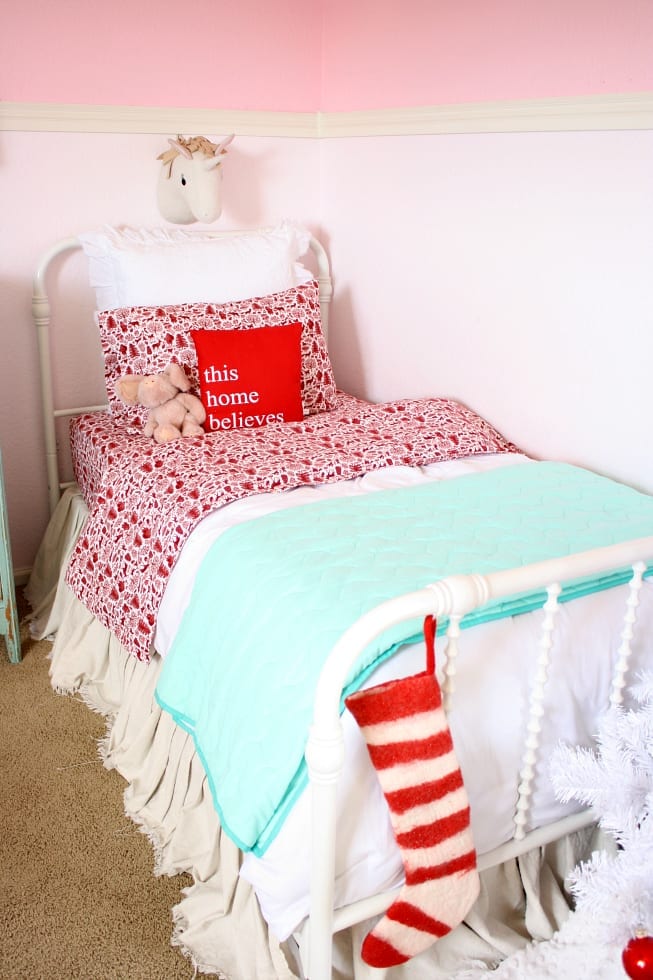 Bedding
Did you notice the new sheets? How about the comforter? The sheets are flannel ones from Target and you can shop them here! I also saw that they will be on the Target Black Friday sale for only $14. I purchased them on sale for $16. Such a great price! Target has my heart when it comes to affordable and stylish decor! The comforters are the girls' normal comforters that I just flipped over from the flower side to the all white side. (They are from Target too) This is one of my favorite tricks for saving money on bedding. You can see what they looked liked before I flipped them by clicking HERE ! So easy and cost effective, right?!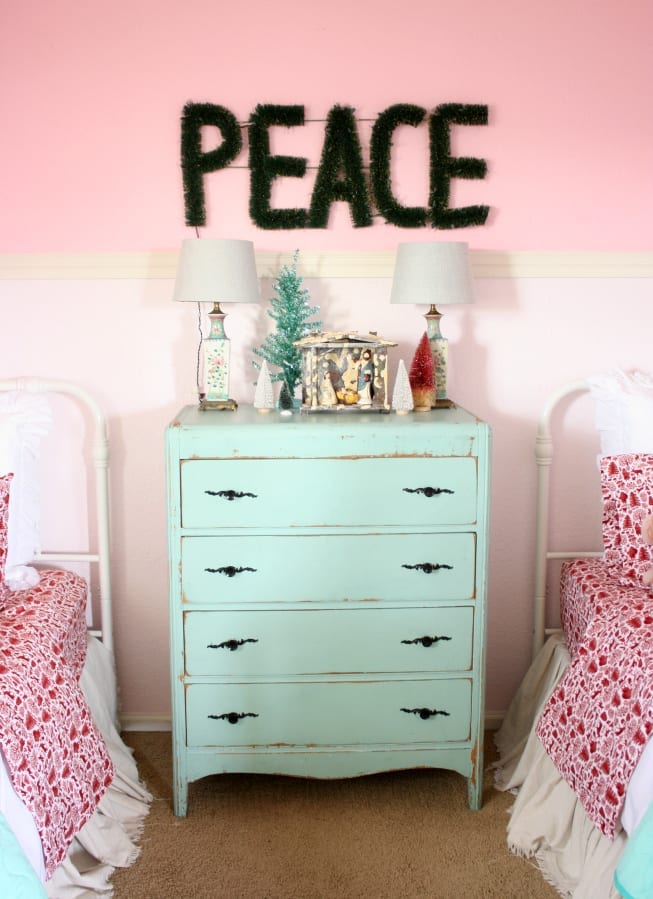 How about those darling bed skirts? I made them out of bleached drop cloths and you can find my tutorial HERE! The red and white lettered pillows are from Devanie at Home and the large white pillows I just found at Home Goods! My husband recently told me he thinks I am addicted to pillows and you know what, I think he may be right!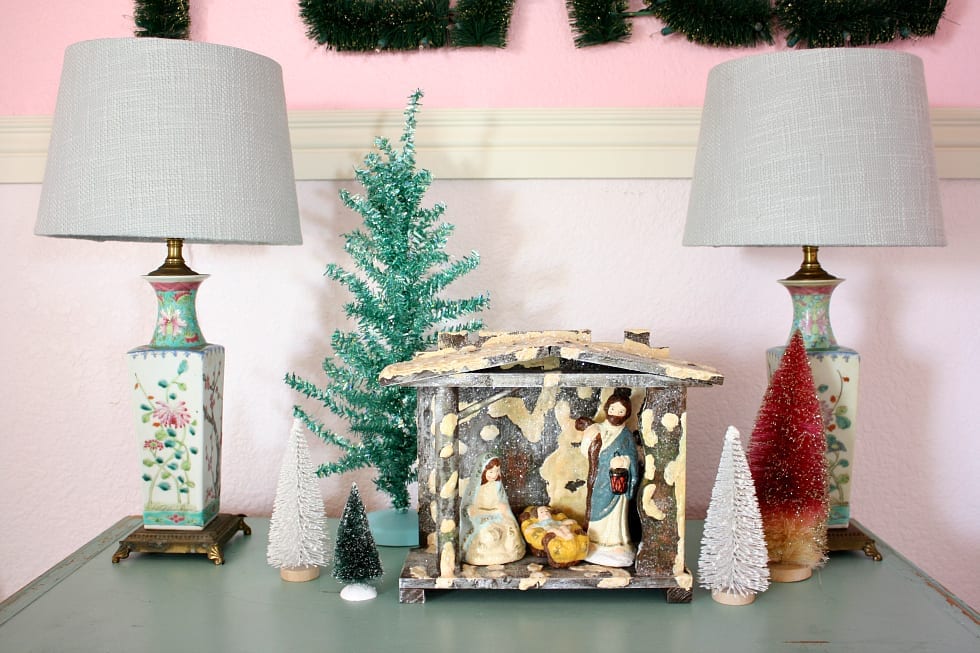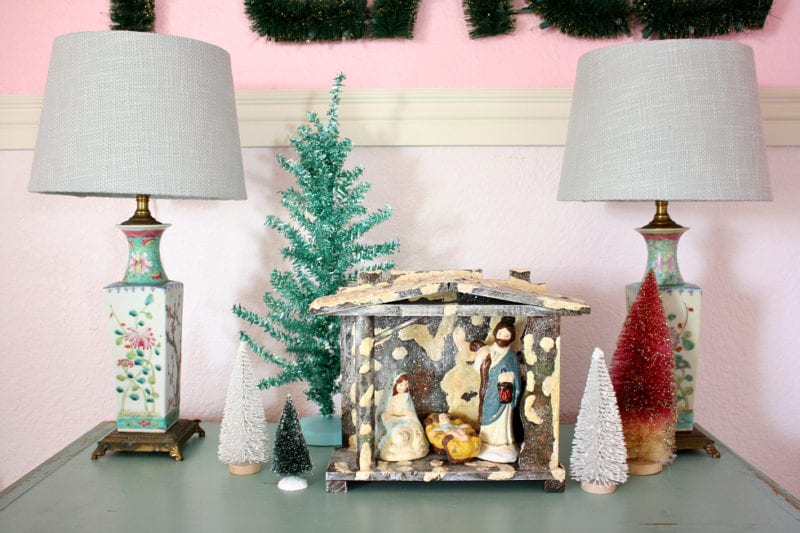 In our home JESUS is the REASON for the season so this Teena Flanner Nativity set that I have had forever is front and center on their dresser! I surrounded it with trees all from the Target dollar bins as well. I kept my grandmother's vintage lamps in their original spots because I love them and they add the perfect amount of symmetry!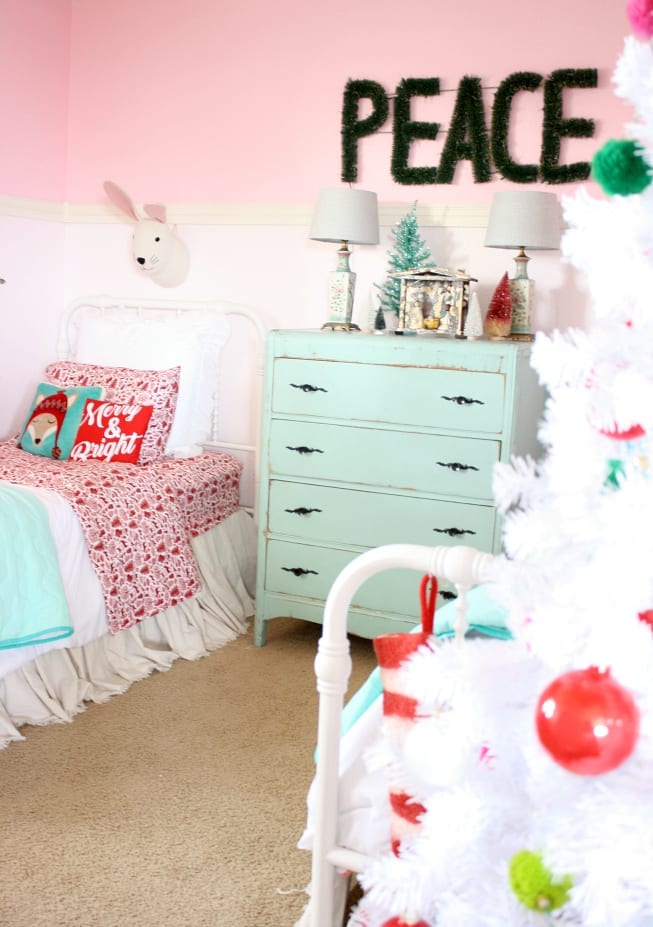 Statement Piece
Or should I say statement peace ? Ha ha! I'm guessing you noticed the huge vintage peace sign hanging above their dresser? It even lights up and the girls love to read by the glow of the sign and their tree. I found it a few weeks ago when I went to the Old House Vintage market in Loveland, Colorado. It was in the cutest booth called Midwest Market. They have a Facebook page and you can find them HERE!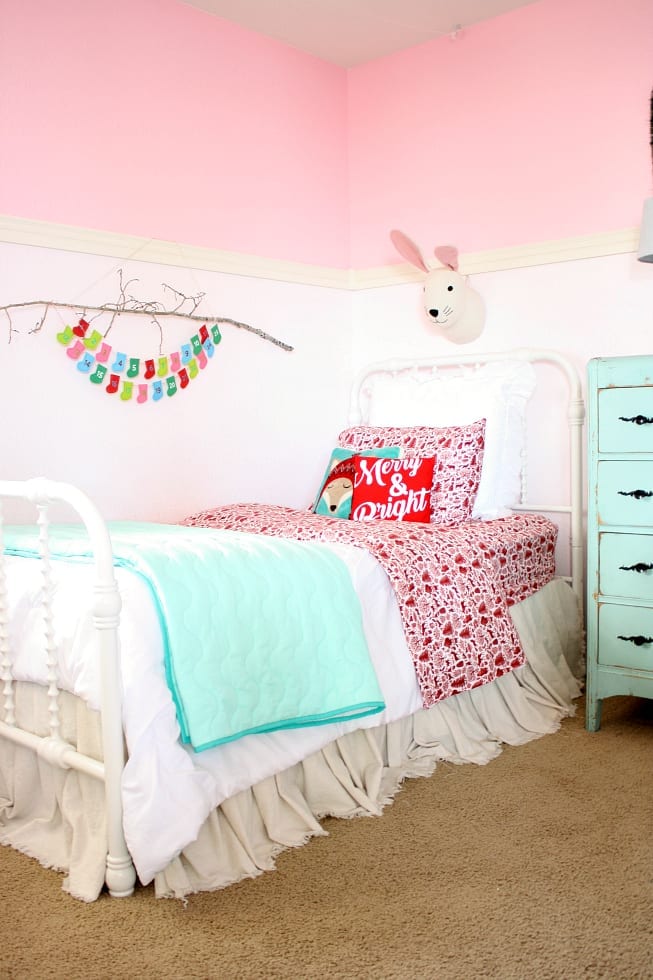 Countdown to Christmas
With the tree being on the other side of the bedroom I felt like this side needed some balance and whimsy too! So I created this quick and inexpensive advent calendar to countdown the days until Christmas! I shared HERE how I made this simple DIY in less than 10 minutes! So make sure you are subscribed to my blog so you don't miss a post! You can subscribe by clicking HERE and whenever I post I will send you a short email!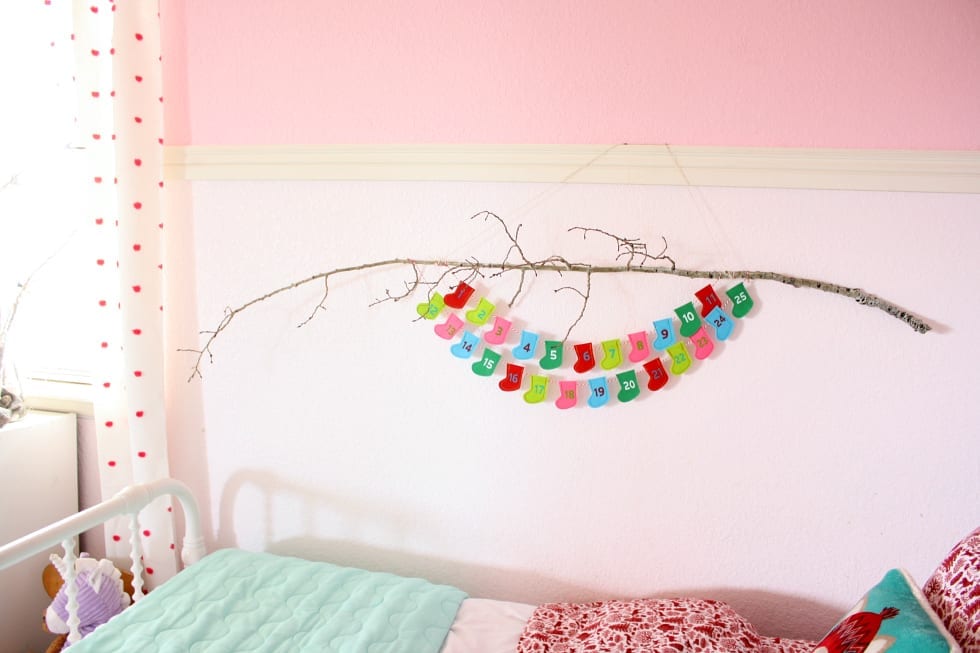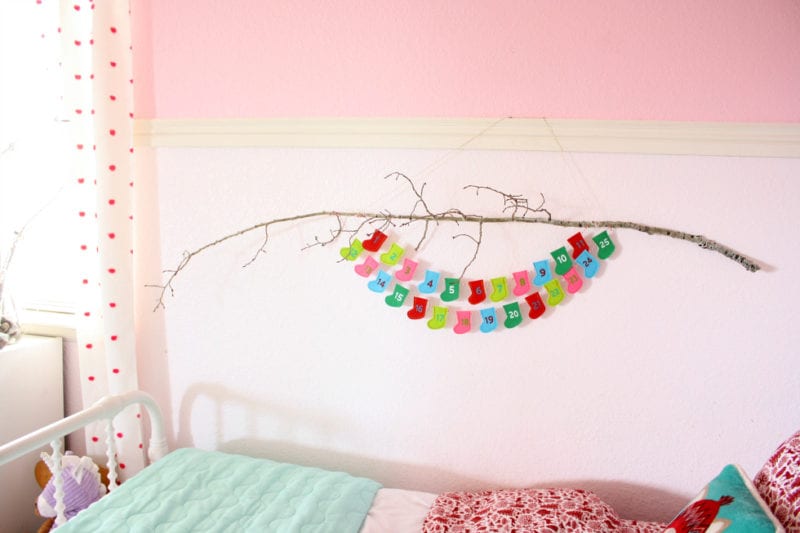 The cute stocking garland is from the Target dollar bins and the stick I hung them on is from my friend Brooke over at Brooklyn Finds Design Co.!
Hanging Shelf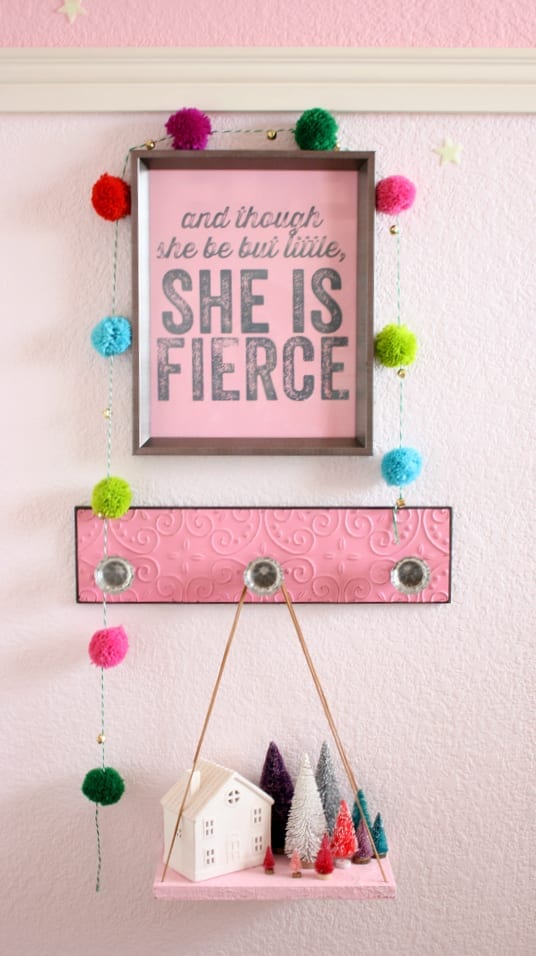 The last area we decorated in their bedroom is located on the wall at the foot of their beds. I hung this cute shelf that I painted with paint from their walls and added Salt Wash to give it some extra texture. It turned out so cute and my 8 year old had fun decorating it with some vintage bottle brush trees and this cute white house also from the Target dollar bins! ( see I told you I liked Target) I like to think she takes after her mama! 🙂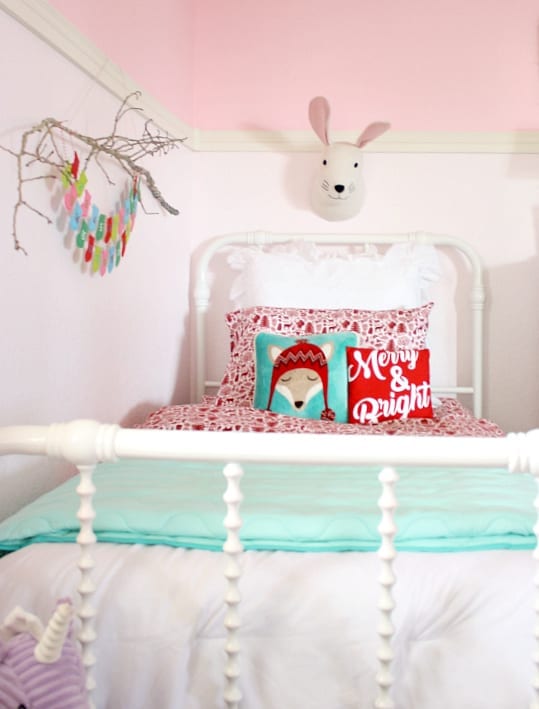 The animal heads above their beads are from Target and the white beds are from Walmart! Please let me know if you have any questions about their room! You can leave me a comment below!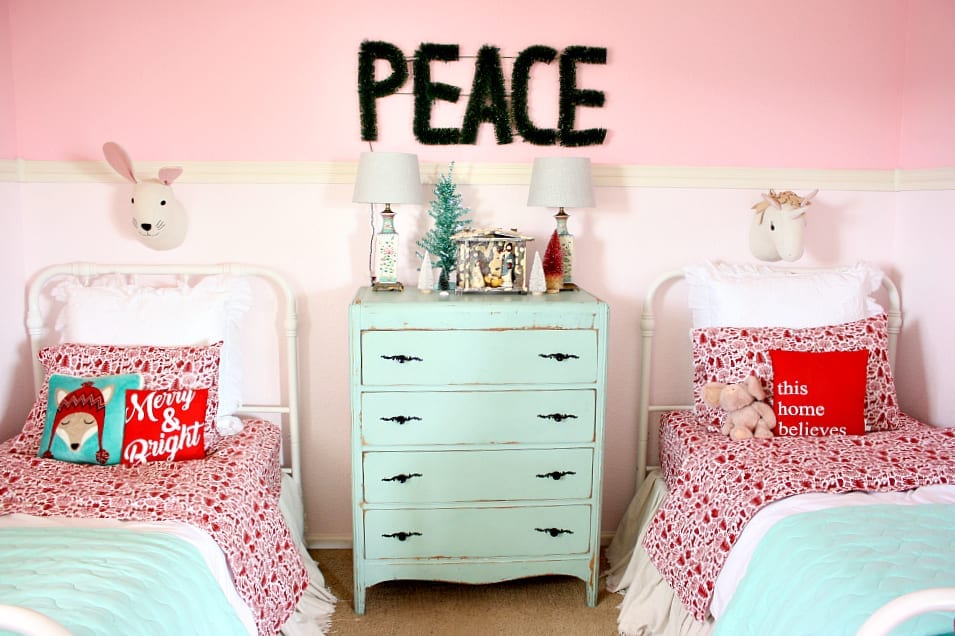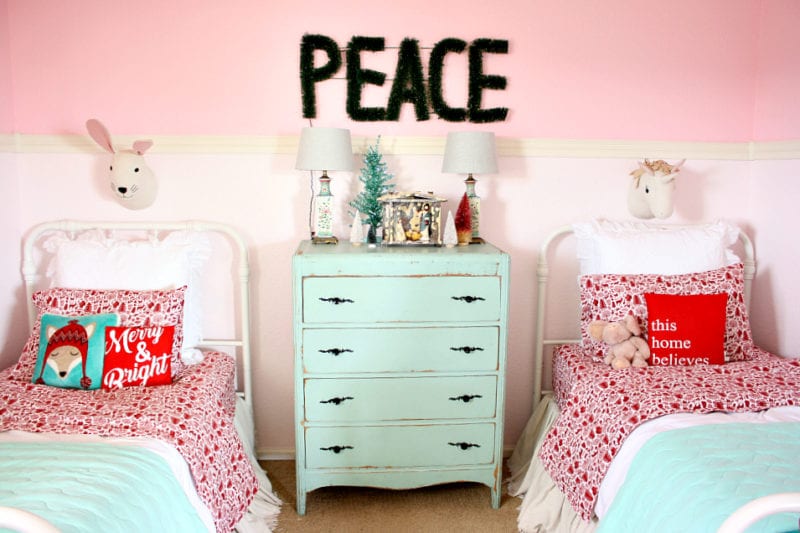 Thanks for touring our colorful girls Christmas bedroom! So, do you decorate any bedrooms for Christmas? If so I would love to see them and if not, now maybe you will!
I want to thank you for stopping by today and encourage you to take a peek at the other bloggers' homes listed below! I wish you a blessed Thanksgiving this coming week and look forward to having you stop by the blog again soon!
xoxo,
Kelly
Deck The Blogs!