Monday Must Haves for Travel
Welcome to this week's Monday Must Haves, where I share a collection of things that have caught my eye lately. Plus, each week I will be featuring a small shop for you to check out. Nothing is off limits!
This week is all about Monday Must Haves for travel! And if you want to see a few of these (and more) you can watch the replay of my Amazon Livestream where I shared all things travel related!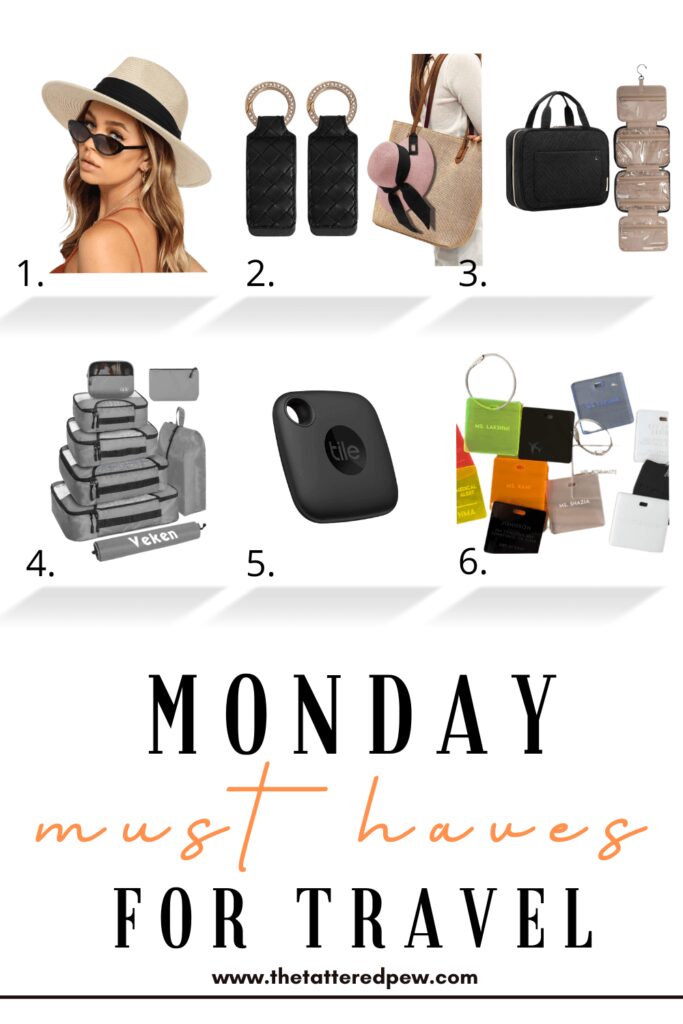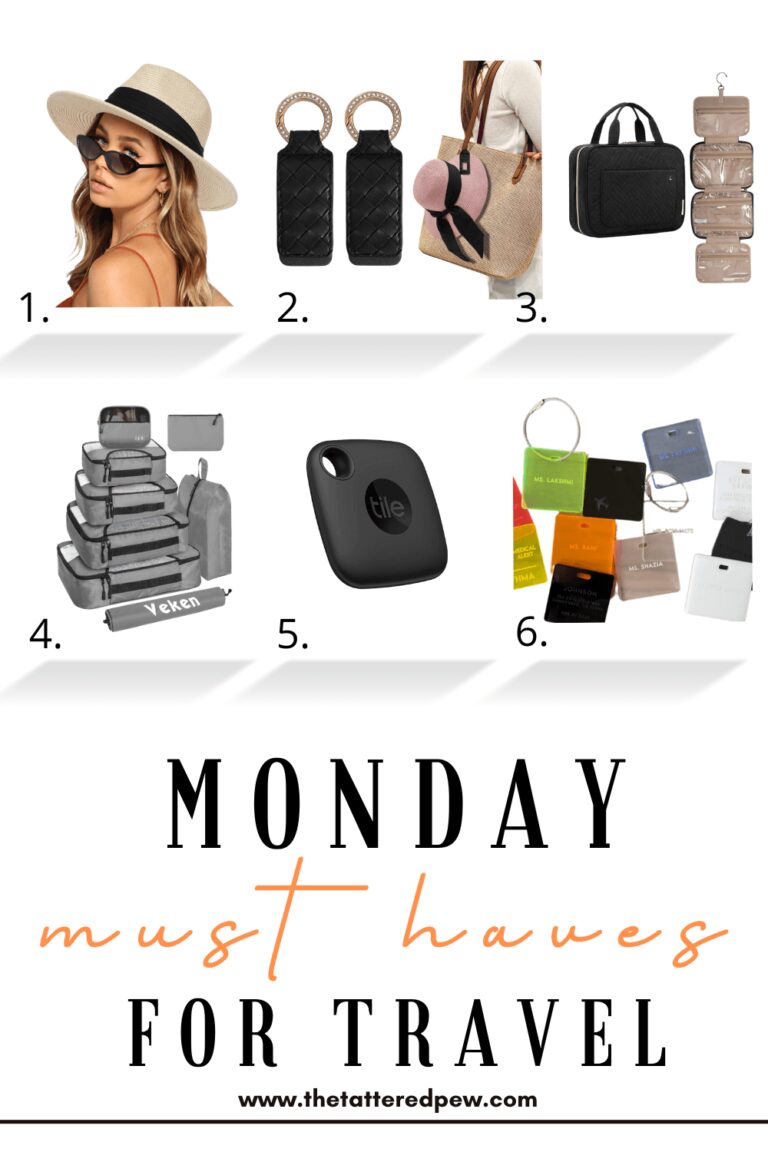 *As an Amazon Associate, I earn from qualifying purchases. This post contains other affiliate links too for your convenience. Click here to read my full disclosure policy.
1 // 2 // 3 // 4 // 5 // 6
Monday Must Haves For Travel
If you have any upcoming trips and need a stylish yet practical hat then this is the hat for you! Both my mom and I purchased this hat for our trip to Florida last summer and fell in love with it. It folds up nicely for travel, survived pool and ocean water and even has a strap that came in handy during our boat ride! It comes in a few different colors and is affordable too!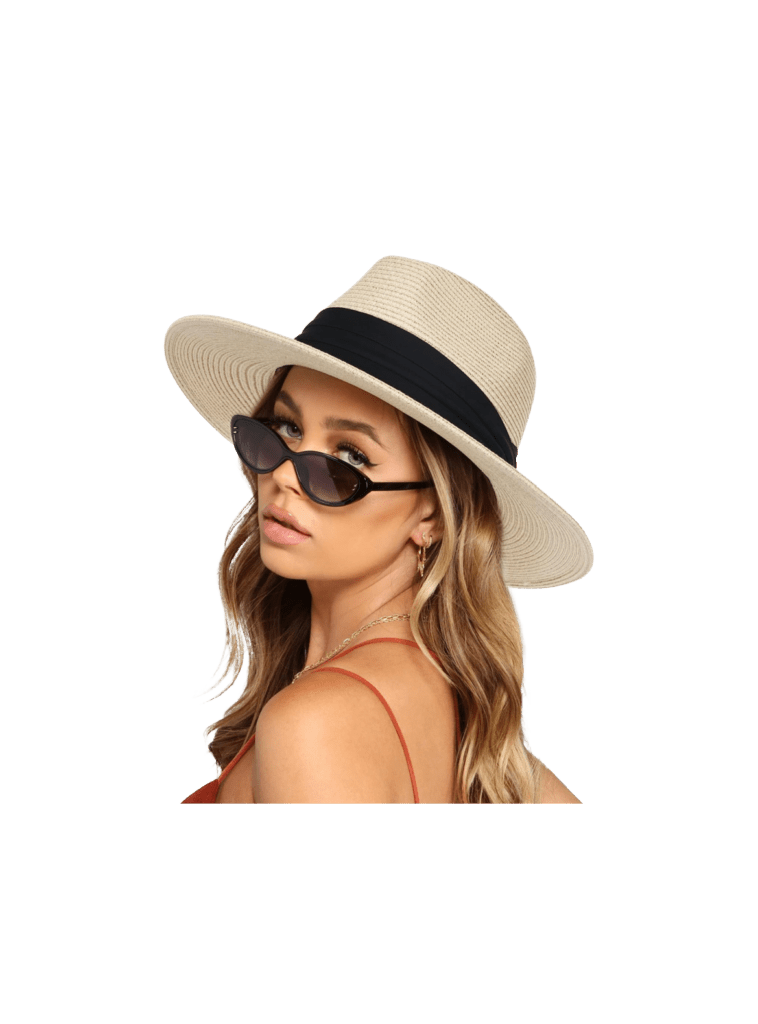 2. Have you ever traveled with a large hat and worried about it getting ruined in your bag or didn't want to wear it in the car or on the plane? I have, so when I saw these magnetic hat clips that attach to your bag and allow you to be hands free, you better believe I snatched them up! There are a few different colors and they come in sets of 2. Have and LOVE these!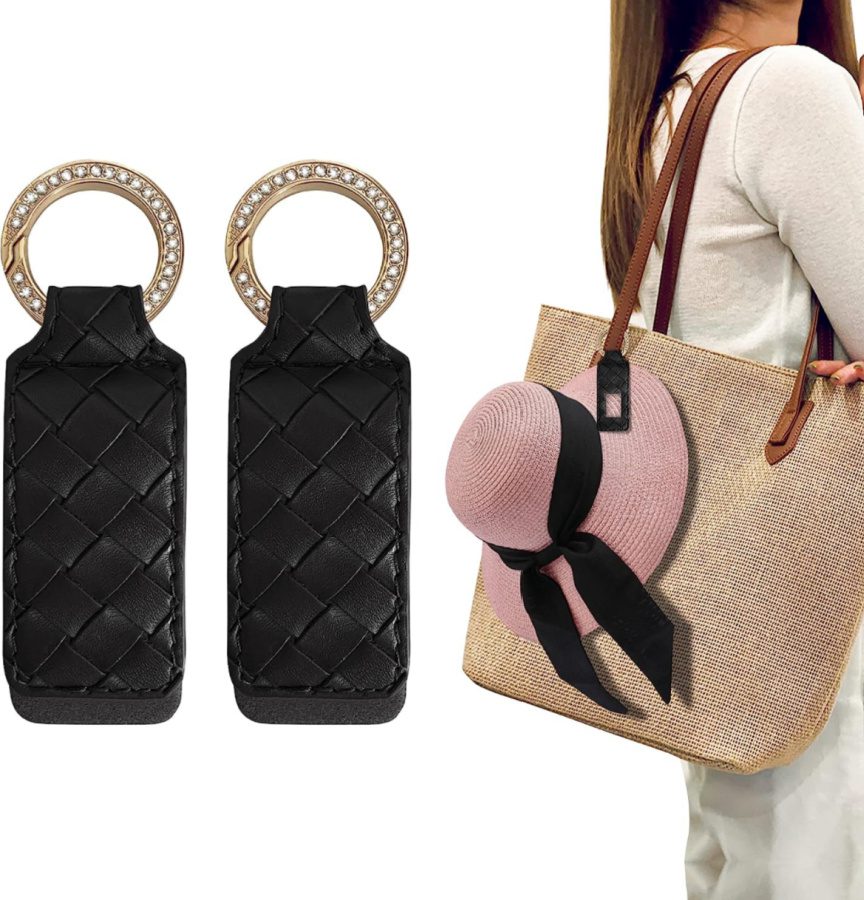 3. It was time for me to grow up and travel with my toiletries in a true cosmetic bag! So when I found this travel bag on Amazon and saw that it had over 39 thousand 5 star ratings I decided to give it a try! I love that the pockets are clear, how it has a hanging feature and that there is plenty of storage. Honestly, I have no idea why I waited so long to purchase one of these. I went simple with black but it does come in other colors too.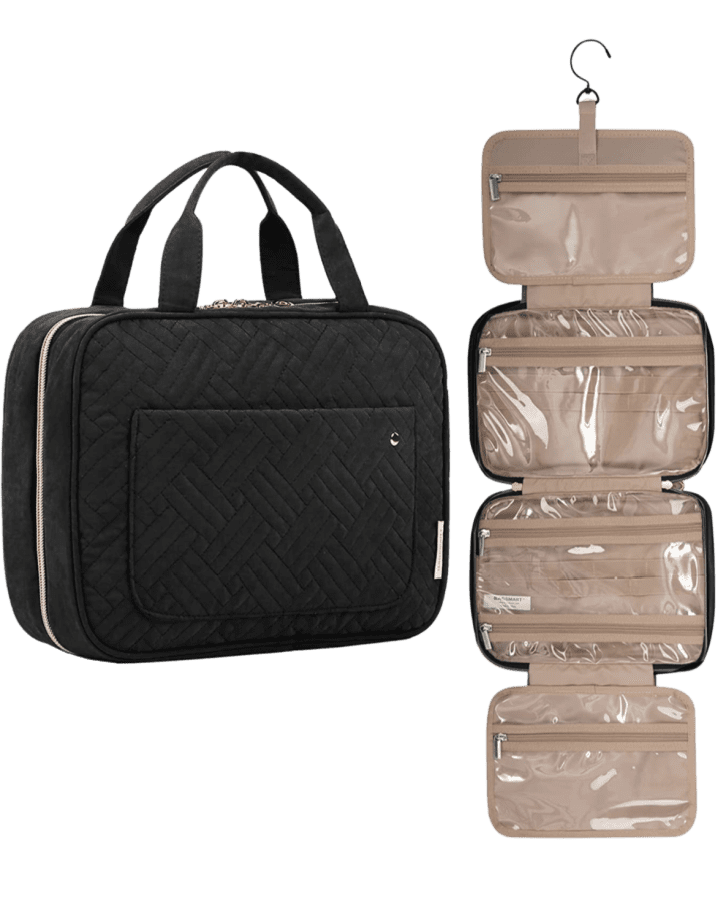 4. I was first turned on to these awesome packing cubes when my neighbor and friend brought them over for me to see during our book club. She raved about them and shared how they have a different color set for everyone in their family. It not only makes packing easier (especially with kids) but helps with efficient and organized packing too. They are made of water proof nylon fabric and easy to wipe off and store wet clothes or suits if need be. I just used mine on my girls trip to California and loved them.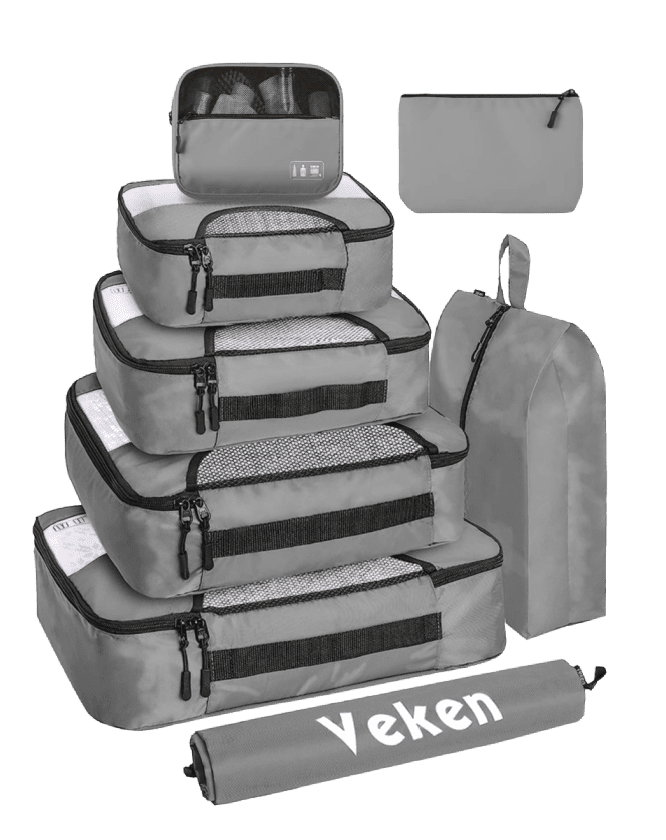 5. We first got these TILE gps trackers during Christmas. I put them in the kids' stockings and I'm sure they thought I was a bit crazy. But I explained that they were to use them however they wanted but that I envisioned them for our travels. I shared how they could put the tracker in their suitcases that they check and then track them via the app. They all liked this idea rather than me trying to track them! ha😂 There are obviously many uses but this is how we plan to use them! Great for piece of mind.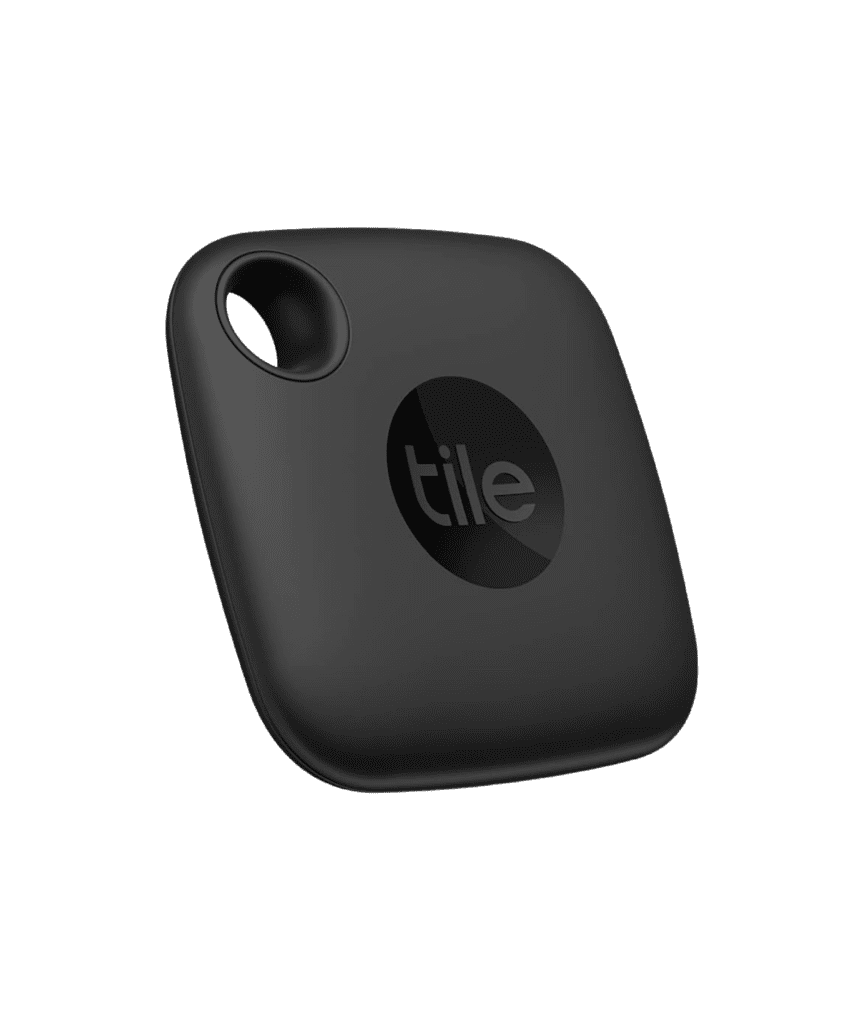 6. SMALL SHOP SPOTLIGHT: This week I want to share small shop Evy Little Design. They specialize in custom made tags! These tags are not only great for travel but they are wonderful for pets, backpacks, keychains and anything else that needs a cool tag! I think they would be fun to have these made for a girls trip, bridesmaids or groomsmen gifts. SO many ideas for these! Of course their shop is also full of several other customized items. A must check out over on ETSY!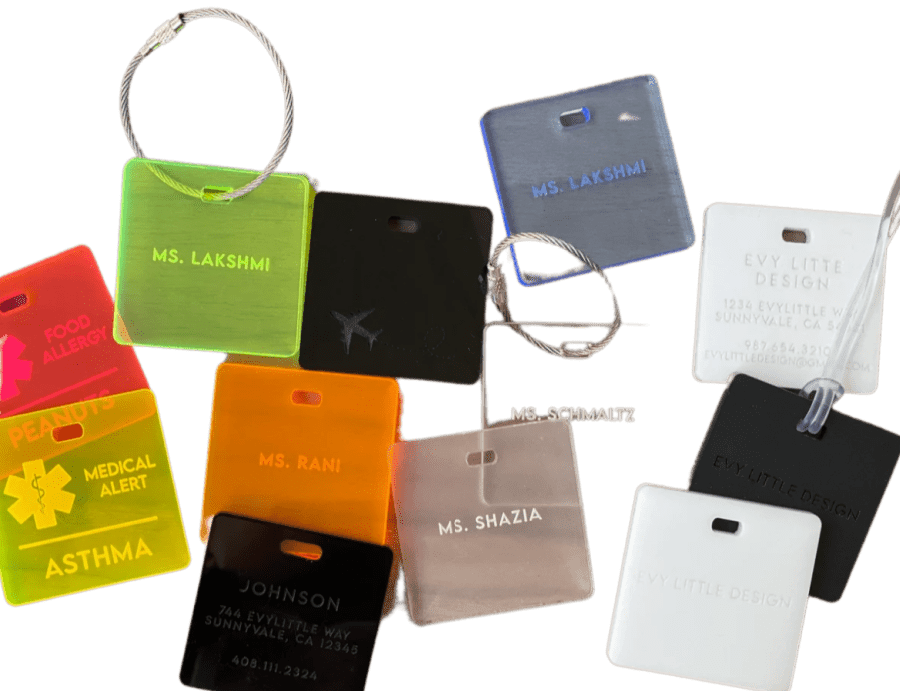 More Monday Must Haves for Travel
It was so hard for me to narrow down this list to just 6 items. There are so many more must haves for travel that I wanted to share with you. So, I have this collage which you can shop as well as an idea list with 85 of my vacation and travel favorites!
You can see all previous Monday Must Haves here!
I'd love to have you hang out with me some more. Feel free to follow along with me on any of the platforms linked below.
LTK | Facebook | Instagram | Pinterest | Amazon
xoxo,
Kelly