Quick and Easy Christmas Shortbread Cookies
You will fall in love with these quick and easy Christmas shortbread cookies. Not only are they buttery smooth and tasty, but they only require 3 simple ingredients.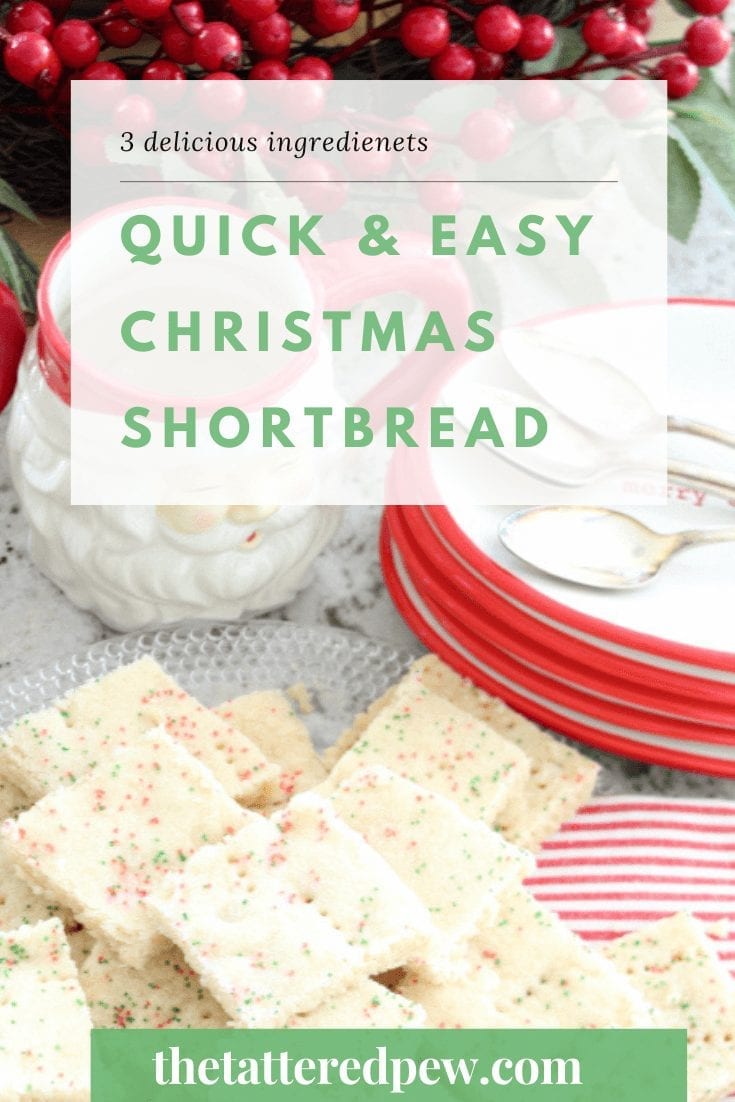 This post contains some affiliate links for your convenience. Click here to read my full disclosure policy.
Holiday Cookie Exchange Blog Hop
Have you started your holiday baking yet? Well if not today is your lucky day! I am joining 5 other fabulous and talented bloggers for a Holiday Cookie Exchange Blog Hop hosted by Jen of Midwest Life and Style. If you are "hopping" over from Bethany of Crisp Collective, welcome! Don't her peppermint chocolate chunk cookies look amazing!? Yes please! You can find the other cookie recipes at the end of my post…but now come on in to my kitchen and see what I have been baking!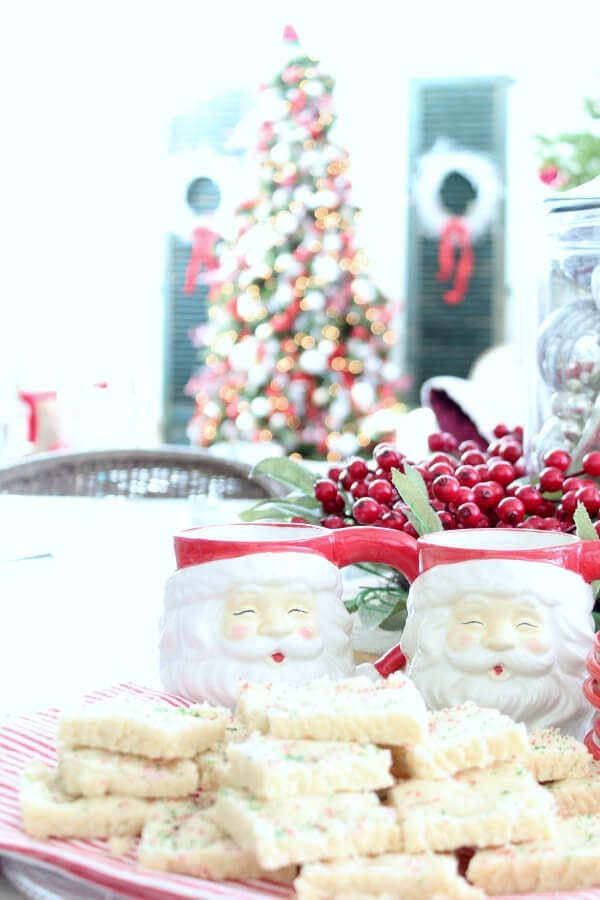 Quick And Easy Christmas Shortbread Cookies
Each year we love baking cookies for our family, friends and neighbors and of course Santa! These shortbread cookies are always on our list because they are so gosh darn yummy! But I want to be honest with you all…I am not a baker!
It's just not my thing.
However, I promise these quick and easy Christmas shortbread cookies can not be messed up! The recipe only requires three ingredients and these delicious cookies can be whipped up in under 30 minutes! Even my kids love making these cookies.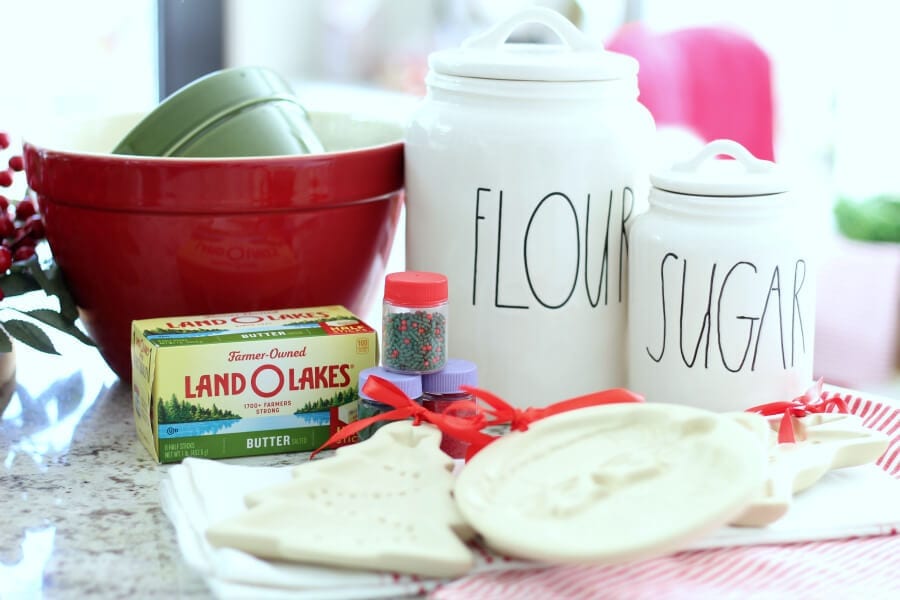 Only Three Ingredients
Like I mentioned above I'm not a baker and I don't usually have many baking ingredients on hand. If you can relate then you will love these quick and easy shortbread cookies because all you need is sugar, butter and flour! I know, crazy right?!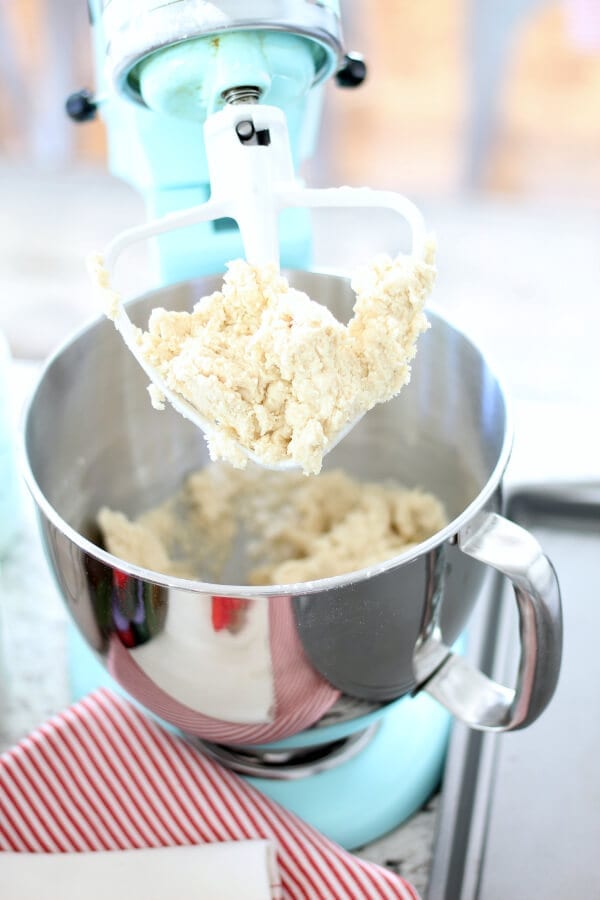 The butter needs to be softened or at room temperature. The first thing you do is cream one cup of butter or margarine and half a cup of sugar together in your mixer on. You can do it by hand or hand mixer as well if needed. Then gradually add two cups of flour into the mixer. Last sprinkle in some Christmas colored sugar and mix it up!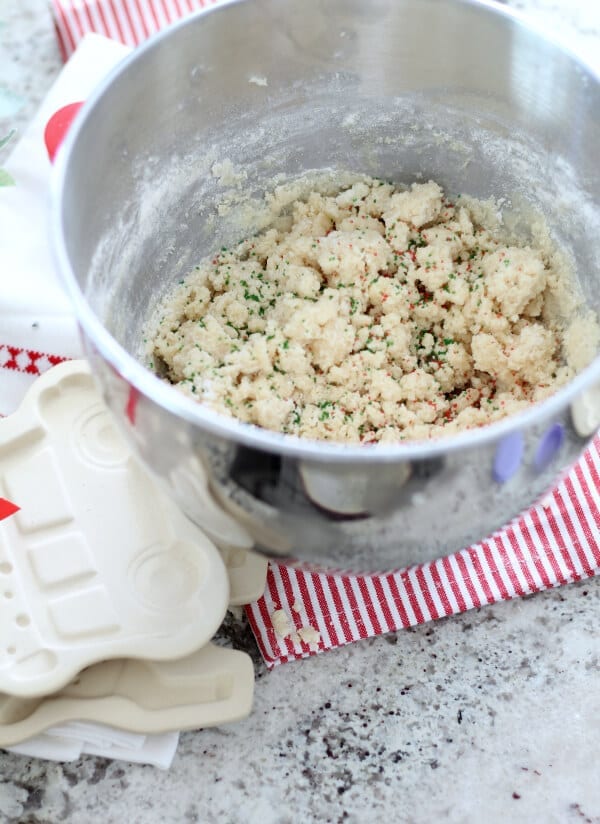 The dough is not too sticky and not to crumbly. Finally, take out the dough and press it into a flat ungreased rimmed cookie sheet. I used and 18 x 13 in cookie sheet. Then prick it all over with a fork.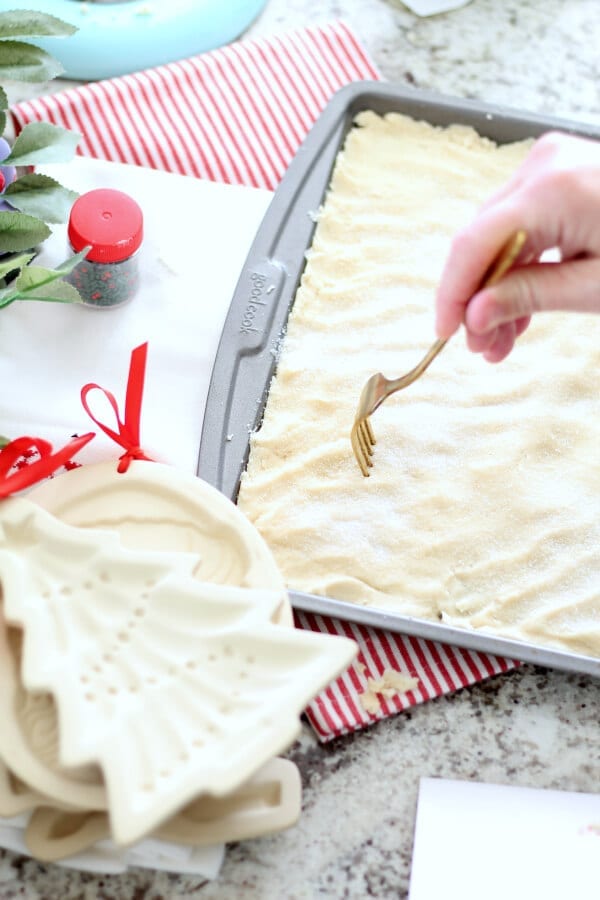 Adding More Christmas Touches To The Cookies
Once the cookie dough was pressed in the sheet and molds I then sprinkled more red and green sugar on top. You can never have too much sugar, right?!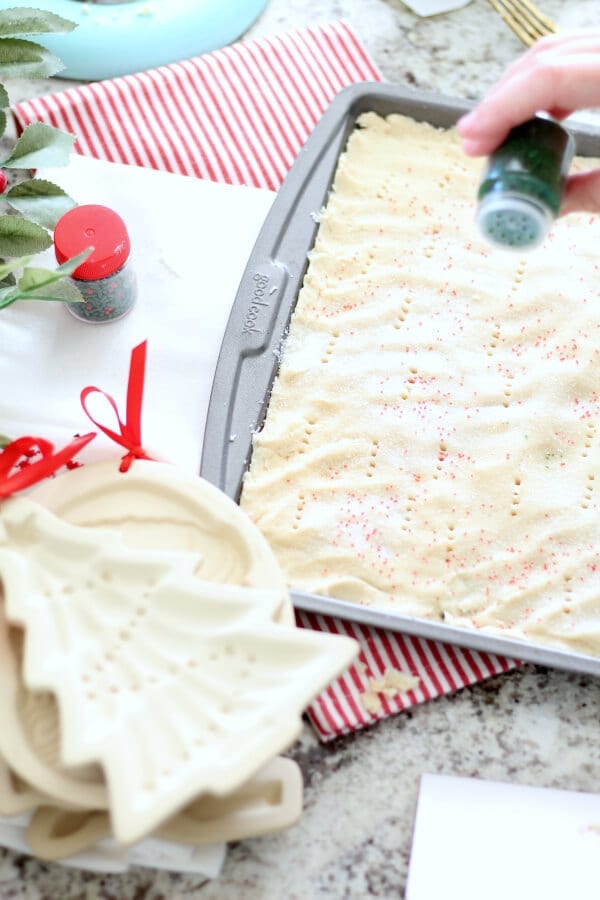 Baking The Cookies : Quick and Easy
Now your dough is ready to go in the oven! Set your oven to 300 degrees for 45 minutes or until the cookies are light brown around the edges. We like ours soft and slightly chewy so we take ours out when they are barely brown on the edges. This is a personal preference. If you like your shortbread harder then just leave it in the oven longer!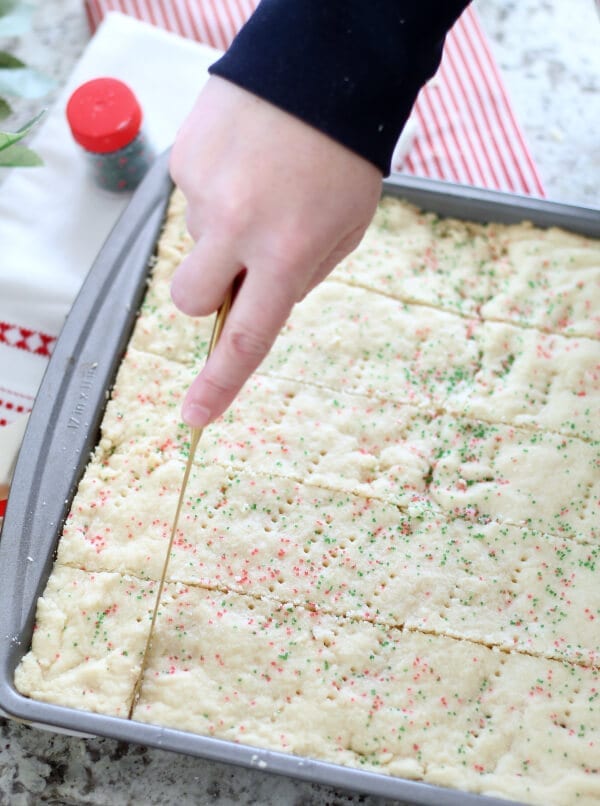 Cut them into squares immediately as they come out of the oven! Wait a bit for them to cool and enjoy alone, with coffee or tea! Or my mom's amazing hot chocolate!
For high altitude adjust to 325 degrees for 15-18 minutes or until edges are lightly brown.

Can You Use Cookie Mold With Shortbread
This year I decided I wanted to spice up our normal shortbread recipe up a bit and use some cookie molds that I found last year at an after Christmas sale. I know this recipe works for cookie molds because last Valentine's Day I made heart shaped shortbread cookies!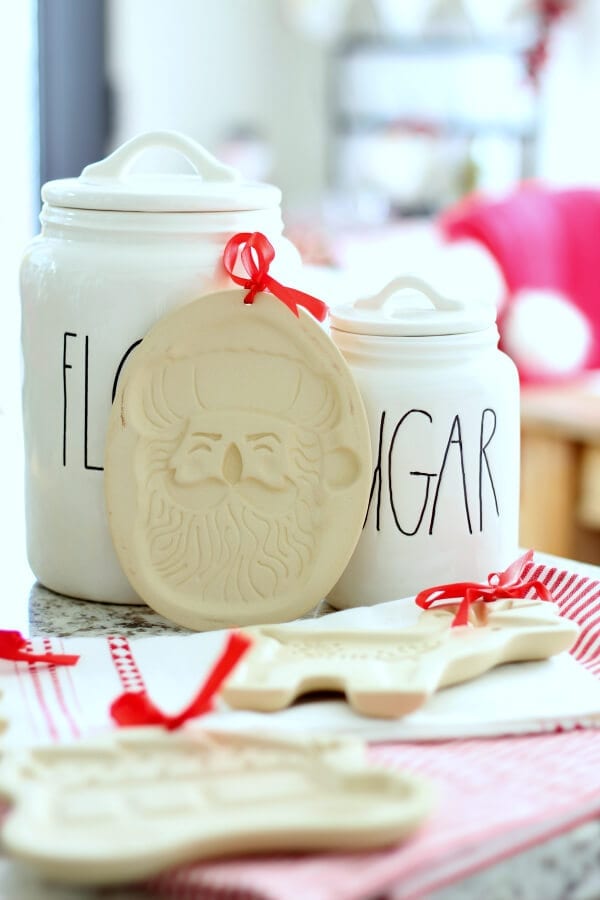 However, after reading the tags on these molds they suggested they not be placed in the oven. I thought this was weird since my heart shaped cookie mold did go in the oven. I still figured I would give them a try and do as the tag suggested: chill the mold with the cookie dough and remove the dough and place it on a cookie sheet to bake. Let's just say this was easier said than done!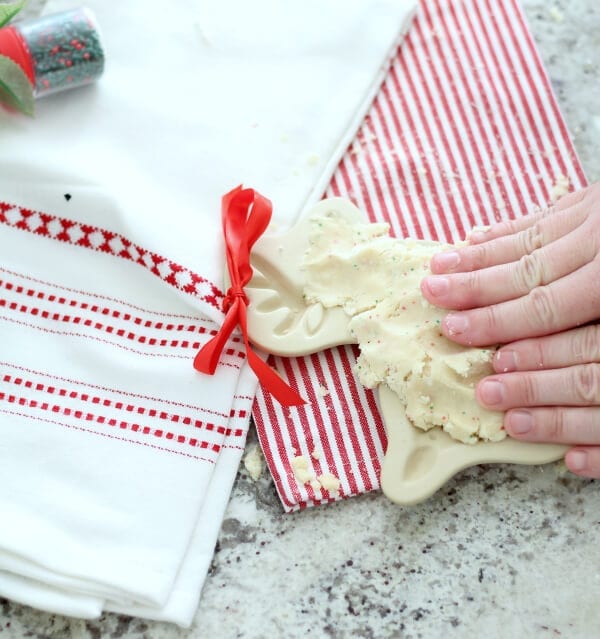 I tried to remove the "chilled" shortbread dough from the molds and it did not work. So I totally threw the molds in the oven. I figured, eh why not?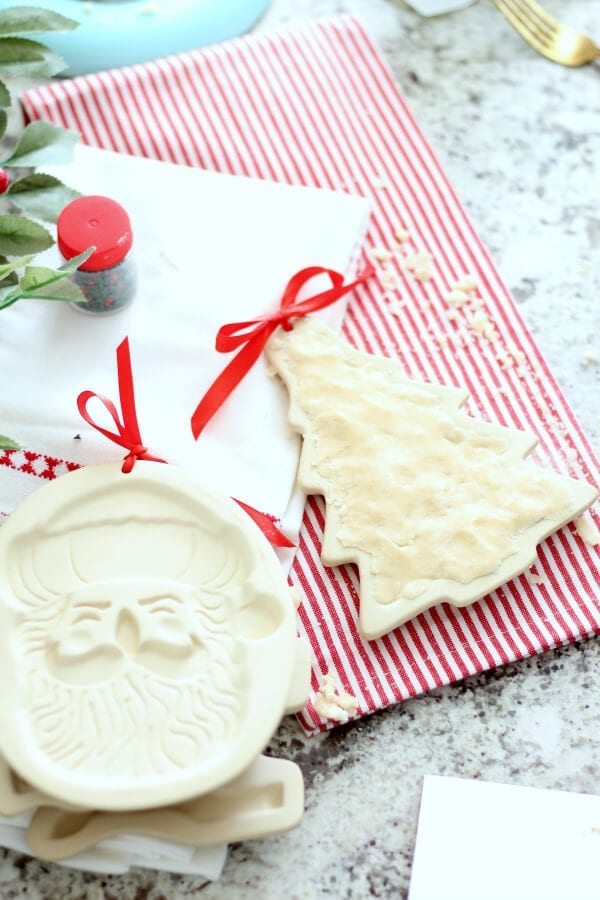 I know…GASP! I'm a rule breaker. Oddly enough, as the first born I'm not usually the rule breaker I'm the rule follower. And guess what? They turned out…ok!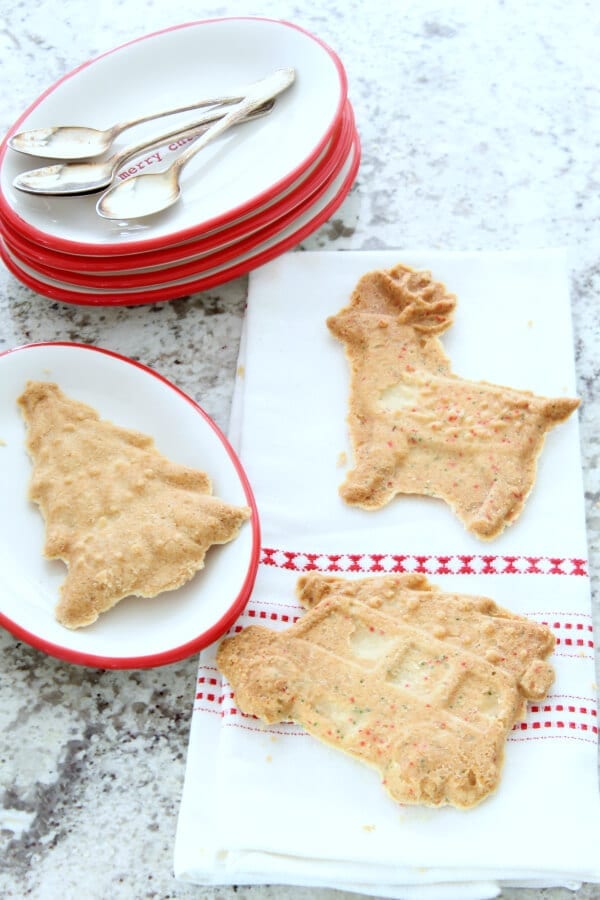 Not perfect, but… ok! You can see in the picture above they are more brown and crumbly. Luckily I had my other batch that turned out perfect so I wasn't too sad.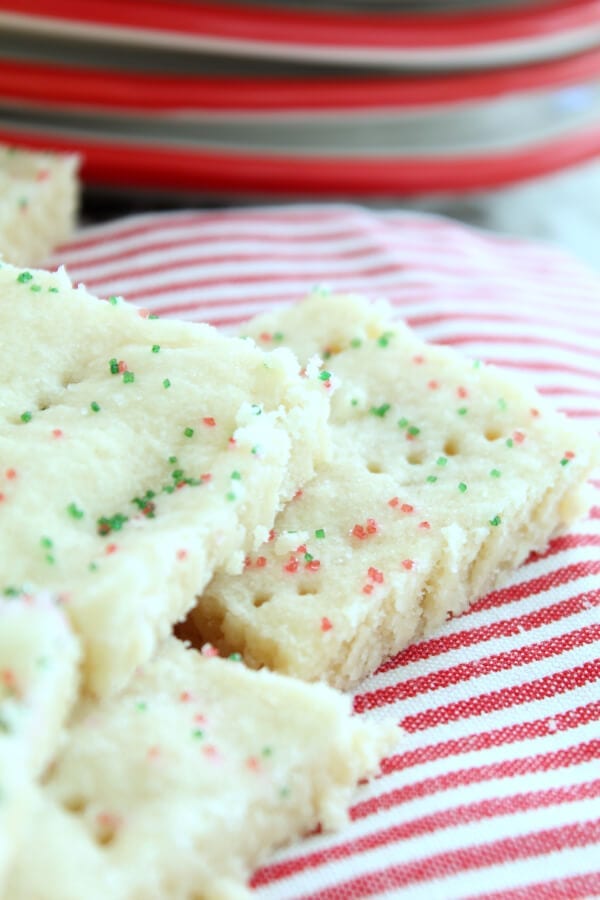 The Recipe
Yield: 24 cookies
Christmas Shortbread Cookies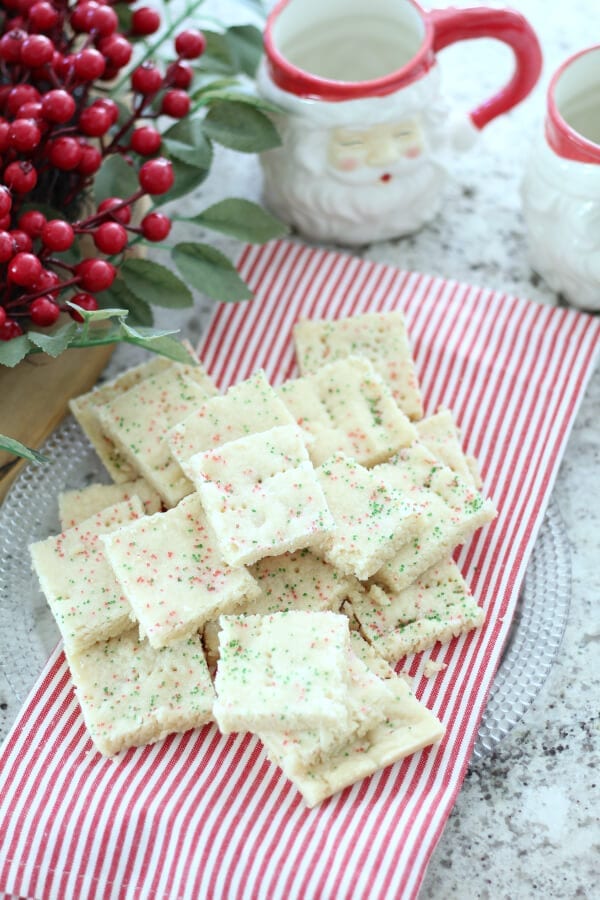 These buttery soft cookies are delicious and easy to make with just 3 simple ingredients!
Cook Time
45 minutes
35 seconds
Total Time
55 minutes
35 seconds
Ingredients
1/2 cup of sugar
1 cup of butter
2 cups of flour
Instructions
First cream your room temperature butter and sugar together in a mixing bowl or mixer.
Next, gradually add the 2 cups of flour into the creamed mixture.
Add seasonally colored sugar to dough as you are mixing.
Press the dough out on an ungreased 18 x 13 inch rimmed cookie sheet.
Sprinkle with sugar (colored for the holidays) and prick the dough all over with a fork.
Bake at 300 degrees for 35--45 minutes or until the edges are lightly browned.
Cut it into squares immediately after it comes out.
Notes
HIGH ALTITUDE: Adjust to 325 degrees for 15-18 minutes or until the edges are brown.
Shop The Post

Quick and Easy Christmas Shortbread Cookies
These quick and easy Christmas cookies are buttery smooth and taste absolutely delicious! Plus they are a great choice for those of you who aren't bakers like me, because they are hard to mess up. They are a family favorite of ours and they always make it into our holiday baking plans. I know they will be our Christmas cookie of choice for many years to come.
Have you tried shortbread before? What cookies are you baking this year and which ones are you leaving out for Santa this year? Now make sure to check out Meeghan at Cali Girl In A Southern World's almond snowball cookie recipe next!
XOXO,
Kelly
Holiday Cookie Exchange Blog Hop
Today I'm joined by some of my blogging friends who are also sharing their delicious holiday cookie recipes with you! Just click on the links below the images to be taken to their post.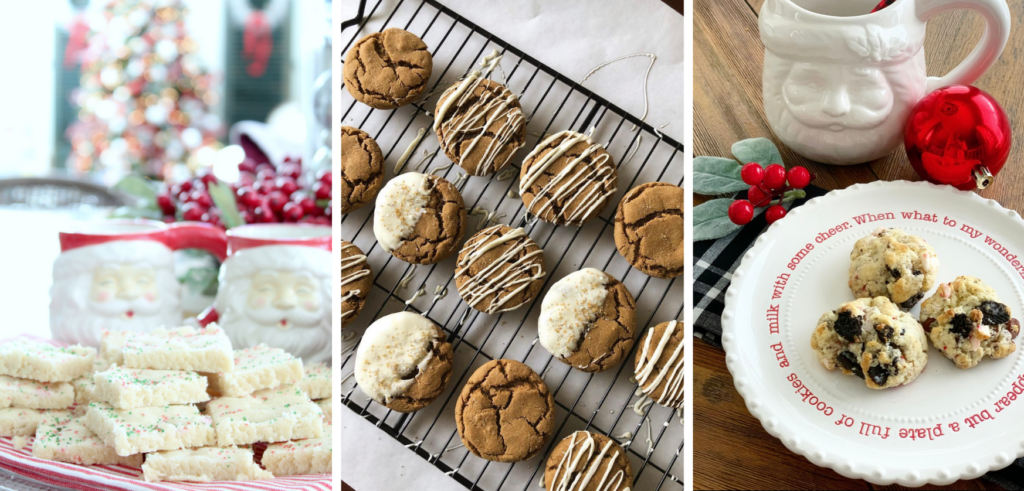 Quick And Easy Christmas Shortbread Cookies / / Molasses Cookies With White Chocolate / / Peppermint Chocolate Chunk Cookies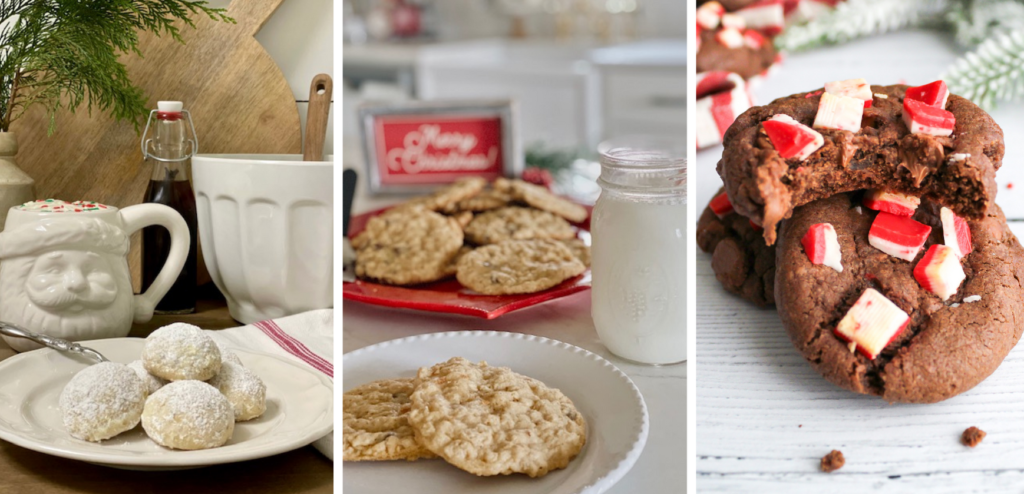 Almond Snowball Cookies / / Mom's Oatmeal Chocolate Chip Cookies / / Double Chocolate Chip Peppermint Cookies
Did you like this post? PIN it for later!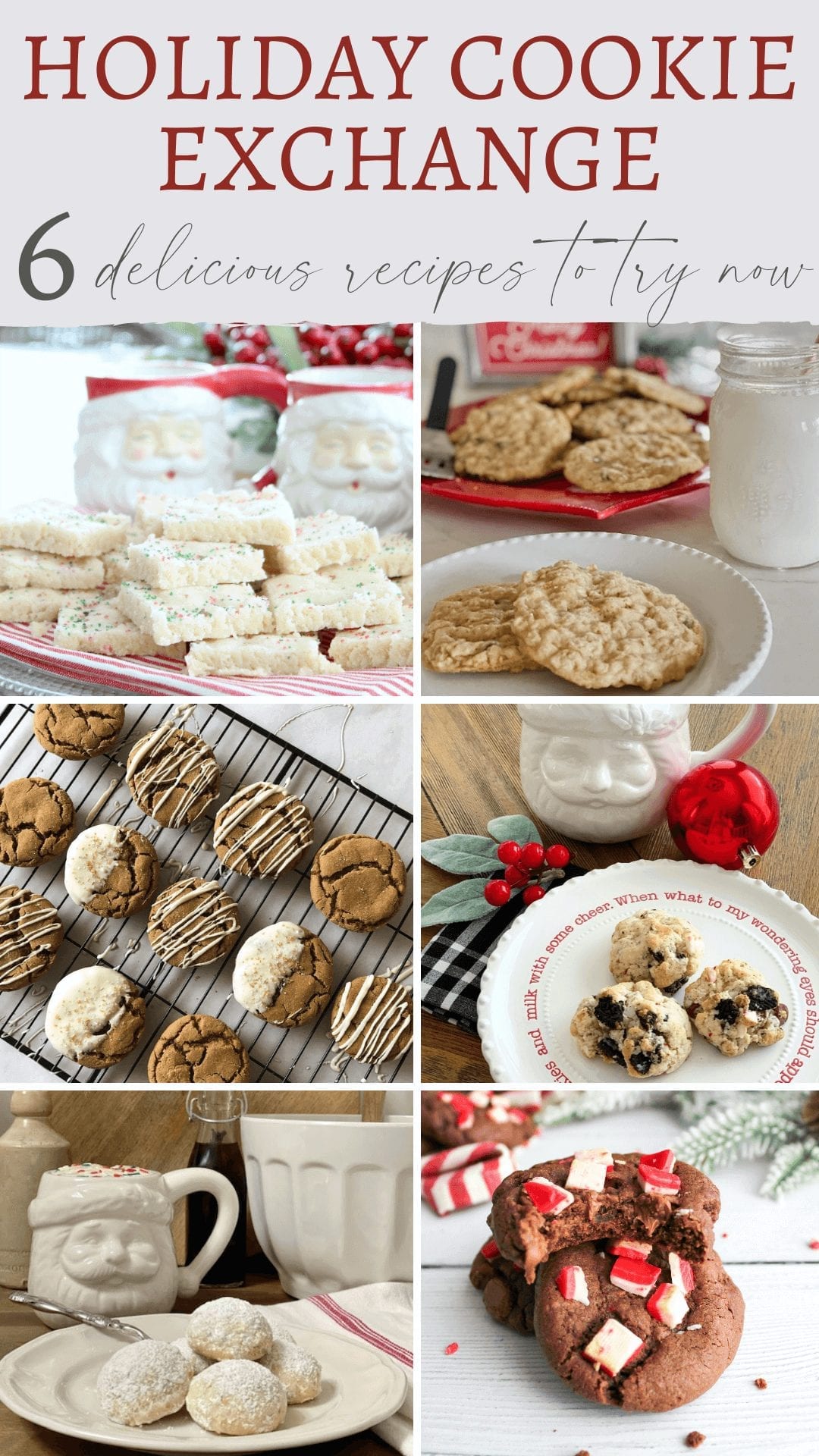 Caring is sharing! PIN this to your favorite RECIPE/DESSERT board!