Spring in is just a few short weeks and I am dreaming of warmer weather and pops of color and I'm sure this won't surprise you, but I have already started decorating. Welcome to part one of my Spring Home Tour 2023!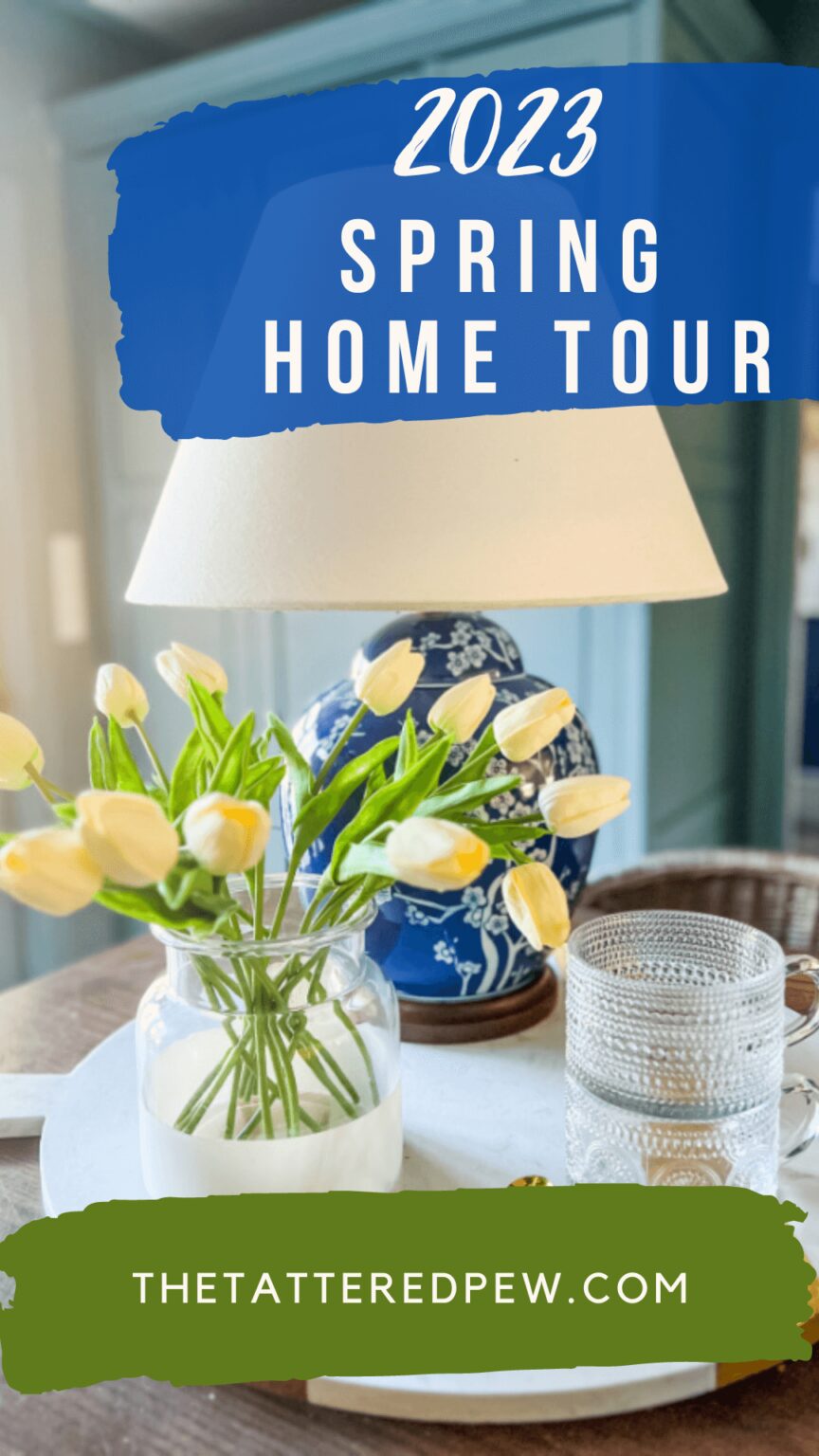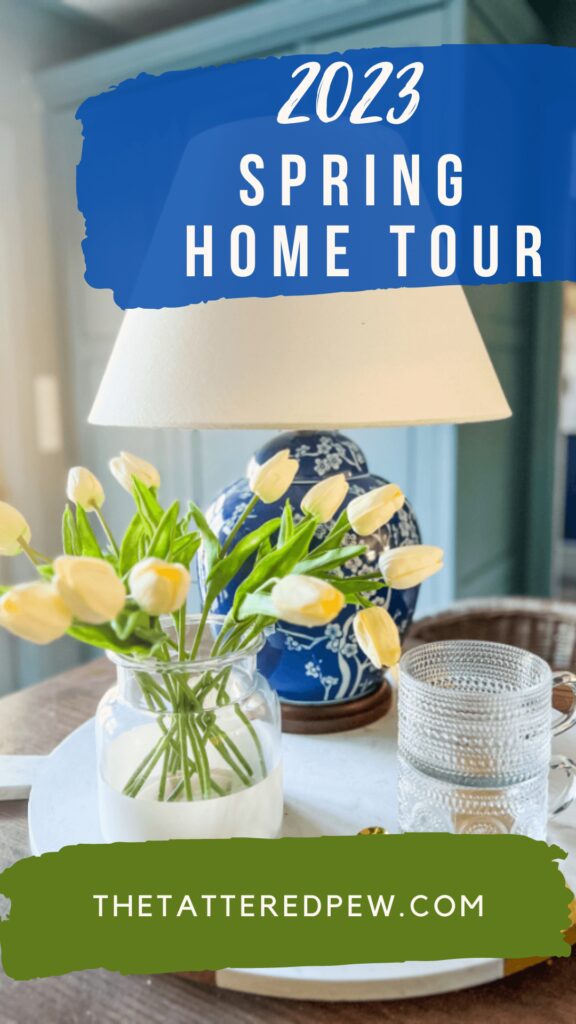 *As an Amazon Associate, I earn from qualifying purchases. This post contains other affiliate links too for your convenience. Click here to read my full disclosure policy.
I am so glad you decided to stop by because I have to much to share with you. Today we will be touring my entry, kitchen and pantry! (You can see part 2 of our 2023 Spring Home Tour Here!)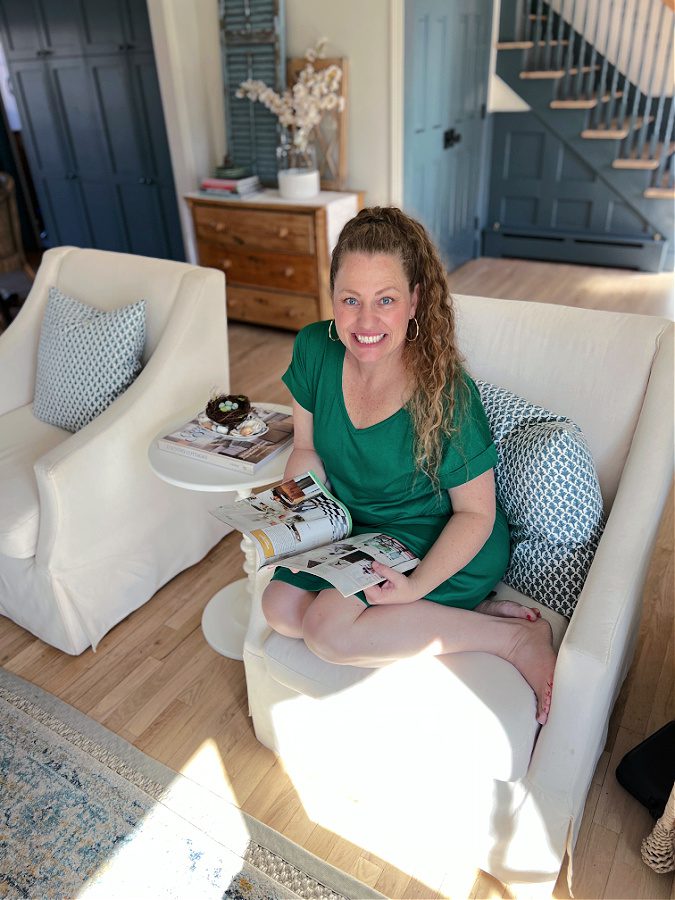 I'm Kelly and I live in an updated home from the 60's that we bought just over a year ago. I'm very casual and l don't really have a "style" that can be labeled. I tend to gravitate towards colors I love (blues and greens) as well as a mix of new, old and found items.
Spring Tour Of Homes Blog Hop
Today is the last day of a week long tour of blogger's homes! Welcome, whether you're an old friend or you found me online, I'm so glad you are here! I want to say thank you to our host Marty at A Stroll Thru Life for hosting this week long tour. Make sure to check out all of the other homes on tour at the end of my post!
If you're visiting from Cindy of County Road 407, I'm so glad you're here for this year's Spring home tour.
Cindy always inspires me with her decorating and makes me smile with her fun personality!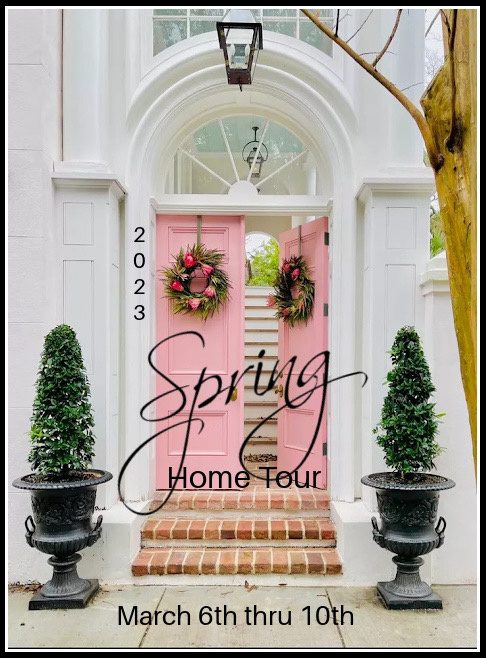 Welcome, Come On In
I wish I could say that Spring is close to arriving here in Colorado, but honestly it is no where close. We have tons of brown grass and the outside of our house is in desperate need of a good power washing.
If you want a peek at the exterior you can see that here in my front yard tour from when things were a bit greener. 😉
So I decided to bring Spring inside!
When you walk in you are greeted by our stairs. Recently I moved my sweet little Tattered Pew to the bottom of the stairs and I have enjoyed decorating on and around her.
Our hardwood floors are bare because I am still waiting on a new rug to arrive. I promise to share soon. I'm giddy just thinking about it!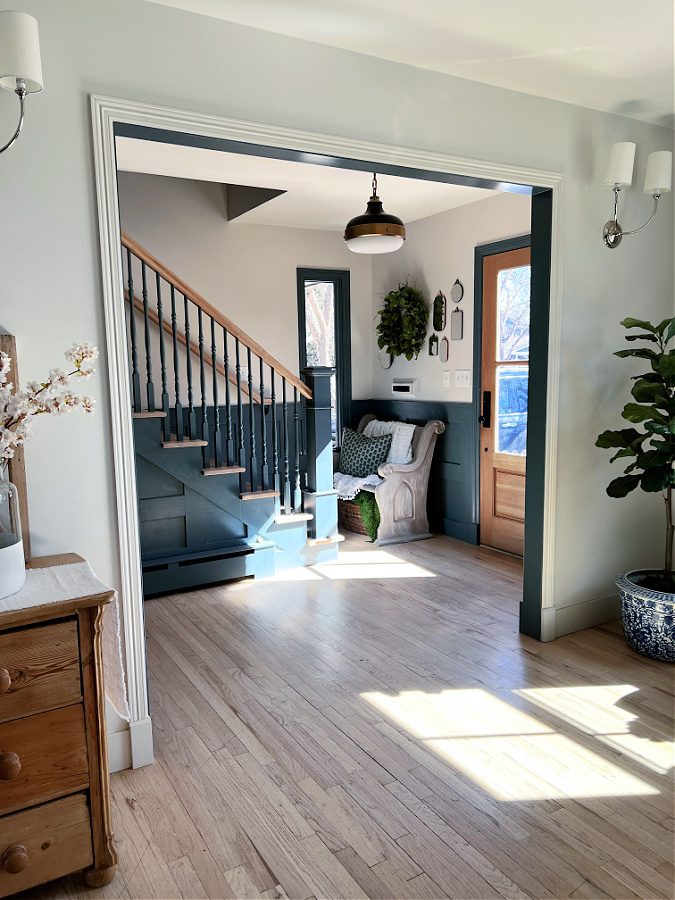 For Spring I added this lemon leaf wreath that I have had forever and a fun new set of 6 velvet edged mirrors above the pew.
On the pew I set a fun block print pillow that I snagged at Home Goods last summer and white quilt/bedspread I thrifted.
A few years ago I painted my little pew and I'm thinking it might be time to paint her again real soon.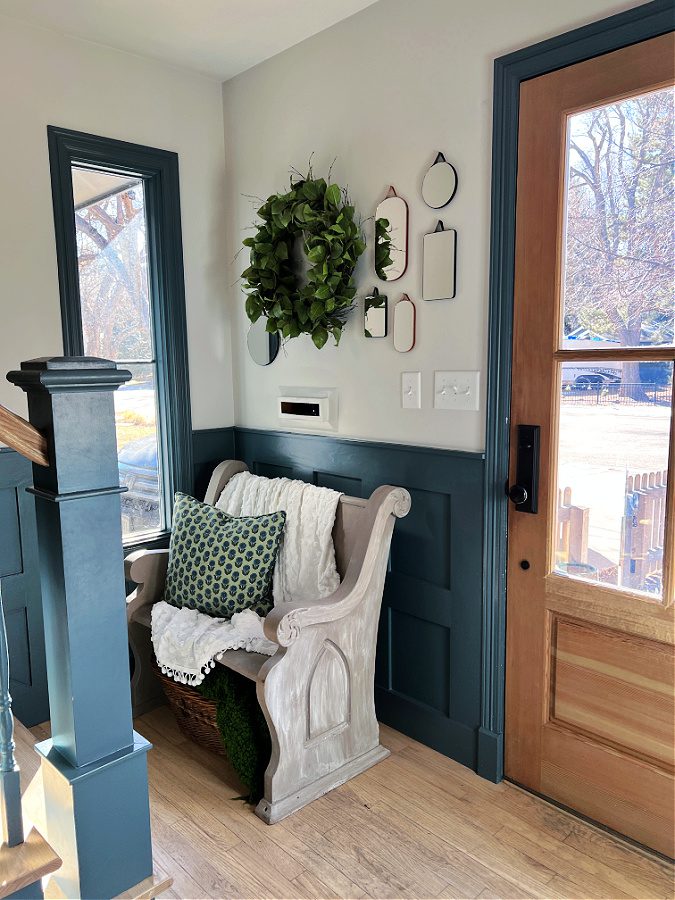 Darling, right?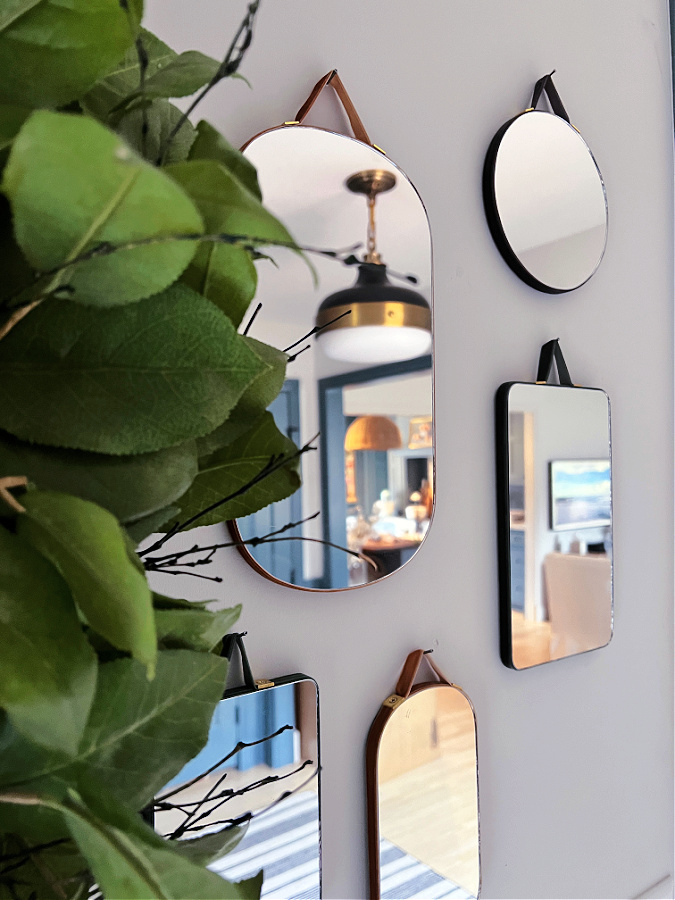 Spring Styling Through The Entry
Let's walk towards the kitchen (which by the way I can't wait to show you! EEEK!)
There is a fun little area just inside our entry that holds my pine dresser that I found on Facebook Marketplace. I am constantly searching on FB Marketplace for furniture. How about you?
I gave her a bit of a Spring makeover by adding vintage flower frogs on a stack of plates on top of a book stack.
I love grouping and stacking items for impact!
Next to the stacks, I set my favorite ETU Home white color block vase and filled it with faux cherry blossom stems for some height.
Behind all of this I layered a huge old blue shutter from the flea markets along with an old wood window.
Spring Kitchen Tour
And just beyond that dresser it opens up to our all blue kitchen!
This blue kitchen is what first captured my heart when we looked at our home. I love how unique it is. The color is Blustery Sky by Sherwin Williams.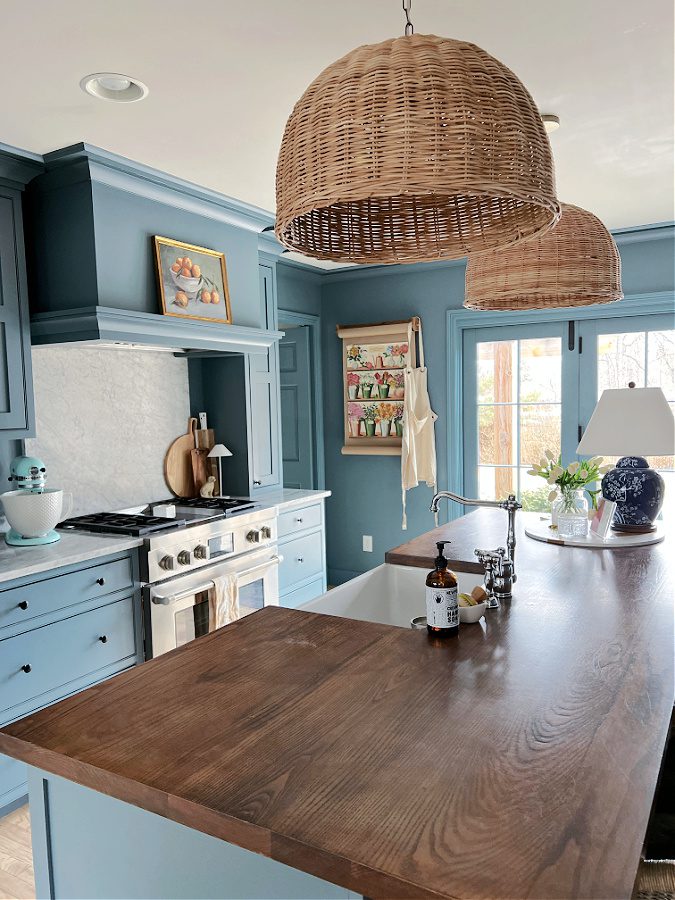 The previous owners get all of the credit for the design choices. Like the marble counters, dark butcher block island top and hidden appliances.
My mom and I did however replace the original kitchen pendants with these wicker beauties! I love how large they are and how they add amazing texture.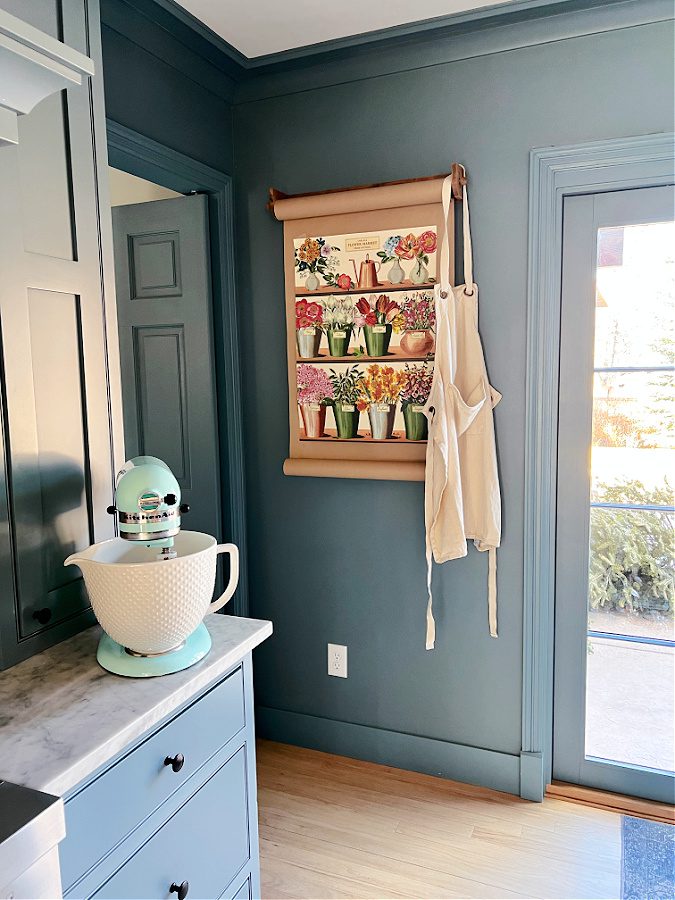 Made my job of decorating the space so easy! For Spring kitchen decor I tried to brighten things up.
Flowers are my favorite Spring decor and a great way to brighten up any space. Real or faux I love them all! Below I have displayed my all time favorite faux tulips. Hands down the most realistic!
On the other side of our kitchen is where I do most of my Spring decorating. I am constantly moving things in and out.
But this vintage looking citrus art print from Target has stayed on our hood since I brought it home.
The color it adds to the space makes me smile.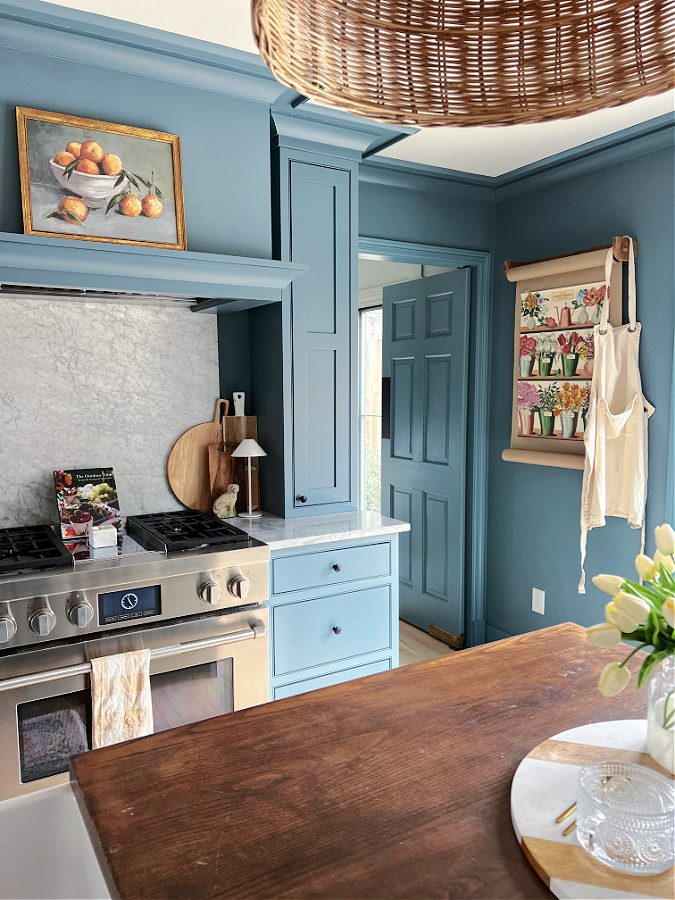 Did you notice the tulip arrangement there on our counter?
This fun floral arrangement has moves all over our house. This was a 5 minute DIY that I shared last week over on Instagram and everyone loved it!
I wrote a blog post tutorial on how to make this simple 3 step Spring floral arrangement if you want a closer peek. It of course includes my favorite faux tulips as well and a really fun white hobnail planter.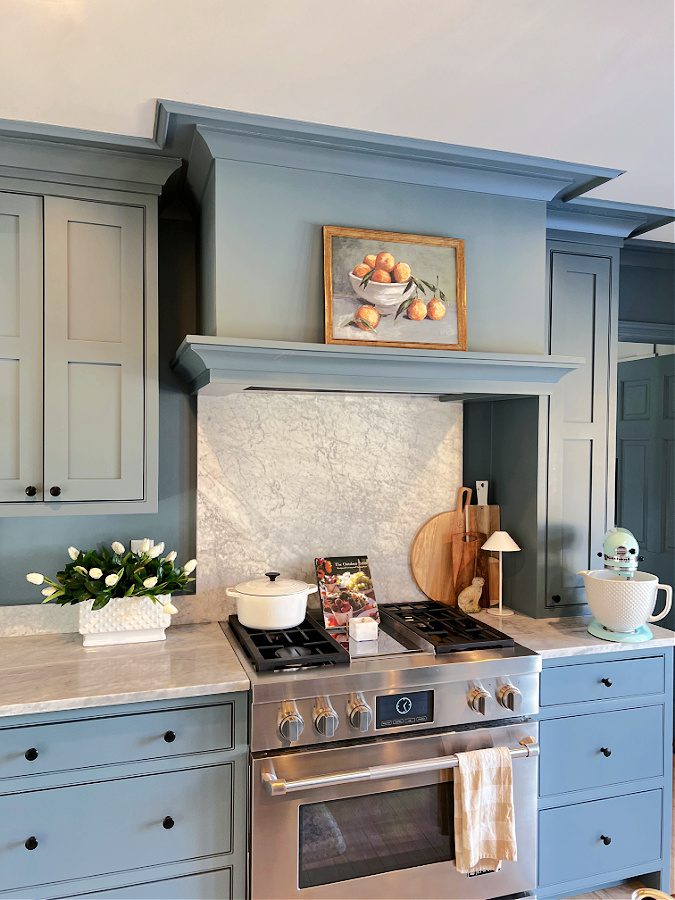 Before we leave the kitchen and head to our pantry I wanted to point out that the large cabinet on the right in the picture below is actually our refreidgetator!
So fool, right?! It is one of the first things my kids show guests so of course I had to show you too!
Also, our wheaten terrier Kona looks like she is ready for some Spring outdoor weather like I am.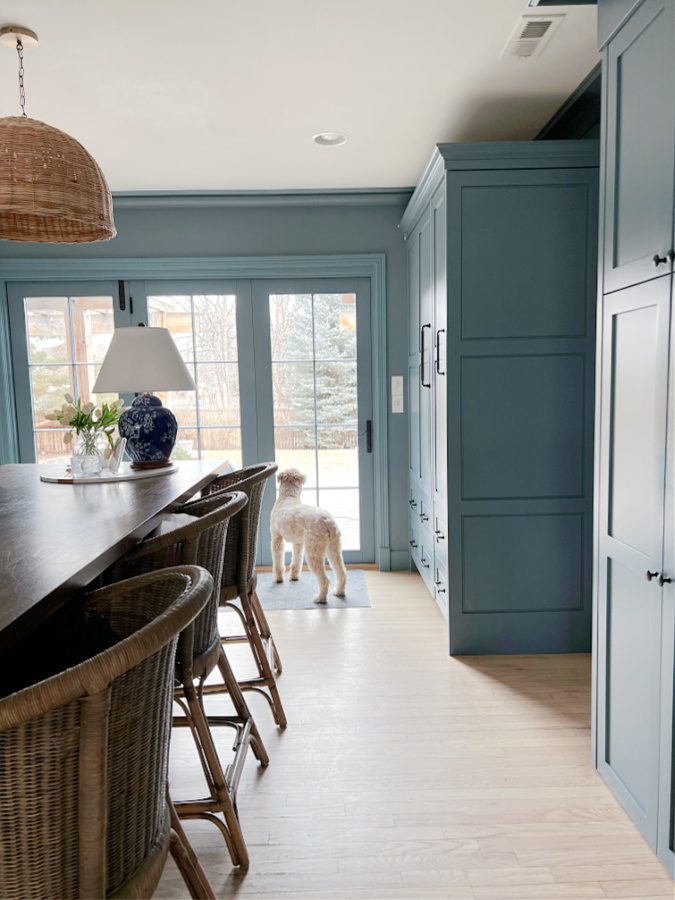 Spring Pantry/Mudroom
Now follow me into our mudroom/pantry. This fun space is just off of our kitchen and really gets some use by our family of 6.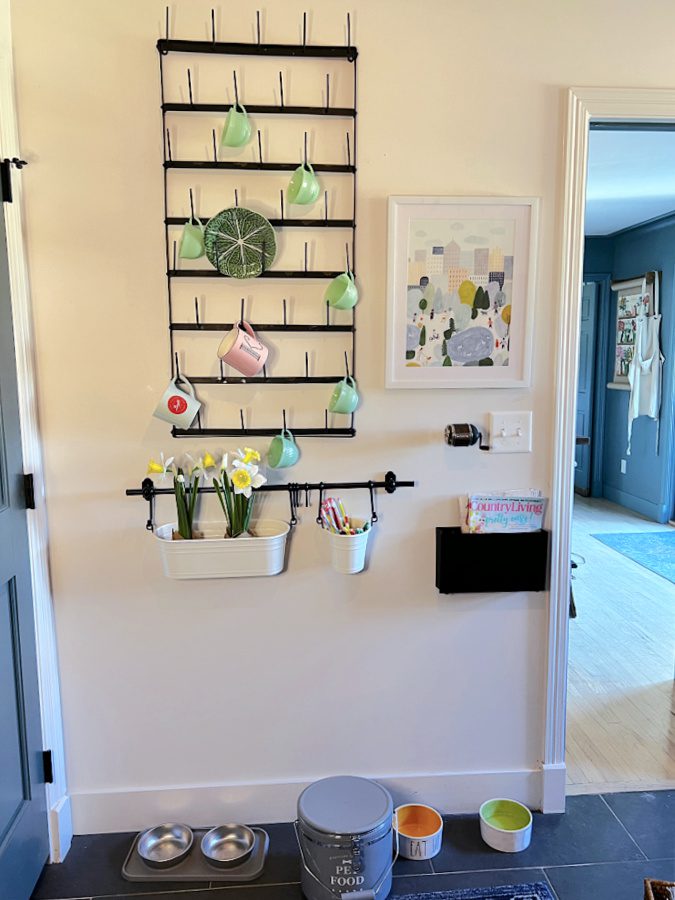 The mug rack is great storage and we never have a shortage of pencils when it comes time for homework. Ha!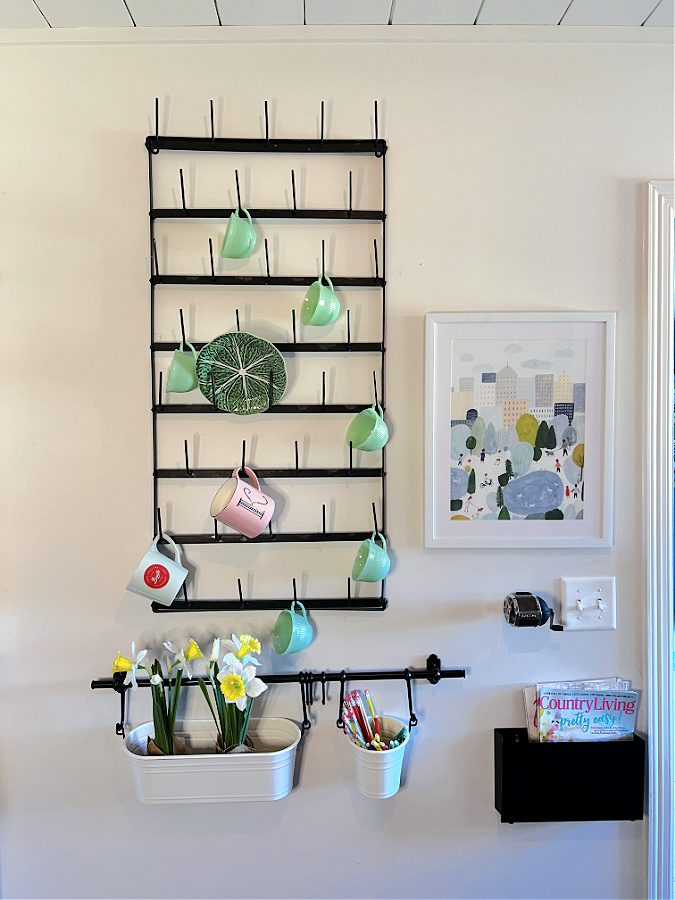 But the real hero of the space is what is behind these closed doors.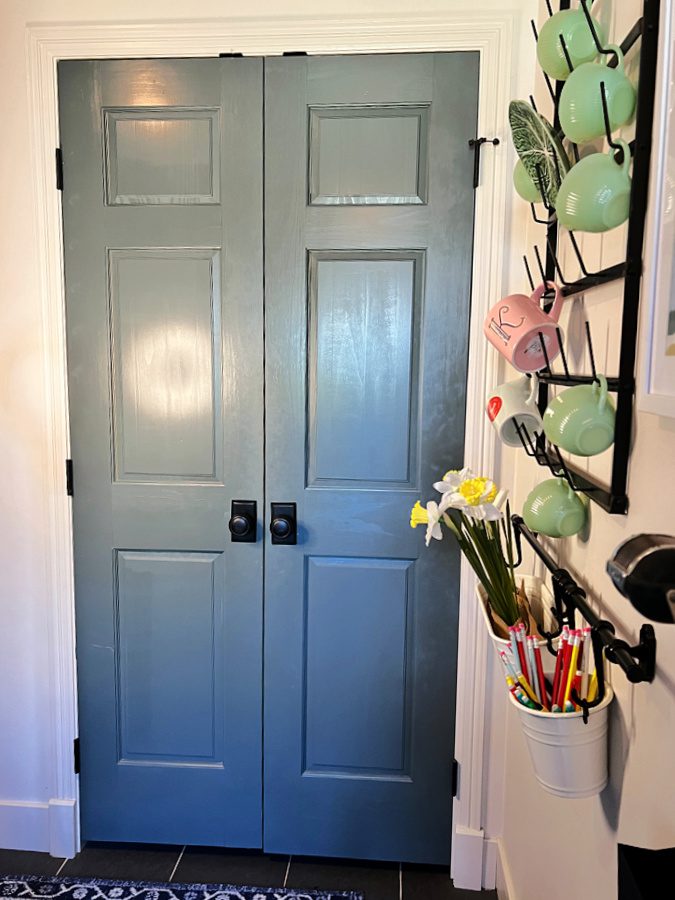 Our storage pantry!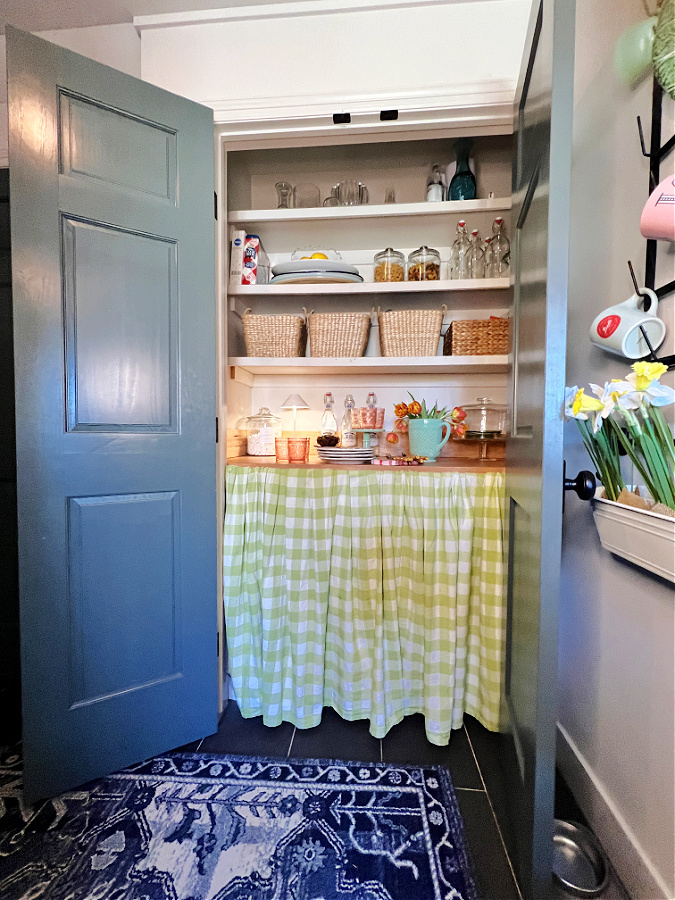 I dressed her up a bit with a large gingham tablecloth as a no-sew curtain option. You will never believe what I used to hold it up. Come see in this post! And if you visit that post you will be able to see what is hidden behind the curtain.
I also had a bit of fun creating some colorful Spring vignettes on the pantry counter. We mostly use this space for storage.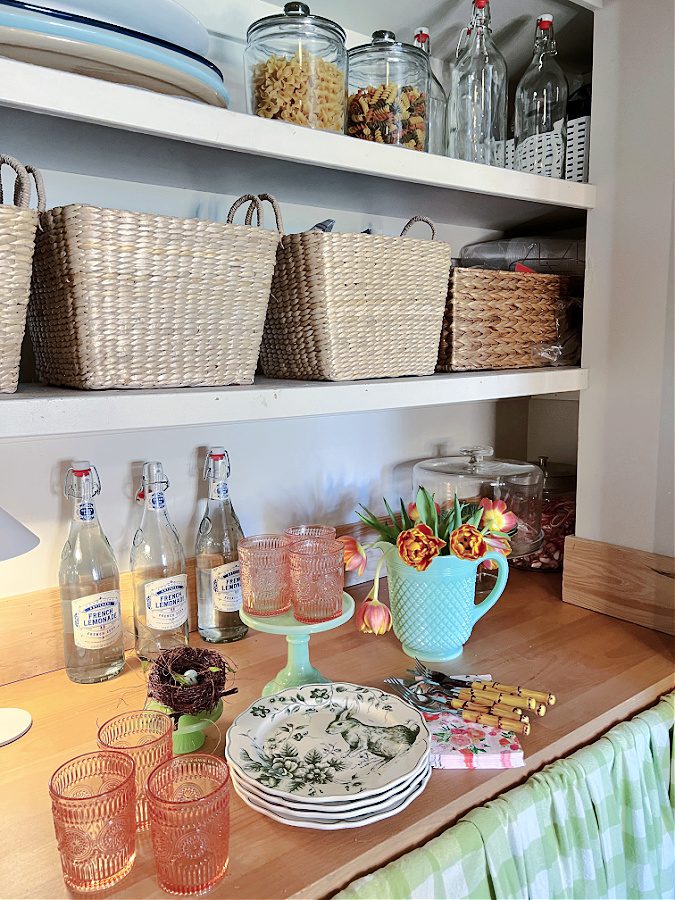 A slight nod to Easter with the bunny plates and pink accents brightens up this otherwise dark space.
I even added a rechargeable touch mini lamp for extra lighting since we have no outlets and it is a dark space!
At the last minute for pictures I carried in these peony tulips from Trader Joes and plopped them in my jadeite pitcher. They make for the perfect Spring decor!
And yes those are marshmallows by the mini lamp. Leftovers from my hot chocolate station this winter!
Besides blue, green is my favorite color. You can read all about my love of jadeite here and my favorite green dresser which I will be sharing in part 2 of my Spring Home Tour 2023 in a week. Stay tuned because you won't want to miss it!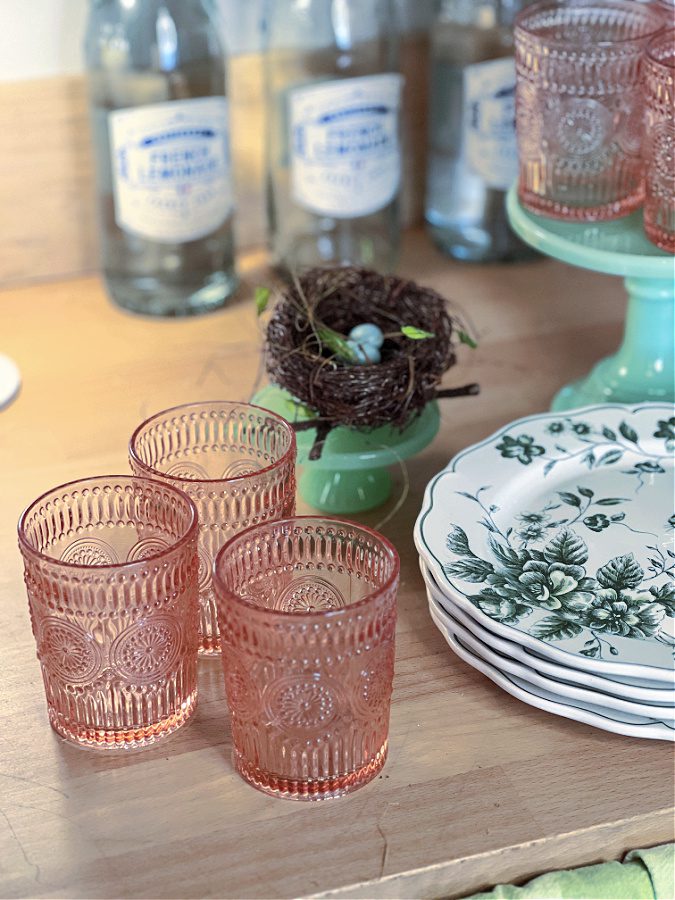 And that wraps up our Spring Home Tour for today. Please make sure to subscribe to my blog so you can be the first to know when part 2 of my Spring Tour comes out. I will be sharing Our bedrooms and family room and a few other spaces as well!
Spring Home Tour 2023
I'm so grateful we got to spend some time together today! Please let me know if you have any questions by leaving a comment below or just say hi!
Now make sure to stop by my friend Michelle's tour of Thistle Key Lane! She has some beautiful Spring ideas you don't want to miss. Then catch the previous tours from earlier this week all linked below.
I'd love to have you hang out with me some more! Feel free to follow along with me on any of the platforms linked below.
LTK | Facebook | Instagram | Pinterest | Amazon
xoxo,
Kelly
Monday March 6th
A Stroll Thru Life – The House of Silverado – StoneGable – My Wee Abode – Simply2Moms – Shiplap and Shells
Tuesday March 7th
Our Southern Home – Southern Home and Hospitality – Eleanor Rose Home – Decor to Adore – Clean and Scentsible – DIY Beautify
Wednesday March 8th
Worthing Court – Calypso in the Country – The Stonybrook House – A Pretty Life In The Suburbs – White Arrows Home – Chalking Up Success
Thursday March 9th
CitrineLiving – Pasha is Home – Whispering Pines Homestead – Up To Date Interiors – Pink Peppermint Design – Thrifty and Chick
Friday March 10th
County Road 407 – The Tattered Pew – Thistle Key Lane – It All Started With Paint – This is Our Bliss