Christmas In My Daughter's Room
There is just something so special about seeing the magic of Christmas through a child's eyes. Come see Christmas in my daughter's room for some colorful Christmas magic!
Home For Christmas Tour
Welcome friends I am so glad you stopped by the blog today! I am sharing my daughter's bedroom all dressed up for Christmas as part of the Home For Christmas tour hosted by Leigh of Little By Little Home. If you are stopping over from Recreated Designs beautiful Christmas home tour, welcome!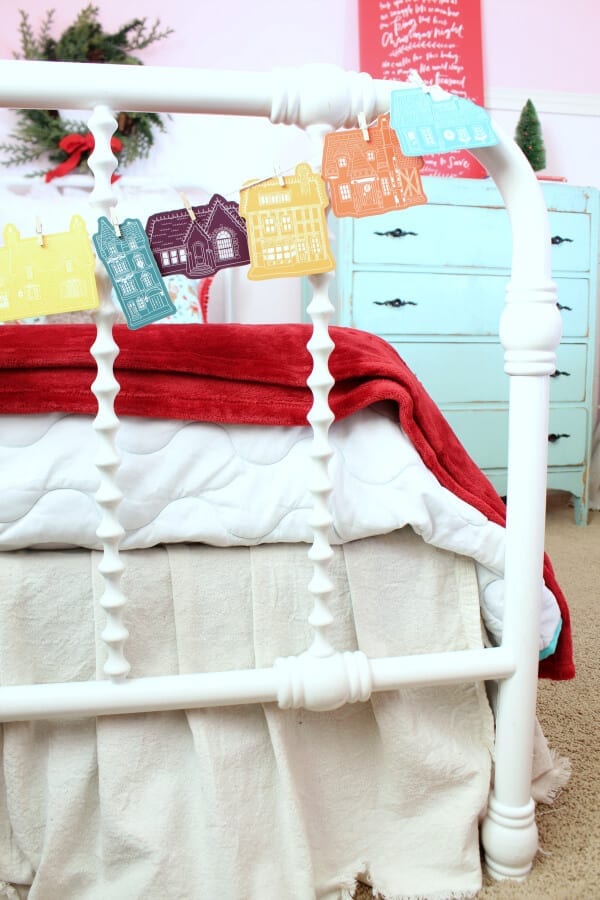 Christmas In My Daughter's Room
Come on in to our youngest daughter's room. She used to share it with her big sister but it's all hers now! As a mom I make it a point to find ways to share the true meaning of CHRISTmas with my kids. Their bedrooms are the perfect place for that! #Jesusisthereasonfortheseason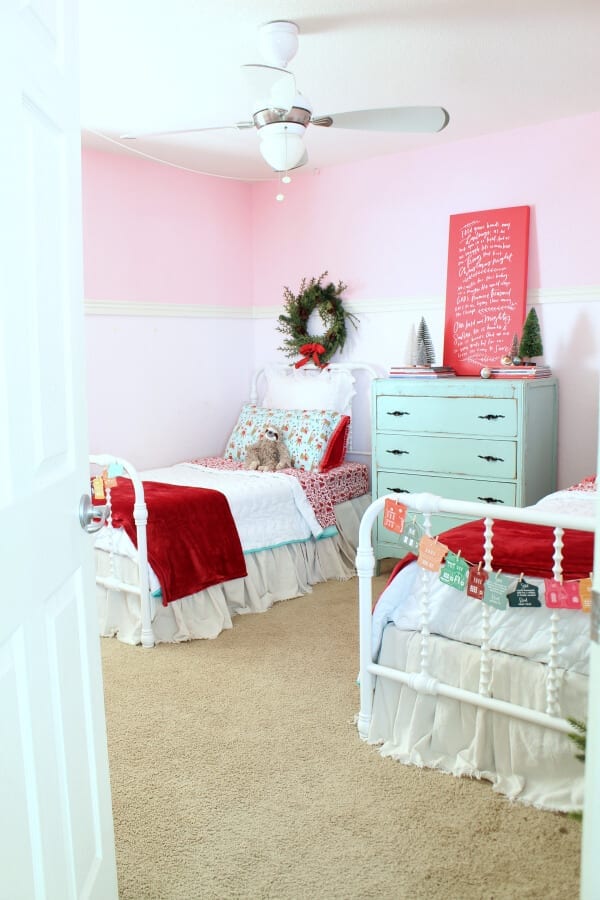 The Perfect Christmas Lullabye
This year as I was scrolling through Instagram and visiting one of my all time favorite accounts, Lindsay Letters, I saw a piece of art that touched my soul! It was her Darlings Christmas Lullabye canvas and the prayer on it was one I knew I wanted my kids to hear and read! Isn't it perfect?!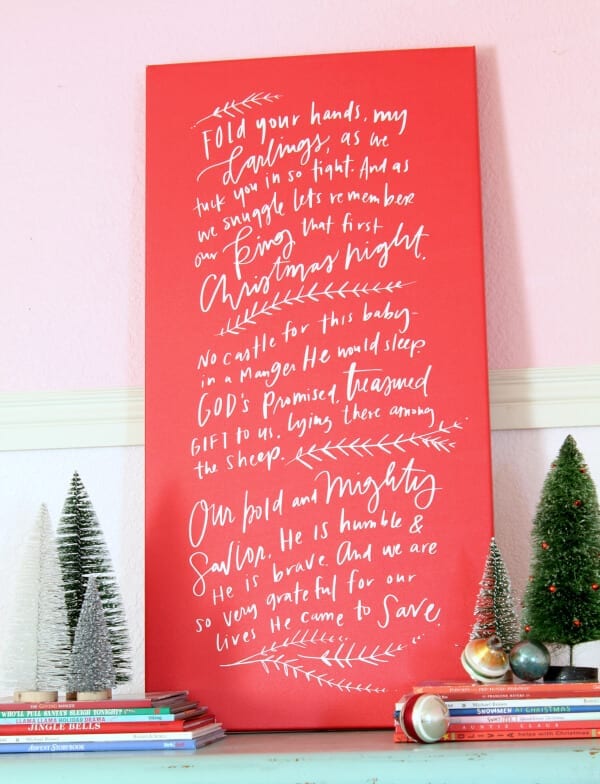 The tall slender shape and red color was a perfect fit between the two beds and looked fun with her aqua dresser. This dresser was one I found at a flea market when I was in grad school. The whole vignette on her dresser offers that Christmas magic that we all love!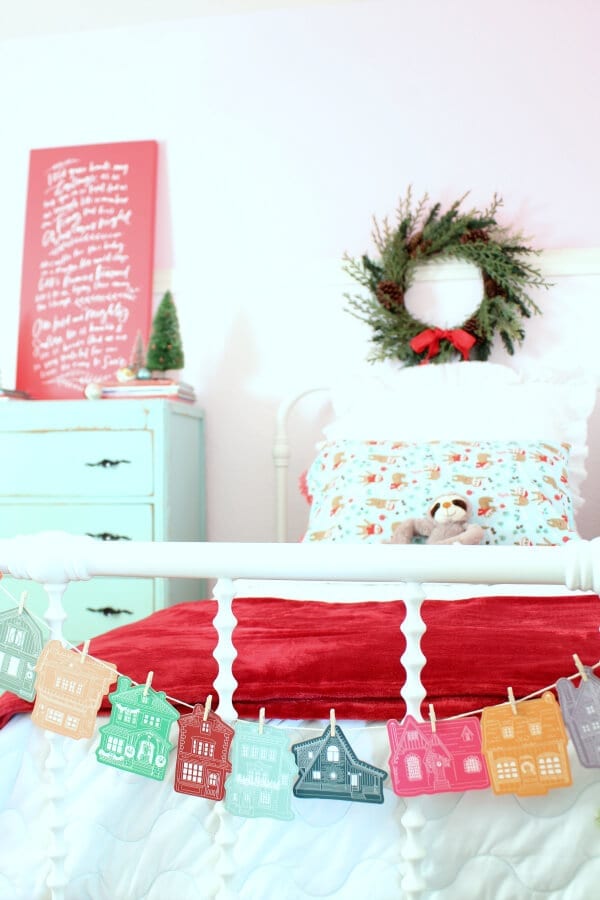 Advent Cards
At the foot of the beds I strung the darling Because He Loved Christmas Cottages from Crew + Co. These cards focus on serving others during the busy holiday season and each day there is an act of service and Bible verse. They based it on this verse: "We love because he first loved us." 1 John‬ ‭4:19‬
Pretty awesome, right?!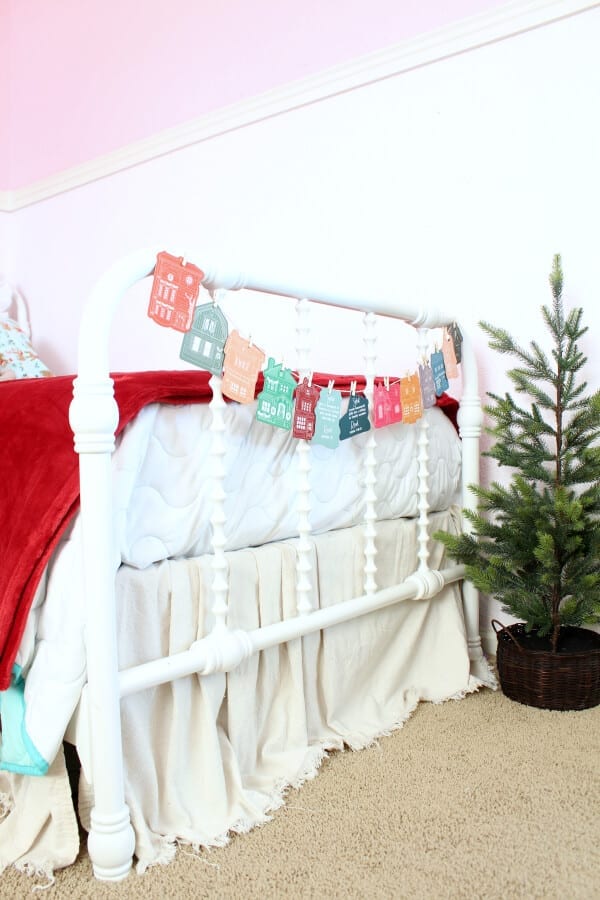 We have been having fun turning them over each day! They are a great hands on activity that is simple yet meaningful.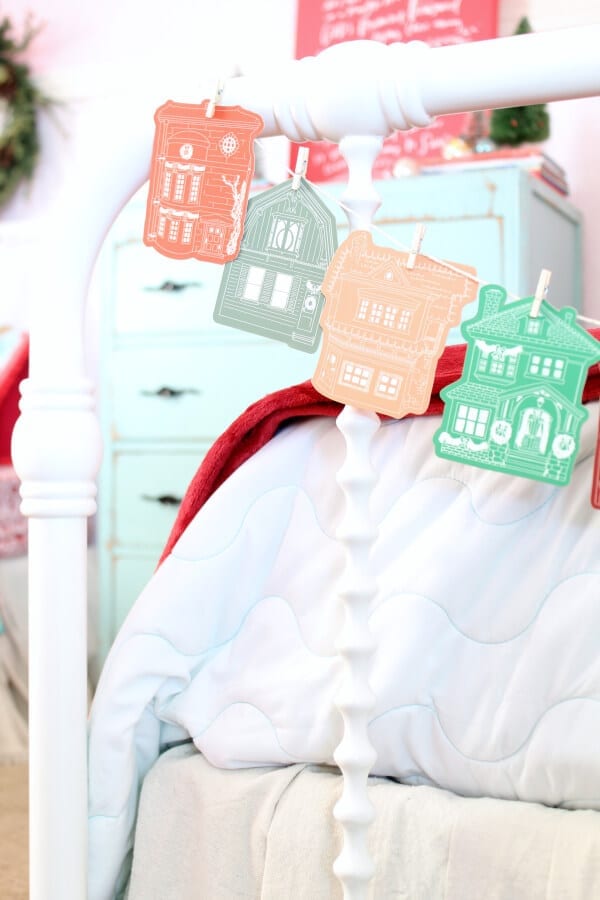 I bought their Because He Loved Card Kit which included the set of 26 cards inside a sweet hand-stamped cloth bag. Also inside was some white twine and mini clothespins for displaying the cards. Which worked perfectly on the ends of the beds but would be cute in so many other places, like the dresser or wall! I am excited to use them year after year and move them around!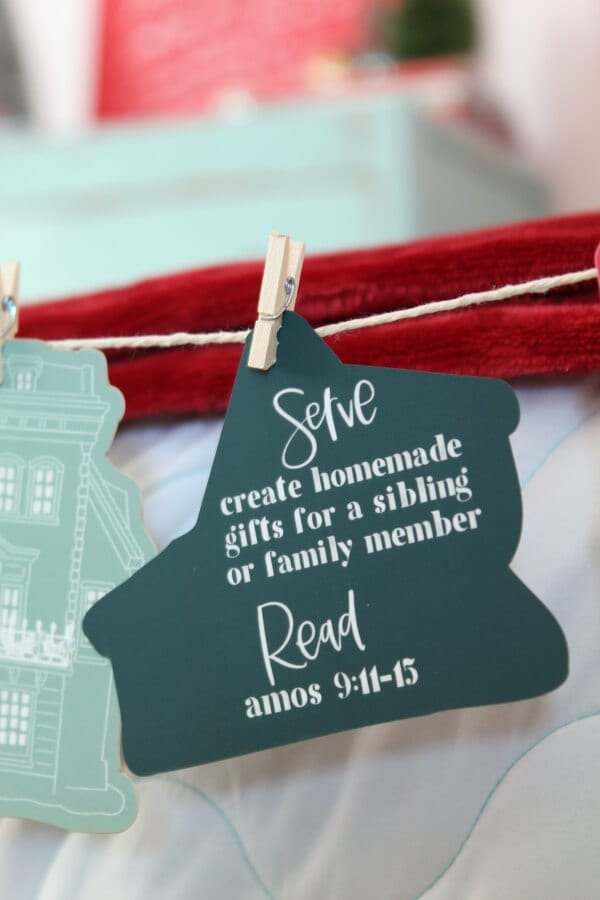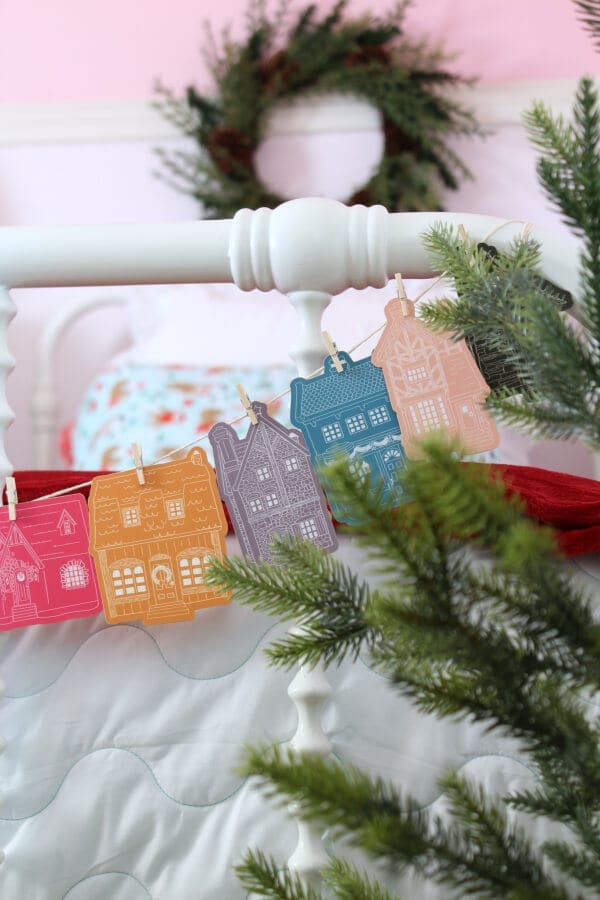 The Bedding Details
We bought these vintage looking beds from Walmart several years ago and they have been one of my all time favorite purchases! Not only were they affordable but they are well made and so pretty! It's easy to change the bedding up because of their neutral look and color. When I first made over the girls room back when they shared it we had darling matching floral comforters.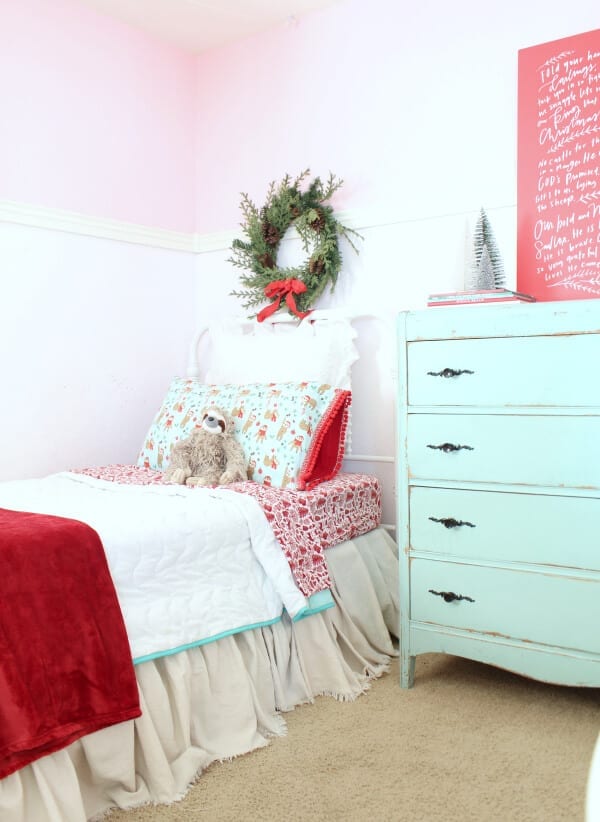 And I even made these fun drop cloth bed skirts! Now we have switched things up a bit and brought out the flannel Christmas sheets (from Target a few years back), red soft blankets from Tuesday Morning, and sea foam quilts that I turned to the white side. I kept it simple and used mostly what we already had while still making it fun and magical and special for my daughter to emjoy!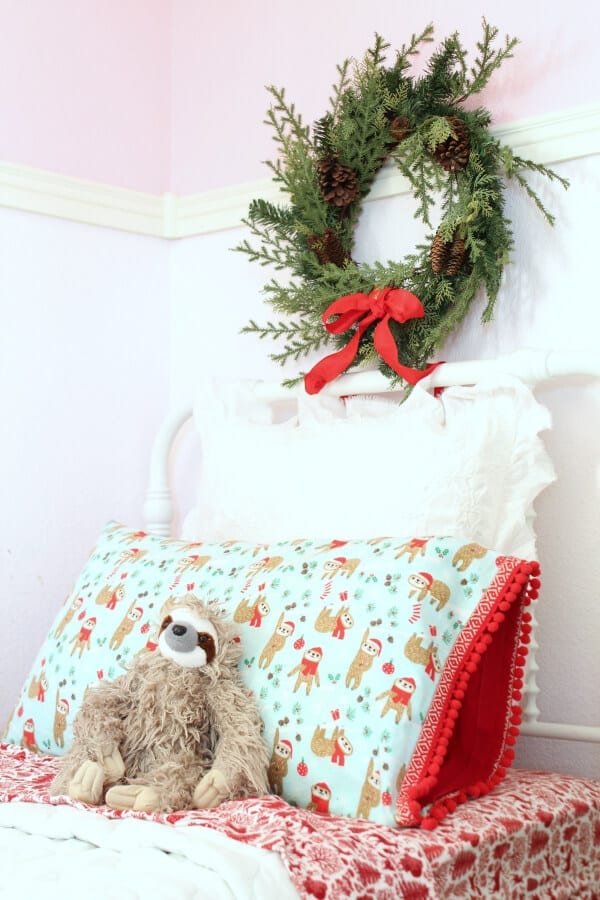 Oh, and I can't forget the darling DIY Christmas pillowcases my mom and sister made for the little girls in the family! Our youngest LOVES sloths so she got a sloth pillowcase. You can read that full tutorial here! She loved walking in to see her sloth named , Slothy, sitting in front of his very own Christmas pillowcase! It's the little things that make this room so special.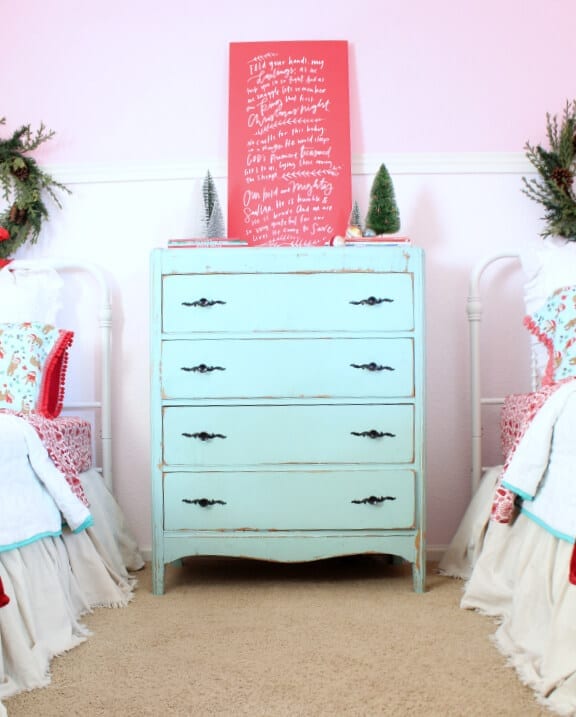 The Details Of The Room
I love the symmetry in this room, everything from the beds to the matching $13 wreaths from Walmart! It was fun decorating her room with items we mostly already had.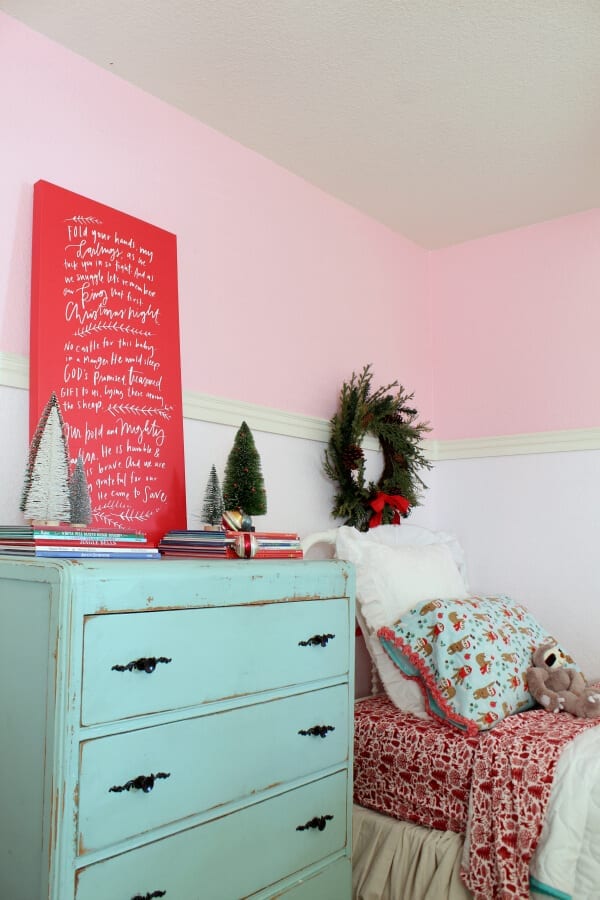 On top of the dresser I added books from our Christmas book collection. My parents give the kids a new one every year. We love to read them and decorate with them. 🙂 Around the books I scattered a few of the Shiny Brite ornaments you saw in our Christmas Home Tour. Then simply added a few bottle brush trees. So fun and colorful without spending any money!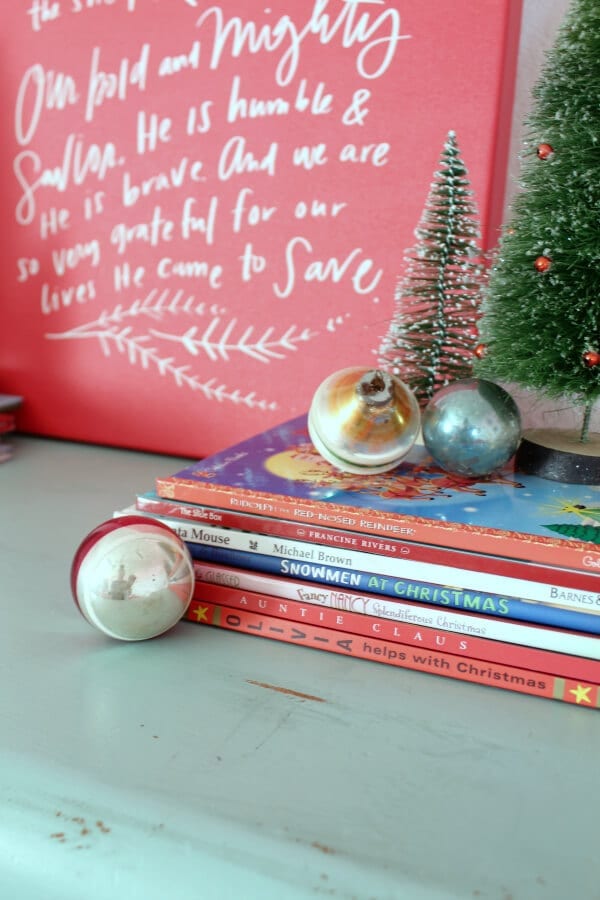 The trees at the foot of the bed are from Target a few years back and they are actually my mom's. She is so kind to always let me borrow her decor. Between my sister, my mom and myself we share a lot of our decor and that helps us save money when it comes to decorating!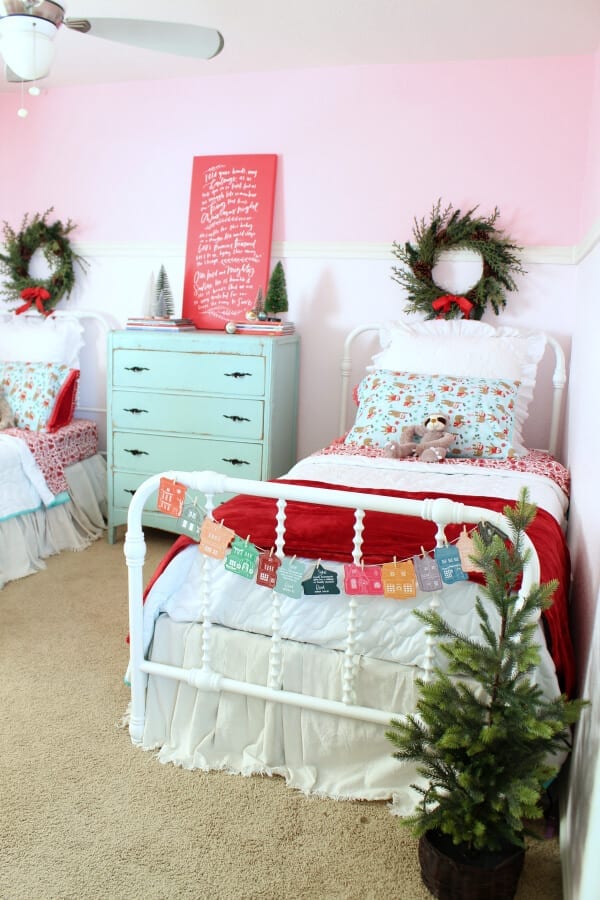 Christmas In My Daughter's Room
Thanks for stopping by to check out Christmas in my daughter's room! I hope you enjoyed it and maybe even found a bit of inspiration. Do you decorate your kids rooms for Christmas? If you enjoyed this peek into our home I would love for you to subscribe to the blog and follow me over on Instagram, Pinterest and Face Book for even more fun posts and ideas.
Next on the tour is Leigh at Little By Little Home's simple Christmas home tour! The rest of the ladies links can be found below. Have fun looking around.
XOXO,
Kelly
Recreated Designs / The Tattered Pew / The Little by Little Home
Our Crafty Mom / Jenron Designs / Twelve on Main / Noting Grace
Did you like this post? PIN it for later!