Slowing Down to Enjoy Pour Over Coffee
I am a total coffee girl. You know, the kind who wakes up every morning already with coffee on my brain and in desperate need of my morning cup. So, when my friend Jodi said she wanted to show me the art of pour over coffee and how it's all about slowing down and enjoying a savory cup of joe….I was all in!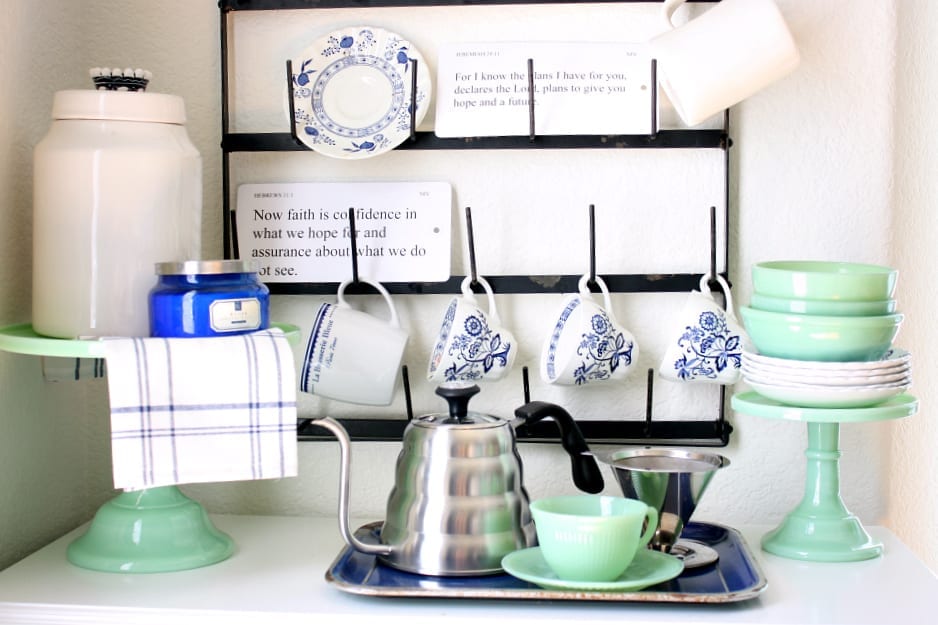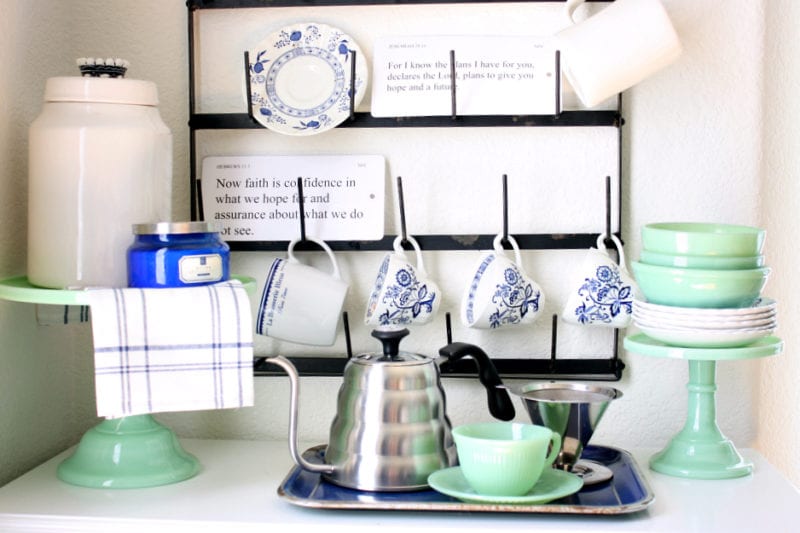 (This post may contain affiliate links. If you purchase a product through an affiliate link, your costs will be the same but The Tattered Pew will receive a small commission.)
Pour Over Coffee Experts
Jodi and her Husband are local friends who have started their own company called Ol'Blue . They are experts when it comes to all things coffee and were gracious enough to give me one of their gorgeous new must have kettles and the perfect pour over dripper too! I am excited to share them with you because as most of you know my heart is all about shopping small and local when I can!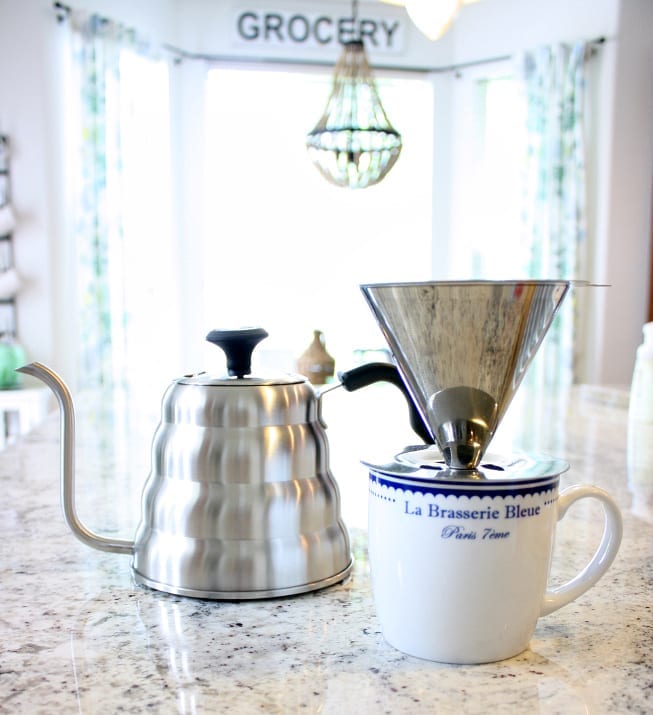 Isn't their kettle and dripper just gorgeous? I paired them with this beautiful cup of my mother's (shop mug HERE) and had so much fun taking pictures of them!
The Process
Jodi came over and walked me through this fun new way to enjoy a cup of coffee (well new to me at least!). I have to admit, I was a little skeptical when she informed me that this coffee is enjoyable on its own and with nothing added. If you know me then you know that I love to add cream and sugar to my morning coffee. I decided to just trust her and enjoy the process!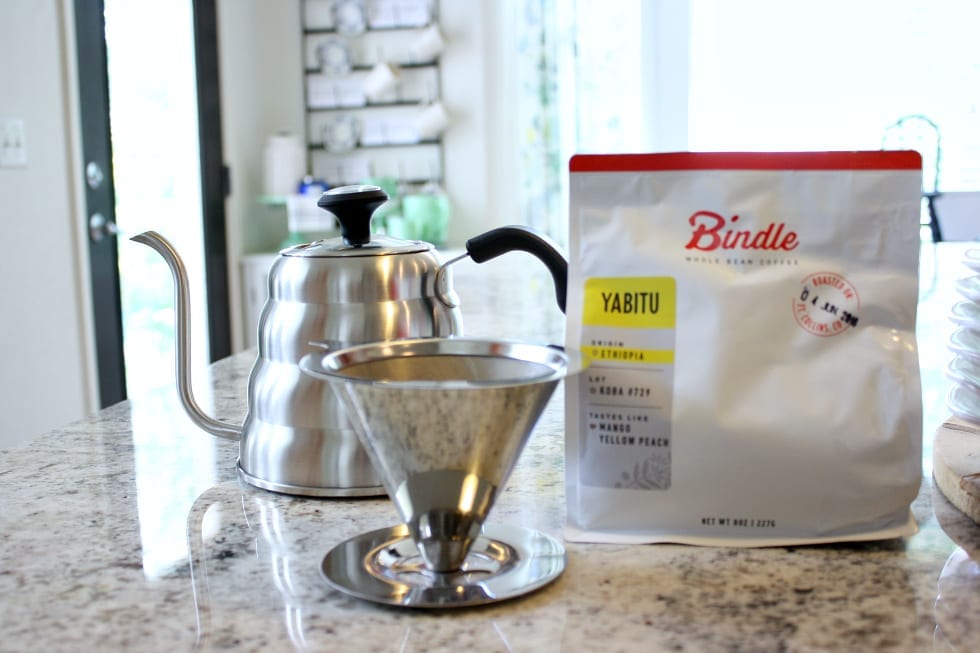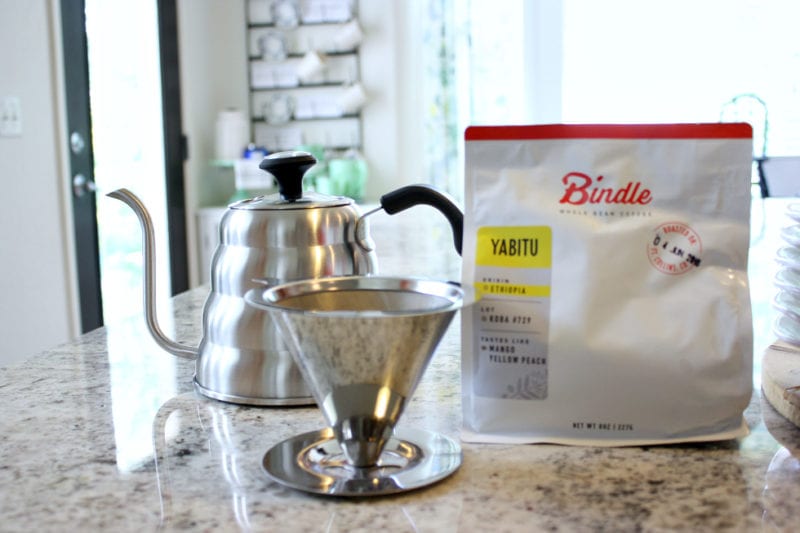 Buying Your Coffee
Before Jodi came over I was looking for places to buy coffee to try out with my new kettle and the first place I thought of was Bindle. This local coffee shop offers amazing coffee, treats and customer service. They did not disappoint and kindly helped me choose a flavorful coffee (that you can find HERE) and even talked me through the process of pour over coffee as they made a cup for another customer. You can find all of the brewing methods they use explained perfectly on their site HERE. They ground my coffee to a medium grind which is likened to the consistency of sea salt and important for pour over coffee.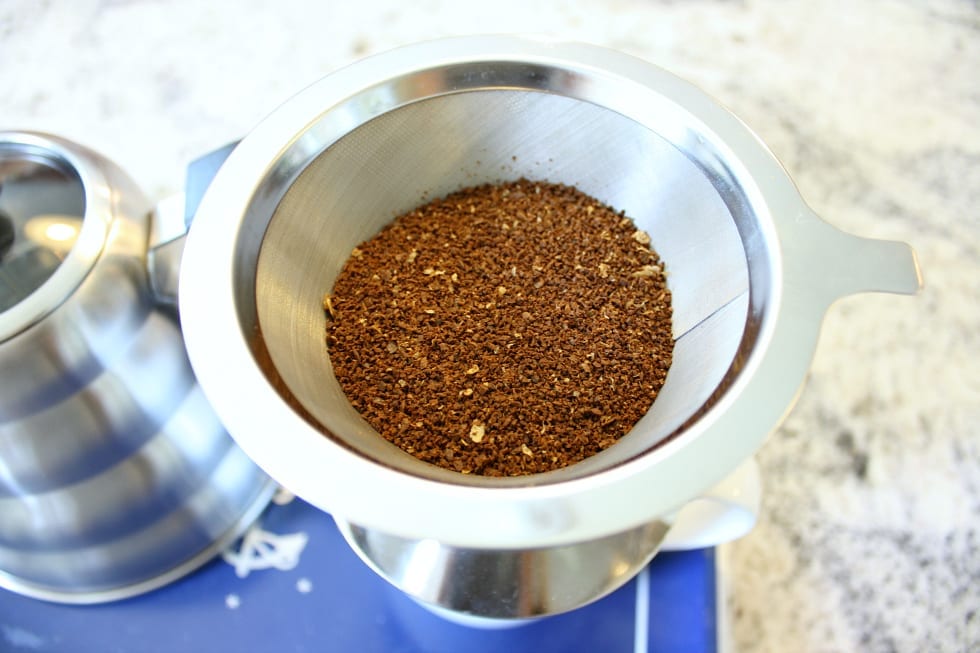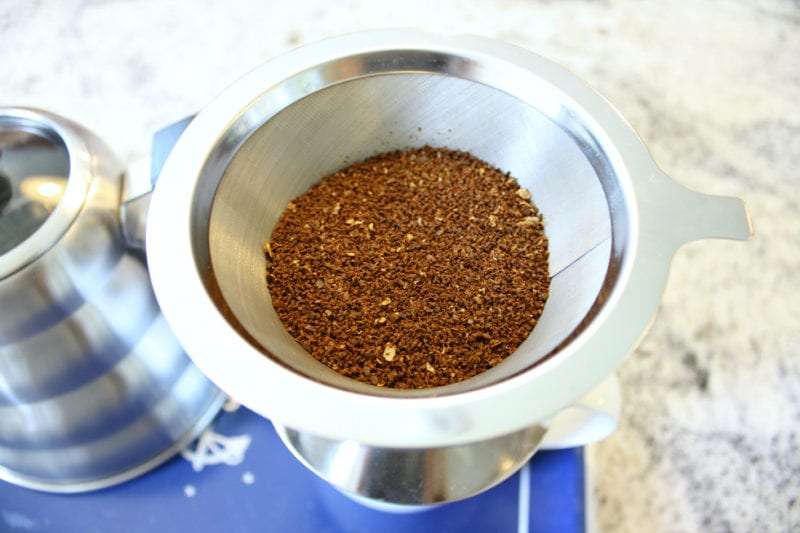 Precision
When Jodi came over the very first thing she talked about was the precision and timing involved with pour over coffee. To create the best pour possible you want your kettle to be at 200 degrees, because if your water is too hot or too cold your coffee will be bitter. This is a big no no for pour over coffee!  The Ol' Blue kettle has a built in thermometer which makes their kettle very desirable and lessens the chance of bitter tasting coffee. Pretty much genius if you ask me!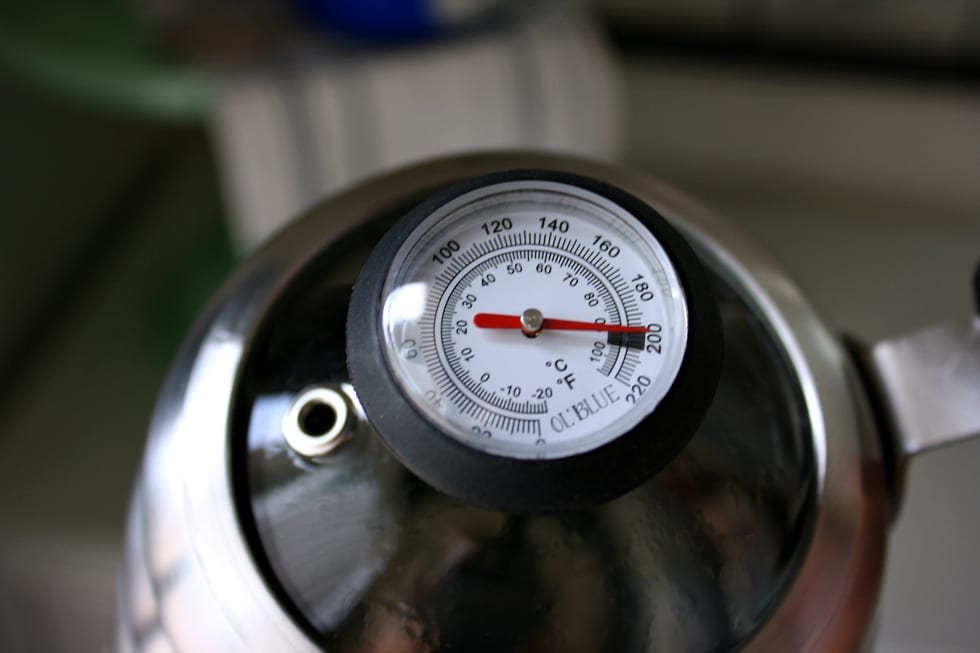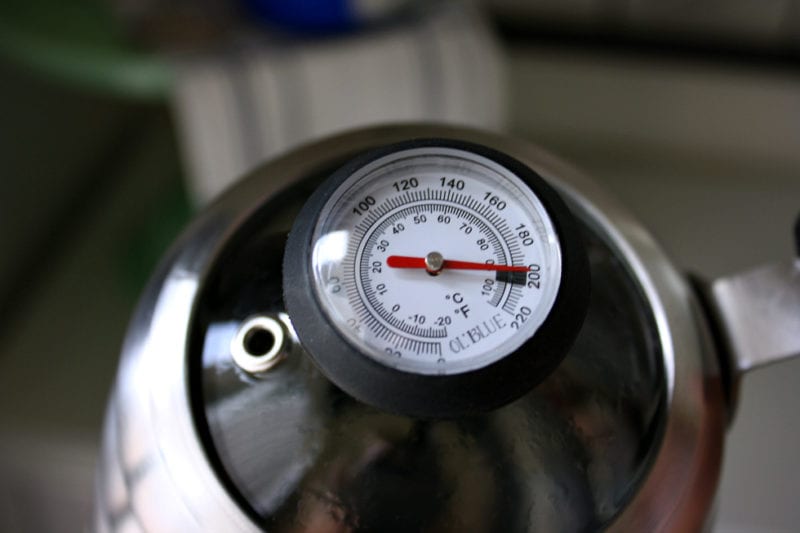 Their kettle also features a stunning goose neck spout which allows for better control when you pour your water. Jodi showed me how to pour the water in a circular motion. This also helps to extract the CO2 that is inside the coffee bean which is replaced with the water and this is how the brewing process begins. This is also referred to as the bloom. I learned so much!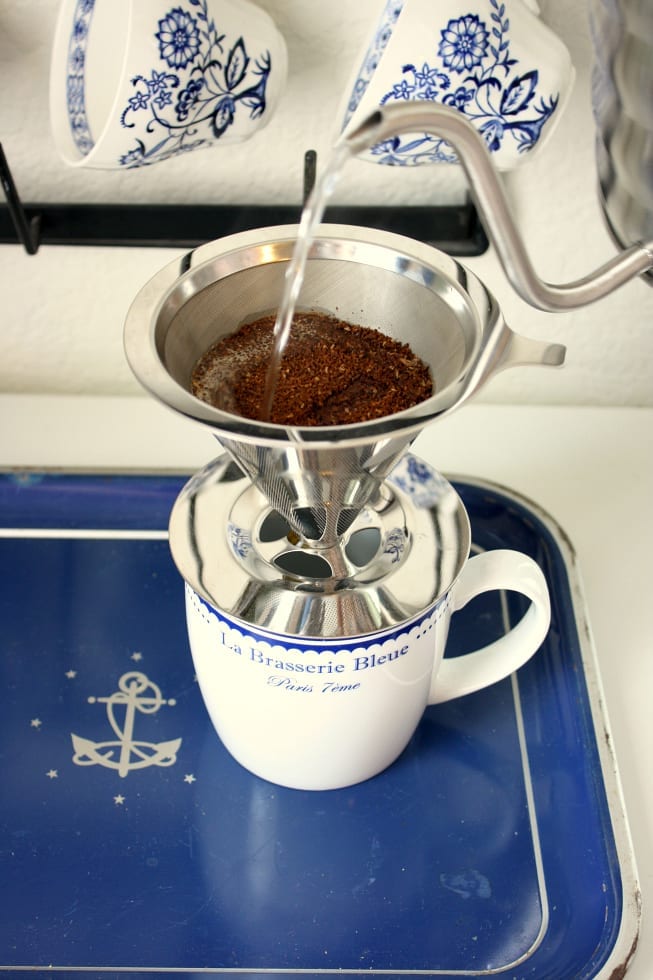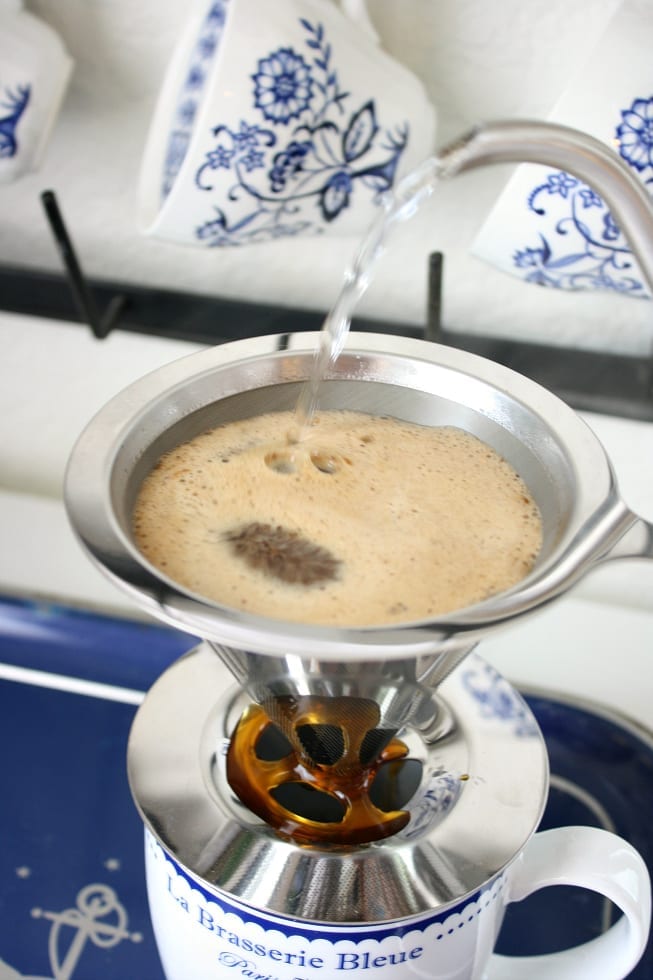 The Dripper
As you can see in the pictures above you place your ground coffee beans directly into the dripper and set it on your cup of choice. The best part of Ol'Blue's dripper is that it has a built in filter. Not only is this convenient in the fact that you aren't constantly wasting money on filters but it is also  very earth friendly! These amazing drippers are now for sale! (You can also shop mug rack HERE and tea cups HERE !)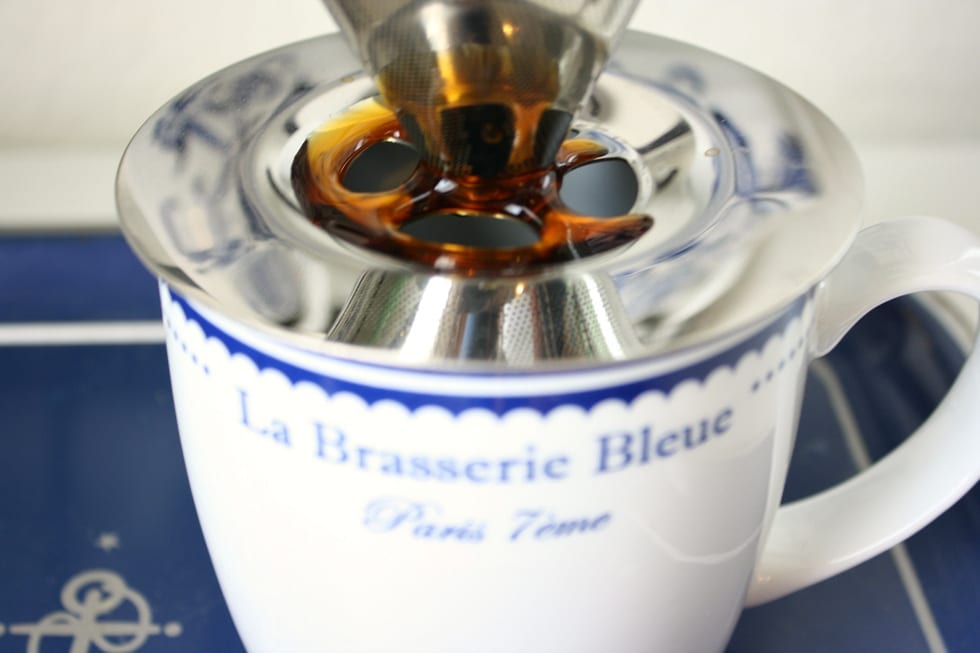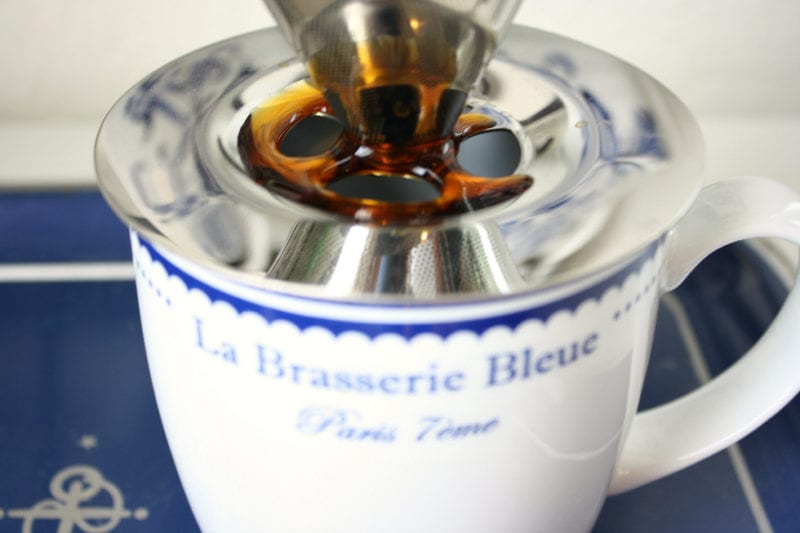 Slowing Down and Enjoying Your Pour Over Coffee
The coffee slowly drips into your cup and it is instantly ready to enjoy! And that's just what I did, I enjoyed a freshly poured cup of coffee. All in all this process was very enjoyable, easy and took all of 8 minutes…if even that!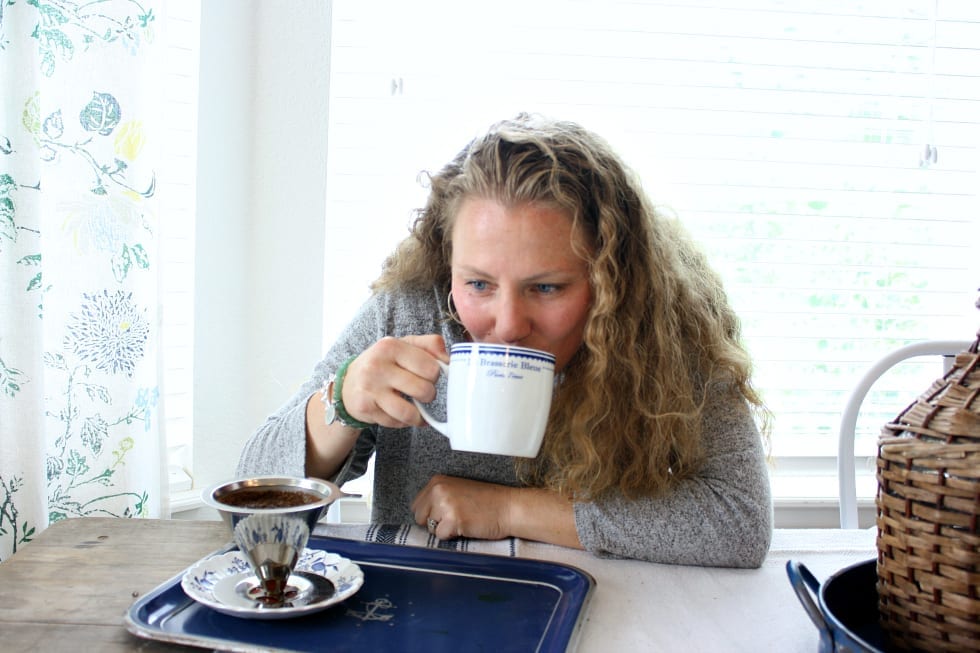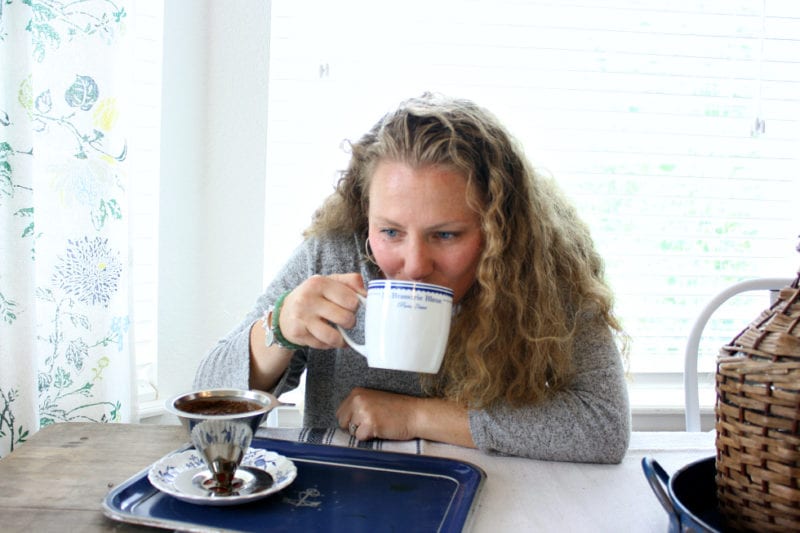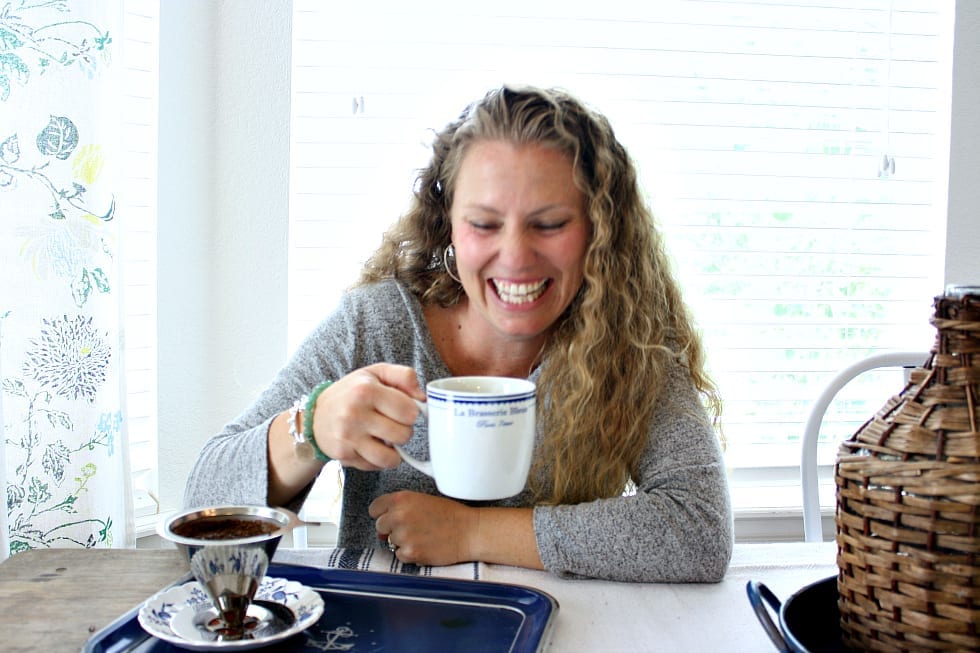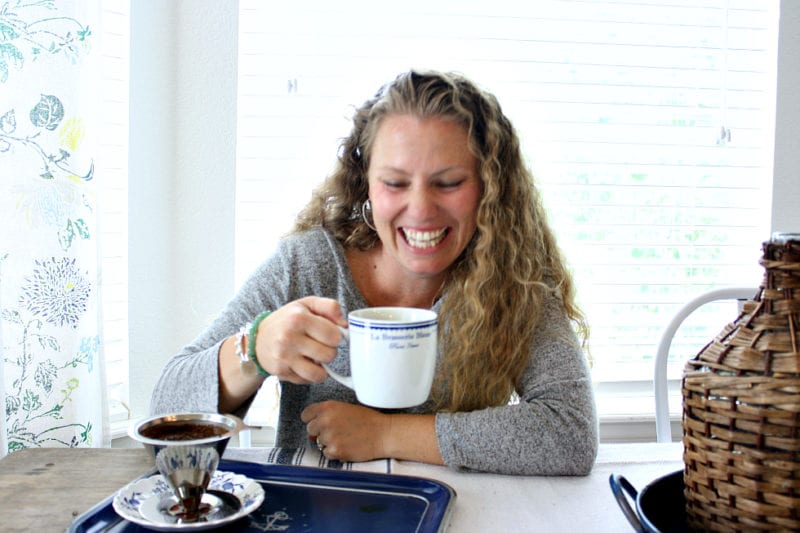 The Best Part!
Jodi and her husband have been kind enough to offer my readers a coupon code for 20% off! Just use the code TATTERED at checkout. You can shop their products HERE! And enjoy pour over coffee for yourself!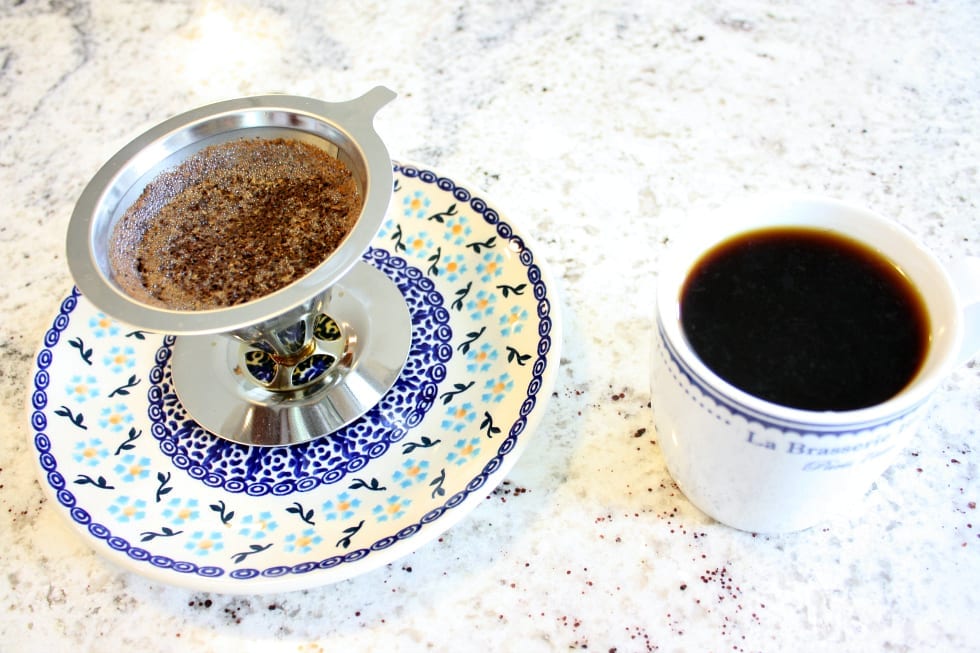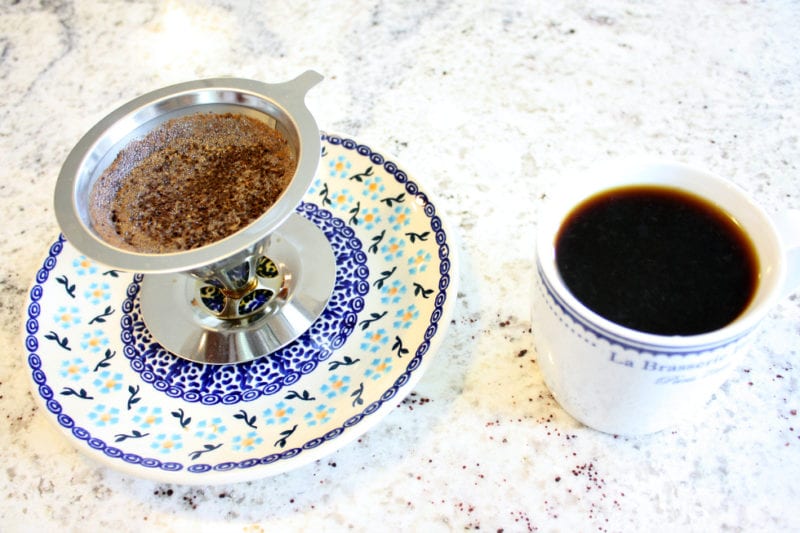 Pour Over Coffee
I would love to know what you think! Have you ever had pour over coffee? Do you have any questions? Please leave me any questions, or tips and tricks you may have for making and enjoying this way of brewing coffee. Thanks for stopping by today and I hope you have some time to sit and savor your weekend!
xoxo,
Kelly
PS- I will be sharing our Summer Home Tour here on the blog this coming Monday and I hope you will stop back by to check it out. If you want to see all my future posts you can SUBSCRIBE HERE and never miss one. 😉