Tuesdays With Tracy March Blog
Hi Friends! This is Kelly's mom, Tracy joining you with a late March visit. We were traveling for three weeks in February and March so now I'm finally catching up.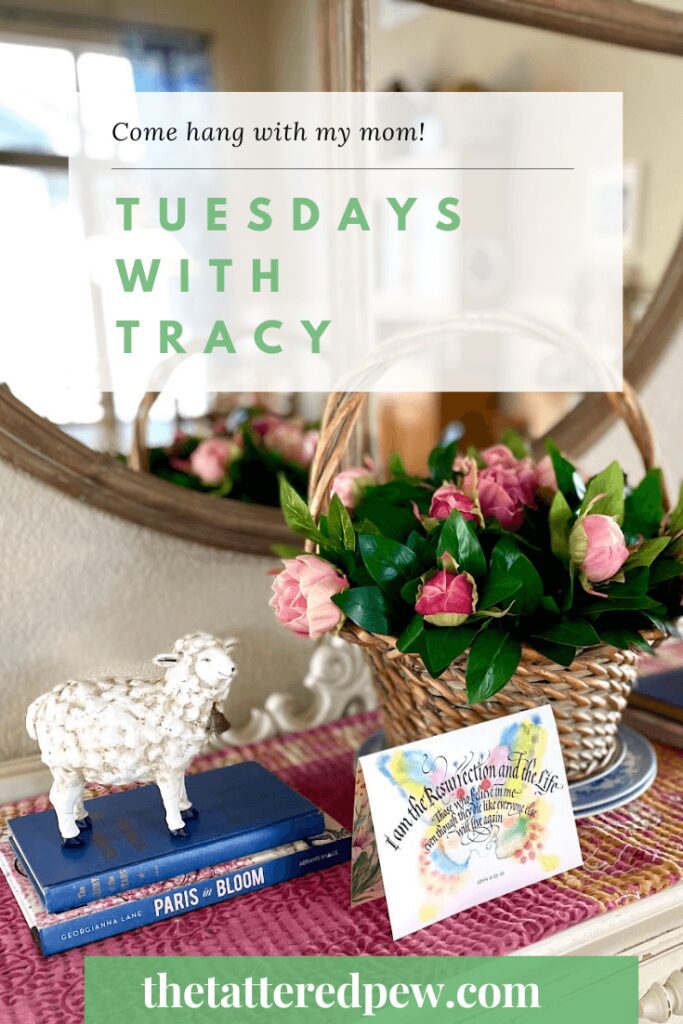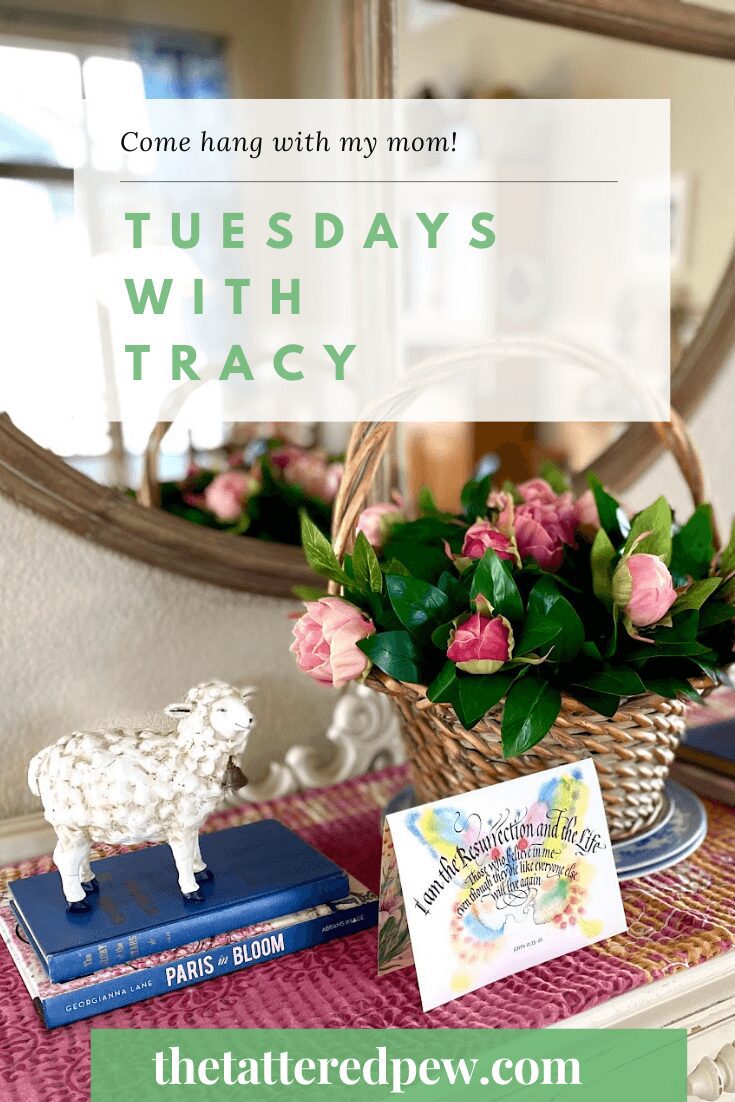 Tuesdays With Tracy March Blog
We visited my sister and some friends in California, and then were invited to stay with another friend on the big island of Hawaii. How could we say no to that! Below is the view from the deck of the home we stayed in.
We sat here (below photo) one afternoon and watched a pod of whales breaching. I didn't capture it in photos but it was so beautiful.
Sprucing Up Our Home For Spring
It was a fun trip but we were ready to be home.  And, I was ready to begin  freshening up the house for Spring.  
Below is our living room. 
I was looking around the other day and realized there was a pillow from Christmas that I had forgotten to put away. That, and Kelly's Spring Home Tour, spurred me on to spruce up our home for Spring.  
Since Easter is just a couple of weeks away and we will be hosting I figured I better get my act together. Ha! One of the things I quickly threw together is that basket arrangement sitting between the two chairs in front of the window.
An Easy and Charming Dried Spring Floral Arrangement 
Every summer I cut and dry some flowers from our yard and some from the grocery store. And every year I think why am I doing this! 
Well this is one of those years that winter has been long and I wanted some remembrance of warmer weather.  In the basket shown below I have gathered dried Peonies and Roses from our summer garden last year, as well as Lavender and Larkspur from the grocery store last year. 
I'm not sure what the yellow ball flowers are, if you know please let me know in the comments.
Also in the basket is a faux ivy bush, a bird nest, a small garden pot, seed packets, and a little painting of a nest that was a gift from Kelly a couple of years ago.
The bird nest with an egg was taken off one of our gutters prior to painting the house a couple of years ago.
"The power of finding beauty in the humblest things makes home happy, and life lovely."
Louisa May Alcott
Putting this Spring arrangement together was quick and easy. All of the items were things already on hand. I used a large basket but you could also use a large tray.  I grabbed a tea towel for the bottom and began layering.
I first put in the green ivy in the top left corner then started layering dried flowers.  I'm not a professional flower arranger so I just plop things in and see what feels right.
Next I put the small garden pot in and added the vintage hand rake, and then the nest.  It needed something a little different so I added the seed packets and the small painting. 
Wa La, the finished easy and charming dried Spring floral arrangement. 
Spring Vignette
On the living room coffee table I usually have some sort of tray for books, candles, tv remotes, etc. For Spring I used a white tray and on it I placed books, a candle, and a cloche. Under the cloche there are books, plates, and a nest.
A green and white arrangement is on the kitchen island.
This vintage Margaret Furlong angel was my mother's. She loved lilies and how sweet is this angel titled Lily of the Valley. She sits on an old European hutch in our dining room.
Our entryway is adjacent to the dining room.
Below, in the entryway is an old sideboard I purchased at an outdoor market. In the basket are some faux peonies and greens that you may have seen Kelly feature in her Amazon storefront. I just followed her lead and placed the greens in first and then popped in the peonies.
Easy peasy. 
I prefer real flowers but that's not happening here in Colorado right now so, it's faux for me! 
Shop The Post

Preparing for Easter
Celebrating Easter and the hope it brings is one of my favorite times of the year. It makes me think of new life as bulbs pop up and buds appear in the garden. Hope rises after the winter darkness. Some of us are in a season of sunshine and some of us are in a season of just trying to make it through the day. I'm praying that no matter what season you are in that you will feel the sun shining on your face and experience hope and new life.
Love, 
Tracy