Tuesdays With Tracy : February
Happy February Friends! This is Tracy, Kelly's mom here for my monthly Tuesday visit. I hope you are staying warm and well wherever you are. This photo continues to be the view out our living room window… still snowy and still cold here in Colorado.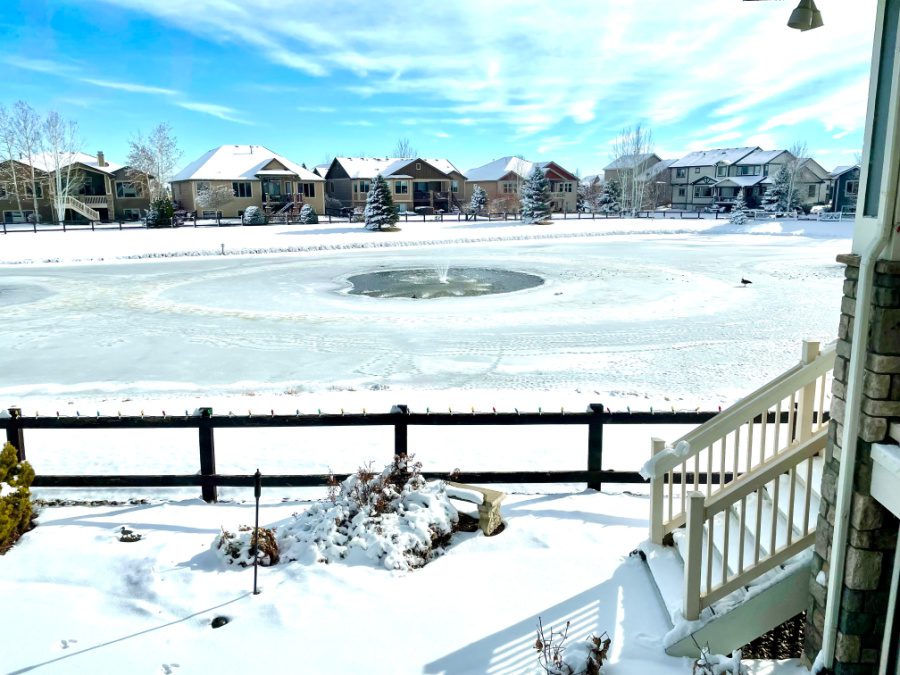 So, my mind wanders towards travel and that's where I'll start this month's pondering on the pond.
I will also be sharing a simple DIY project.
TRAVEL
Last May we traveled with good friends to Ireland, Scotland, and London. We had never been to Ireland so that was a great new adventure. We did a ten day driving trip of Southern Ireland beginning and ending in Dublin. I can't say I'm crazy about driving in Ireland but I can say I loved that beautiful country and its friendly people. For practical purposes I will show just a few photos and also talk about clothes and travel gear. Below is a photo of Larry and I having some fun at the Guinness Storehouse in Dublin.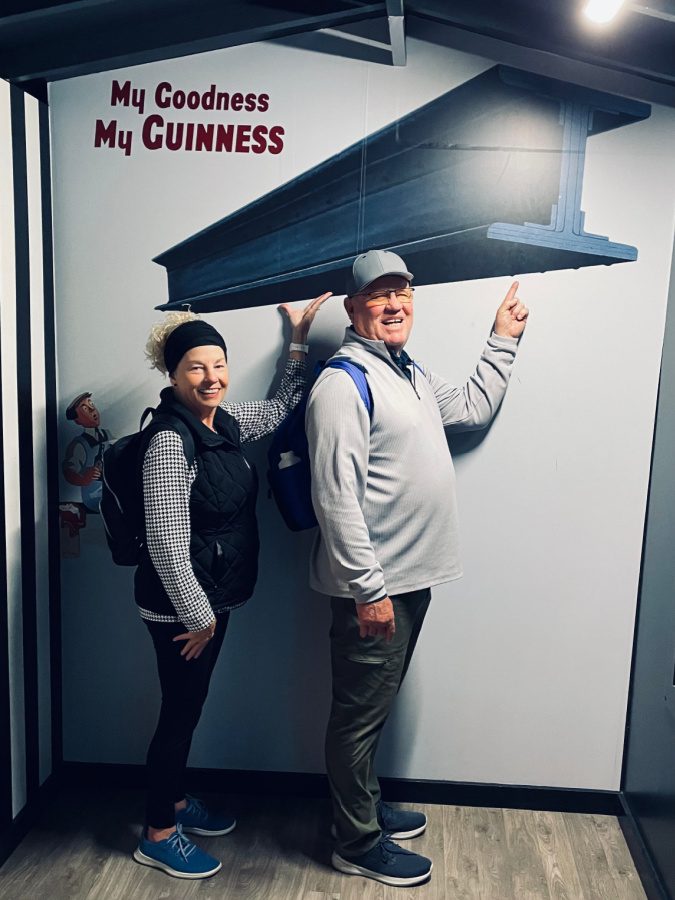 We usually do carry-on luggage when we will be moving around in a country.  I have found it easiest for me to wear a capsule wardrobe of black and white clothes that can easily be washed and dried. So I typically take 2-3 pairs of black pants and 5-6 tops.
On this trip I went a little wild and added some blue, ha!
  Ireland, Scotland, and England can be windy and rainy so, as you can see in the photo below at the Rock of CashelI I had a waterproof lightweight jacket. (I will add links below to these items for reference.)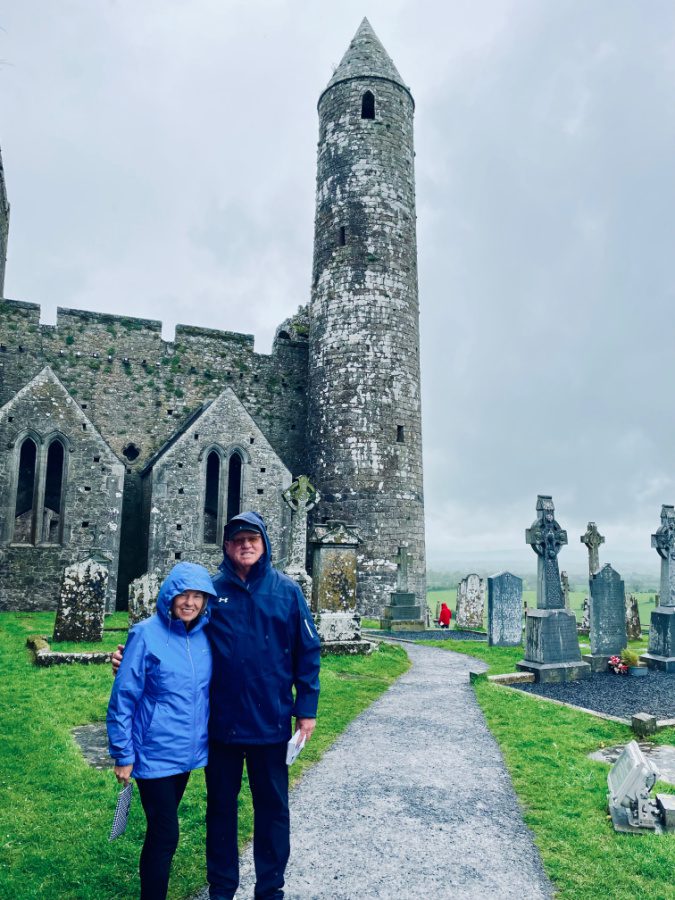 I knew my hair would be a problem so I made sure the jacket had a hood and I took wide headbands. Which as you can see in the two photos below on the Slea Head Drive at Dingle Bay, I had to go from headband to hood!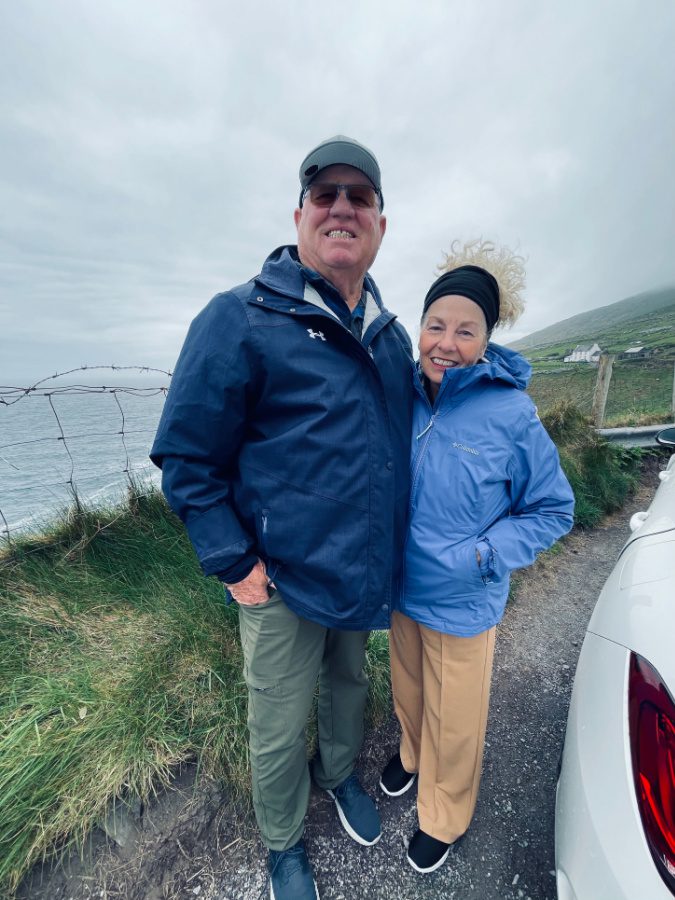 A beautiful place in Ireland is the Cliffs of Moher. Not a friendly place for those with hair challenges. Below you will see my friend Pam doing her best to tame the tiger!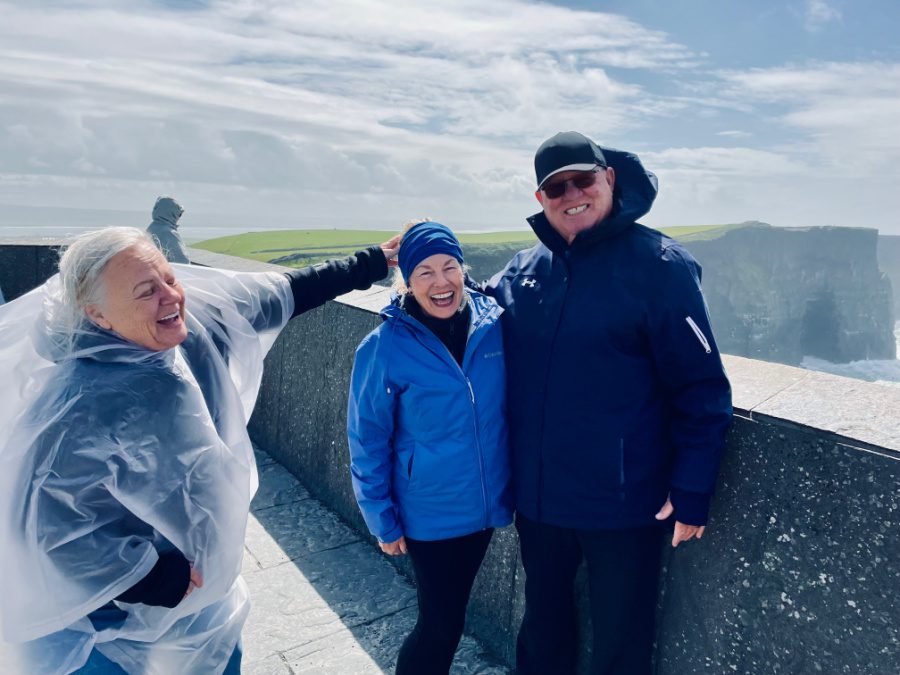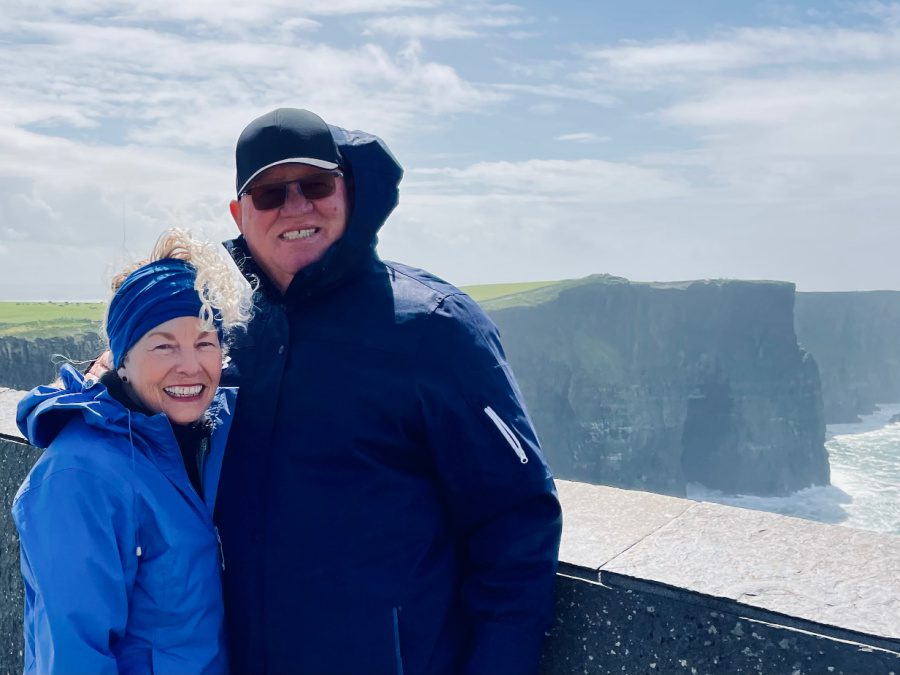 A short flight to Edinburgh, Scotland for a 7 day driving trip. Below are a couple of photos of us in Edinburgh, and St. Andrews (where they were getting ready for the 150th British Open golf tournament).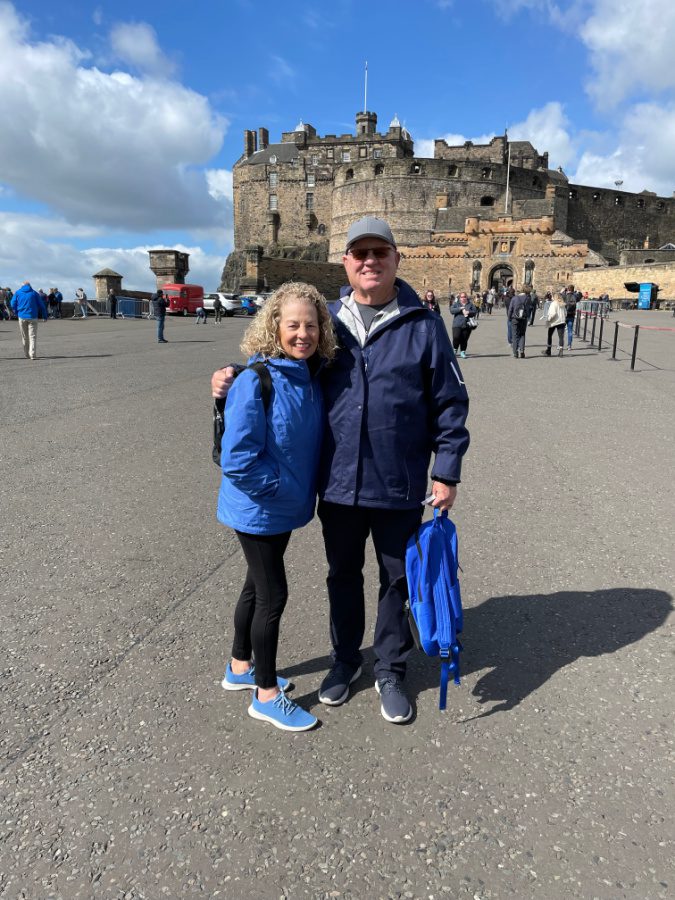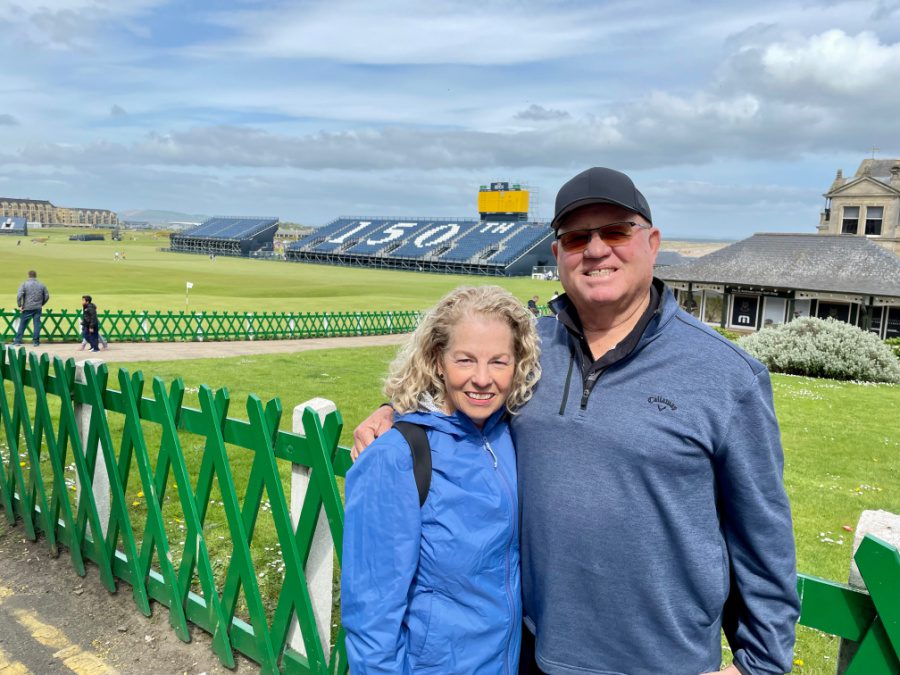 In the photos below notice I also took a hat which was great for bad hair days.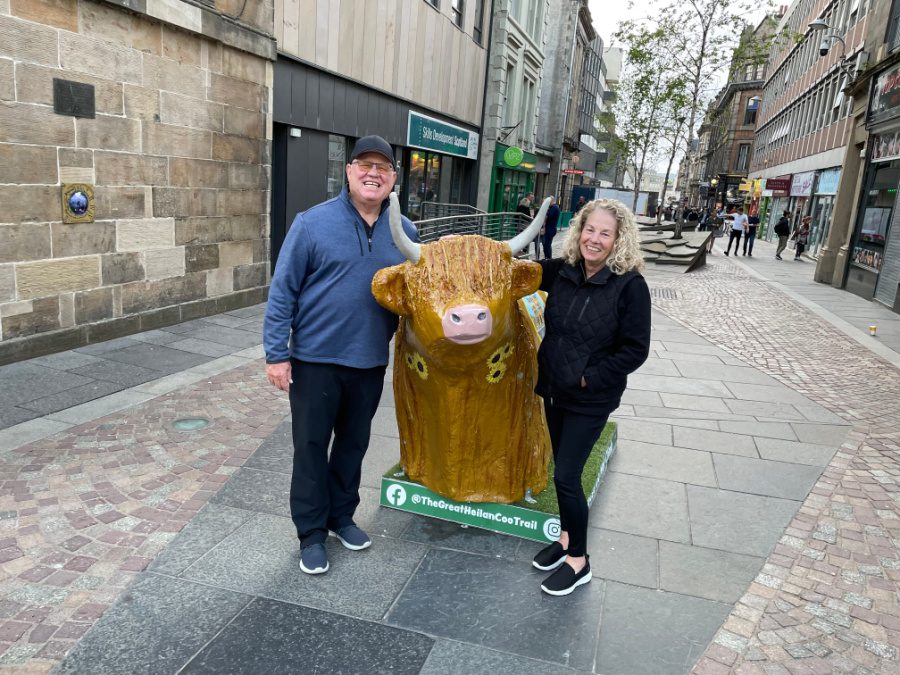 May in London was beautiful and much kinder to my wild locks. Ha! I didn't need the blue raincoat, just some lighter layers.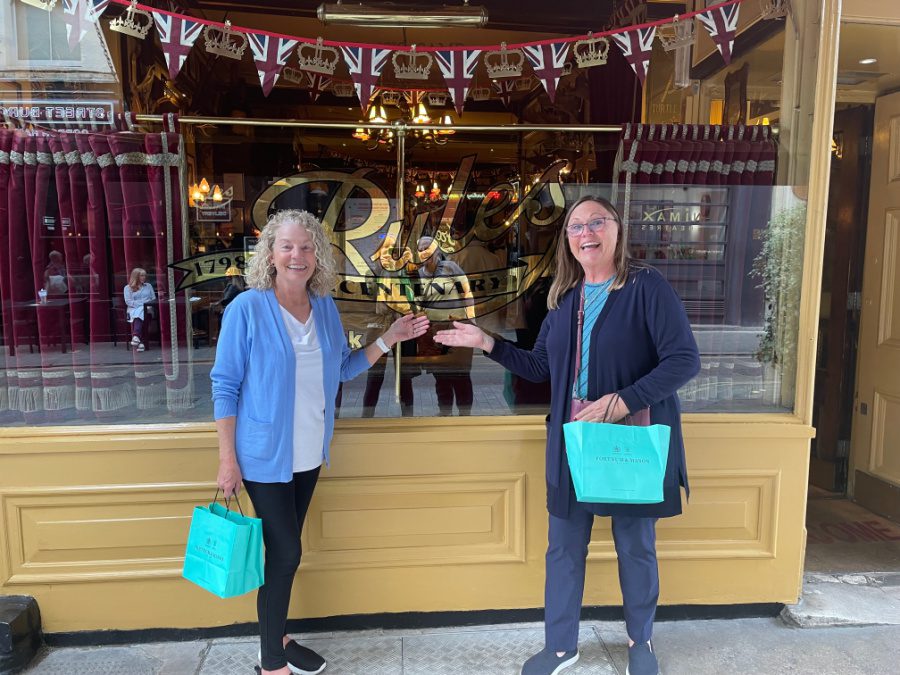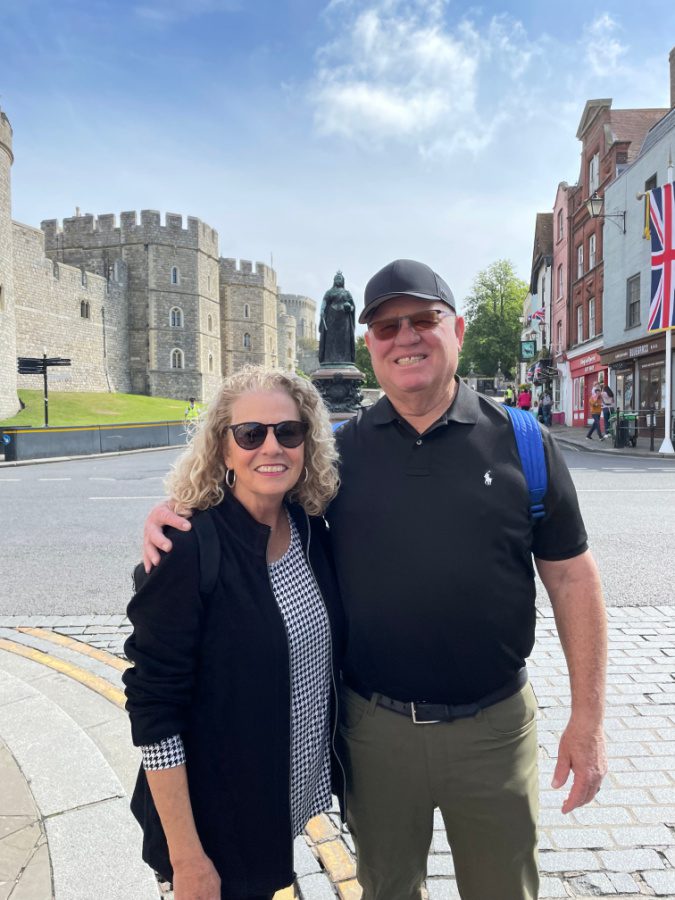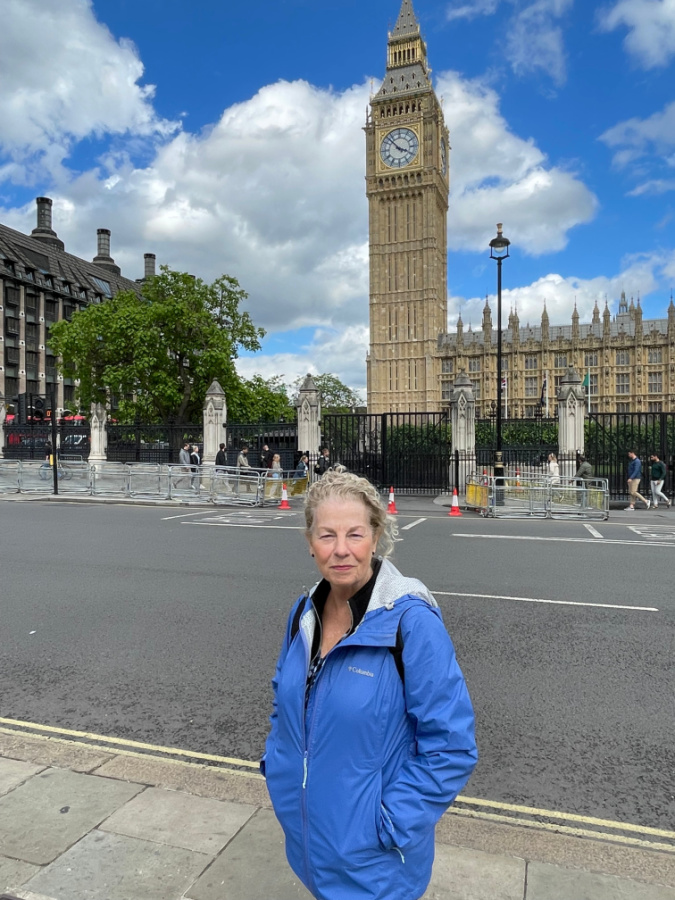 For my outer wardrobe I took the rain jacket, a lightweight puffy vest, a black and a blue sweater. Two pairs of walking shoes, and one pair of super light foldable flat shoes for dressier places.
I probably only wore the flats to dinner a couple times but they are foldable so took up little space in the suitcase. My tip is to spray all your shoes with a water repellent as that worked great for me.
I wore the jacket, a sweater, and the vest on the plane and everything else went in the 22" roll-aboard carry-on. I also pack a flat foldable bag for souvenirs. We don't check any bags on the way over but do check them for short flights and also on the way home.
See the links below for some of my travel items.
Shop My Travel Favorites
Simply scroll through the pictures to see my favorite travel items. Tap on the picture for details.

AN EASY DIY
I don't know why but I have always liked green English Ivy.
I have some pots of Needlepoint or Petit Point Ivy that are on our outside deck in warmer weather.  When the weather gets cold I bring them inside. I am a negligent gardener and sometimes forget to water them but somehow they seem to survive.
My kind of plant!!
Kelly had made a circular topiary with an Ivy plant I had given her and I've always loved that. So I thought why not try to make a heart shape for February, the "love" month.
Below is a photo of the victim, uh, I mean the plant I selected.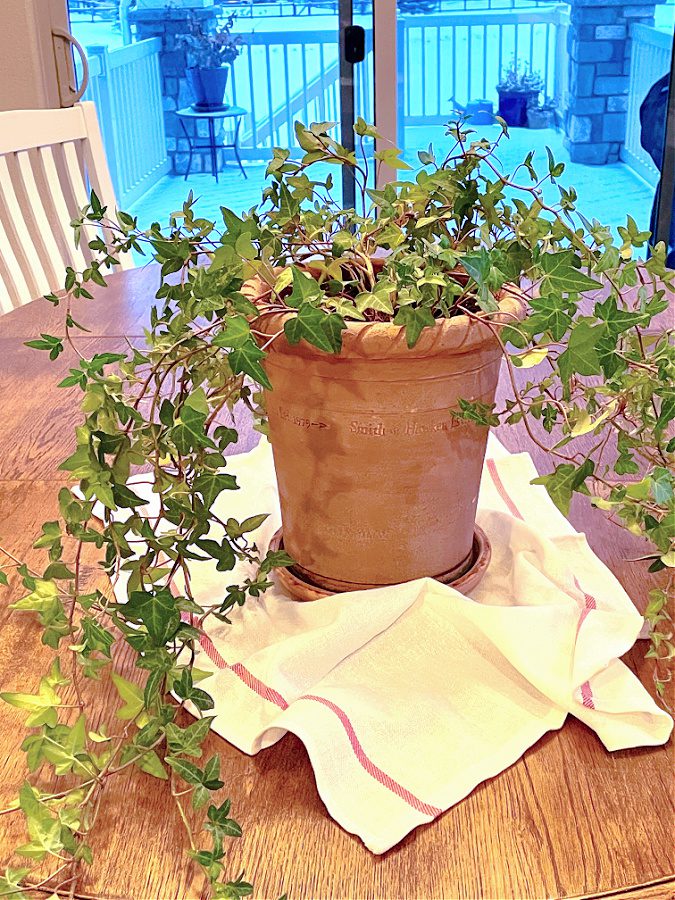 I pulled a metal hanger out of the closet and then put on some gardening gloves, because why not, isn't this gardening?
Just kidding, I actually needed them to protect my hands and give me a better grip on the hanger. Below you can see that the next step is to untwist the hanger.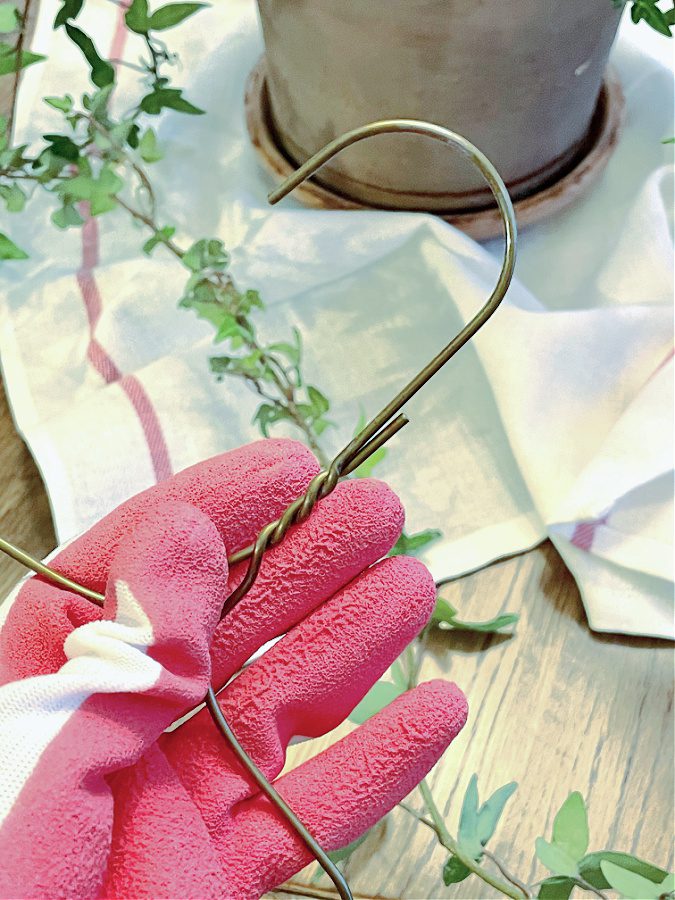 I straightened the curved part of the hanger and then twisted the straightened ends around each other. At this point the oval hanger was pushed into the soil at the base of the ivy, and I pulled the top center down to make a heart shape. Then simply wrapped Ivy strands tightly around the wire.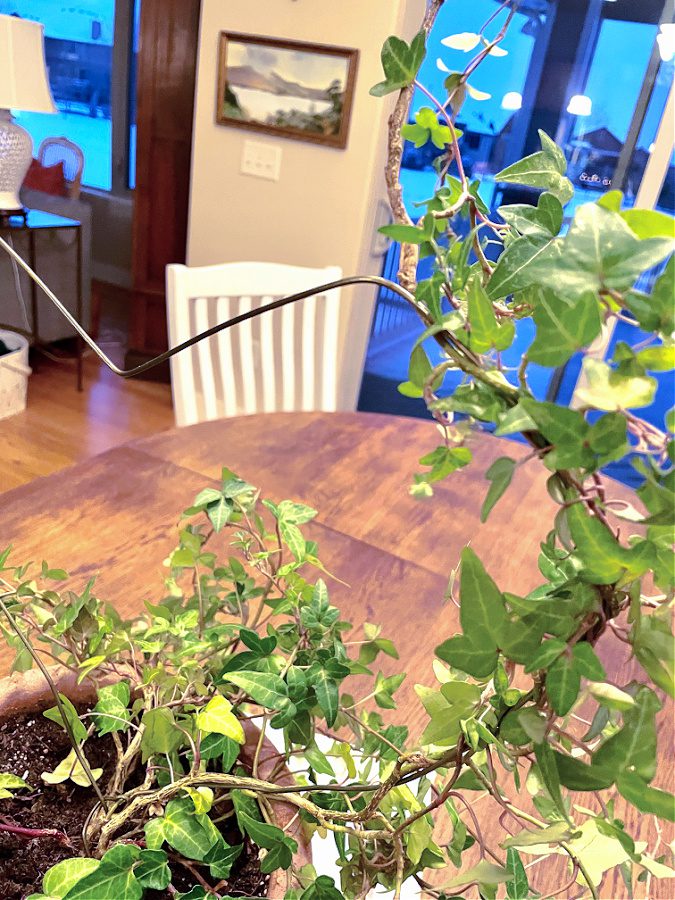 Normally I would clip off the long leftover strands but I'm not sure I want to keep the heart shape beyond February. See how easy peasy that was!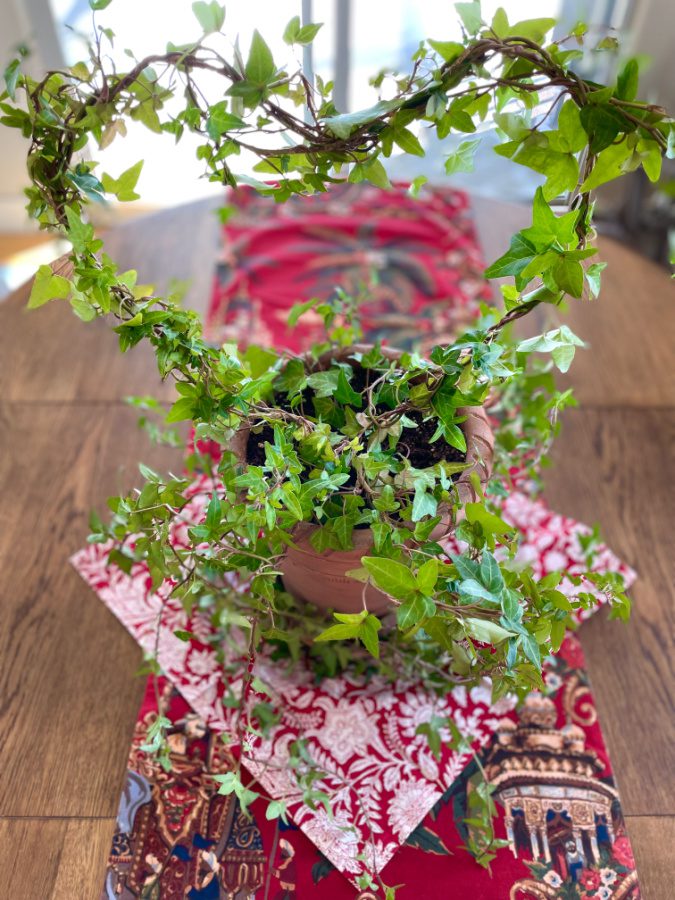 A Lovely Month
I hope February is a "lovely" month for you. I will leave you with some of my favorite quotes.
"Darkness cannot drive out darkness: only light can do that. Hate cannot drive out hate: only love can do that." Martin Luther King
"If you live to be a hundred, I want to live to be a hundred minus one day, so I never have to live without you." A.A. Milne
"We love because He first loved us."
1 John 4:19
"It wasn't love at first sight. It took a full five minutes." Lucille Ball
Wishing you Laughter and Love,
Tracy