How To Grow and Use Paperwhites In Your Winter Decor
Have you ever wondered about how to grow and use Paperwhites in your Winter decor? Well today is your lucky day! I am sharing all about how to grow these beautiful white flowers and why I think they are the perfect addition to anybody's Winter decor.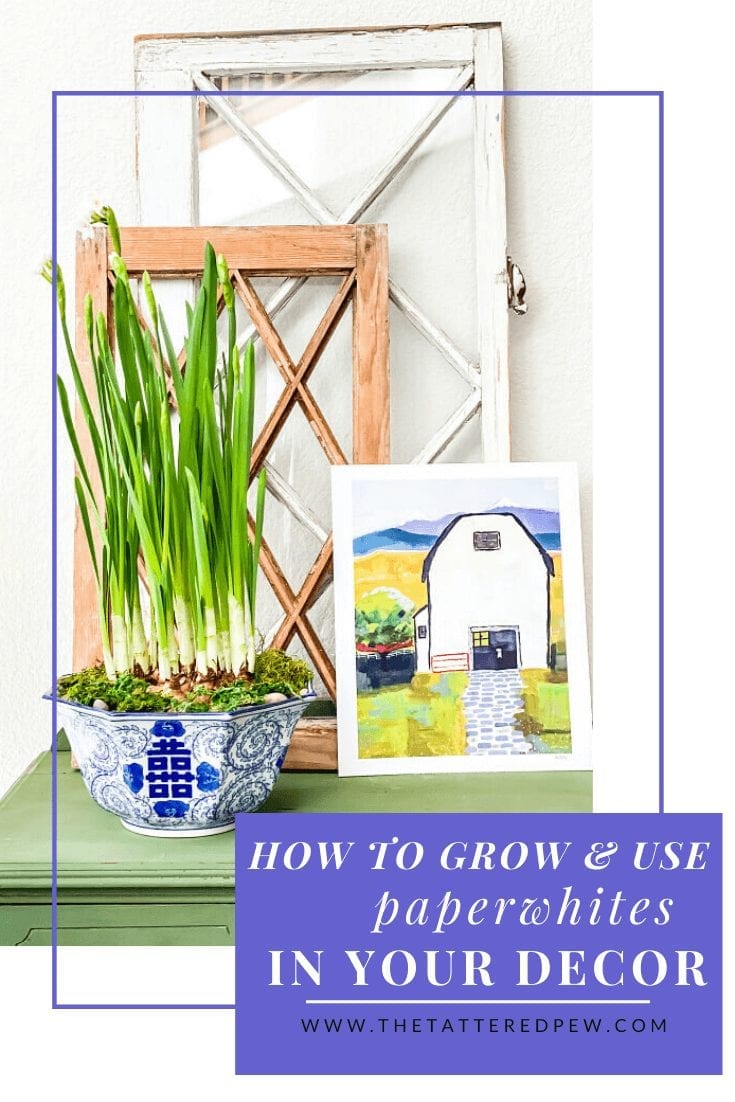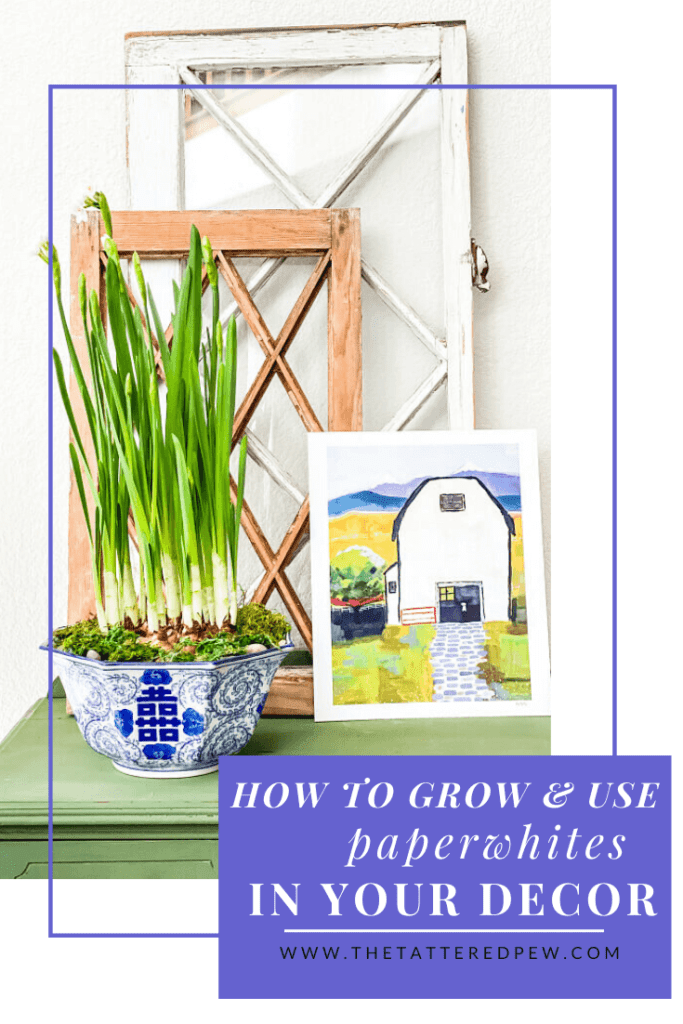 *This post contains some affiliate links for your convenience. Click here to read my full disclosure policy.
But before I get into all things Paperwhites I owe a huge thank you to Amber of Follow The Yellow Brick Home for including me in her Cozy Winter Home Tours hop. If you are coming over from Michelle of Thistle Key Lane and her beautiful Winter family room, welcome! I just love her style and blog. You can also find several other Winter posts linked at the end of mine!
How To Grow and Use Paperwhites In Your Winter Decor
As we dive into January so many winter decorating ideas are already swirling around in my head but one theme keeps returning; decorating with Paperwhites. These beautiful (and sometimes stinky) flowers have captured my heart. I have had so much fun researching and gazing at Paperwhite flower inspiration over on Pinterest. I thought you might also enjoy the inspiration and enjoy seeing how mine turned out.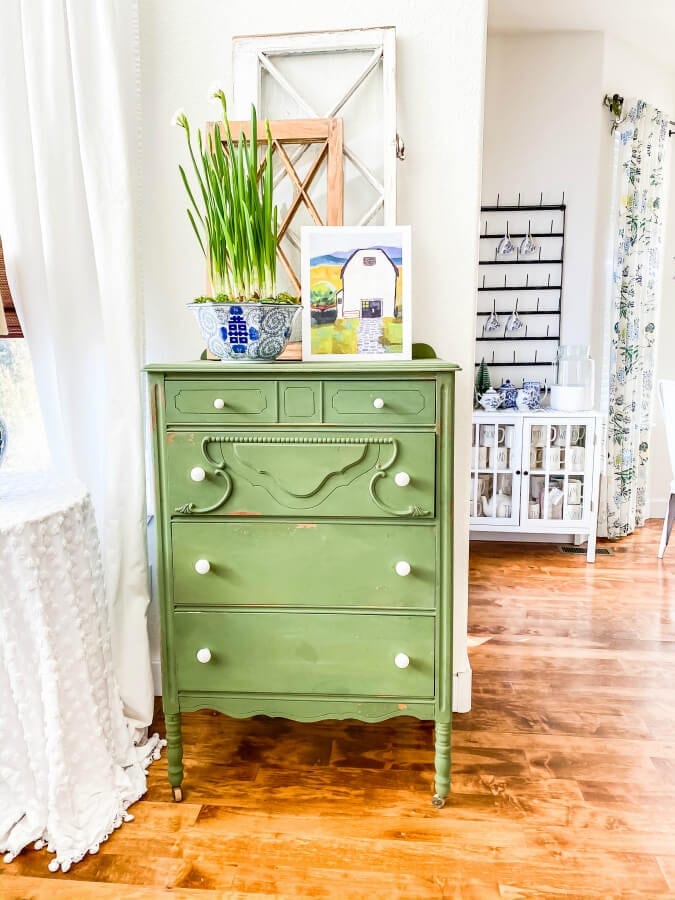 Where To Buy Paperwhites
A few months ago I found a bag of Paperwhite bulbs at Lowe's and decided I would give them a try. You can find Paperwhite bulbs at your local garden center or you can find them on-line. I found them on-line at Amazon as well as a wonderful website called White Flower Farm. The good news is that they aren't hard to find!
When Should You Plant Paperwhite Bulbs
If you are looking at growing your paperwhites outdoors in your garden, the best time is anytime between September and December. All you have to do is water the area after planting and then pretty much forget about the bulbs until spring! So easy, right?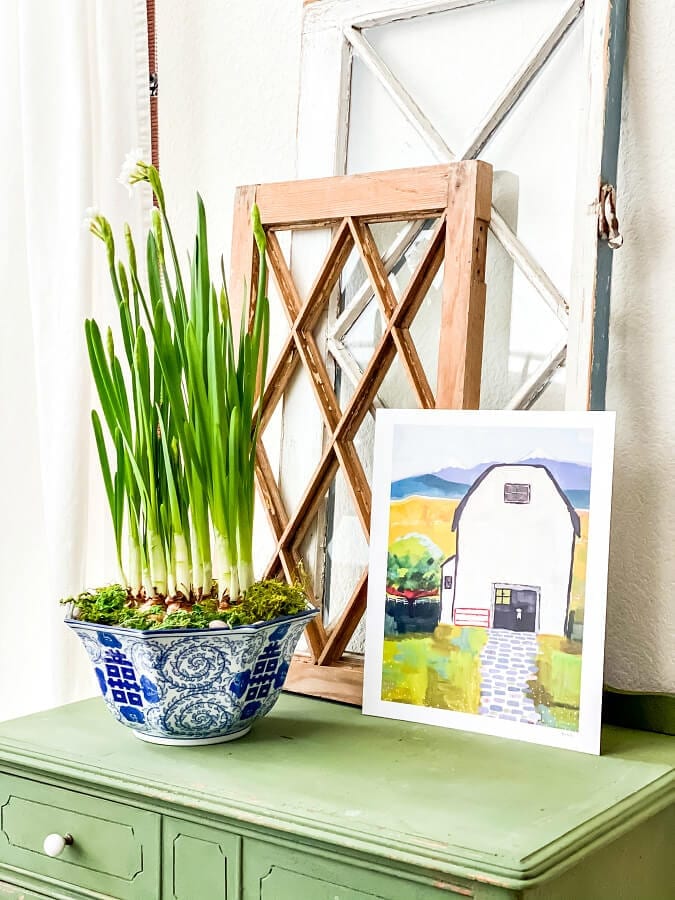 How To Force Paperwhites
However, these flowers are perfect to grow in the Winter because you can force these bulbs to grow at any time. They are basically foolproof! The directions were on the bag so I gave it a try. It was surprisingly easy!
TIP: If you want these to be ready for Christmas plant them the last week of October or first week of November!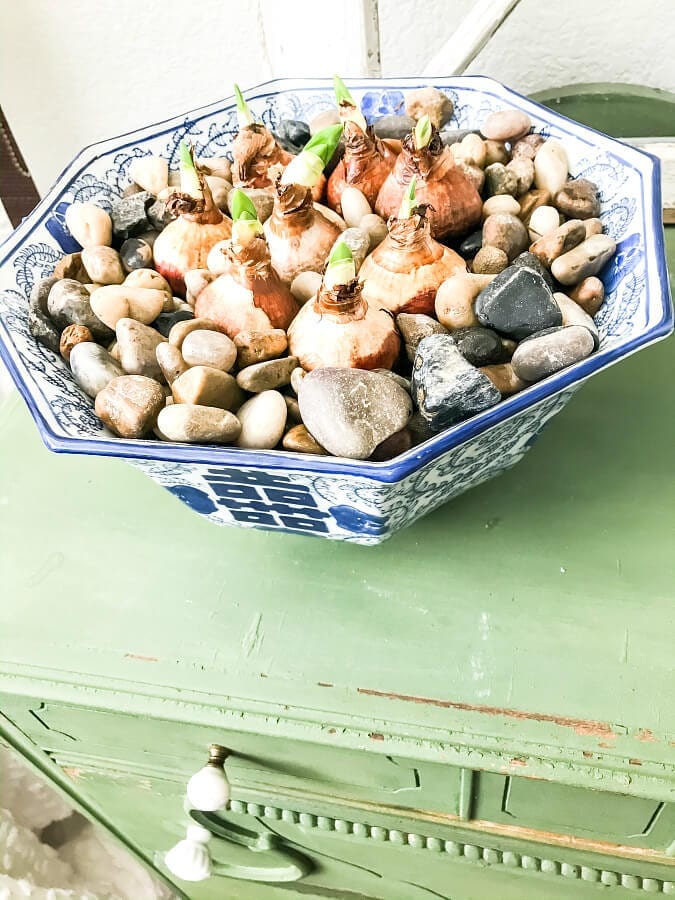 First, find a shallow bowl or container to use as a planter and make sure it doesn't have drainage holes.  Fill the planter with rocks. (I purchased my rocks at the Dollar Store.) Funny side note story: My family thought I had added a Zen Garden of sorts and couldn't figure out why I had a bowl full of rocks on the kitchen counter! ha ha.:) After a good giggle it was fun to explain that I was forcing bulbs!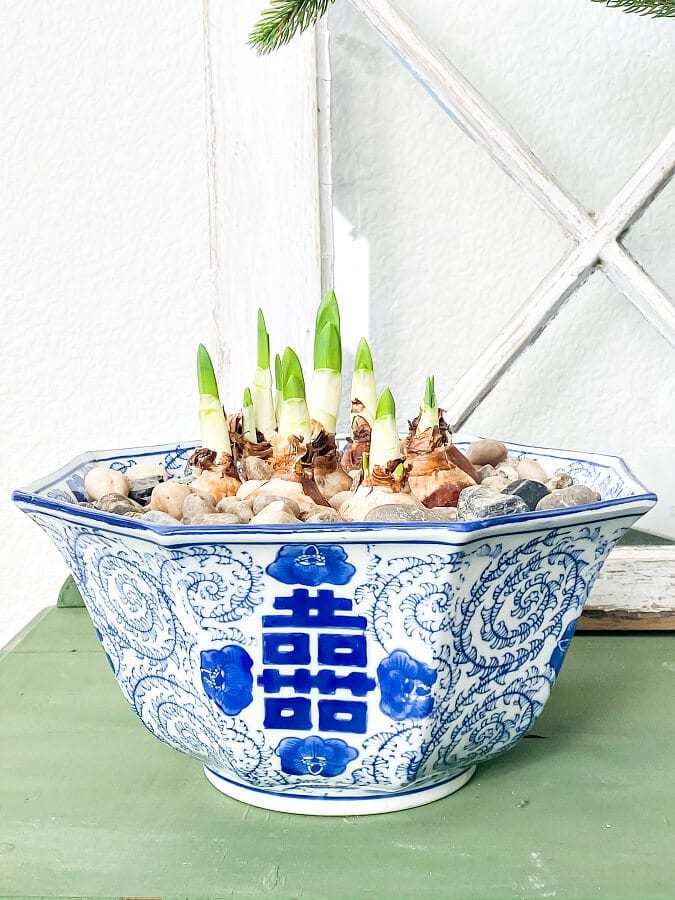 Next, nuzzle your upright bulbs halfway down into your rocks. Finally, add enough water to cover just the very bottom of the bulbs. Water sporadically over the next four weeks making sure not to add too much water so they don't rot.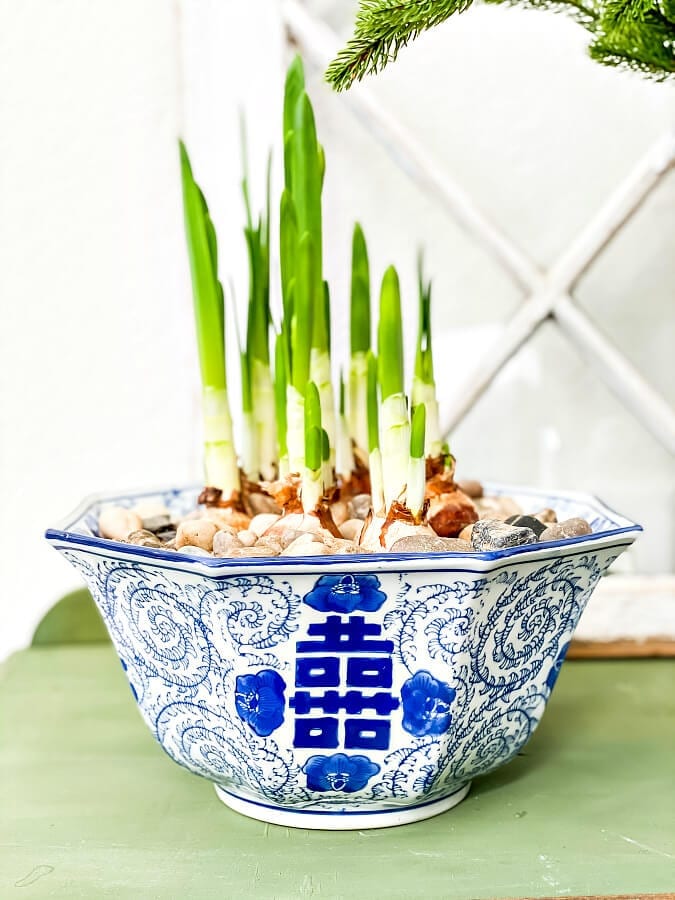 Keep them out of direct sunlight and they should flower in 4-6 weeks. And that's it! I know, so simple right? Since these flowers are so easy to grow they are perfect for beginning gardeners!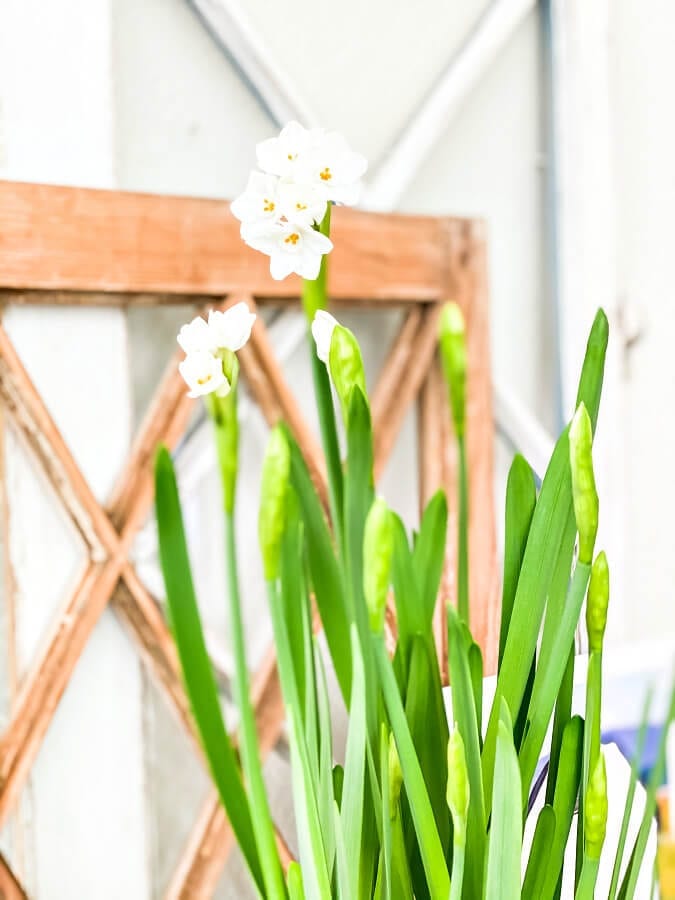 How To Use Paperwhites In Your Winter Decor
I don't know about you but once Christmas is over I feel a bit sad and I start craving flowers and signs of Spring. Paperwhite flowers are the perfect flower for that awkward in between time of Winter and Spring.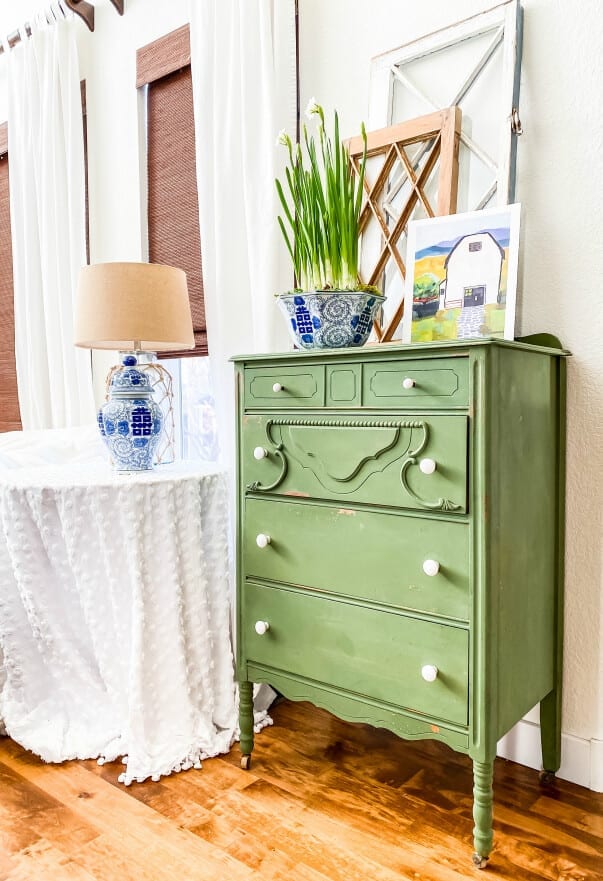 I mean aren't they just so pretty? They are easy to decorate with and look good no matter where you put them. You could use them as a centerpiece, in a vignette, on top of baskets, in a window. There are so many options! All I know is each time I walk into this room they make me smile. Now on the other hand, my husband can't stand the smell. I honestly haven't notice their smell yet…maybe it's because I am short. 😉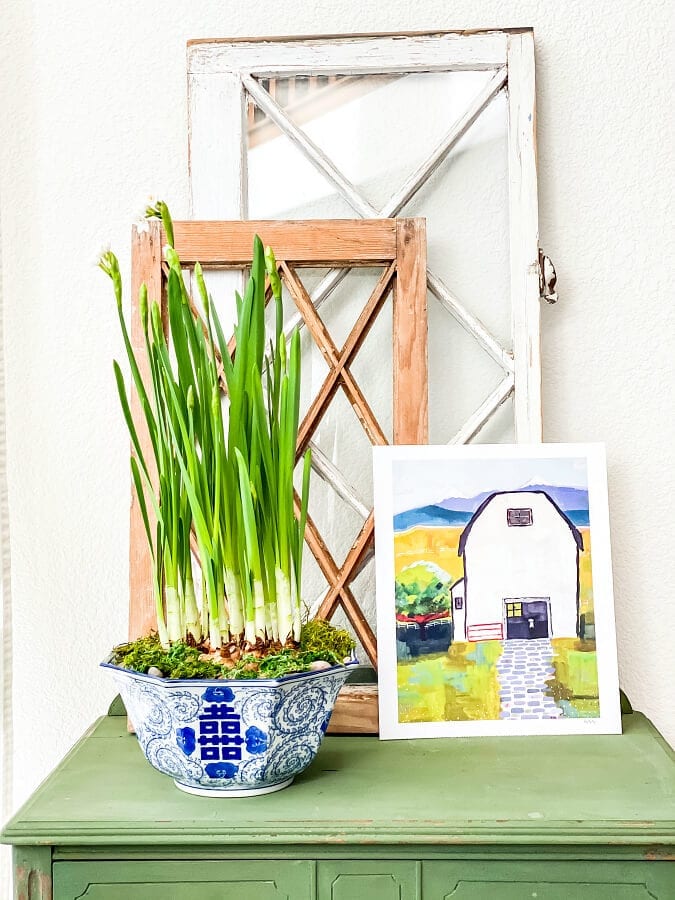 How I Decorated With My Paperwhites
I added them to the top of my favorite green dresser. Here I created a layered vignette using my blue and white Home Goods bowl, vintage windows from Junk Wonderful and a fabulous and colorful barn print from local artist Kaley Alie Art! In my opinion you can never go wrong with a layered vignette. Oh, and I also added a little bit of moss on top of the rocks for even more fun texture!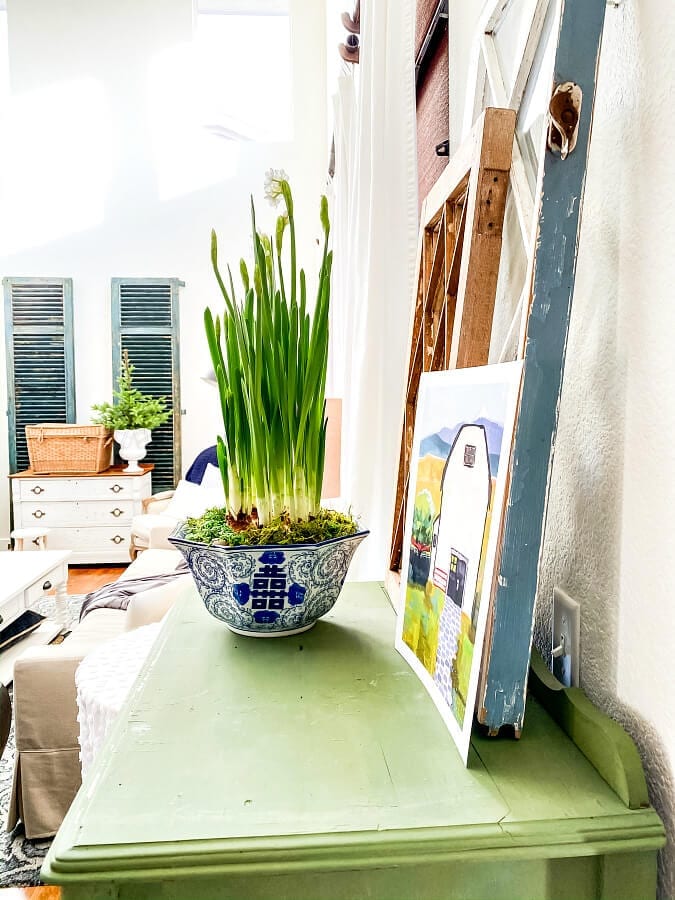 These beauties are fun to look at from every angle. You really can't go wrong with decorating with them.
Update: I grew them again this year and this time put them in a basket meant to hold bottles of wine. I am obsessed! I love how they can basically be planted anywhere. For the basket I simply planted the bulbs in cups filled with rocks. When they start to flop I will tie them up with ribbons!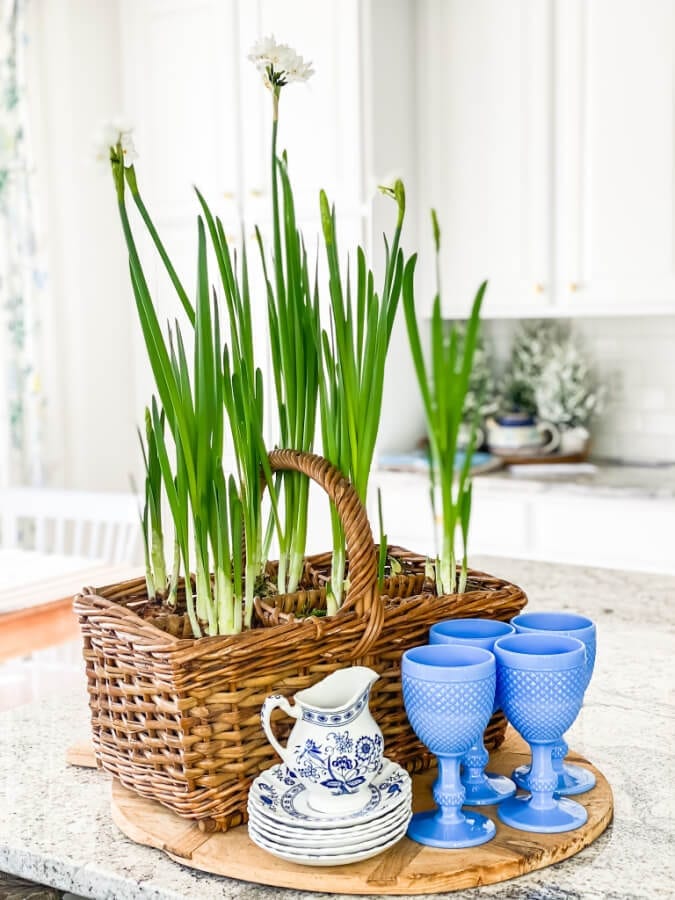 Check out this fun video I shared over on Tik Tok of how I planted them!
I will be sad when they are done blooming but luckily I found some great faux options… I will link those for you below!
Shop This Post


What Do I Do With My Paperwhite Bulbs After They Bloom?
Wondering what to do with your paperwhites after they bloom? Well you just have to wait six weeks after the paperwhite blooms, turn the pot on its side and then store it in a spot where it will not freeze. Some of the best places are your garage or basement. In the fall, grab your pot and turn it upright, place it in the sun, water the bulb completely and keep watering them until the paperwhite blooms again in the spring. Amazing right? I can't wait to try this. I will let you know how it goes!
How To Grow and Use Paperwhites In Your Winter Decor
So what do you think? Will you try your hand at growing Paperwhites or will go the faux route? Either way they make a pretty statement anywhere you choose to add them in your home! Hopefully I was able to answer some of your questions on how to grow and use Paperwhites in your Winter decor. If you do have any questions just leave them in the comments below and I will do my best to answer them for you!
Next up on the hop is Shannon of Belle Bleu Interiors. Her home is beautiful and so is her blog!
xoxo,
Kelly
Did you like this post? PIN it for later!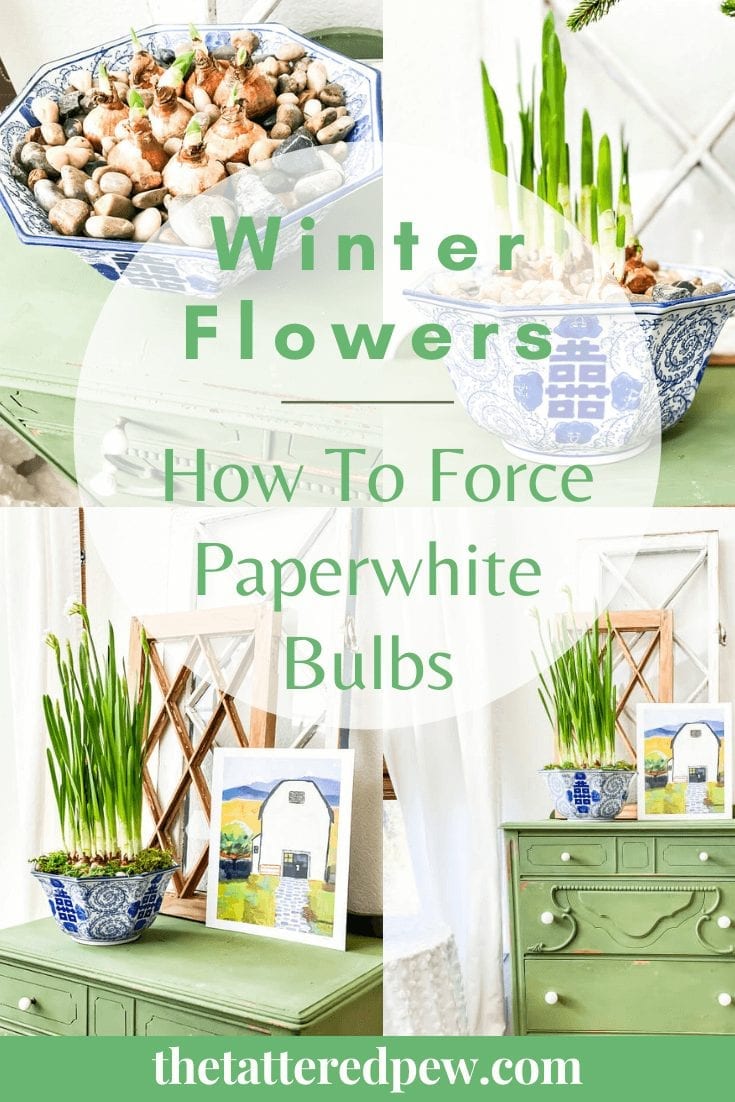 You are invited to the Inlinkz link party!