How to Style and Set a Simple Thanksgiving Table
Thanksgiving is a time to gather with loved ones and give thanks for all the blessings in our lives. While the food is undoubtedly the star of the show, setting a beautiful and inviting Thanksgiving table can elevate the entire experience. In this blog post, I'll explore how to style and set a simple Thanksgiving table, style it within a budget, and provide you with creative ideas for table decor and easy centerpieces that will leave your guests in awe and feeling loved.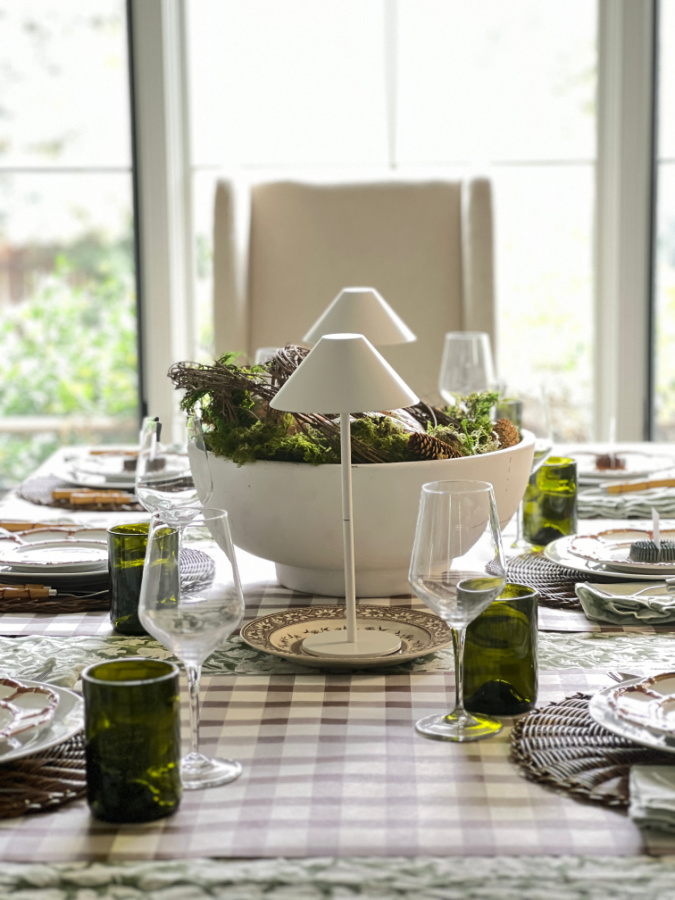 *As an Amazon Associate, I earn from qualifying purchases. This post contains other affiliate links too for your convenience. Click here to read my full disclosure policy.
How to Style and Set a Simple Thanksgiving Table
Before we jump in to my table I wanted to let you now that today I am joining 14 other creative bloggers who are all sharing their Thanksgiving tables today as well.
I peeked at them already and wow, they are all so pretty and unique in their own ways. You can find each of them linked at the bottom of my post. And a very special thank you to my girl Jen from tatertots and jello for hosting us all!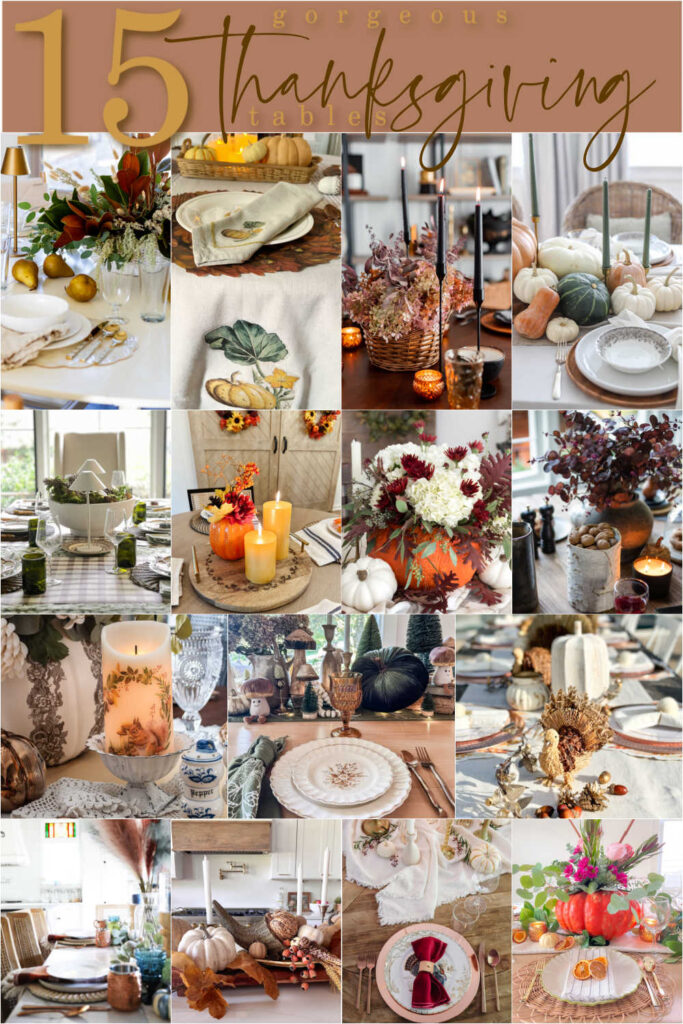 How to Decorate a Simple Thanksgiving Table
For Thanksgiving I like to keep things simple and focus more on my time with family rather than creating my tablescape. (Don't worry I go all out for Christmas!) ha
That doesn't mean I don't want it to be pretty though! Check out these tips that will hopefully be a guide to helping you set your own Thanksgiving table.
Welcome to our dining room, I can't wait to show you around.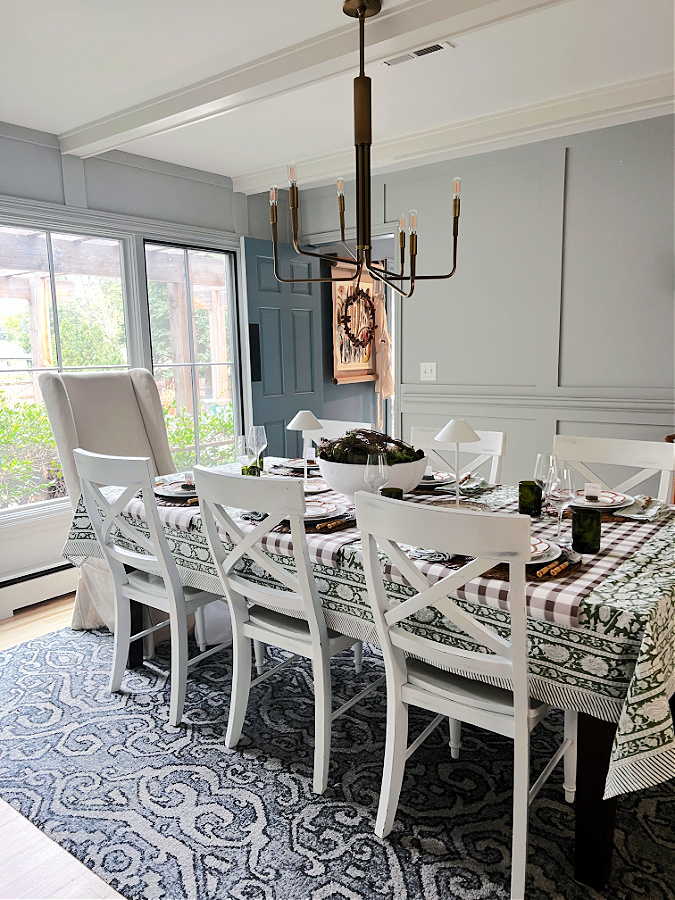 And I have a secret…I'm not hosting this year but I still set the table. For me setting a table is so fun. So instead this one will be left up all fall until I change it out for Christmas. Just wanted to be honest! 😉
Shop this Space

Choose a Color Palette
Start by selecting a color scheme that resonates with the fall season. Warm and earthy tones like deep oranges, rich reds, rustic browns, and golden yellows work well for creating a cozy atmosphere.
But really no color is off limits. I've of course been know to use blues for Thanksgiving before!
This year however, I went with browns and greens for more of an earthy organic feel. I love that with just a few switches you can have a new looking table with all the same decor from the previous year!
On a previous table I used pretty golds and shared how to set a casual Thanksgiving table!
Table Linens and Dinnerware
Use tablecloths, table runners, and placemats that complement your chosen color palette. White or neutral-colored dinnerware provides a clean and timeless look. Consider using cloth napkins instead of paper for a touch of elegance.
I used this brown and white paper gingham runner and thought it would be fun to have people write on it what they are thankful for!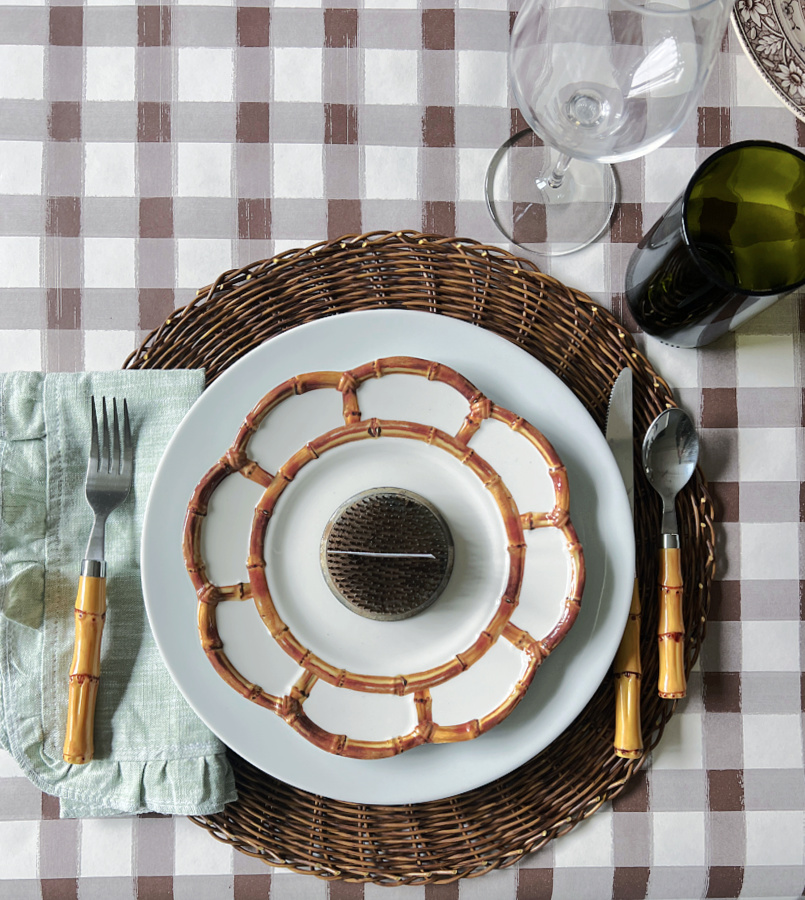 Tableware Placement
Set your plates, silverware, and glassware neatly in their places. A simple trick is to lay out all your utensils from the outside in – salad fork, dinner fork, knife, and spoon.
I still have to think about silverware placement and I am 43. It's some weird mental block that I have. Ha!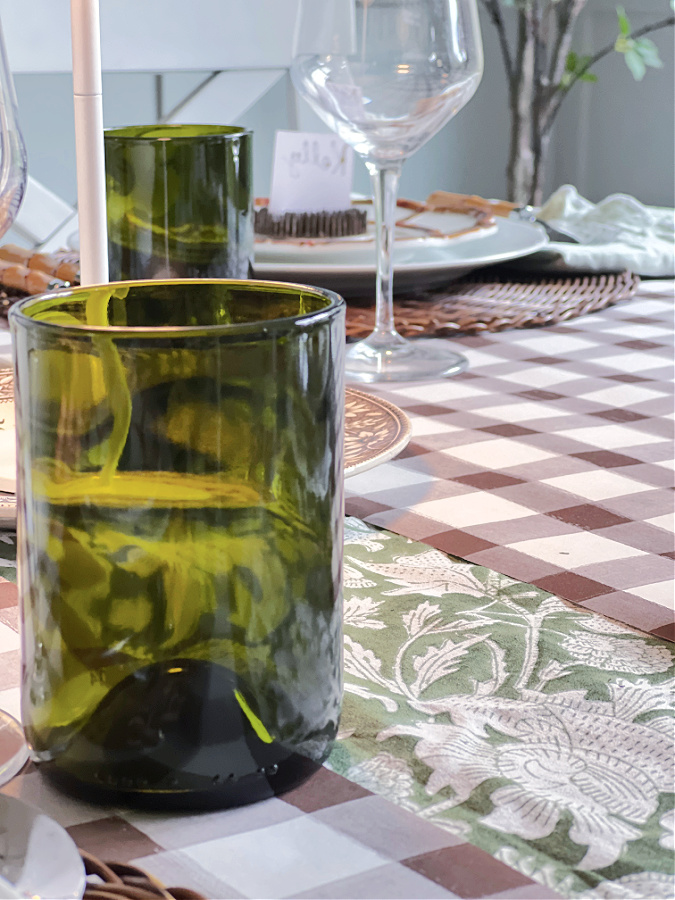 Napkin Folding
Add a personal touch by folding your napkins into decorative shapes, like a simple pocket fold or a fan fold. Place them on top of each dinner plate or to the side. I like to play around with placement until I find the one I like.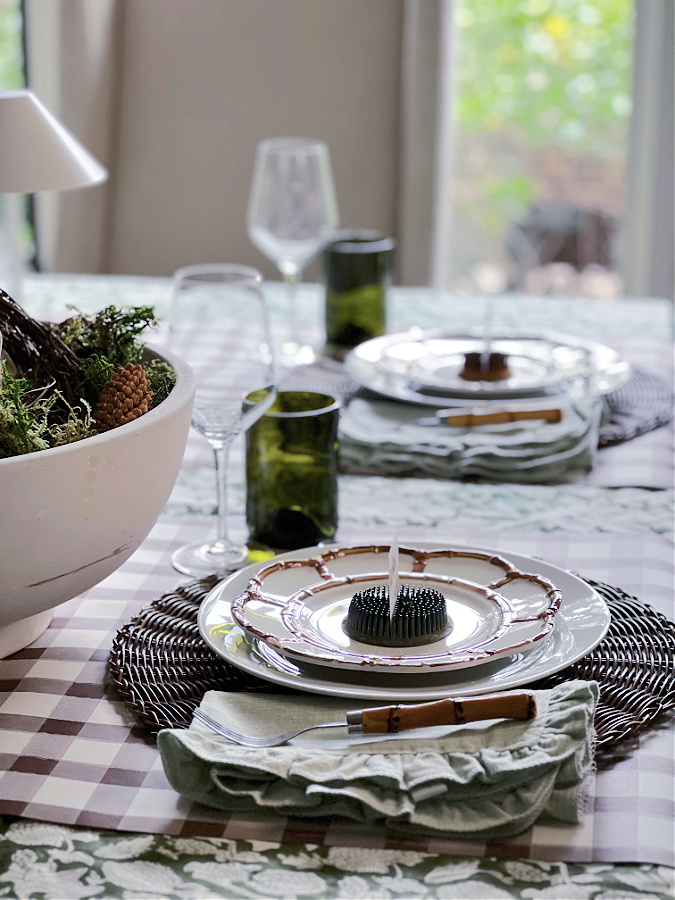 Candles and Lighting
Incorporate candles and soft lighting to create a warm and inviting ambiance. Consider using pillar candles, votives, or even fairy lights as a centerpiece or along the table's length.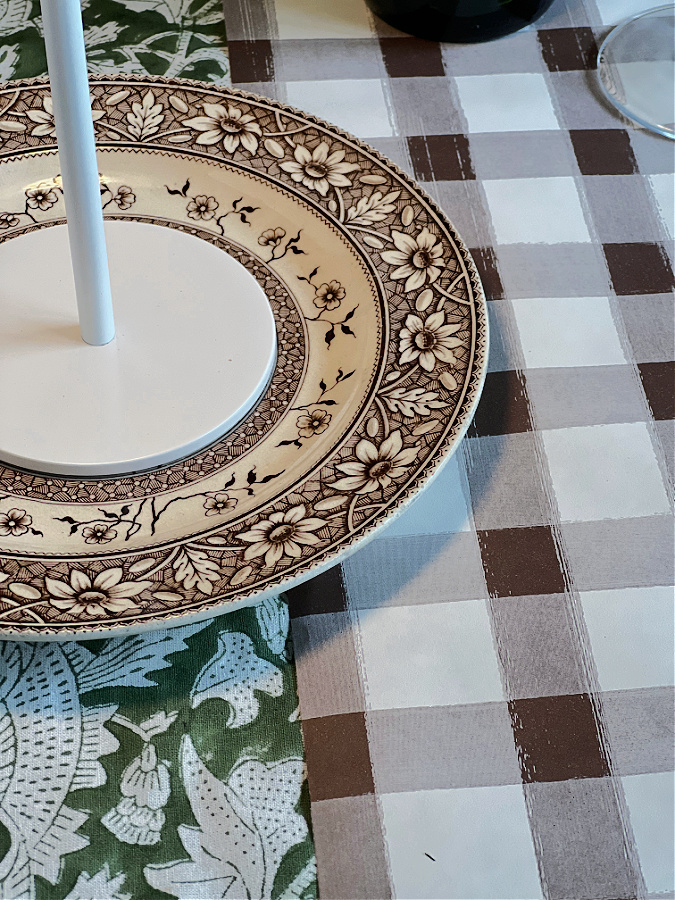 How to Decorate a Budget-Friendly Thanksgiving Table
DIY Decorations: Get crafty with DIY decor. Collect fallen leaves, pinecones, and acorns for a natural and free centerpiece. Create your own place cards and table runners using craft paper and markers.
Mix and Match Dinnerware: Don't be afraid to mix and match your dinnerware from what you already have. It adds a charming, eclectic touch to the table.
Secondhand and Thrift Stores: Explore secondhand and thrift stores for unique, affordable table decor items. You can often find vintage tableware and inexpensive vases or candleholders. My plates are from the flea markets!
Natural Elements: Embrace the beauty of nature. Utilize seasonal fruits and vegetables like pumpkins, apples, or gourds as part of your table decor. They're not only budget-friendly but also contribute to the festive atmosphere.
Come take a peek at my mismatched Fall tablescapes ideas for some more inspiration!
Shop My Table

How to Style a Thanksgiving Table
Below are a few of my favorite tips!
Layering and Textures
Incorporate various textures to create visual interest. Layer your table with different linens, add texture through rustic chargers or placemats, and mix in contrasting materials like glass and wood.
I layered two pieces of my brown and white gingham paper table runner across my green and white block print tablecloth. I love the layering look and you will notice that I use this quite often in all of my tablescapes.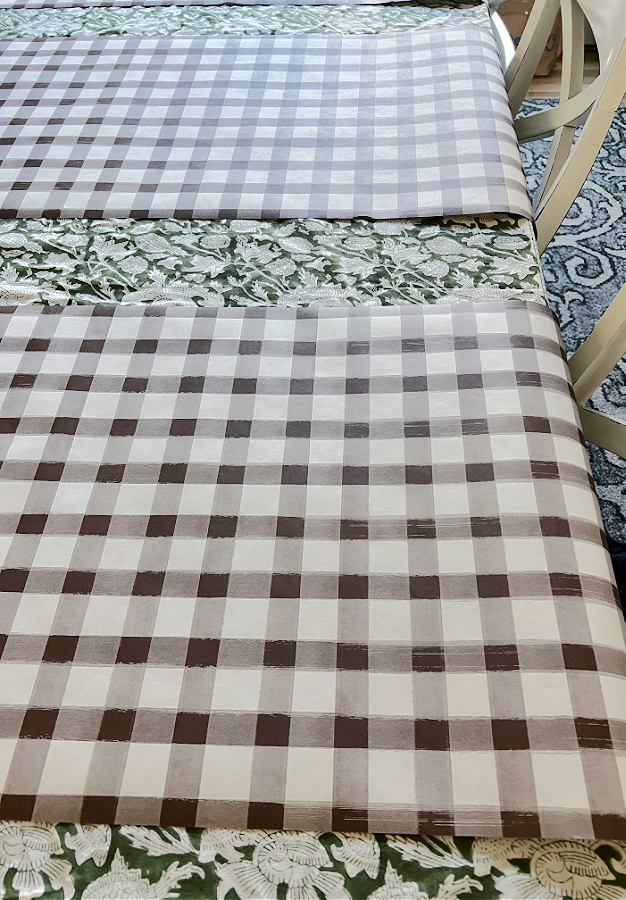 Table Centerpiece
A classic Thanksgiving table centerpiece could be a cornucopia overflowing with fall produce or a cluster of small pumpkins and gourds. Place it in the center of the table and surround it with candles or greenery.
Just remember it doesn't have to be anything over the top and you want to be able to move it or be able to reach through it for access to food and drinks.
The centerpiece you see below is in a bowl and this makes it easy to move!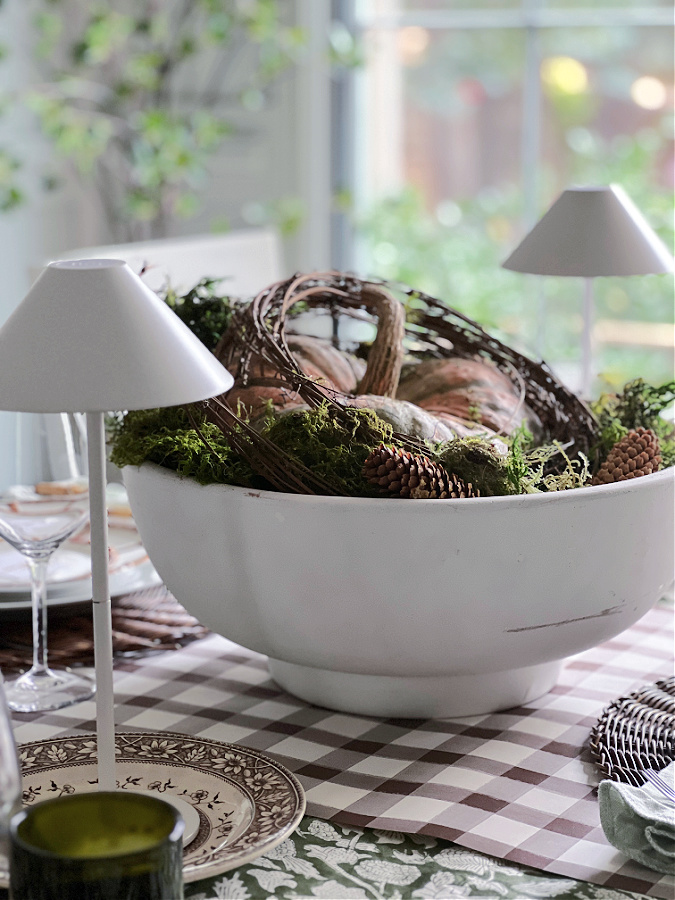 Personalized Place Settings
Add a personal touch by including name cards with your guests' names. These can be handwritten or printed and placed at each setting.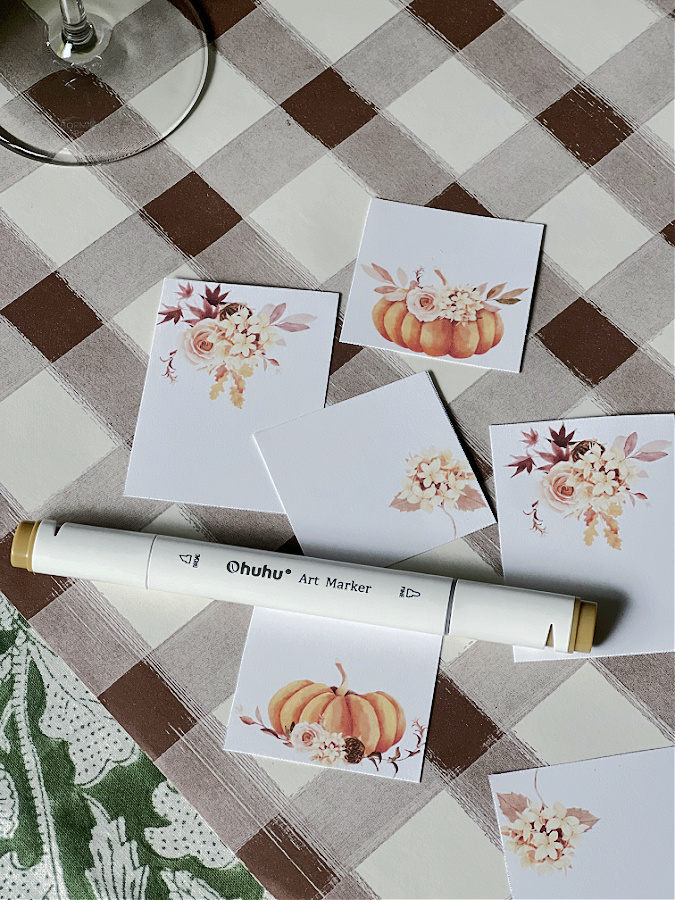 This is my number one way to set a simple yet thoughtful Thanksgiving table. I have several free printable place cards in my printable library here on the blog. (Subscribe here for access to all of my FREE printables!)
These floral gift tags I made were perfect for our table this year. I simply cut off the top to make them square and they look so darling sitting in my vintage flower frogs at each place setting!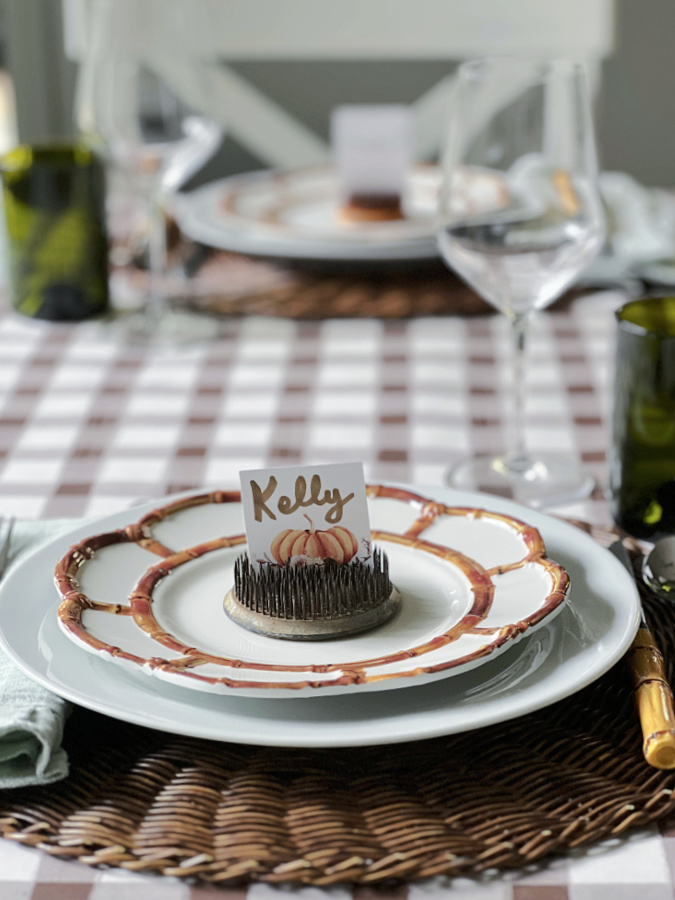 Easy Centerpiece for a Thanksgiving Table
One of my favorite parts about setting and styling a simple Thanksgiving table is creating an easy centerpiece.
This year I created our centerpiece in a large ceramic bowl. It is a simple organic and easy to make centerpiece! A real pumpkin, moss, pinecones and grapevine garland for the win!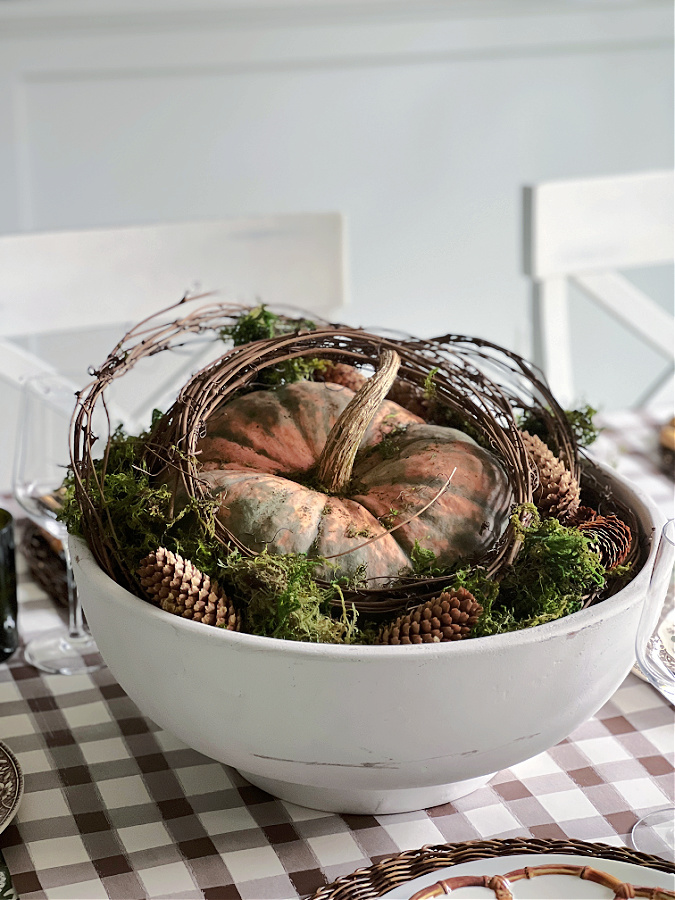 Thanksgiving Table Decor Ideas
Nature's Bounty: Incorporate elements like mini pumpkins, gourds, and pinecones for a rustic and charming look.
Harvest Centerpiece: Arrange a table runner of wheat like my mom did, dried corn, and fall foliage for an abundant harvest feel.
Thanksgiving Quotes: Consider adding framed quotes or Bible verses of gratitude or thanks as part of your decor to inspire conversation and reflection. You can find several options in my post where I share the best free printables for Thanksgiving.
Battery Operated Lighting: Whether it be little battery operated votives, pillars or battery operated lamps like I used, lighting always makes a table pretty!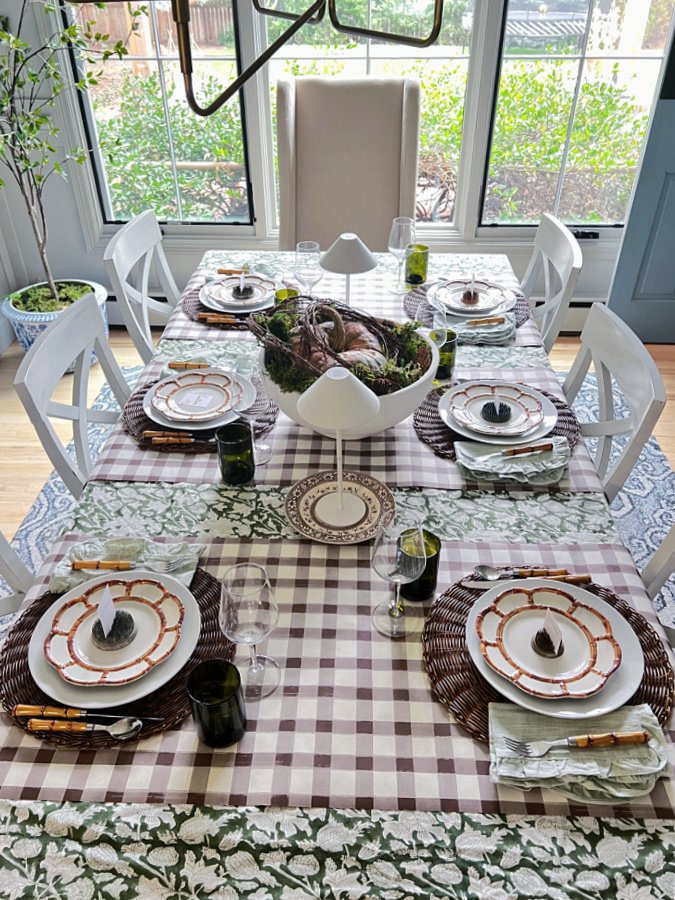 Frequently Asked Questions (FAQs) – How to Style and Set a Simple Thanksgiving Table
What's the easiest way to set a Thanksgiving table? The easiest way to set a Thanksgiving table is to start with a color scheme, use complementary linens, place dinnerware neatly, incorporate candles for ambiance, and add a centerpiece that reflects the season.
How can I create a Thanksgiving table on a budget? To create a budget-friendly Thanksgiving table, consider DIY decorations, mix and match dinnerware, explore secondhand stores, and incorporate natural elements like seasonal fruits and vegetables into your decor.
What's the secret to a beautifully styled Thanksgiving table? The secret to a beautifully styled Thanksgiving table lies in the details. Focus on layering textures, creating an eye-catching centerpiece, and personalizing place settings to add a touch of elegance and warmth.
What should I include on a Thanksgiving table besides dinnerware? In addition to dinnerware, you should include appetizer and bread plates, salt and pepper shakers, and beverage glasses like water and wine glasses to ensure your guests have everything they need.
Can you suggest a simple yet striking centerpiece idea? A simple yet striking centerpiece can be achieved with a fruit and floral arrangement, a cluster of candles, or a single large statement candle surrounded by votive candles and autumn accents.
What are some creative Thanksgiving table decor ideas? Creative decor ideas include using nature's bounty like mini pumpkins and pinecones, creating a harvest-themed centerpiece with wheat and dried corn, and adding framed Thanksgiving quotes for inspiration.
Shop Our Dining Room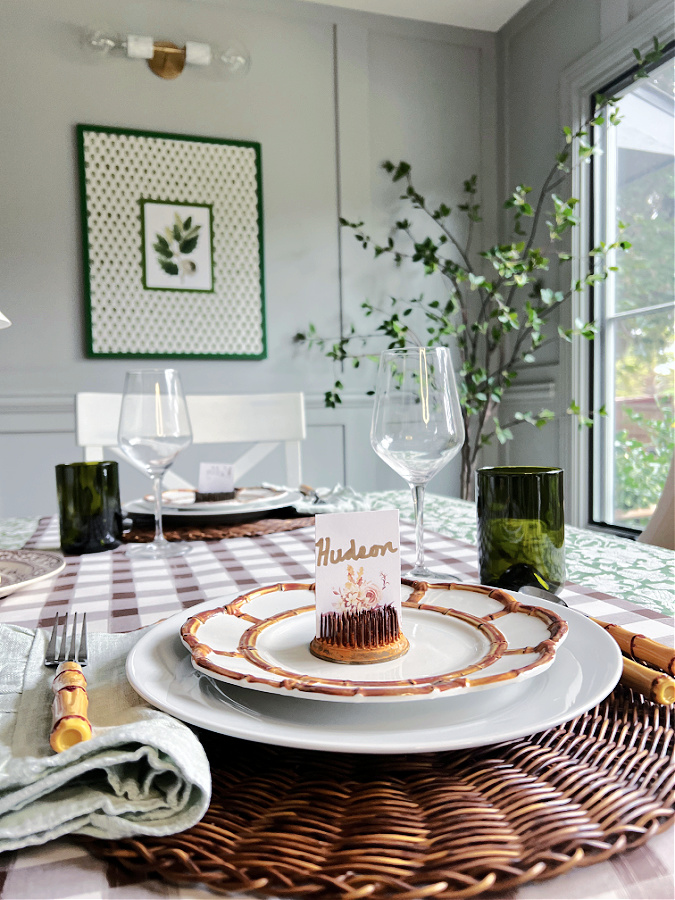 How to Style and Set a Simple Thanksgiving Table
Styling and setting a simple Thanksgiving table doesn't need to be complicated or expensive. With a bit of creativity and attention to detail, you can create a warm and inviting atmosphere that complements the delicious feast and encourages gratitude.
Use these ideas and tips to make your Thanksgiving table a beautiful focal point for the celebration.
Leave a comment below letting me know if you are hosting this year or not! If you are a guest here are some great hostess gift options to bring as a thank you!
Now make sure to visit my blogging friend's tables linked below for you to enjoy!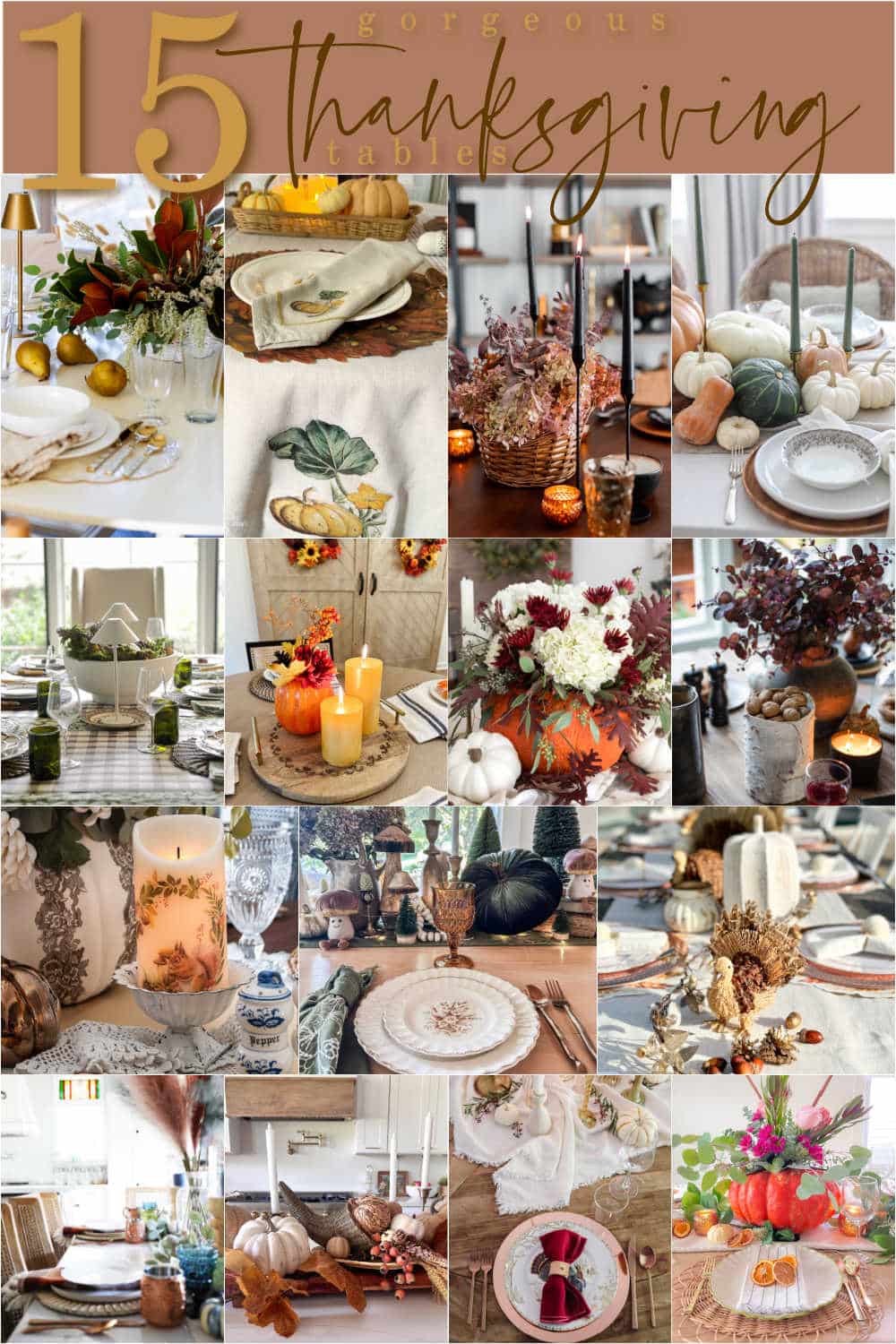 Thanksgiving Table Setting With Magnolia Leaf Centerpiece | Zevy Joy
Fall DIY Decor Project Ideas | Today's Creative Life
Late Fall Moody Tablescape | Craftberry Bush
Thanksgiving Tablescape 2023 | Rooms For Rent
How to Style and Set a Thanksgiving Table | The Tattered Pew
Effortless Thanksgiving Table Setting: Quick Tips for Last-Minute Hosts | She Gave It A Go
How to Make a Simple Pumpkin Floral Arrangement for Thanksgiving | Midwest Life and Style
How to create an organic modern Thanksgiving table setting | My Sweet Savannah
Thanksgiving Table with Mismatched Dishes | DIY Beautify
Fall Thanksgiving Table | Hallstrom Home
How to Decorate a Thanksgiving Table for a Crowd | Pasha is Home
Tips for an Easy Thanksgiving Tablescape | The Handmade Home
How to Create a Thanksgiving Centerpiece with Thrifted Finds | Lolly Jane
How to Decorate a Round Table for Thanksgiving | Modern Glam Home
Thanksgiving No-Carve Floral Pumpkin Centerpiece | Tatertots and Jello
I'd love to have you hang out with me some more! Feel free to follow along with me on any of the platforms linked below.
LTK | Facebook | Instagram | Pinterest | Amazon
xoxo,
Kelly
Did you like this post? PIN it for later!