Family Room Makeover Spring Edition
Today I am honored to be joining a lovely group of bloggers who are showcasing their homes for the Early Spring Home Tour hosted by my friend Brendt over at She Gave It a Go. Spring is so close and I just couldn't wait to decorate! Shocking, right? 😉 This year I decided to start with our family room. I promise, you won't even recognize it. The before and afters are so much fun to look at! So grab a yummy drink to sip on and find yourself a cozy spot and be prepared to be inspired! You can find each of the other participating blogger's links listed at the end of my post.
If you are coming over from Brendt's blog, welcome! Isn't her entry way styled to perfection? I love how welcoming her home is.
Welcome
For those of you here for the first time, my name is Kelly and I live in beautiful Colorado. I'm a wife, mom, step-mom and kindergarten teacher. I pride myself on being able to update and upgrade our builder grade house into a Pinterest worthy home all in my spare time and on a tight budget! But honestly, I'm just a hot mess mama who needs Jesus and coffee every morning! Can you relate? Come on in and take a peek at our family room all dressed up for Spring!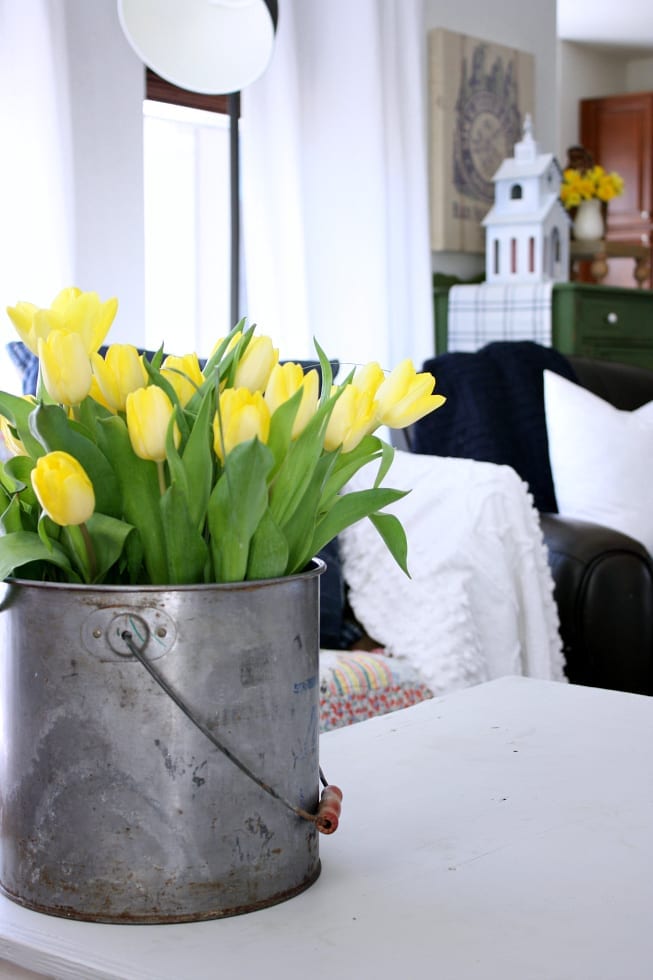 The Makeover Story
Last weekend I asked my mom if she had some time to pop over and help me "springify" my house. She came over and we instantly got lost in decorating and rearranging and just having fun. We were totally in a groove and I was loving the direction we were headed! But something was still bothering me, it was our darn ugly brown sectional.
Well, of course one thing led to another and before you know it we had concocted some huge crazy plan to get rid of the ugly brown monstrosity and makeover my family room.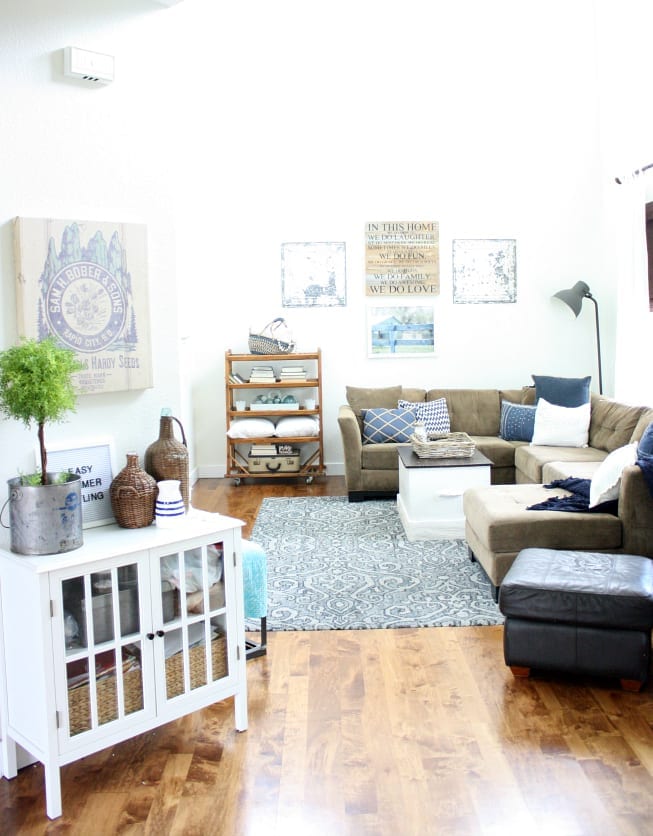 Above you can see the picture of our family room BEFORE. This is what is looked like last summer. Not bad, just not really my style. Well actually a lot of the decor is my style but like I said before, that sectional has always just bugged me.  It was cozy and served our family of 6 well, but boy was it disgusting.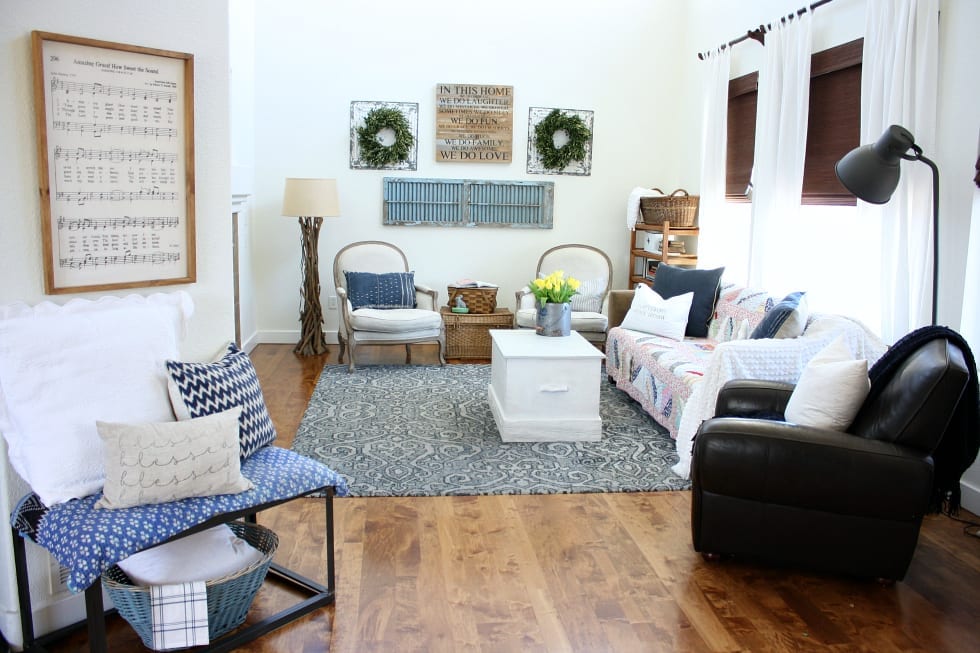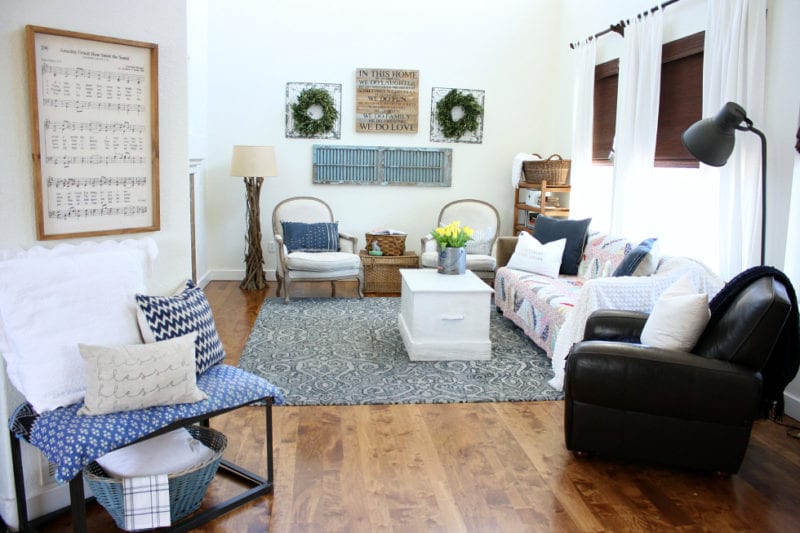 Here is what it looks like now that my mom and I have added our magic touch! 😉 As you can see the sectional is gone and in it's place are two gorgeous chairs and a smaller sofa! That huge crazy plan of ours actually worked! Let me tell you all about it…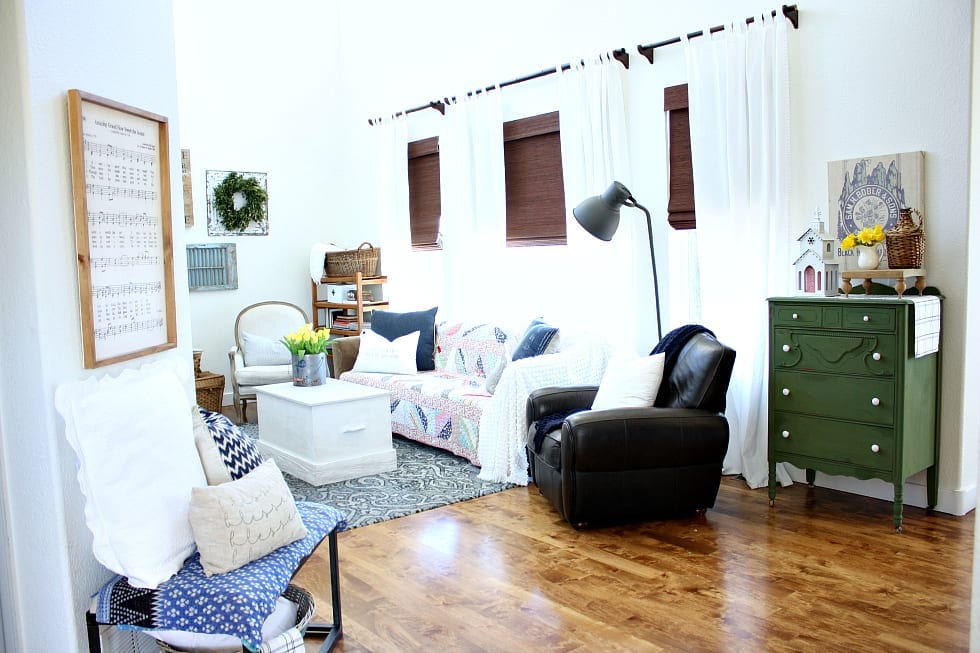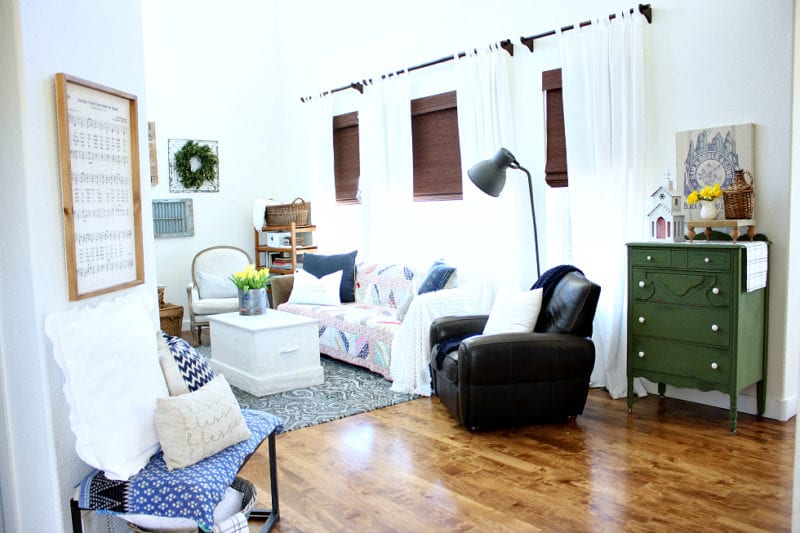 So Long Sectional
The huge grungy brown sofa was distracting me from enjoying my Spring decorating. (Poor me, right!?) 🙂
We have needed a new sofa desperately for awhile now but it just wasn't in the budget. So to help me look past it my mom threw my new "old" quilt over part of it. It was a lovely disguise! This got us thinking…what if we only had to cover part of the couch? The quilt was beautiful and had such lovely Spring colors but it wasn't large enough to cover the entire sectional!
Thankfully our sectional is three parts and connected by metal brackets. My mother came up with the genius idea of taking our sectional apart and only using the longest portion of the sofa. The perfect solution for saving some money and eliminating a majority of the ugliness! However, this also eliminated much needed seating.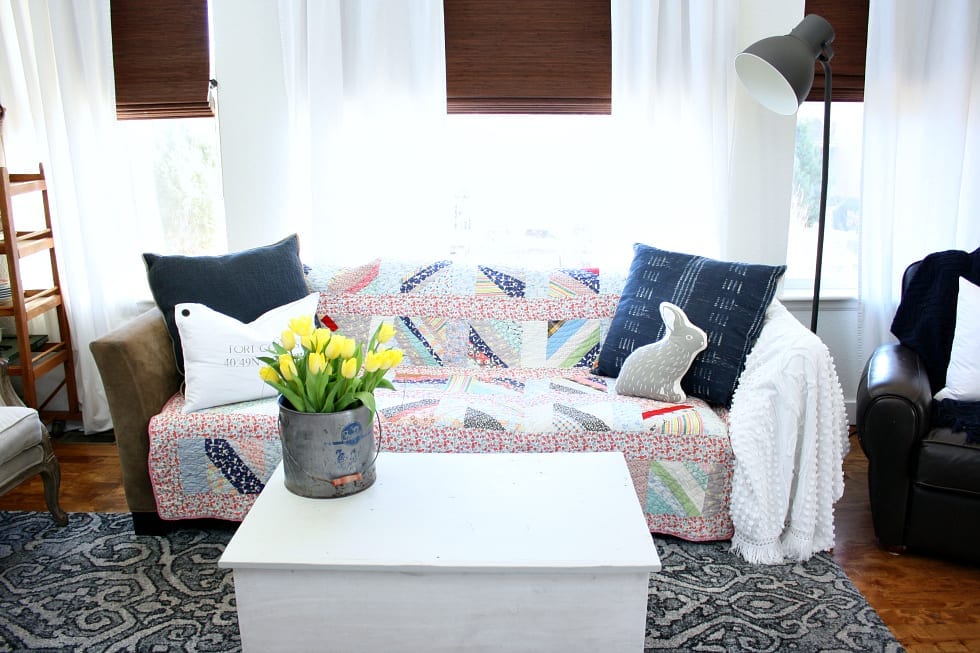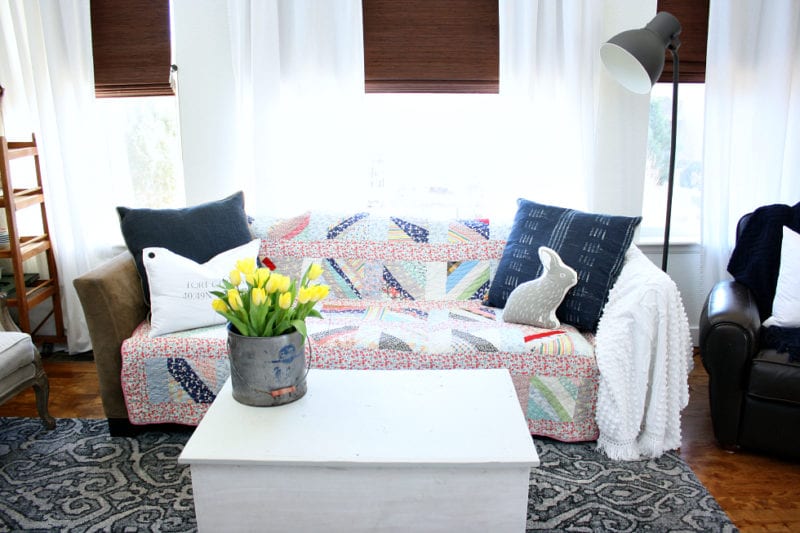 It was still a win win in my book! We saved some money (which always makes my hubby happy) by not having to buy a new sectional and I got to use this beautiful vintage quilt that I had just picked up at Rebel Junk Vintage Market a few weekends ago. I was definitely feeling excited now!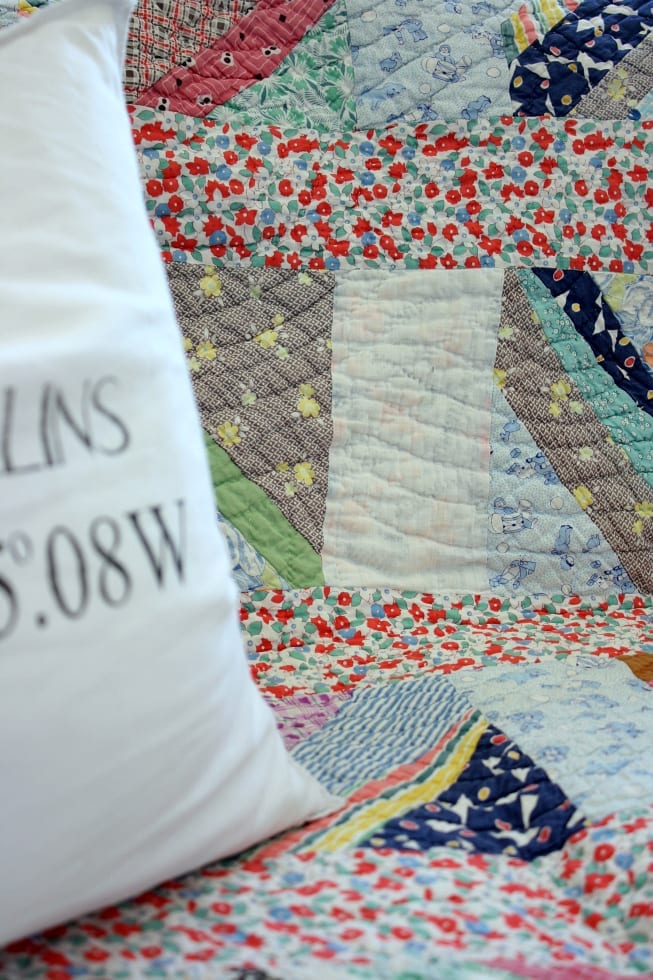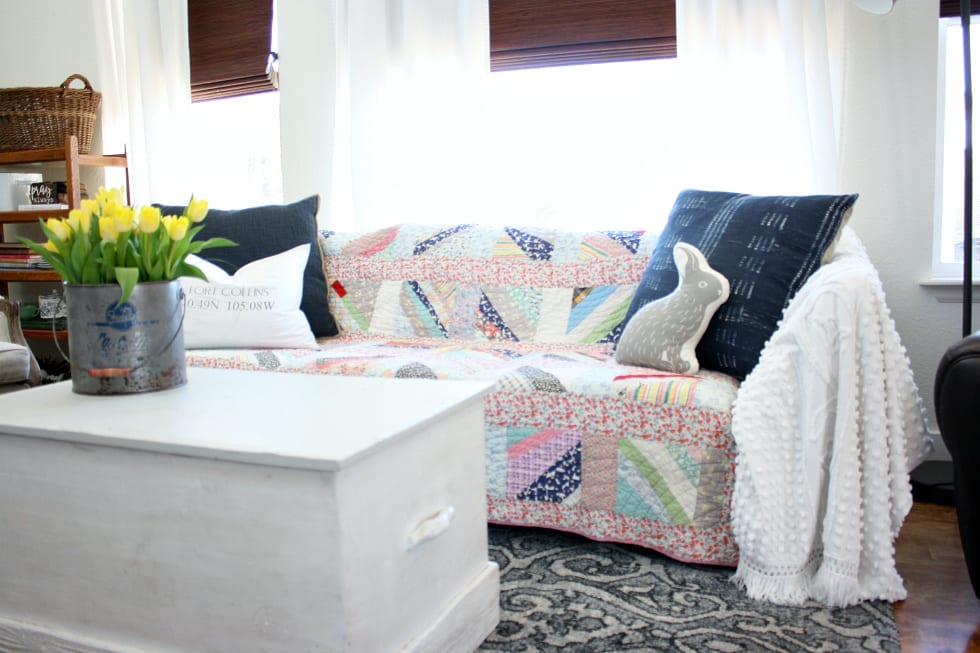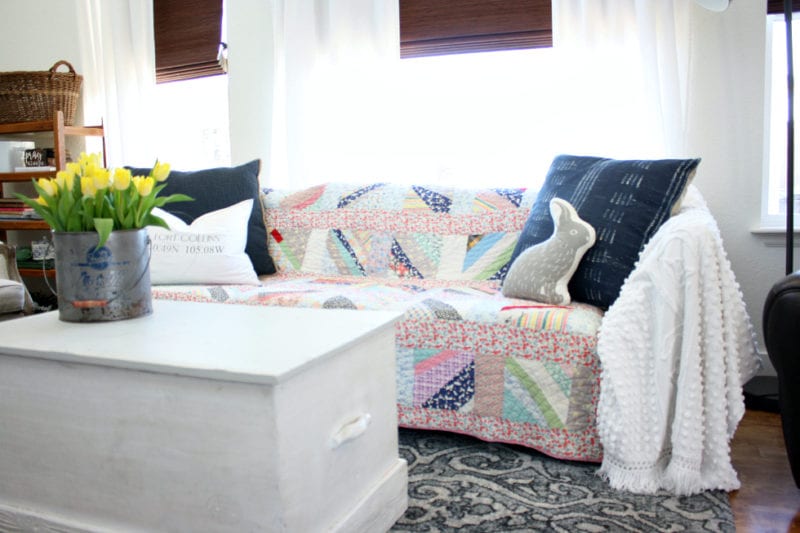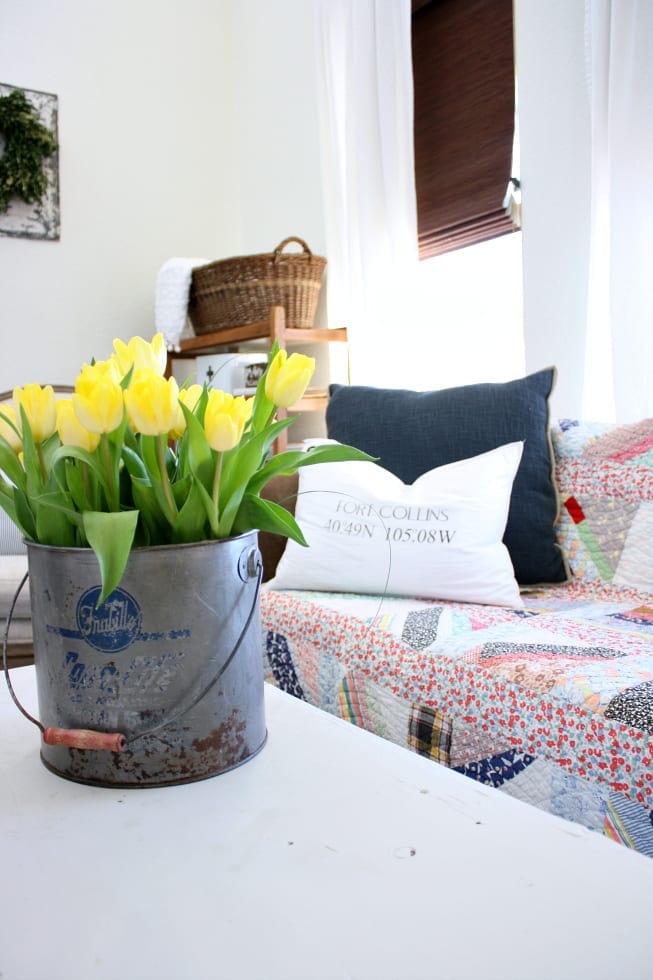 The Chairs
We needed to make sure that our plan included enough seating for our family of six. Not a problem! Beautiful chairs to the rescue! You may be wondering where the chairs came from? Well once we figured out that the section of the old sofa worked in the space under my windows and looked good covered by the quilt, I instantly knew what I wanted to do.
A few weeks prior in a local consignment shop, Curate Consignments, I had spotted two Restoration Hardware chairs that I loved!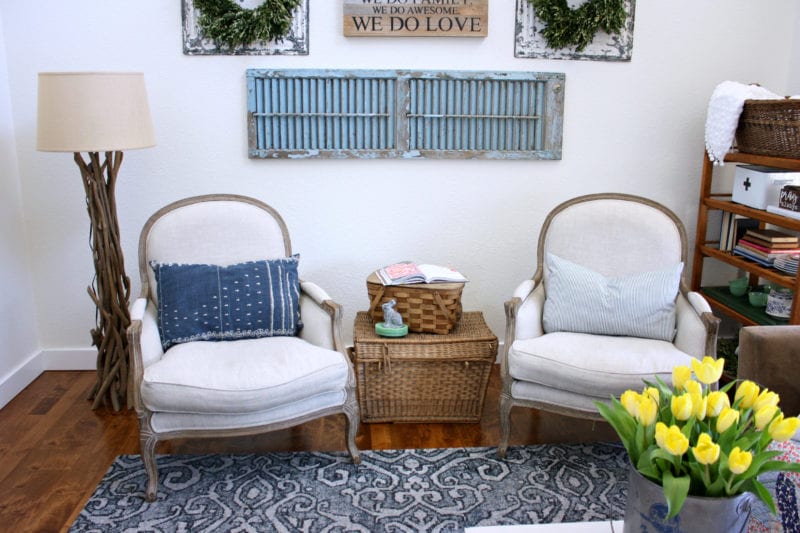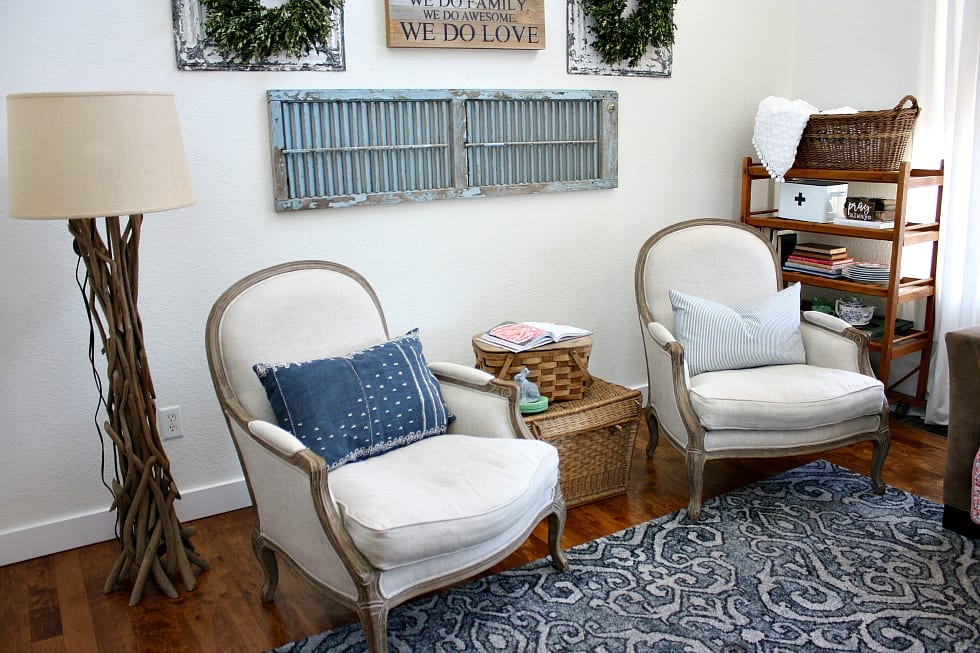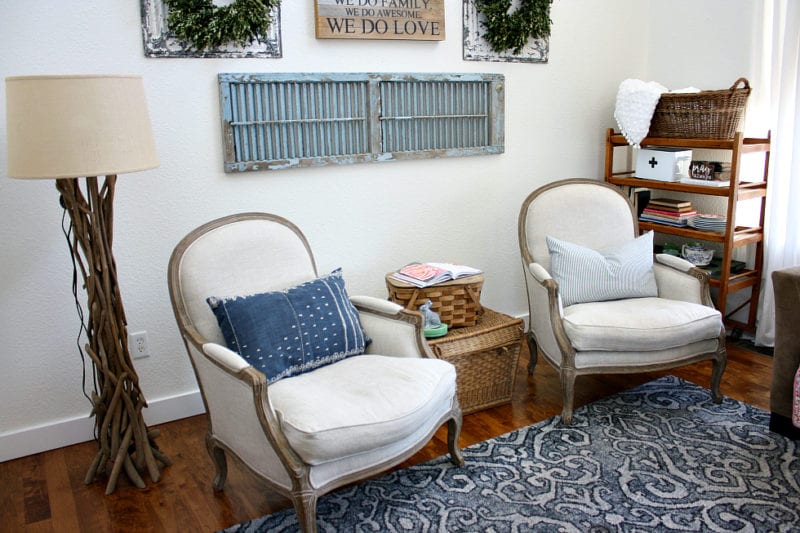 Aren't they beauties?! They look brand new.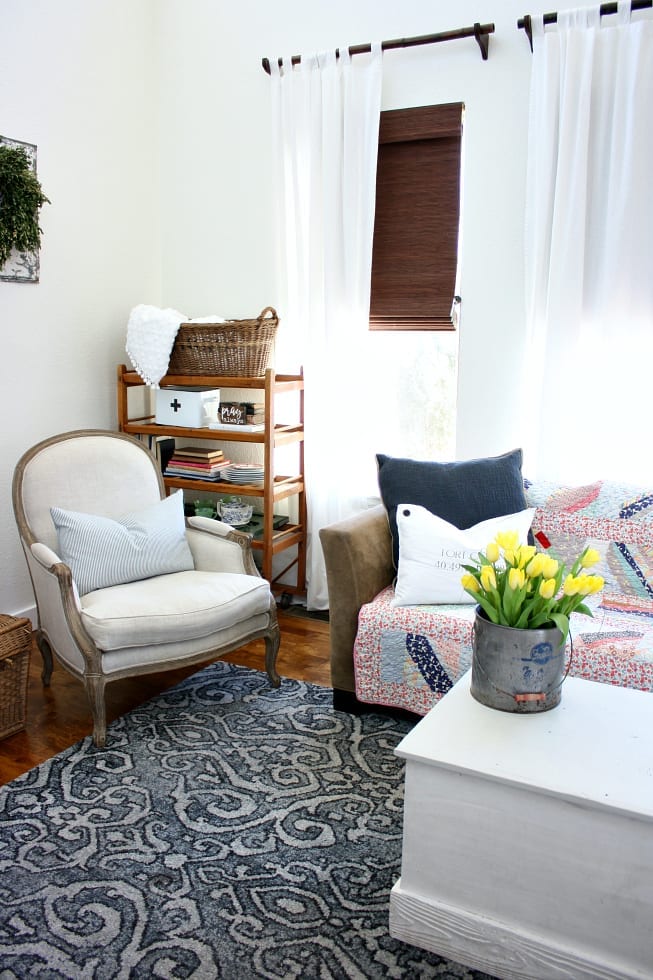 The chairs had been at the consignment shop for awhile and I was worried that they may have been purchased already. So I called up the shop and sure enough they were still there! It's like they were meant to be! Somehow I managed to drag my mom and brother in-law with me to pick them up. ( I think I forgot to mention earlier that I did all of this "re-decorating" while my husband was out with the kids watching some basketball games.) Of course I called him before I purchased the chairs and he gave me the green light. If I remember correctly his exact words were.. I trust you! Boy do I love that man!
Finishing Touches
The chairs were the icing on the cake for this impromptu family room makeover! Once they were in I moved some other pieces of furniture around and painted the top of the coffee table to give it a cleaner look. I then added fresh Trader Joe's tulips to the coffee table and daffodils to my newly painted green dresser.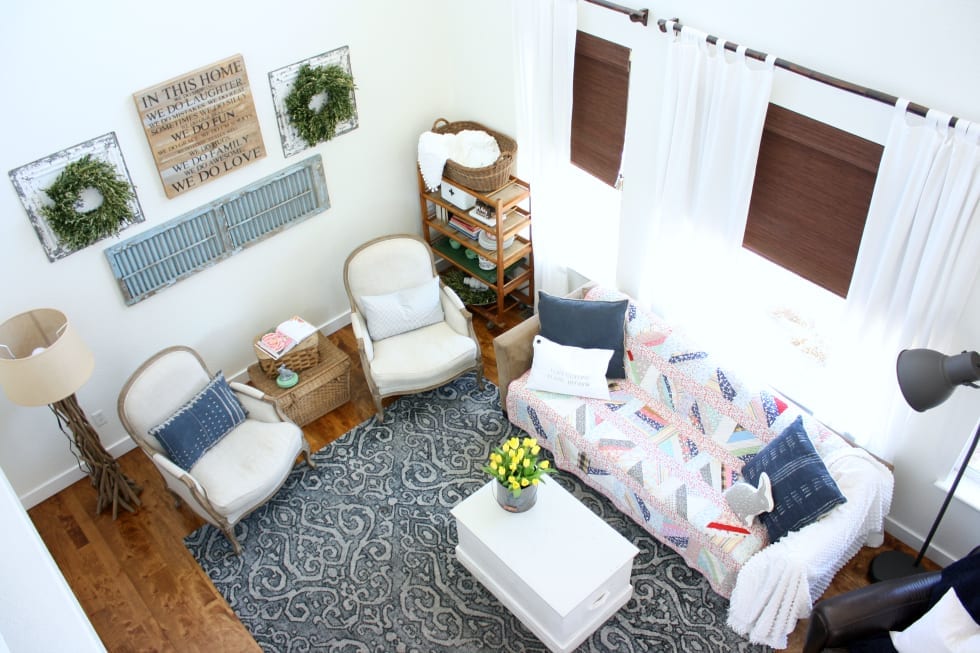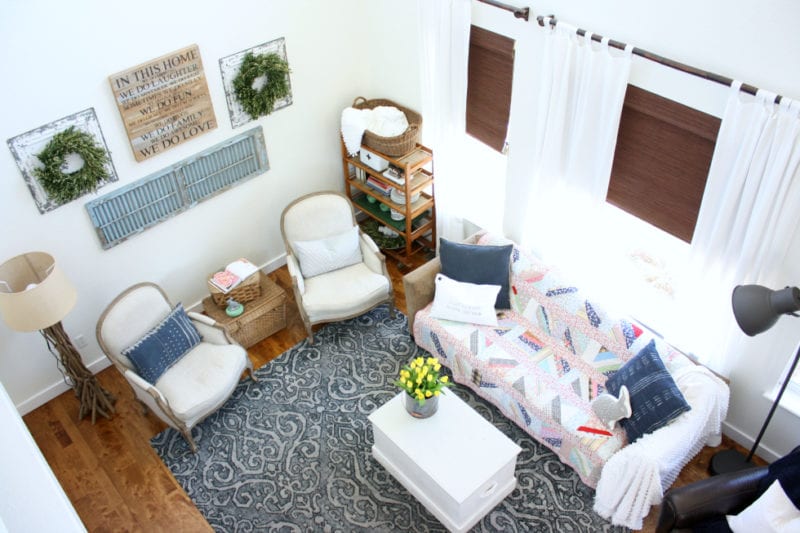 My Weaber Lumber niche project above our fireplace was spruced up with a fun Spring vignette. Do you recognize these faux peonies from last year's spring home tour?

The Final Touch
The final touch was hanging the awesome old blue shutter behind my two new favorite chairs! I feel like the whole room has opened up and is so much brighter now. I just love it! Now I can look at this room and be happy with what I see.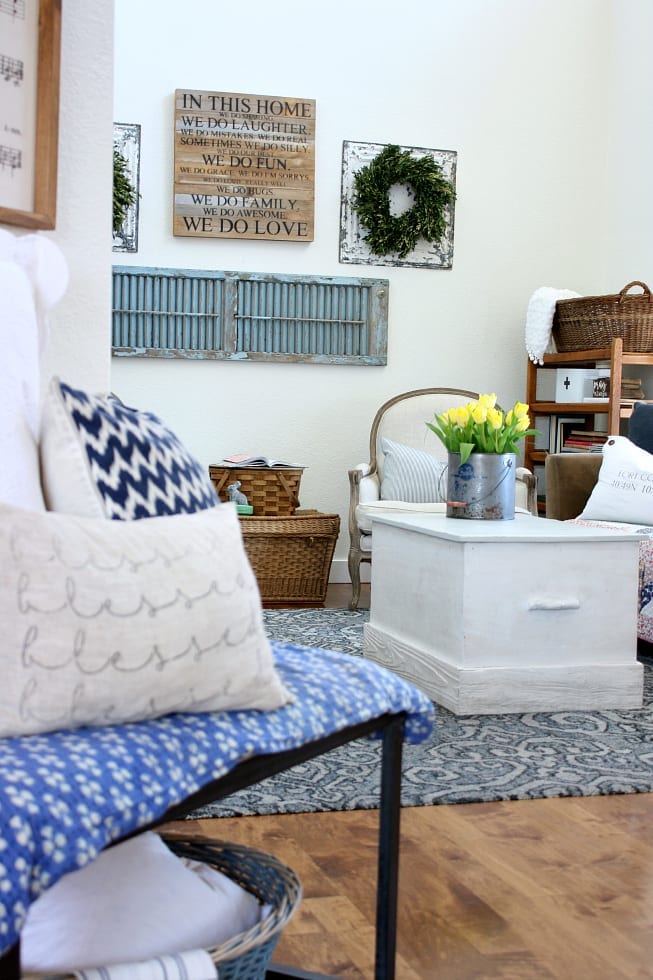 One More Before and After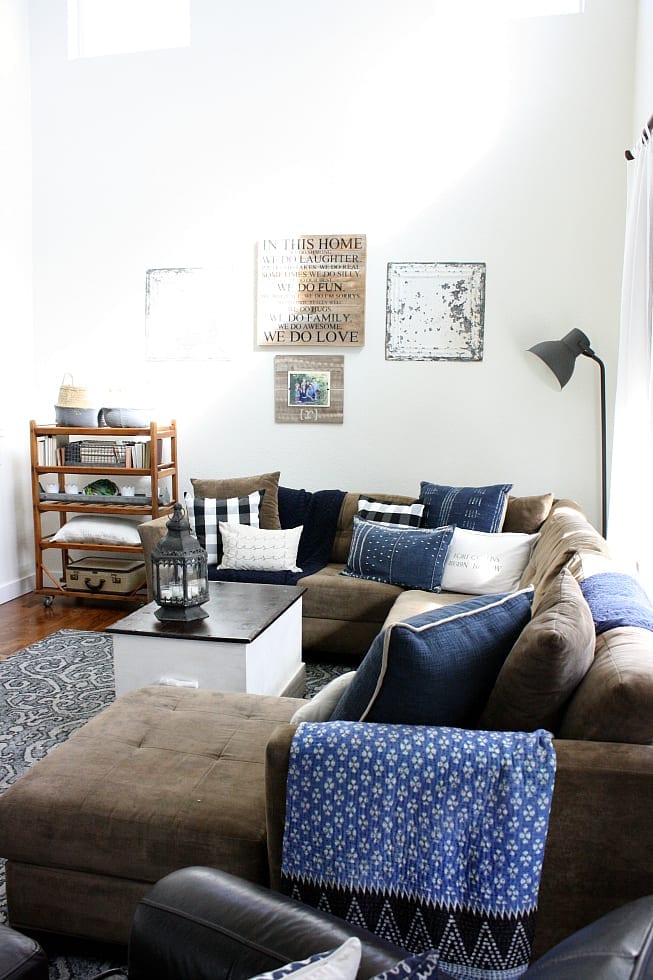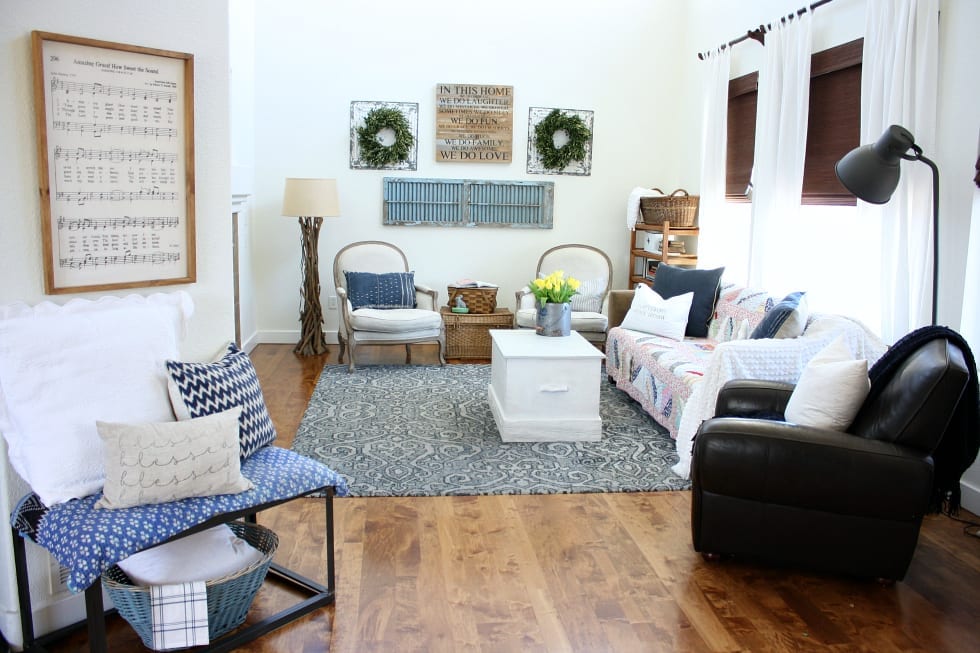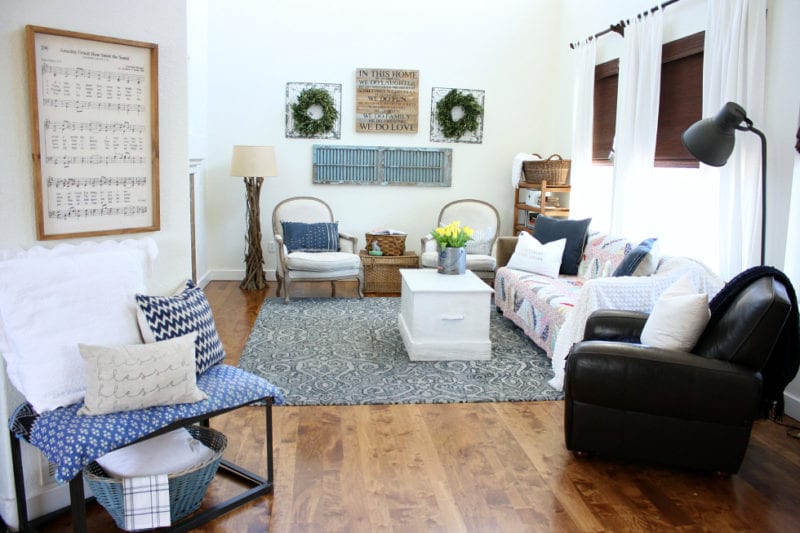 Thank you for stopping by today to check out my family room makeover. I hope you found some fun Spring inspiration. Up next on the blog hop is Sarah's beautiful home over at Grace In My Space. Her fireplace has me dreaming of another makeover. Shhhh! Don't tell my husband! 😉 Also, make sure you don't forget to check out the other bloggers on the tour. Each of their links can be found below!
xoxo,
Kelly
Make sure to check out the following
Early Spring Home Tours!
Mid County Journal / Classic Cottage / Clare and Grace Designs

The Nesting Place / She Gave It A Go / The Tattered Pew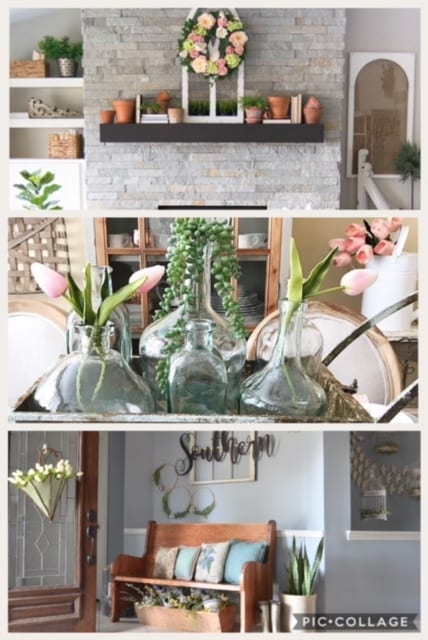 Grace In My Space / Pollie's Place/ Saw Dust Angel
Like this post? Pin it for later!