2016 Holiday Gifting Guide for the Fixer Upper Fan!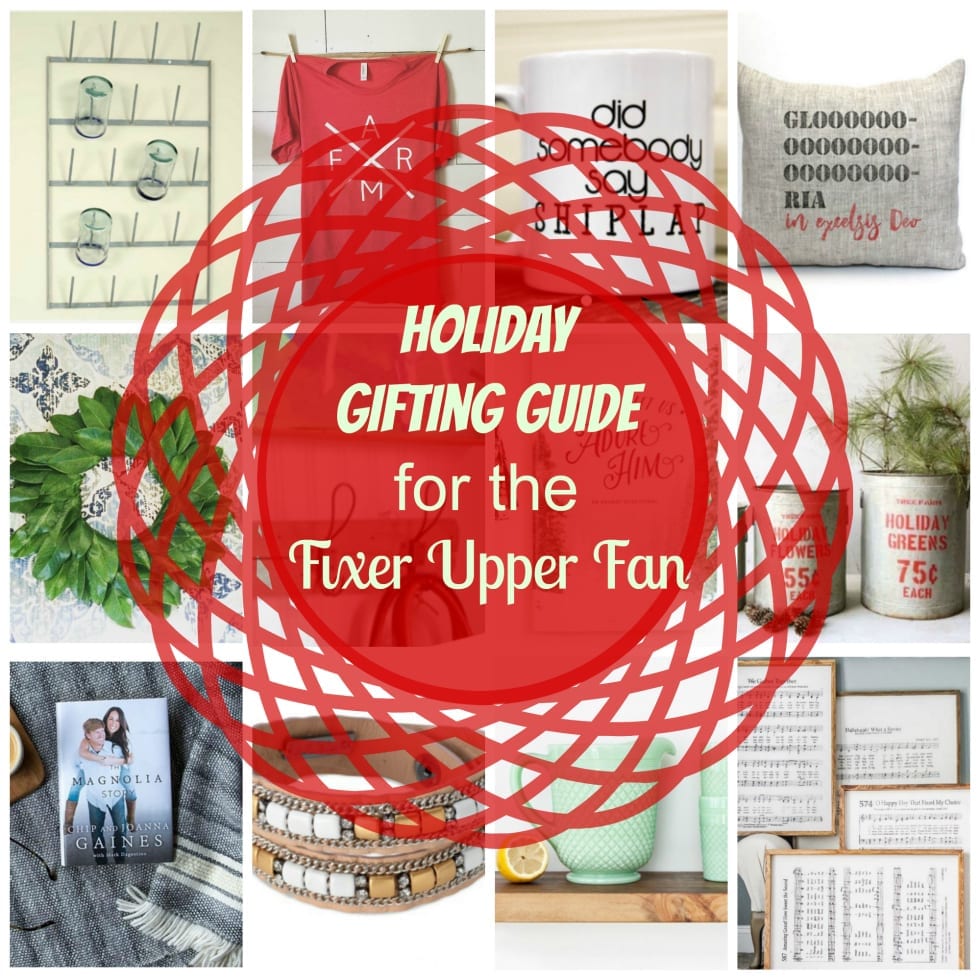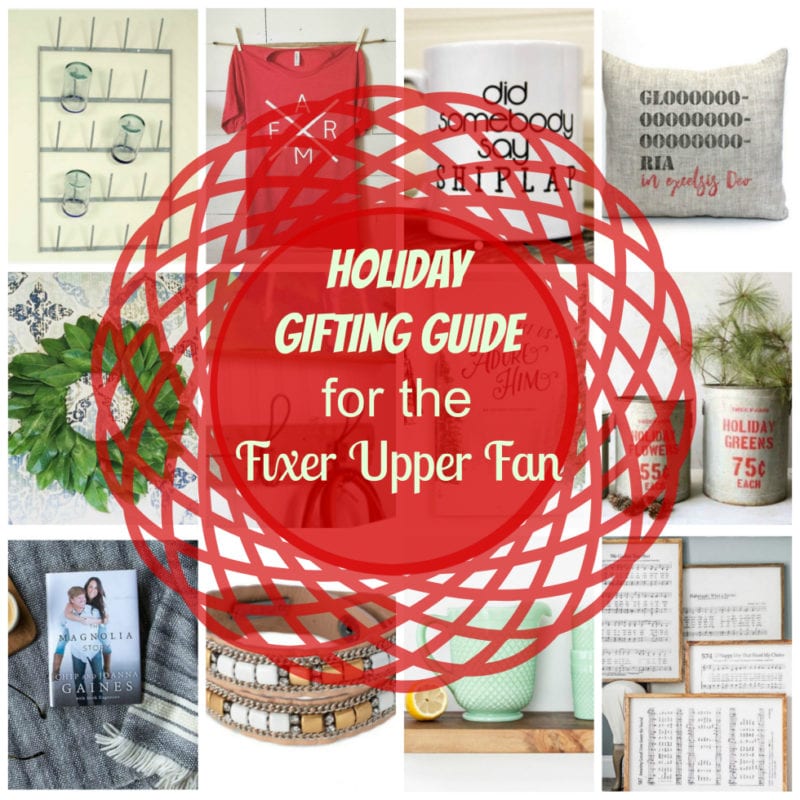 I don't know about you but I am over the moon excited for Christmas and the new season of Fixer Upper! (Starting Tuesday Nov. 29th) Can I get an AMEN!? So to help spread the love and excitement, I have teamed up with 12 different shops to bring you some Fixer Upper inspired gifts and coupon codes to help make shopping a breeze for you. I hope you will enjoy these items and find some fun new shops and ideas along the way! Happy shopping!


1. *O Come Let Us Adore Him Advent Set*   The Daily Grace Company     Last Christmas I discovered Kristin and her amazing advent cards and devotional but missed out. So this year I knew I didn't want to wait to purchase this gorgeous pack of blessings. This set includes a daily devotional along with daily scripture cards for each day during advent. I can't wait to display my cards in my home!  She has a flash sale going for today only (11/14) $10 off of $20 or more with the code YAY10.  You can find her on Instagram as well by clicking here! @kristinschmucker
2. *Christmas Metal Buckets*  Sugar and Succulents   Taylor is the owner of this fun online shop that offers charming vintage decor items to add character to your home. I love everything in her shop but personally have one of these metal buckets and LOVE it! I have seen Joanna Gaines herself use these in her decorating. Taylor has kindly offered a coupon code to her shop and free gift wrapping too! Isn't that amazing?!  Here is the code….Have fun shopping!     *Coupon code:     thetatteredpew10  You can also find Taylor on Instagram where she often has amazing flash sales! @sugarandsucculents
3.*Farmhouse Mug Rack*  Little Suburban Farm    This darling little shop belongs to my friend Abbi! She is a hard working mama, wife and farmer! You should see her precious goats! She started her on-line shop to share her love of all things farmhouse related. I absolutely love her mug rack and she has it listed for the best price I have seen! I have one and use it all the time and I know JoJo does too.  Abbi has generously offered a coupon code to her shop. I hope you will stop by for some of your Christmas shopping!     *Coupon code: KELLY10    Abbi can also be found on Instagram @littlesuburbanfarm
4.*Red FARM© shirt*  Farmhouse Box    You guys…I live in this shirt! I have the blue one and might have worn it 3 days in a row once!  My daughter totally called me out! Ha ha! These shirts are extremely soft and cozy and I'm thinking I might need a few more colors! I also have a crush on her FARM© tote and FARM© boxes!  Besides this awesome shop, Karli and her husband own a dairy farm in Alabama!  She has graciously offered a coupon code for her shop!      *Coupon code:      tatteredpew10  You can also visit her on Instagram @Farmhousebox


5. *Gloria In Excelsis Deo Pillow * Cover Love Pillows   I already own one of Courtney's beautiful pillows and I can't wait to get another. I love their modern farmhouse feel. This darling Christmas one is on my list for sure! Doesn't it just make you want to start singing?!  Not only does she have premade pillows in her shop to choose from, but she will custom them as well!  Endless gifting possibilities!  These pillows are extremely well made with linen covers and rustic ink! Courtney so graciously has offered a coupon code to her shop! Have fun shopping!     *Coupon Code: THETATTEREDPEW10  You can also find Courtney on Instagram @coverlove_shop
6. *Recycled coat rack*  Whippoorwill Road Home Company  This amazing on-line shop was started by a mother and daughter team and carries the name of their family farm! These ladies have a knack for finding and supplying beautiful items with this recycled coat rack being just one of them! I have seen similar hooks being used throughout Joanna's homes on Fixer Upper. You will find yourself gazing through their shop full of new and vintage treasures for hours! So excited that they have offered a coupon code for all of you to enjoy!         *Coupon Code: Tattered10  You can also find this delightful shop on Instagram @whippoorwillroad
7. *Cady Wrap*  Stella and Dot   Joanna Gaines loves her jewelry and so do I! My sister-in-law sells this gorgeous jewelry and that means I am lucky enough to always have access to the latest fashion pieces. The majority of Stella and Dot's jewelry line is under $50!  Love this!  You can't go wrong with jewelry during the holidays! This wrap bracelet is one of my favorites and I know JoJo would love it too!  Have fun gazing at all of the lovely jewels.
8.  *Amazing Grace on painted wood*  Vanessa's Modern Vintage Home   As many of you know I have a small obsession with hymns. Click here for a peek at My Grateful Table post! Well, my girl Vanessa has knocked it out of the park by putting hymns on to huge painted wooden signs. Can you say statement piece?  She will even do custom hymns of your choice.  I am in love! I know if JoJo got her hands on one these she would go crazy! I can't wait to get one for our house! Vanessa was kind enough to share a coupon code with you all for 10% off !  *Coupon Code: MVHPEW You can also find her on Instgram @amodernvintagehome


9. *The Magnolia Story*  Magnolia Market This darling couple has a new book out all about their journey together, their store and their popular show Fixer Upper on HGTV. This book is on my Christmas list this year!  Follow this super cool couple at @joannagaines and @chippergaines
10.  *Shiplap Fixer Upper mug*  Swallows Grace  If you all watch fixer Upper religiusloy like I do, you know that "Shiplap" is on almost every episode. I myself have a wall of shiplap that you can see in my home tour post! So when a friend sent me this mug I about died over how cute and perfect it was. Then I started looking into to this Etsy shop and fell in love with Kenzi's story about loss, love and adoption. She is a true inspiration and her story speaks to this mama's heart. So of course I had to add this to my mug collection! I know you too will love browsing through her awesome gallery of fun mugs!  You can also find Kenzi on Instagram @swallowsgrace
11. *Real magnolia wreath*    Jars of Clay Co.   This shop is owned by my friend and fellow blogger Katie! We met through Instagram and I immediately knew I liked her…she loves Jesus, her hubby, her family and of course Fixer Upper!  She has a huge magnolia tree in her yard and is able to make these amazing wreaths herself!  So neat! She also has many other lovely items in her shop that I know you will enjoy just as much as I do. She has graciously offered a 10% coupon code for you!                   *Coupon Code: THETATTEREDPEW  You can also find Katie on Instagram @jarsofclayco
12. *Jadeite pitcher*   FARM/HOUSE MARKET   I think my interest in jadeite started when I first noticed Joanna Gaines using jadeite pieces in her kitchens and when she styles open shelving. I love the bright green and need some in my life for sure!  So when I came across Abby and her shop on Instagram, I knew I wanted to follow her!  Abby is all about the simple lifestyle and has an eye for beautiful things.  Her shop ALWAYS has FREE shipping and the items come extremely fast!  I have been so impressed by her customer service and kindness and know you will be too.  So I was over the moon excited when she offered a coupon code for my readers!  Please stop by and show her some love!  *Coupon code: KELLY10  You can also visit her on Instagram @farm.housemarket
Don't forget season four is coming!!!!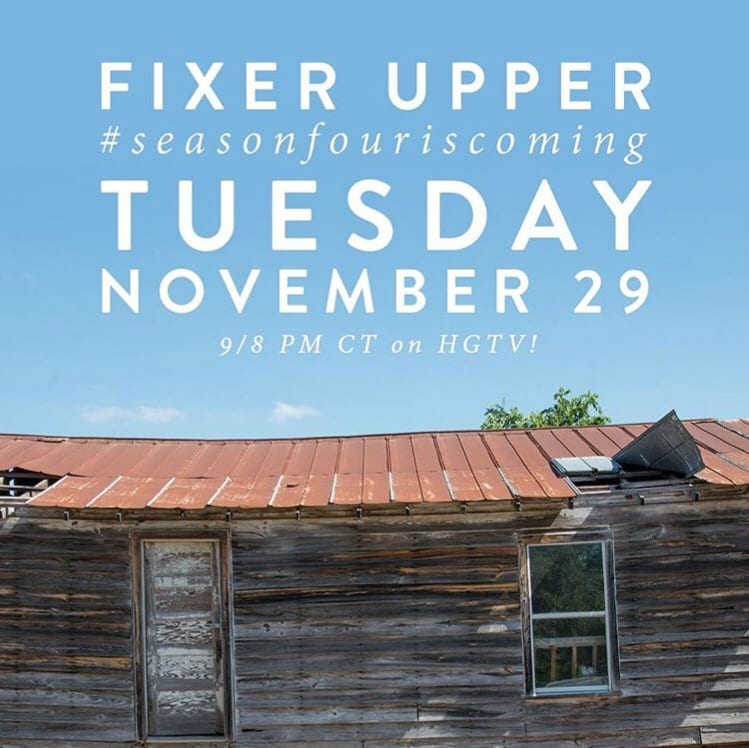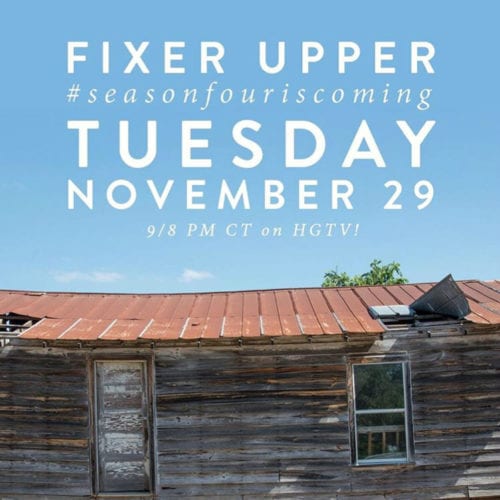 Please let me know what items from this list are your favorite! Have fun shopping!
xoxo,
                                                                                                               KELLY