A Beautiful Christmas Boxwood Wreath & Tips for Extending Its Life
It's that time of year again, and you know what that means – the quest for the perfect Christmas decorations is on! For me, the annual highlight is my pilgrimage to Trader Joe's in search of their stunning boxwood wreaths. At just $14.99, these wreaths are not only a steal but a holiday tradition I eagerly anticipate. The only catch? They vanish faster than you can say "Jingle Bells!"
This year, I managed to snag not one but two of these green gems. And, of course, I couldn't resist adding my own touch to them. A bit of frayed edge velvet ribbon in shades of blue, light blue, and green, along with bunches of white St John's wort and eryngium, became the festive flourish I needed to pull together the blues in my Christmas decor.
Let's take a peek at a beautiful Christmas boxwood wreath and some tips for extending it's life!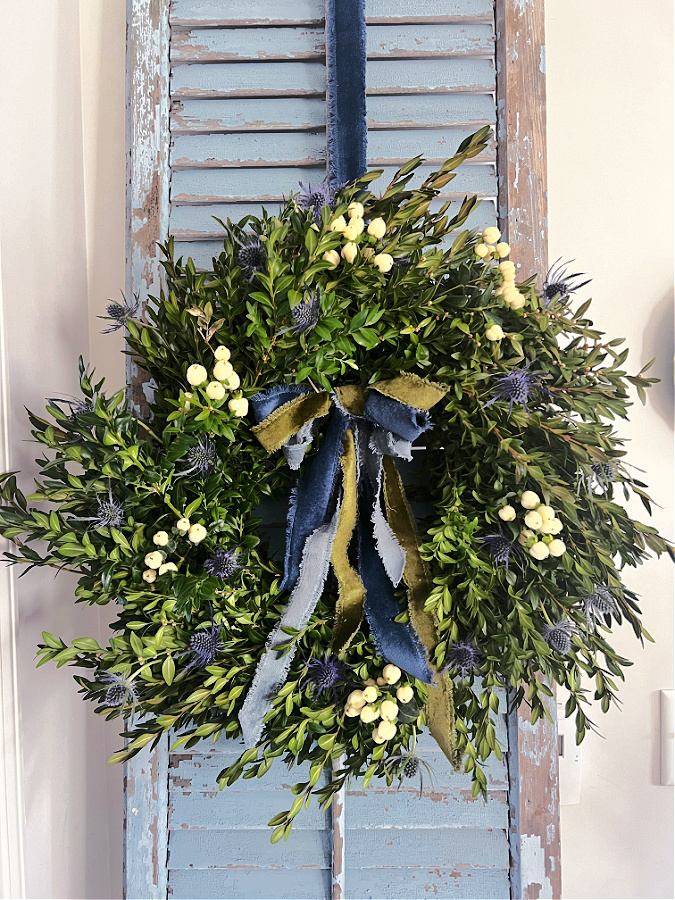 *As an Amazon Associate, I earn from qualifying purchases. This post contains other affiliate links too for your convenience. Click here to read my full disclosure policy.
Christmas Wreath Inspiration
Today I am joining a Christmas/ Holiday wreath blog hop hosted by my friend Jennifer of tatertots and jello.
If you are finding me from Kim of Today's Creative Life, welcome. Did you see her beautiful Scandinavian star wreath? I loved it.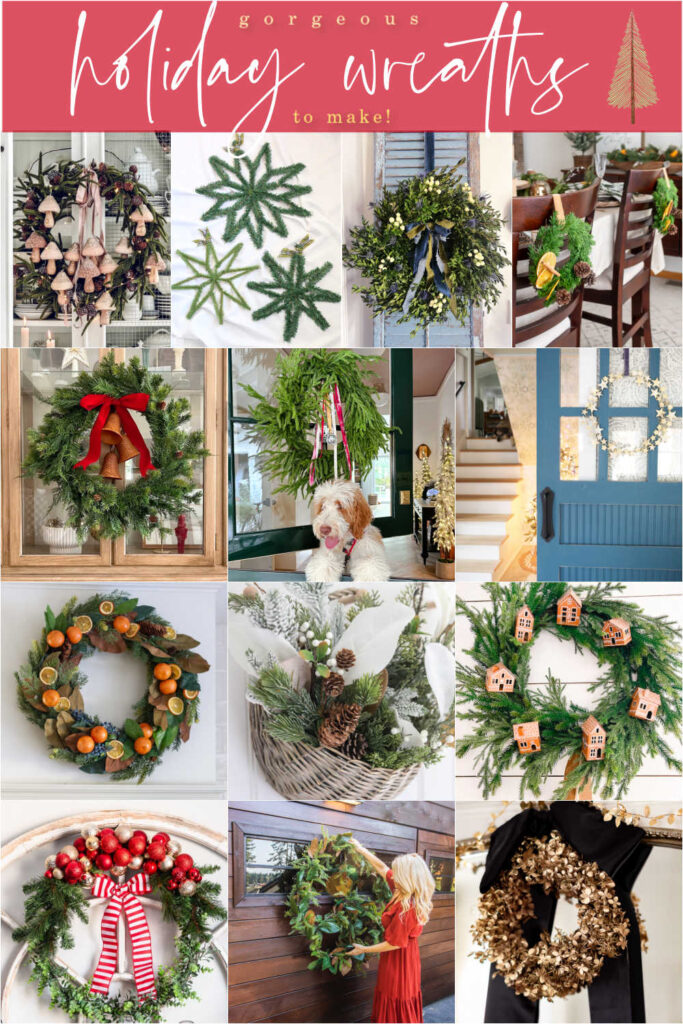 If you love wreaths like I do then make sure to visit 12 other wreaths from creative bloggers linked at the end of this post!
A Beautiful Christmas Boxwood Wreath Tutorial
Below you will find my simple steps for making your own beautiful Christmas boxwood wreath with just a few simple additions.
Like I mentioned above, I found mine at Trader Joe's. You can find live boxwood wreaths ( and garland too) at local garden nurseries as well. Or you could always by a preserved one like this.
Steps to Embellish Your Boxwood Wreath:
Hang/Prop Up Your Boxwood Wreath:
Begin by hanging the boxwood wreath on your chosen surface, in this case, a charming shutter. Take a moment to step back and visualize where you want to place it.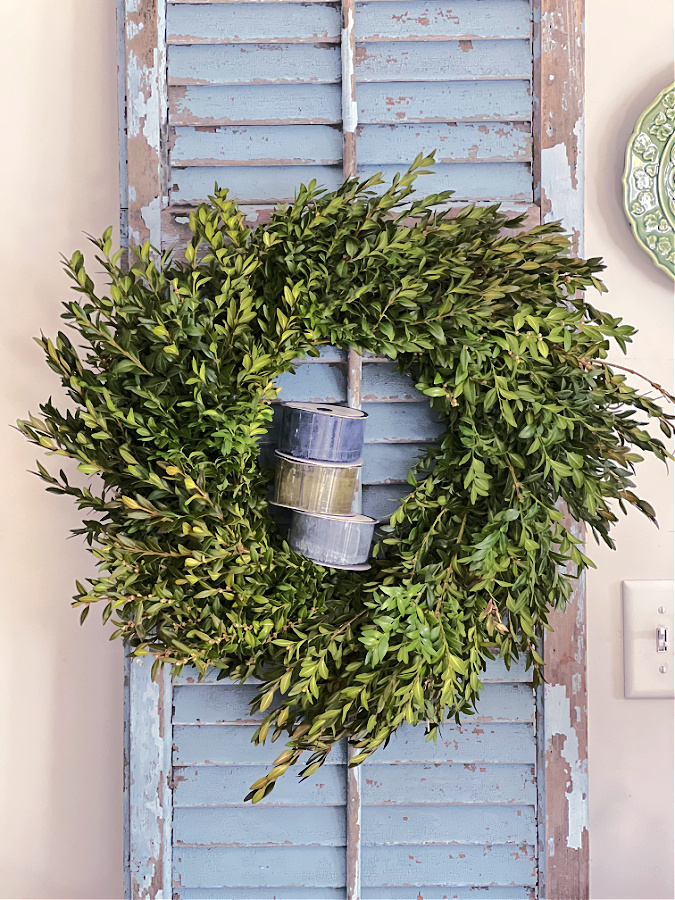 Velvet Elegance, Adding Ribbon To Your Wreath:
Attach a long piece of dark blue velvet ribbon to the shutter, ensuring it complements the wreath's color.
My Christmas colors this year are blues and greens. I found this gorgeous frayed edged velvet ribbon at Hobby Lobby and it was 40% off. They had a ton of other colors too!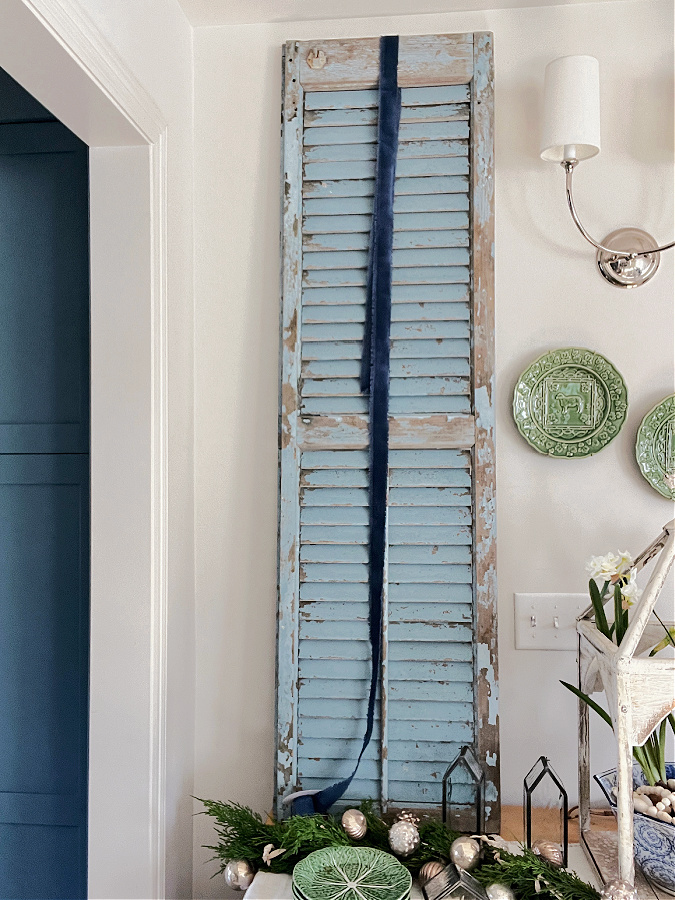 Securely tie the ribbon to the back of the wreath. This not only provides support but adds a touch of elegance to the display.
Ribbon Bliss for Your Wreath:
Cut three strands of velvet-edged ribbon in green, blue, and light blue, keeping them close to a similar length.
Combine the three strands and tie them together in a romantic droopy bow. This will be the pièce de resistance of your wreath or focal point.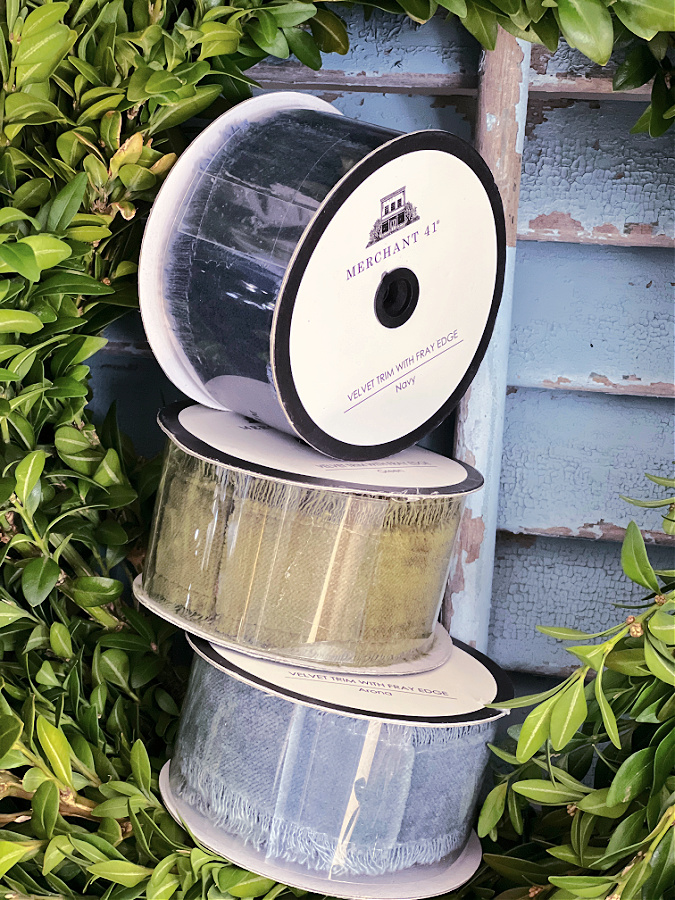 The perfect way to customize your wreath to the colors you are using for your Christmas decor!
Bow Perfection:
Attach the bow to the inside top of the wreath using floral wire.
Ensure it hangs gracefully and enhances the overall aesthetic. The bow not only adds a festive flair but also creates a delightful focal point.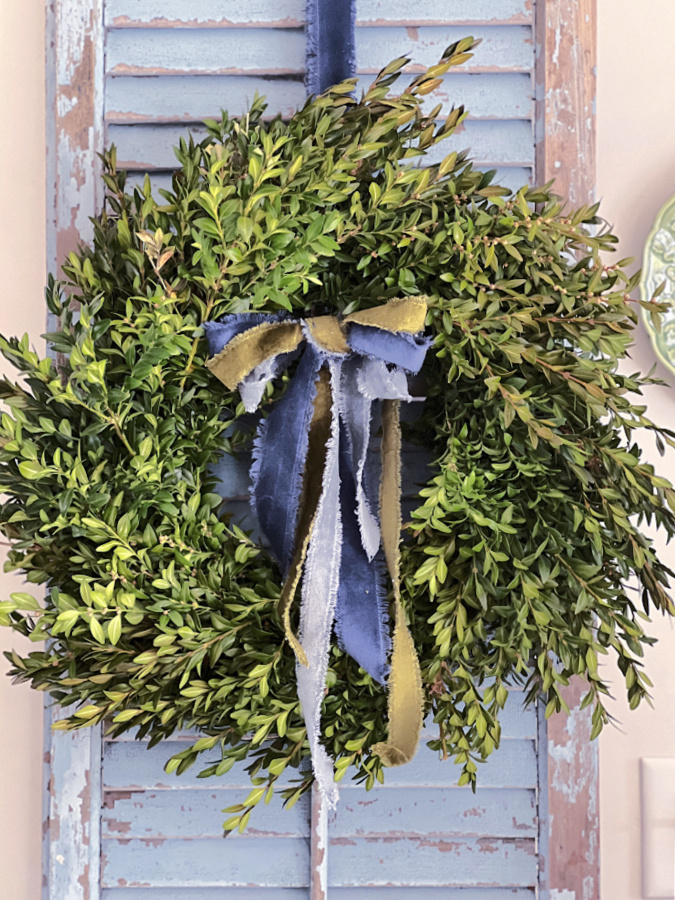 Adding Eryngium Magic to Your Boxwood Wreath:
Cut the eryngium bunches from your Trader Joe's haul.
These spiky, blue-tinged blooms will add a touch of magic to your wreath. Strategically place them throughout the boxwood, securing them in place with floral wire if needed.
Step back and assess for balance.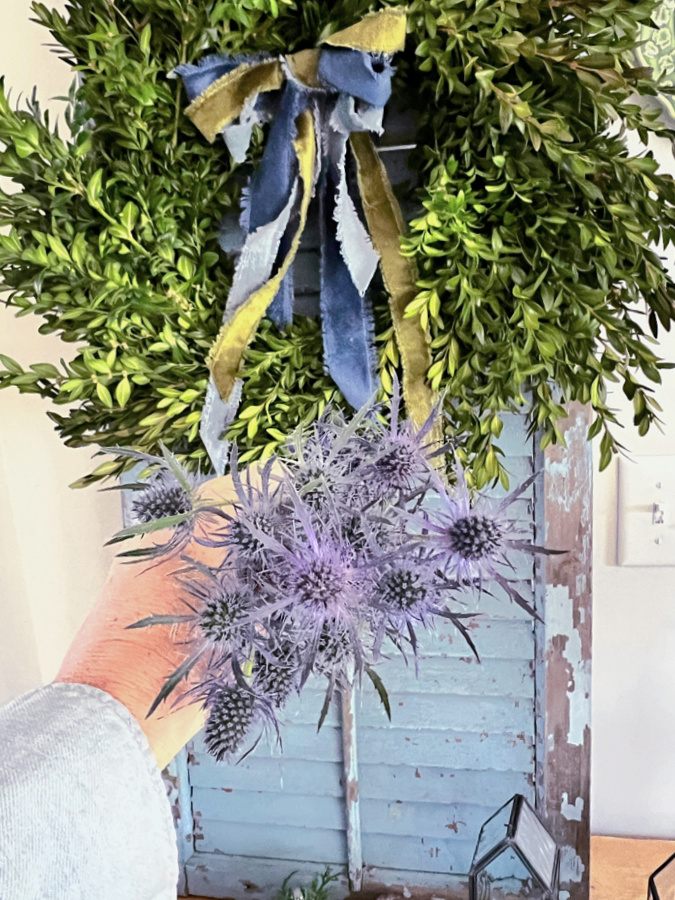 Add Some St John's Wort:
Add the St John's Wort to your wreath, allowing its white blooms to complement the blue hues.
Unlike the eryngium, you might find these florals are cooperative enough to be tucked into the wreath without the need for floral wire.
Scatter them around, ensuring a harmonious arrangement.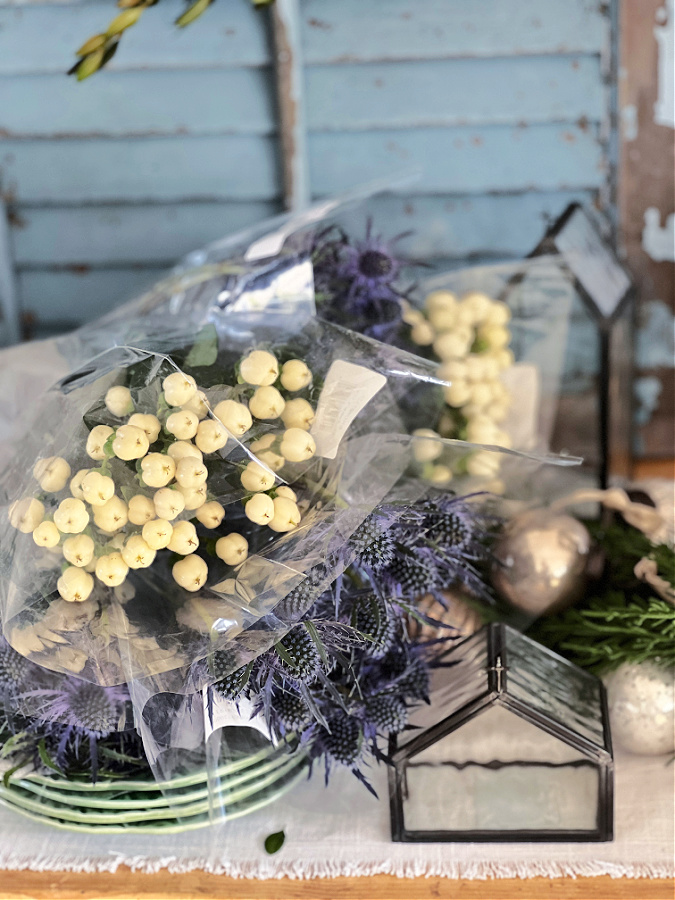 Balance and Beauty for Your Boxwood Wreath:
Take a moment to step back and review your masterpiece.
Ensure the ribbon bow, eryngium, and St John's Wort are balanced and create a cohesive look. Adjust as needed until you achieve the desired effect. Have fun and let your creative juices flow!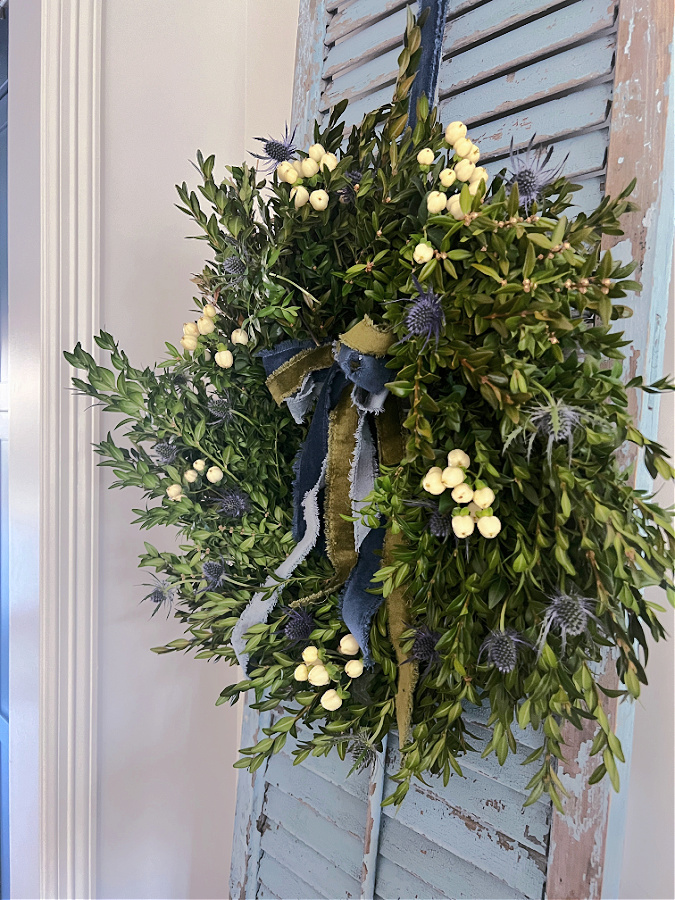 Final Touches on Your Beautiful Christmas Wreath:
Stand back and appreciate the beauty you've created. Make any final adjustments to ensure everything is securely in place and perfectly arranged.
There you have it – a personalized, embellished boxwood wreath ready to steal the spotlight in your festive decor.
Each element, from the velvet ribbon to the carefully chosen florals, adds a unique touch to make your wreath truly one-of-a-kind and customized to your decor.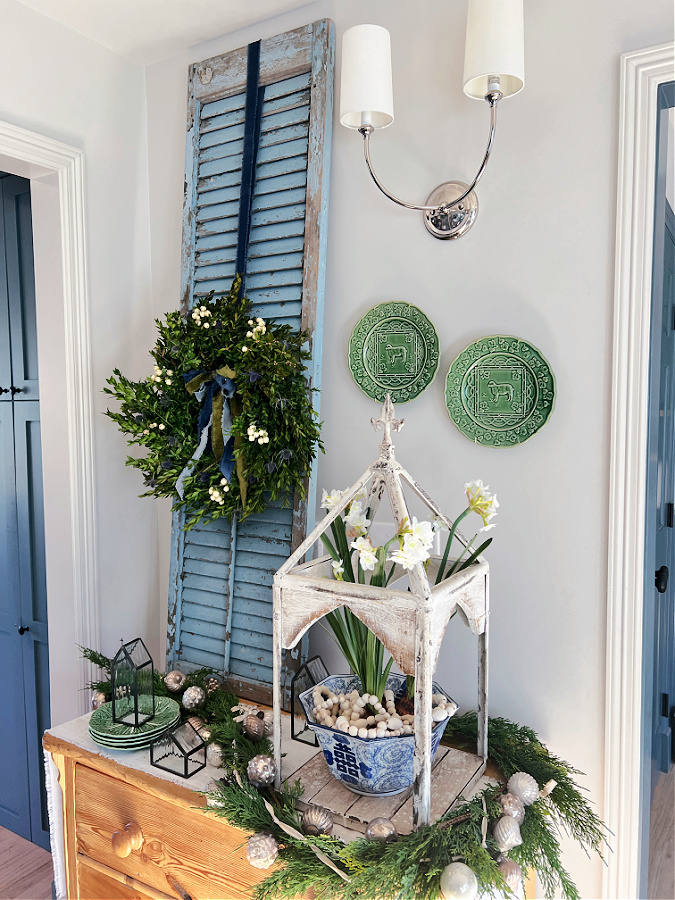 Tips for Extending the Life of a Boxwood Wreath
Now, let's talk longevity.
Boxwood wreaths are a timeless choice for Christmas, whether gracing your front door or adding charm inside your home.
But, as any boxwood enthusiast knows, their lifespan can be a bit temperamental.
Fear not!
I've got some tried-and-true tips to ensure your boxwood wreath stays fresh and fabulous for as long as possible.
1. Hydrate, Hydrate, Hydrate your Boxwood!
Remember to mist your wreath every 2-3 days with water. A little hydration goes a long way in keeping those boxwood leaves looking lush and vibrant.
2. Choose the Perfect Spot for Your Wreath
While boxwood is hardy, it's wise to avoid direct sunlight and harsh weather conditions. Find a sheltered spot, and your wreath will thank you with a longer life.
This also goes for deciding if you want it indoors or out. Luckily, these wreaths dry beautifully too so you really can't go wrong!
3. Decorate your wreath with Care
Go ahead and add your personal flair to the wreath, but handle it gently. Too much squeezing and pressing can lead to premature shedding. Treat it like the delicate work of art that it is.
I had a few leaves fall off but nothing significant.
4. Soak Your Boxwood in Love (and Water)
If you notice your wreath is feeling a bit dry, give it a spa day. Soak it in cool water for 30 minutes to an hour. Just like you after a hot bath, your wreath will feel rejuvenated.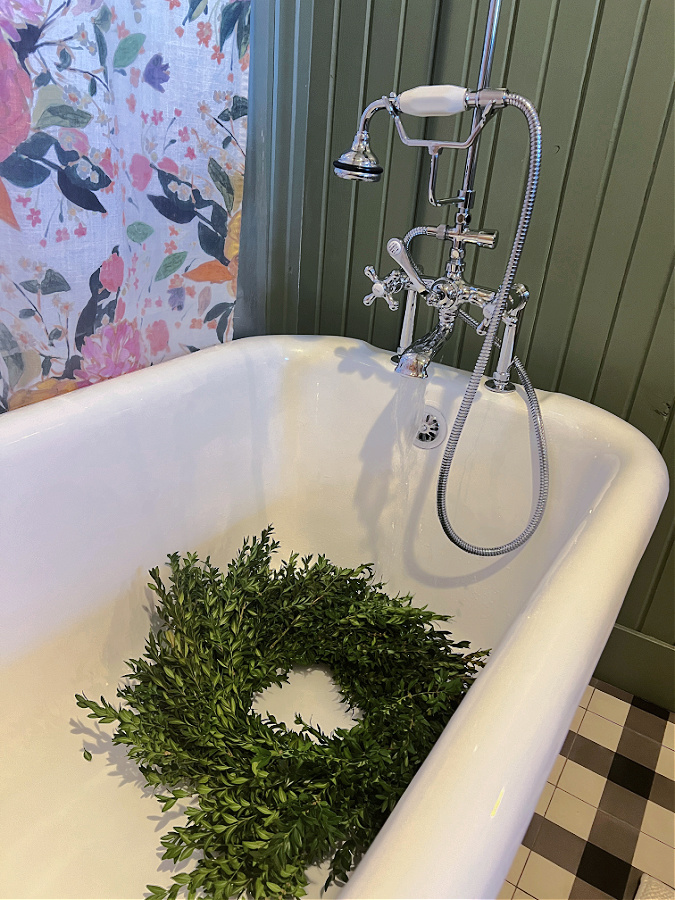 5. Consider Protective Sprays for Your Boxwood
Anti-desiccant sprays are like a shield against the elements. They help seal in moisture and slow down the drying process. Think of it as winter skincare for your wreath.
I found this, WILT PRUF spray on Amazon that has great ratings. I want to try it on my boxwood wreaths and see if it helps prolong their life.
6. Storage Solutions for Boxwood Wreaths
When the season winds down, store your wreath properly in a cool, dry place. A storage container or bag will keep it dust-free and ready for its encore performance next year.
Or choose to leave it out on your garden table as it makes pretty outdoor decor when it is dried!
Common Questions and Tips about Extending the Life of a Boxwood Wreath
When it comes to extending the life of boxwood wreaths or garlands, people often have various questions. Here are some frequently asked questions and their answers:
How often should I water my boxwood wreath or garland?
Water your boxwood wreath or garland every 2-3 days, or more frequently in dry conditions. Use a spray bottle to mist the foliage, ensuring it stays hydrated.
Can I use anti-desiccant sprays on boxwood wreaths?
Yes, you can use anti-desiccant sprays to help seal moisture in the leaves and slow down the drying process. Follow the instructions on the spray bottle for proper application.
Is it better to keep my boxwood wreath indoors or outdoors?
While boxwood is hardy, it's generally better to keep the wreath indoors or in a sheltered outdoor location. Prolonged exposure to harsh weather conditions can accelerate drying. But really it is a personal decision. Last year they hung on our outdoor gates while this year I am choosing to keep my wreaths indoors.
How can I protect my boxwood wreath from direct sunlight?
Hang the wreath in a location that avoids direct sunlight. If this is not possible, mist the wreath more frequently to counter the drying effects of the sun.
Should I soak my boxwood wreath if it's already dried out?
Yes, soaking a dried-out boxwood wreath can help rehydrate the foliage. Submerge it in cool water for 30 minutes to an hour, then allow it to drain and dry thoroughly.
Can I store my boxwood wreath for reuse?
Yes, you can store your boxwood wreath for future use. Place it in a storage container or bag, and store it in a cool, dry place. Refresh it with water before using it again.
What signs indicate that my boxwood wreath is drying out?
Drying boxwood may exhibit a change in color, becoming more brown or yellow. The leaves may also feel brittle to the touch. Regularly misting or soaking can help prevent these signs.
Is it necessary to use a sealant or preservative on boxwood wreaths?
While not necessary, some people choose to use sealants or preservatives to extend the life of their boxwood wreaths. Anti-desiccant sprays serve a similar purpose.
Can I decorate my boxwood wreath with lights or ornaments?
Yes, you can decorate your boxwood wreath with lights or lightweight ornaments. Be gentle when handling the wreath to avoid damaging the foliage. Have fun being creative and customizing your wreath to your liking!
How long can a well-cared-for boxwood wreath last?
With proper care, a high-quality boxwood wreath can last for several years. Regular misting, avoiding extreme weather, and proper storage contribute to its longevity.
Remember that the key to maintaining a vibrant green boxwood wreath or garland lies in consistent care, hydration, and protection from harsh environmental conditions.
A Beautiful Christmas Boxwood Wreath & Tips for Extending Its Life
My freshly adorned boxwood wreaths are currently stealing the show on my large blue chippy shutter and pine dresser in our entry. With a little extra love and these tips, I'm confident they'll be spreading joy well into the new year.
So, fellow holiday enthusiasts, go forth and decorate with confidence, knowing your boxwood wreath will be a beacon of festive beauty throughout the season. Happy decorating!
Now make sure to hop over to my blogging bestie Jen of Midwest Life and Style and her post on How to Make Festive Chair Wreath for Christmas! It's full of gorgeous pictures! Then scroll down to visit the other 12 bloggers also sharing Christmas wreaths!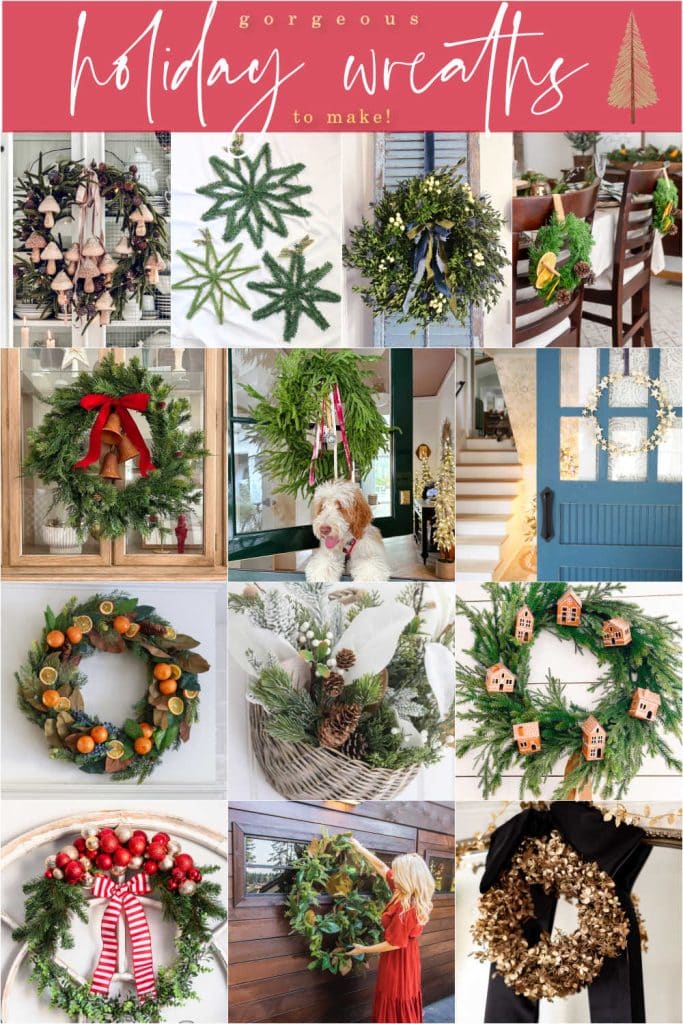 10 Festive Holiday Wreath Ideas | LeCultivateur
DIY Scandinavian Evergreen Star Wreath | Today's Creative Life
A Beautiful Christmas Boxwood Wreath & Tips for Extending Its Life | The Tattered Pew
How to Make Festive Chair Wreath for Christmas | Midwest Life and Style
Christmas Wreath with Bell Ornaments | Lolly Jane
Easy Disco Ball Christmas Wreath | Modern Glam Home
DIY Constellation Wreath | The Handmade Home
DIY Magnolia and Orange Leaf Wreath | Zevy Joy
Painted Gingerbread Houses Holiday Wreath | Tatertots and Jello
DIY Ornament Cluster Wreath | DIY Beautify
DIY Christmas Wreath Using Garland | My Sweet Savannah
Winter Hanging Basket Wreath | Rooms For Rent
Mini Gilded Hydrangea Christmas Wreath | Craftberry Bush
I'd love to have you hang out with me some more! Feel free to follow along with me on any of the platforms linked below.
LTK | Facebook | Instagram | Pinterest | Amazon
xoxo,
Kelly