My Summer Home Tour-Part 1
Hi friends, I am so glad you stopped by to check out our  summer home tour! I have been very busy soaking up these last few days of summer before I return to my kindergarten classroom, but wanted to show you all around! Here she is in all her glory…the place we call home! We live in beautiful Northern Colorado and love that you can enjoy all four seasons. I mentioned in my About Me page that we love sports. Our summers are usually full of baseball, basketball and new this summer…track! So we are always busy and on the go! I guess that's normal when you have four active kids! I hope you enjoy our home…. come on in and take a peek!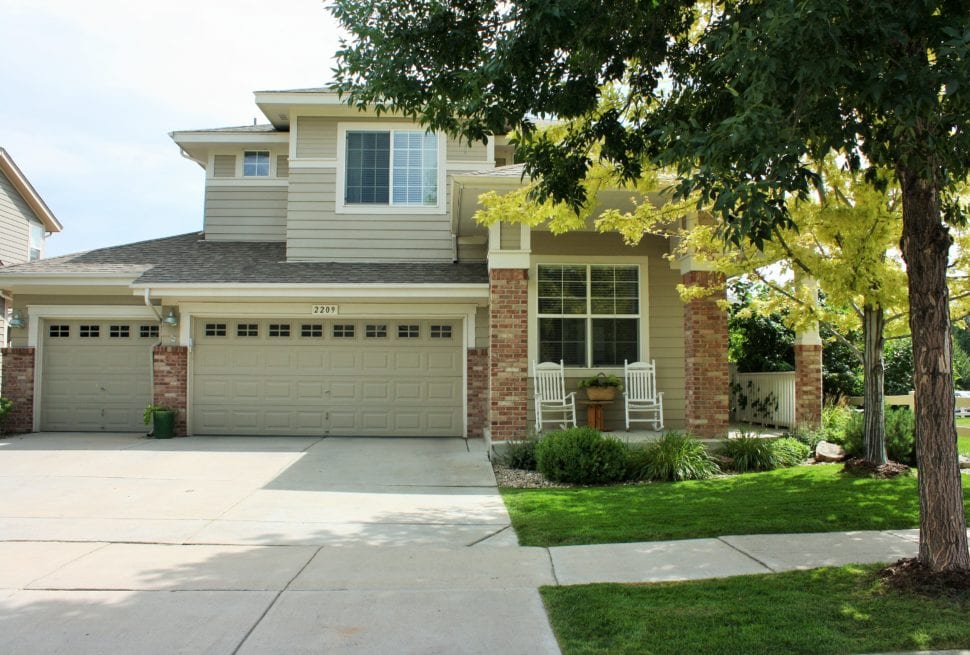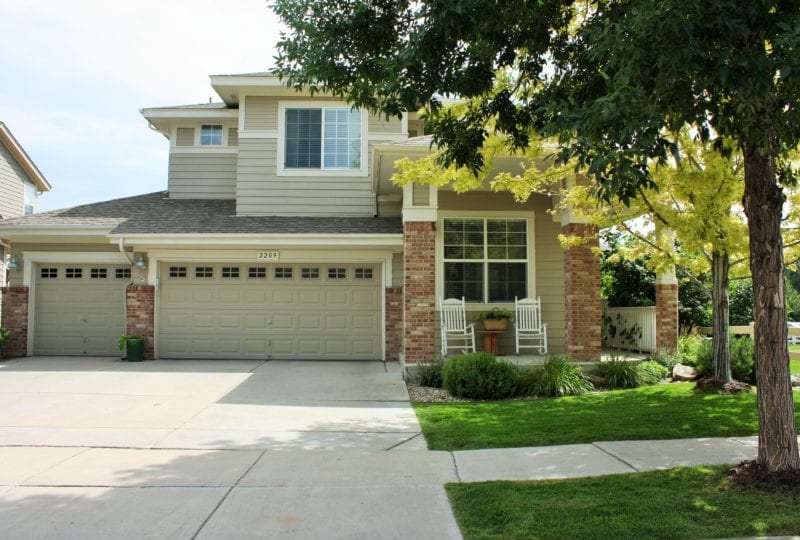 This is our front yard. I'm a bit sad that I wasnt able to snap a picture earlier in the summer when we had flowers everywhere and in bloom! However, my husband does such a good job on the lawn that it still looks lovely. I think he may need a raise:) We have lived here for a bit over 9 years now. We love being in Colorado and have the absolute best neighbors!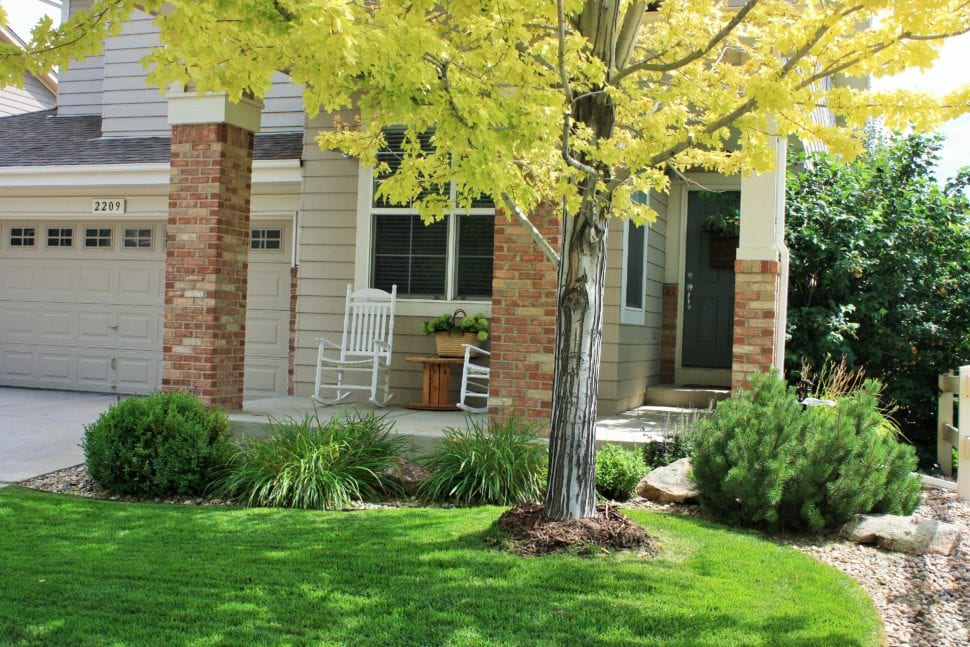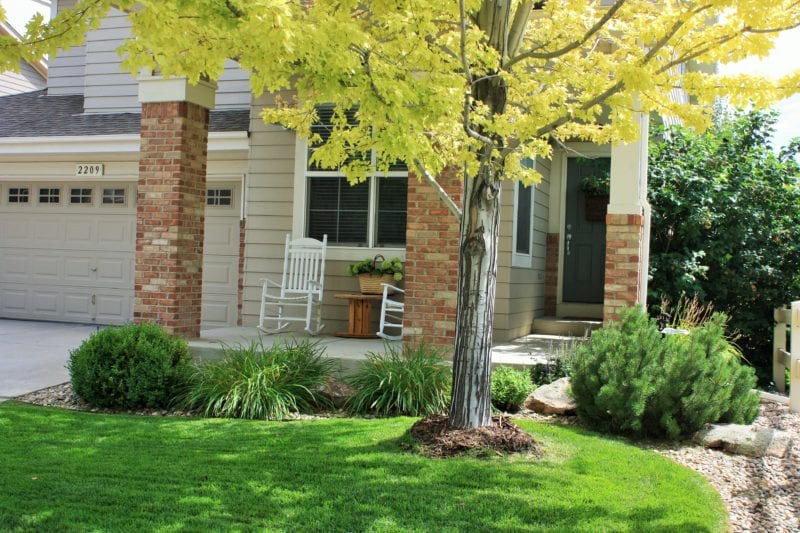 We sure do love sitting on this porch and watching the kids play outside as we sip some yummy drinks with our friends. I have gone back and forth between putting our adirondack chairs out front or leaving these rockers. For now the adirondacks are in the backyard, but I have been known to move things around a bit.  Maybe someday I will find a pew to put on our porch!? I found this mini spool table at a little shop here in my hometown and love how it makes the perfect side table.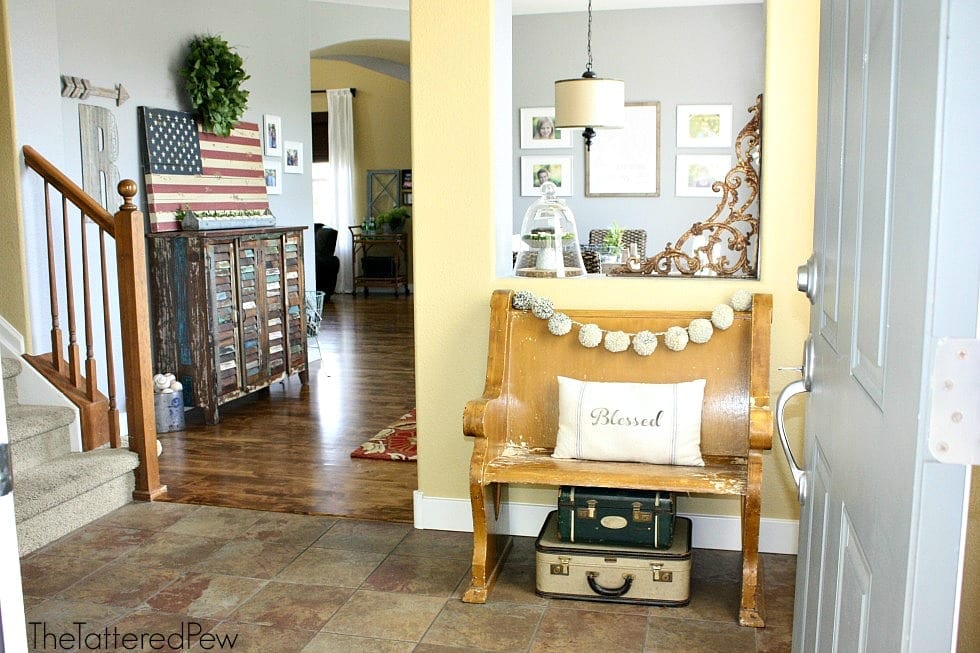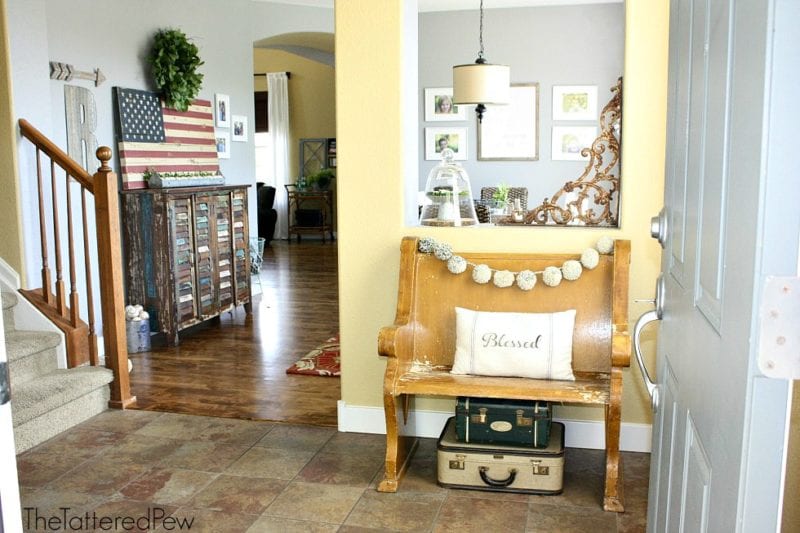 Come on in…this is our entryway.  Here sits our sweet little pew to greet all who enter. Doesn't she fit perfectly? See those sweet little poms hanging on my pew? They are from my friend Barb and her Etsy shop, www.bitsofloveandfabric.etsy.com ! Our entry opens directly into our dining room (One of my favorite rooms).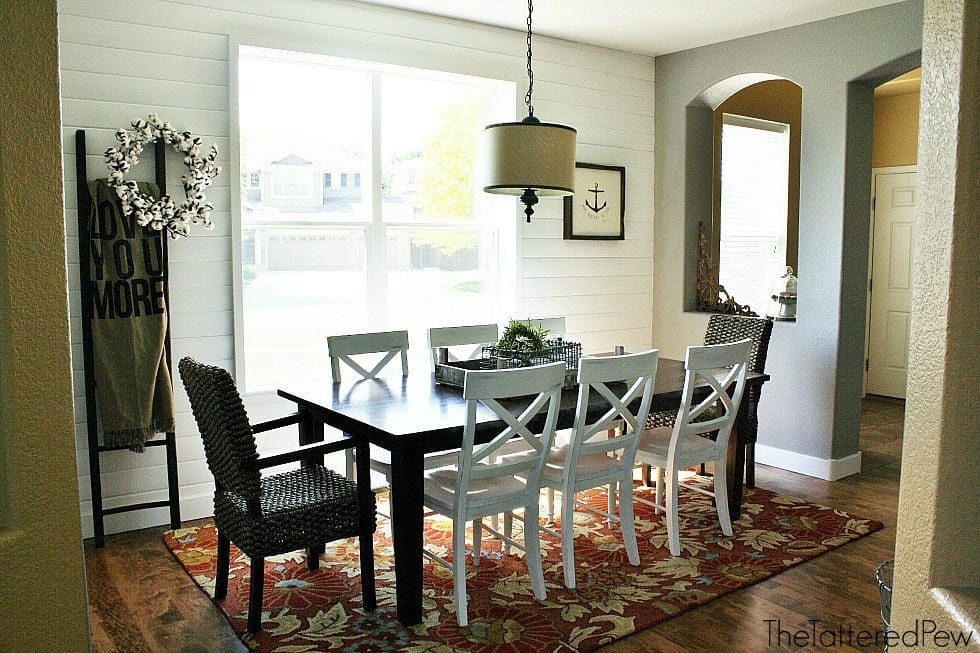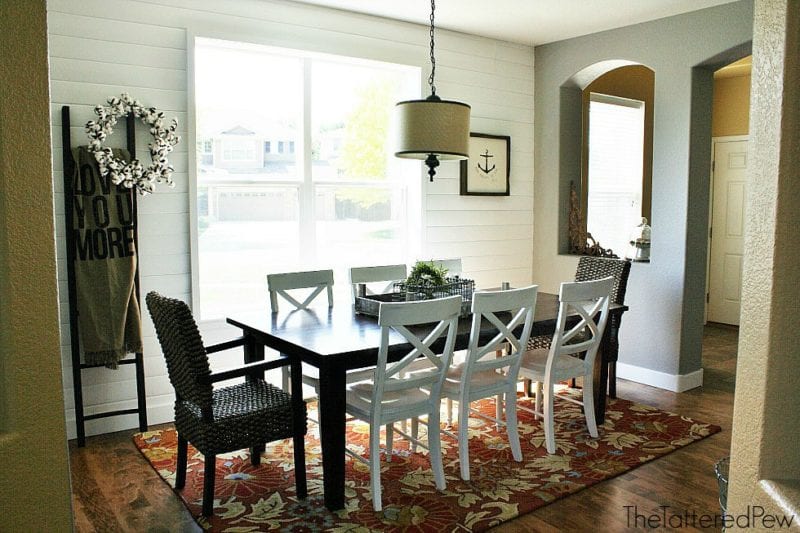 We recently added all new maple hardwood flooring on our downstairs level and I LOVE the difference it has made. Our dining room table holds special memories to us because it was a wedding gift from my in-laws. They wanted us to always remember the importance of eating together as a family. The ladder in the corner is an old flea market find and that beautiful cotton wreath is from one of my favorite on-line shops, Wicker Hill Home.  That gorgeous white shiplap wall is my favorite statement piece that we have added to our home. I felt like it brought instant character to our otherwise normal home. I owe my brother in-law big time for helping me put it up.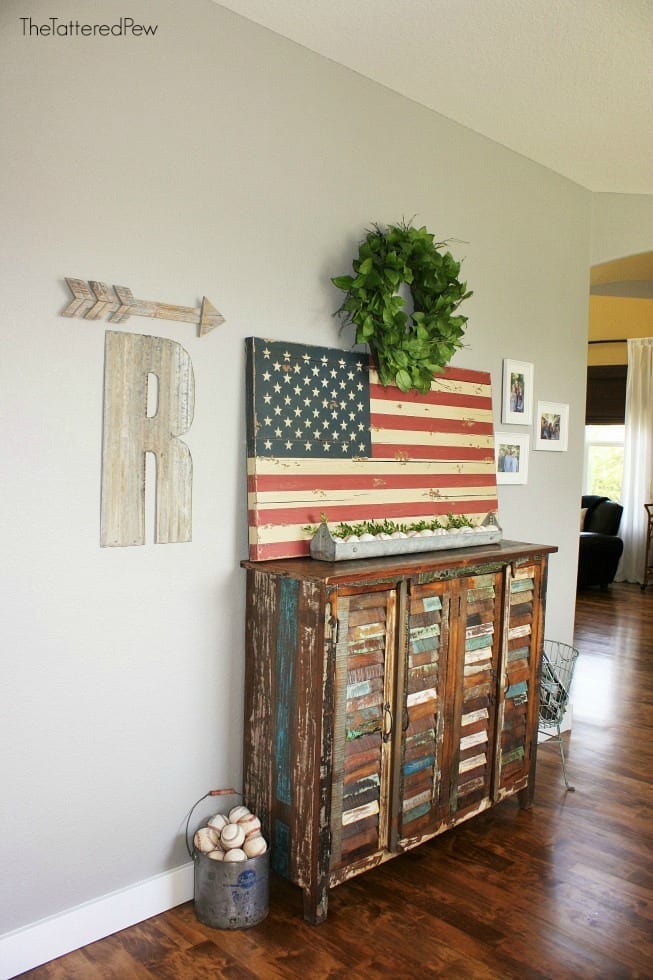 Across from our dining room table sits this gorgeous buffet that I scored at HomeGoods. I love to change it out based on the current season.  We can thank our many Spring Training trips to Arizona for all the baseballs!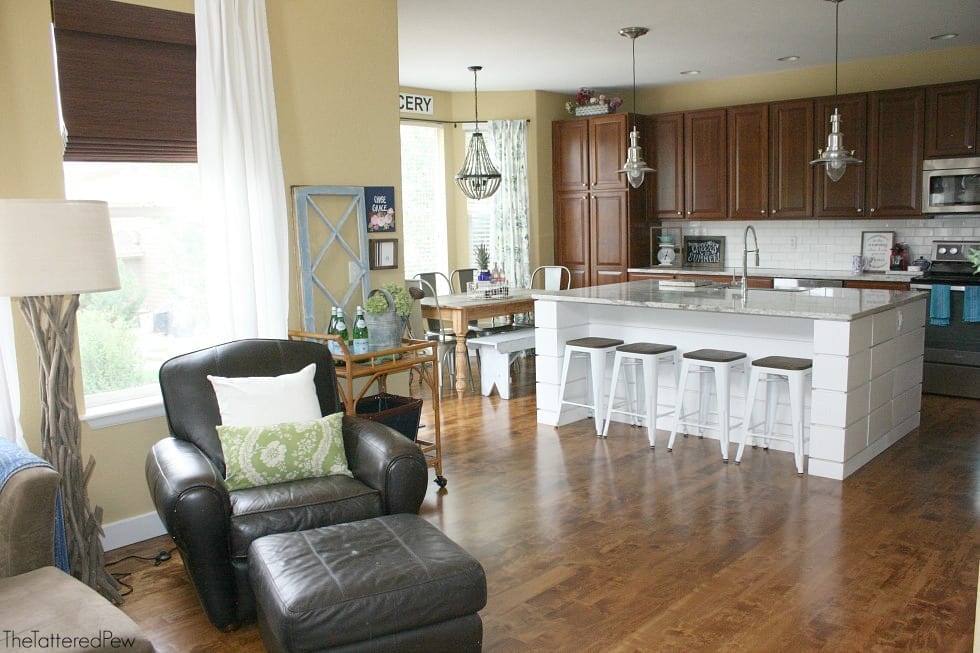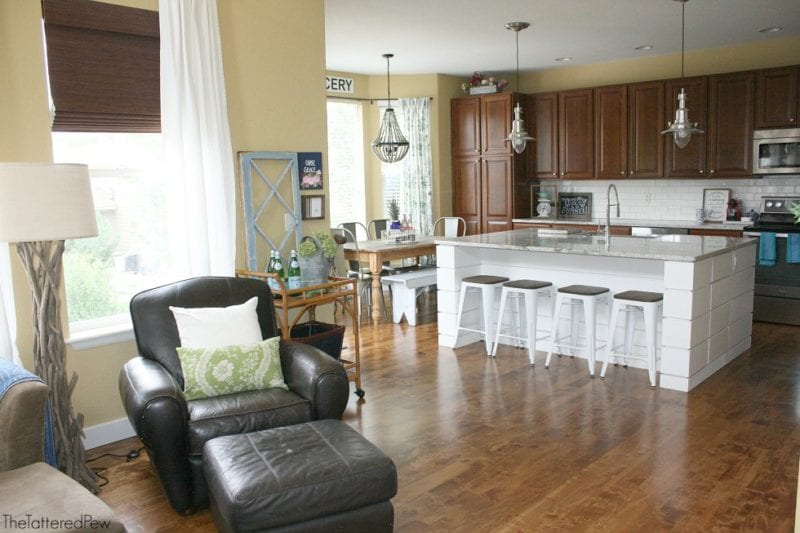 Follow me in to our kitchen. When we replaced the floors we also did a mini kitchen makeover. We added white granite counter tops and an entirely new island that we designed ourselves. We wanted it to be big enough for all four of our kids to sit at and eat or do homework. We even had hidden storage added on the sides and a pullout trash and recycle bin on the front side by the sink. The pendant lights are from IKEA and the stools are from Target.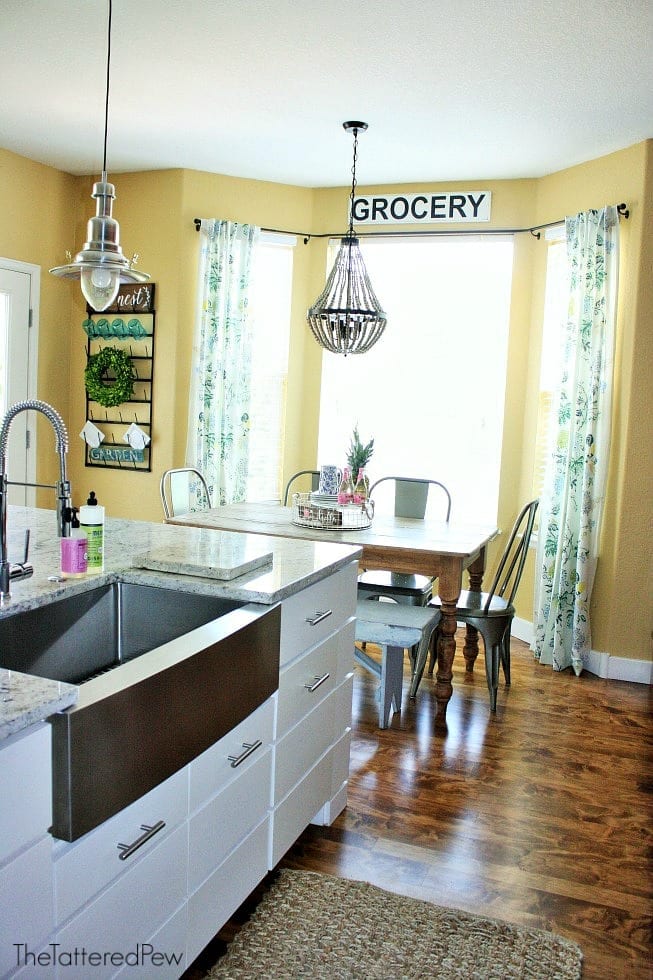 We scored this stainless steel farm sink from COSTCO for nearly half the price we would have paid at a big box store! I love the single basin and how it can hide all the dirty dishes! That awesome farm table you see was FREE! I adore it and will share that story in another post. Above the table hangs the light we purchased from World Market and the black and white GROCERY sign was made by my friend Megan at www.BourneSouthern.com. The curtains were a Mother's day gift from Anthroplogie.
The last stop on part 1 of the tour is our family room. Open to the kitchen, we spend the most time in here. I love the high ceilings and the amazing natural light. I found this fantastic rug at Tuesday Morning and the couch is from Macy's. I chalk painted the trunk that we use for a coffee table and then stained the top. (It is the perfect hiding spot for all of our toys) I love keeping things neutral and changing things up by adding color through accessories like our throws and pillows. As you can see I like to mix coastal, cottage and farmhouse style. Somehow it seems to work!
Thanks for stopping by. Part 2 of our Summer Home Tour will focus mostly on our bedrooms and a few other spaces. I hope you will check it out. Have a great week!
Kelly