A Very Merry Tablescape
Hi friends I hope December is treating you well! At our house we celebrate Christmas and it is my absolute favorite holiday! I love the decorations, gifts, family, food and most importantly celebrating the birth of Jesus! Even if you don't celebrate Christmas I hope you can find some inspiration here!  Today, I want to share with you how I set up my kitchen table for the Christmas season this year.
The best part about this tablescape is that I was able to "shop" my own home for a majority of the items or borrow from family. The only thing I had to buy was the cedar garland and the plaid tablecloth. I purchased the 15 ft garland at Costco for only $15 and the tablecloth for $9.99 at Home Goods! My husband was glad that I was able to keep the cost down especially around Christmas when we are spending more than normal.
Today I have teamed up with 9 other fabulous bloggers for A Very Merry Tablescapes Blog Hop! Be sure to check out their links at the end of my post for some beautiful inspiration!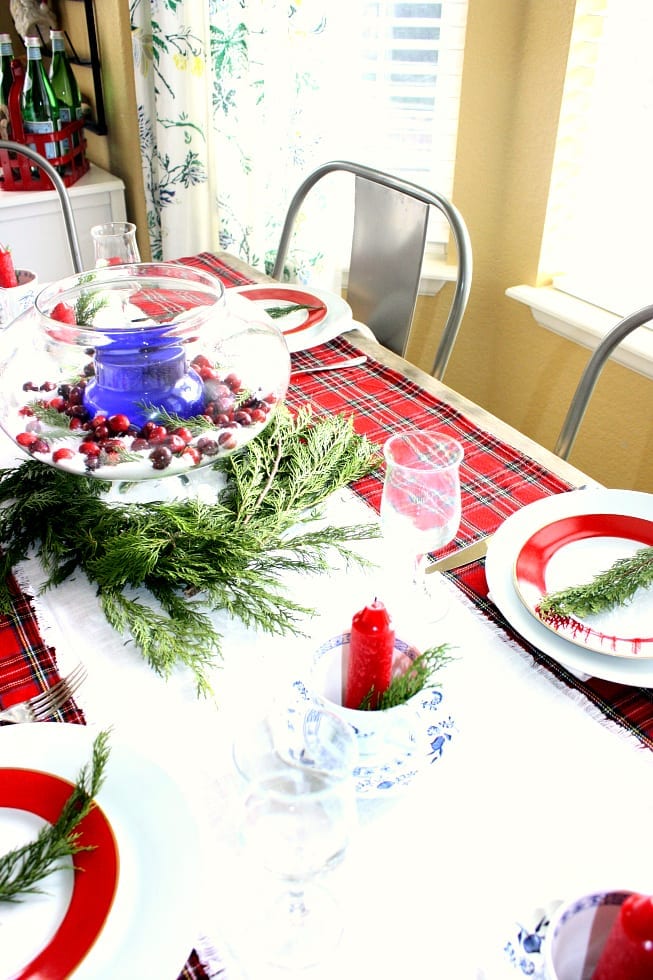 This year I decided to decorate with blues and reds and I am loving it! My inspiration came from the small blue stripe in the plaid tablecloth and my tea cups.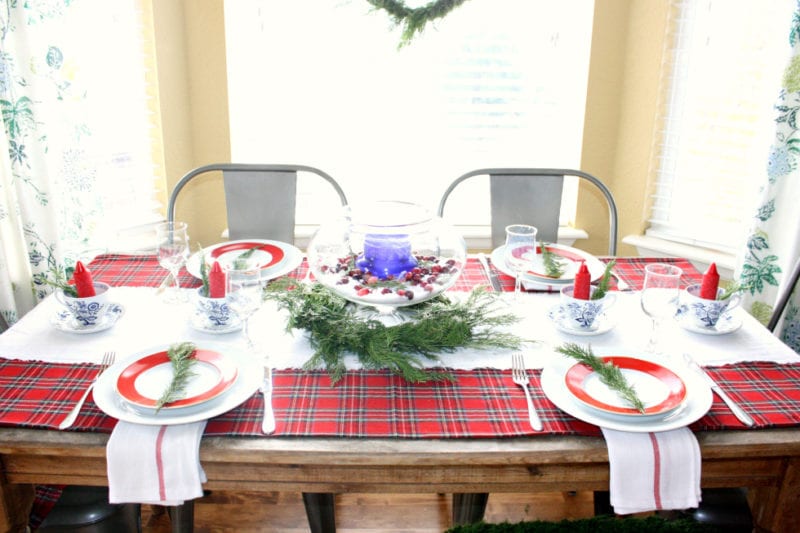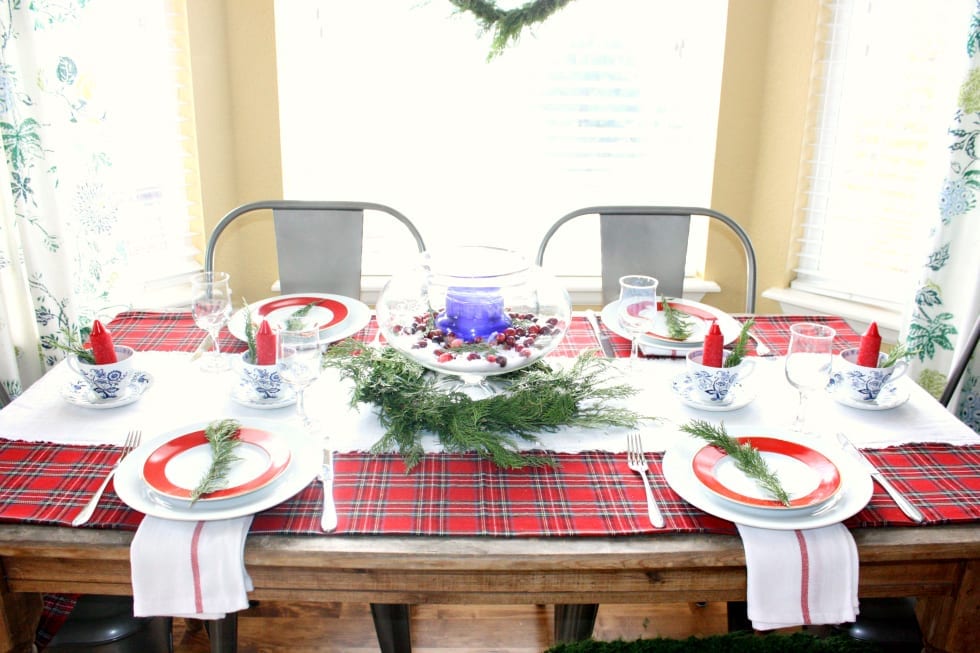 I love layering when it comes to setting up a table. First, I folded the plaid tablecloth in to a rectangle so I could still see part of the wood from my table. Then I placed a small white linen runner on top of the plaid tablecloth.  Next, I added the white cloth towels from IKEA and used them as napkins. I love how they have a red stripe and add a touch of farmhouse feel to the table.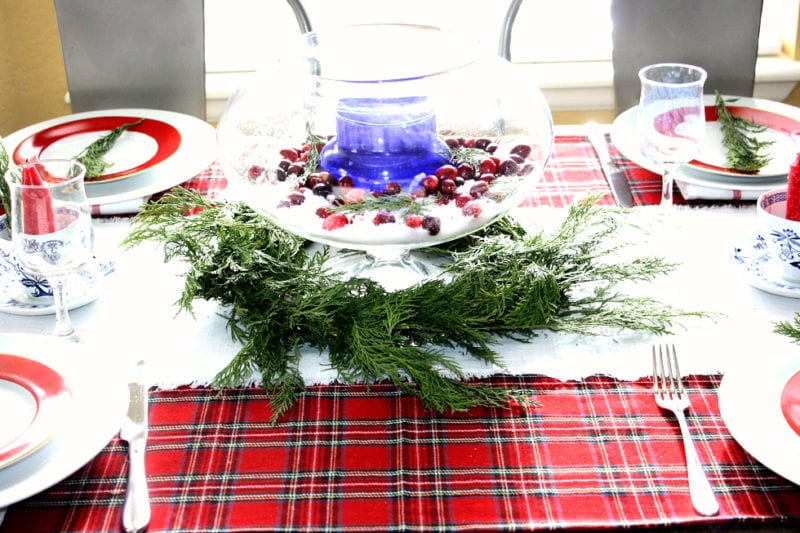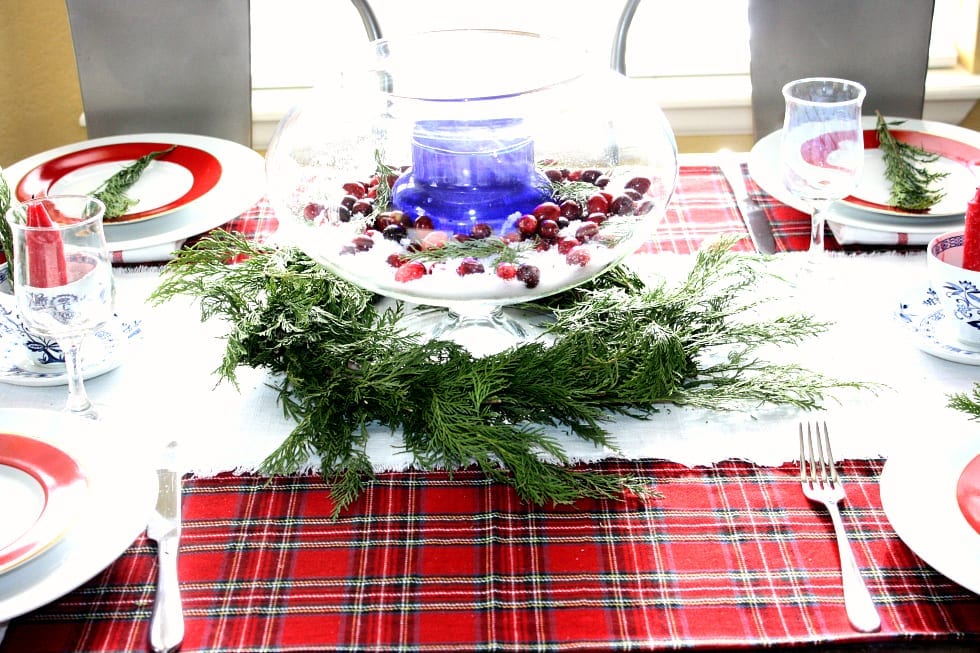 This centerpiece is my favorite part! But don't let it fool you, the centerpiece ended up being the toughest layer for some reason. I knew I needed a special touch but couldn't quite figure out what would work with my vision. Luckily, my mom came to the rescue and came over for a little "play session"! We had a fun and productive time and I love that we both share a passion for decorating!  She suggested I use my favorite blue Volcano candle to pop the blue from the tea cups and I instantly loved it! I surrounded it with fake snow (once again from my mom), real cranberries and sprigs of cedar from my garland. It added the perfect amount of height!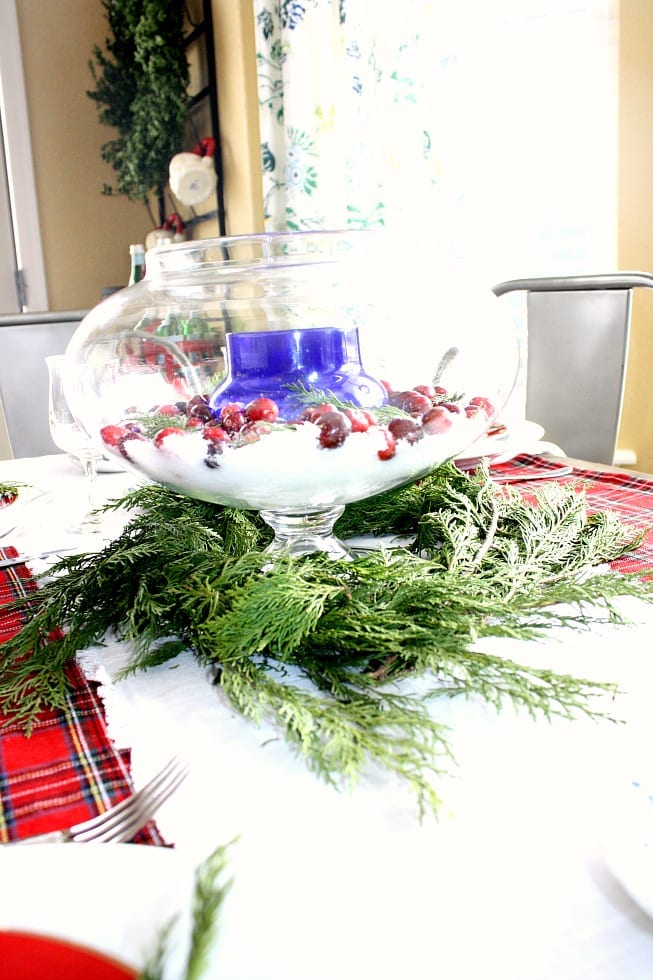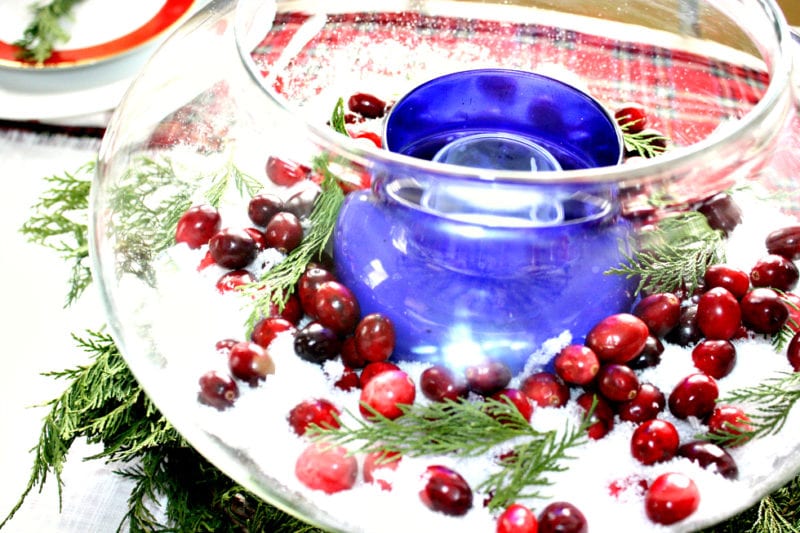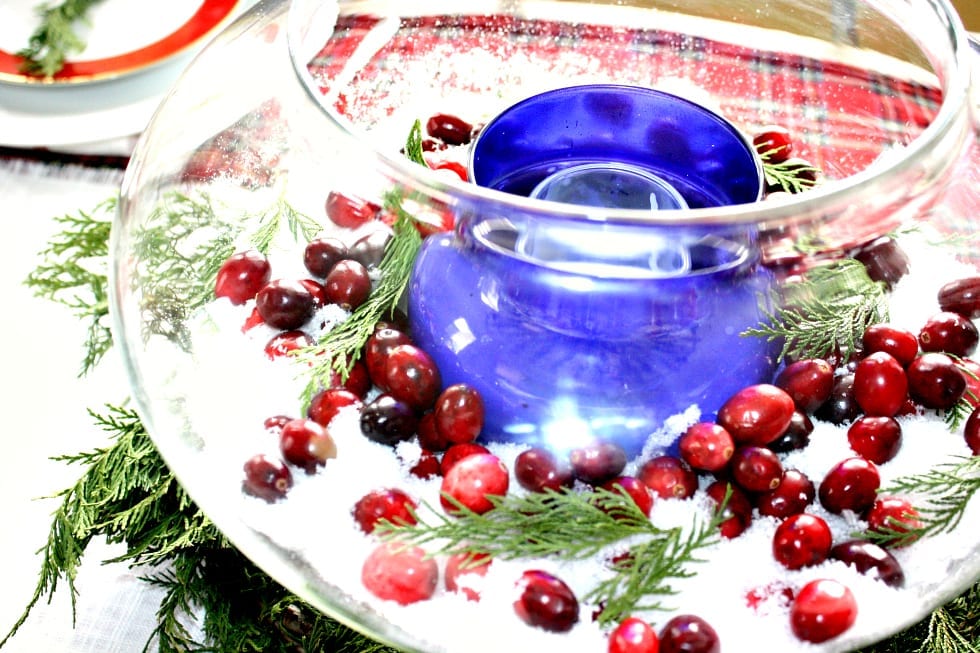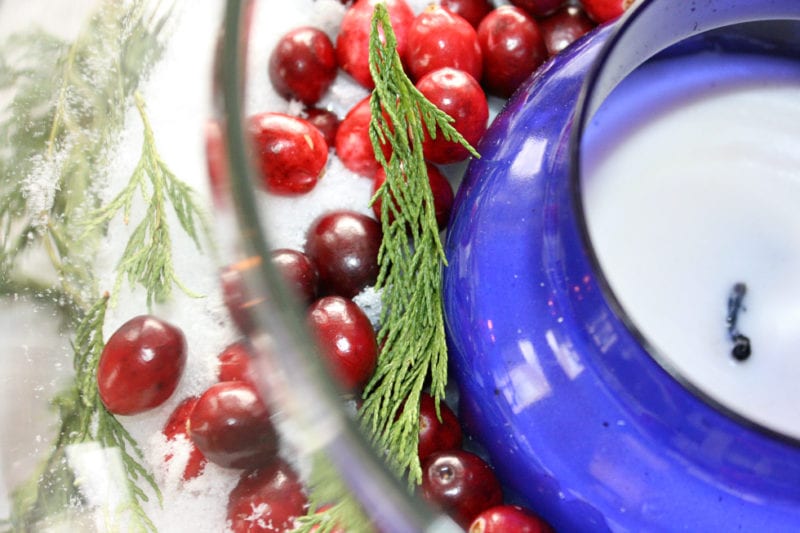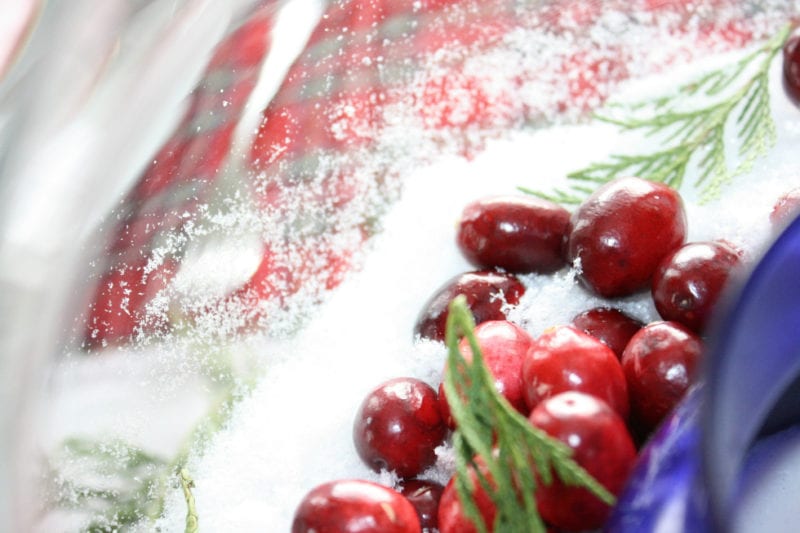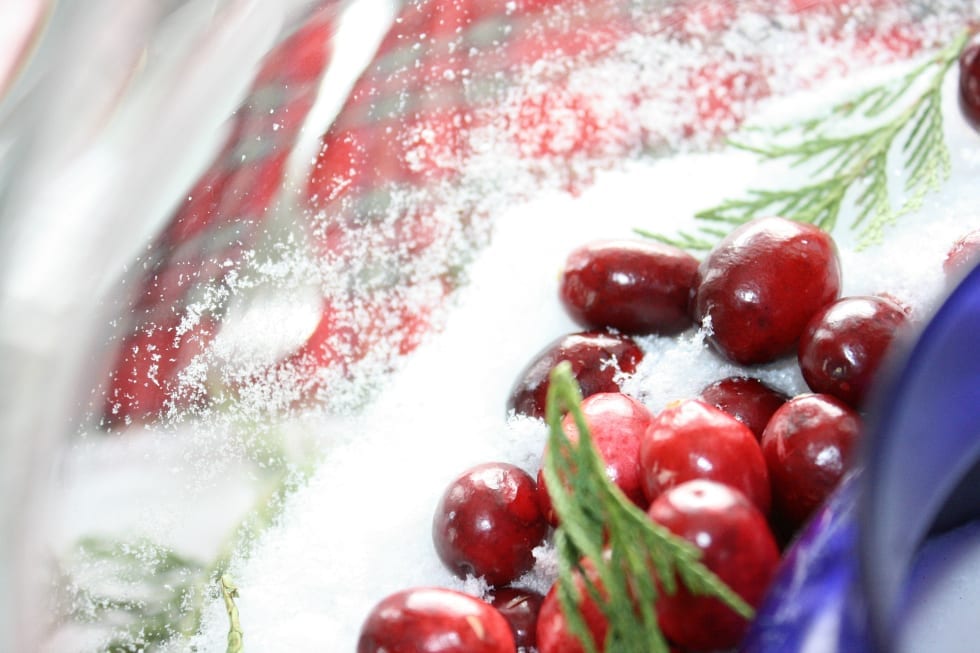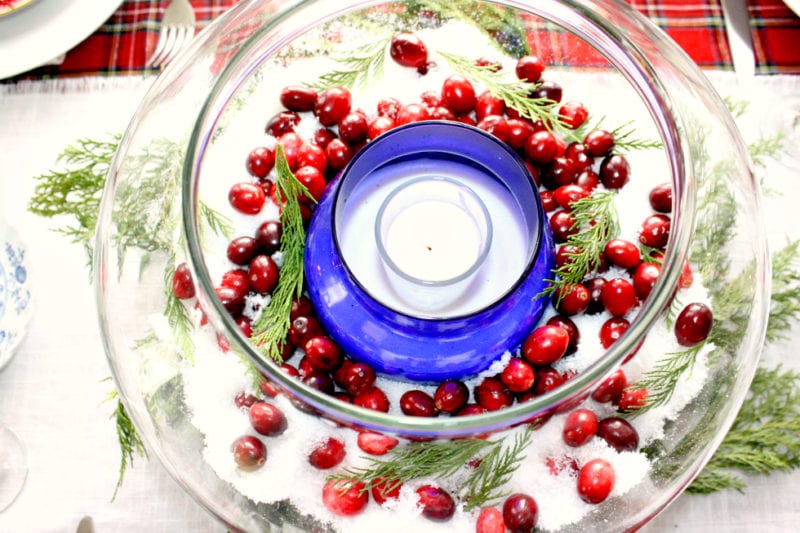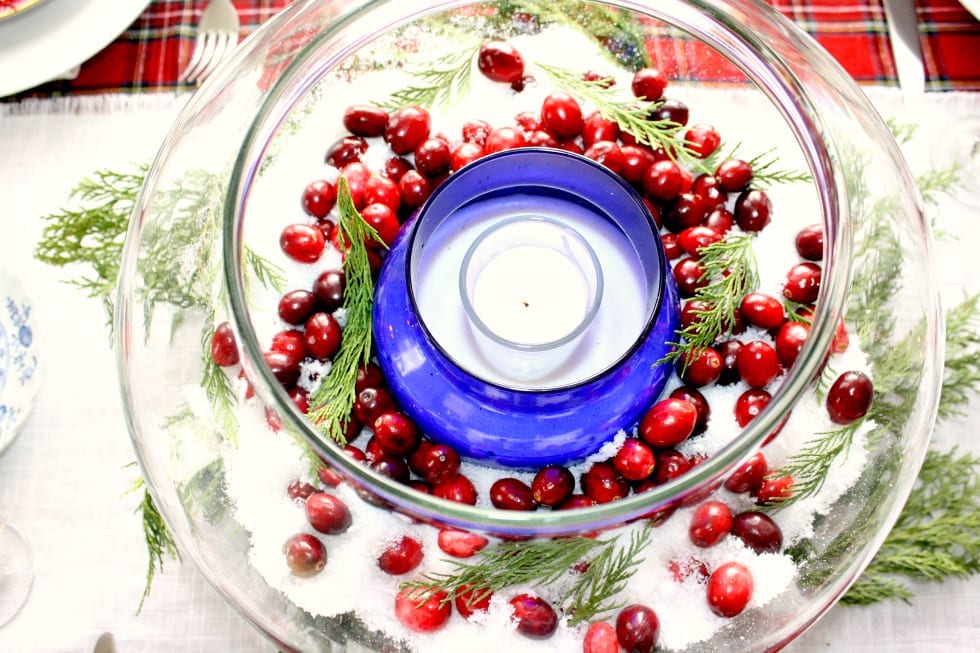 I pulled apart the garland to make the cedar wreath that is surrounding the centerpiece and hung one in the window as well. The smell is glorious! I placed a green cedar sprig on each plate and in each tea cup to tie in the green. Did I mention it was only $15 for 15 feet at Costco?! Amazing!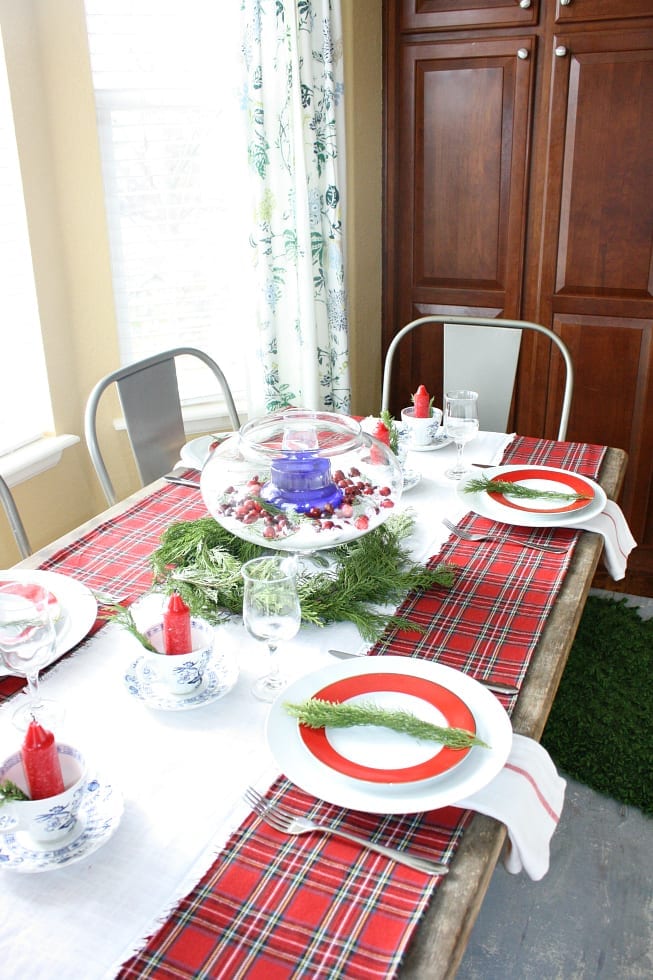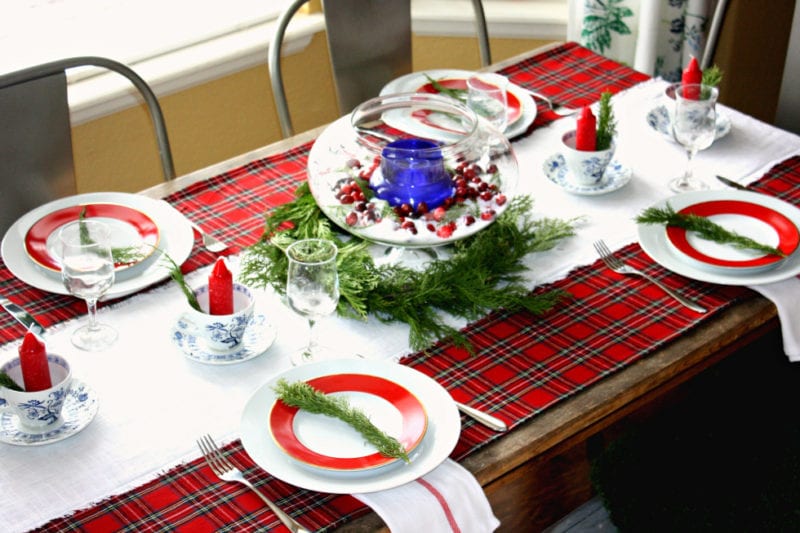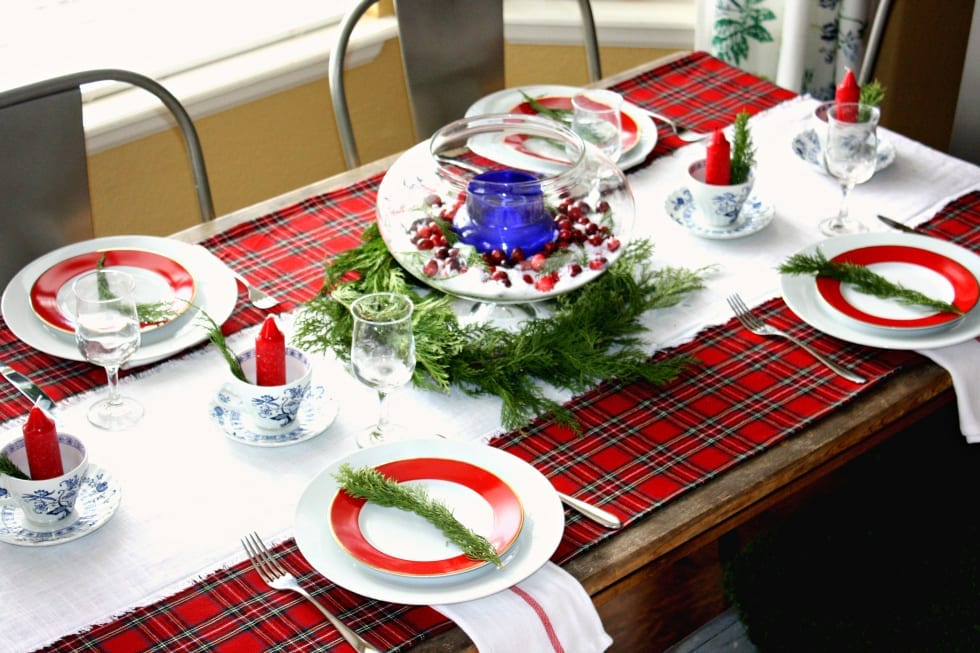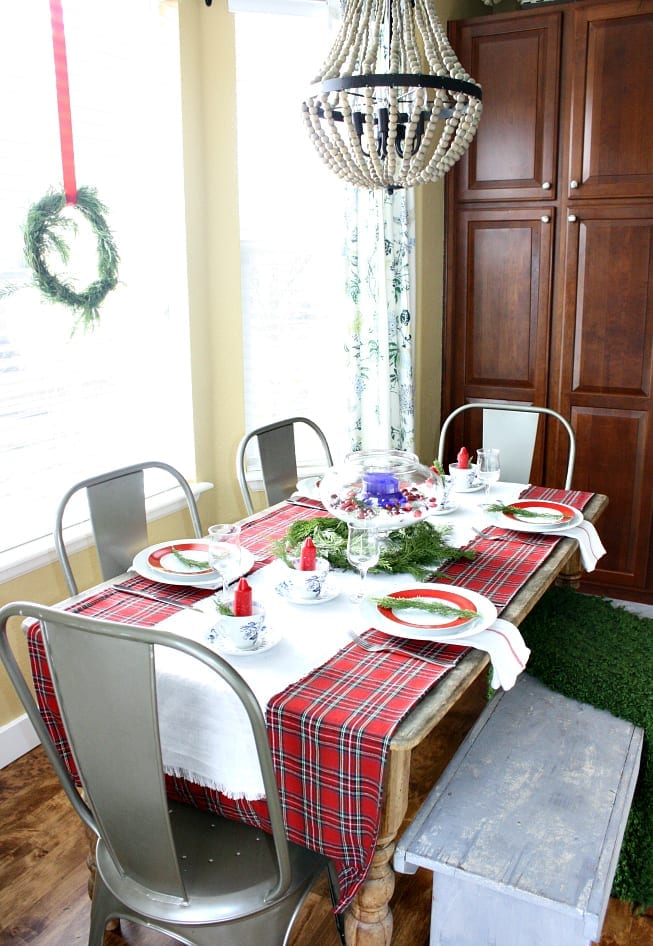 The green throw on my old blue bench is from IKEA and the metal chairs are outdoor chairs from World Market. The silverware is our everyday silverware that we received as a wedding gift.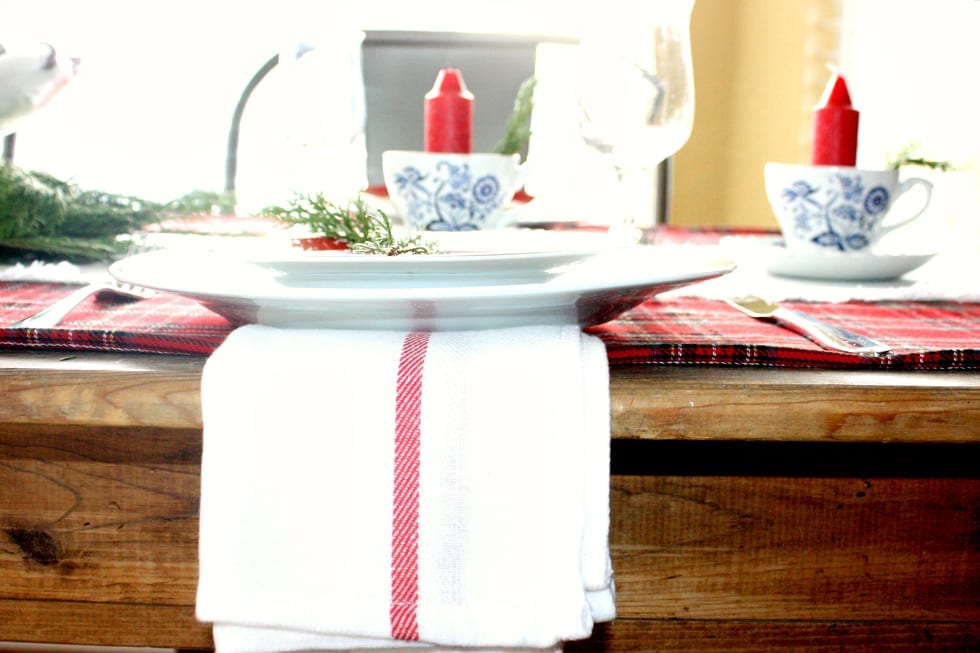 I used my everyday white plates from World Market and dressed them up with these mini salad plates of my mom's. They have a beautiful gold ring that brings the perfect touch of Christmas elegance to the table.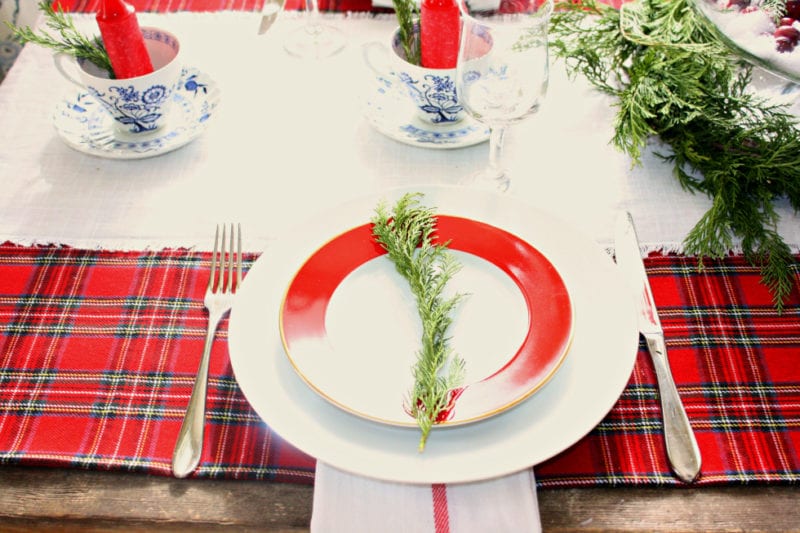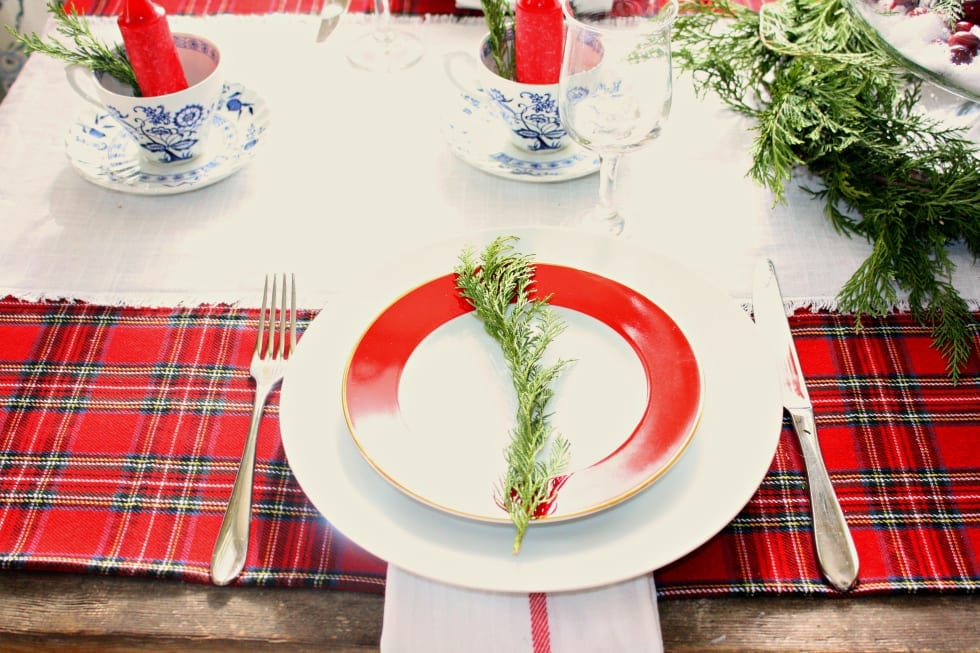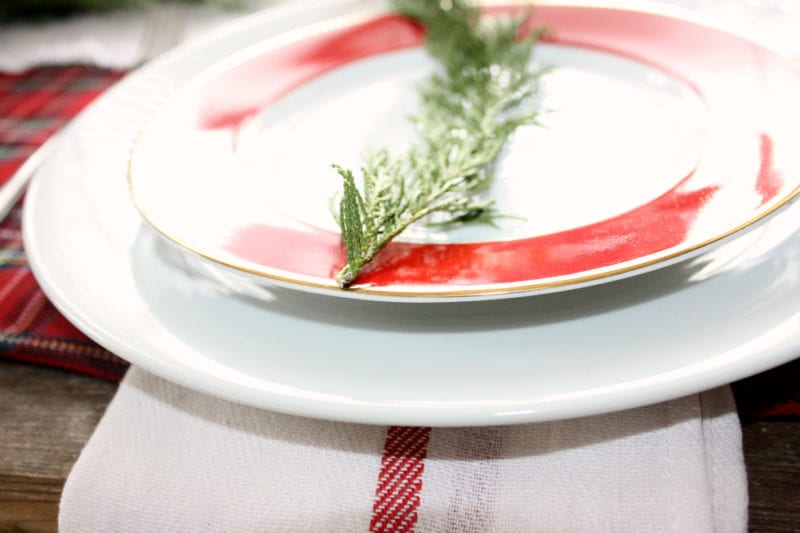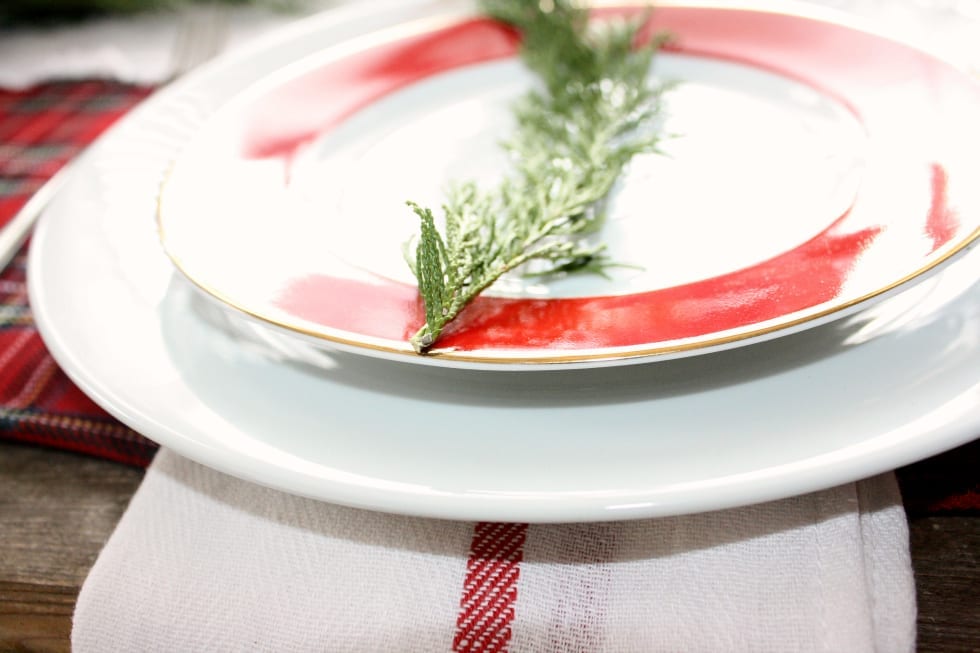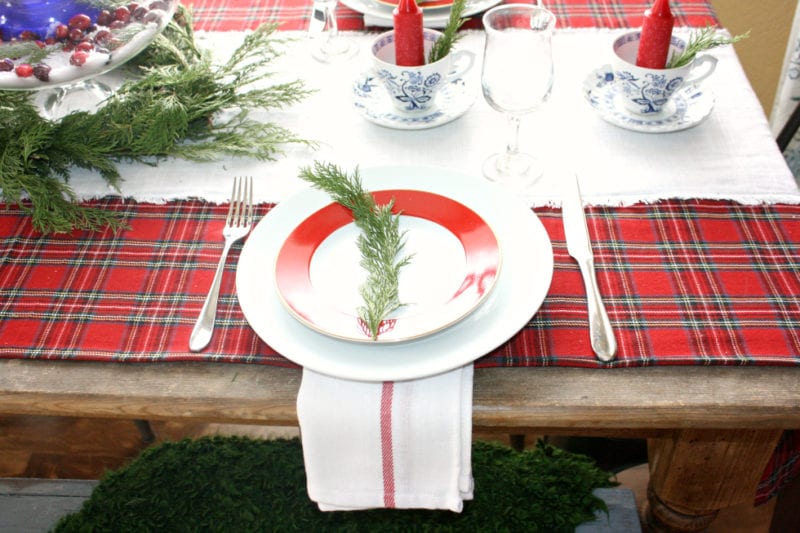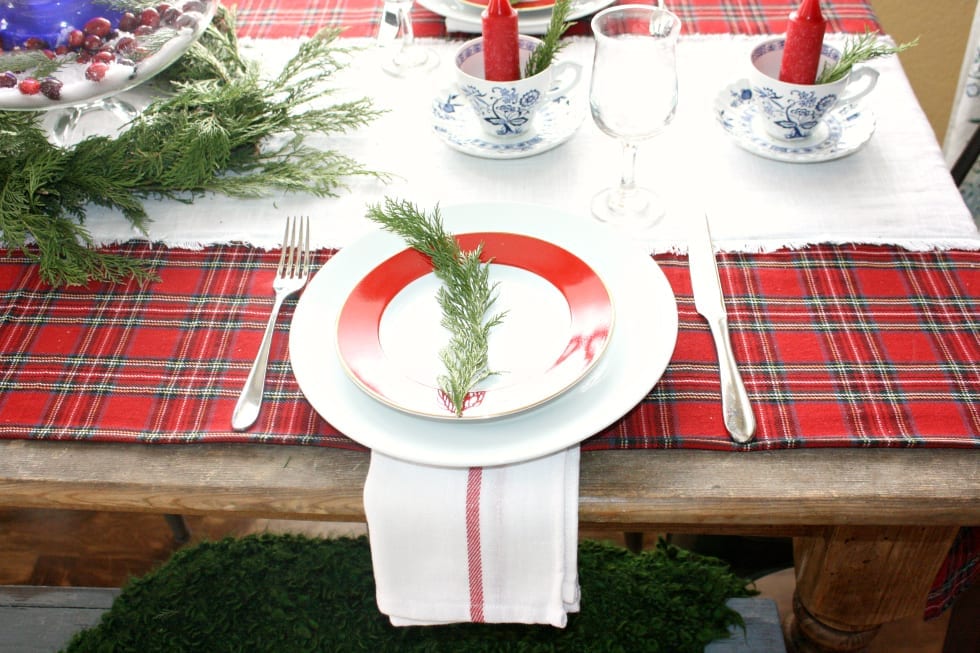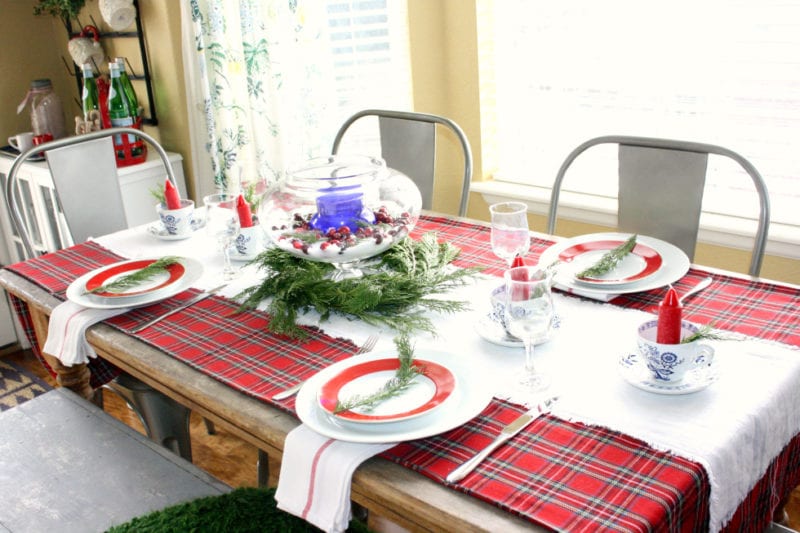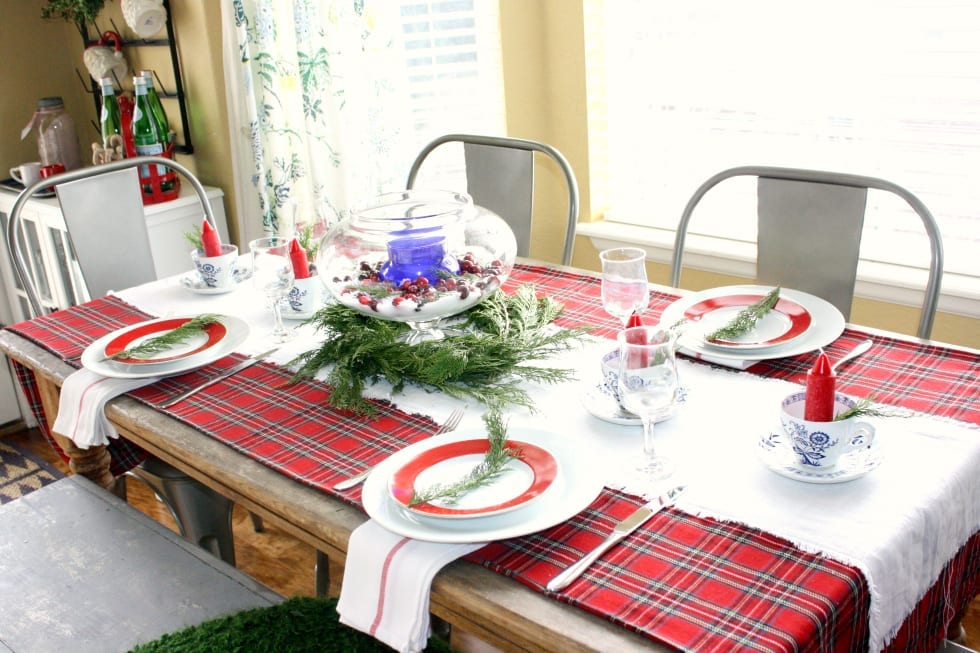 You catch a glimpse of my hot cocoa bar in this picture!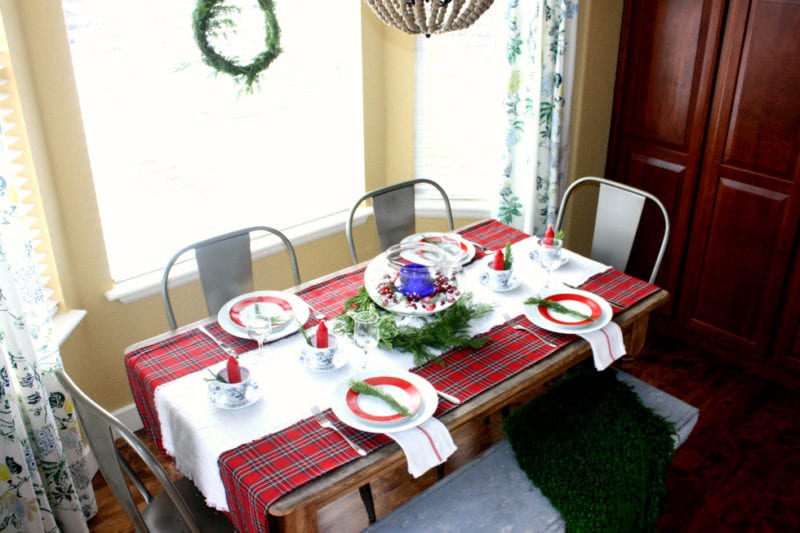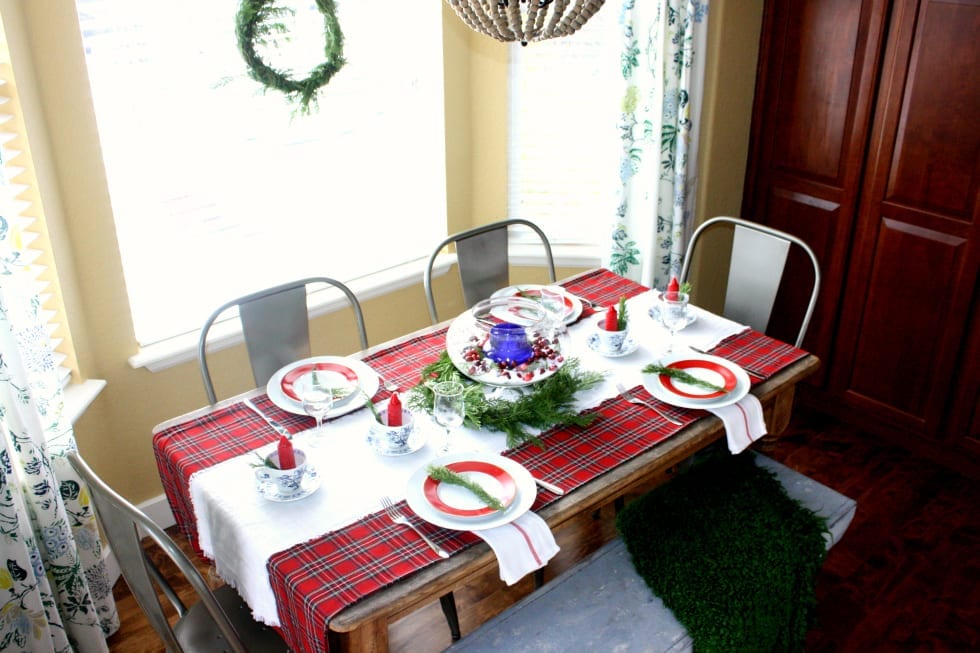 I was worried that my curtains wouldn't work for the Christmas colors I had chosen or would be too busy with the plaid tablecloth but found that it actually compliments them quite well.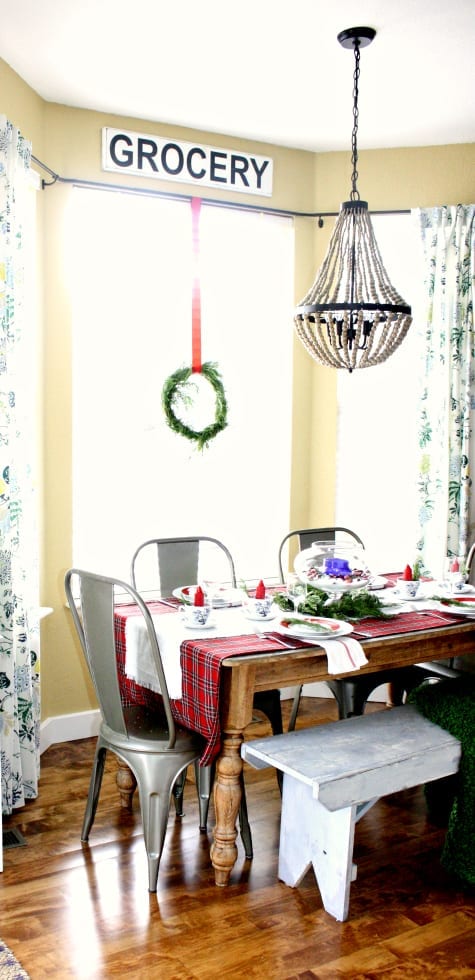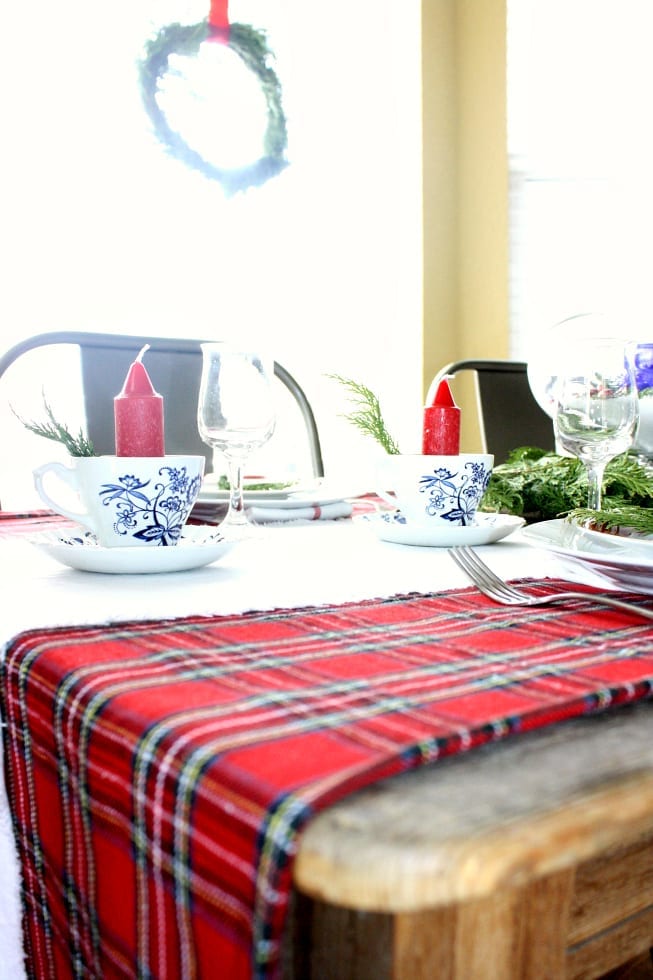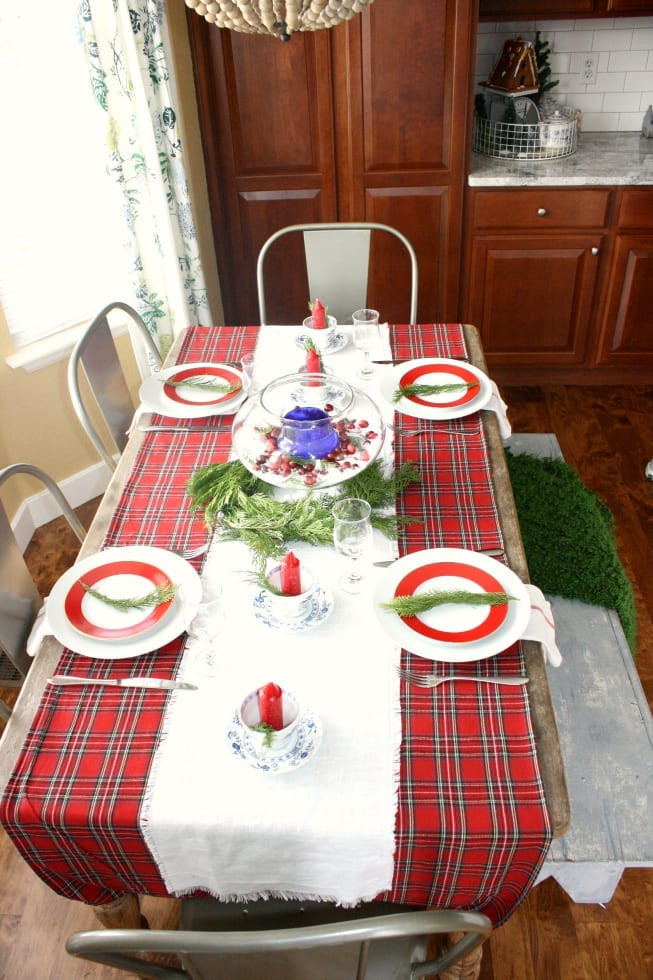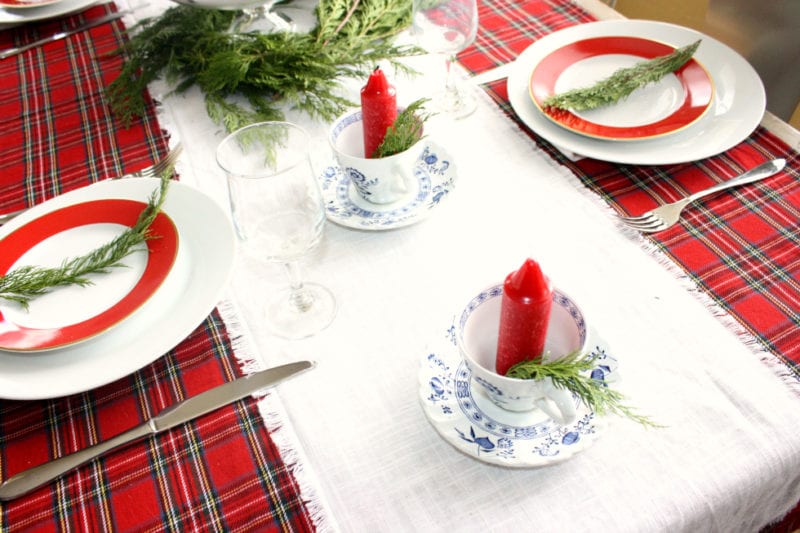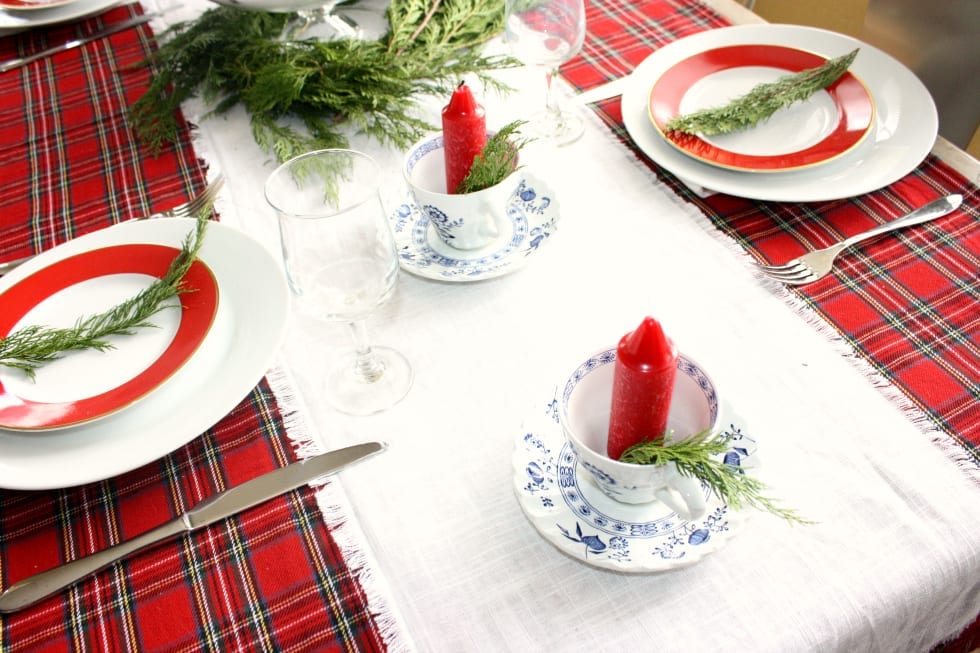 The perfect touch of rustic elegance! All this color makes my heart happy!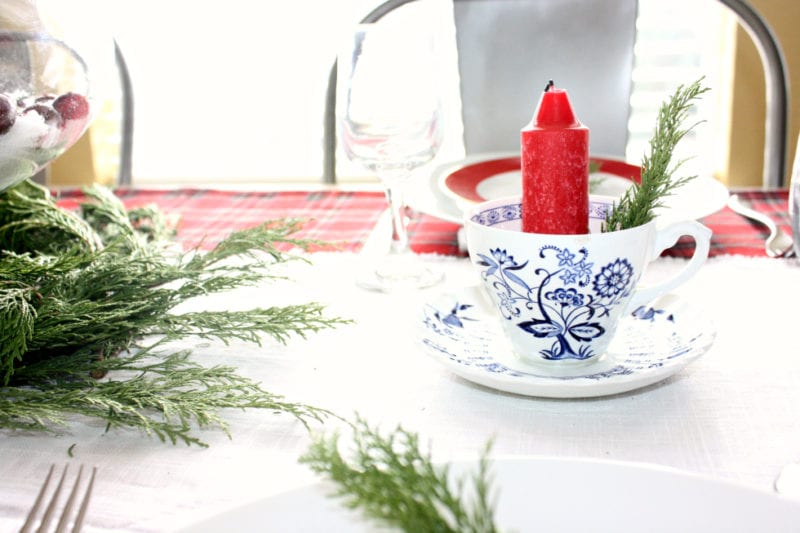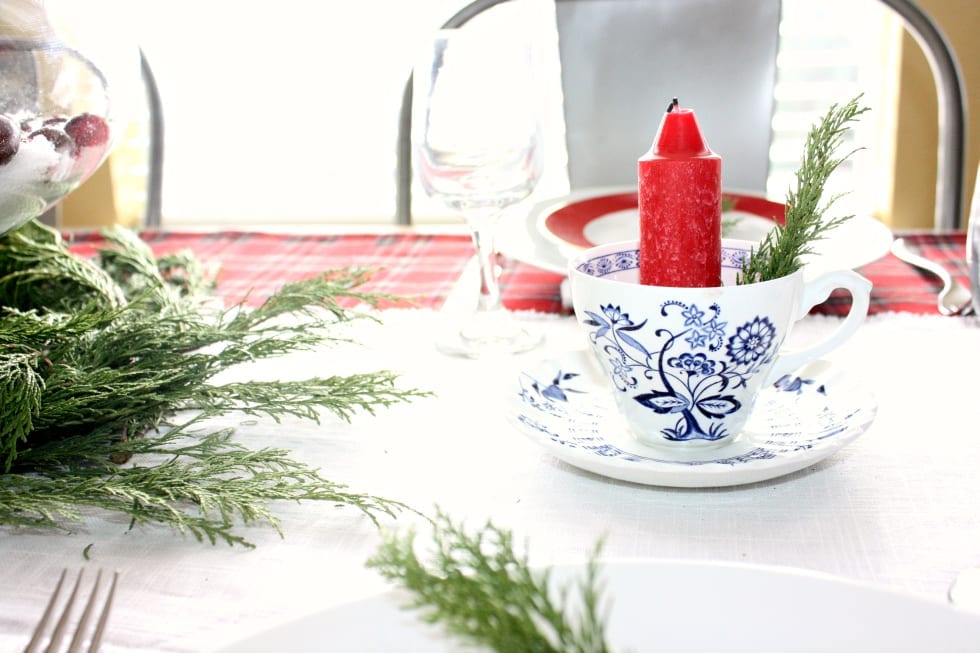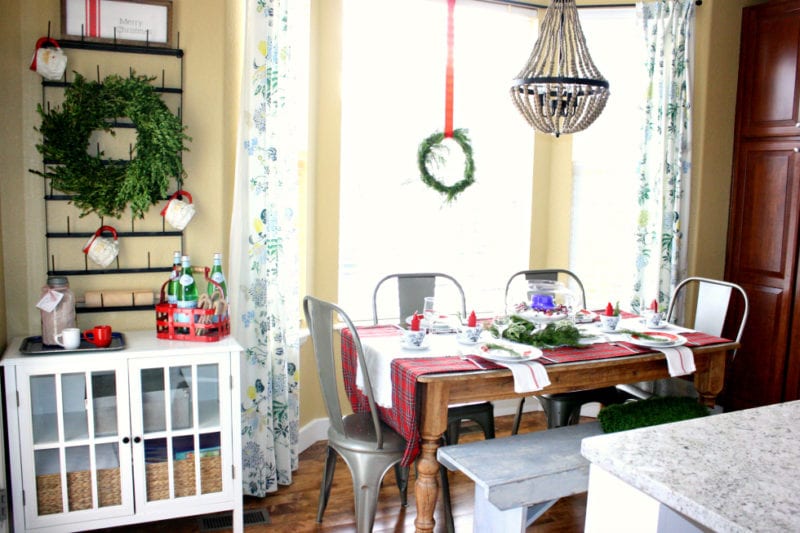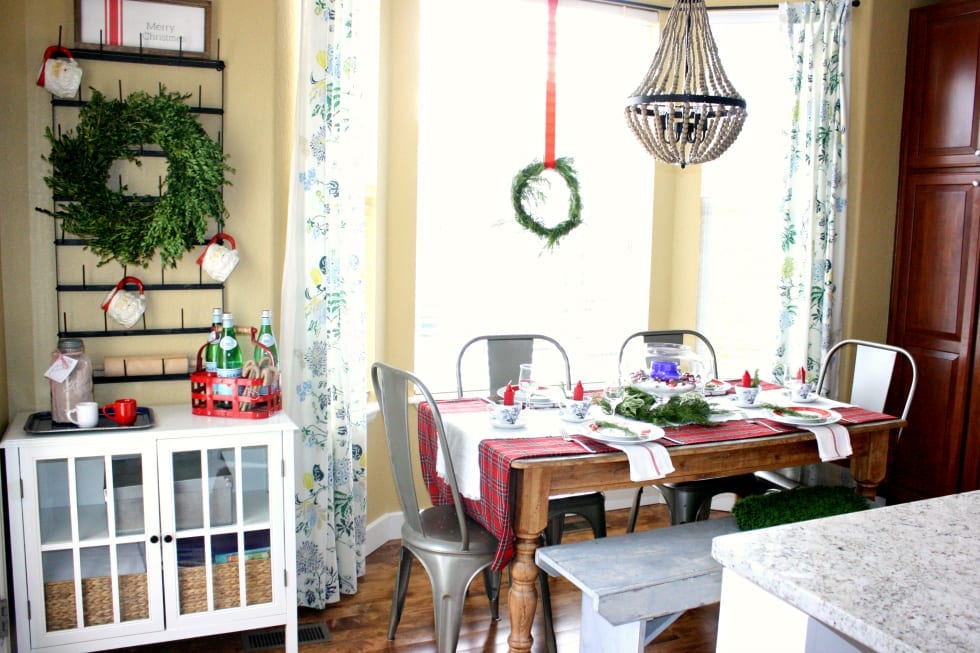 This is the view looking in to our kitchen. Our hot cocoa bar fits in nicely with our table and gets used quite often! In my next blog I will share the most amazing hot cocoa recipe with you that our family has used for years!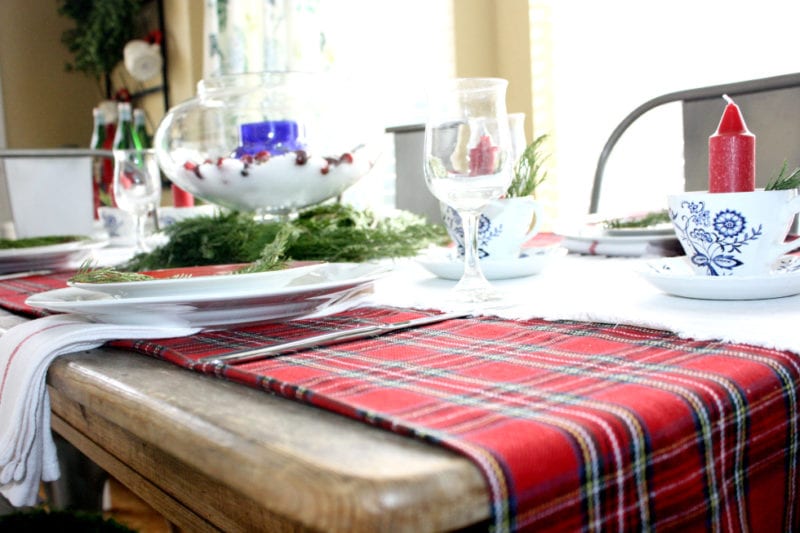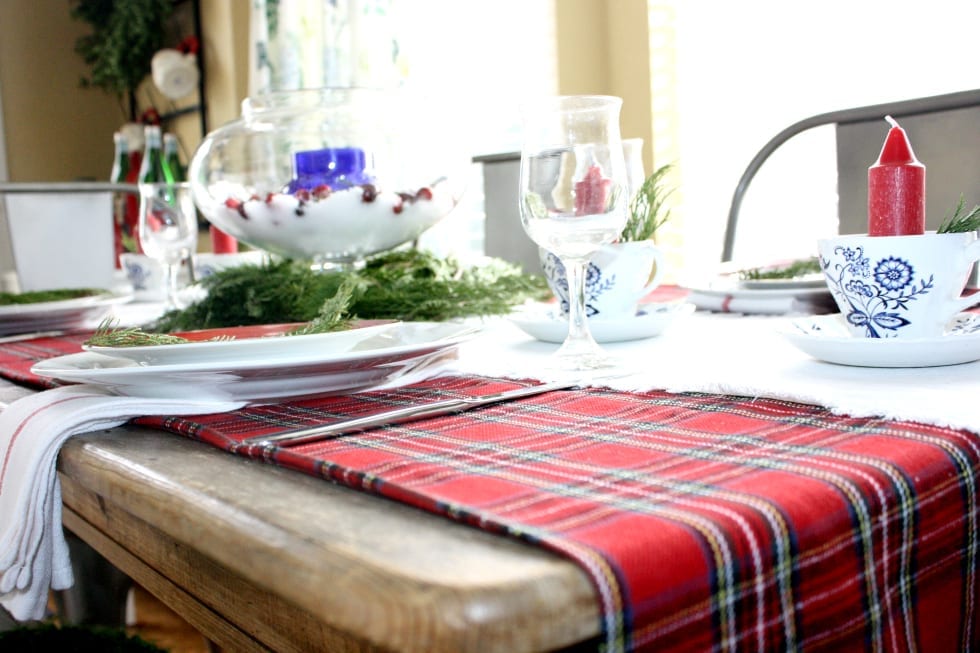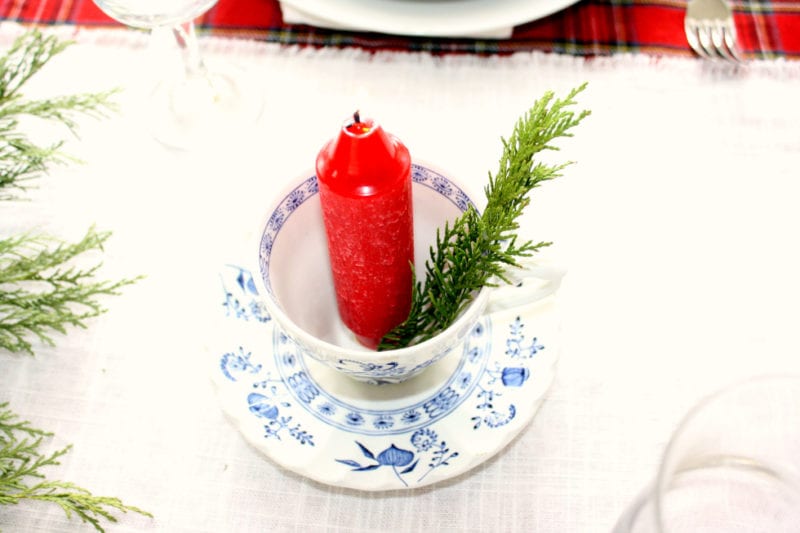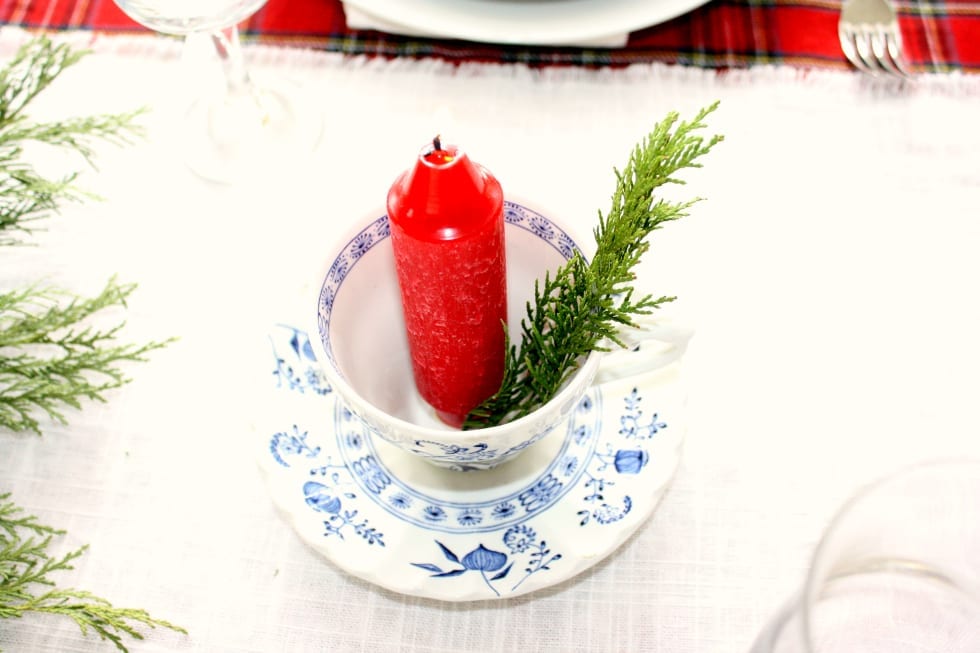 Funny story…I had nothing in the house to use to help the candles stay upright in the tea cups so my daughter and I had fun chewing up pieces of gum. We placed a piece of gum in the bottom of each of the tea cups and stuck the candle to it, worked like a charm! Ha ha!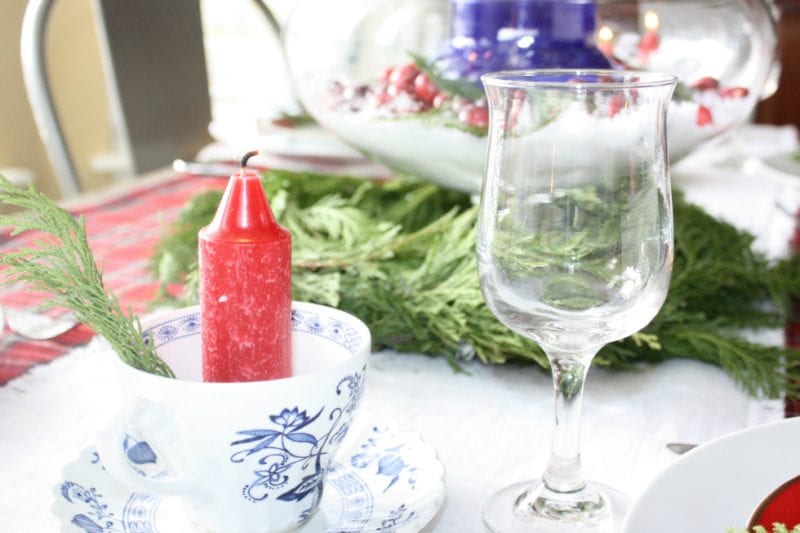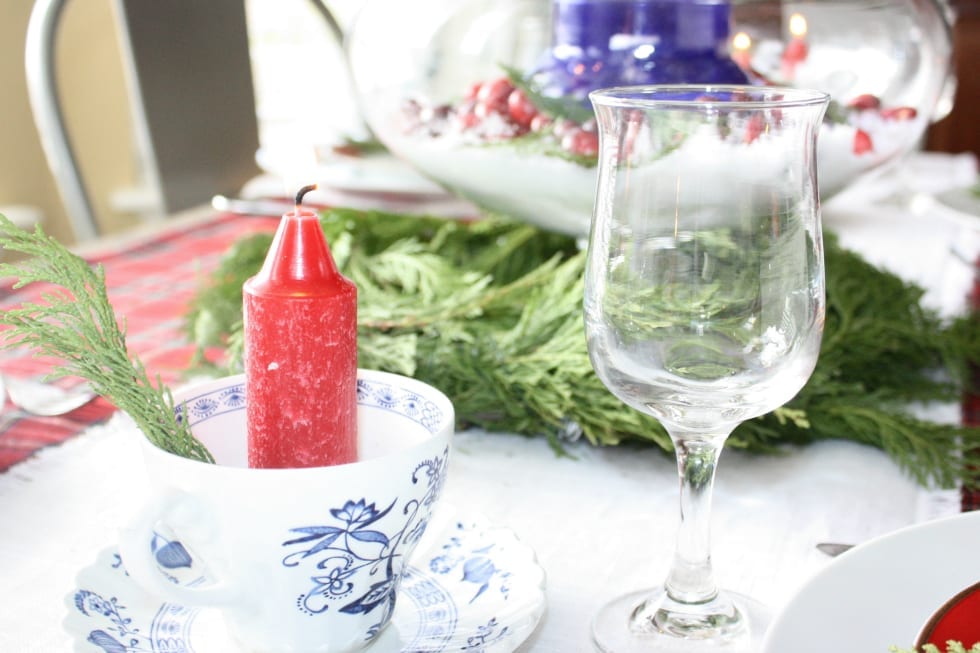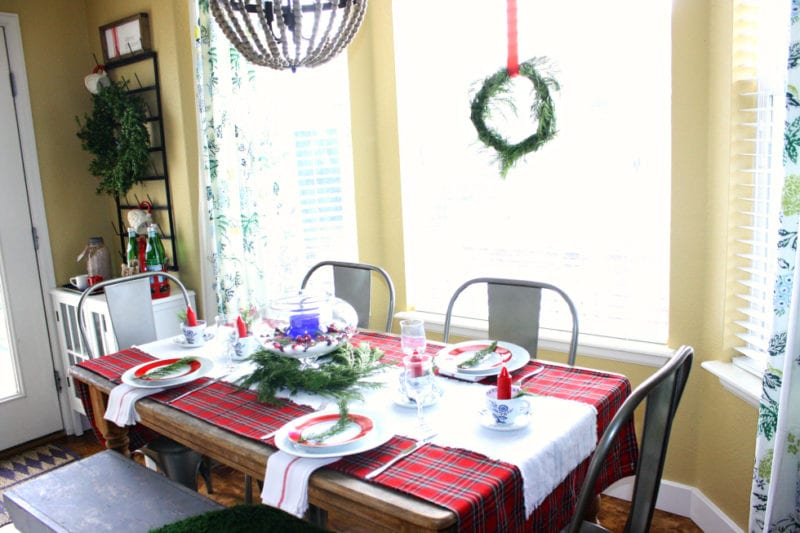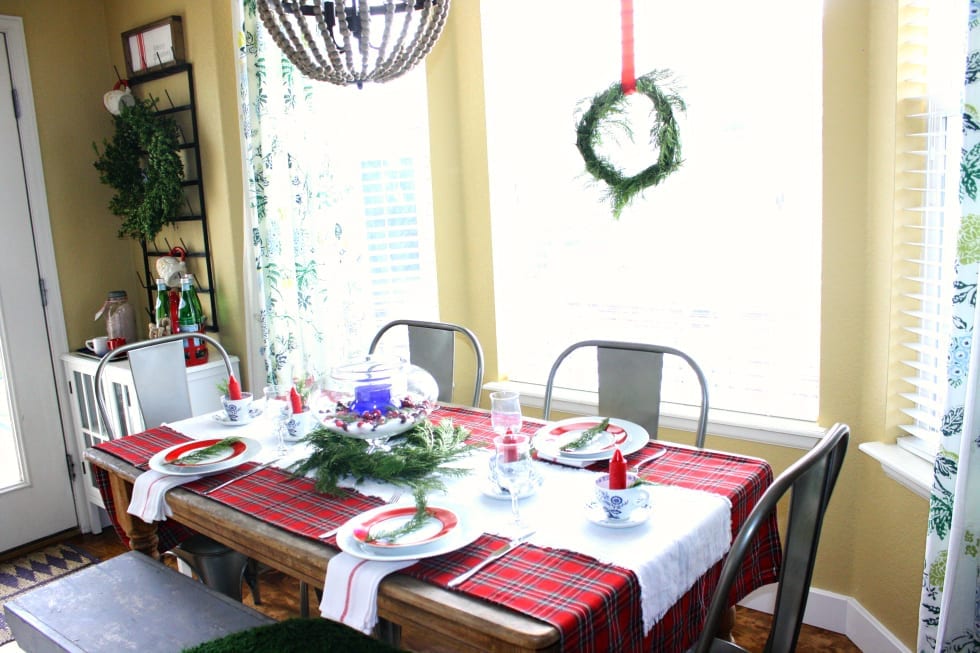 Thank you so much for taking the time to share in my Very Merry Tablescape! I hope you and your family have a wonderful time together and many blessings during this special season.
Please make sure to stop by the other ladies that I have linked below for some more Christmas table inspiration!
xoxo,
 Kelly
/ The Porch Light Cottage  / Be Still Blogs  / The Tattered Pew (You're here)  /  The Homemaking Momma  / Interior Swag
Uniquely Taylor Made   / Fix It Chick  /  The Grimes Life  / A Blue Nest   / Belle Amour Blog