5 Tips For Creating a Family Friendly Hot Cocoa Bar
Need a little joy right about now? Sharing a cup of delicious hot chocolate is a wonderful winter tradition that brings friends and family together. These 5 tips for creating a family friendly hot cocoa bar will have you creating one in your own home in no time!
This post contains some affiliate links for your convenience. Click here to read my full disclosure policy.
Oh friends do I have a treat for you today! I am so excited to be joining my friend Aliya of Open Doors Open Hearts for her Hot Cocoa/Coffee Bar blog hop. If you are hopping over from Andrea of Pine and Prospect Home and her gorgeous hot cocoa bar with thrifted dishes, welcome! I'm so glad you are here.
5 Tips For Creating a Family Friendly Hot Cocoa Bar
I adore Christmas and I adore making it fun and meaningful for my family. Each year we celebrate Jesus' birthday with advent activities and other fun family traditions. Every year one of those traditions is our hot cocoa bar in our kitchen… and goodness gracious it's a major hit! I loved last year's but decided to switch it up a bit this year.
So today I thought it would be fun to share it with you all. I had a little help from one of my favorite taste testers and good news…she approves! My 5 tips for creating a family friendly hot cocoa bar are all doable and easy to do yourself. Now who is ready for some JOY?!
Tip # 1: Find the Perfect Spot
When it comes to having a hot cocoa bar in your home it's good to look for a spot that is accessible to everyone. I chose a small corner in our kitchen nook and placed a small white cabinet there from Target. Then I hung a mug rack on the wall above it. Instant hot cocoa bar! You can add yours anywhere that has room and a mug rack is not necessary. I have seen some darling shelves or kitchen counter areas that make the perfect hot cocoa or coffee station too.
Tip #2: Accessories Are Key
Oh do I love my accessories! For our family friendly hot cocoa bar I have some darling Santa mugs (one for each of our family members). Besides the mugs, the red berry garland and faux boxwood letters that spell JOY, add a festive touch!
The wicker oval tray was a vintage flea market find as were the clear mini cups. The garland is made of felt and I have had it for years and the melamine plates are from Target, also several years old. All of it sets on one of the darling red and white ticking stripe napkins found also below inside the cabinet.
Kid Friendly touches are a must!
To make it kid and family friendly I added all of our Christmas books and stories under the cabinet. I love that my kids can come and grab a book while they enjoy some hot chocolate. Also in the cabinet you will find more fun red ticking stripe napkins and a bowl of vintage ornaments that are from my husband's family.
Tip # 3: Having The Best Hot Cocoa Available
Every year my mom makes a huge batch of her amazing hot chocolate! You can find her yummy recipe HERE. She is kind enough to share it with us and if we are lucky we even get to help her make it! She loads up vintage jars full of the yummy mix for us and brings it over. The jars have our family name on them, Kerr. Which makes it even more special. Each year the kids look forward to this seasonal delivery with great anticipation!
Tip # 4: Sharing Is Caring
This year I decide it would be fun to fill up a bunch or random jars we had around our home (inspired by mom of course!). My thought was that we could gift them to neighbors or friends after they visit and enjoy hot chocolate with us. Instead with the pandemic, I'm thinking we may just deliver them to our neighbors and friends instead. To make them extra special I added paper doilies under the lids.
I also keep the hot chocolate low and accessible so my kids make their own mugs of hot coca whenever they want…within reason! There are also jars of marshmallows and a few peppermint sticks to stir it with. The ready whip is always in the fridge!
Tip #5: Make Time To Enjoy The Hot Cocoa
The most important part of having a family friendly hot cocoa bar is making the time to enjoy it! During the holidays our family makes a point to slow down and enjoy each other. This usually involves hot chocolate, popcorn and a movie!
My mom passed this tradition down to us and I hope that my kids will do the same with their own families. There's just something so special about drinking hot cocoa with someone you love!
Even our pups Kona above and Zoey below love hanging out by our cute little hot cocoa bar!
Shop This Post

5 Tips For Creating a Family Friendly Hot Cocoa Bar
So what do you think? Did my 5 tips for creating a family friendly hot cocoa bar inspire you or give you some ideas to create your own? I sure do appreciate you spending some time with me here today.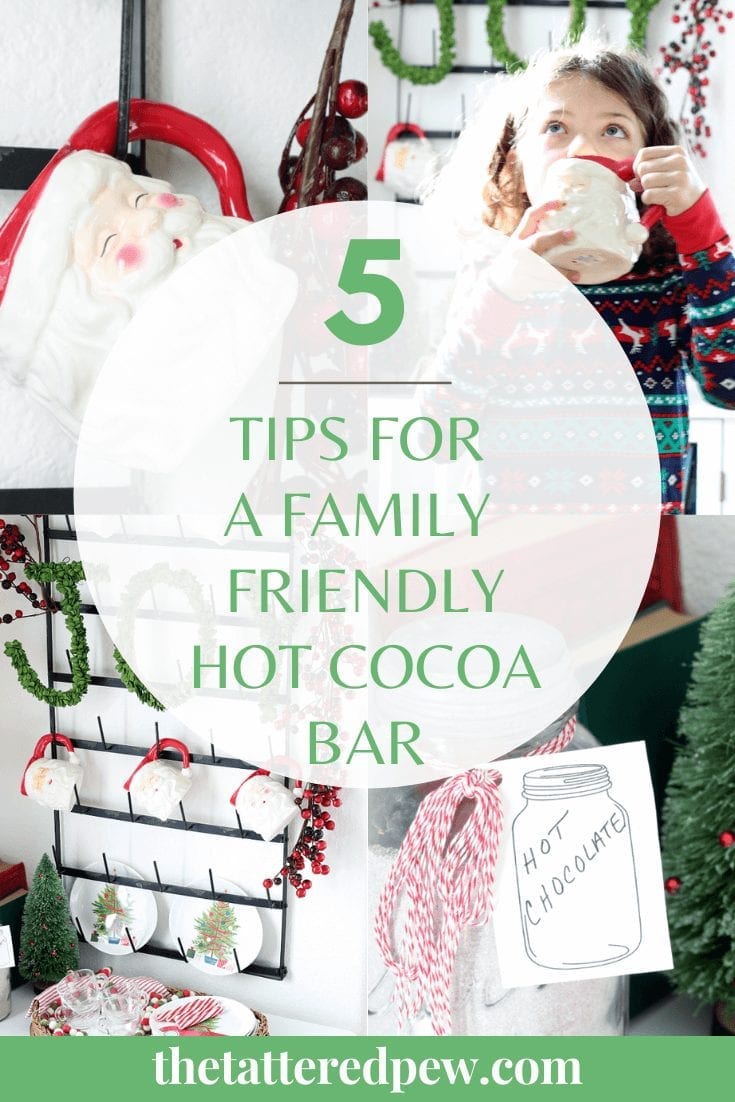 Now make sure to pop on over to KariAnne of Thistlewood Farms to check out her awesome holiday coffee station! Then head below to catch the other bloggers sharing their hot cocoa and coffee bars too!
XOXO,
Kelly
Check out all these fabulous coffee/hot cocoa bar ideas and be inspired to slow down this holiday season.
White Arrows Home / Pine & Prospect Home / The Tattered Pew
Thistlewood Farms / Open Door Home / The Farmhouse Life