Christmas Decor Ideas and Inspiration
Oh yes, I said Christmas! If you clicked on this post to read it then you are my kind of people! This post is all about some of my favorite Christmas decor ideas and inspiration for this year.
And as we all know, and have been hearing, shipping is delayed this year and so being prepared and shopping ahead will save you a lot of stress and unnecessary headaches! And just because I have to say it, this absolutely doesn't mean I will be skipping over Thanksgiving.
Actually quite the opposite!
I will be hosting Thanksgiving in our new home!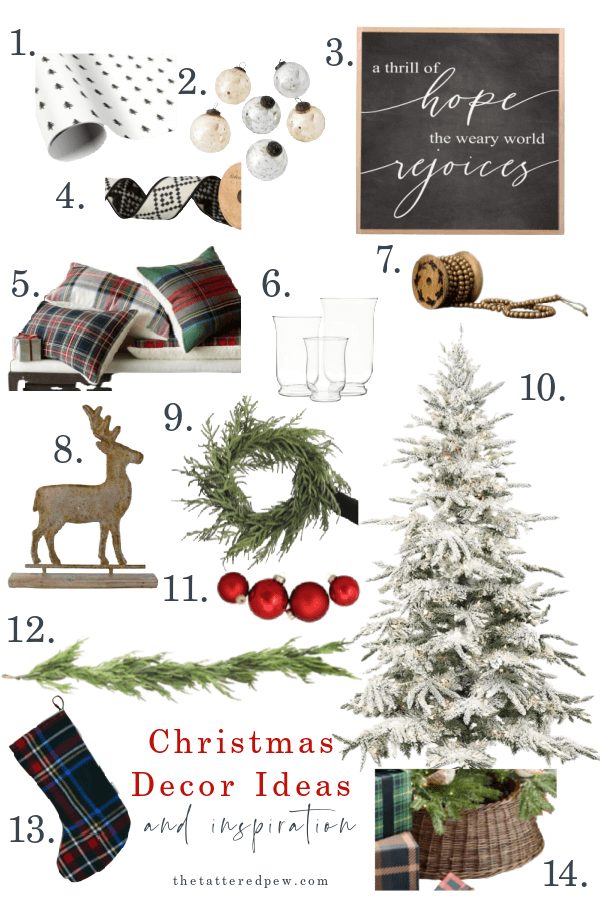 This post contains some affiliate links for your convenience. Click here to read my full disclosure policy.
Christmas Decor Ideas and Inspiration
As many of you already know Christmas is my absolute favorite holiday ( my birthday is 3 days before Christmas) and I start my planning in July!
No joke!
You can check out my 5 Simple Ways to Prepare for Christmas in July post for some of my favorite tips! I love gathering inspiration and even shopping for my Christmas decor super early. By getting it all done early it helps me be able to enjoy the holidays with my family and savor every moment.
If November 1st wasn't on a Monday, (teacher problems) I would be home putting up my tree! Anyone else?!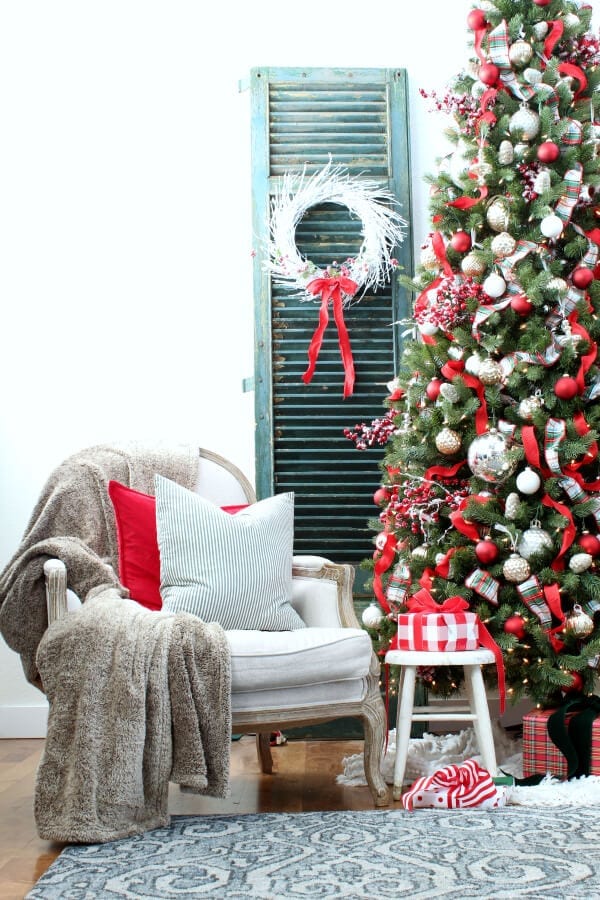 ---
15 Christmas Decor Items To Add To Your List
I hope you will have fun scrolling through my favorite picks for this Christmas. I have broken them down for you below. There is a nice mix of prices, small shops as well as things that can easily be shipped. My advice is if you see something you like this Christmas snag it early!
Happy early shopping and planning! Click the links or scroll to shop. And if you have any questions don't hesitate to reach out!
1. Black and White Wrapping Paper
I found this gorgeous black and white wrapping paper at Home Goods. It is the Martha Stewart holiday collection and I love the simplicity. This year I am inspired by black and white as well as plaid wrapping papers. I always look at Home Goods and Hobby Lobby for wrapping paper and I also love to shop for it after Christmas when it is on deep discount!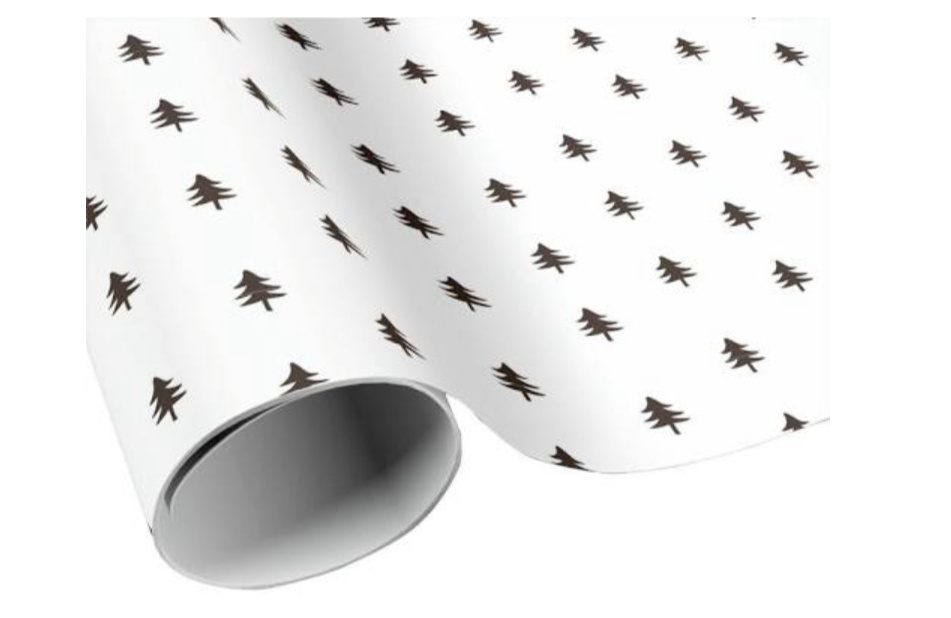 For several years now I have collected mercury glass ornaments. They have a timeless and classic feel that I adore and their sparkle on the tree when it's lit up at night is priceless! I have scored a majority of mine at after Christmas sales as well as Home Goods. (You might notice that theme here!) Pottery Barn also has gorgeous mercury glass ornaments such as these pictured below.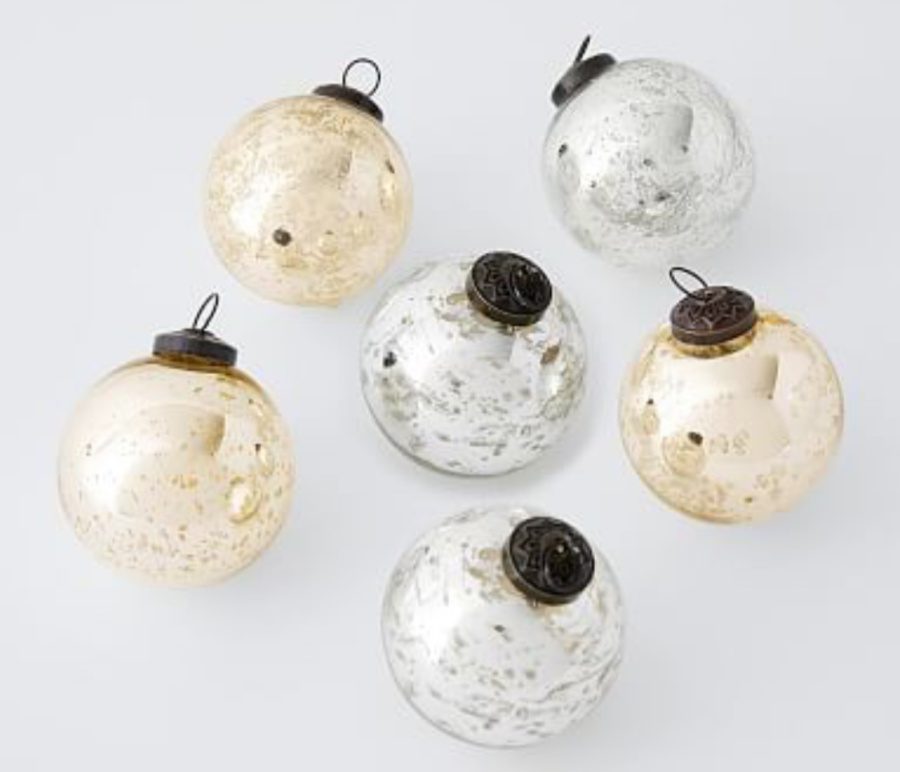 This small shop, Between You and Me Signs, has absolutely stunning signs year round. However, I am quite taken with their Christmas Collection. It's not overwhelming and each sign is very meaningful. I chose this one pictured below because I love the black background with white words but even more so I love that it reflects the true meaning of Christmas…the birth of Jesus! This verse from the Christmas carol, "O Holy Night" could be my mantra for these past couple of years. So weary but finding my hope in Him! Shop Thrill of Hope sign here!
Good news- they offer FREE shipping for every order in the U.S.!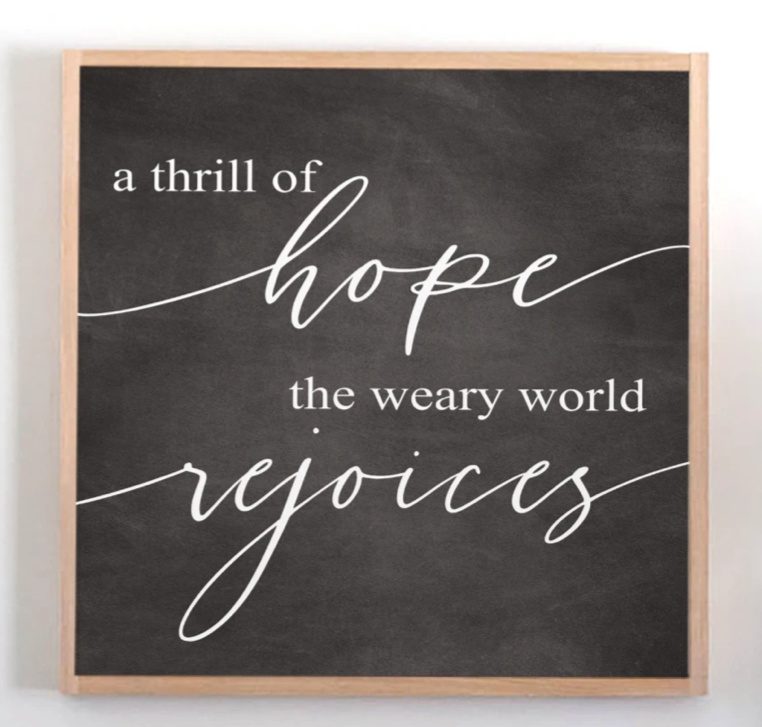 Want to know one of my favorite tips for shopping for ribbon during the holidays? Look in the non-holiday ribbon section! I found this gorgeous black and white ribbon at Hobby Lobby in the year round ribbon aisle. This ribbon is textured and offers a pattern that pops! I plan to use it on gifts, to hang my wreaths and possibly in my tree! I also have some beautiful crushed black and dark red velvet ribbon I plan to compliment it with too! Ribbon is an inexpensive way to change up your Christmas decor without breaking the bank! This was on sale too.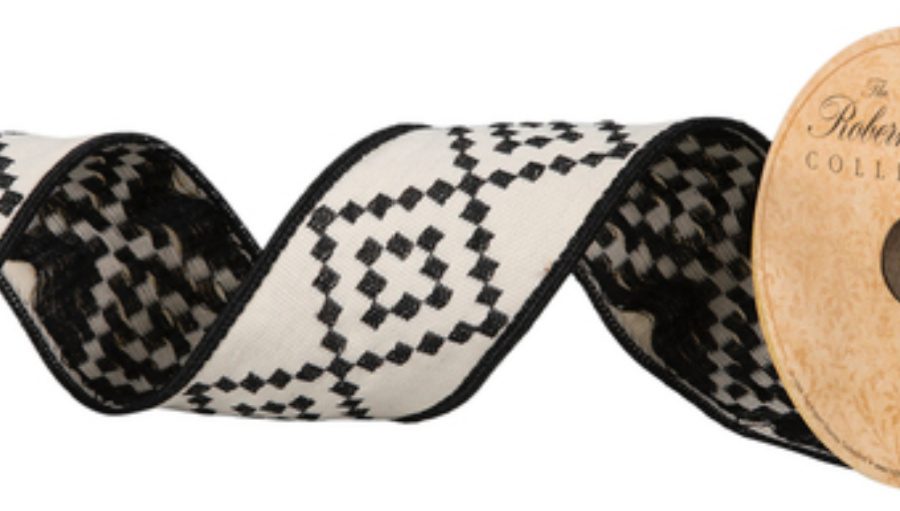 Can you ever have enough pillows? The answer is of course NO! Ha! My husband might disagree. 🙂 I am always on the hunt for classic pillows and these plaid beauties from Pottery Barn are lovely. I also love shopping small and find a majority of my pillows from Laura of Linen and Oak. Remember my bedroom pillows from her?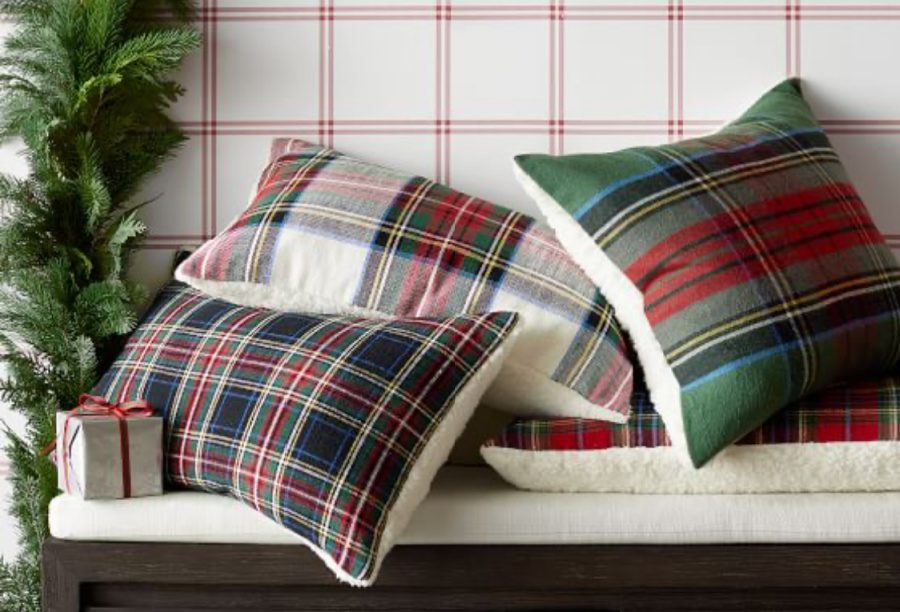 6. Glass Hurricanes
These beautiful glass hurricanes are from Walmart. Yep! You know they have upped their game recently in the home decor arena! They are classic, affordable and can be used year round. I saw a picture over on Instagram of a fireplace lined with glass hurricanes and simple candles..it was glorious and oh so simple! I can't wait to do that with our new mantel!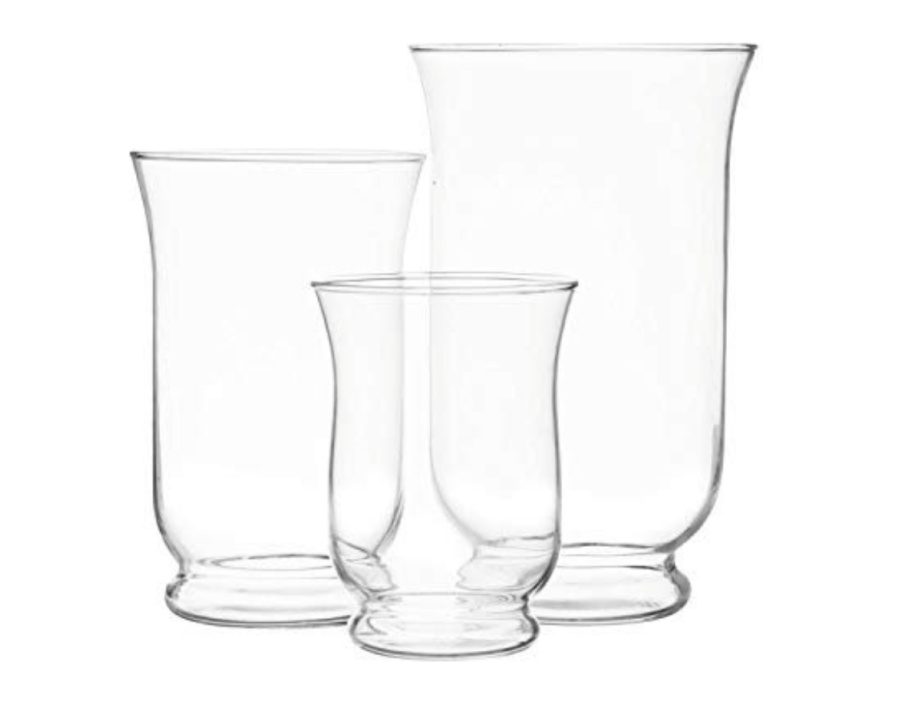 My mom gets credit for this traditional decor item being on the list. We grew up with gold bead garland on our tree and it's just a Christmas classic. I love this take on the classic garland that Studio McGee has in their current holiday collection. Isn't the matte gold just beautiful?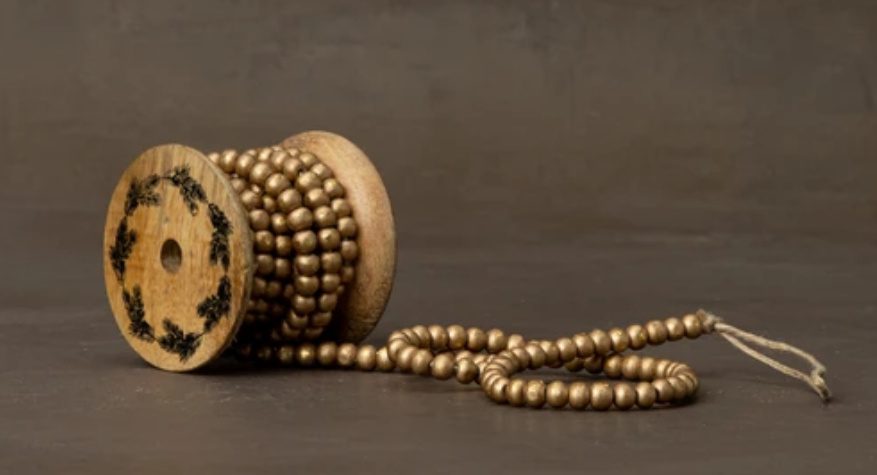 Reindeer are synonymous with Christmas, right?! This rustic metal deer on an aged wooden stand is a statement piece that not only would be perfect for Christmas but last all winter long. My mom got this exact one last year on huge clearance at an after Christmas sale. I'm bribing her to let me display it on our new mantel. I did some searching and found another one on Etsy!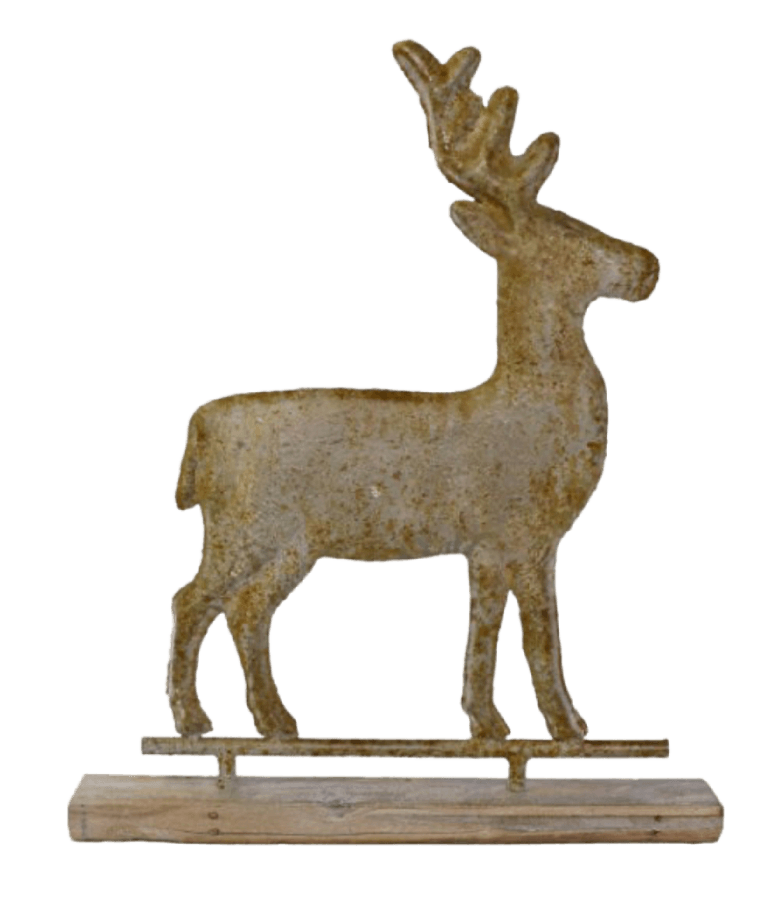 9. Faux Cedar Wreath
If you can't have a real wreath then a faux wreath these days is almost as good! So many of them are so realistic looking. I have a linked a few of my favorites below. This year I am hoping to put a wreath in every window on the front side of our home! Oh gosh I am so excited to get decorating!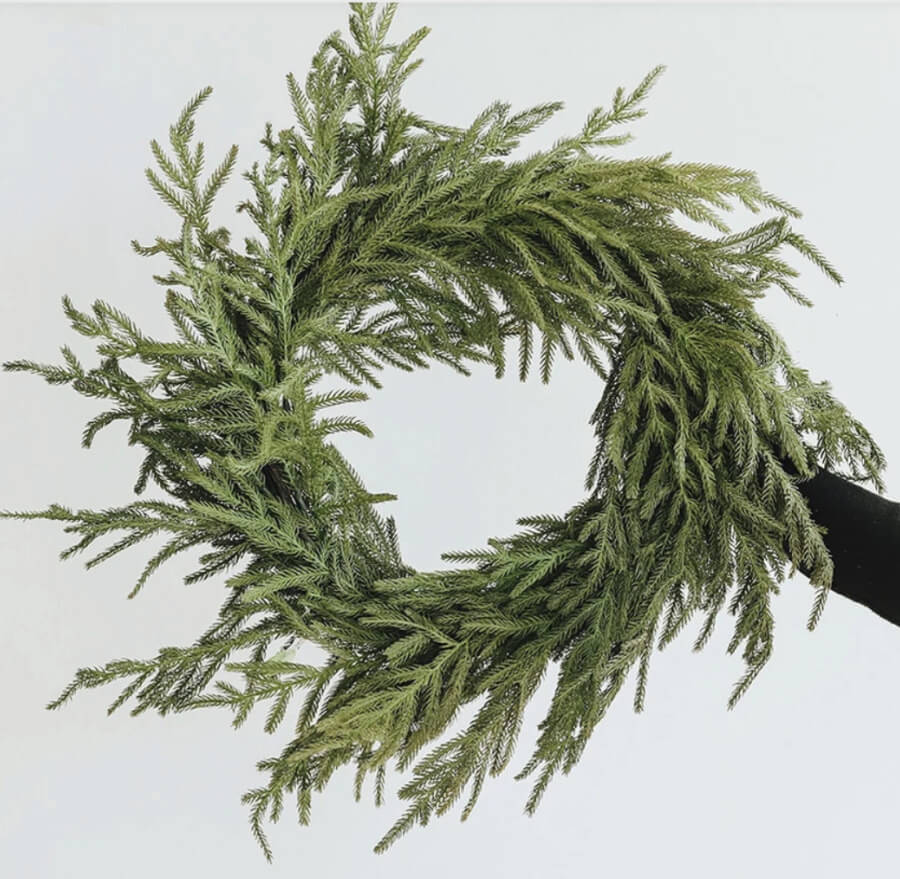 Would you believe that this flocked tree is from Home Depot? Yep it sure is! This is the 7.5 foot flocked mountain pine artificial tree. And guess what? Last year I bought this exact tree at Home Depot's after Christmas sale but it was the 9ft version. Sadly our new home has 8ft ceilings so I won't even get to use it. If you are in the area and needing a gorgeous new flocked tree email me!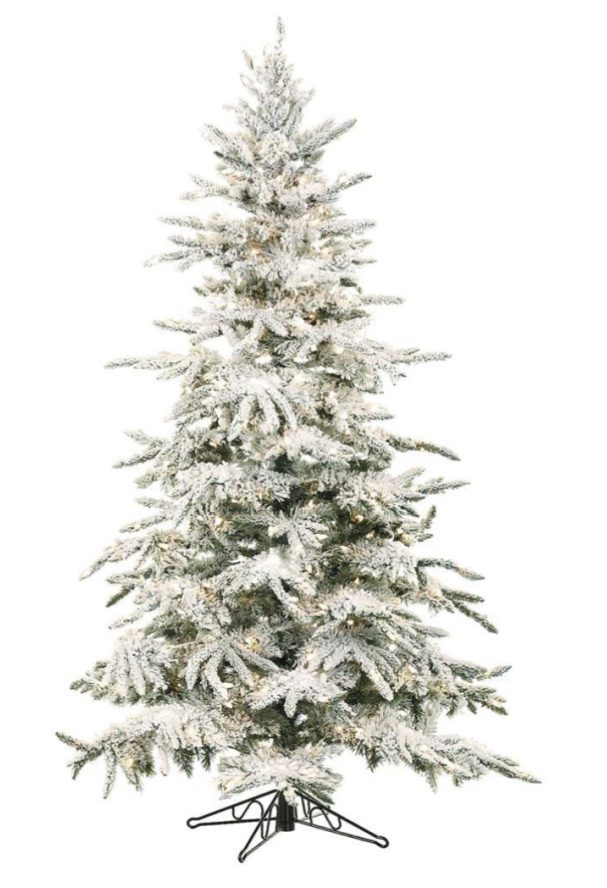 These matte red ornaments are a great way to add a pop of color to any tree. I have found that both Walmart and Amazon have several bulk options.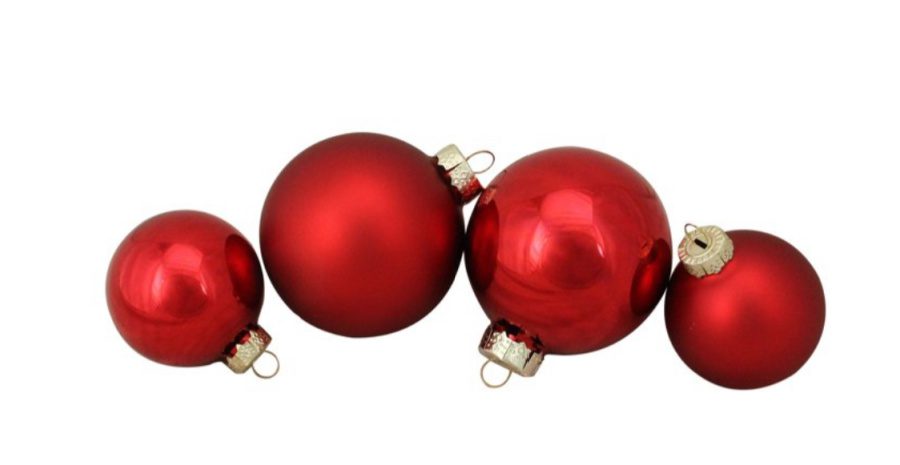 12. Real Touch Norfolk Pine Garland
Ok, if you stop to look at any of these decor ideas I am sharing this is the one that I probably could have written an entire blog post all about. This real touch Norfolk pine garland from Afloral is hands down the best garland I have ever found. Each year it sells out very quickly! So if you are in the market for new garland check it out. I found a few others that are very similar and they usually sell out too!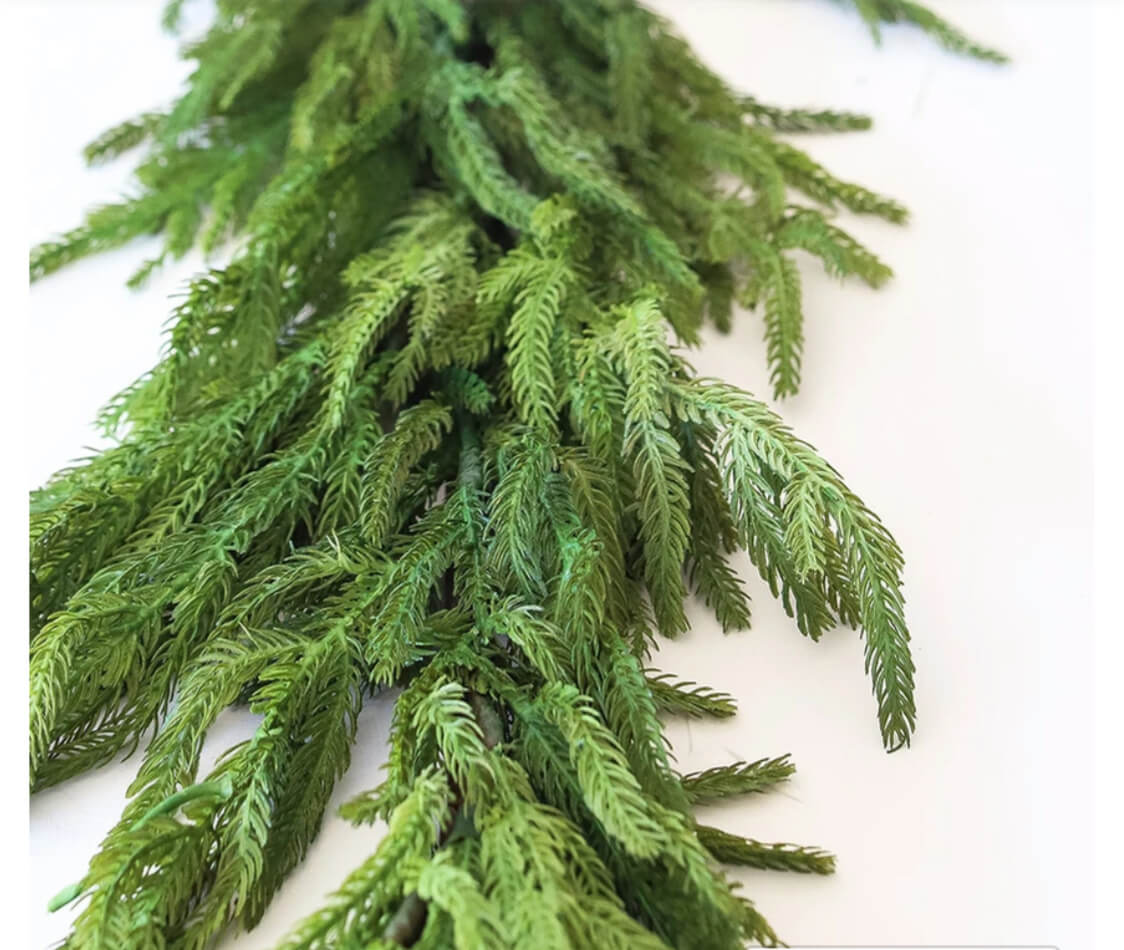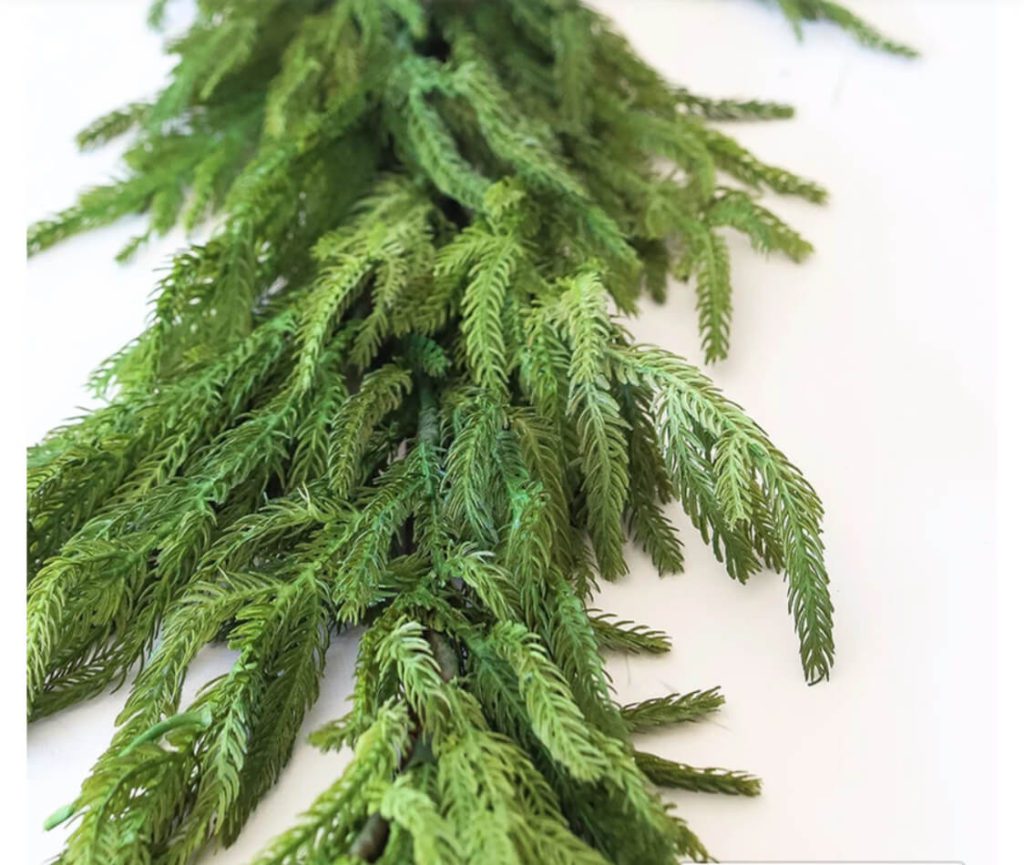 These darling plaid stockings are from a small shop that I have shopped at for years called With Lavender and Grace. I love that they are handmade, durable and have a darling leather strap. I could spend hours looking through her shop. Their holiday collection this year is one of my favorites!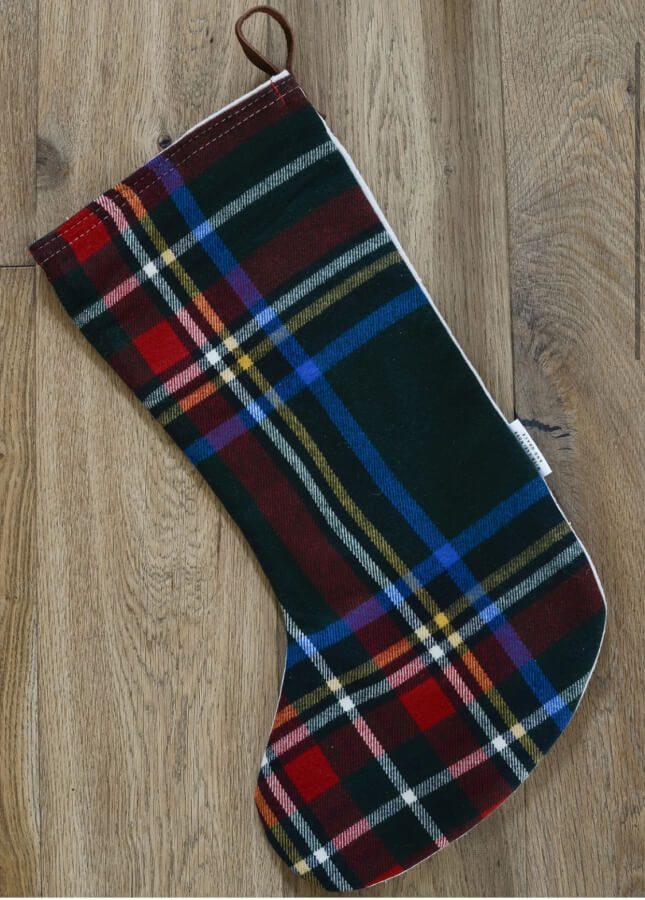 Honestly, I have resisted the tree collar trend now for several years. I love to put my trees in unusual containers but this trend doesn't seem to be going away. This woven basket like collar from Pottery Barn is on my wish list but I'm not sure if I can pull the trigger just yet. Maybe after Christmas or when it goes on sale! Luckily Target and Walmart and several other shops have more affordable options.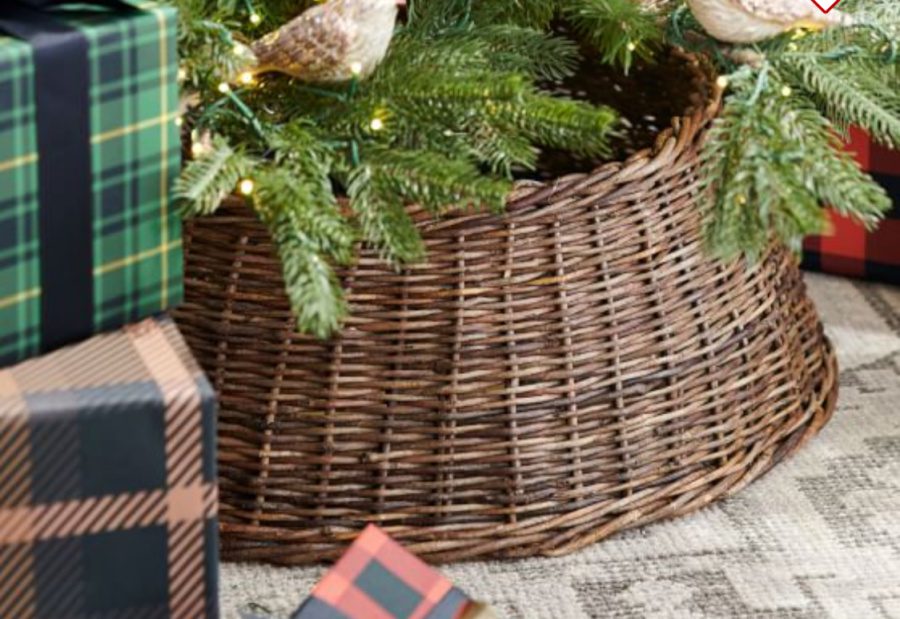 Shop This Post

Christmas Decor Ideas and Inspiration
Did you see something that caught your eye? I can hardly wait to get started with my decorating and now I need to get on ordering that tree and selling my other ones! Thanks for hanging out with me today. Up next I plan to share my Thanksgiving tablescape and some Christmas gift guides! So make sure to stop back by or join the list so you never miss a post.
More Christmas Inspiration From The Tattered Pew
xoxo,
Kelly
Did you like this post? PIN it for later!