A Simple Outdoor Friendsgiving Tablescape
Looking for a special way to celebrate your family and friends this Fall? Gather them up and create a simple outdoor Friendsgiving tablescape that will foster fellowship and thanksgiving!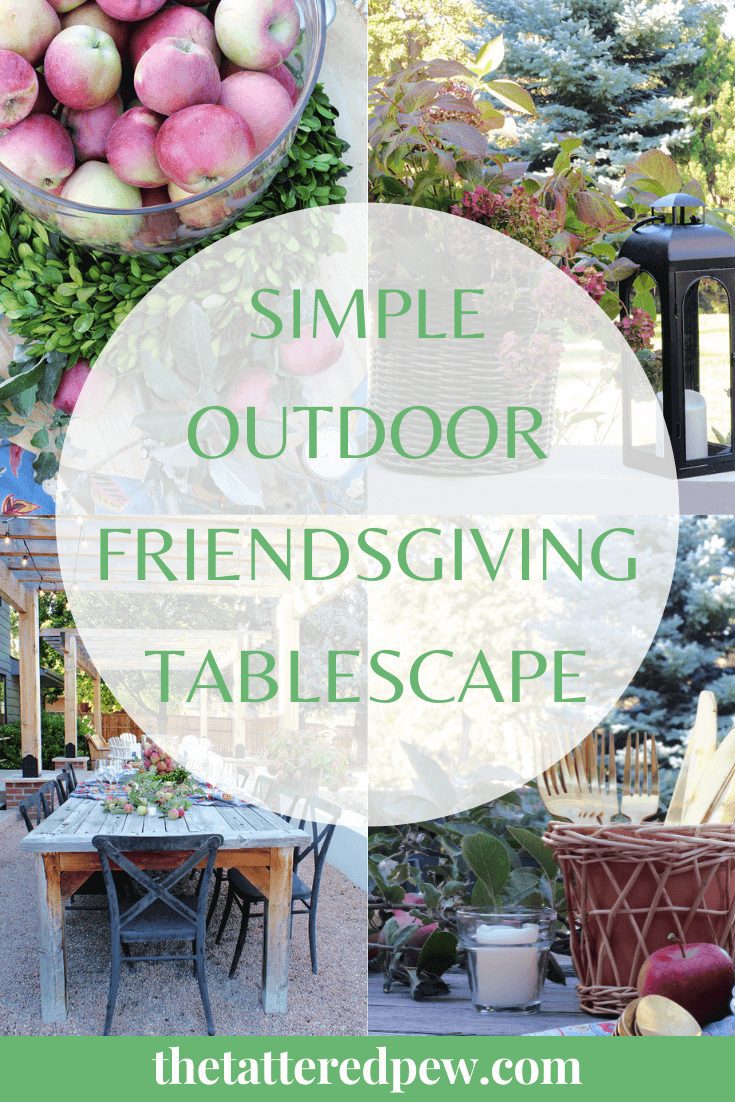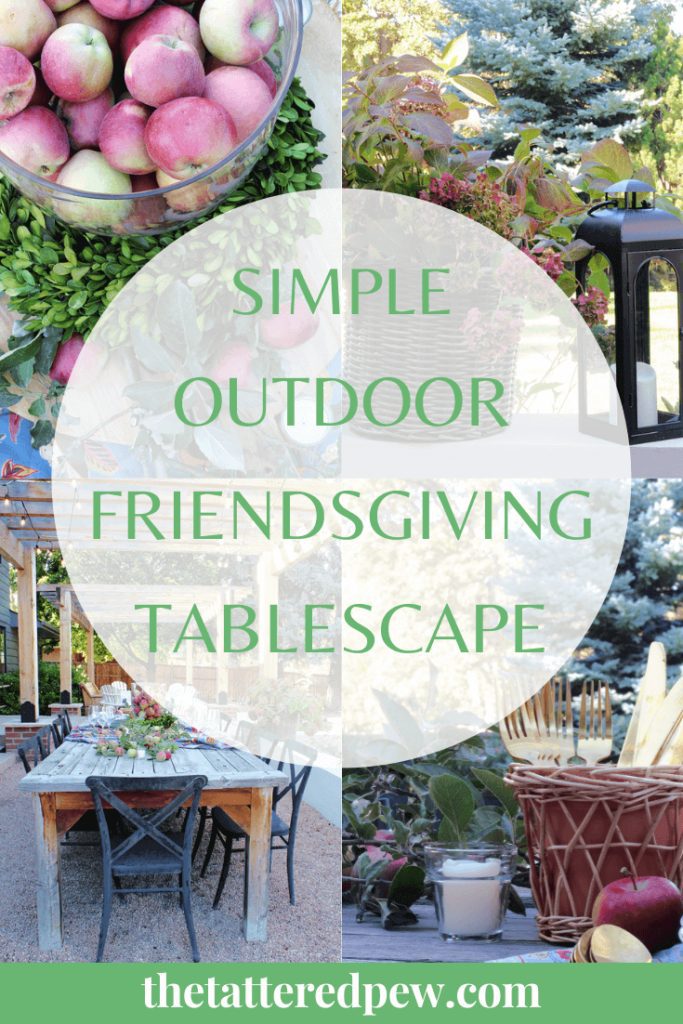 This post contains some affiliate links for your convenience. Click here to read my full disclosure policy.
Hey, welcome to my backyard! I'm Kelly and I love making things pretty here at home while staying on a budget. Today I am thrilled to be joining Aliya of Open Doors Open Hearts and Jen of Midwest Life and Style, for a Friendsgiving Tablescape Inspiration hop.
If you are hopping over from Pasha of Pasha Is Home, welcome! I loved her simple and welcoming Friendsgiving tablescape.
A Simple Outdoor Friendsgiving Tablescape
Have you celebrated Friendsgiving before?
Honestly I never have. But if you know me then you know that has never stopped me from creating a beautiful tablescape. And really, who doesn't love an excuse to gather with their friends and show them some love!?
The Perfect Friendsgiving Setting
One of the many features my husband and I fell in love with in our new home was the outdoor entertaining space.
Our backyard has two gorgeous pergolas and under one of them is our firepit, and under the other is a huge wooden dining table that seats 10 or more. We purchased the table and chairs from the previous owners knowing that we would host many parties out here with our friends and family.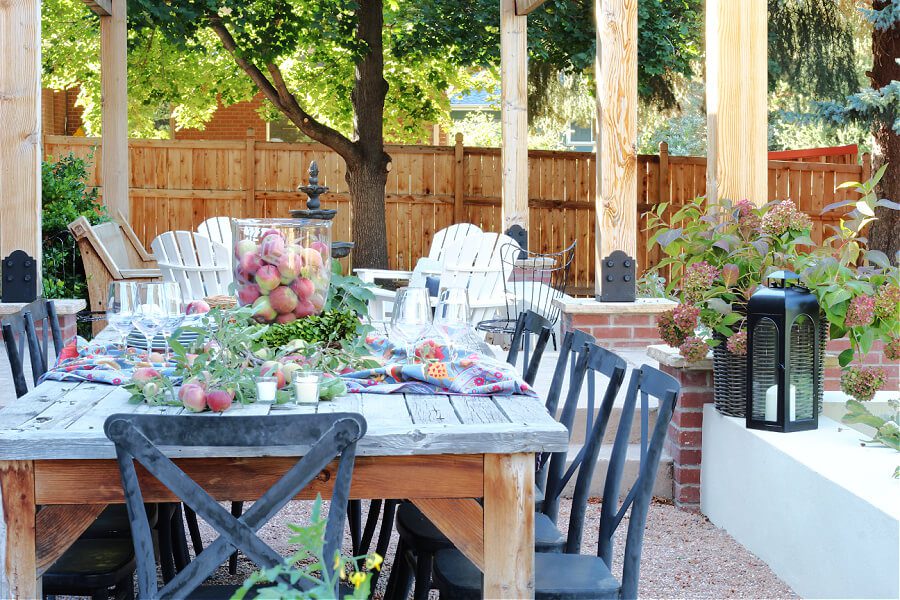 A Place For Food and Fellowship
I had the honor of creating this gorgeous table with my mom. We work so well together and we had a lot of fun letting our creative juices flow to bring this table to life. She always inspires me and makes me feel like I can do anything. Goodness I love her like crazy!
I also had fun photographing the table during the day and the evening. I love both equally and wanted to share it in both lights!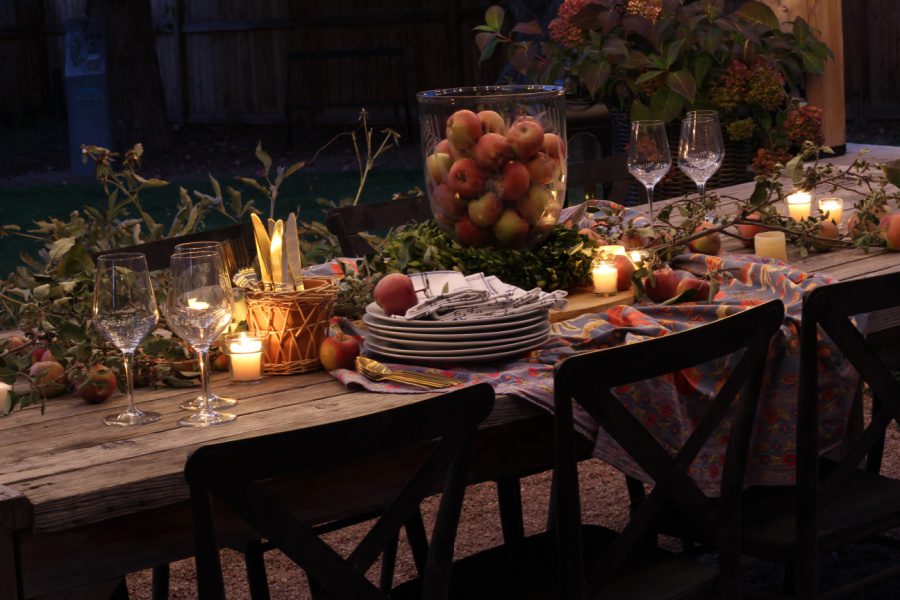 In my mind this outdoor space is the perfect spot for food and fellowship. Hosting others at our home is one of my favorite things to do. I learned the importance of showing hospitality from my mom. She has always welcomed others into her home with a come as you are approach. No matter if you are family, or friends, you leave feeling loved, encouraged and full of yummy food. I love carrying on this tradition.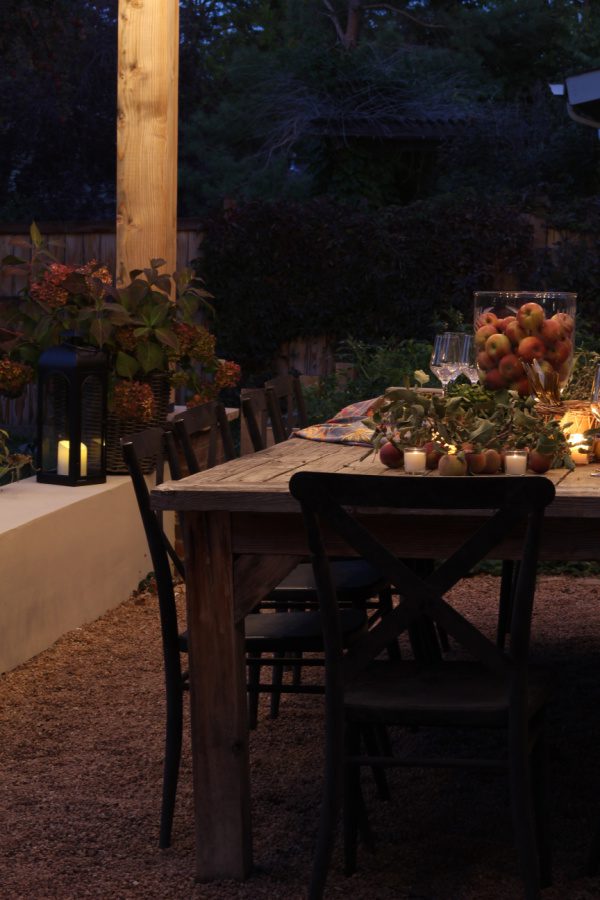 Simple Table Settings
When I host friends I like to keep things simple and casual.
This includes the table settings. The plates are stacked on the table, napkins are near and the silverware is held in a rustic container. Friends are encouraged to gather and sit wherever they feel comfortable.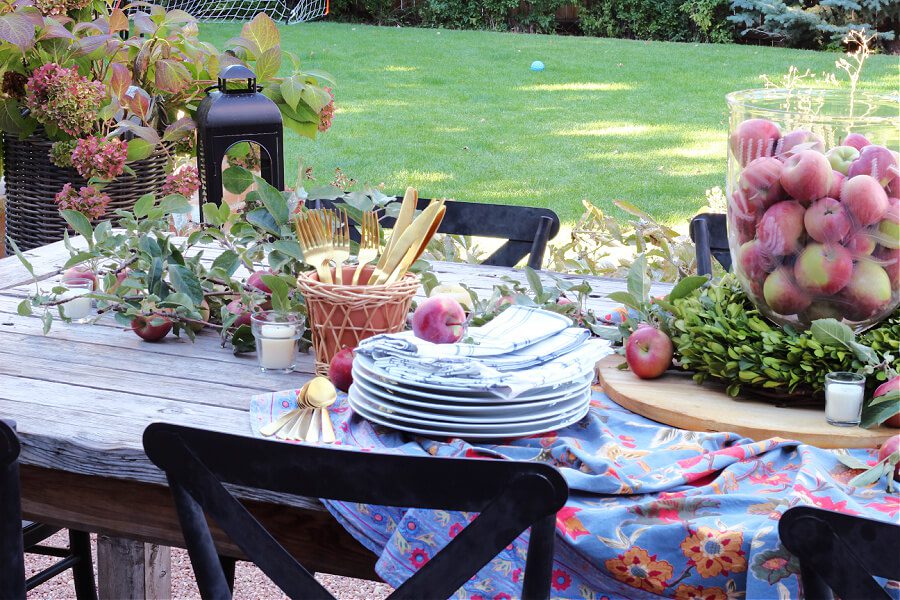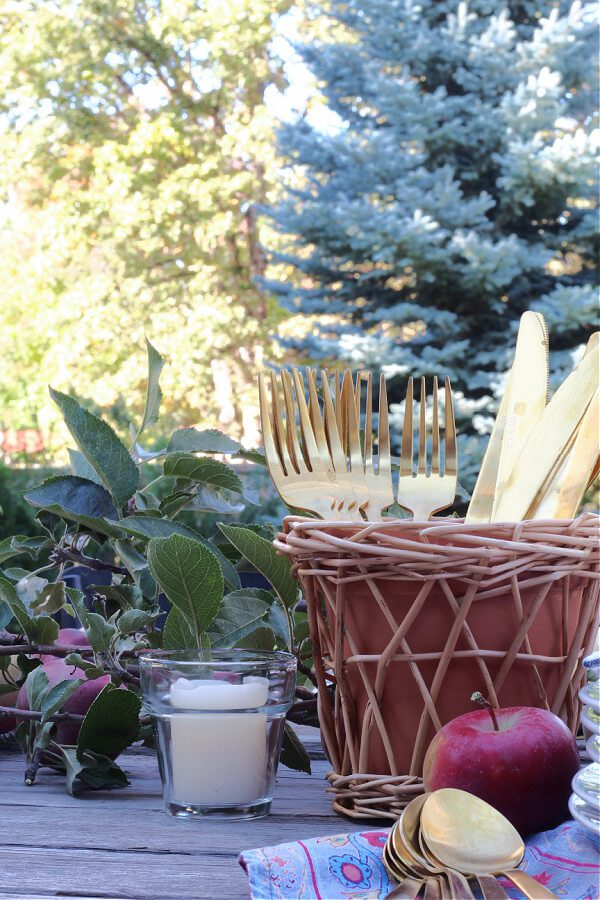 Nothing too formal. But always welcoming. Always thoughtful.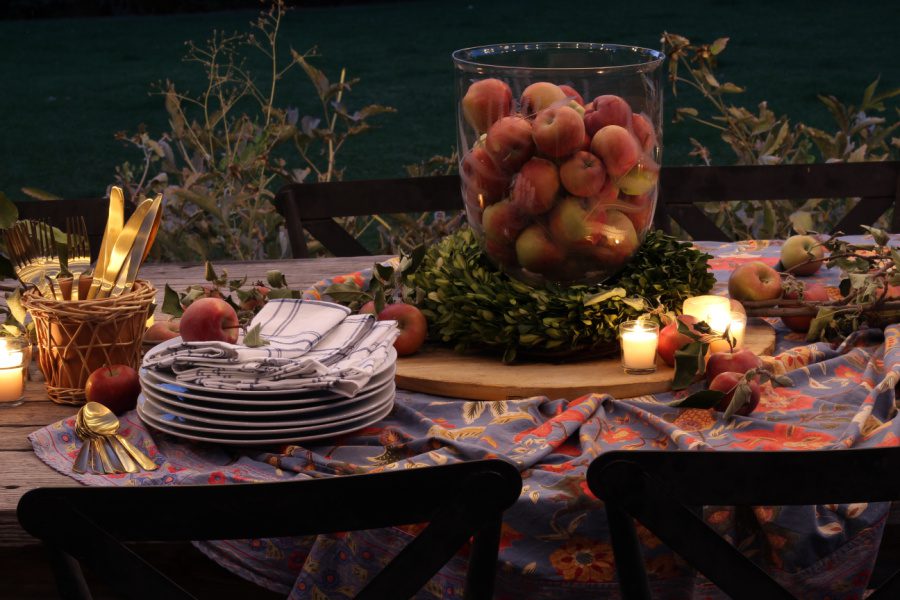 Not much is needed to add ambiance to this space so I kept this Friendsgiving tablescape simple and natural. The café lights hanging above are from Costco and can often be found on any given night. I adore them and love being able to share them with friends!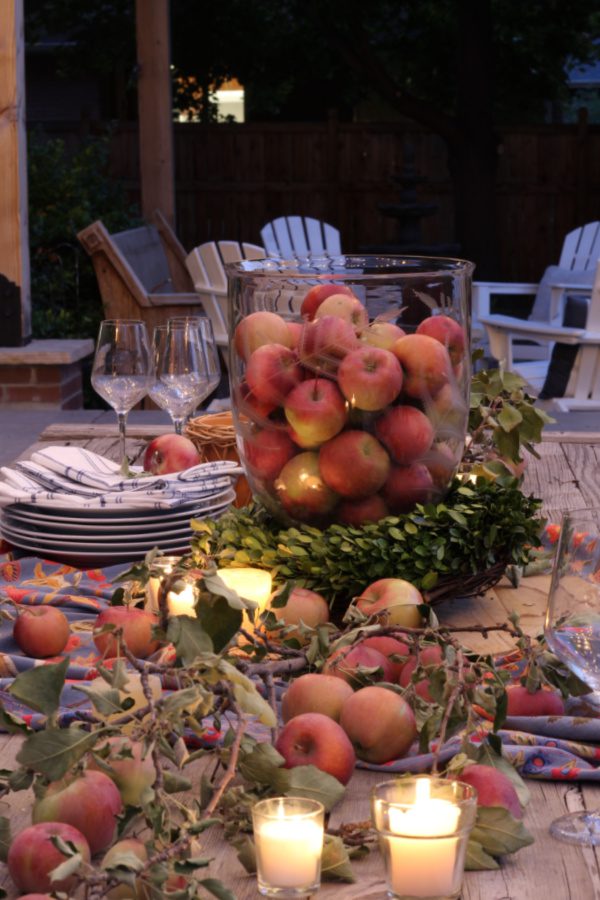 Simple Centerpiece
For my Friendsgiving centerpiece my mom and I clipped branches from the apple tree in my yard and collected apples for the glass vase. Our tree is quite heavy with apples so there were plenty to go around! The fern etched glass vase was a wedding gift from our dear friends and I treasure it!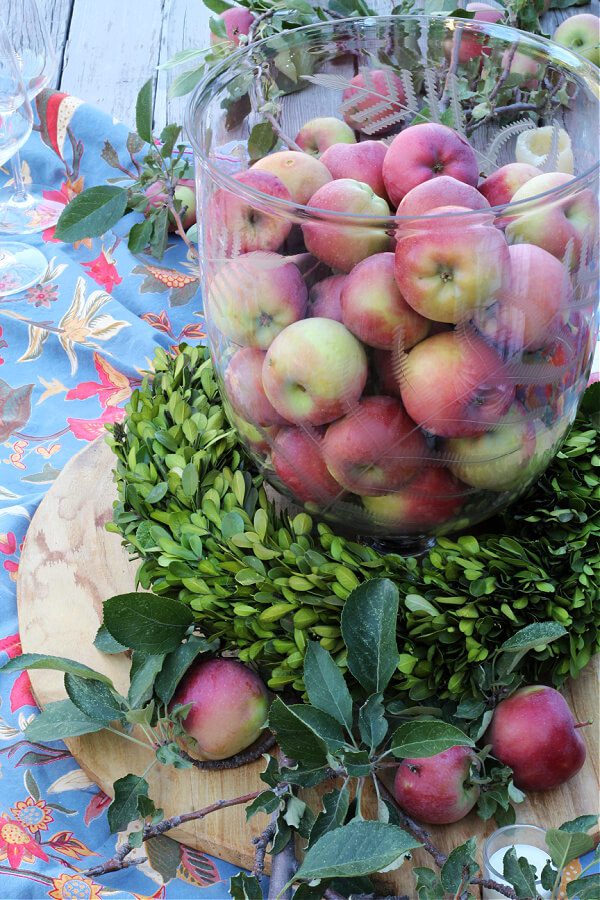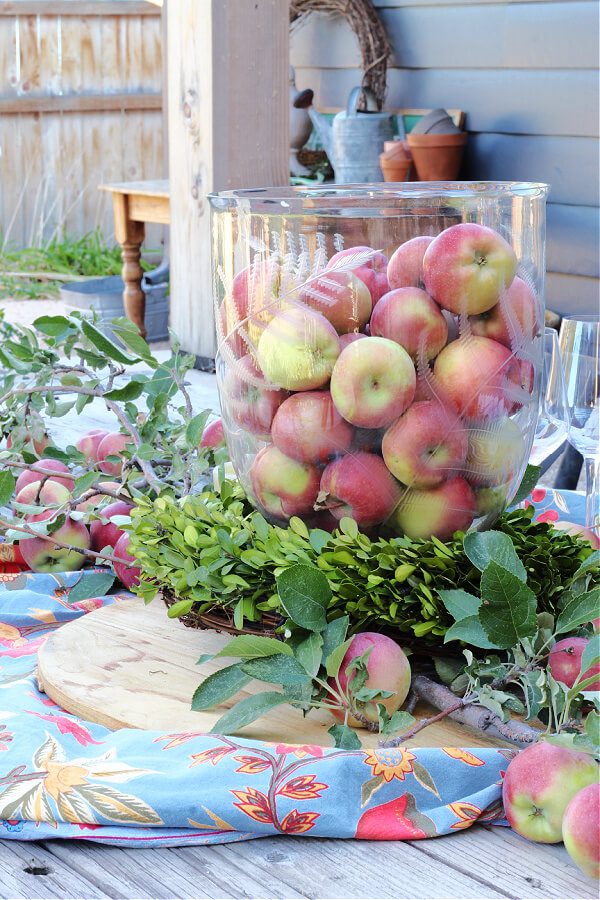 In between the branches I scattered a variety of votive candles to be lit when the sun goes down.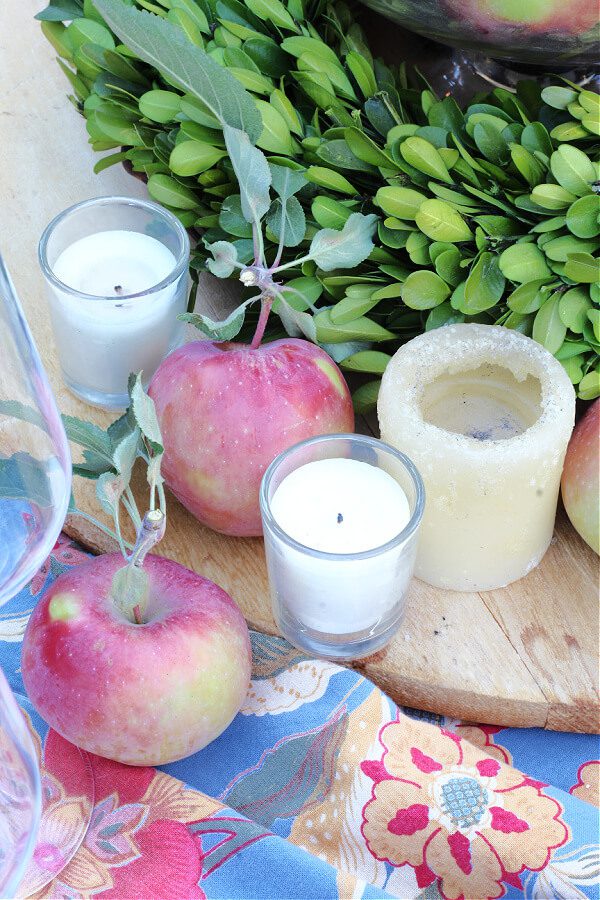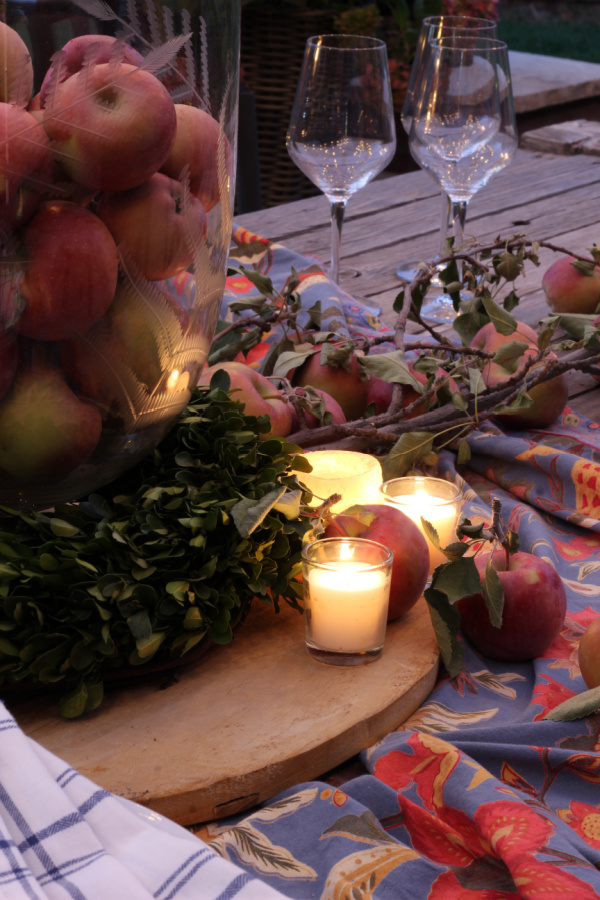 Friendsgiving Decor Ideas
Blue is my favorite color so the plaid napkins (originally from the Target dollar bins) and the blue April Cornell tablecloth were the perfect companion to the red apples and greenery of the branches.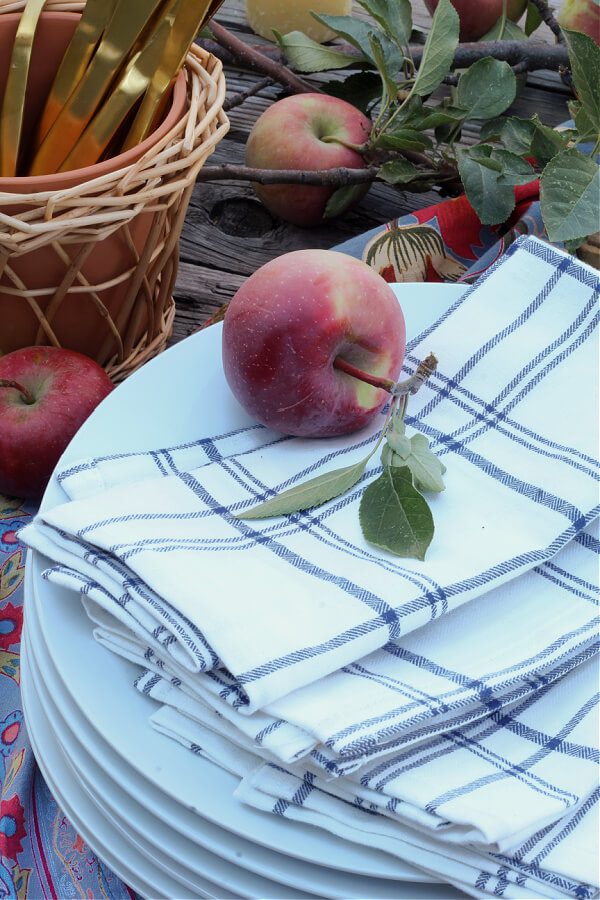 I also set the glass vase on a circular bread board and added a preserved boxwood wreath around the base for extra texture. Nothing fancy but just enough to let my friends know that this was a special table set just for them.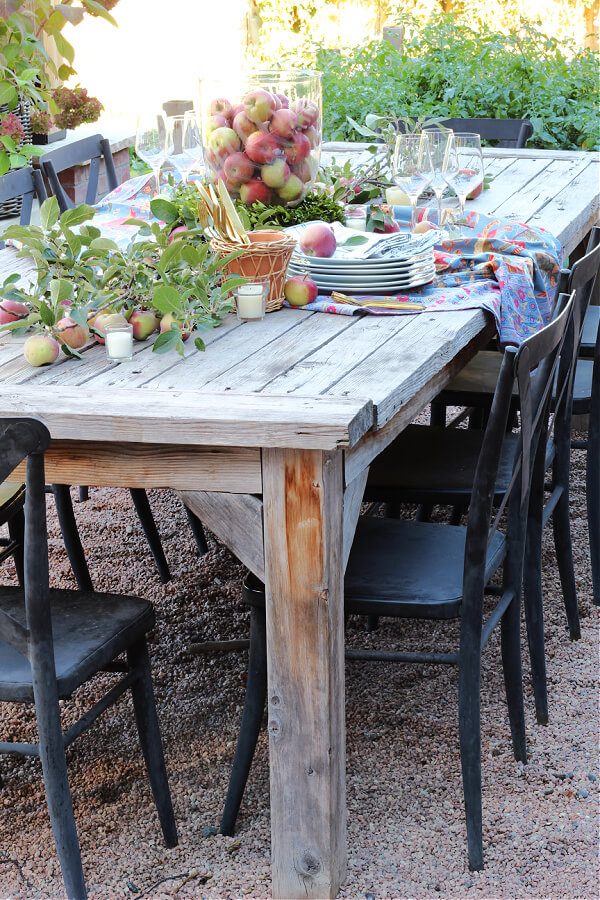 The wine glasses give a nod to elegance while also serving as a beautiful reminder that beauty can be found in the simplest of items when paired together.
When Do You Host Friendsgiving?
The questions that I have always wondered was when do you host Friendsgiving? Before or after Thanksgiving? Day time or evening? Inside or out?
And the simple answer is you host it whenever and wherever it works for you and your friends. My pictures show both day and night and obviously outside. But honestly there is no wrong or right answer.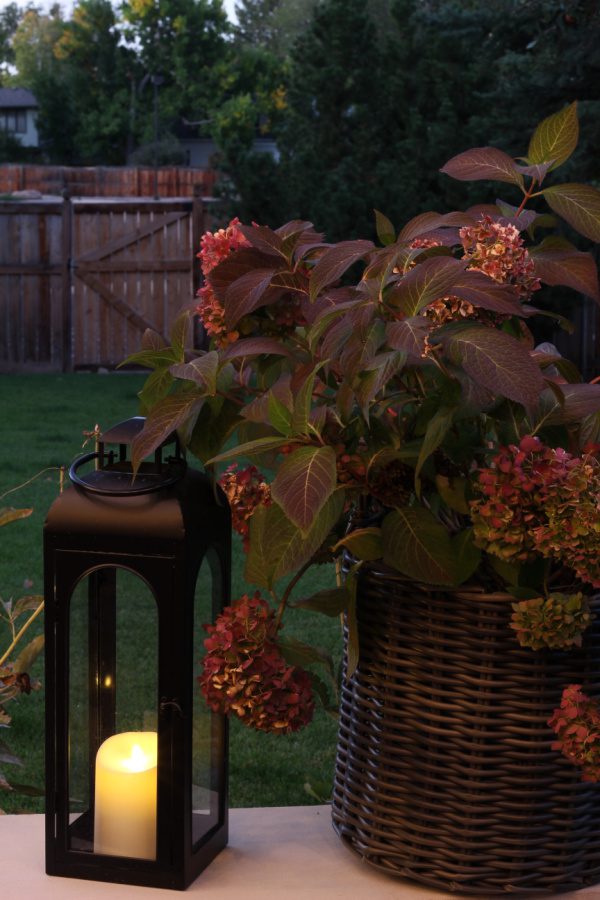 Friendsgiving is all about gathering with your friends and finding time to have a meal together while letting them know they are treasured.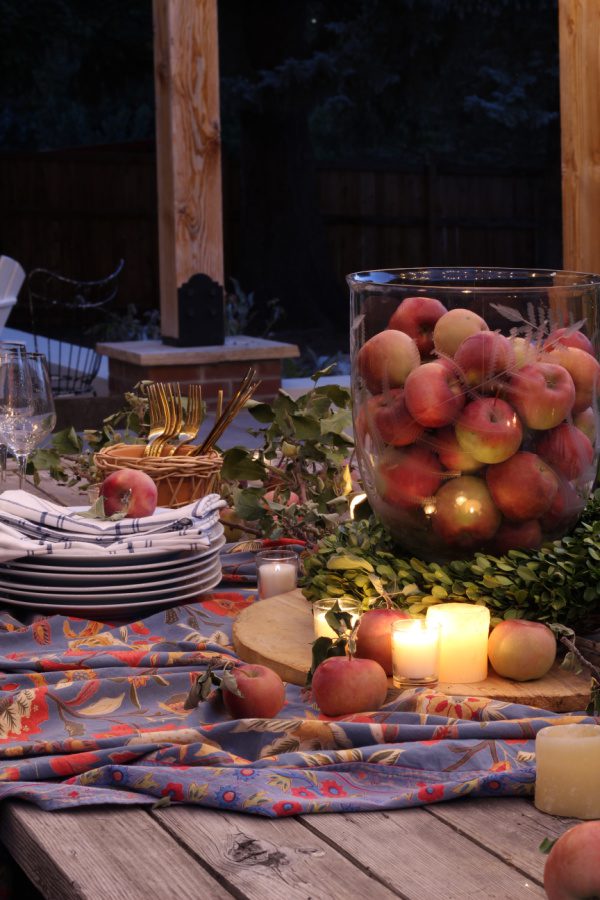 Shop This post

A Simple Outdoor Friendsgiving Tablescape
So do you plan to host Friendsgiving this year? Hopefully you found some inspiration today and maybe even felt a stirring to open your home to your friends this Fall. Now make sure to head over to my talented friend Jen from Cottage On Bunker Hill to check out her Fall Harvest Tablescape. Then scroll down to visit all of my other friends sharing their tables as well.
And if you ever find yourself in Colorado know that you always have a seat at my table!
xoxo,
Kelly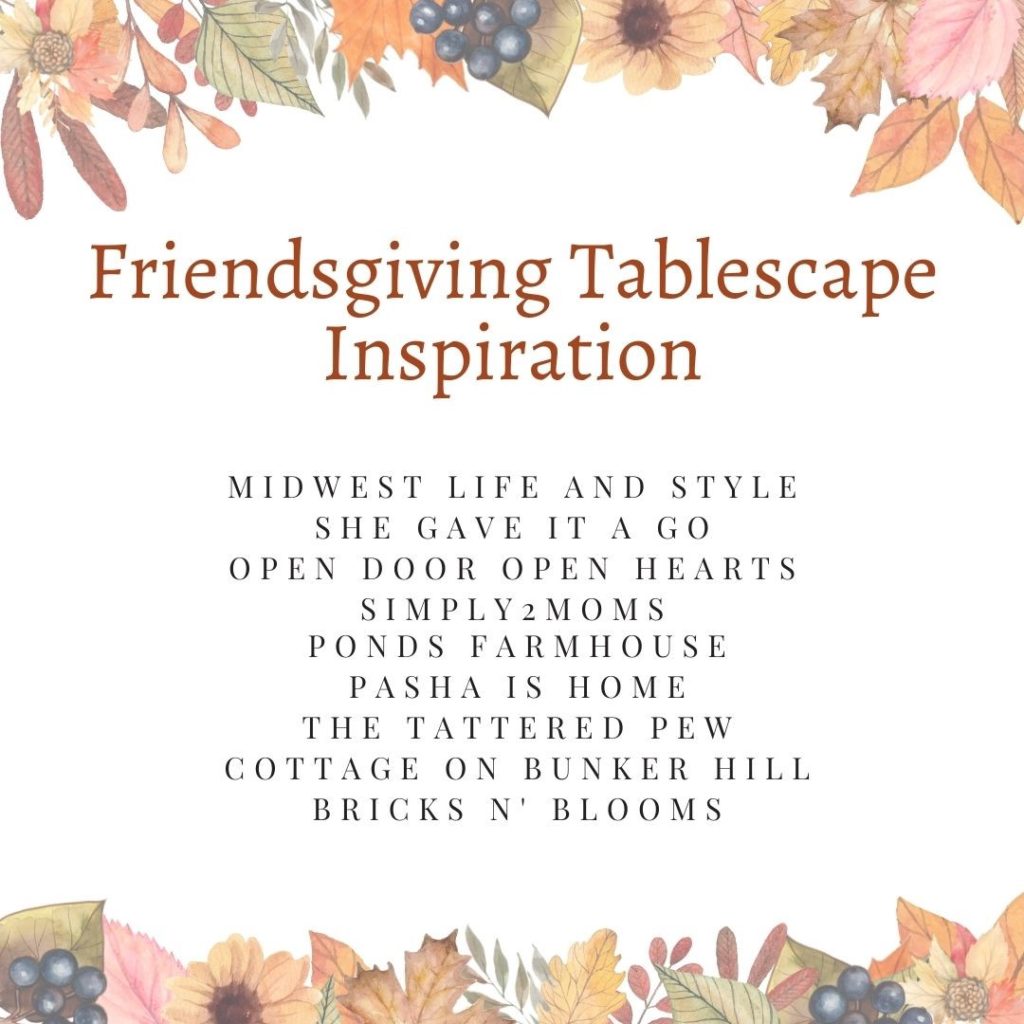 Midwest Life and Style | She Gave It A Go | Open Doors Open Hearts | Simply 2 Moms

Ponds Farmhouse | Pasha Is Home | The Tattered Pew | Cottage On Bunker Hill | Bricks n' Blooms
Did you like this post? PIN it for later!