A Colorful Christmas Playroom
I can hardly believe that Christmas is just 2 weeks away! I feel like I still have so much of my Christmas to share with you. Did you get a chance to see my Christmas Home tour last week? Today I am continuing the tour and I am so excited to show you our colorful Christmas playroom! Also, if you love touring Christmas homes today is your lucky day! I am joining some friends who are also sharing their Christmas home tours as well. You can visit them at the end of my post.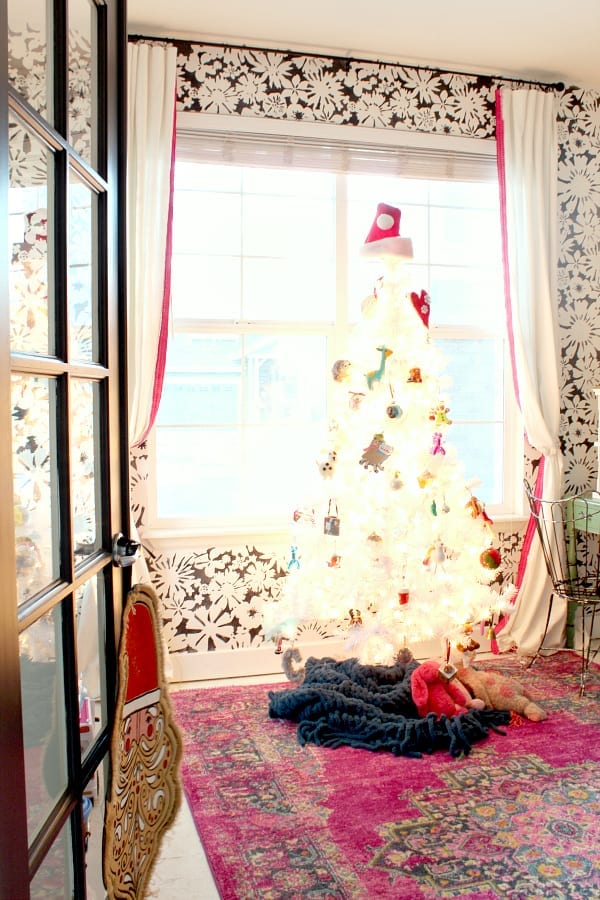 A Colorful Christmas Playroom
Christmas is my absolute favorite time of year and it brings me great joy to decorate for it. I want to pass that on to my kids so why not decorate their playroom and have them help me?!
That's just what we did.
We had a blast just giggling, decorating and sharing memories of ornaments as we placed them on the tree. Pure joy for us all!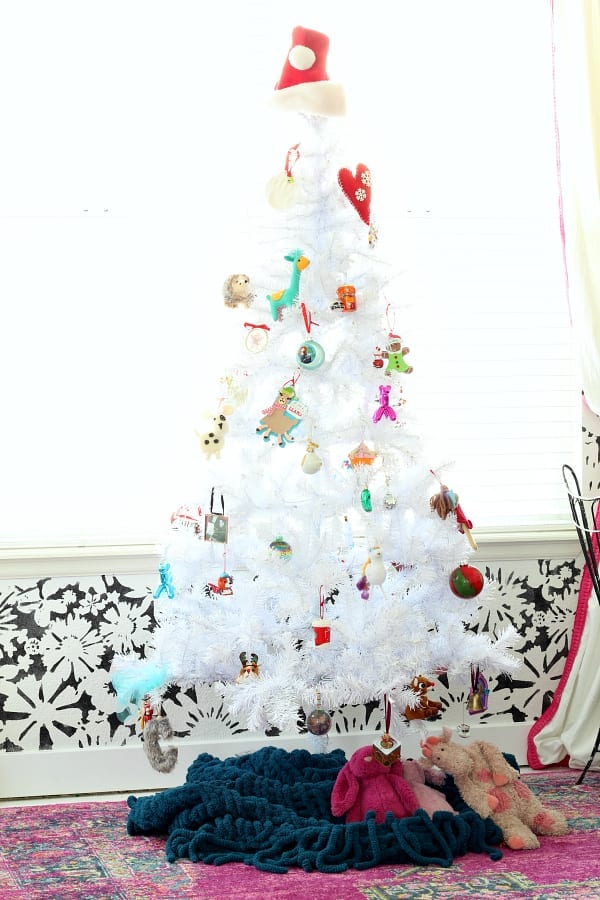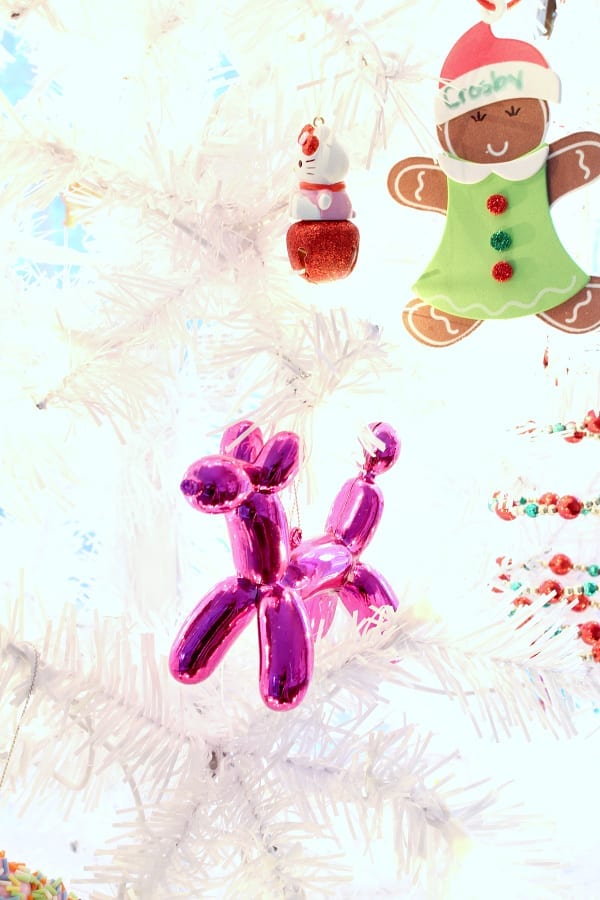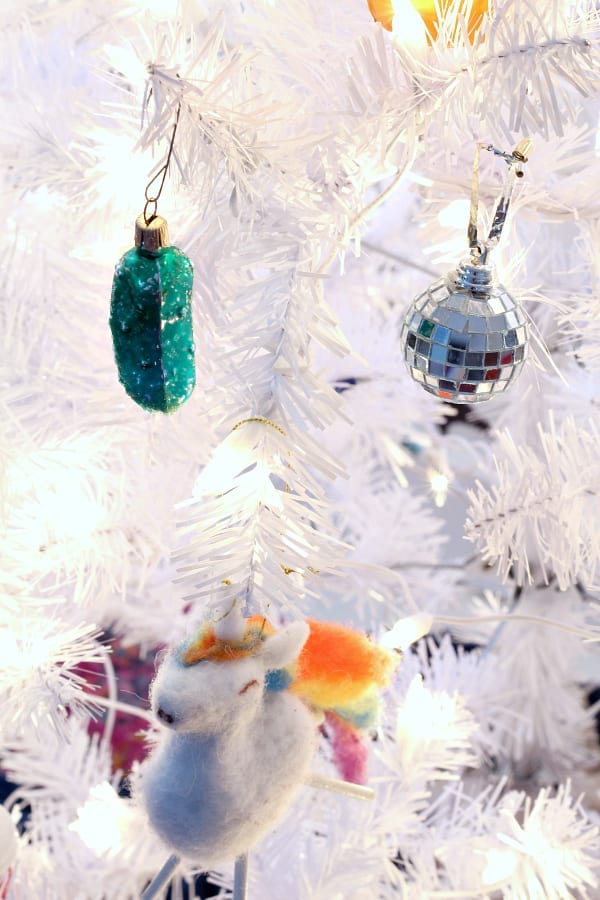 This colorful playroom has quickly become a favorite place for our girls to play (the boys have taken over the basement:) ). It's fun and bright and holds all of their toys including their very special dollhouses my mom made for them. And just so you know, for this tour I did put away a few toys, but left other things out just to keep it real!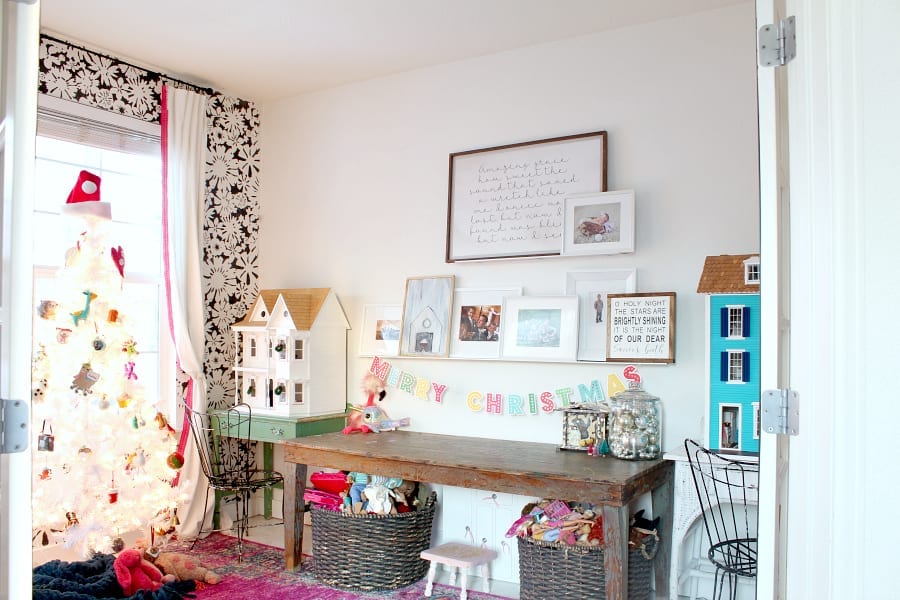 Playroom Projects
I have truly enjoyed fixing this playroom up for them! A few of those fun projects included making the colorful no-sew drop cloth curtains you see and stenciling the wall. It has taken over a year but I feel like this room has finally come together. Everything from the flea market tables that hold the dollhouses to the bright pink rug from Rugs USA. If you want to see the crazy before picture of this room click here!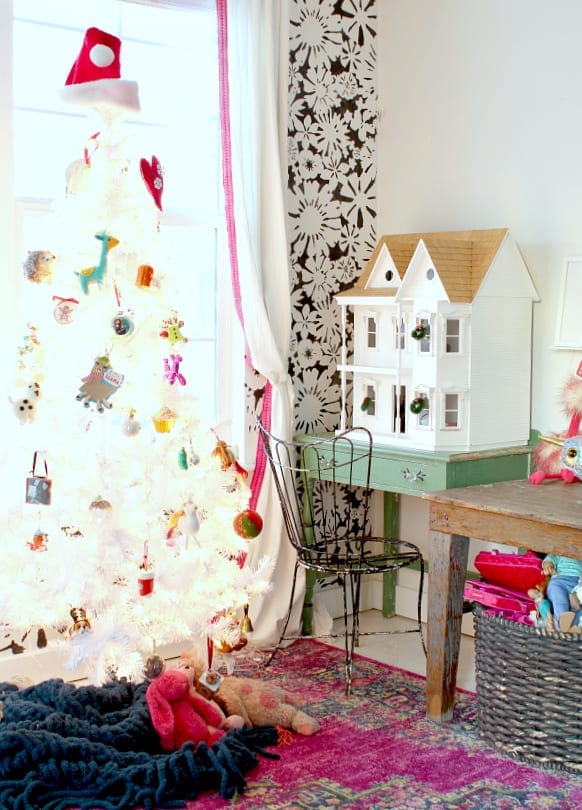 Isn't this sparkly nativity so fun next to my vintage jar full of ornaments?! And guess what…this pre-lit tree is from Walmart and is only $39! I love the all white branches.
The Colorful Dollhouses
As I mentioned earlier my mom made and decorated the dollhouses for the girls. The dollhouse tradition goes all the way back to my grandma. We had them as kids and now my mom is passing that love of all things miniature to my girls and my sister's girls as well.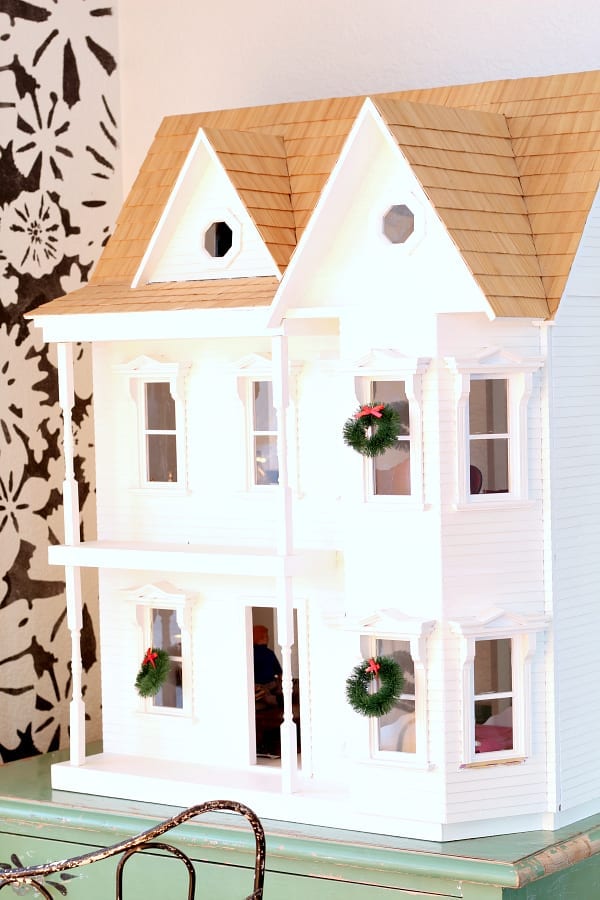 The all white house you see above belongs to my six year old. When my mom gave it to her last year she was in heaven! She had fun adding a tree, presents and other Christmas accessories to her house for it's first Christmas. The wreaths are from the Target Dollar spot!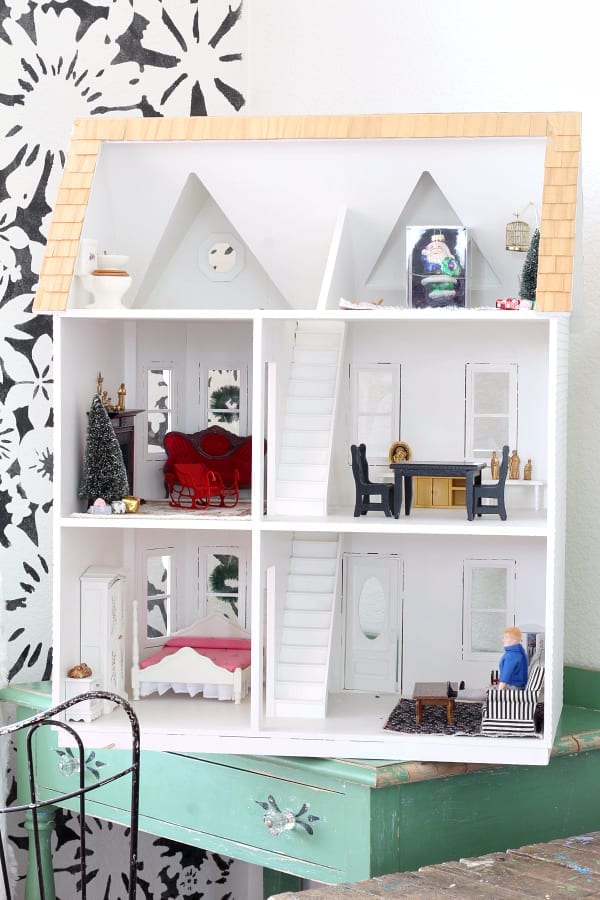 The three story turquoise dollhouse belongs to my 10 year old and was a major labor of love from my mom. She made and refurbished all of the incredible pieces inside. It has a Paris theme since my daughter and mom both share a love of Paris. Aren't the details incredible. I will do a tour of it soon and share all of the details.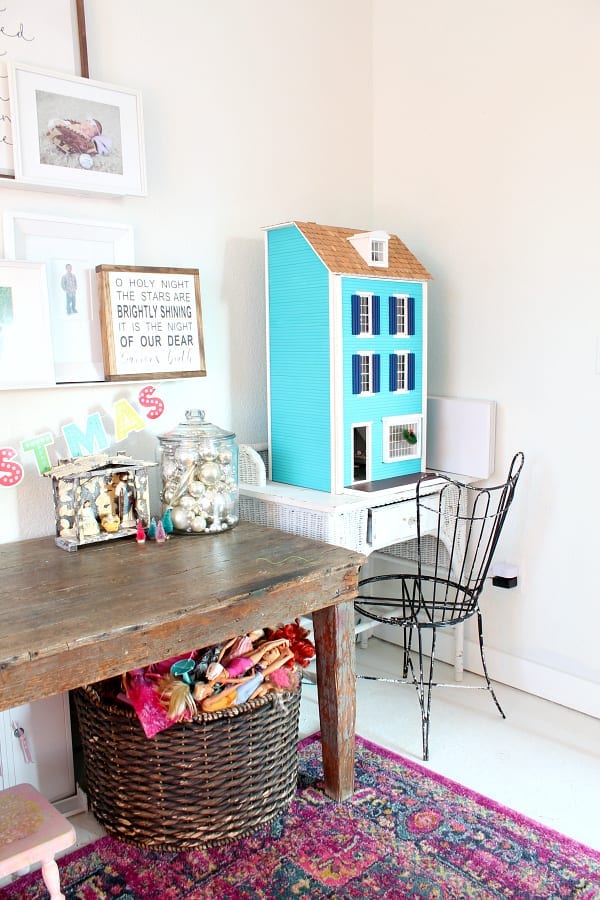 We added a Christmas tree in the bedroom because, why not?! 🙂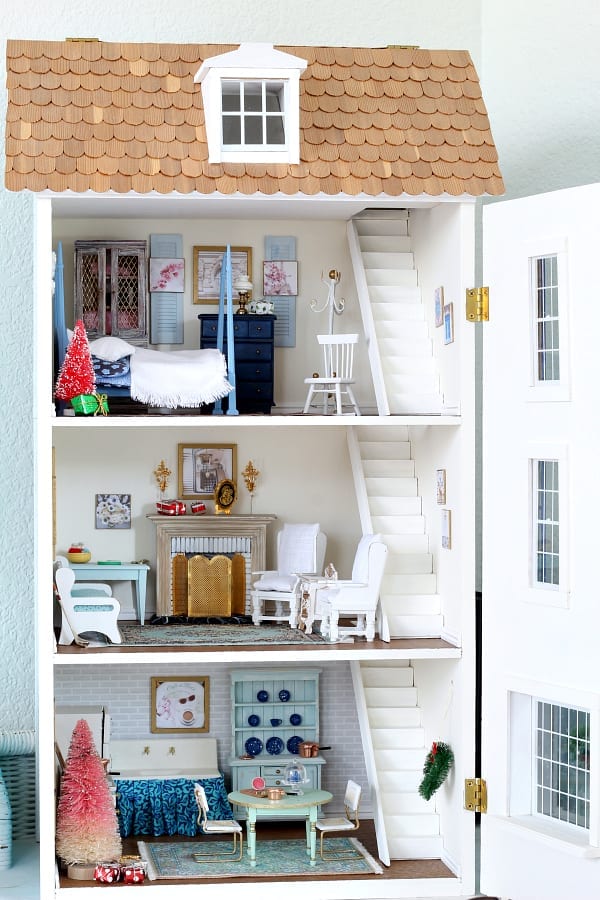 Adding More Color
Across the room is where the girls keep most of their toys. We had fun adding this gorgeous Oh Holy Night scroll from Cottonwood Shanty. The white houses and colorful pom poms are from The Target Dollar Spot too and were used in their Christmas bedroom last year.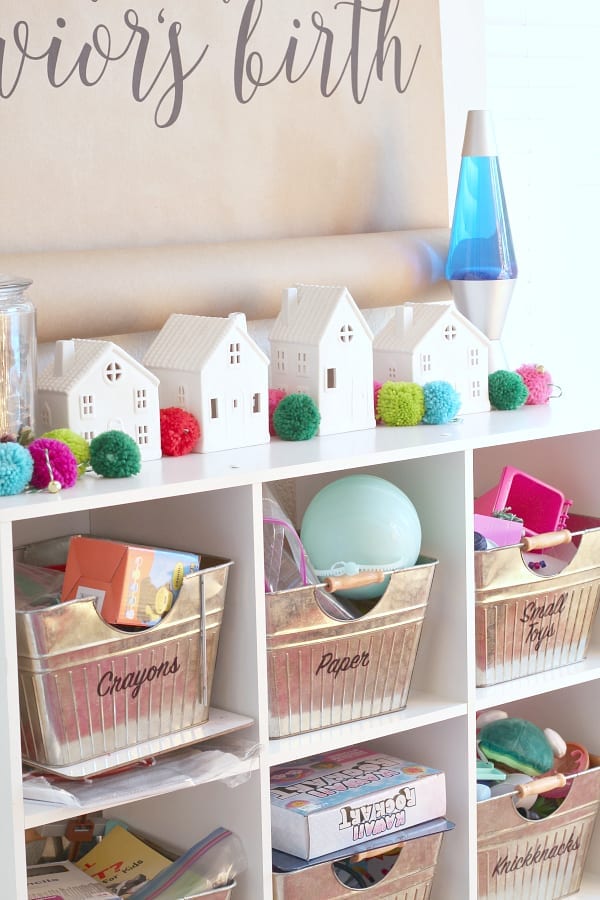 Our Colorful Christmas Playroom
That's it for the tour! Thank you for stopping by our colorful Christmas playroom today. I hope you leave inspired and full of joy! Let me know if you have any questions. Please make sure to visit the other Christmas tours listed below. Merry Christmas friends!
xoxo,
Kelly
Gracefully Home / Pine and Prospect Home / Postcards from the Ridge
The Homemaking Momma / The Tattered Pew
Did you like this post? PIN it for later!