My Summer Home Tour:Part 2
Welcome! Thank you so much for joining me on part 2 of our summer home tour. For those of you who missed part one, click here! I am so excited to show you a few more spaces in our home as well as our backyard.
These are the stairs that lead up to our bedrooms and can be found right off of our entryway. Before we head upstairs let's stop and take a peek inside these french doors.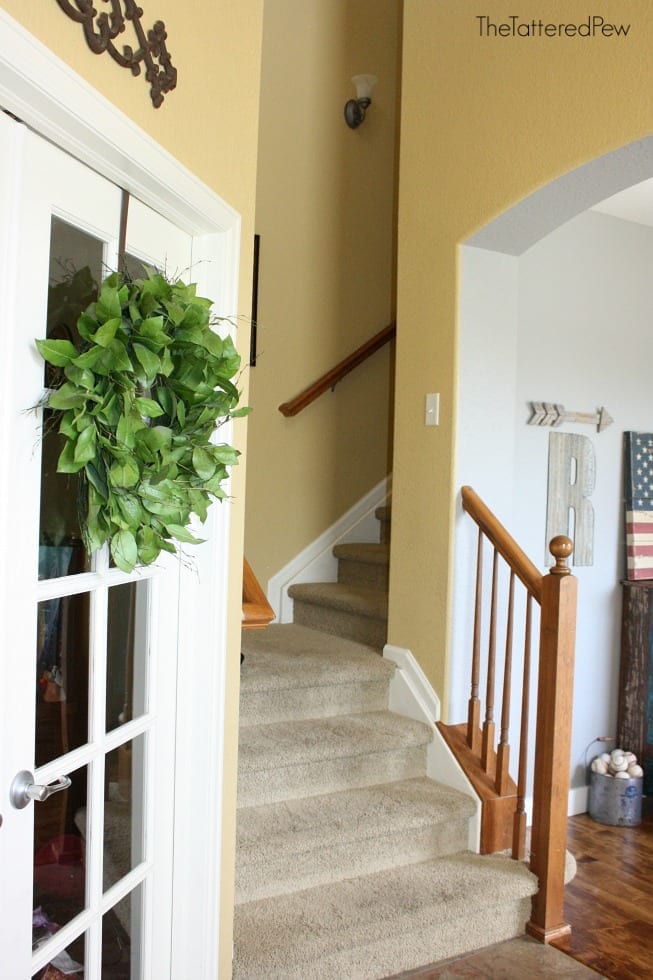 Through these doors is our new guest/sitting room.  We are still trying to decide how it will be used. Most recently our 7 year old wanted her own room so she was sleeping down here for a bit. That phase only lasted a few months and then the room turned into a mini playroom (that is code for just throw all the toys in there and shut the doors). We couldn't handle that for very long. Before that it was used as an office. Now, I just want it to be simple, fresh and welcoming especially since it is directly off of our entry.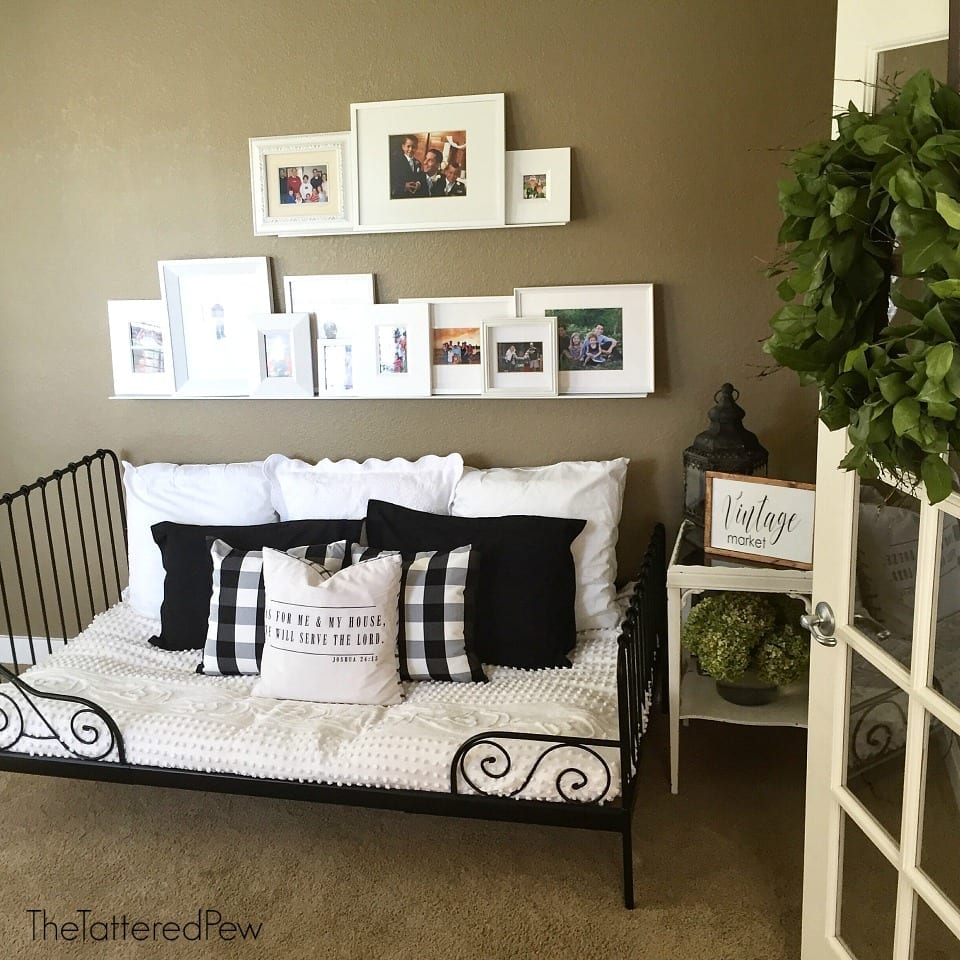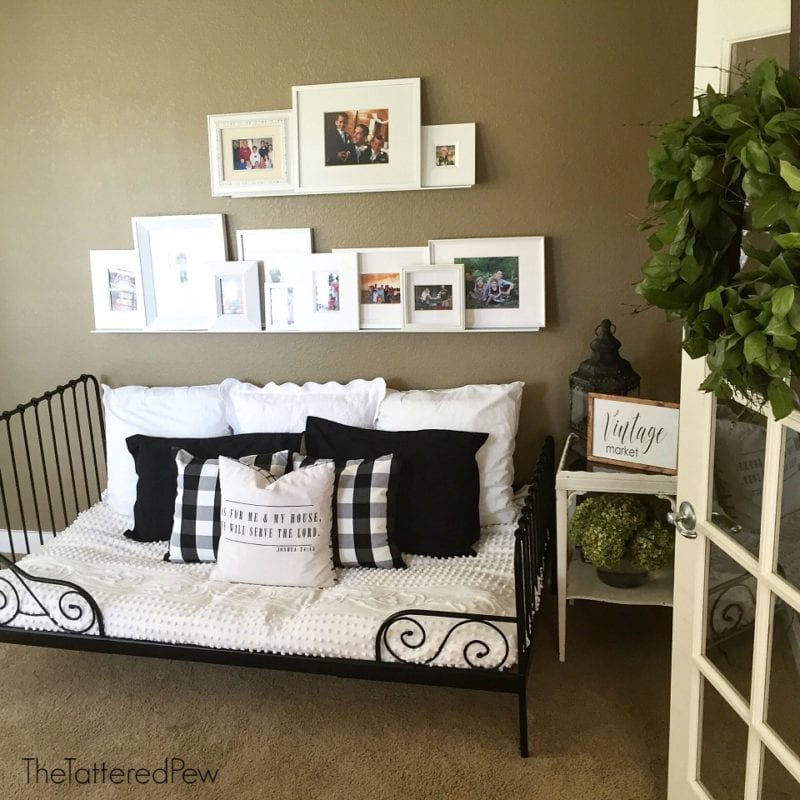 I love the look now! The bed we found at IKEA and was the perfect height for a toddler bed which was our original intention. Now we have transformed it into a daybed. The more pillows the better, right?  This might be one of my new favorite rooms in our home!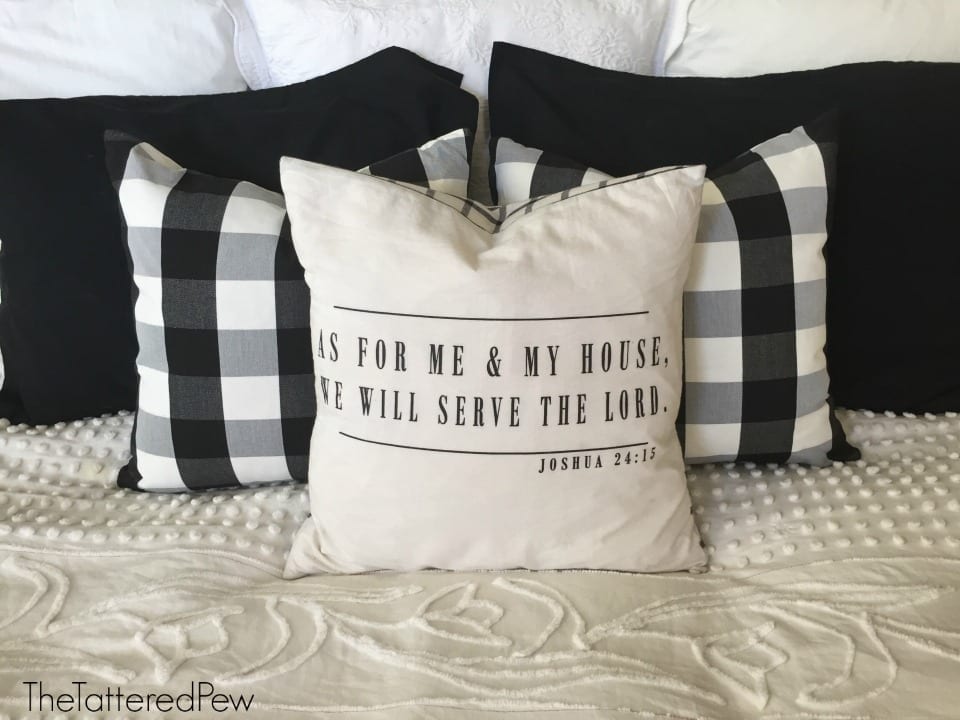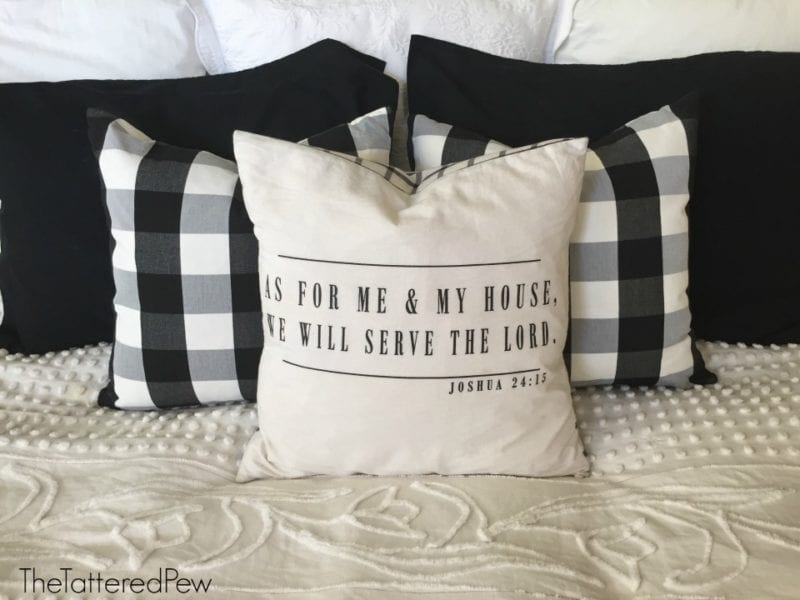 These amazing buffalo check pillows are from Hobby Lobby and I scored them while they were 50% off! The pillow in front was a gift from my husband (It is one of my favorite Bible verses). It comes from The Wood Grain Cottage who is located in Colorado too. I discovered her when I attended the Vintage Whites Market and couldn't stop talking about her booth. My clever husband found her website and ordered me this fabulous pillow! He is one smart man and I love him so! They all sit on this vintage bedspread I found at the Old Glory outdoor market in Denver several years ago.
Ok, let's head upstairs…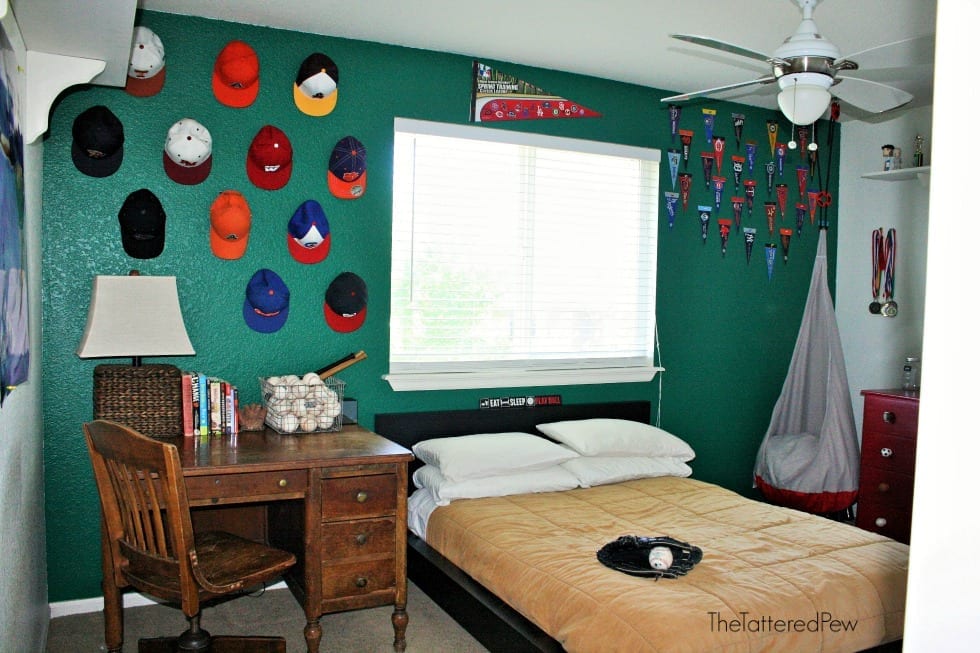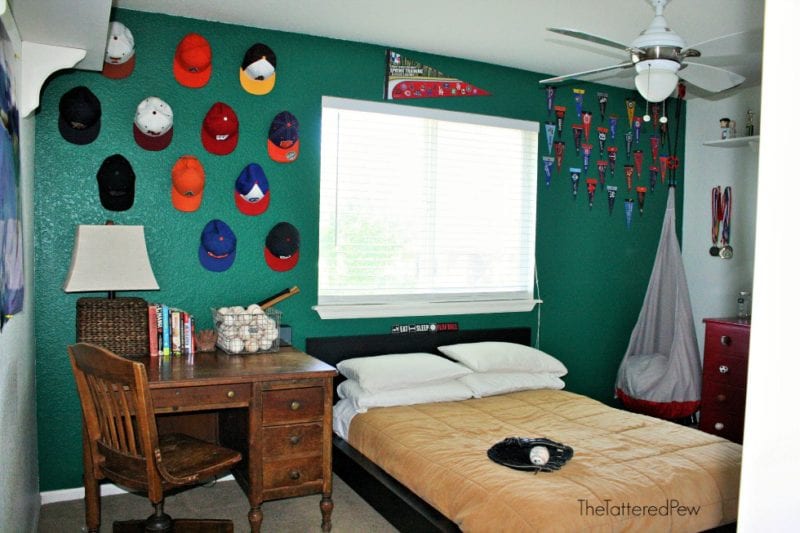 The first room directly at the top of the stairs is our younger teenage boy's room. It definitely has a sports theme going on. This room hold a very special family heirloom. The desk you see in this room was my husband's Boppa's desk that he used in medical school. He gave it to my father in-law when he went to college who then passed it down to my husband. So very thankful for the opportunity to share in those memories. I hope to refinish and stain the top sometime this year. It is a gorgeous and heavy piece of furniture that took my husband and I A LOT of time to get in this room. SO, it will be staying in here for awhile!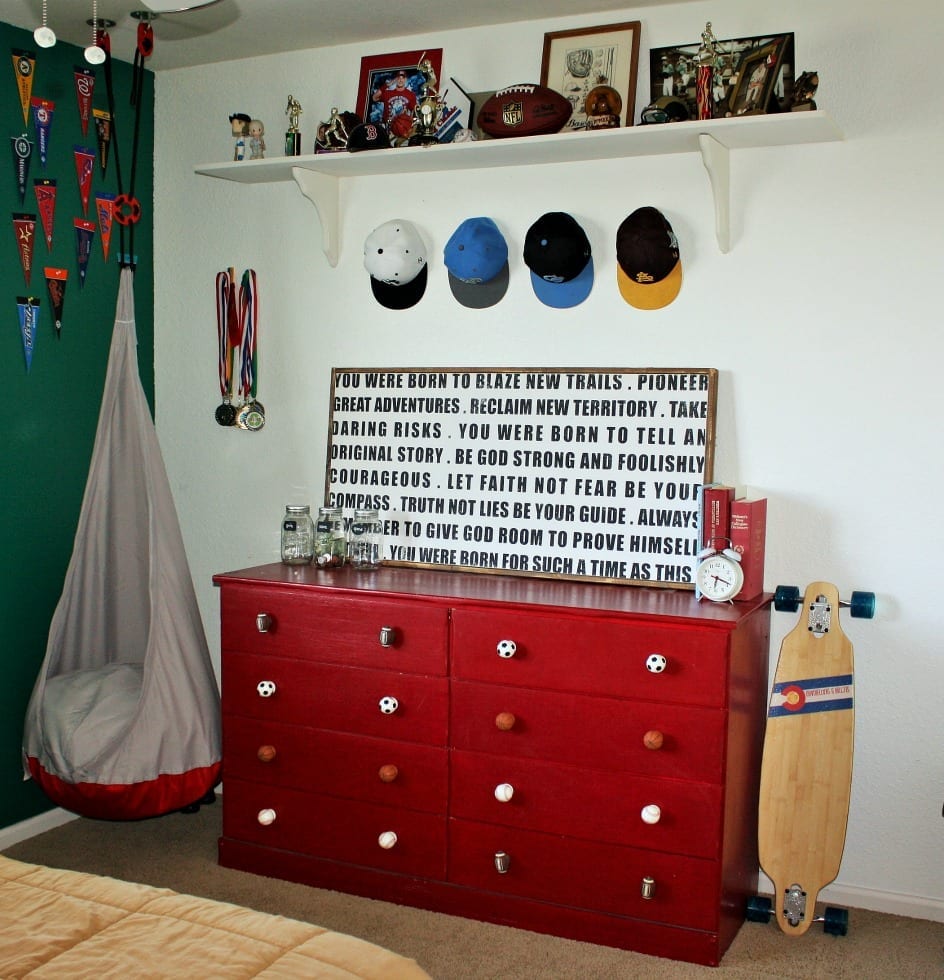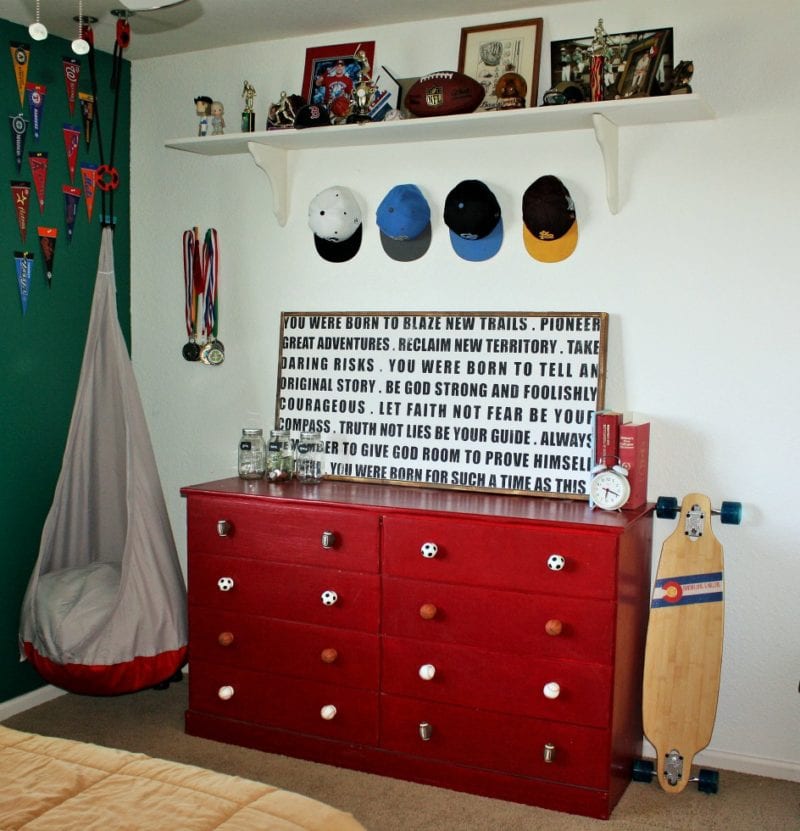 The awesome sign above his dresser is from House Of Belonging (It moves all over our house). However,  I really felt these words were perfect for our son and his room especially during his early teen years.  He loved it when he saw that I had moved it in here. That confirmed for me that it was where it was meant to be! We displayed his hat collection on the walls to add a bit of interest. The hanging swing is from IKEA and gets used by everyone in the family! Those three little Kerr jars on the left of the dresser can be found in each of our kids' rooms. They are from my parents and say: SAVE, SPEND and GIVE.  A nod to Dave Ramsey and preparing them financially for the future.

Next come on in to the room that our two girls share. They share bunk beds and both love the color pink!  I purchased this vintage dresser  when I was in college. I still love it! Notice the Kerr jars again?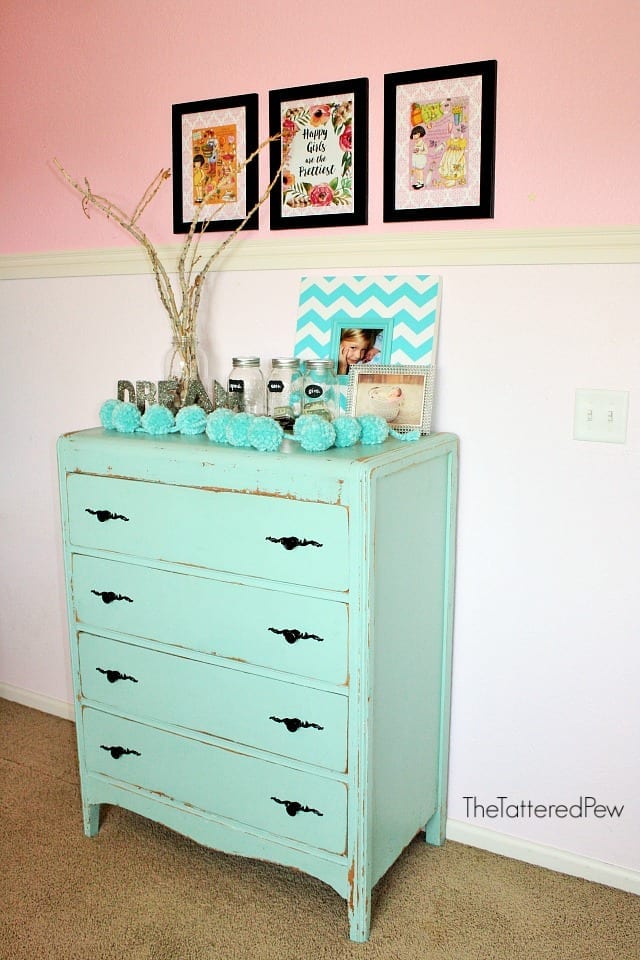 The girls enjoy sharing a room for the most part. They love fresh flowers in their rooms and lots of pillows. Just like their mama! This beautiful doll house was a gift from my mom to the girls. While growing up, I loved to play in my grandmother's doll house and even had my own. SO my mom thought it would be neat for my daughters to have one as well. It holds a lot of special memories and I hope they will carry on the tradition for their children someday.  The cute little bear pillow is from Target and the pink patterned blanket is from the UCount Campaign at our church. This incredible organization rescues and gives jobs to women in India who were enslaved into sex trafficking. UCount provides a way out and a source of income for the women.  I have several of their throws and love being able to help in this small way.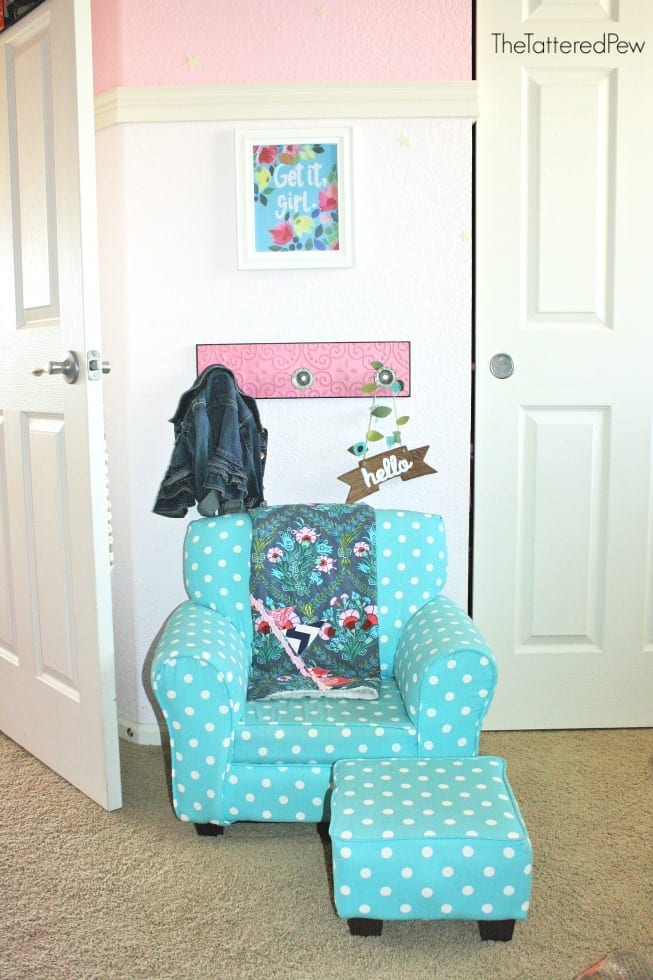 The last sweet area in their room is this little reading spot. Laying on the chair is a baby blanket that was a gift from my friend Laura who owns Pedal and Pie. She is local to Colorado and also sells the most beautiful little girls clothing! You must visit her site and I promise you will fall in love with her shop! The "Get it Girl" art print is from Hello Henney who I found through Instagram. I like to add a touch of sass to our lives and no better way than through some gorgeous art!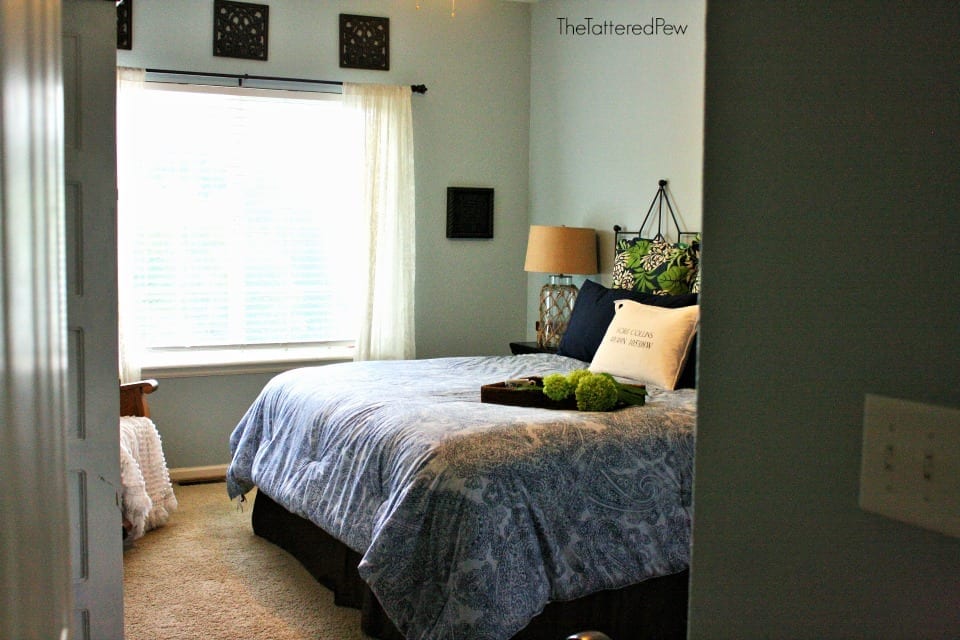 This is our master bedroom and the last room upstairs. We have a light blue color on the walls and a blue and green color combo. My goal is for it to have a coastal cottage feel. I love how bright and airy this room can get! It is definitely my calm in the storm of our constantly busy lives. I love to escape here with my husband!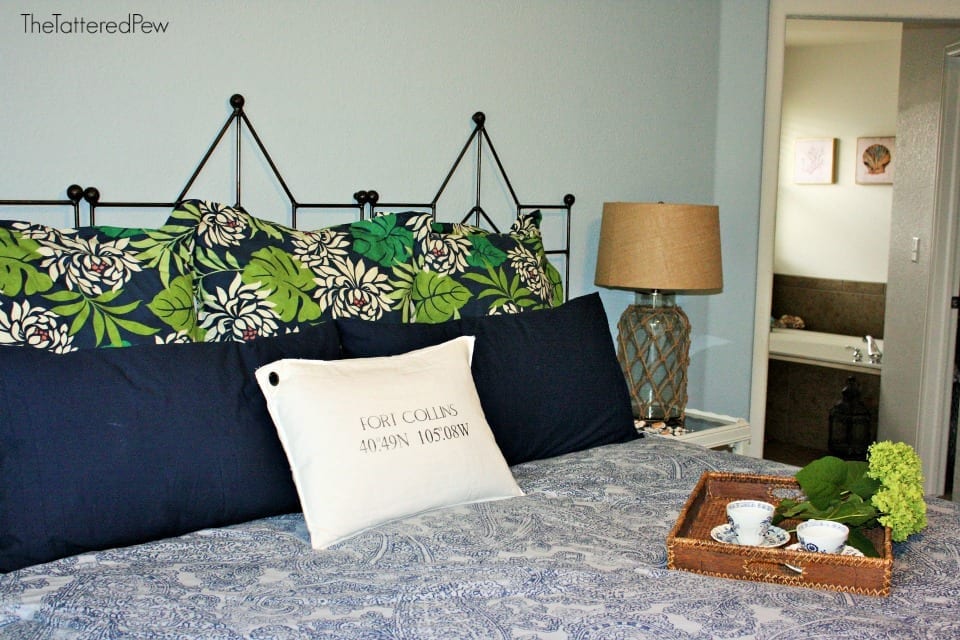 Our headboard is made of 3 metal garden trellises and our printed shams are from Pottery Barn. The bedspread is reversible and I scored it at Home Goods along with the lamps. In this picture you get a quick peek into our master bathroom.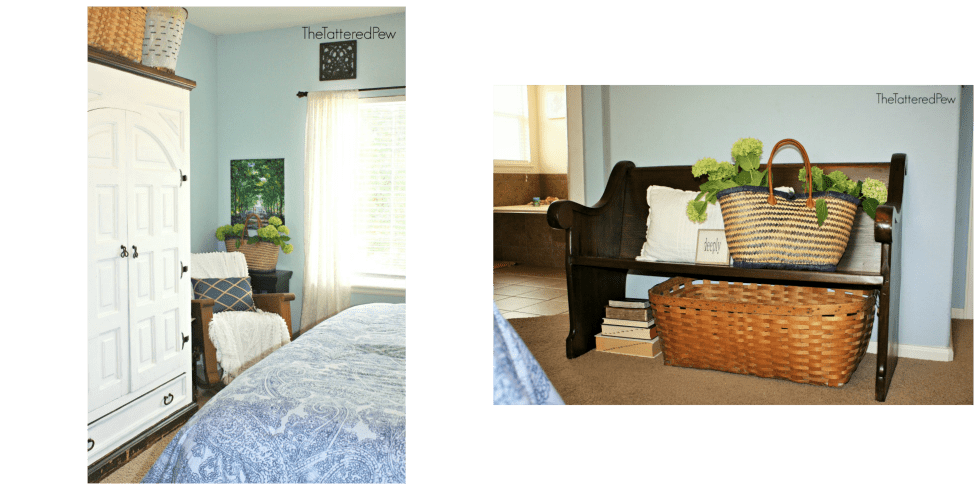 These two spots in our bedroom are quite special. The chair in the corner of our bedroom was my mother in-law's chair and she rocked her babies in it.  I love thinking about the hours she spent loving on her children. I have been blessed to do the same with my sweet babies. These sentimental pieces are what I feel truly make a house a home. The next picture shows the NEW pew I just found! I was so excited when my four year old pointed it out. The crazy thing is that I found it at the exact same flea market as my sweet little pew in our entry! Too funny! I originally wanted it to go on our porch. However, when we placed it out there the scale just didn't work. SO up to our room it came! I love it. Now I need to keep hunting for one for our porch. Can you ever have too many pews? I think not!
Now on to the basement…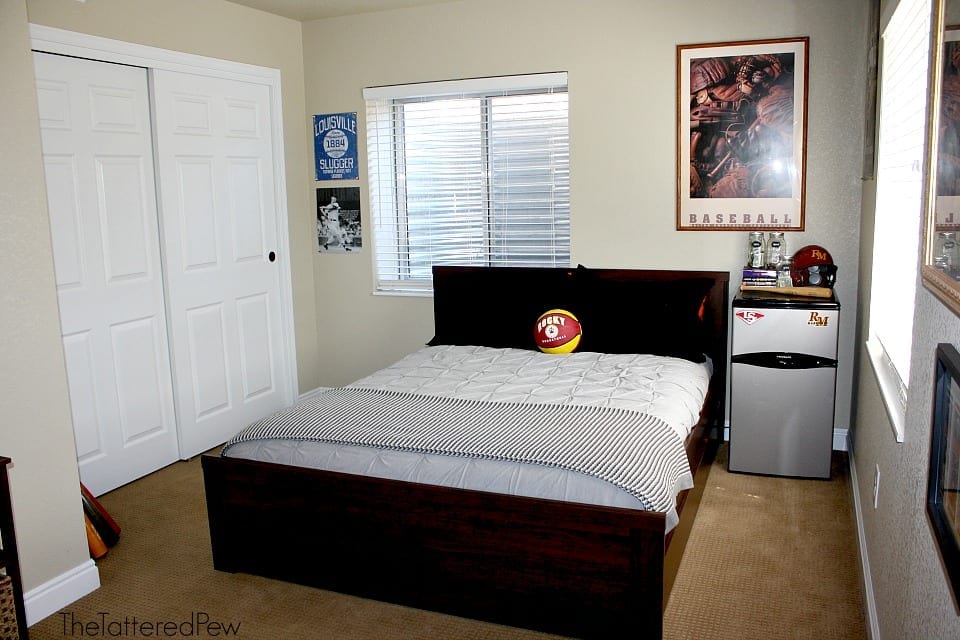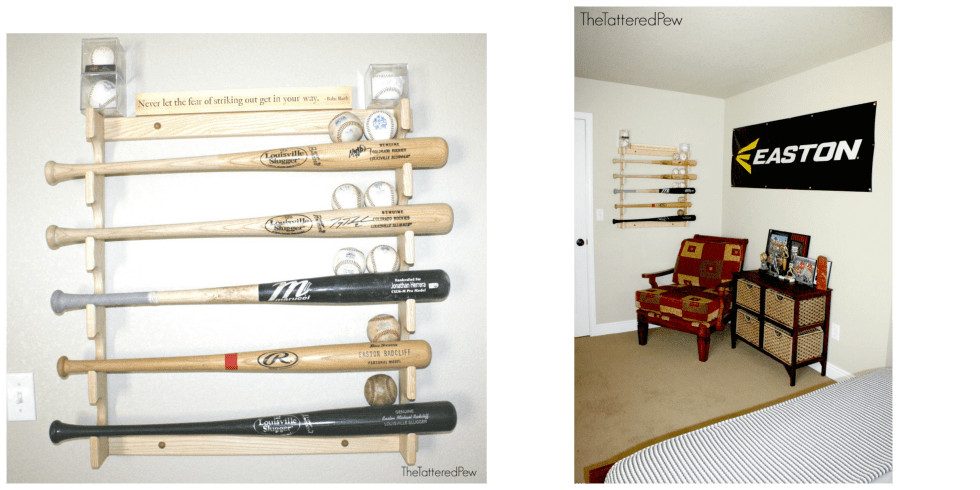 This is our oldest son's room. He is the lucky one who gets to be in the nice cool basement. He loves having his privacy and his own spot to hang. His bed is also from IKEA. The mini fridge is his favorite part along with the bat rack full of special bats and balls from the years. Both were birthday and Christmas gifts.  I don't think his room has been this clean for awhile though! Ha!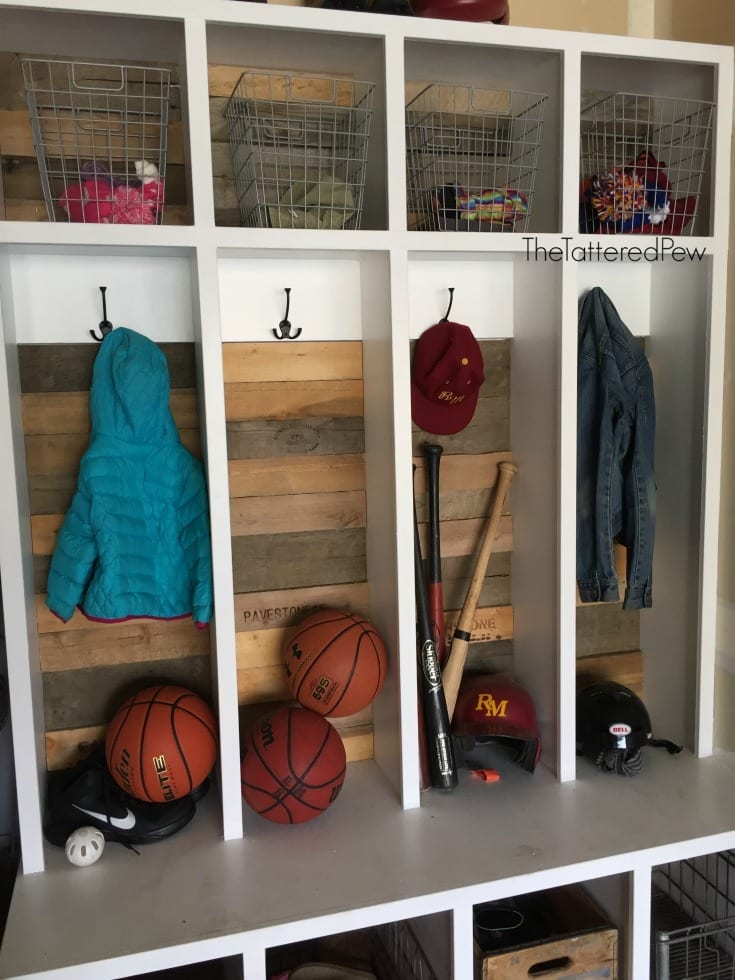 This is our mudroom which is located out in our garage. I wanted one for the longest time but we just didn't have space in the house. So the garage was the next best spot. I found and hauled home pallet wood for the back of the lockers and love the contrast with the white paint. I drew up the plans and look myself but hired someone to execute my vision.  Each of our kids has their own space with storage above and below their "locker". I found old milk crates at the flea markets for underneath and most of the time these hold shoes. I love that these crates can take a beating and still look good! The lockers add a fun touch to our otherwise boring garage.

Finally, our backyard and garden could have a tour of its own. So instead I made a collage of some of my favorite areas. My husband takes such good care of the yard and does an amazing job of making it our own little oasis. I of course couldn't leave out my darling adirondack chairs that are my current obsession (second to pews of course!). Some other highlights are my old wheel barrow that is filled with flowers, the Knockout roses, peonies and our patio.  Pretty soon I envision that old wheelbarrow holding some pumpkins in the Fall.
I want to thank you for stopping by our home tour. We have put a lot of heart, soul and time into this place we call home and I know we will continue to do so for many years to come. I just love sharing it with you all. Please let me know if you have any questions. See you soon!
Kelly