Big Girl Room Design Plans
It's time for a bit of a change in our youngest daughter's room! These big girl room design plans are fun, colorful and perfect for her as she transitions into a larger bed and her own space.
Big Girl Room Design Plans
Well, the time has come for some big girl room design plans! Our youngest, Crosby, has been asking for her own space ever since her big sister moved out and into her own room last year. It's been a bit of a rough transition for her and the hardest part has been learning to sleep in the room on her own. But she has done it!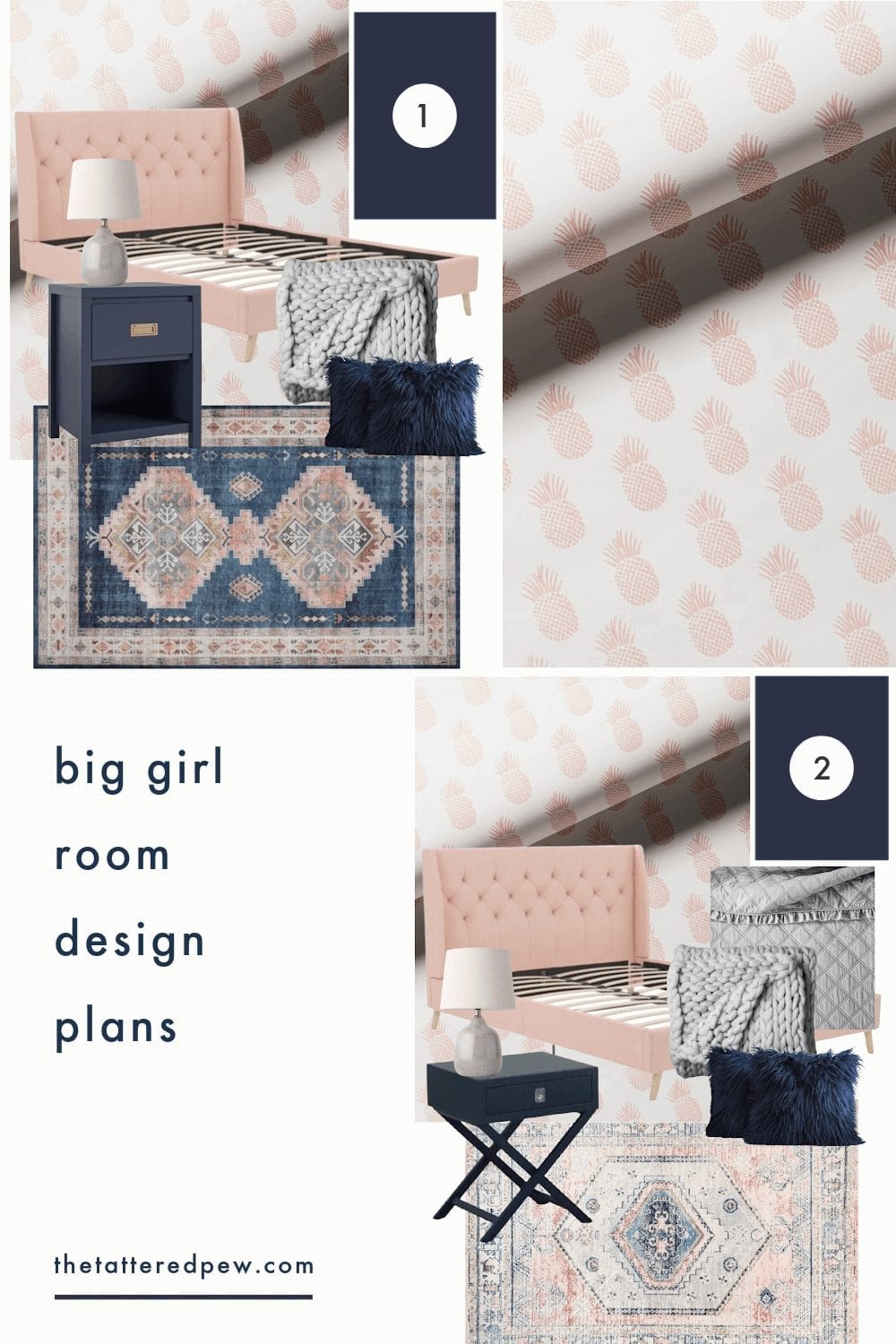 This post contains some affiliate links for your convenience. Click here to read my full disclosure policy.
I can totally relate because I always loved sleeping with my sister and missed her when she didn't sleep with me. Our two girls still occasionally sleep together and it always melts my mama heart and has me reminiscing about my own fond memories of having a sister.
The Current Room Situation
I'm not going to lie, thinking about making over and changing her current room has me a bit sad. Her room now was one of the very first rooms I ever made over and shared here on the blog. You can see more of the shared girls bedroom here.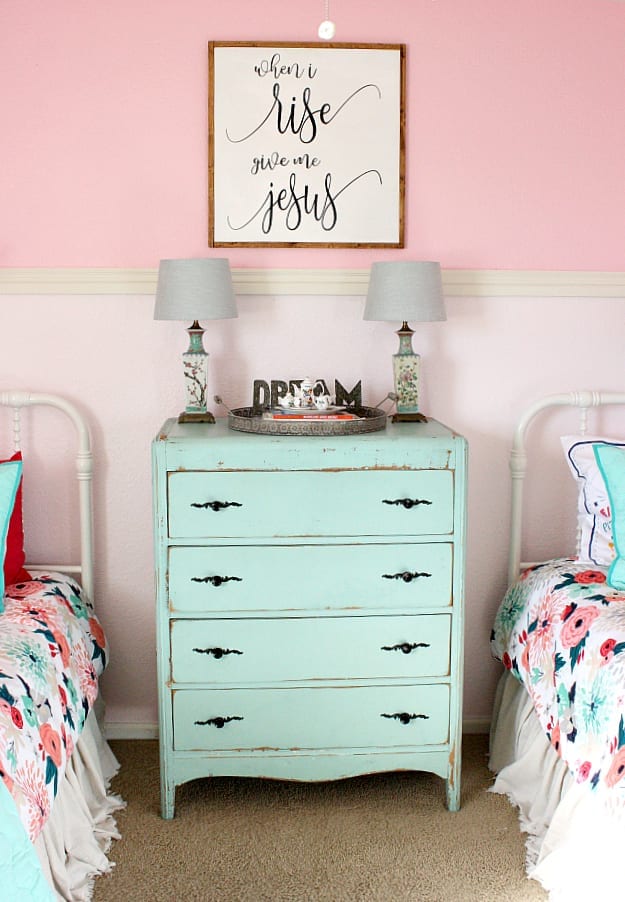 The darling mint green dresser is one I found at a flea market when I was in college. I wish I knew what color it was because I get asked all the time! We will be selling it this summer…if you are local let me know if you are interested. I also plan to sell the two metal Jenny Lind style beds currently in the room because we are upgrading her to a queen sized bed!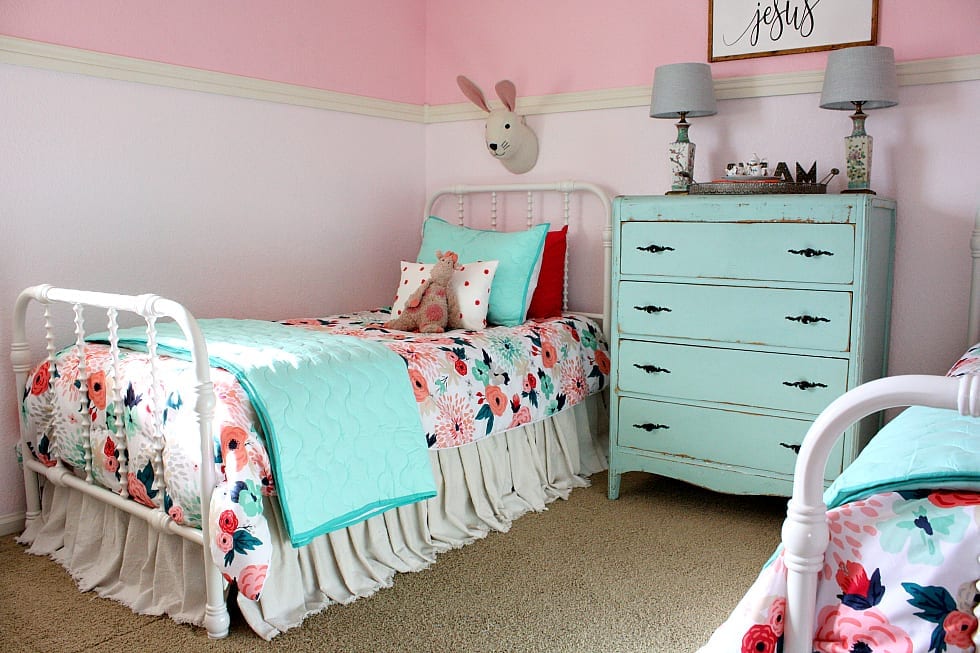 The pretty bedspreads, originally from Target, went to my sister and I know I will really miss the DIY no sew bed skirts I made from drop cloths. Basically the plan is to start from scratch!
Our Plans
Like I mentioned above we plan to completely remove everything from the room and start from scratch. My daughter and I sat down and chatted about what she was looking for in her new room. These were her wishes:
navy blue
light pink
gray
tropical touches
fun pillows
All of these sounded reasonable and things I could work with! I absolutely love her color choices. We started by searching on Pinterest and then moving to catalogs and finally scrolling through websites. When we looked at websites like Wayfair, Target or Walmart, we searched specific things like "pink bed" and "pink tropical wallpaper". This helped us narrow down the items she liked. It was a lot of fun and I love that she has a say in her room and the choices. I really feel like having ownership of her room will help her love it and hopefully encourage her to keep it cleaner. Ha! Yeah right!
Design Plan #1
Here is the first design board we came up with. I create all of my design boards in Pic Monkey or Canva. They are so fun and pretty easy to make! I'll do a blog post on how to make design boards soon.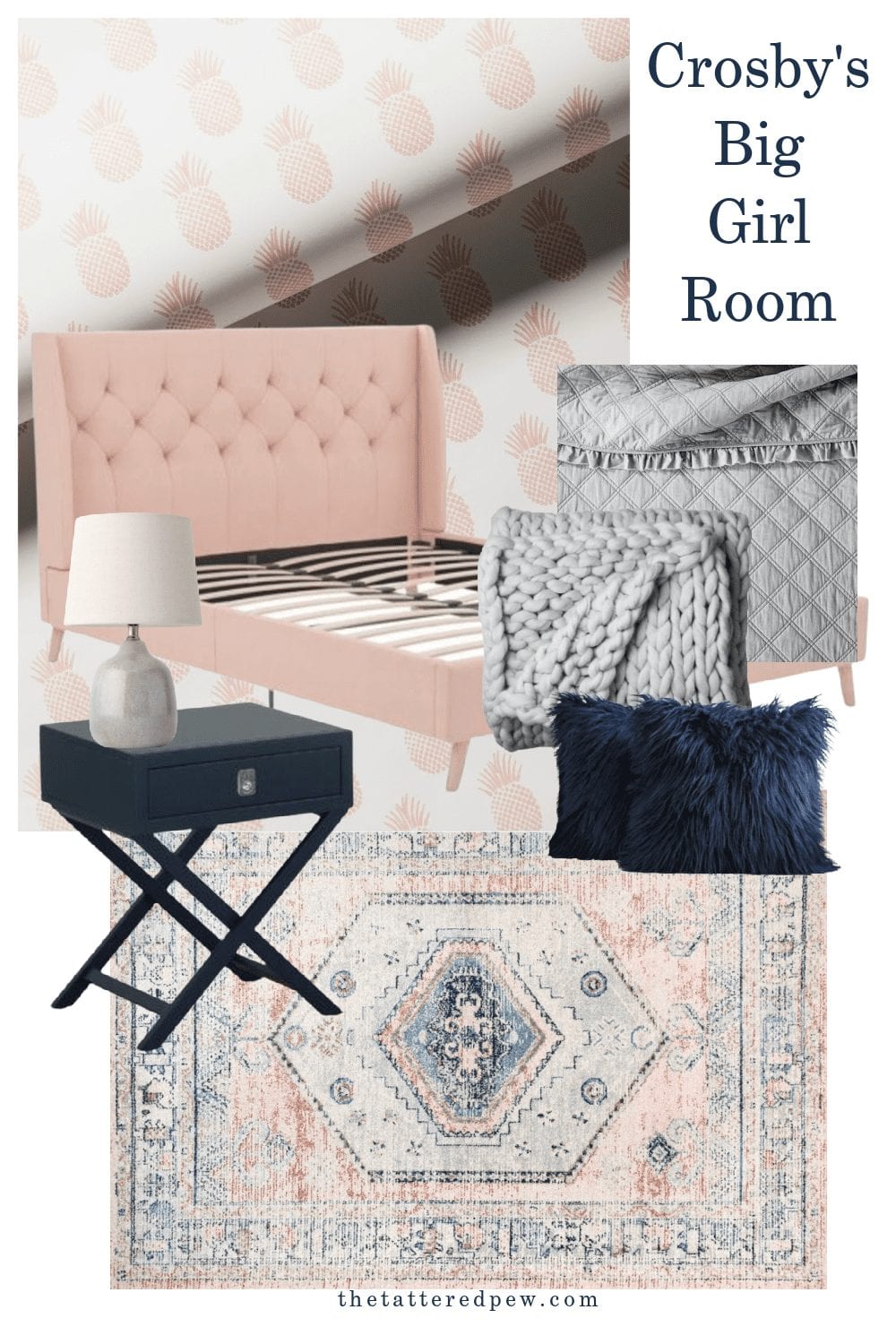 Crosby fell in love with this beautiful pink linen bed from the Novogratz collection and we found in at both Walmart and Wayfair. She also immediately picked out this Serena and Lily wallpaper with precious soft pink pineapples. I like to think she has good taste like her mama. You will notice that both of these are in both of the design plans.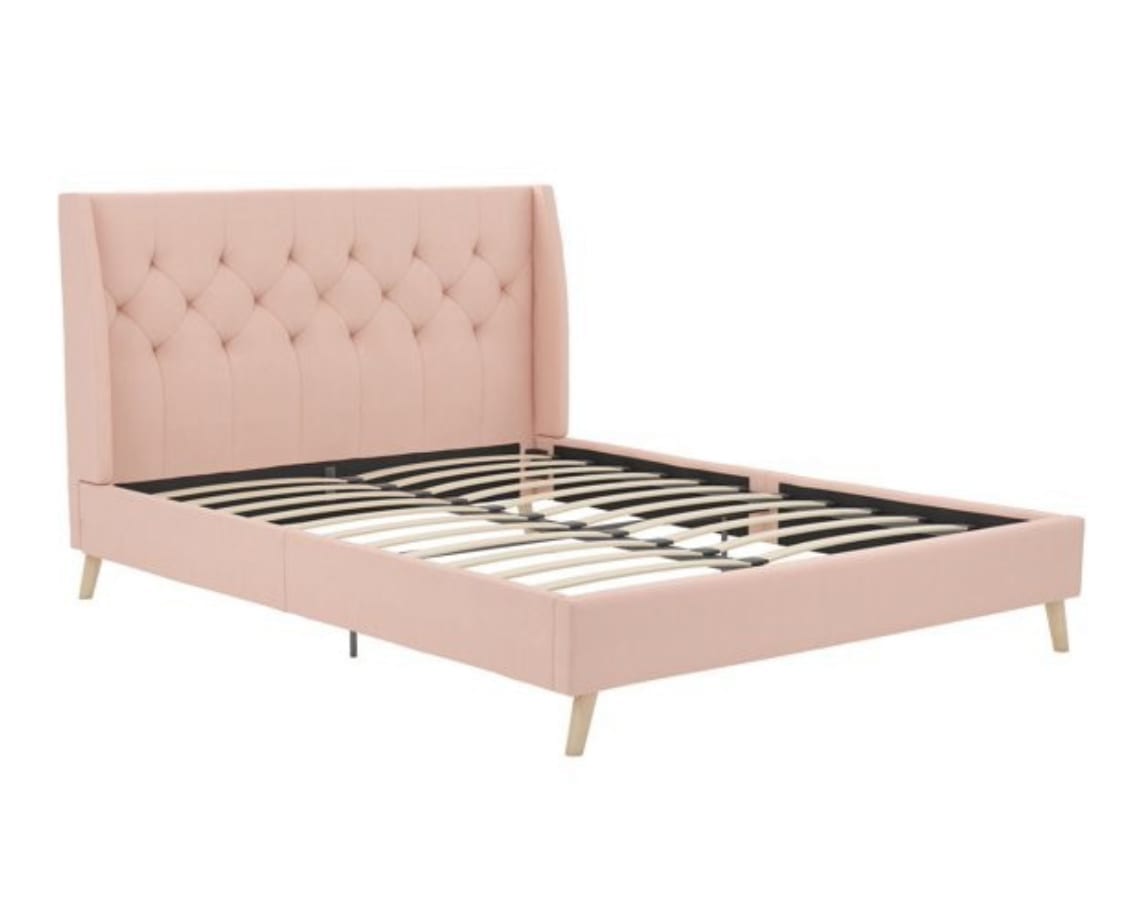 The gray she loves will be in her bedding with this comforter and this soft chunky knit throw. The lamps are still up in the air. We might look around for some fun thrift store lamps to upcycle but we aren't sure now. The navy blue will be added in the nightstands and the pillows and a teeny bit in this rug.
Shop This Design Plan

Design Plan #2
This next plan is similar but we switched out the rug for this lovely navy and blush Loloi Rug which features navy more profoundly. She also loved the look of these nightstands because she said they would hold more for her.
This made me giggle and then cringe thinking of all her junk she would shove in them.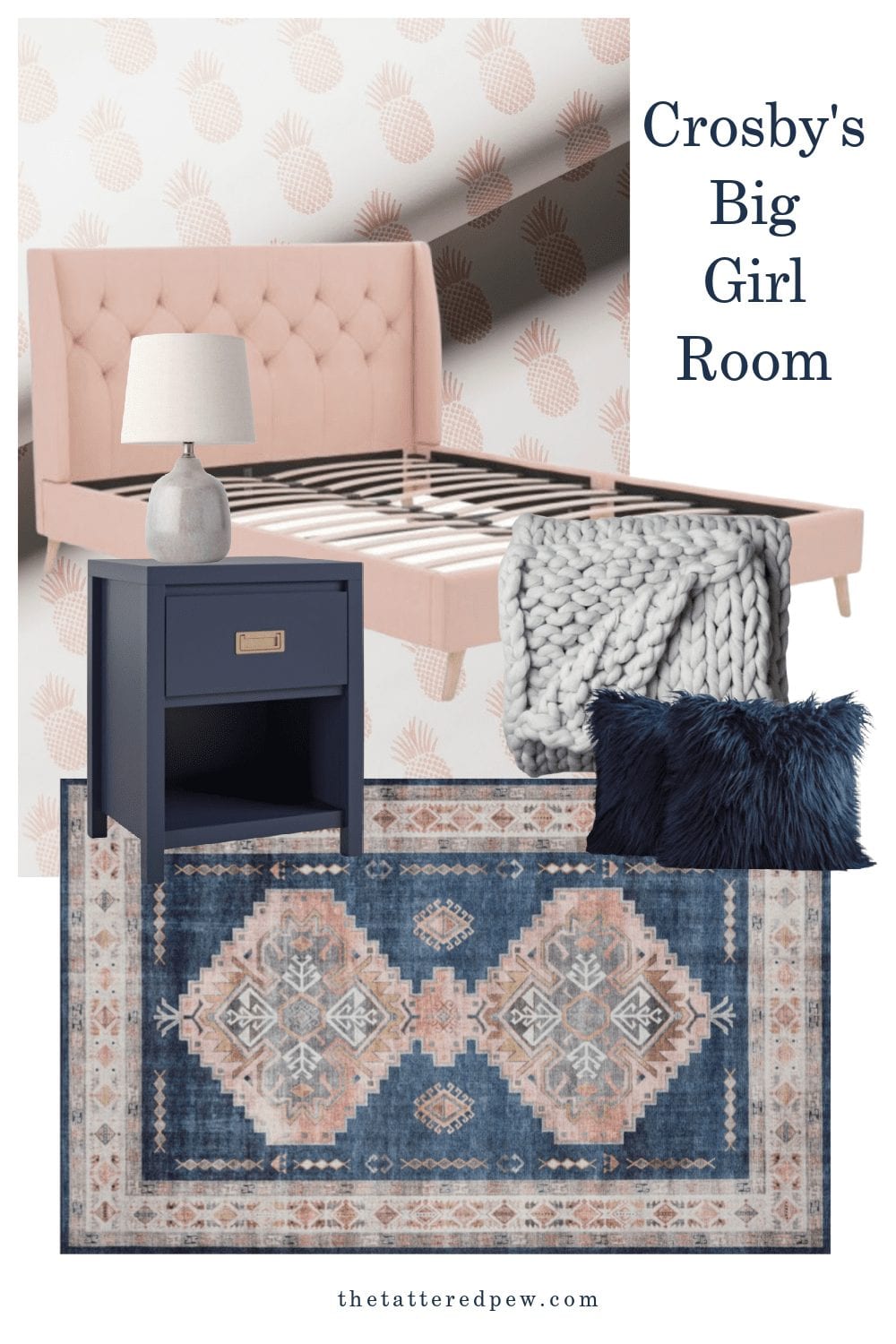 I'm thinking they may not be in the budget. That means I might be hunting for some nightstands to paint and you know I love a good furniture painting project! We also discussed possibly adding some paneling to her wall under the chair rail. We haven't decided on that part yet or the paint color. Sometimes I need to see it all in the room first!
Shop This Design Plan

Big Girl Room Design Plans
So there you have it, our big girl room design plans for Crosby. We still have a few choices to make and our plans are to get started once summer break rolls around in a few weeks when we all have more time.
So, I'm curious…what design plan do you like best , #1 or #2? Or are there pieces from each that you like? I'd love to hear and I can't wait to show you how it turns out. You can follow along with the entire process over on Instagram once we wrap up school and of course here on the blog as well.
XOXO,
Kelly