DIY Patriotic Door Basket
Are you team wreath or team door basket? I have slowly converted to door baskets and can't wait to show you why! If you are like me you love simple yet beautiful ways to add patriotic decor to your home during the summer months. Nothing too overstated yet still impactful. Well today I am so excited to share my DIY patriotic door basket I created for those lovely summer months and patriotic holidays!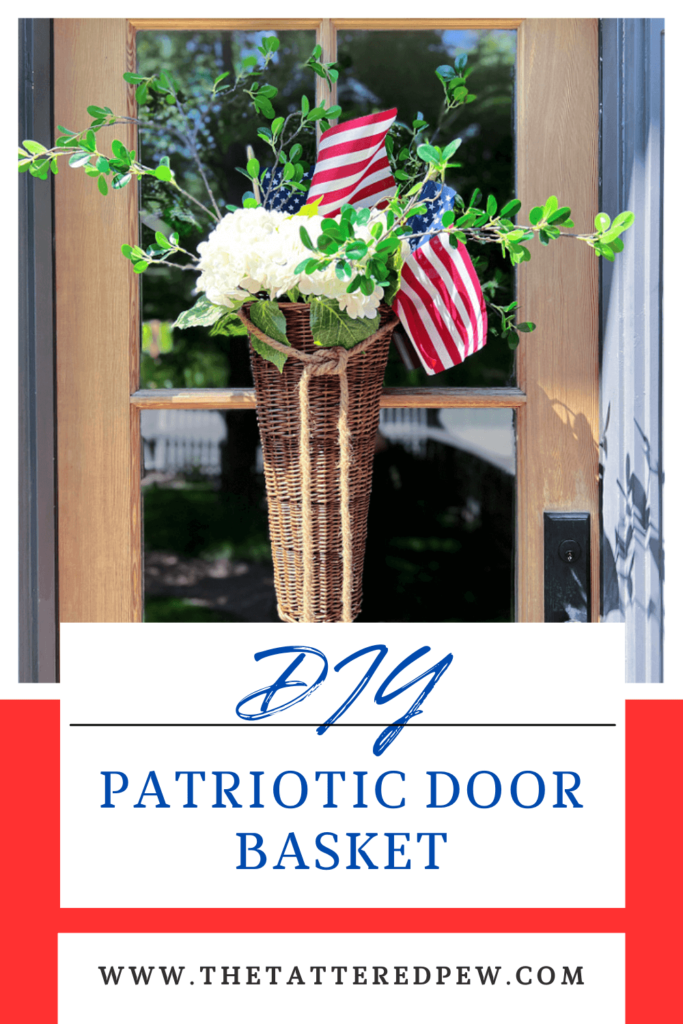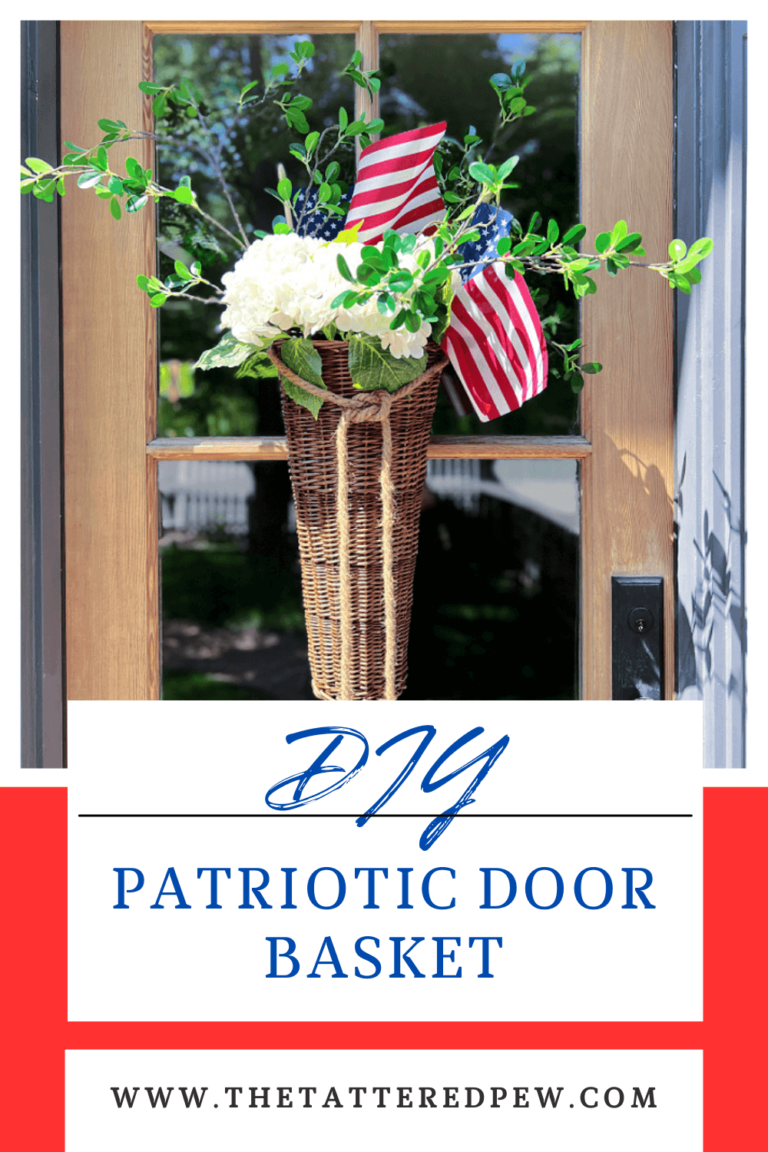 *As an Amazon Associate, I earn from qualifying purchases. This post contains other affiliate links too for your convenience. Click here to read my full disclosure policy.
Patriotic Inspiration Blog Hop
Happy June first! To usher in these lovely summer months you are in for a treat today, a Patriotic Inspiration Blog Hop!
This lovely blog hop is hosted by my dear friend Pasha of Pasha is Home. We have so much red, white and blue decorating ideas that I know you will leave excited to try some of them for yourself. You can find all of the post linked at the end of mine.
If you are hopping over from Marty's blog A Stroll Thru Life and her Patriotic Pool Party ideas , welcome. Wasn't her post so fun? Now I want a pool!
Why a Door Basket and Not a Wreath?
Don't get me wrong, I love a pretty wreath but I was ready to mix things up a bit! Enter my new found love of door baskets!
Door baskets offer endless possibilities when it comes to design. While wreaths are often limited to circular shapes, door baskets come in various shapes and sizes. They can be oval, rectangular, or even asymmetrical, allowing for more creative expression and customization. This versatility enables homeowners to find a door basket that perfectly complements their unique style and the architectural features of their home.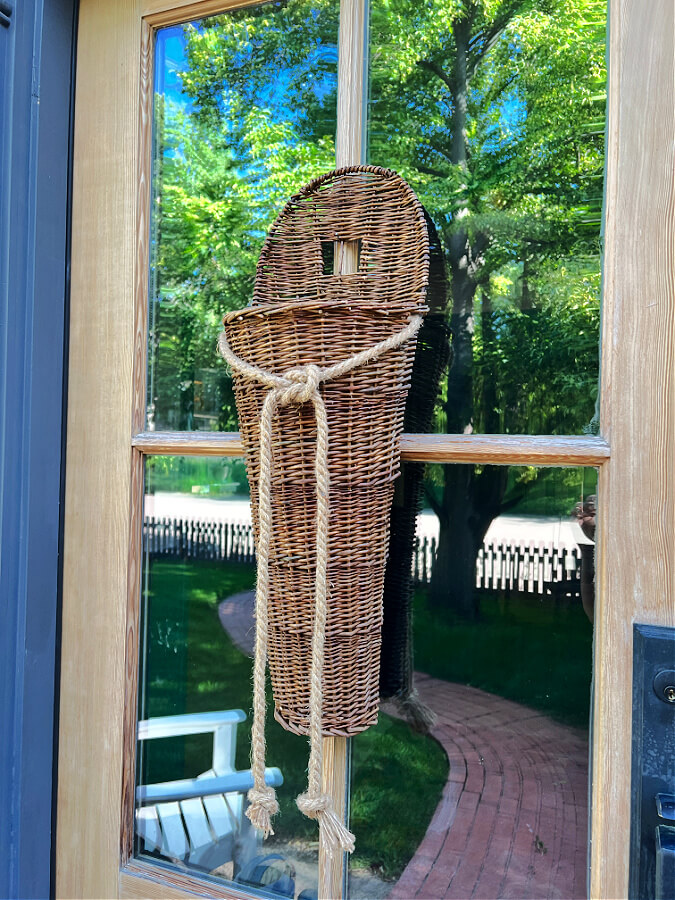 Another key advantage of door baskets is their practicality and functionality. Unlike wreaths, which are typically hung by a single hook or nail, door baskets often feature sturdy handles or hooks that make it easier to hang them securely on the door. Additionally, the spacious design of door baskets allows for more room to incorporate elements such as potted plants, flowers, or seasonal decorations. This flexibility enables homeowners to switch out the contents of the basket and create a personalized display for different occasions or seasons.
DIY Patriotic Door Basket
Ok, let's take a peek now at how I was able to put together this darling patriotic door basket in seriously 5 minutes! And lets see if I can convince you that door baskets are just as good as wreaths!
For those of you who are new to my blog you will quickly come to see that I am all about simple little projects that anyone can do. So if that's your jam too, and you love home decor, gardening and a hot mess mama who love Jesus, coffee and a good gin and tonic (that's me, Kelly!) then subscribe here and I will hook you up with all the fun insider ideas I share here on the blog.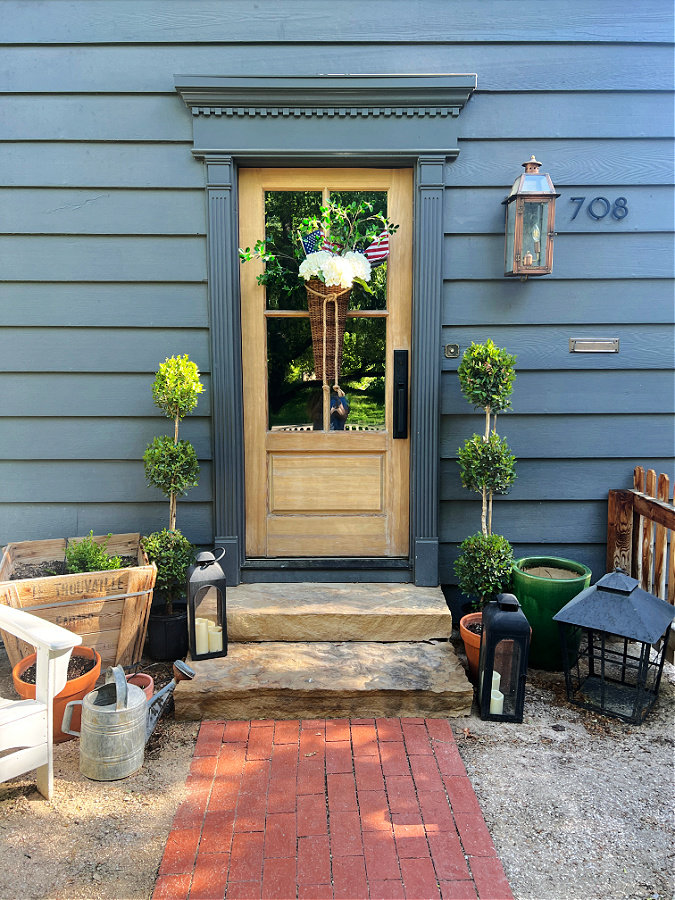 Supplies Needed for Door Basket
You need just 4 items to make this DIY patriotic door basket.
The Simple Steps for Putting This Door Basket Together
Step One: The Basket
You will need a basket that is large and long and able to hang on your door. Some of these might be referred to as wall baskets, door baskets or hanging baskets. They have flat backs so they lay nicely on your door or wall.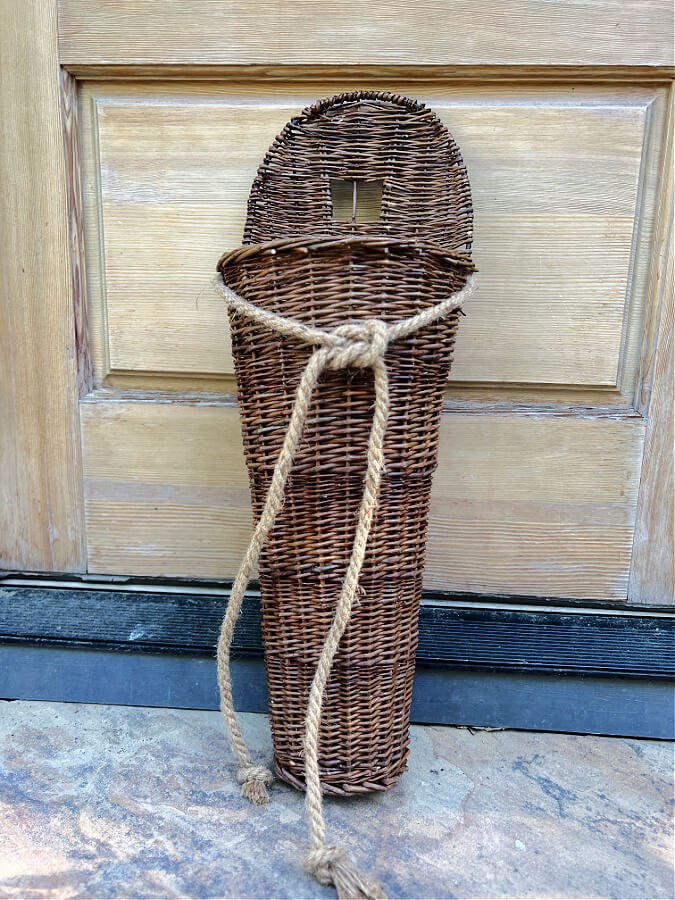 There are so many awesome basket options. I found mine at a local shop called The Pineapple Market here in Northern Colorado.
Here are a few others I have found if you are in the market for one yourself!
Step Two: The Greenery
Ok so after the basket you will grab some greenery to add to your basket . I found this three pack of the most realistic greenery this past spring and it has been put to good use all around my house. I love it because it is long and bendable and affordable.
I simply bent two of the greenery stems to make them fit better in the basket and kept one long. I love the wispy look it adds since it is a bit longer. Their dimension adds the perfect amount of depth.
Honestly, if I had one more set of these stems for this basket it would be gorgeous with just the greenery alone!
Step Three: The Flowers
Next, you simply add some large white flowers! Make sure the stems are large enough so they prop themselves up in the baskets. I picked large hydrangeas so they filled the basket more and were easily seen.
My flower of choice, like I mentioned above, are these stunning faux hydrangeas. Friends, they do not get any better than these. The petals on these are real touch latex feeling and not silk. The stems are long and thick and they come in a set of 3. There are multiple colored ones but I can only vouch for the white ones. I will most likely be buying more because they are so realistic looking.
Step Four: The Flags
Finally, for that fun patriotic summer touch, slip in a few little flags on wooden dowels. I found mine at the Dollar Store a few years back but you can find them on Amazon or Walmart or even your local grocery store.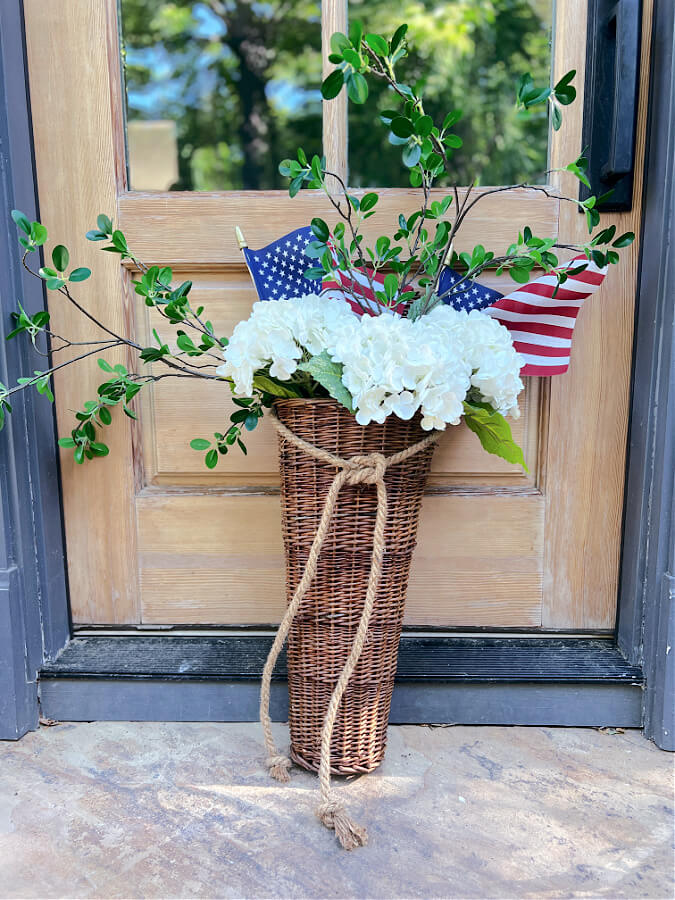 Hanging Your DIY Parotitic Door Basket
Ok and the last step is actually hanging your new patriotic door basket!
In a sea of traditional wreaths, door baskets offer a unique and eye-catching alternative. Their distinct shape and natural textures draw attention and create visual interest. Door baskets can be adorned with ribbons, bows, or other decorative accents, further enhancing their appeal and allowing homeowners to showcase their personal style.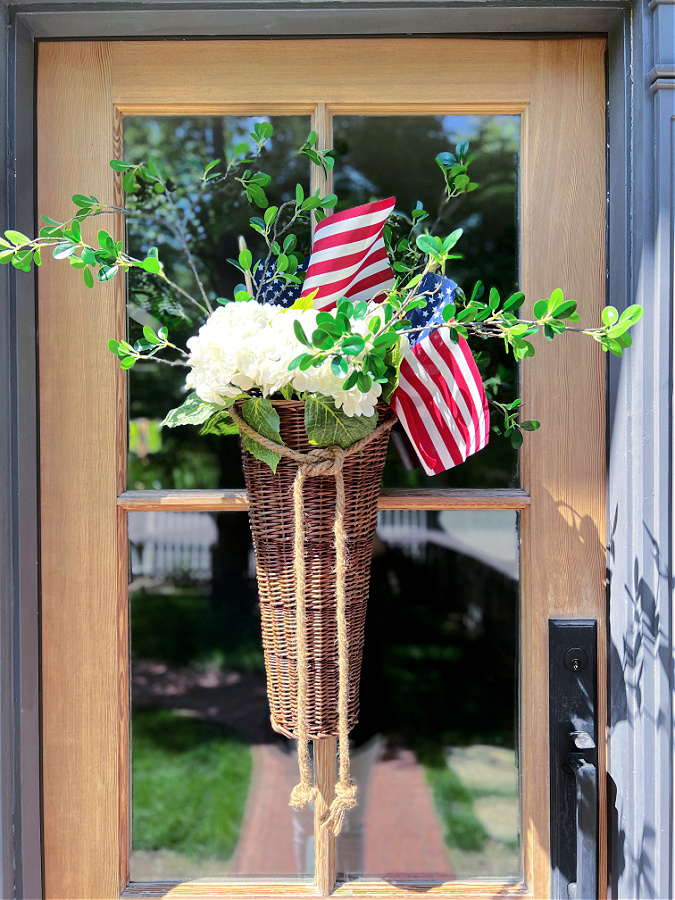 I'm loving how this turned out and honestly it makes me smile every time we pull in the driveway. My husband might disagree because he says it hits him in the head every time he opens the door. Ha!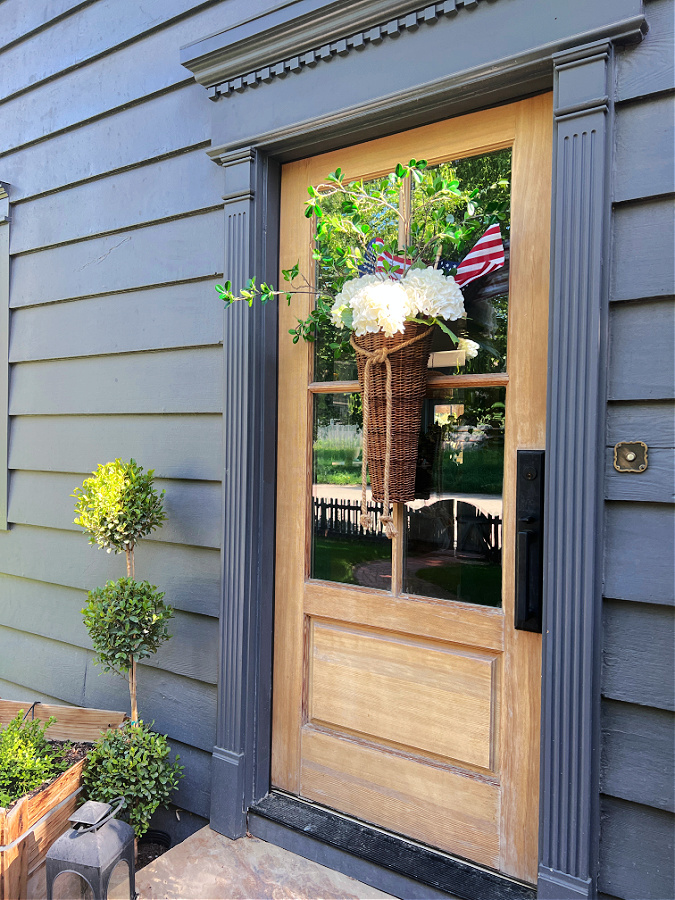 Shop the Post

DIY Patriotic Door Basket
Well there you have it, my simple DIY patriotic door basket tutorial! A lovely way to dress up your front door for those patriotic summer holidays. Did I make you consider this option instead of a wreath? I hope so, even if for just a little while. Make sure to stop back by the blog next week when I share a tour of our outdoor spaces in both the front and back yard!
Next up on this patriotic blog hop is my talented friend Kim, from Cottage In the Mitten and she is sharing how to set a red, white and blue table! After you stop by her post then please make sure to scroll down a bit more to find the links for the other bloggers joining the hop today! So much goodness, I promise.
More Patriotic Inspiration from My Fellow Bloggers
DIY Patriotic Door Basket // The Tattered Pew
How to Set a Red, White, and Blue Table // Cottage in the Mitten
8 Easy Ways to Add Americana to Your Decor // White Arrows Home
4th of July Party Favors // Eleanor Rose Home
How To Decorate Your Coastal Cottage for the 4th of July // The Ponds Farmhouse
How To Make An American Flag Grapevine Wreath // White Lilac Farmhouse
7 FREE Dinner Party Printables – 4th of July Ideas // WM Design House
Easy and Effortless Americana Decor Ideas for the Entryway // Pasha is Home
Easy Red, White, and Blue Patriotic Table Setting for the Holidays // Southern Crush at Home
Red White and Blue Faux Leather Vase // Amy Sadler Designs
Patriotic Pool Party Ideas // A Stroll Through Life
I'd love to have you hang out with me some more! Feel free to follow along with me on any of the platforms linked below.
LTK | Facebook | Instagram | Pinterest | Amazon
xoxo,
Kelly