How To Make an Ivy Topiary From A Wire Hanger
There is something so charming about a topiary. For this month's Thrifty Style Team project I am sharing how to make an ivy topiary from a wire hanger. A simple project that will have you running to the store to buy hangers and ivy!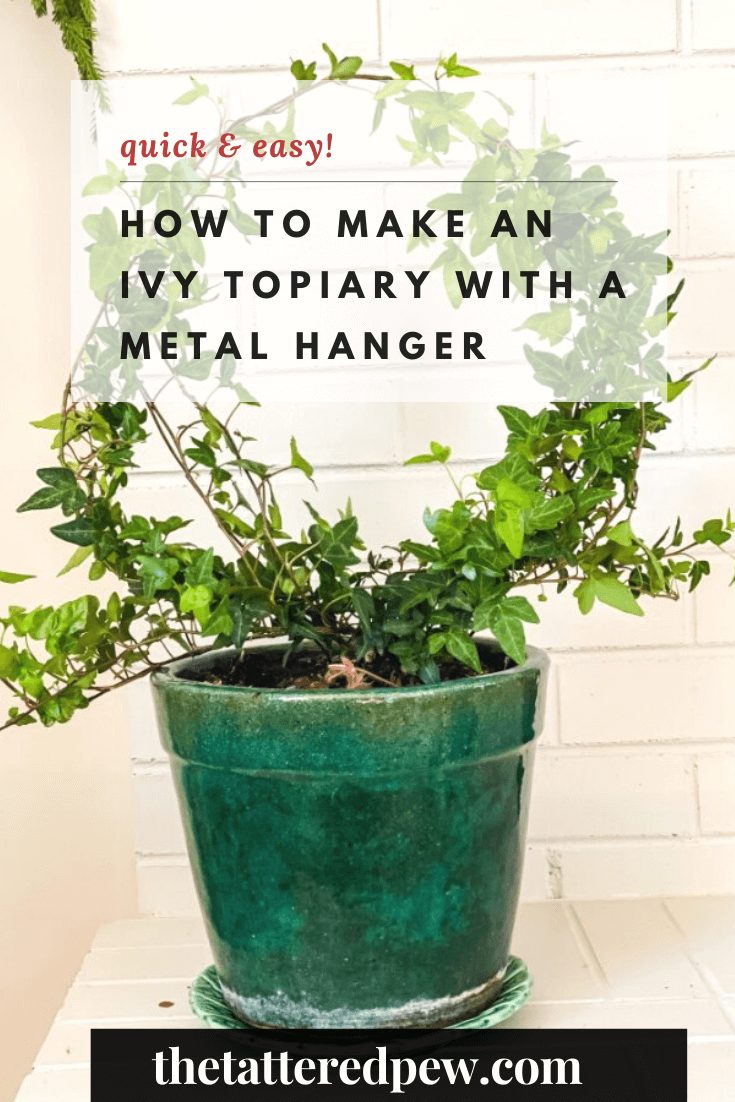 The Thrifty Style Team is hosted by my talented friend Julie from Redhead Can Decorate. Make sure to check out her post as well as the other ladies on the team for some budget friendly Christmas DIYs and décor. Each of their posts are linked at the end of mine.
How To Make An Ivy Topiary From A Wire Hanger
Where are my plant lovers at? Have you ever grown ivy before? You might not believe this but I don't have a green thumb when it comes to indoor plants. However, I have been able to keep paperwhites alive, but they only last for a short season.
I know shocking, right?! 🙂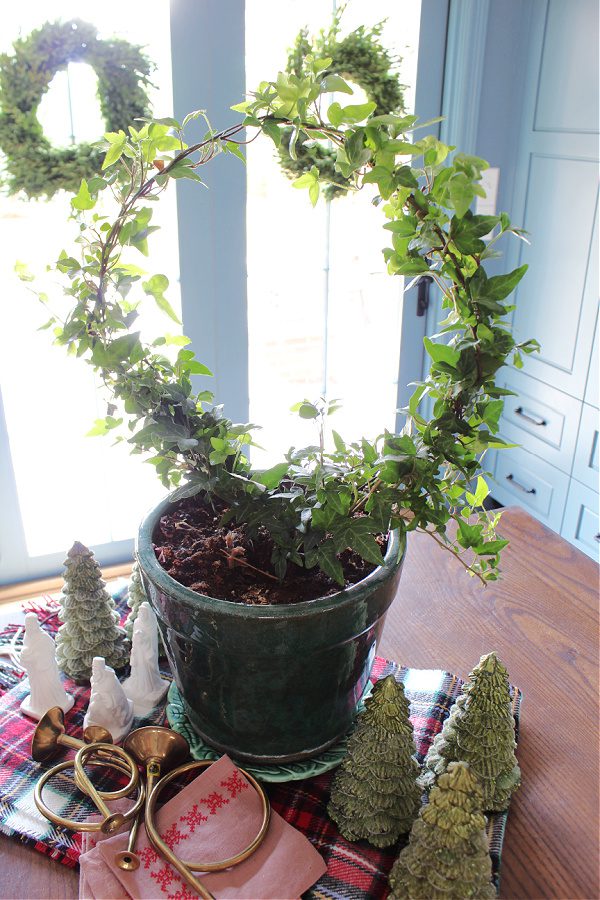 I am all about the garden and flowers outside but indoor plants that need a lot of regular maintenance never make it long in my house. For some reason I always forget to water them! I love them and one day hope to change my negligent ways. Maybe it will be with my latest project this DIY ivy topiary!
Luckily my mom has a major green thumb and grew this huge ivy plant from an ivy starter and let me have it for this darling project.
She did all of the nurturing and now I just need to remember to water it every once in awhile.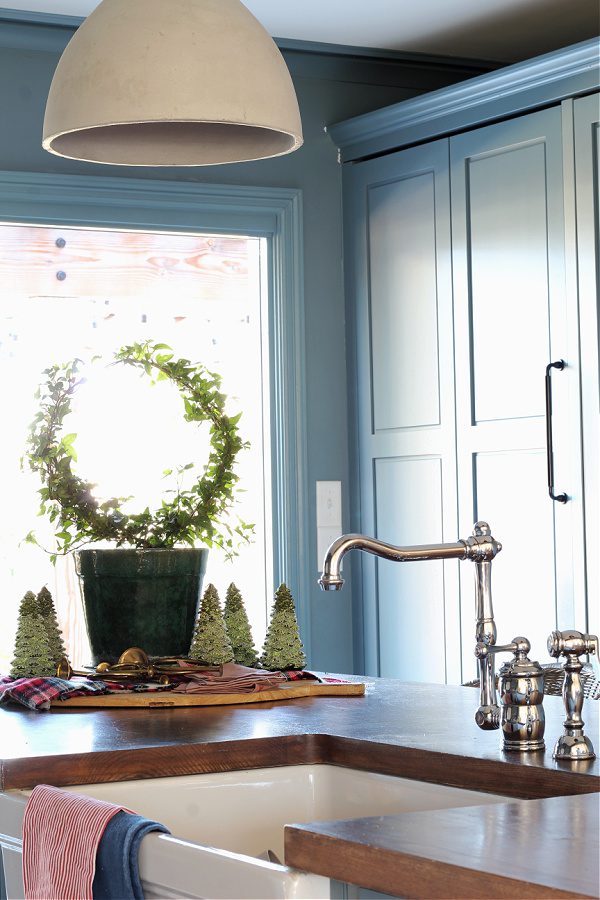 What Is a Topiary
So question before we begin…do you know what a topiary is? Basically a topiary is where you train live plants or clippings into decorative shapes.
I once made mini faux tea cup topiaries from Dollar Store items and ever since then I have loved them and wanted to try my hand at a live topiary. So the classical circular topiary seemed the easiest route and guess what? I was right!!!
Here are the step by step directions to make your own live topiary! I promise they are super easy to make and this will take you less than 3 minutes to create. (If you already have your ivy plant!)
Let's Make A Topiary
Step 1
Let's create the topiary! Find yourself some meatal hangers. We have a million in our closet from the drycleaners thanks to my husband. You can't get much more budget friendly than a wire hanger!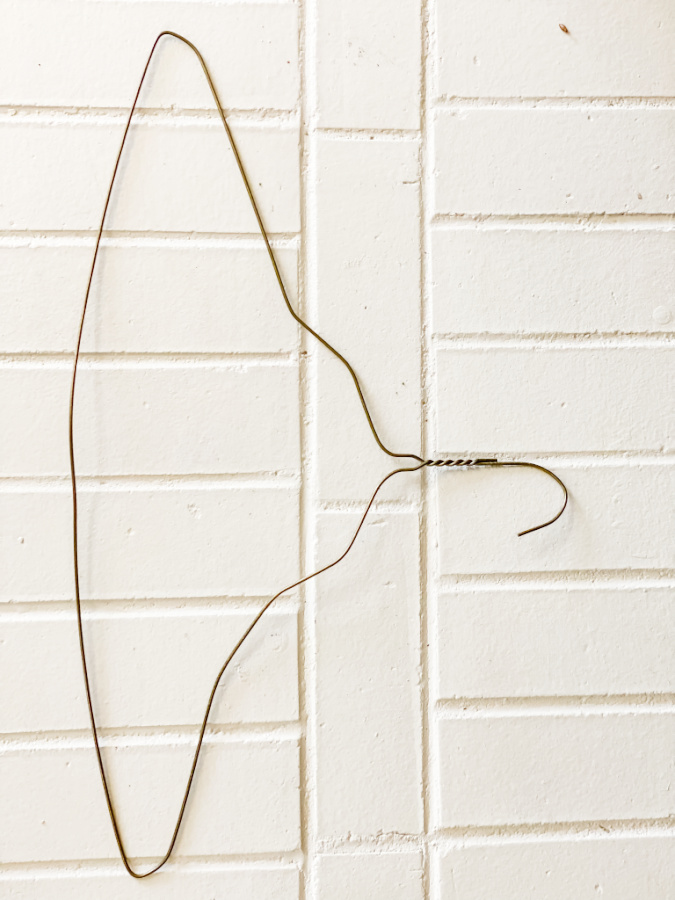 Step 2
Next bend the base of your hanger into a circular shape. Make sure to also bend the the hanger part at the top into a straight line.
Tip: Don't worry too much about your circle being perfect because the ivy will cover any imperfections!
Step 3
Bring your circular hanger over to your ivy plant. Place the straight point of your hanger into the base of the ivy plant as close to the center as possible.
Step 4
Then begin to grab the ivy shoots from one side of the plant and twist them up and around the hanger. Don't worry about which piece you grab first. You can't go wrong here! Keep grabbing and twisting the ivy up the hanger until most of them are wrapped. Repeat this on the other side until your ivy tendrils meet together at the top. Twist them together. Ivy loves to wrap and this metal hanger will train it where it needs to go!
Step 5
Now that you have your live topiary created you can enjoy it!
Caring for and enjoying your ivy topiary is simple too! Occasionally clip some of the lower tendrils or pinch back shoots to keep the circular shape in tact. For longer shoots just add them to the other pieces of wrapped ivy and let it fill in the gaps. Place it in indirect sunlight for best results indoors.
How Often Should I Water My Ivy Topiary?
More tips for watering your plant. Make sure to peek at the soil of your plant often and if it appears to be dry give it a thorough watering. Just make sure to not let it sit in a saucer of water! Then check back every few days making sure to not go more than 3 days without watering your plant. And if you feel really ambitious you can fertilize it once a month.
How To Make An Ivy Topiary from a Wire Hanger
Simple and pretty, right?! Have you made a topiary before? Do you prefer live or faux? I'm crossing my fingers my topiary stays alive so I can enjoy it for years to come. Maybe I will branch out and add other live topiaries around the house too! I hope you enjoyed this budget friendly DIY and thanks for hanging out with me.
If you want more thrifty and budget friendly décor ideas like mine make sure to check out what the other ladies are sharing below!
xoxo,
Kelly
Thrifty Style Team
Redhead Can Decorate -How to Create a Fresh Pine Christmas Centerpiece
DIY Beautify- Chippy White Spindle Christmas Tree
The How To Home- How to Dress Up a Cheap Poinsettia Plant so it Looks Expensive
2 Bees IN A Pod- DIY Christmas Matchbox – Perfect Gift
Vinyet Etc. – Create Holiday Magic – Have yourself a Vintage little Christmas!
Postcards From The Ridge – Festive Christmas Table Decorations That Anyone Can Do
Lora Bloomquist Create and Ponder – Scrabble Holiday Art How To
I Should Be Mopping The Floor – Free Retro Santa Printables
Sweet Pea – Painted Christmas Stocking
Cottage On Bunker Hill – How to Make a Wreath Out Of Gingerbread Salt Dough
Did you like this post? PIN it for later!