Learning to Simplify and Shopping Small
Hi friends! Last month I shared with you that I was loving the idea of having a word of the year and a verse to go along with it.  Well I have finally narrowed it down! This year my word is simplify and I have decided on the verse from
1 Timothy 6 :6-8
"Now there is great gain in godliness with contentment, for we brought nothing into the world, and we cannot take anything out of the world. But if we have food and clothing, with these we will be content. But those who desire to be rich fall into temptation, into a snare, into many senseless and harmful desires that plunge people into ruin and destruction."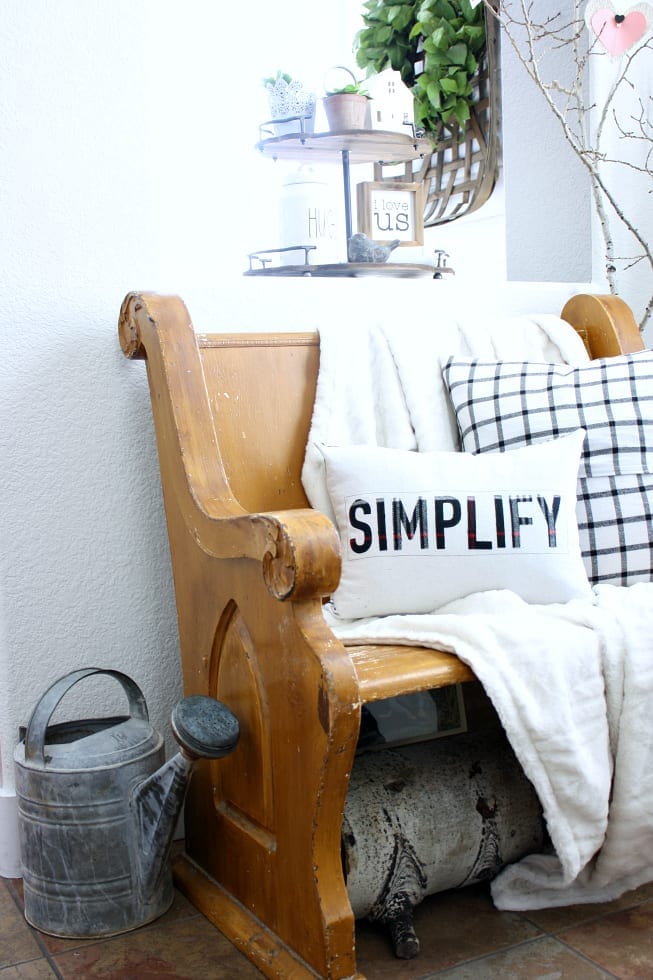 Learning to Simplify…
These last few weeks I have really been trying to simplify all areas of my life. The first area has been our finances. Over on Instagram I joined a group of ladies in a January spending freeze challenge. The intent was to be more thoughtful on what you choose to spend money on. This month long journey taught me a lot. It taught me that I don't need anything else and just like the verse above, we can't take any of it with us! I am learning to find contentment in the simplicity and boy does it feel good.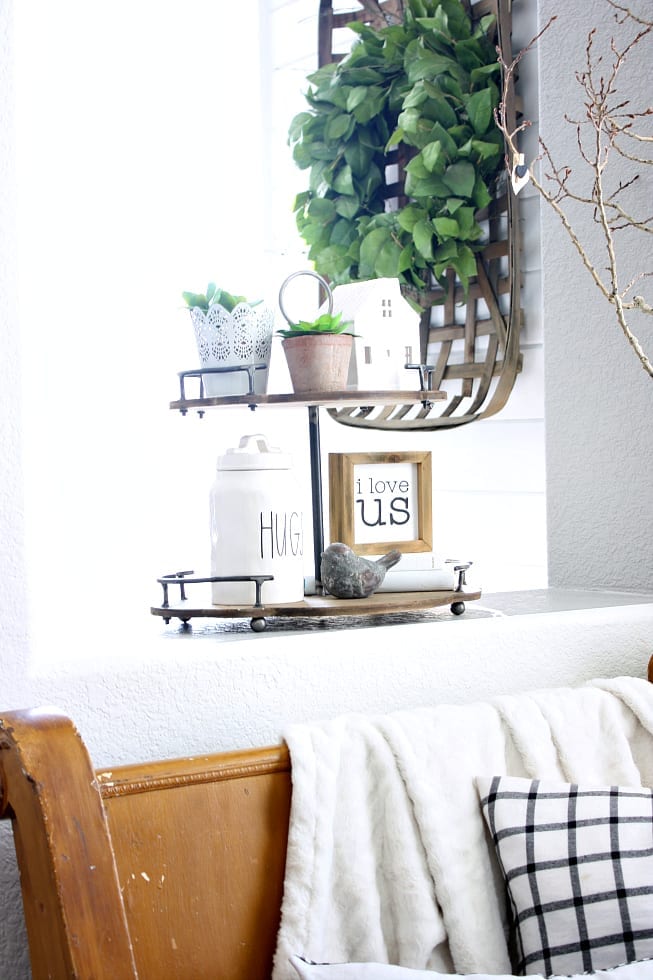 Simplifying in Action…
Two weeks ago I went through the house like a mad woman with garbage bags in hand and was able to collect 7 bags to take to Good Will.  It was just a start but it sure felt good to declutter. The crazy thing was that it was mostly clothes and toys! I intend to be a whole lot more intentional on future clothes and toy purchases that's for sure!
I have also really been thinking a lot lately on what furniture pieces we have in our home, how I can simplify our furniture and if they are timeless pieces. I've been focusing more on what my style is and trying to work with what I already have. Interestingly enough after talking through my "style" of decorating with my awesome mom we came to the conclusion that I have been leaning more towards French Country Cottage with a small bit of coastal and farmhouse flare. So surprising! All this time I thought I was more coastal cottage farmhouse style. Ha! Really I am noticing that I just love to mix styles while incorporating old and new pieces of furniture and decor. And guess what? I am totally fine with not having a truly defined style and totally fine doing what makes me happy and this house a home.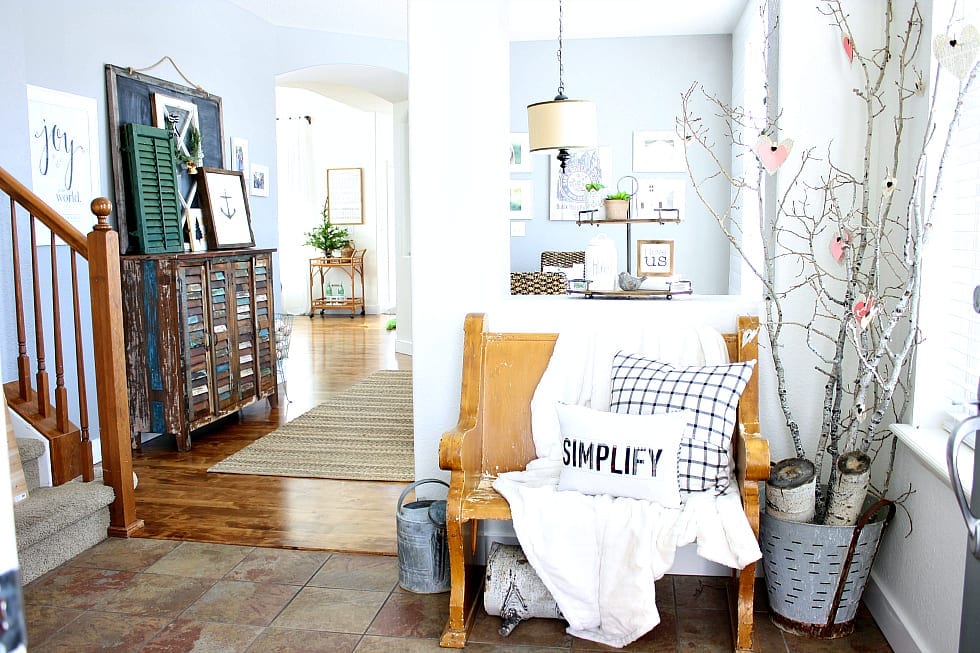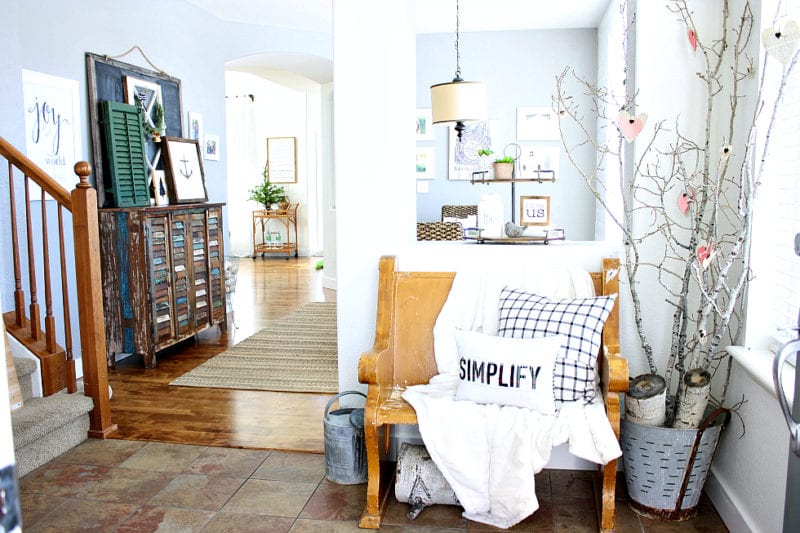 Shopping Small…
OK, I know I was just chatting bout my January spending freeze but it's February! So… If you have followed along with me here on the blog for awhile you know I love to shop small and support my maker friends over on Instagram. One of those friends is Beth from Up Yonder Designs. She hand makes these custom one word pillows like the beautiful one gracing my pew! It is beautifully stitched and has a darling black and white check on the back. Doesn't it look amazing on our pew? It's the perfect daily reminder for me to simplify! The best part is that she is offering my blog readers a coupon code for 15% off in her Etsy shop!  Just enter  "Pew15 " for this awesome discount and make sure to take a peek at all the other amazing items she makes!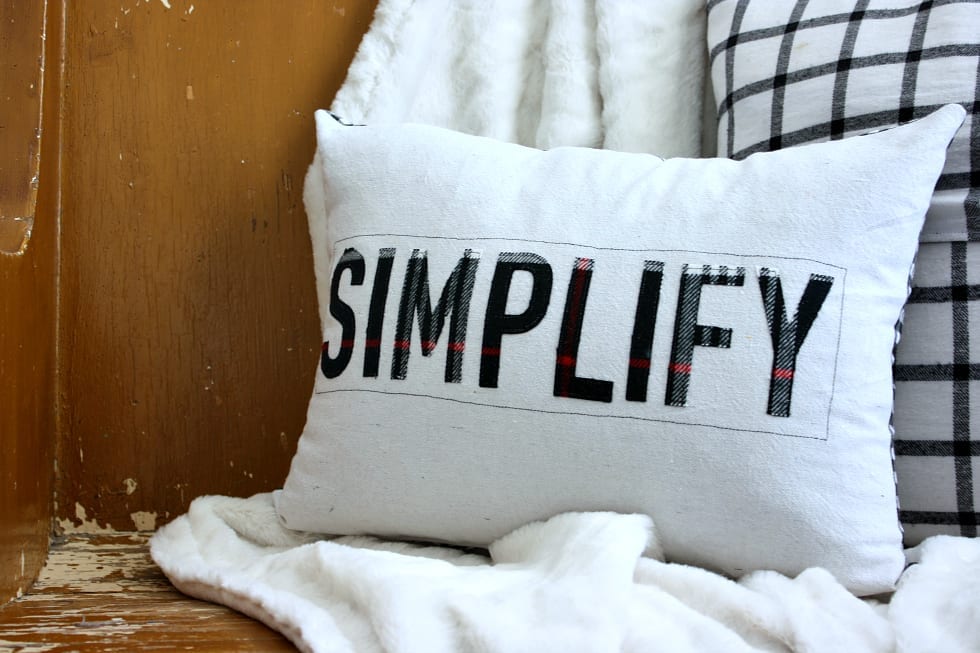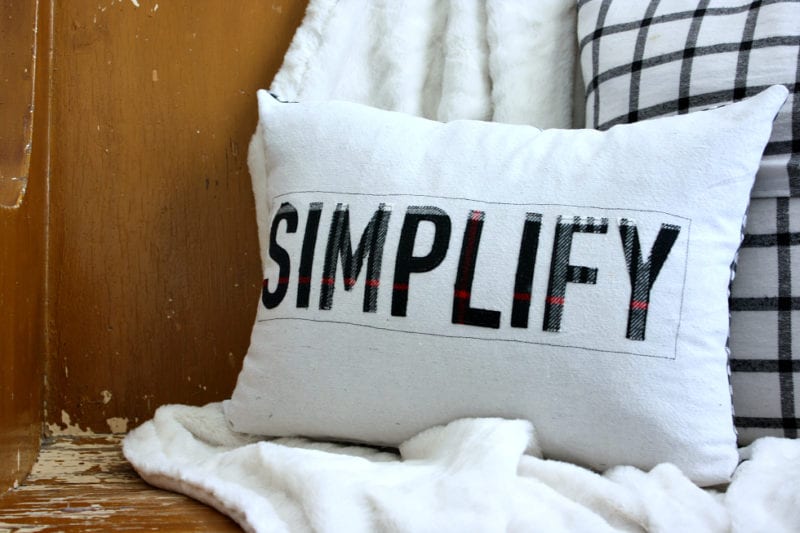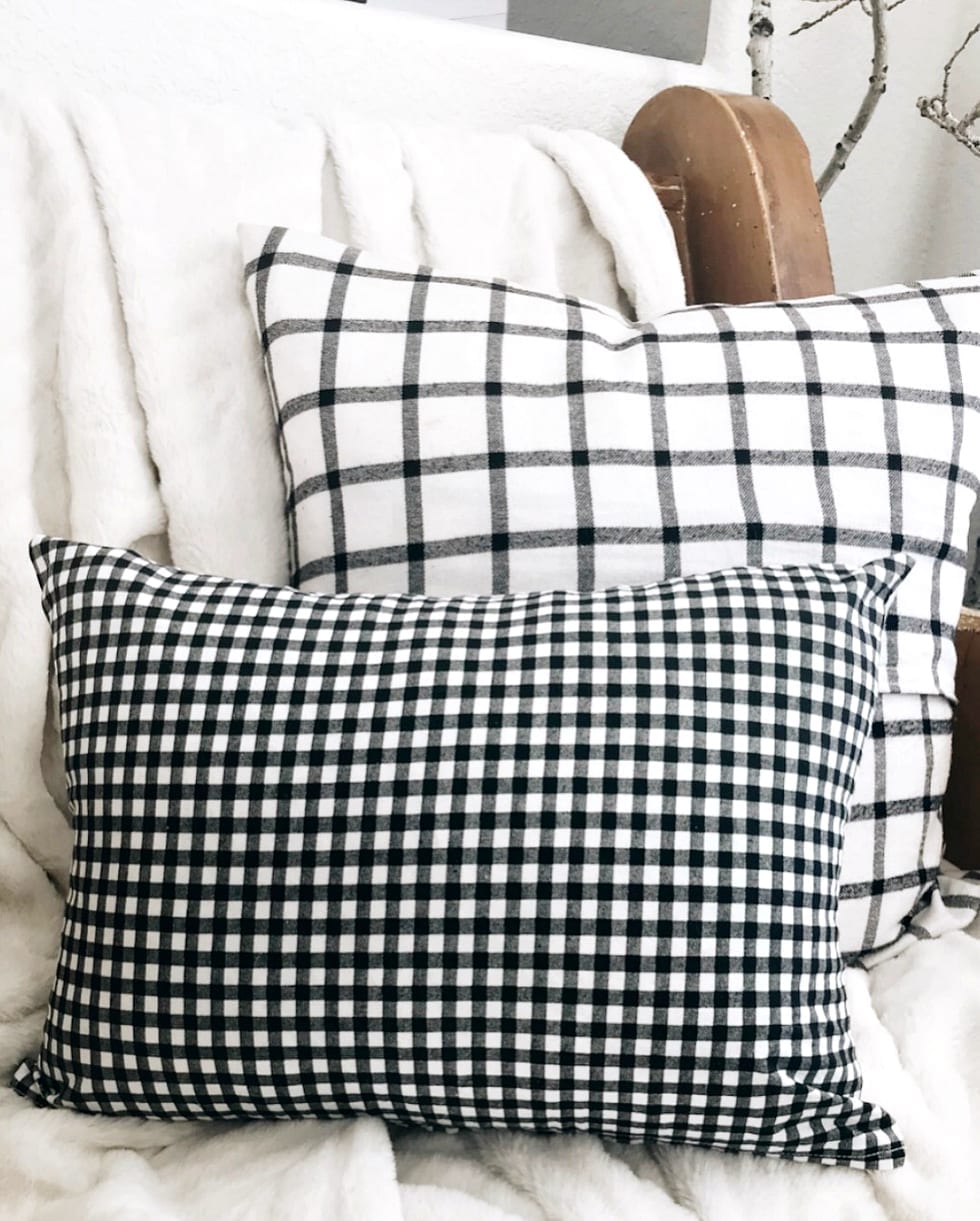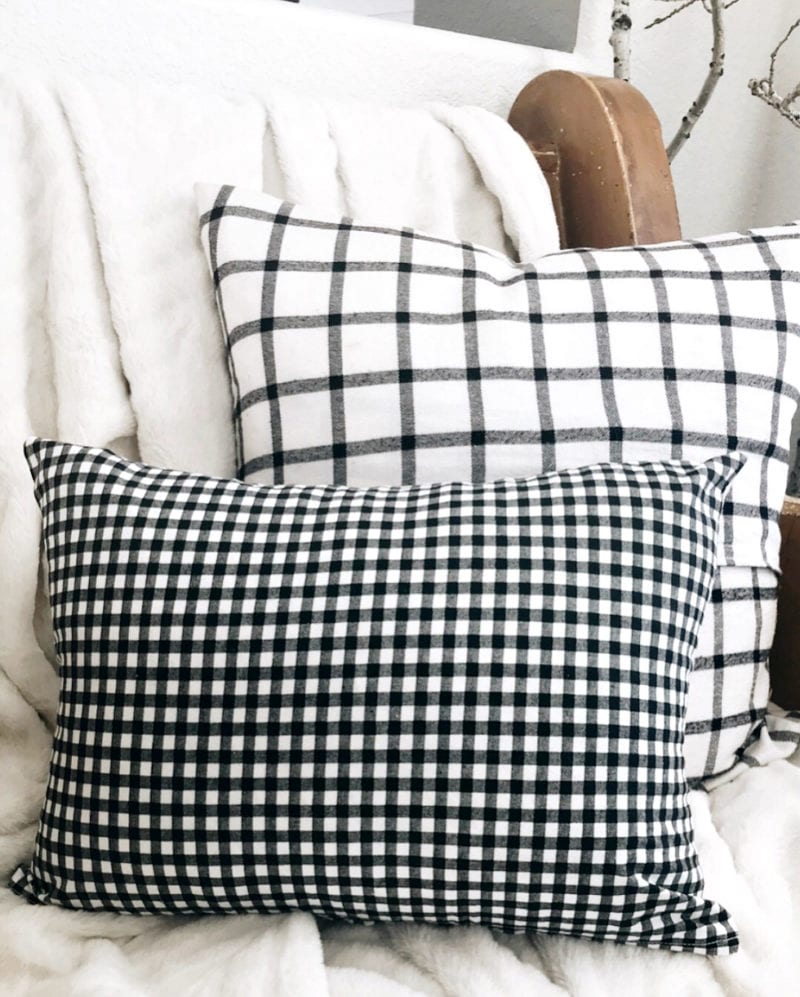 Simplify…
So honestly this word and this verse are both huge challenges for me! I am just starting out on this journey and I hope you will come along with me this year to see how I incorporate them in to other areas of my life.  Do you have a word for the year or a verse? Or a focus or goal? If so I would love to know! Just let me know in the comments below. Also if you have any simplifying tips or good books to read let me know…I am always in the market for a good book!
Thanks for stopping by today! I hope you were able to find some takeaways and a lovely new small shop to support! Blessings on your week!
xoxo,
 Kelly
Like this post? Pin it for later!