Why Refinishing Your Kitchen Cabinets Is A Good Idea
Thinking about updating your kitchen cabinets? Then my post is a must read on why refinishing kitchen cabinets is a good idea! Even better? This post features real-world images of before-and-after refinishing kitchen cabinets from my home.
Keep reading to explore all the things we considered when getting ready to take our space from dark wood to white kitchen cabinets.
*Thank you to Summit Cabinet Coatings for partnering with me on this post. This post contains some affiliate links for your convenience. Click here to read my full disclosure policy.
Why Refinishing Kitchen Cabinets Is A Good Idea
It finally happened! After talking about it for 13 years we finally refinished our kitchen cabinets thanks to Summit Cabinet Coatings here in Northern Colorado. I am so excited to share all of the details, before and after's and and why I am a firm believer that refinishing your kitchen cabinets is a good idea!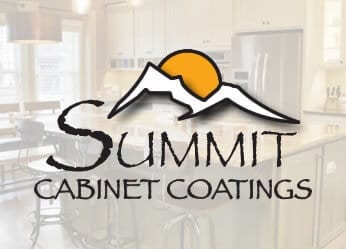 One Happy Lady
If you have been following along with me over on Instagram then you know that I am one happy lady with our decision to refinish our kitchen cabinets! For several years I have tossed around the idea about painting kitchen cabinets white – and doing them myself! But I am so glad that I decided to let the professionals do it!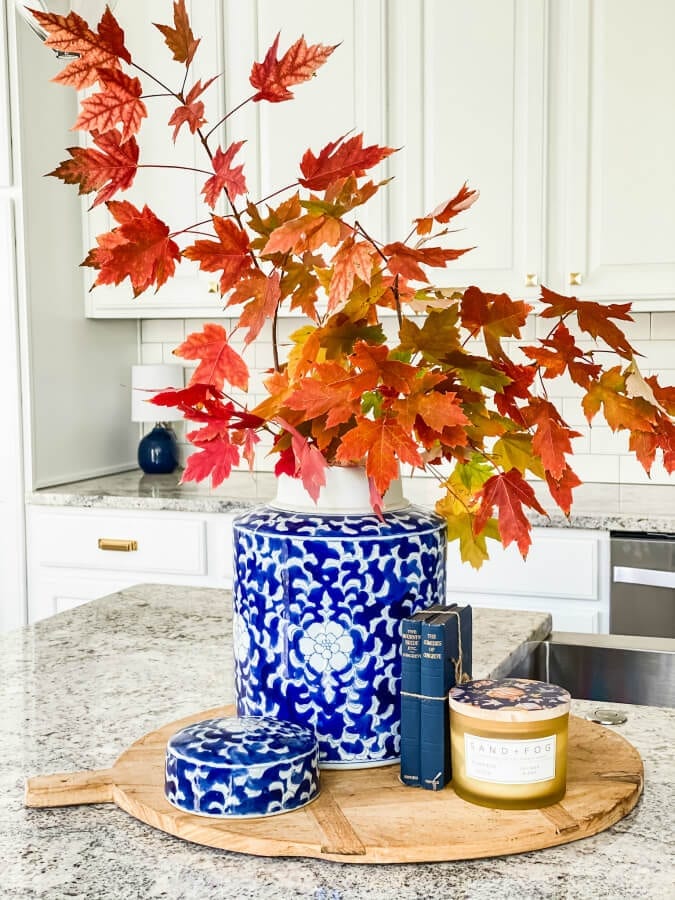 We have had them for almost a month now and I still walk in our kitchen and pinch myself because I can't believe that I now have a white kitchen! You can also visit my highlights on my Instagram profile to watch all the behind scenes of the entire process.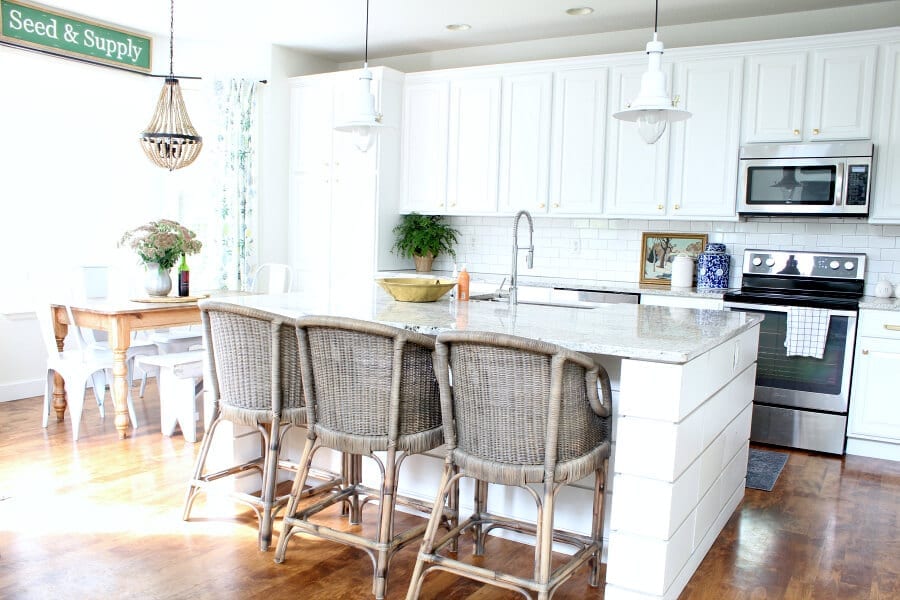 Before Refinishing Kitchen Cabinets
As you can see we have a ton of cabinets in our kitchen and the cabinets are made of cherry wood. They are very nice cabinets and extremely well built and beautiful. You can see more of them over on last year's Touches of Spring In The Kitchen post.
They just weren't our style as they were just too dark and red. They competed with our wood floors and we didn't like that. And when I say we, I am happy to say that my husband was in total agreement with me that they needed to be updated.
We were craving a more light and bright feel for our kitchen rather than a dark and moody one that these cabinets were giving off.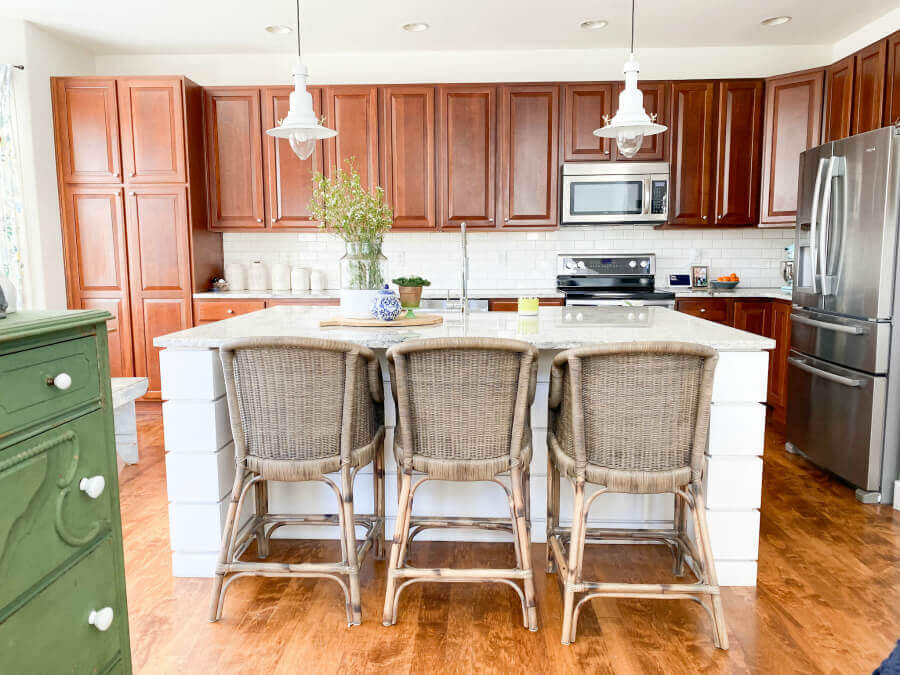 Deciding Not To Paint Our Cabinets
So after talking about changing them for years we did a bit of research and came across Summit Cabinet Coatings here in Northern Colorado. After hearing about their incredible process and all the attention to detail they take from start to finish, I knew painting kitchen cabinets was no longer an option for us. I wanted ours to look professional and to last. My husband agreed!
Want to Refinish Kitchen Cabinets? Here's Some Things to Think About
The decision of how to move forward with our kitchen upgrade was not an easy one. If you're thinking about making similar changes, there are a lot of factors to consider. Here are some of the questions we thought through when deciding how to proceed with our project:
What is the best way to refinish kitchen cabinets?
This was something we went back and forth about for years! Should we paint our kitchen cabinets? Is a refinishing kitchen cabinets DIY project worth the cost savings? Should we hire professionals?
There are so many options these days to upgrade kitchen cabinets, from DIY tutorials on how to paint your cabinets to kits for refinishing kitchen cabinets on your own. But in the end, we agreed that we wanted our kitchen to look like it had always been white and not like we had painted wood cabinets.
So, we called in the professionals.
Is it better to paint or reface kitchen cabinets?
This was the other big question we had when it came to updating the kitchen: should we paint/refinish or fully reface the cabinets…and what is the difference, anyway?
As it turns out, there's a really big difference in these projects – both in the process and in the cost/time commitment.
Refacing kitchen cabinets means you are completely changing the cabinet doors and hardware, reusing only the body of the cabinets that are attached to your walls. This can result in a really dramatic change for your kitchen, but costs a lot more money and takes a lot longer than painting or refinishing.
When you paint or refinish kitchen cabinets, you are simply updating your existing cabinets – including the cabinet doors. This might involve DIY sanding and painting, or it might involve working with a professional cabinet coating company like we did. This option is typically more cost effective and saves time.
Our Kitchen Cabinet Refinishing Experience
Time Is Precious
If I'm being honest a huge factor that played a roll in us choosing to refinish our cabinets came down to precious time. My husband and I both had full time jobs when we took on this project and we have kids who are very busy. We knew we didn't have the time to DIY this project. I figured out that if I were to paint our cabinets myself it would most likely take me close to a month to complete and that did not sound fun at all!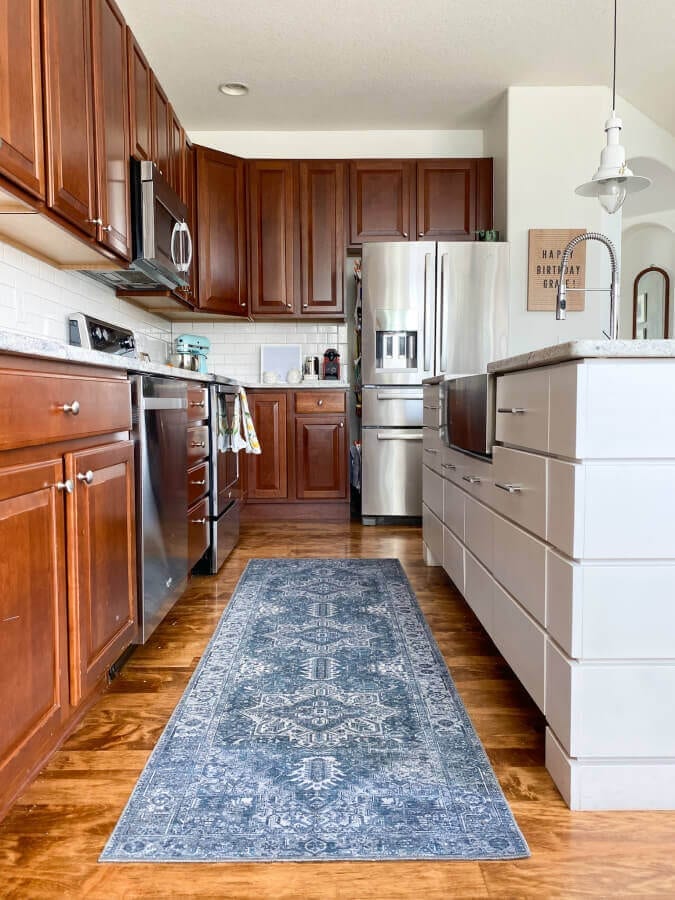 So when I met to talk with Gavin from Summit Cabinet Coatings and he told me the entire process of refinishing our cabinets would take less than a week and that we would only be without a functioning kitchen for 3 days, I was sold! It was an answer to my prayers!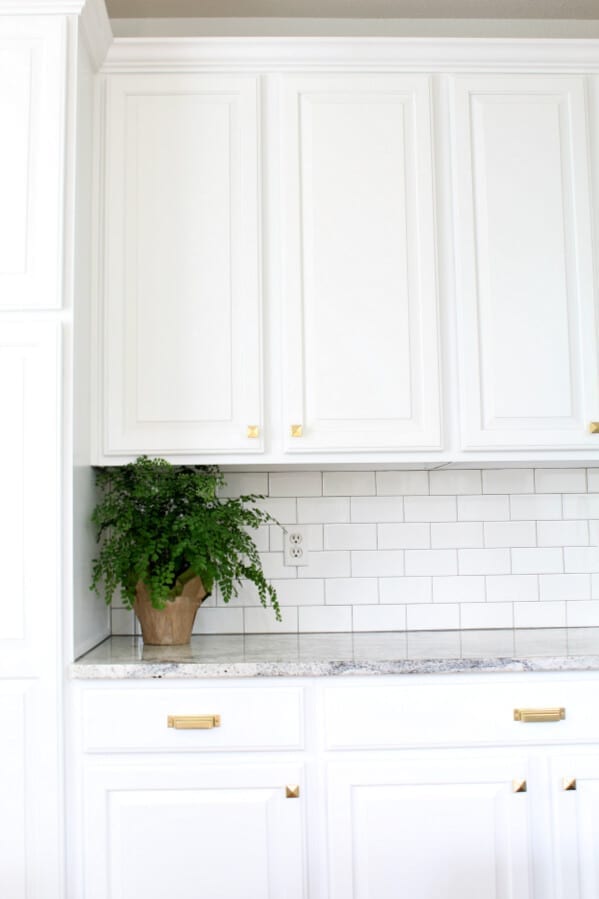 Making An Investment
You might be saying, hey Kelly they look amazing and this all sounds great, but it had to cost you an arm and a leg to refinish your cabinets?!
And I would reply back, well you get what you pay for. And I am beyond happy with the outcome of our cabinets.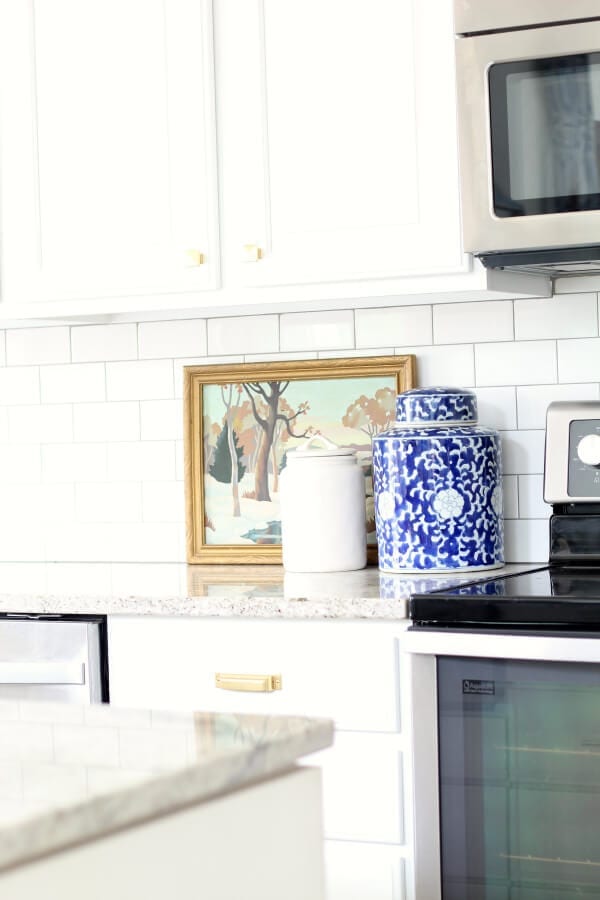 Yes, the cost to refinish kitchen cabinets is more than painting them yourself or hiring a painter, but it costs less than refacing them or replacing them all together. It's the option that's right in the middle.
We saved for our cabinets and this was an investment we were willing to make knowing they would hold their value if we ever decide to sell our house. A very smart investment that my banker husband even agreed was a smart move!
The exact cost of refinishing kitchen cabinets varies a lot depending on the approach you decide to take, the size of your kitchen and other factors. If you're thinking about hiring a professional, I recommend reaching out to a few local companies to get quotes and learn more about their process.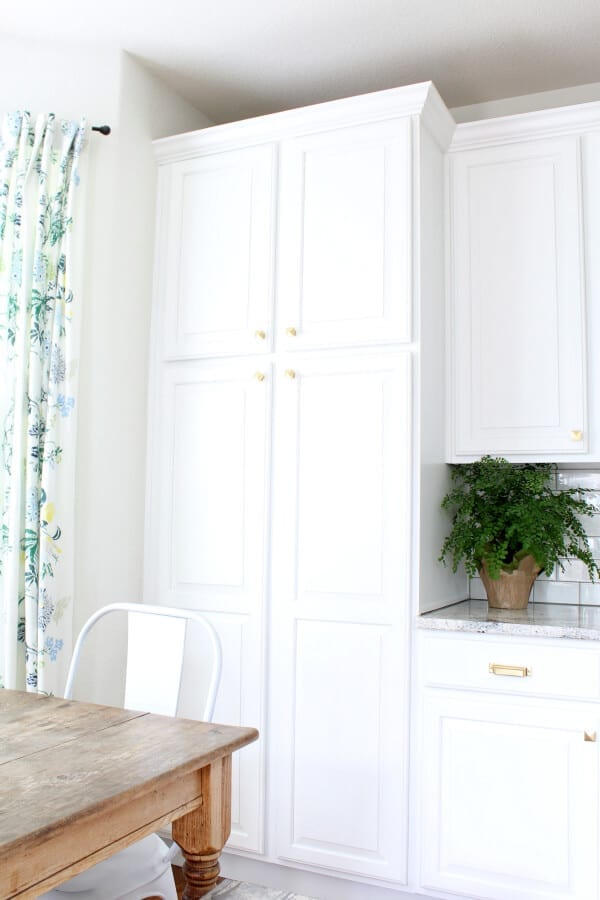 Making Our Selections
I was very impressed with all of the communication we received from Summit through out this entire process. After they came out and gave us our free estimate and we booked our date, they let me know that they would be in touch two weeks before our date to confirm our paint choice and if we wanted crown moldings or any other extras. They left me with some large paint swatches to choose from. I knew I wanted white so it was easy to narrow it down with all the paint choices they offered. They were even willing to do custom colors if I needed that.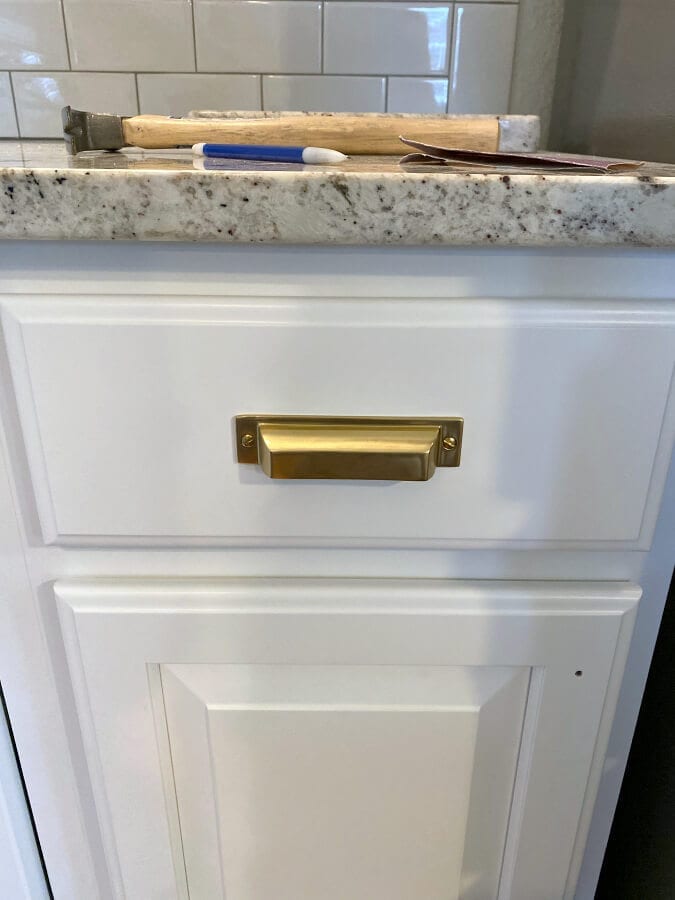 We decided to go with Chantilly Lace from Benjamin Moore and to add crown molding. We did opt out of the soft close option they offered. I loved that they offered this option but felt it wasn't a necessity for us.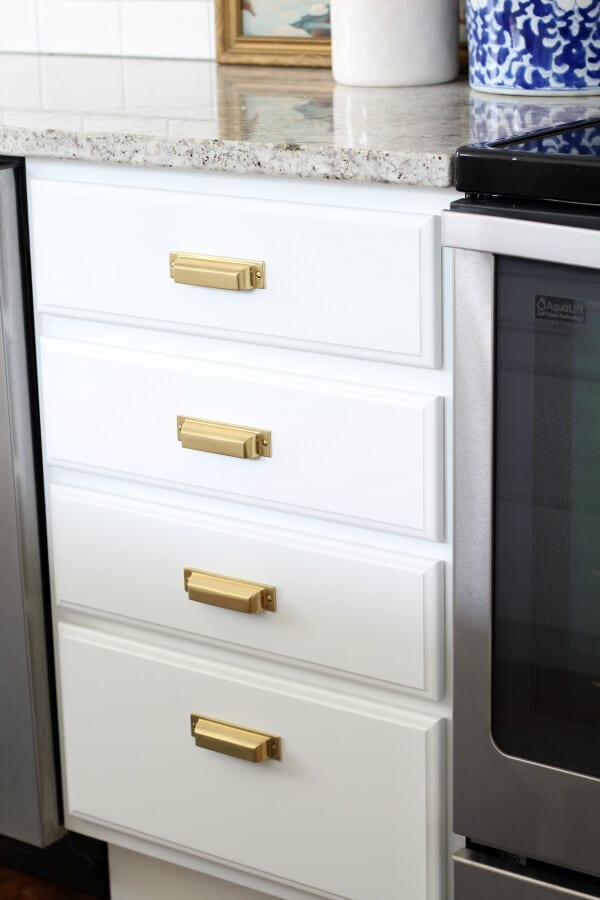 If you're thinking of painting kitchen cabinets as a DIY project or working with a cabinet refinishing company near you, it's important to make sure you understand your options.
What kind of paint is used for cabinets?
There are a lot of different types of paints to choose from when refinishing kitchen cabinets, but it's usually recommended to use a glossier paint sheen, such as semi-gloss, gloss or satin. If you decide to hire out professional cabinet refinishing like we did, then chances are they'll use a professional-grade lacquer similar to what cabinet manufacturers use.
Now that I've seen our refinished kitchen cabinets in person, I can confirm they look like brand new cabinets straight from the manufacturer!
What are the best paint colors for kitchen cabinets?
This is such a personal decision – and a really tough one! For us, we knew that we wanted a light and bright kitchen transformation after having dark wood cabinets for years. But the right paint color for kitchen cabinets depends a lot on the look you want and the other colors in your home.
When choosing kitchen cabinet paint color, consider:
The other colors and finishes in your kitchen: You want to pick a paint color that will coordinate with your walls, floors, trim, etc. And if you have an open-concept kitchen and living room, you'll likely want a color that works with the whole space.
How a color will fit your lifestyle: In other words, how often do you want to be cleaning your cabinets? If you have young kids or a messy cook in your house, light cabinets will likely mean a lot more cleaning than dark ones.
Whether you want all one color or two-toned cabinets: While we went with all white kitchen cabinets, I love the idea of darker bottom cabinets or a colorful kitchen island.
The Hardware
Since we didn't go with soft-close drawers, I decided to spend that extra money on our hardware. Summit offers the option to attach your new hardware for you and drill the holes if necessary. We ordered our hardware from Rejuvenation and Summit Cabinet Coatings put them on for us.
Well at least the ones that showed up on time, the pulls.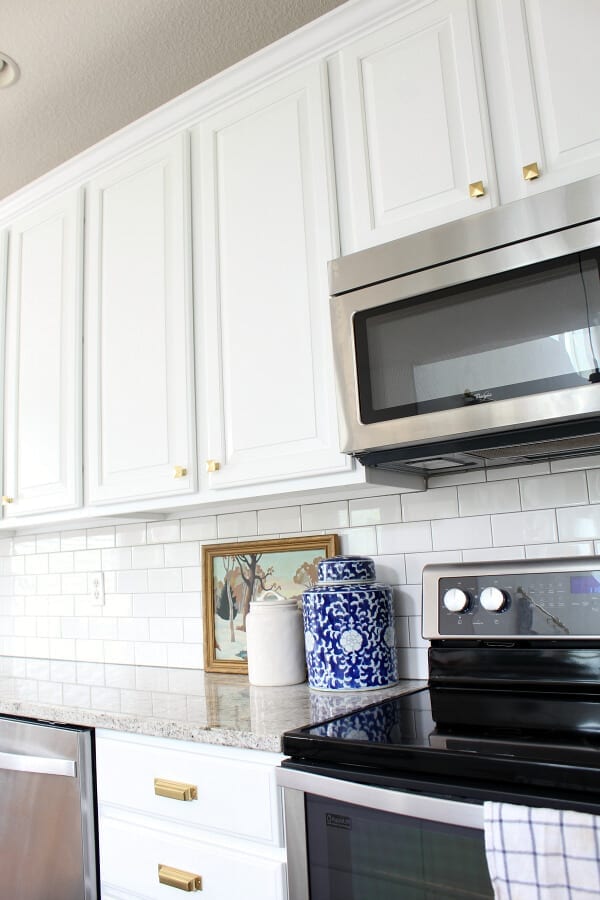 Unfortunately, the knobs we chose were back ordered and we had to wait a bit for those to come in. But all the holes were ready and we were able to add them ourselves. Summit was great and even offered to come back out when they arrived but it was something we were able to do on our own in just 10 minutes. As you can see we switched from the builder grade polished nickel knobs to aged brass! And I love how they pop against the white cabinets!
The Process of Refinishing Kitchen Cabinets
Let me take a step back and tell you a bit more about the process. When we first started, I had now idea how to refinish kitchen cabinets, so I'm really grateful we had such a great company to guide us!
Once the paint was picked I was so excited because it moved so quickly. The process of getting our cabinets refinished was two fold. Part of it happens in your kitchen while the other part happens off site at Summit Cabinet Coatings itself.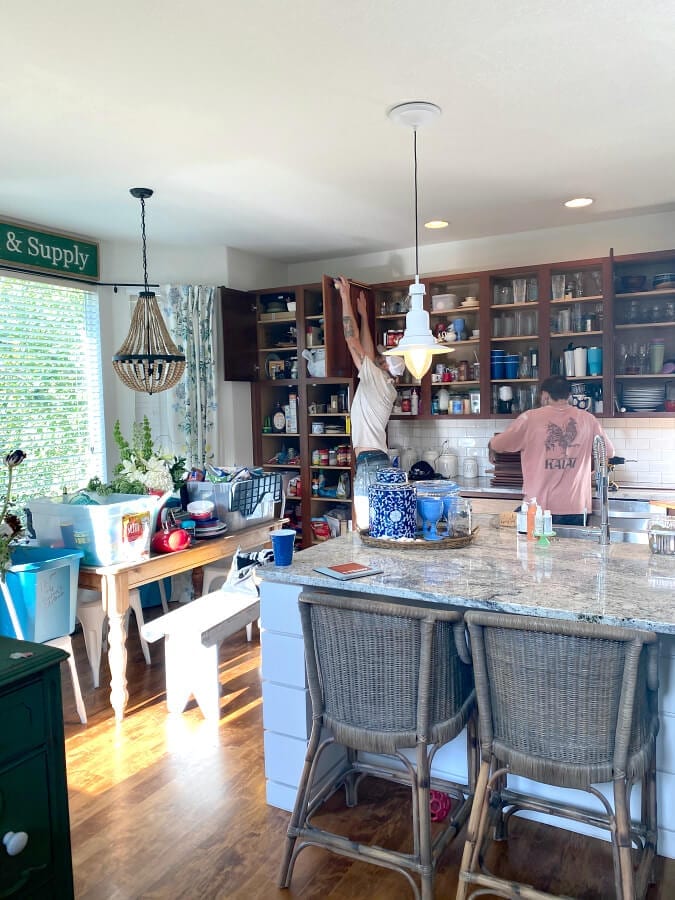 Part One of Refinishing Kitchen Cabinets
As you can see part one consisted of them coming in and removing all of the cabinet doors and drawer fronts. To prepare all we had to do was empty the drawers and push back anything in our cabinets two inches. Once this was done they quickly added the crown molding and taped off the entire area. We were able to fully use our kitchen for the next two days while they were working on our cabinets over in their shop.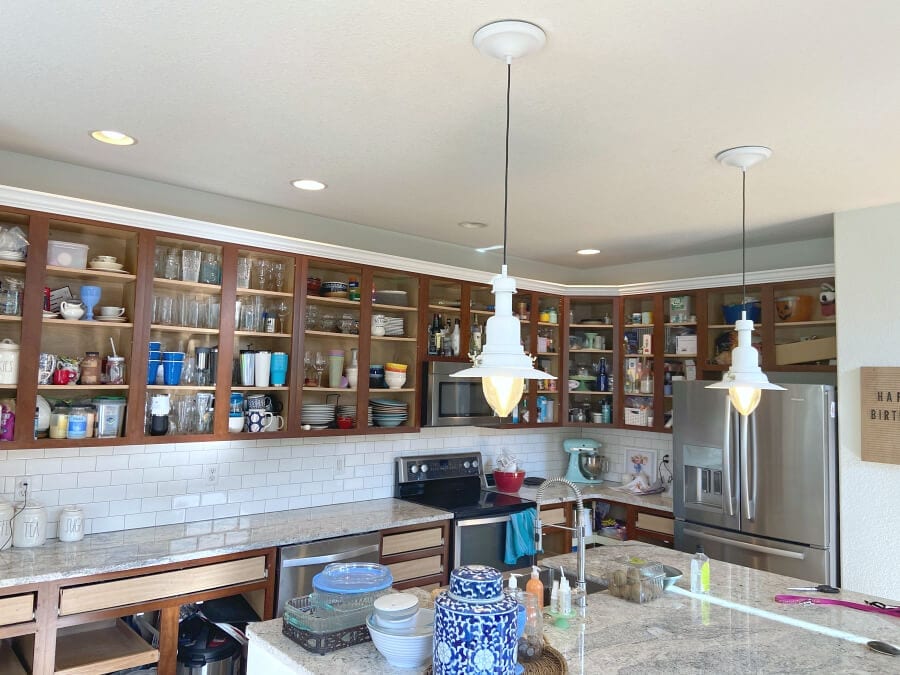 Part Two Of Refinishing Kitchen Cabinets
While in the shop they scraped all the gunk off of our cabinet doors and drawer surfaces. They washed them, hand sanded them, filled in and nicks, scratches or gaps and primed them for the paint. All of the doors and drawers then received three coats of their commercial-grade acrylic coatings in our color of choice, Chantilly Lace.
Next, they came back to our house and also did all of the above to our cabinet frames and the other surfaces surrounding our cabinets.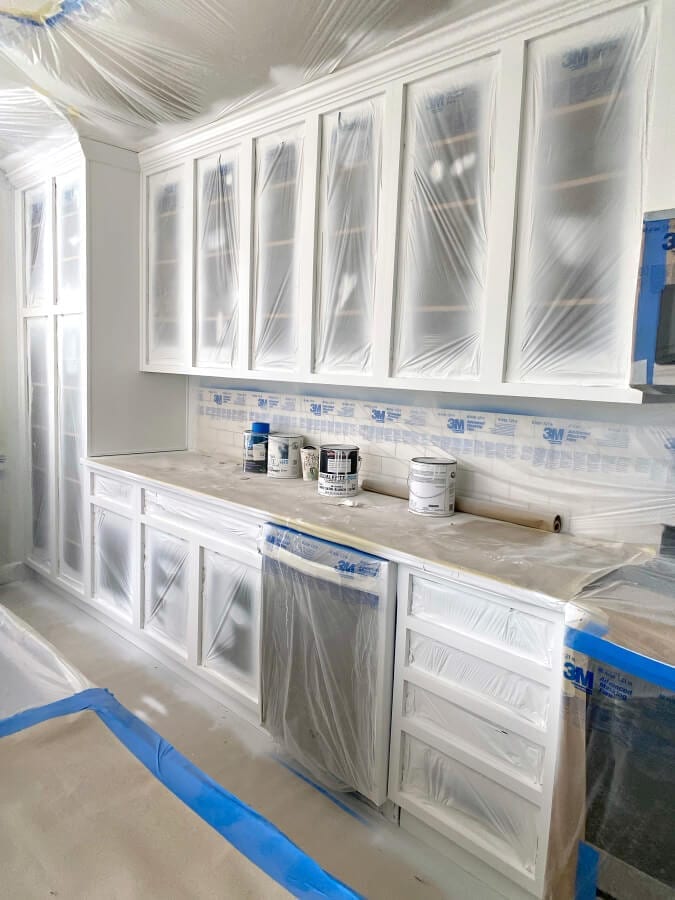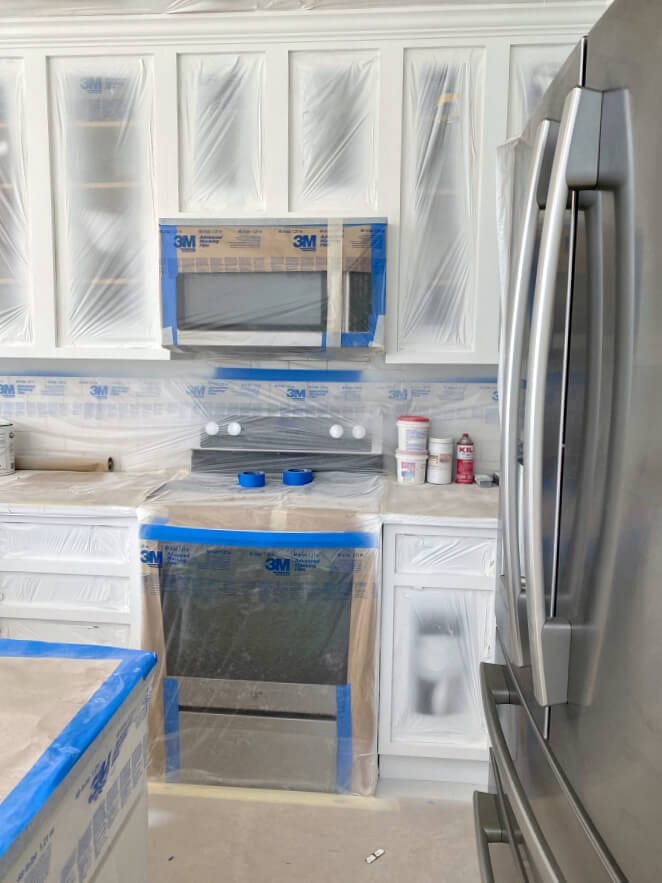 Seriously Impressed By This Company
I was so impressed by the care they took with taping off our kitchen and covering our counters and floors and appliances. All of the guys working on our cabinets were so professional, detail oriented and willing to talk to me through all of the steps. As someone who loves a great home project I enjoyed this makeover more than I care to admit!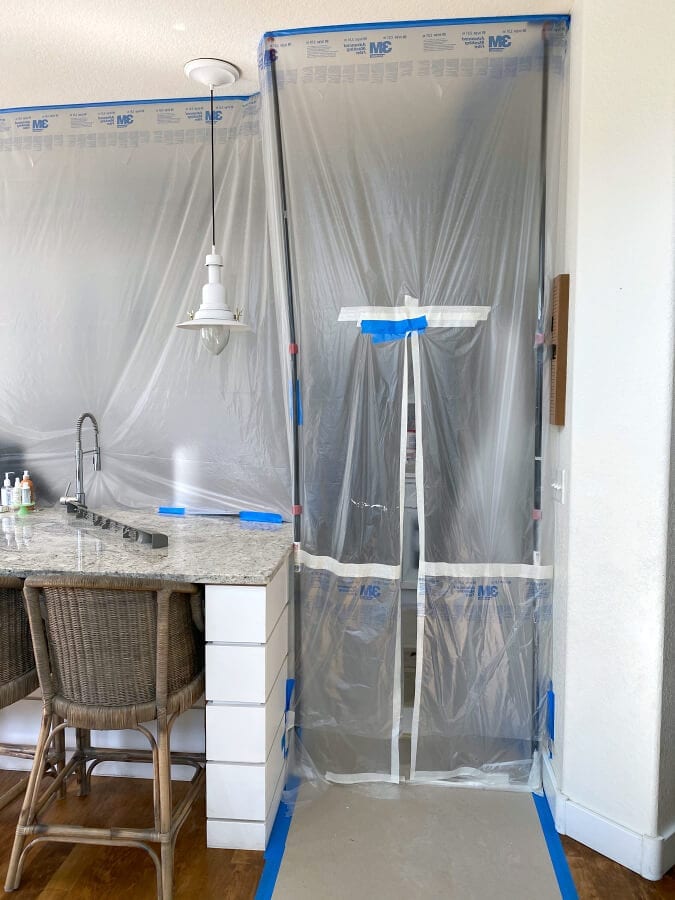 Once the taping was all removed and the cabinet doors were brought back in the transformation quickly took place before our eyes!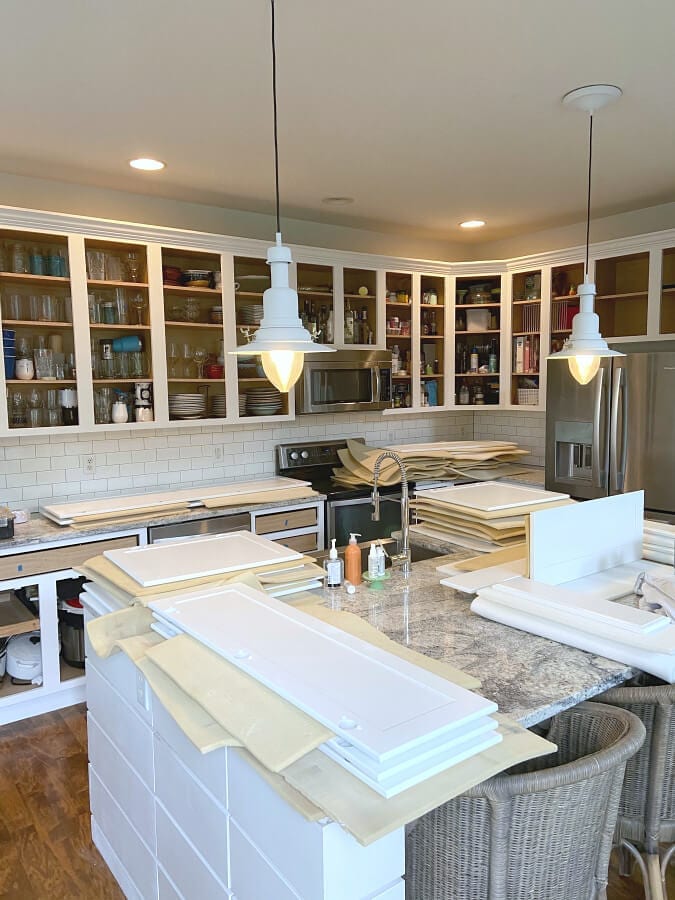 A Furniture Grade Finish
Summit Cabinet Coatings take pride in the fact that their cabinets have a durable furniture grade finish. And guess what, there is no way you could tell that our cabinets were just refinished. They look like they have always been white. There are no brush strokes and they are smooth as butter!
I am more than happy, I am ecstatic! I finally have the white cabinets I have always dreamed of and I know they will last! I'm so glad we went with refinishing kitchen cabinets instead of painting them ourselves.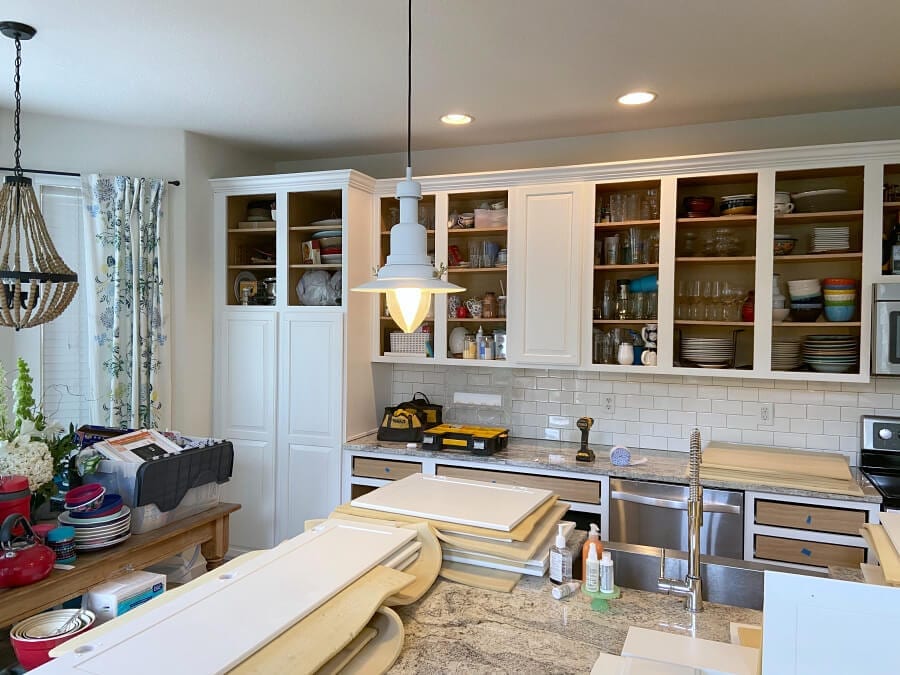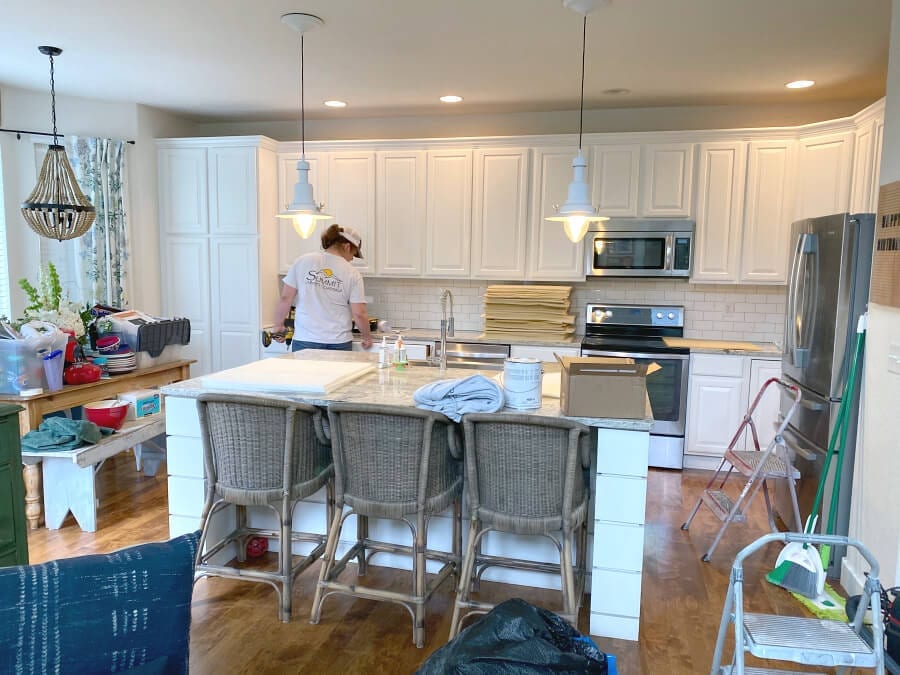 They were so organized and our cabinets were up in no time. They actually finished an entire day early. Once everything was put back together I couldn't get over the fact that it looked like an entirely new kitchen.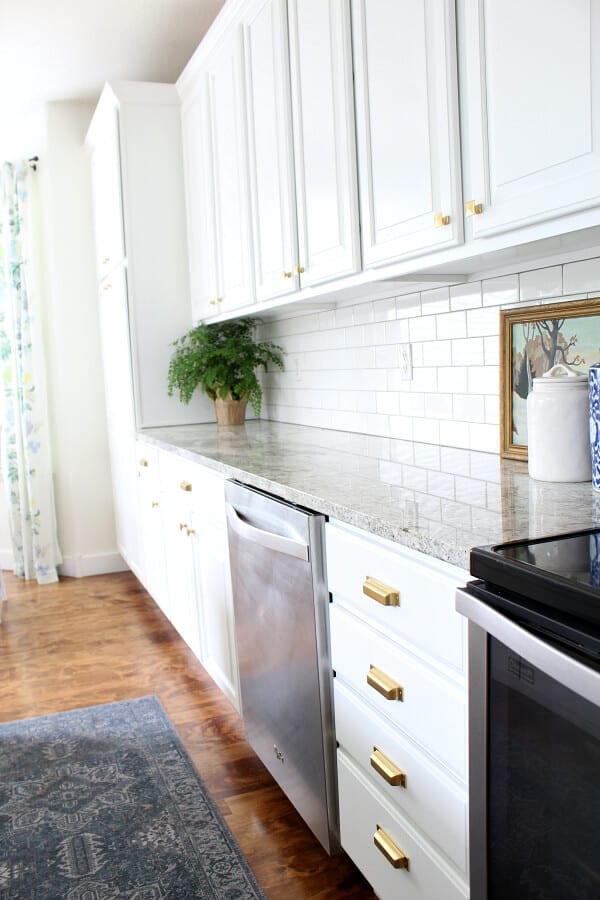 It was bright and airy just like we wanted!!! And bonus, they no longer compete with our wood floors. They now compliment them.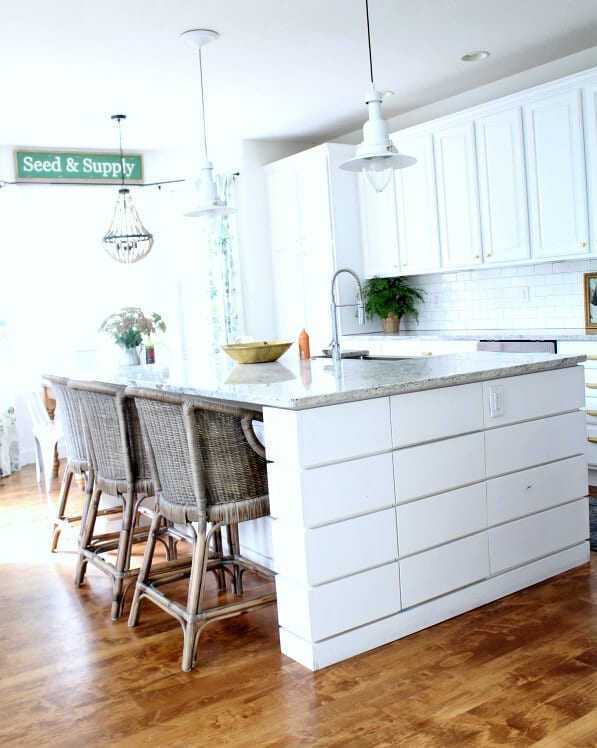 Before and After Refinishing Kitchen Cabinets
Let's take one more look at the BEFORE…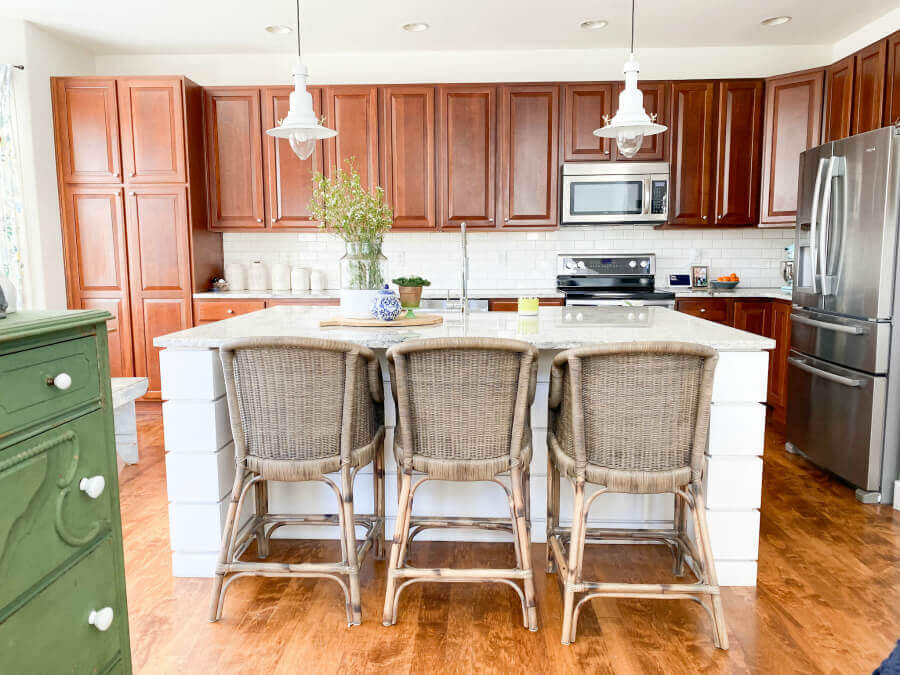 And the AFTER…

Shop This Post

Why Refinishing Your Kitchen Cabinets Is A Good Idea
If you are looking for an easy way to update your kitchen quickly and with a high quality result, I suggest refinishing kitchen cabinets. And I highly recommend Summit Cabinet Coatings if you are anywhere near Northern Colorado! Now I am off to enjoy my new kitchen.
Let me know if you have any questions about the process or if you want any other details!
XOXO,
Kelly
Did you like this post? PIN it for later!