How to Create a Nativity Scene Centerpiece
Today I'm excited to share with you a heartwarming project that not only captures the spirit of the season but also holds a special place in my heart. We're diving into the world of DIY and how to create a Nativity Scene Centerpiece that's not only stunning but also deeply meaningful.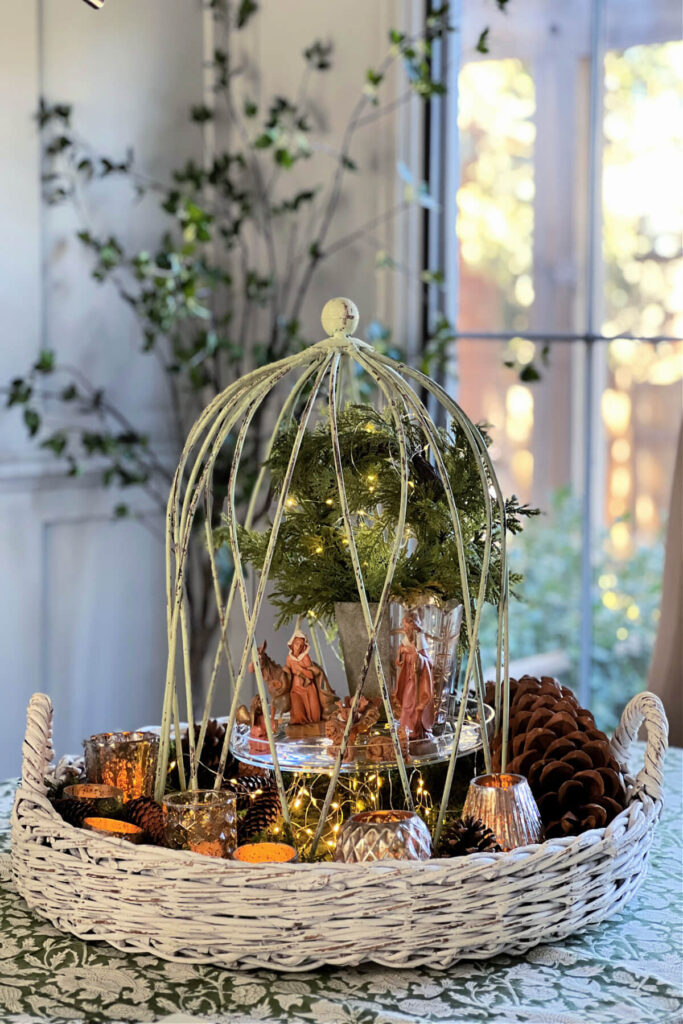 *As an Amazon Associate, I earn from qualifying purchases. This post contains other affiliate links too for your convenience. Click here to read my full disclosure policy.
Christmas Centerpiece Tour
Before I share my centerpiece with you, I am thrilled to tell you, that I am joining an extremely talented group of bloggers for a Christmas Centerpiece Tour that starts today and goes through tomorrow. I have linked all of their ideas at the end of my post for you to visit.
If you are coming over from Marty of A Stroll Thru Life and her elegant Christmas tree forest centerpiece, welcome. Wasn't her centerpiece just stunning? Make sure to visit the other centerpieces on tour linked at the bottom!
The Meaning Behind this Christmas Centerpiece
Now, let's get to the fun part – crafting your very own Nativity Scene Centerpiece. But first, let me tell you why this project is so near and dear to me.
The centerpiece I'm about to show you is not just any holiday decoration; it holds a cherished tradition that has been passed down through generations.
The heart of this project is my beloved Fontanini Nativity set, a gift from my parents that holds a special place in my heart. It's the same set I grew up with, and each figurine holds stories and memories that make it priceless.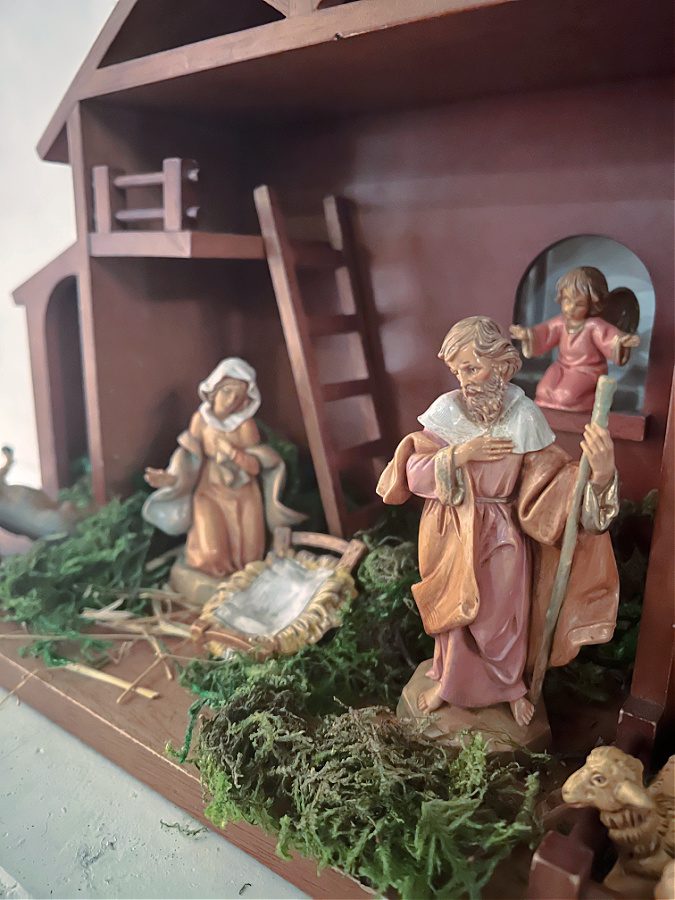 I have vivid memories of playing with our nativity set as a young girl. My mom always had this special tradition of not placing the baby Jesus into the manger until Christmas morning. She kept it in our kitchen drawer and it was always so fun to be able to put the baby Jesus in his manger on Christmas morning.
I love that it helped us focus on the true meaning of Christmas, Jesus's birthday! I have since carried this tradition on with my own kids and once they are married and have their own families I hope to gift them each their own nativity sets.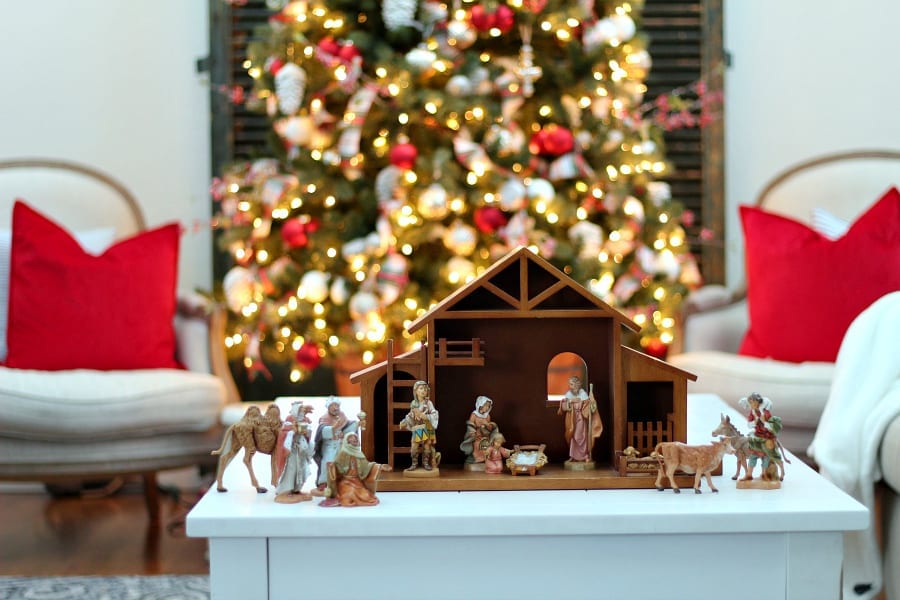 Sine we do not currently have any little ones around to play with this set I figured making it the focal point of a centerpiece would be a fun change this year!
How to Create a Nativity Scene Centerpiece
Below are the simple steps on how to create a Nativity scene centerpiece. Let's get started!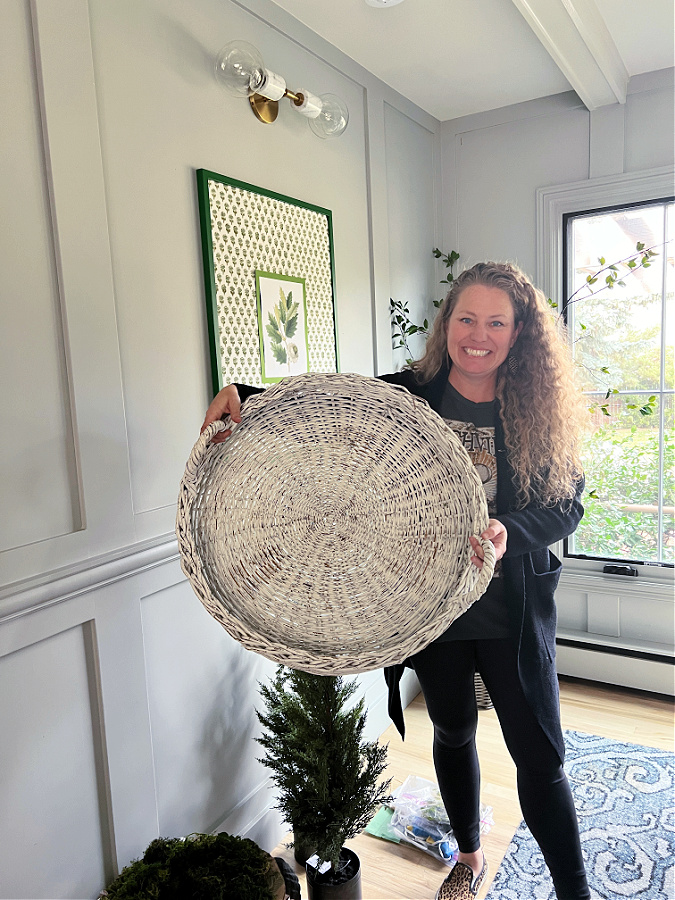 Supplies You'll Need for a Nativity Centerpiece
Nativity set of your choice
Large white wicker basket with handles (or base of your choice)
Glass cake stand (to elevate the Nativity set)
Pinecones (big and small)
Step 1: Setting the Scene
Begin by placing a layer wax paper in the base of your tray or basket. This layer will make for easier removal of your moss.
Next, add a layer of moss at the bottom of your white wicker basket or tray. Moss adds a touch of rustic charm and sets the stage for your Nativity scene.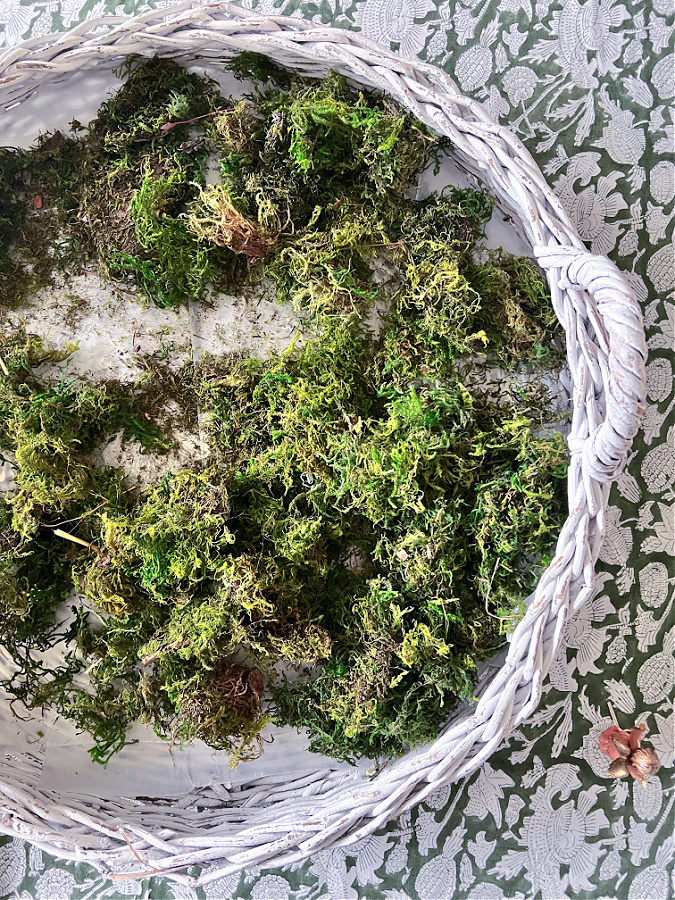 Step 2: The Elevating Cake Stand
Position your glass cake stand in the center of the basket. This elevated platform not only adds depth to the centerpiece but also gives your Nativity scene a focal point.
You could also add any other type of riser, this is just what I had! After seeing my cake stand in the center I moved it off to one side and pushed it closer to the back of my wicker basket tray. It felt more balanced. Just choose what works best for your centerpiece!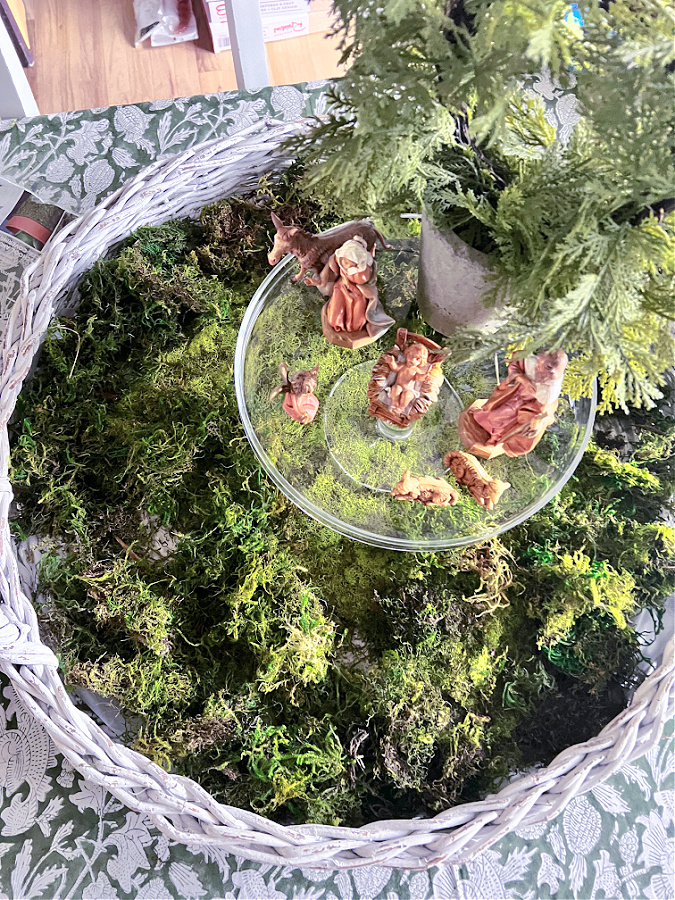 Step 3: The Nativity Set
Now, carefully arrange your nativity set on the cake stand. These figurines are more than just decorations; they're a reminder of the true meaning of Christmas – the birth of Jesus.
Growing up, my family always emphasized the importance of celebrating Christ's birth. It's not about the presents or the lights; it's about love, hope, and the miracle that happened in a humble stable in Bethlehem. I love carrying this on with my family now as well!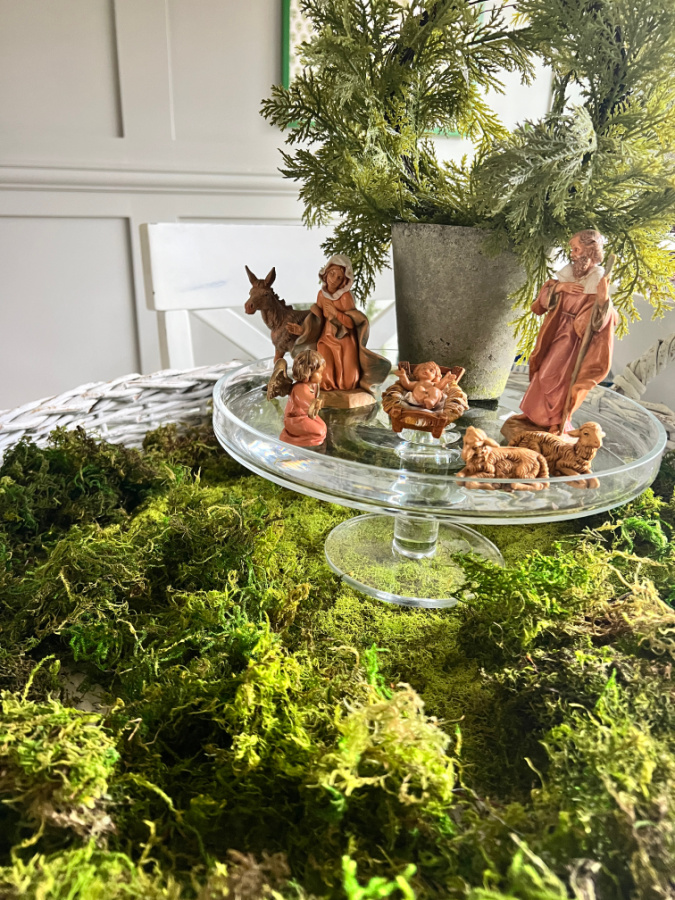 Step 4: Natural Elements
To add a touch of nature to your centerpiece, scatter pinecones of varying sizes around the cake stand.
The earthy tones and textures of the pinecones create a warm, inviting atmosphere and break up all the green.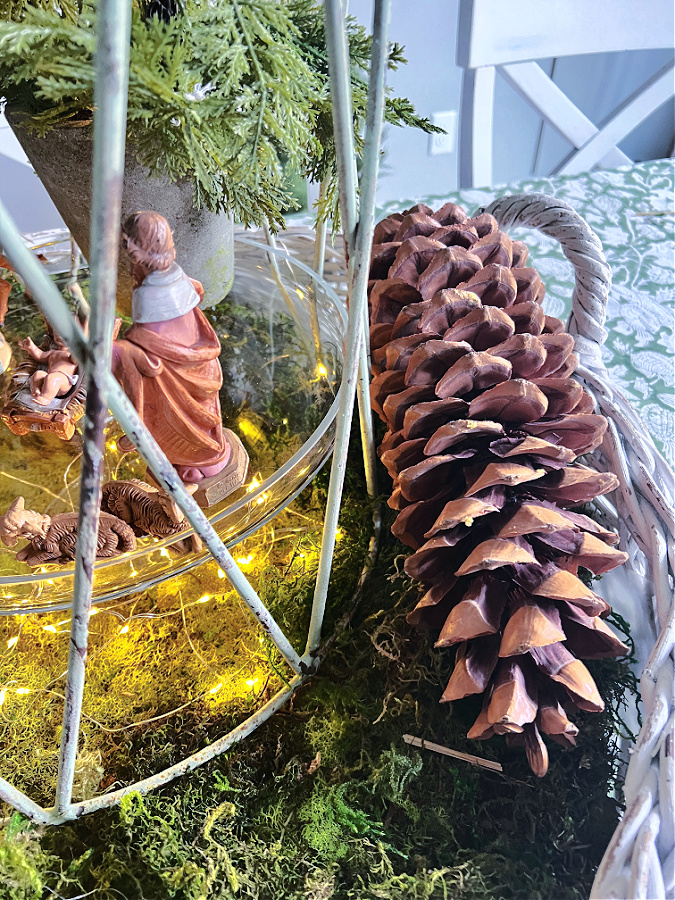 I also added a faux evergreen topiary as a background and to add height behind the Nativity set. Bottle brush trees or any other greenery with height could work as well.
TIP: Visit my How to Prepare Pinecones for Crafts and Decor Posts!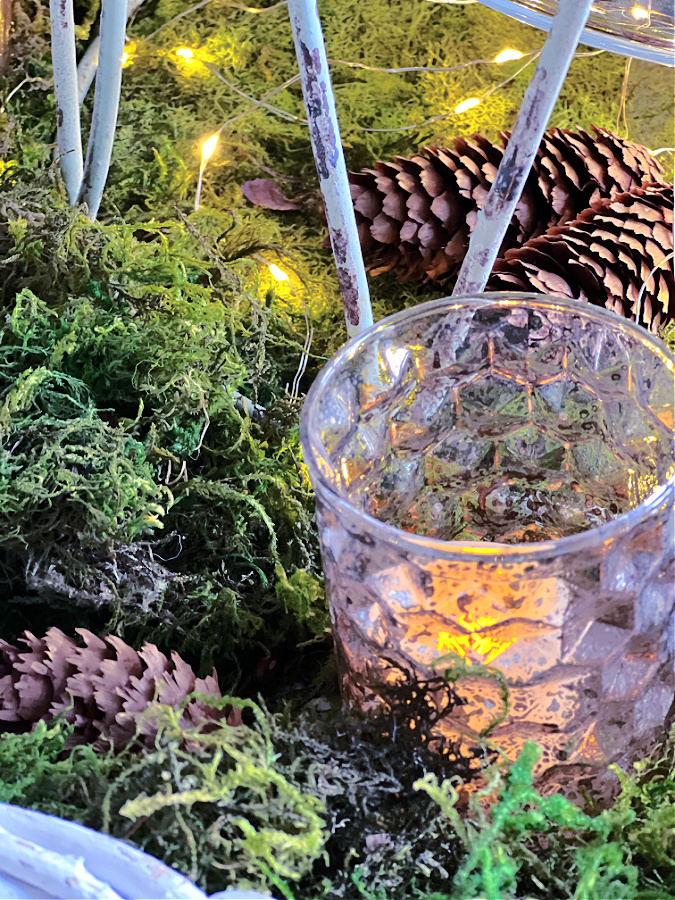 Step 5: Let There Be Light
To bring a magical ambiance to your Nativity Scene Centerpiece, weave fairy lights throughout the basket. I made sure to place a majority of them under the glass cake stand for some up-lighting.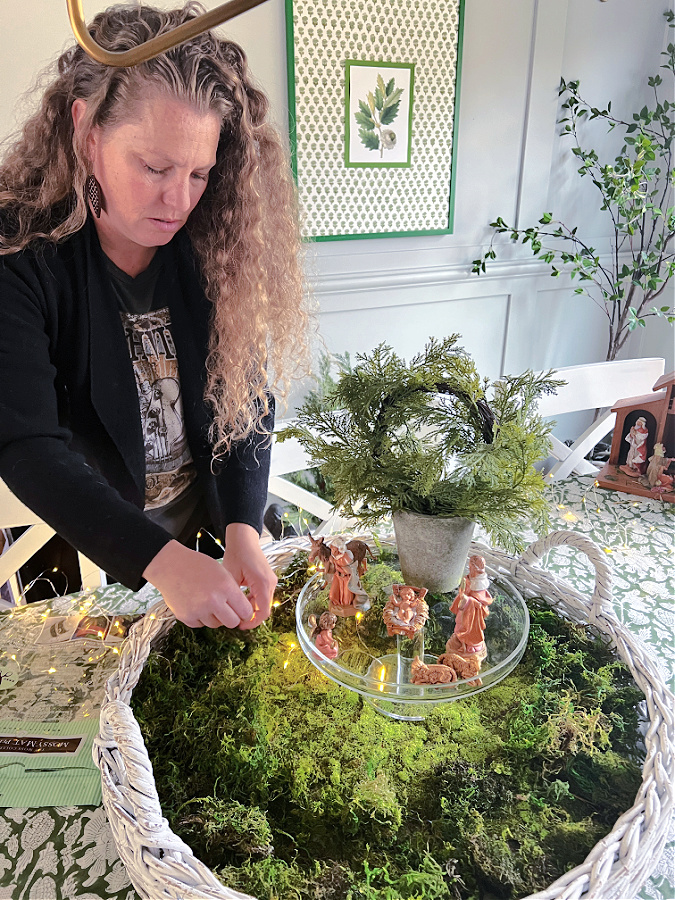 Plus, I wrapped them around the topiary for even more magical lighting!
These twinkling lights symbolize the light of Christ, illuminating the world with love and hope.
Step 6: Candlelit Glow
Enhance the beauty of your centerpiece by placing battery-operated votives in a random assortment of glass votive holders. I used my collection of mercury glass votive holders for a fun sparkly touch !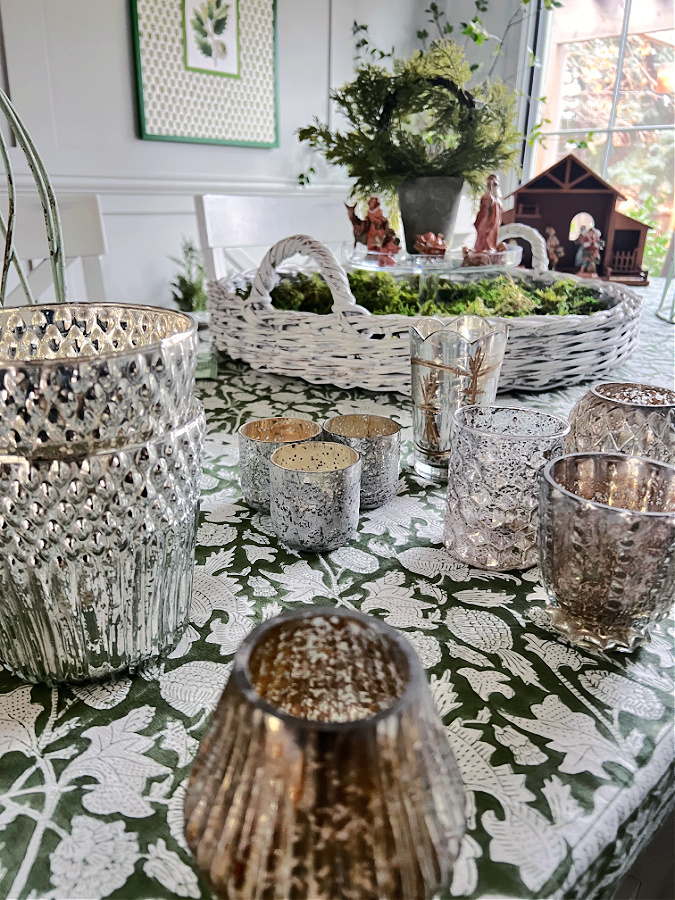 The soft, flickering candlelight adds an enchanting touch to your creation and allows it to become even more lovely in the evenings. Plus, using battery operated lighting keeps this a safe centerpiece!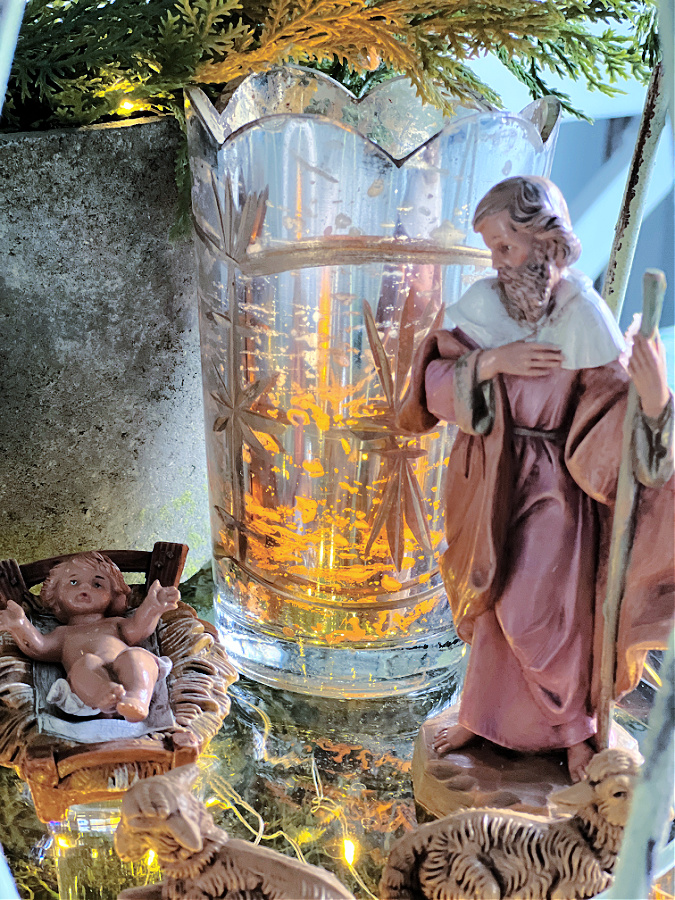 Step 7: Metal Topiary
The final step is completely optional, and depends on what you have on hand.
At first I had envisioned a glass cloche being placed over the cake stand holding the nativity set but I didn't have one quite big enough. I even thought about just using the dome from the cake stand but it was too small.
So luckily I had this gorgeous metal topiary that fit perfectly over both the cake stand and nativity. It added height, visual appeal and a unique feel! It was the finishing touch!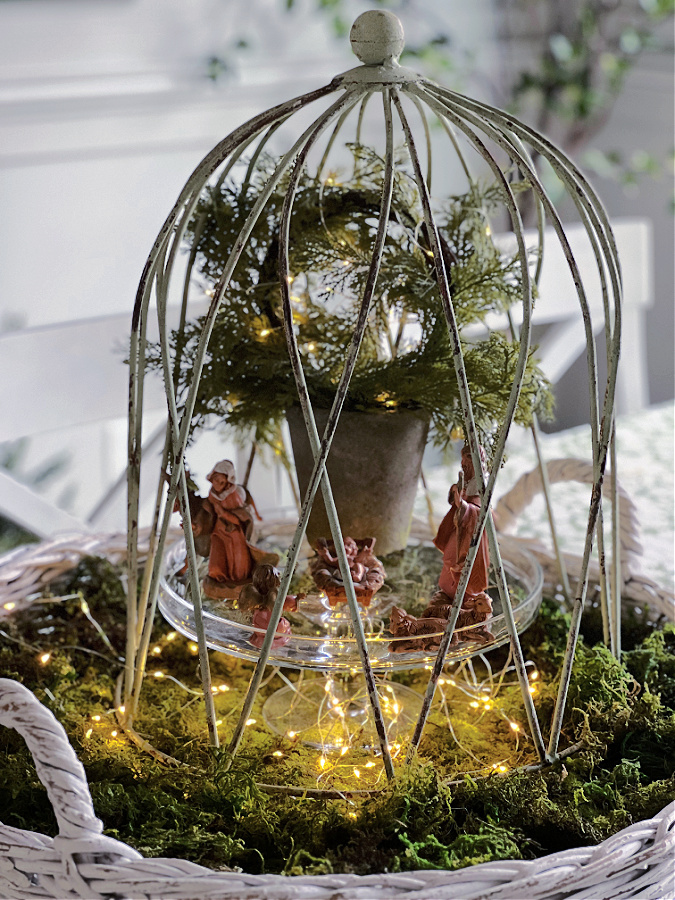 Portable Christmas Centerpiece
The best part? This centerpiece is portable, thanks to the handles on the wicker basket. You can move it around your home to spread the festive cheer. Maybe try it on your kitchen counter, coffee table, side table , kitchen table or dining room table.
I currently have it placed in the center of our dining room table. But will be able to easily move it once we have gusts at our table.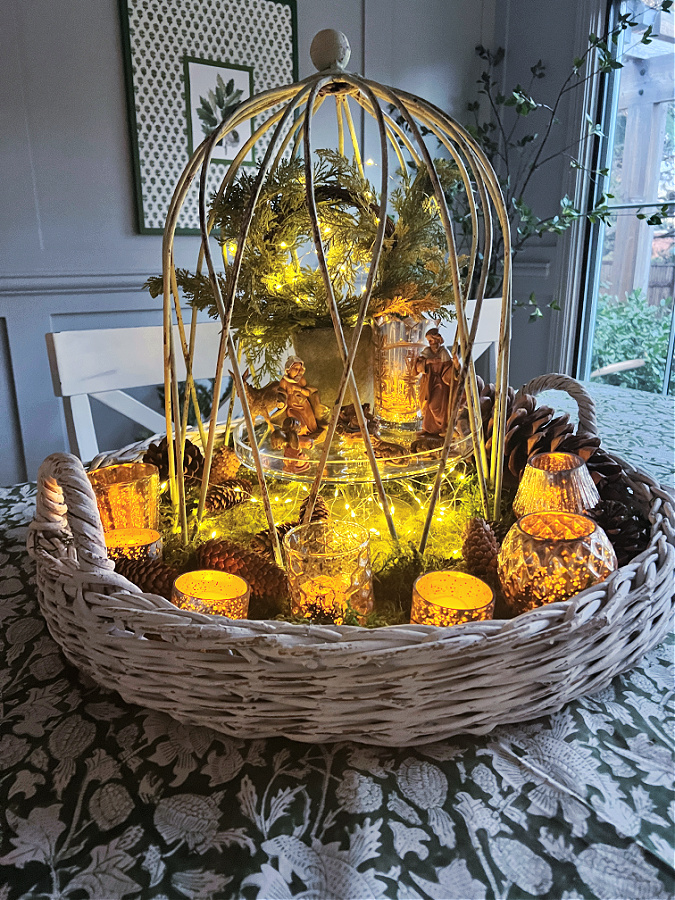 Lighted Christmas Centerpiece
But let me tell you, this centerpiece truly comes alive at night. As the sun sets and the fairy lights and votives cast their soft glow, the Nativity scene seems to come to life, reminding us of the incredible story that Christmas is all about.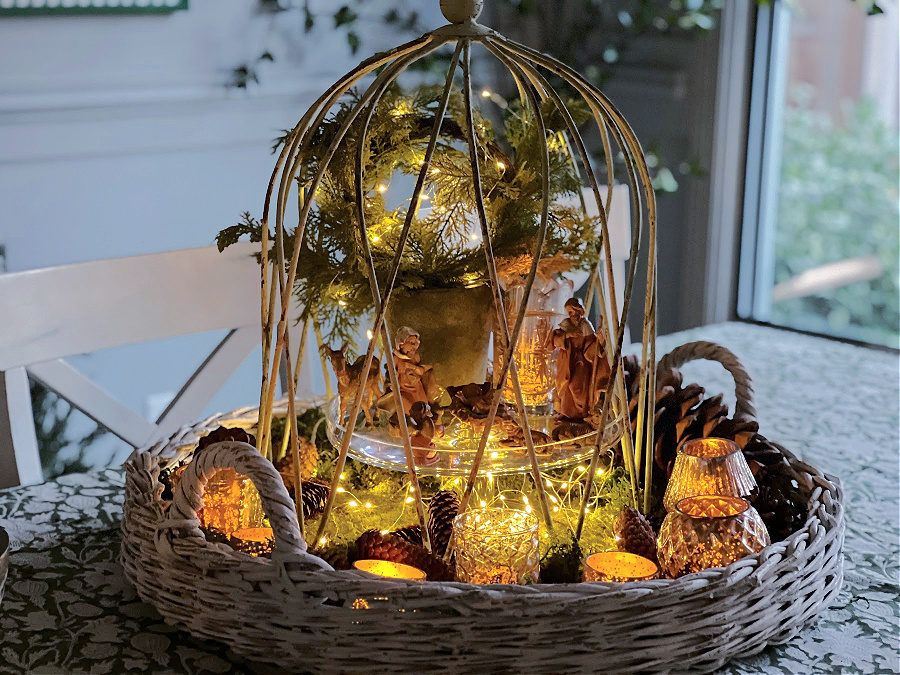 Remember, amidst the hustle and bustle of the holiday season, it's essential to keep the true spirit of Christmas in our hearts. Let's make an effort to focus on the reason for the season – the birth of Jesus.
6 And so it was, that, while they were there, the days were accomplished that she should be delivered.

7 And she brought forth her firstborn son, and wrapped him in swaddling clothes, and laid him in a manger; because there was no room for them in the inn.

Luke 2: 6-7
How to Create a Nativity Scene Centerpiece
So, there you have it, a heartwarming DIY Nativity Scene Centerpiece that captures the essence of Christmas and is a beautiful reminder of the true meaning of this wonderful season.
I hope you'll give it a try and make it a part of your holiday traditions. Wishing you a joyous and meaningful Christmas season, filled with love, hope, and the magic of Christ's birth.
Next up on our tour is Michelle of Thistle Key Lane's soup tureen centerpiece! After visiting her post make sure to scroll down and visit the others linked below.
Monday's Tour
Stonegable // Worthing Court // A Stroll Thru Life // The Tattered Pew // Thistle Key Lane
Tuesday's Tour
First Day of Home // My Wee Abode // Midwest Life and Style //
Bricks 'n Blooms // Craftberry Bush
I'd love to have you hang out with me some more! Feel free to follow along with me on any of the platforms linked below.
LTK | Facebook | Instagram | Pinterest | Amazon
xoxo,
Kelly
Did you like this post? PIN it for later!