How to Clean Vintage Linens
How To Clean Vintage Linens
I wanted to share an easy and simple way to clean old, delicate or vintage linens.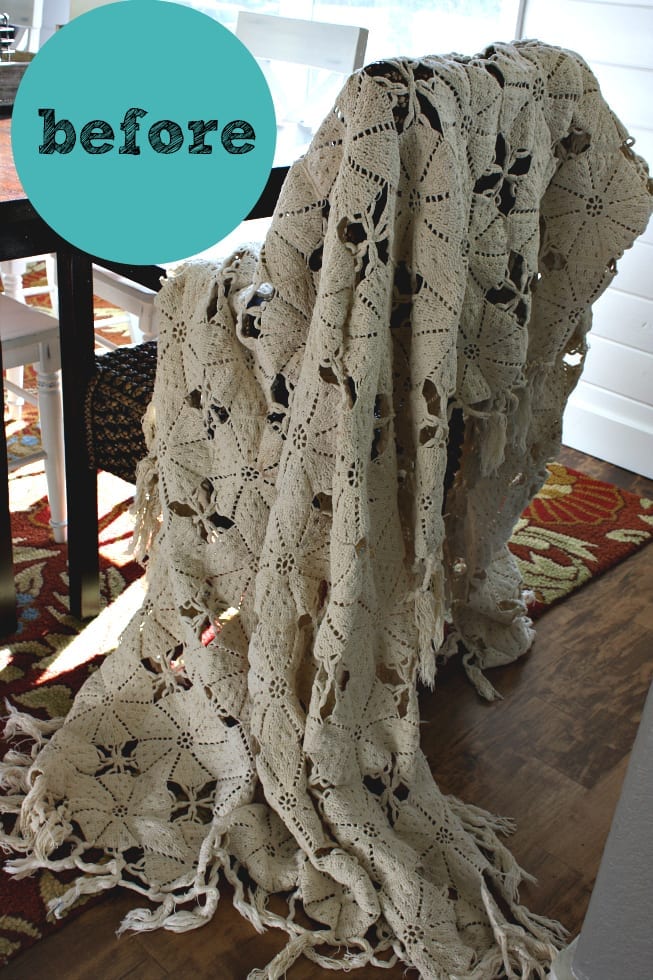 I was out treasure hunting at one of my favorite little shops in Eaton, CO called The French Corner. While looking around, I found this old gorgeous hand crocheted quilt. The price was an amazing $16 but there was one problem.  It was extremely yellow and dingy. It had obviously been around the block a time or two if you know what I mean.  My husband thought I was crazy for buying it. But I could see the beauty under all the years of old dirt. Vintage dirt at its finest! Ha! Below are the steps I used to bring it back to its glory days!
Here are the simple steps to cleaning old delicate linens:
Find a tub that is large enough to hold your linens as they soak in water. I used this old white metal tub we use for holding iced drinks at parties. Place it outside in the hot sun. (The sun and heat are just a bonus in the whitening process, but not necessary.  Maybe double check that the weather will be good when you try this.)
Next, you will need to boil large amounts of water. At least enough to cover the entire linen you want cleaned. I ended up adding hot water from the faucet as well just to make sure it was fully emerged in water. It was somewhat of a pain because I had to haul the boiling water carefully outside several times to fill the large tub.
I used Oxi Clean as the main cleaner! I use it all the time and love it! Make sure you have it on hand because you will need to immediately add it to the tub of hot water. I added 4 large scoops of Oxi Clean to the water and stirred it around. (You can find it at most local grocers)
Next I put the large crocheted quilt in the tub of hot water. I used kitchen tongs to push it down and stir it around.
I let it set outside for two full days! (I'm guessing one would have been fine) The water immediately turned brown and I could see the dirt rising to the surface. It was not a pleasant sight, but I knew it was working!

Instantly you could see parts of the quilt turning white and dirt rising to the top!

After two days of soaking, I drained the water and took the quilt up to my washing machine. I turned it to the delicate rinse cycle and tossed in the soaking wet quilt. This cleaned off the extra dirt and Oxi Clean. I then let it air dry.
I hope this helps you not shy away from buying or keeping your vintage linens now that you know how easy it is to clean them. I plan on using this crocheted quilt all over my house. I'm currently loving it in my olive bucket and dough bowl full of pumpkins and ready for fall. Please let me know if you have any questions! As always I am so thankful for all of your comments. Make sure to subscribe to my blog so you don't miss a post!      Kelly