Fall Into Our Homes: Fall Kitchen Tour 2017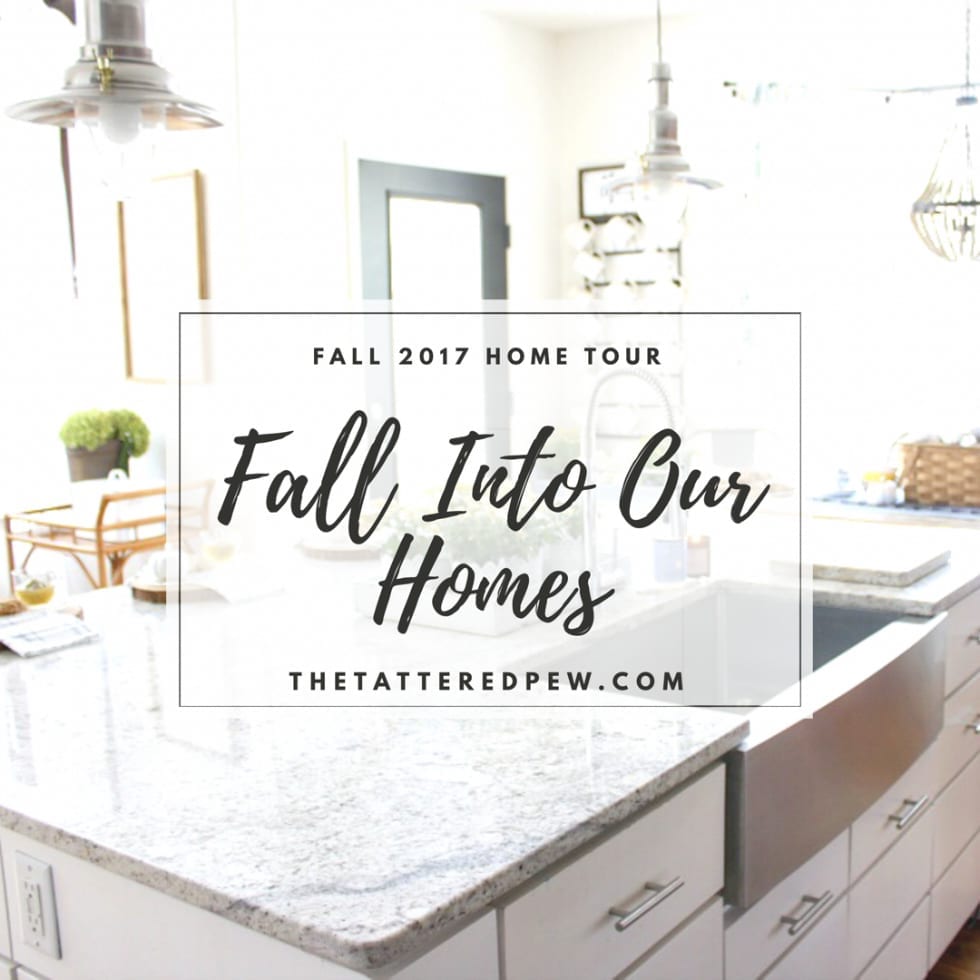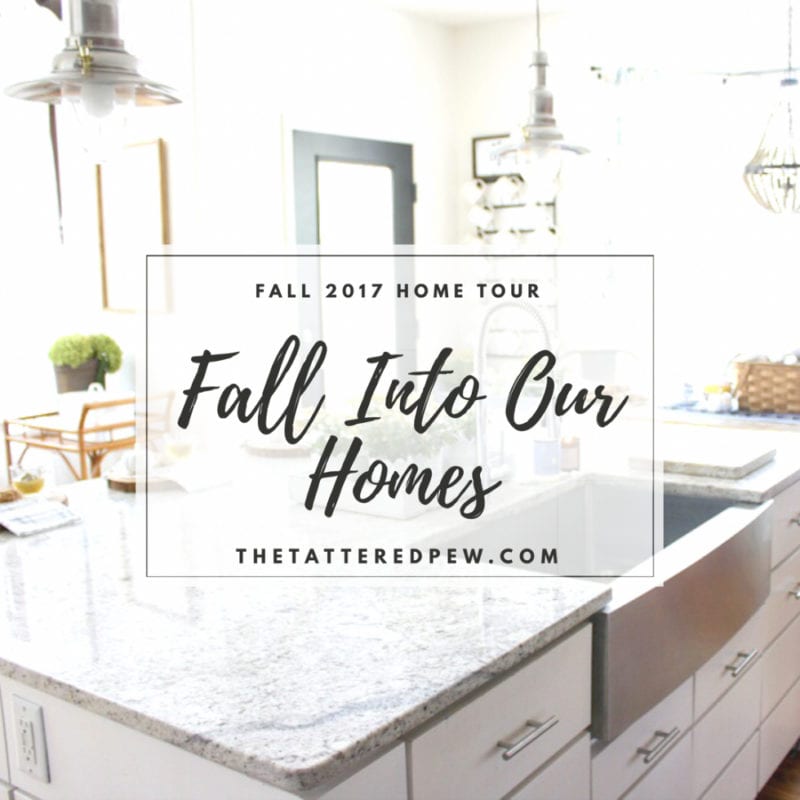 Hi friends, so glad you are here! It's fall tour day here at The Tattered Pew and I have joined up with 11 other incredibly talented bloggers to share our fall homes with you.  You can find each of the links at the bottom of this post.  So be sure to stop by and see their beautiful homes as well!

Come on in and welcome to my fall kitchen!  I just made fresh scones and tea so I hope you will join me as I show you around.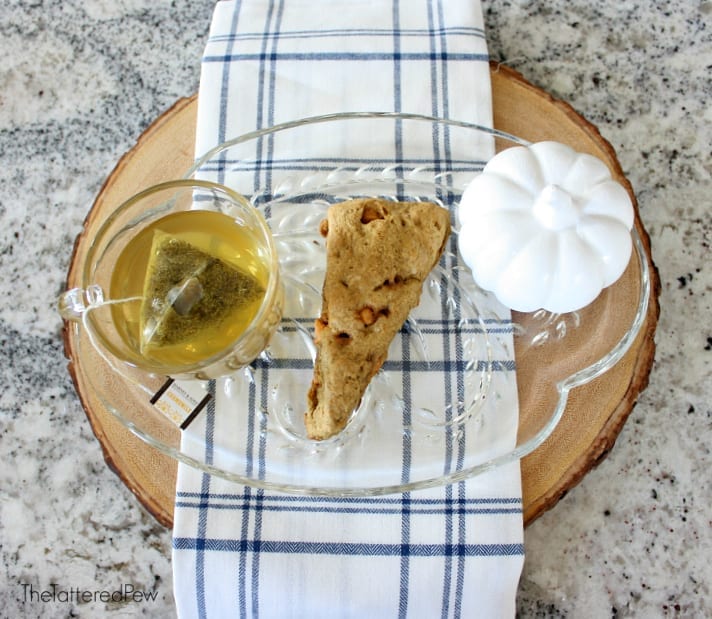 Here in Colorado the weather is slowly starting to feel like fall.  Slowly being the key word.  But it will be here before we know it!
That means inside our home I have  started preparing for fall as well. My mind basically started dreaming about fall decor mid August.  Yep, I am one of those people! 🙂
When I think of fall I think of football, warm drinks , yummy food, pumpkins, plaids, boots and yummy food!  Oh wait, I already said yummy food didn't I?  😉 But seriously, comfort food and fall go hand in hand for me!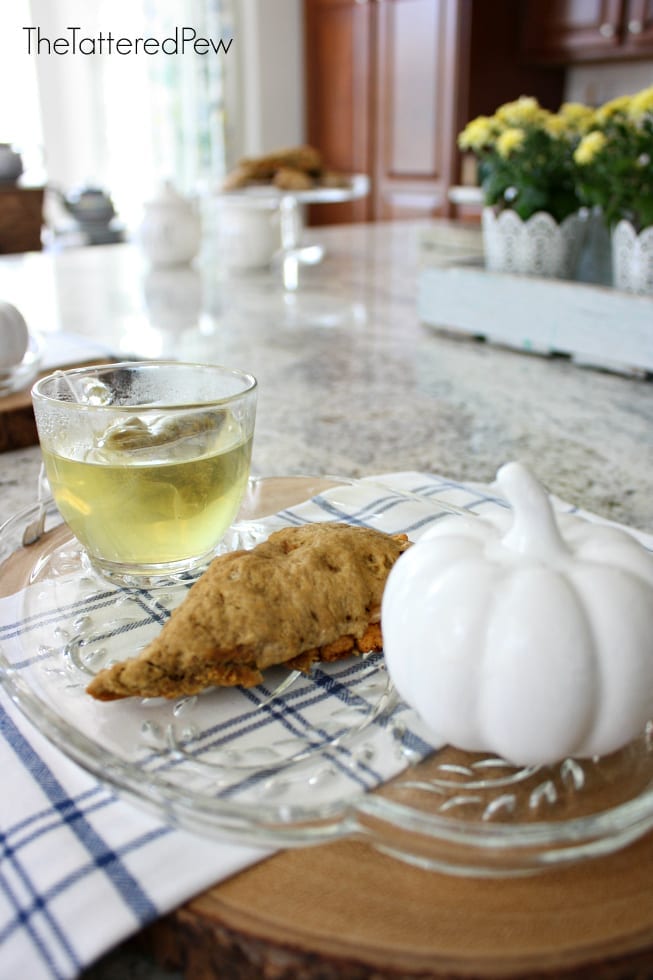 So today I am sharing with you our kitchen ready for a fall tea party…complete with scones and pumpkins!  I will be sharing this seriously yummy and easy scone recipe next week on the blog so keep an eye out. Click here for the recipe!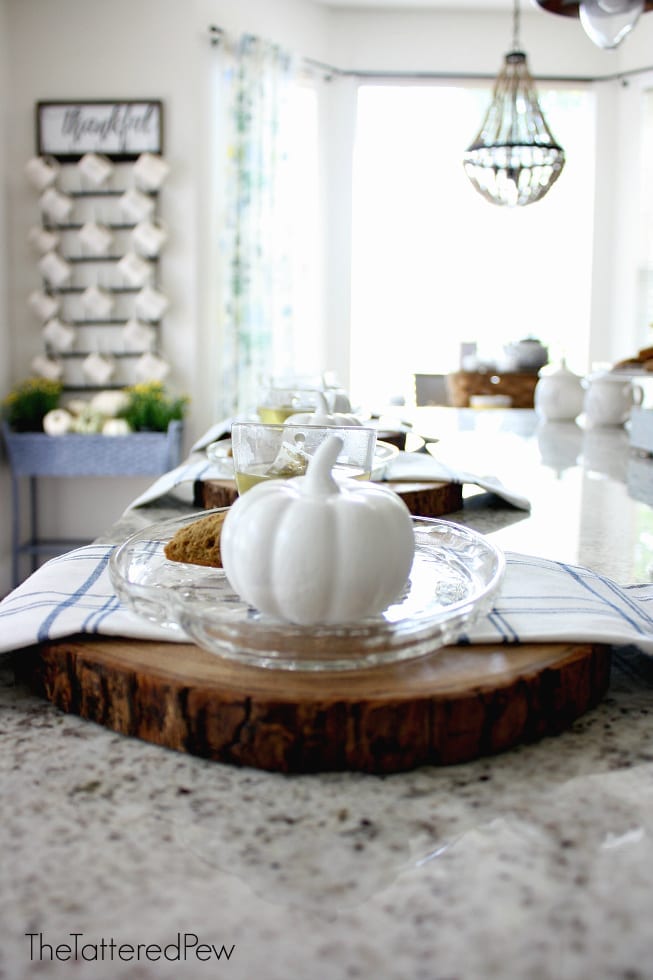 The scones needed a pretty resting place and luckily I found these lovely vintage clear plates with matching glasses at a local flea market several months ago. They did the trick.  There are 14 plates and glasses in the set and I scored them all for $14! Amazing deal, right?!  I have been waiting to show them off.  Aren't they lovely?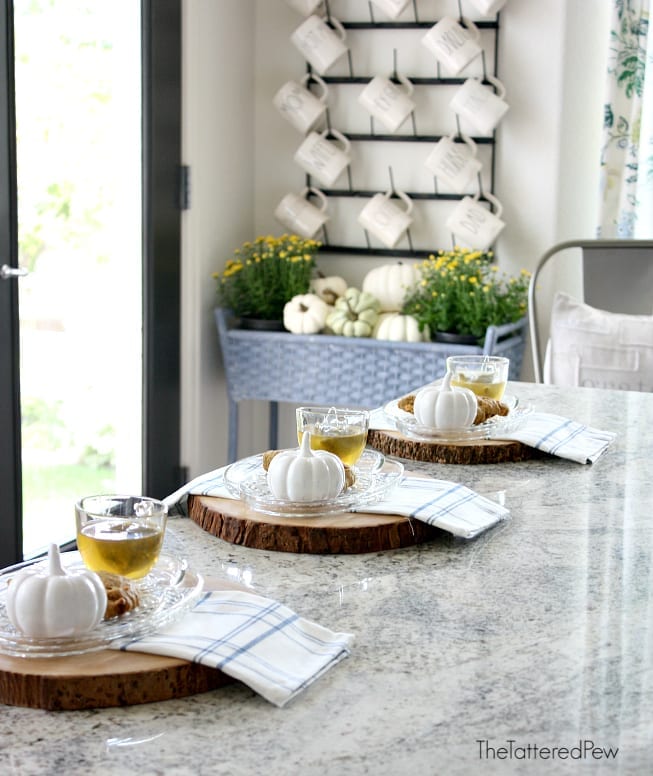 To keep our fall tea party pretty simple I set these wood chargers on our island.  These wood chargers bring a nice textured earthy element and are from World Market and the napkins are from the dollar bins at Target. The white pumpkins are also from the Target dollars bins but I purchased them last fall. They were originally orange and I just spray painted them white.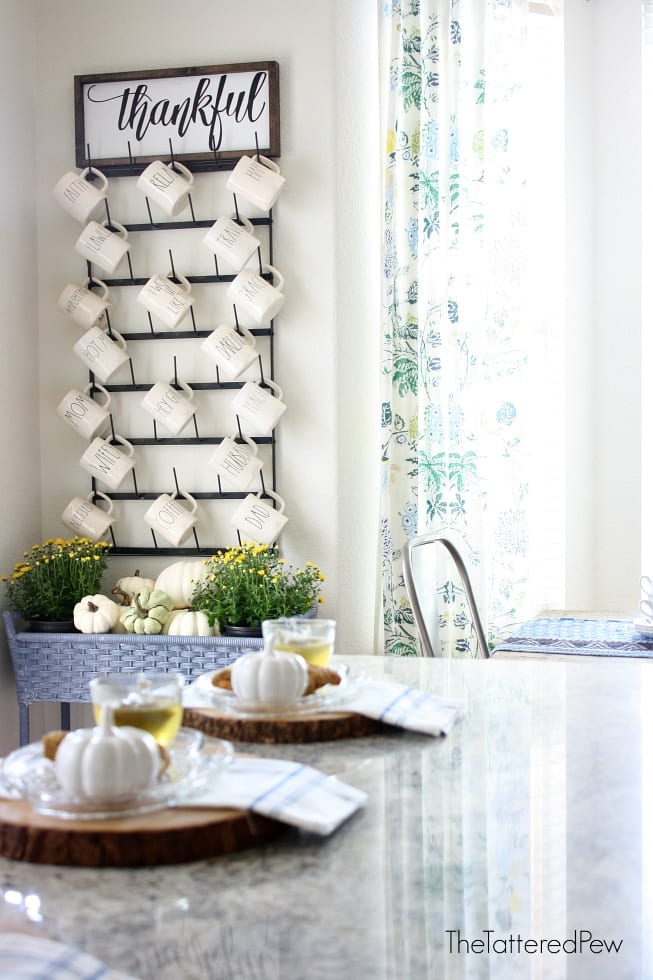 I mostly shopped our house for items to decorate with (besides the dollar bin napkins and mums) and had fun sticking to whites, blues and yellows.  (Blue is my go to color!)  Not the traditional fall colors you might expect.  I like to do my own thing and think outside of the box sometimes when it comes to decor and colors.  Shocker, I know! 🙂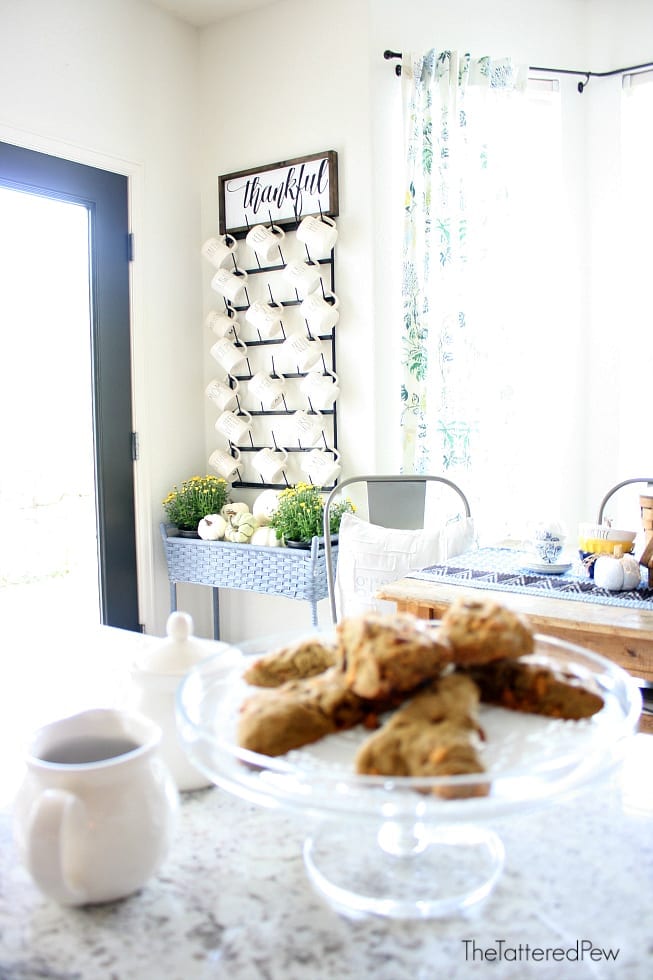 My mug rack from Decor Steals was easy to add fall touches to.  I filled the vintage blue plant stand beneath it with mums and faux pumpkins and called it good. I also added a thankful sign from Emily at Queen B Home.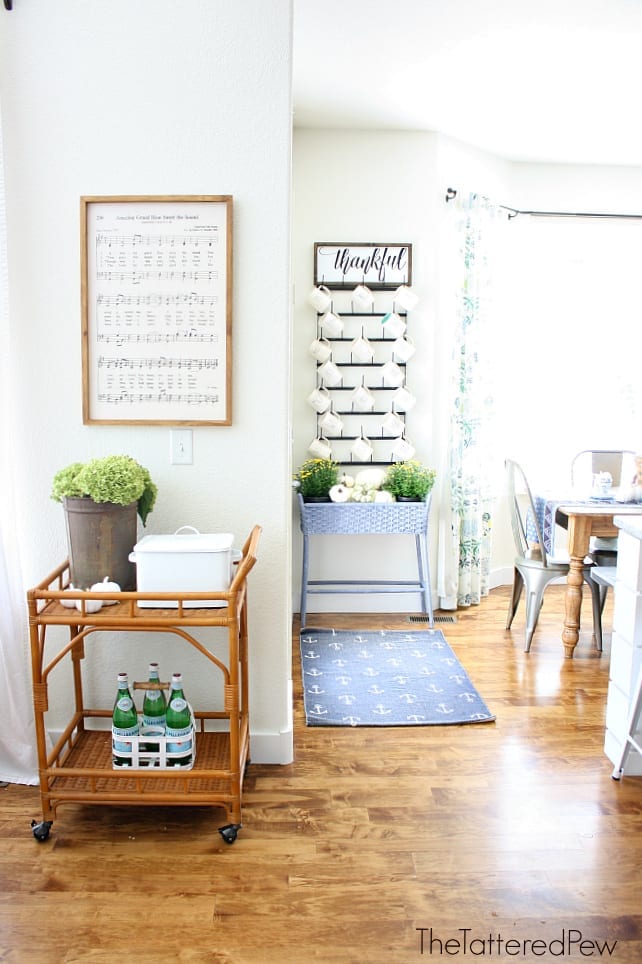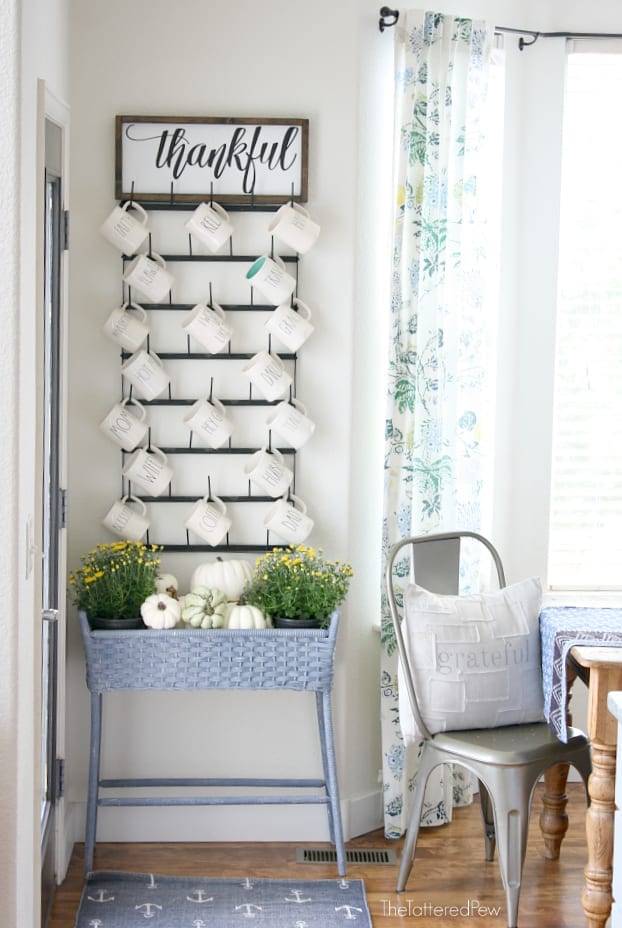 The grateful pillow was gifted to me by a friend and made by Bianca of With Lavender and Grace.  
It sums up how I feel about the upcoming season. Grateful!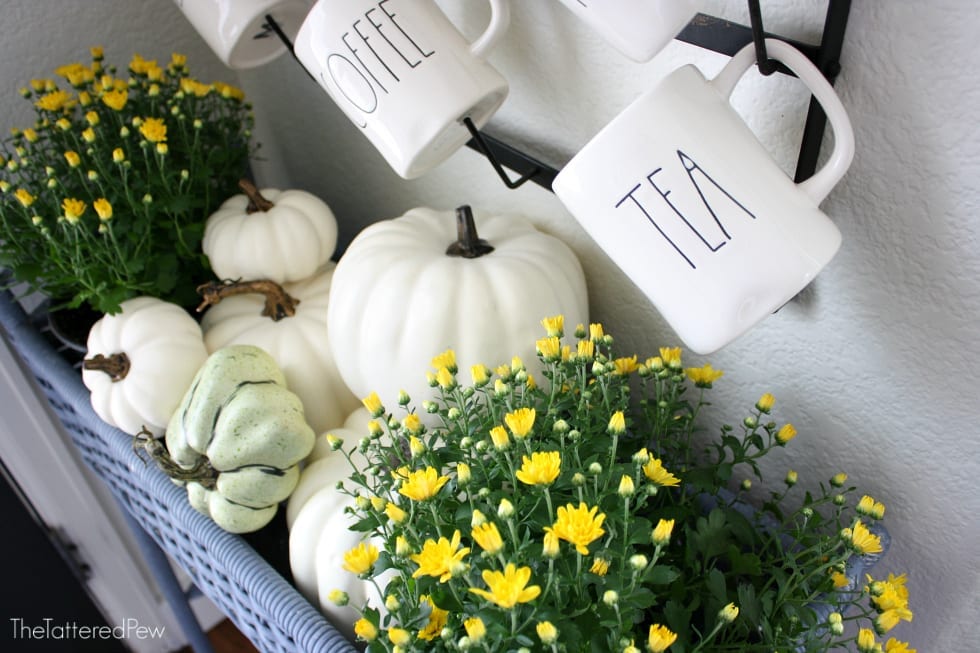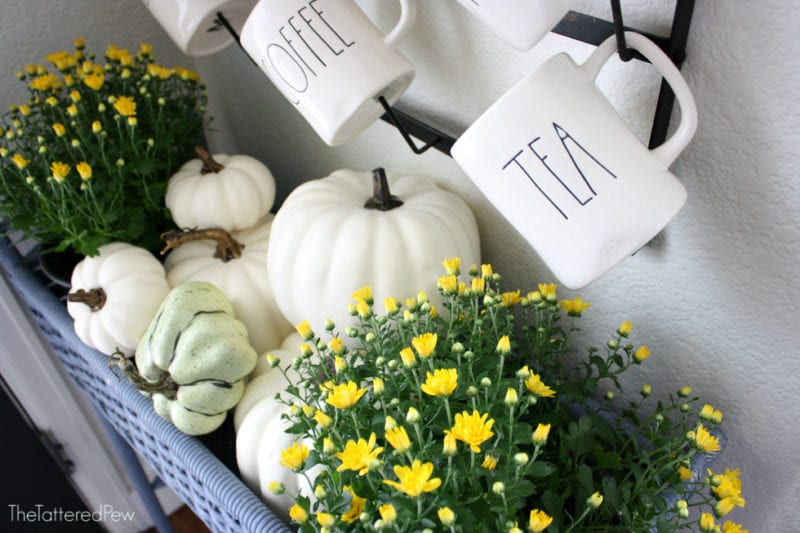 My Rae Dunn tea mug was just begging to be used! It's like she was made for my fall kitchen.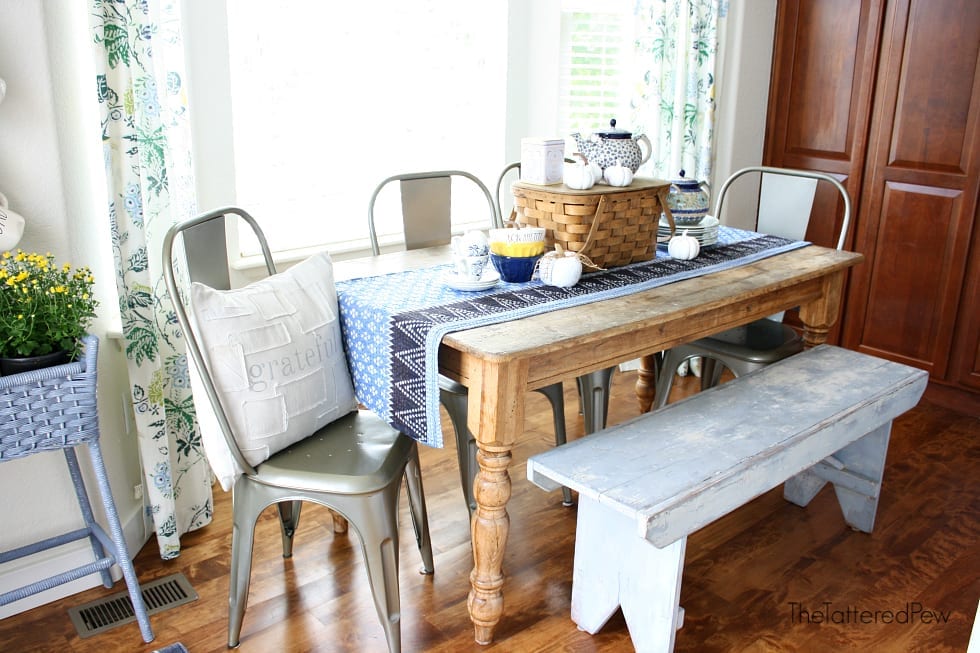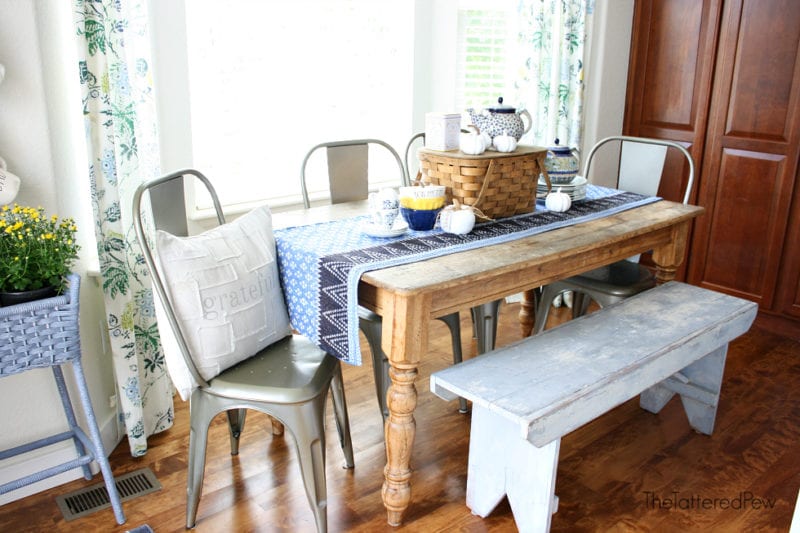 Next, I wanted to carry the tea party over to my favorite farm table.  Here I had fun creating a vignette with pumpkins, tea pots, tea cups, bowls, plates and an old picnic basket and my favorite throw. All items I already had on hand.  I just picked items that matched my white, yellow and blue theme! So fun and SO easy and SO budget friendly!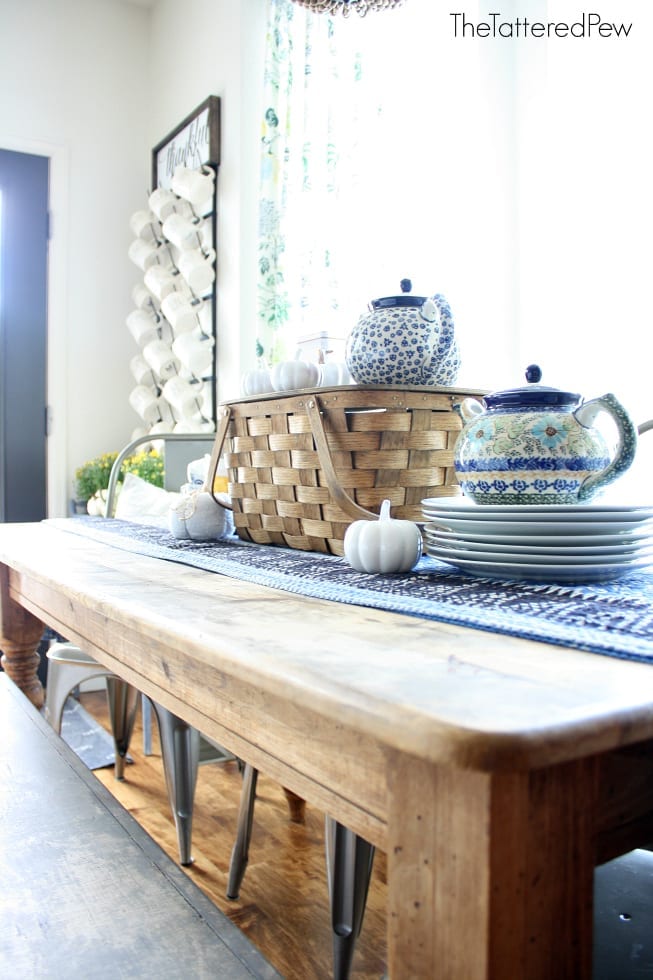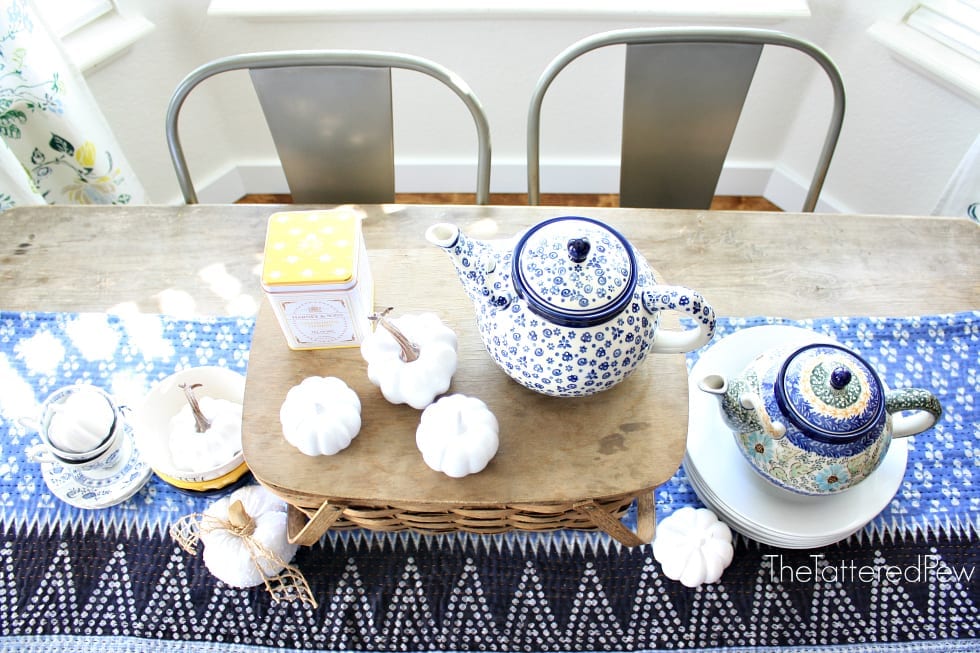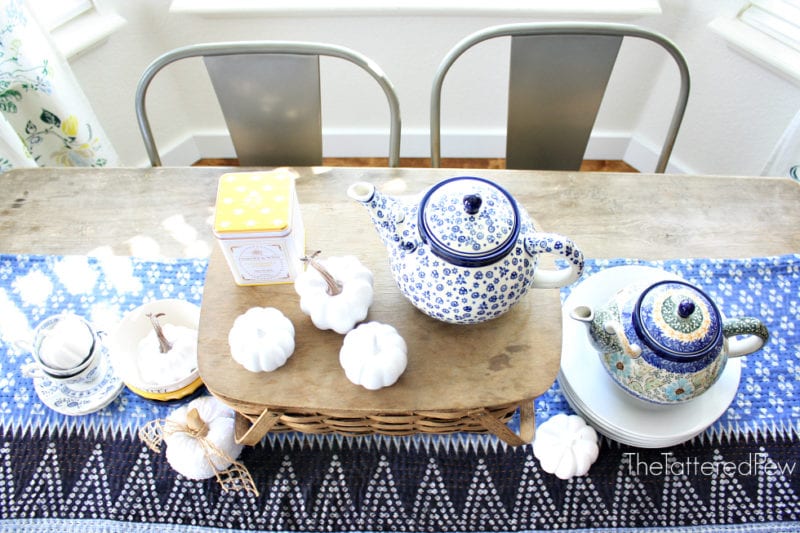 I also added my Rae Dunn (large black writing pieces) and Polish pottery wherever I could! Both collections compliment my blue and white ironstone tea cups perfectly.  I think the pattern on these tea cups is beautiful and if I had to place bets this china pattern will be my next collection!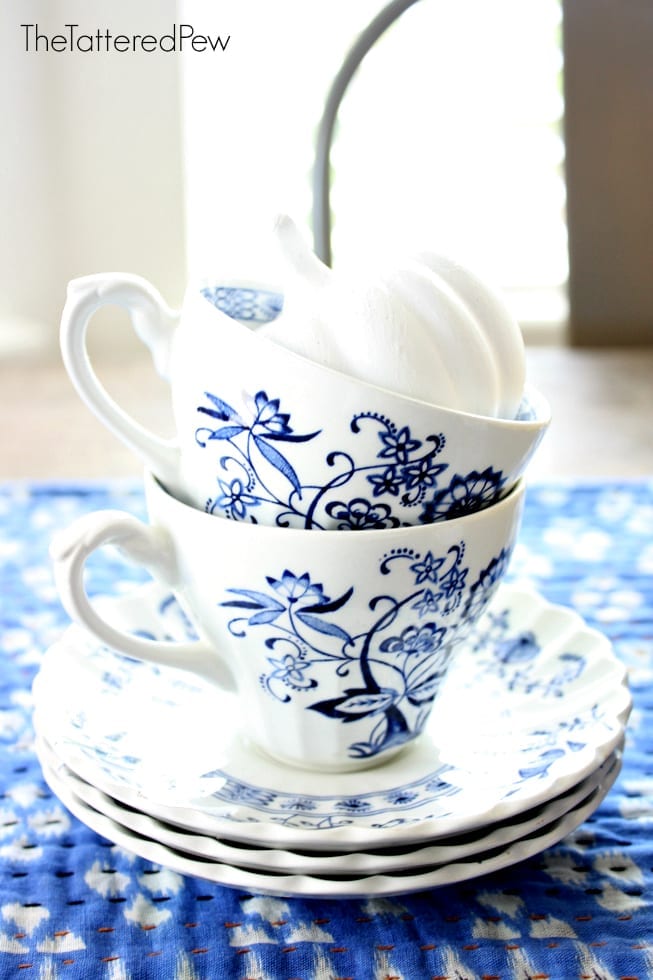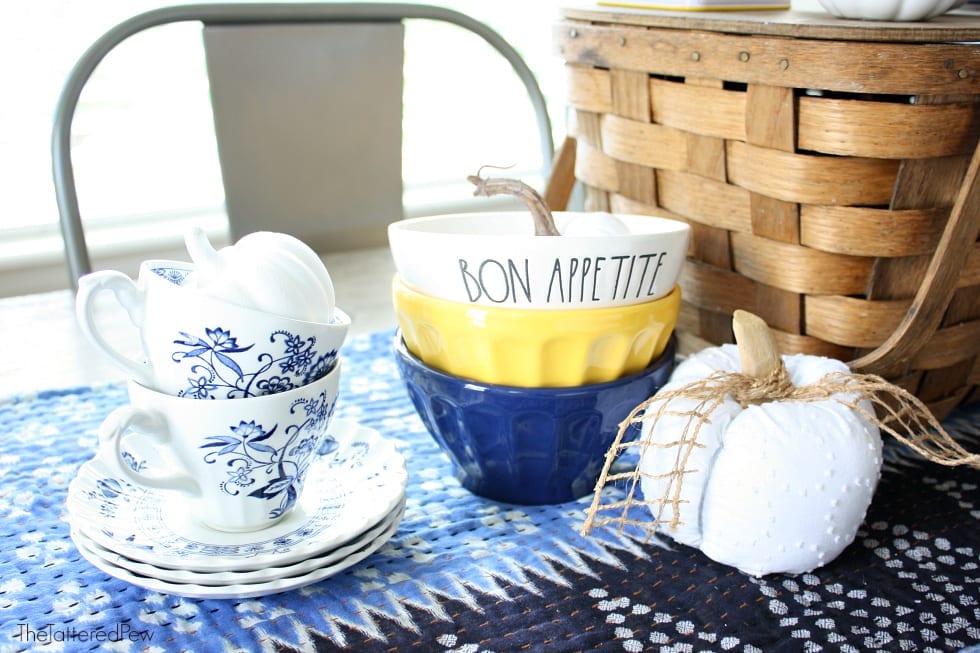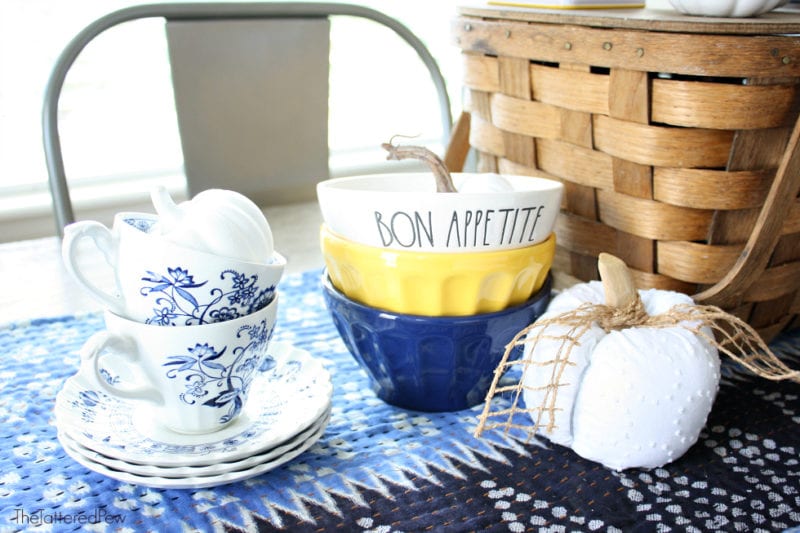 That darling little fabric pumpkin with the driftwood stem (above) and the striped blue one in the picture below were made by my friend Wendy at A Coastal Cottage. I saw her pumpkins on Instagram and knew I needed them in my life.  My husband on the other hand wasn't as convinced of this as I was.  He eventually came to love them once he saw them all over our house!  Ha! 😉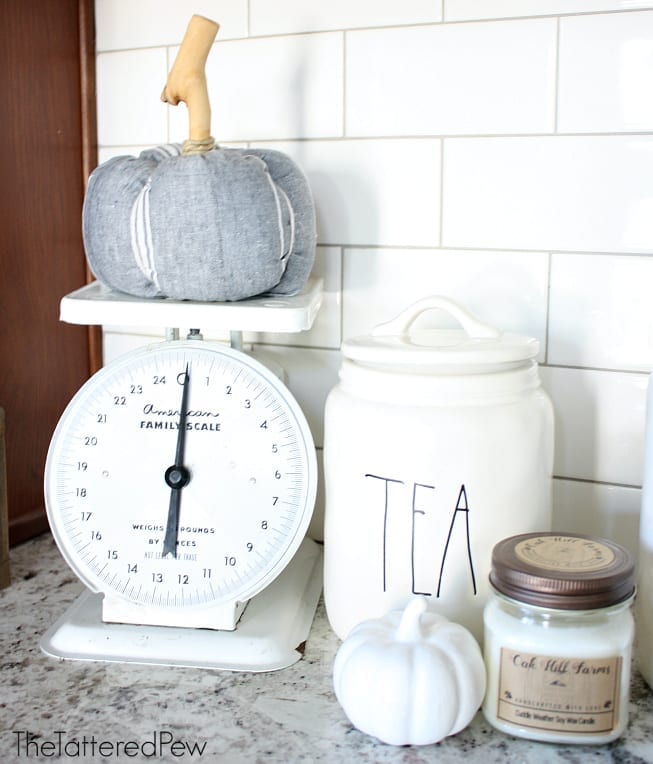 The awesome candle next to my Rae Dunn tea canister is from another Instagram friend, Carla at Oak Hill Farms.  This candle is called Cuddle Weather and gives me all the fall feels! I suggest you check out each shop mentioned in this post! I have made it easy for you… just click the blue links and they will take you directly to their shops!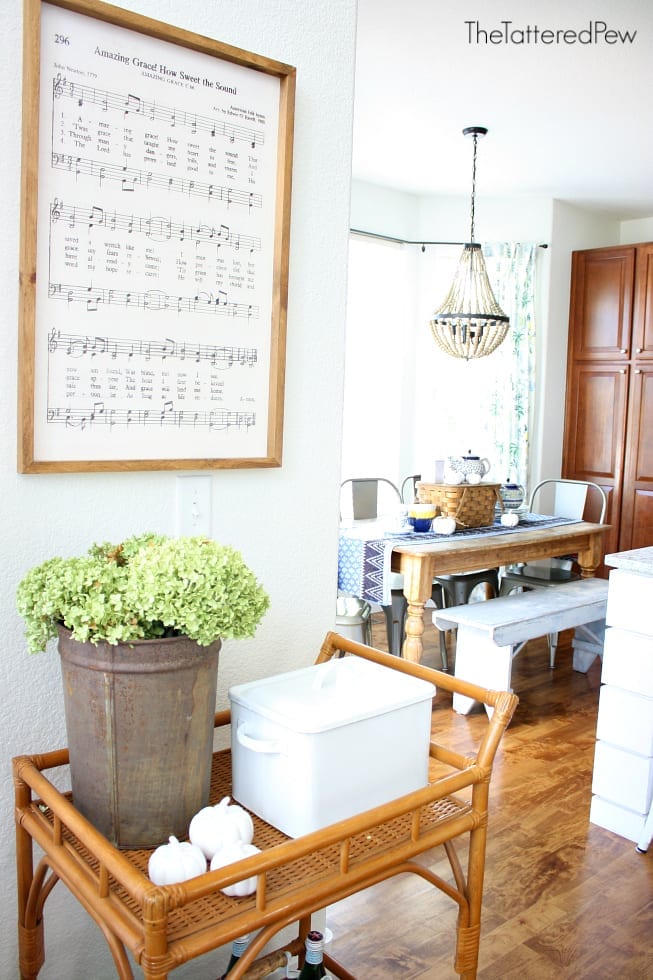 Here is another peek looking back at my favorite table.  I know I have mentioned this before but that lovely farm table was free from a friend who was moving.  I love the collected feel it adds to our home and kitchen.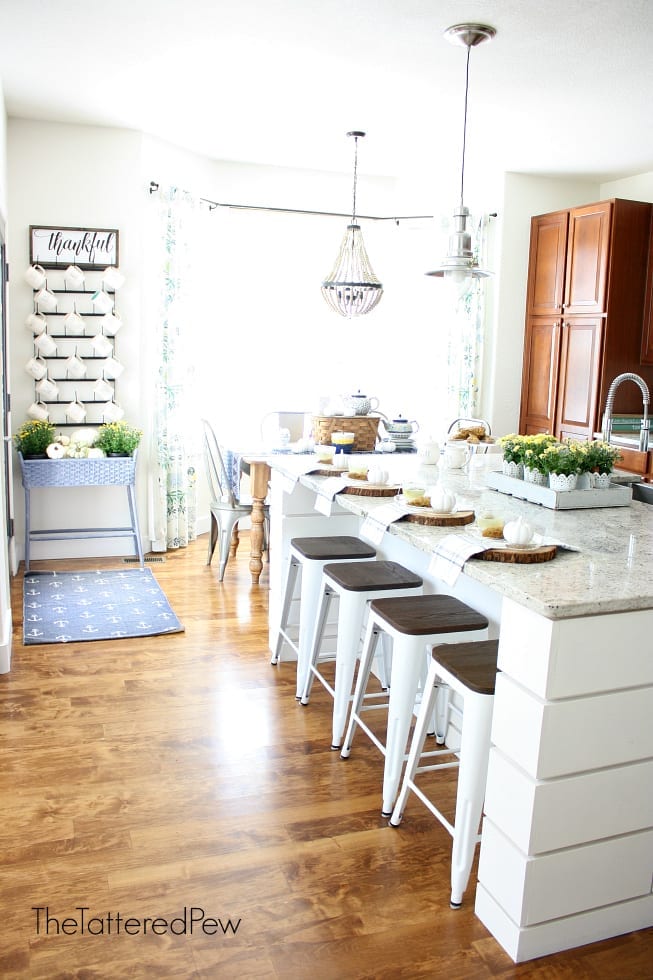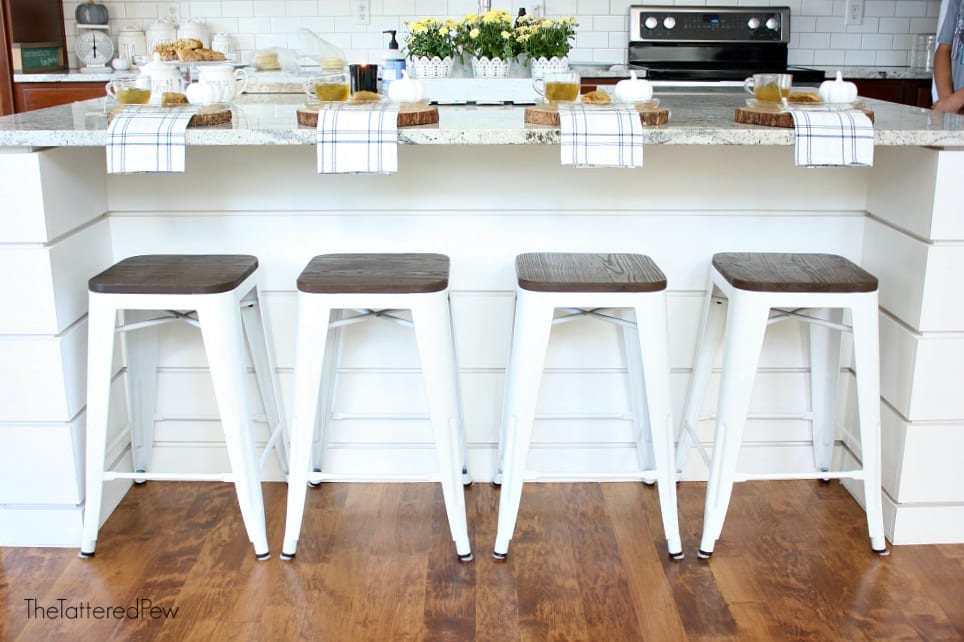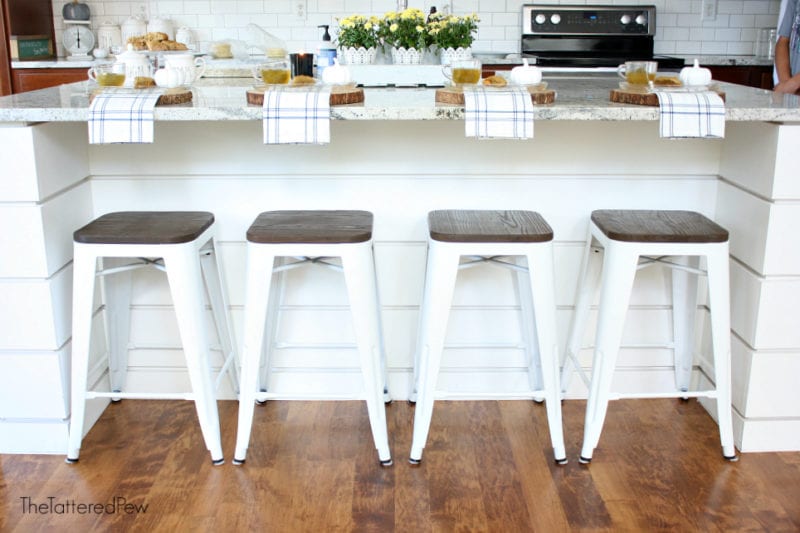 OK so one last story… see the picture above? Look very closely at the top right side. You may notice an arm in the picture.  Well while I was taking pictures for this post our 14 year old and a few of his buddies came in after to school to look for some food (like most teenage boys).  While they were making food one stopped and said, "Wow! Your house looks so different! It looks really good!" I smiled and explained to him that I had been decorating for fall and was taking pictures for my blog. He totally made my day because he then added, "Well you did a great job! It's beautiful!" The rest of them mumbled and grunted in agreement. 😉
He is welcome at our house anytime!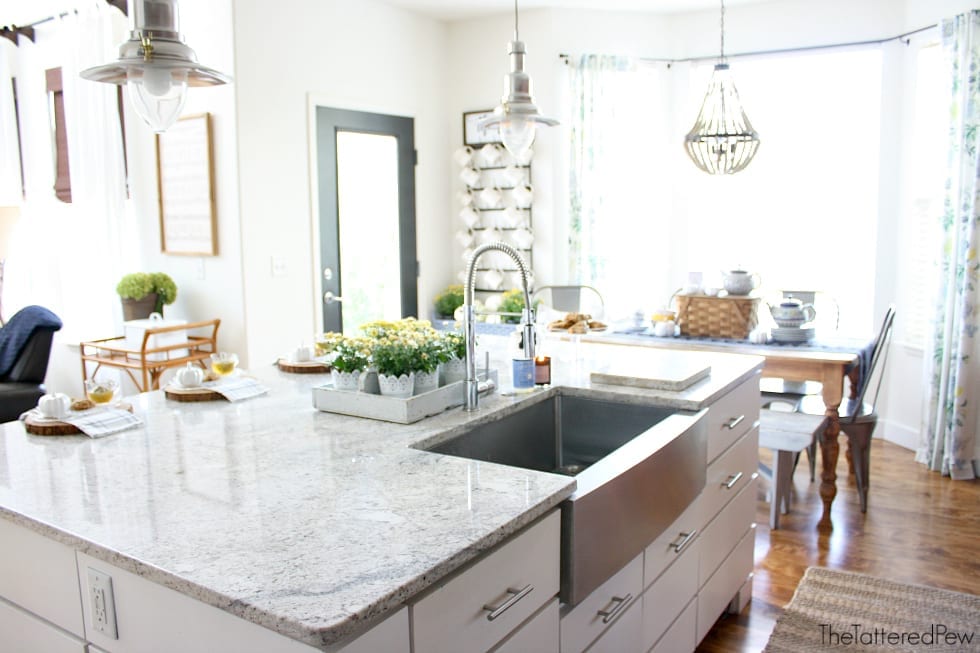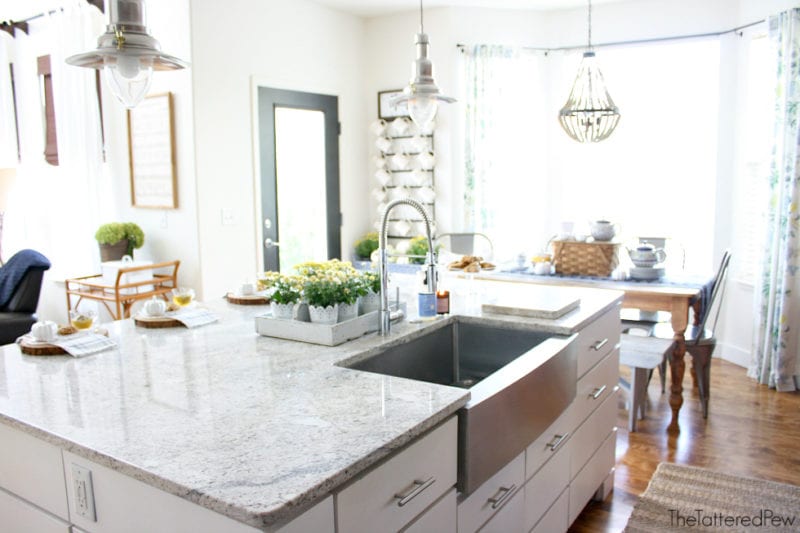 Well friends I hope you enjoyed the tour around our fall kitchen!  I sure loved sharing it with you. I will share my scone recipe next week, I promise! Make sure to subscribe to the blog (on my home page) so you don't miss it!
Be sure to stop by the rest of my amazing friend's tours! (links below)
xoxo,
Kelly
Fall Into Our Homes Participants
Click the picture to visit each blogger's fall home!