Colorful Valentine's Day Table Decor Ideas
Happy February friends! Do you need a helping hand to bring Valentine's Day cheer into your home? Decorating for Valentine's or Galentine's Day doesn't have to be complicated or expensive. Whether you want to get creative with flowers and votive candles, showcase your favorite china pieces, or combine all those beautiful colors of the season on one table, these colorful Valentine's Table decor ideas are sure to add an extra bit of love in the air!
As an added bonus, you can use most (if not all) of these décor items later on as part of your Spring decorations too! So break out those table supplies – it's time to DIY this romantic holiday with style and pizzazz. Have fun creating!
*As an Amazon Associate, I earn from qualifying purchases. This post contains other affiliate links too for your convenience. Click here to read my full disclosure policy.
Colorful Valentine's Day Table Decor Ideas
Valentine's Day is just around the corner and it's time to make your house look festive. One of the easiest ways to decorate for the holiday is to create a beautiful tablescape for your dinner or celebration. If you're looking for some inspiration, these colorful Valentine's Day table ideas are sure to get you in the mood! Read on to learn how you can create a simple yet eye-catching centerpiece your guests will adore.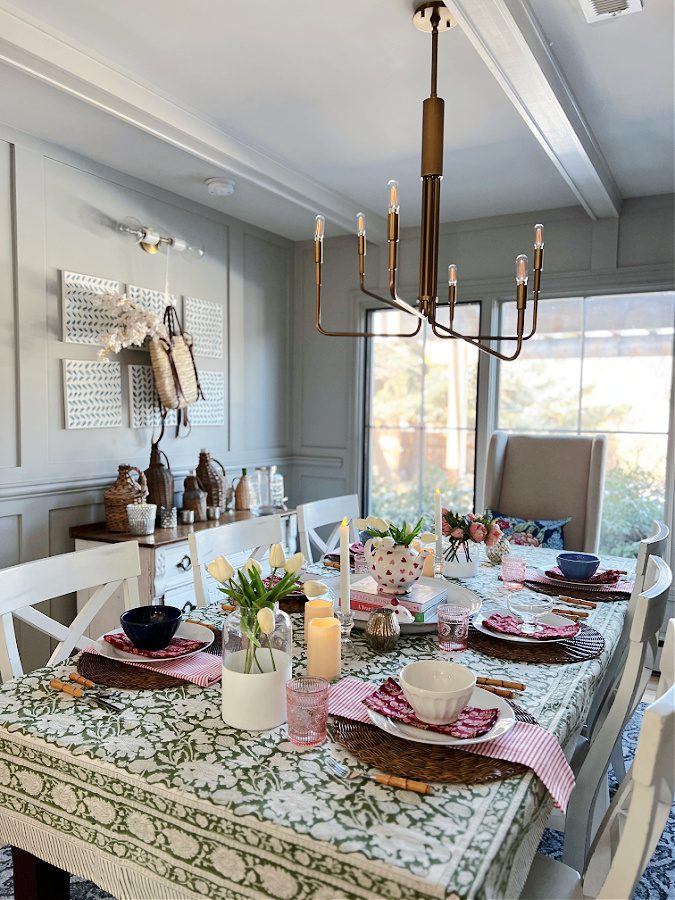 You know I love setting a pretty table and I am so excited to share every single detail with you today.
Mix Patterns and Colors

One of the best ways to add visual interest to any tablescape is by mixing patterns and colors. Start by creating a base layer of patterned tablecloths or runners, like a pink floral print or red toile.
I chose this lovely green block print tablecloth that I use year round! All of these details make for the perfect colorful Valentine's Day table decor ideas.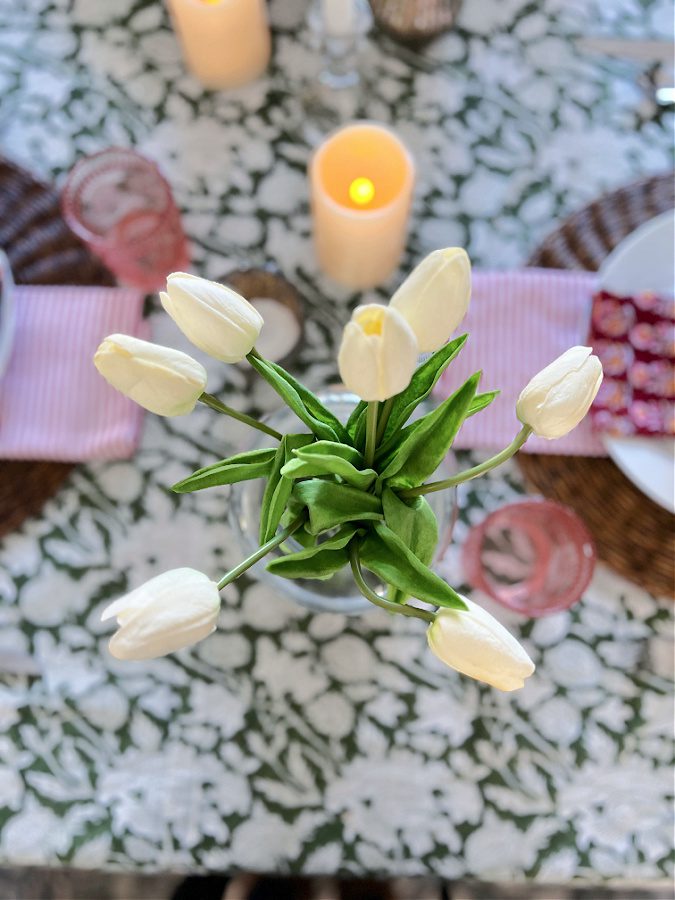 Layer on solid colored placemats, chargers and napkins, such as pink or white. I added these textured indoor outdoor placemats. They are my favorite because you can rinse them off! I also love that just like the tablecloth you can use them no matter the season.
I'm sure this doesn't come as a surprise but I found the most beautiful block print napkins perfect for Valentine's Day! So I added them to the table. How pretty are the block-printed napkins with shades of dark red, gold and pink for an extra pop of color.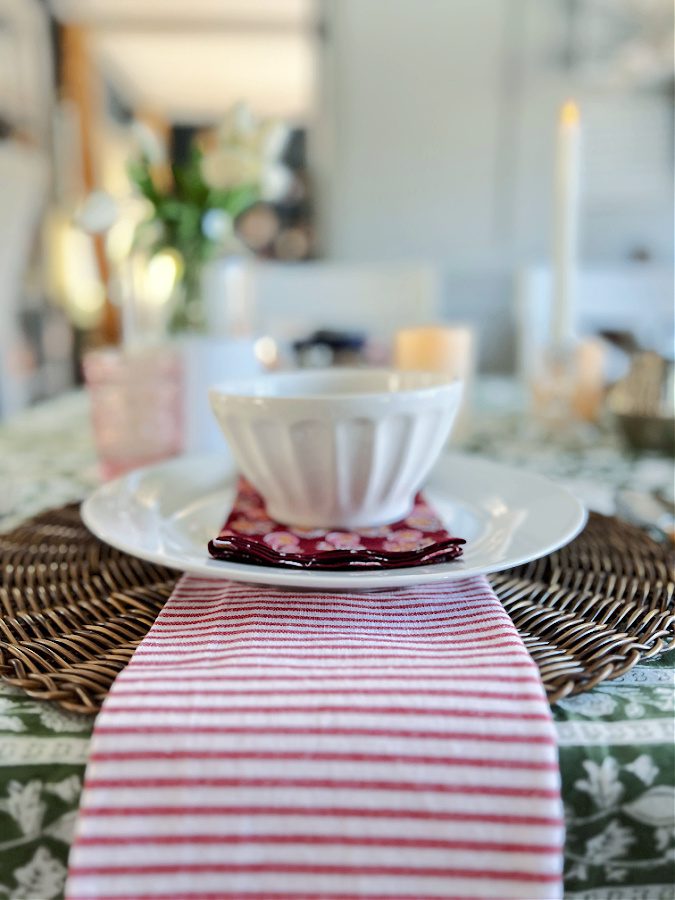 You could also mix different materials such as lace, velvet, and cotton for added texture depending on your style and taste. I of course always mix in some rattan and stripes!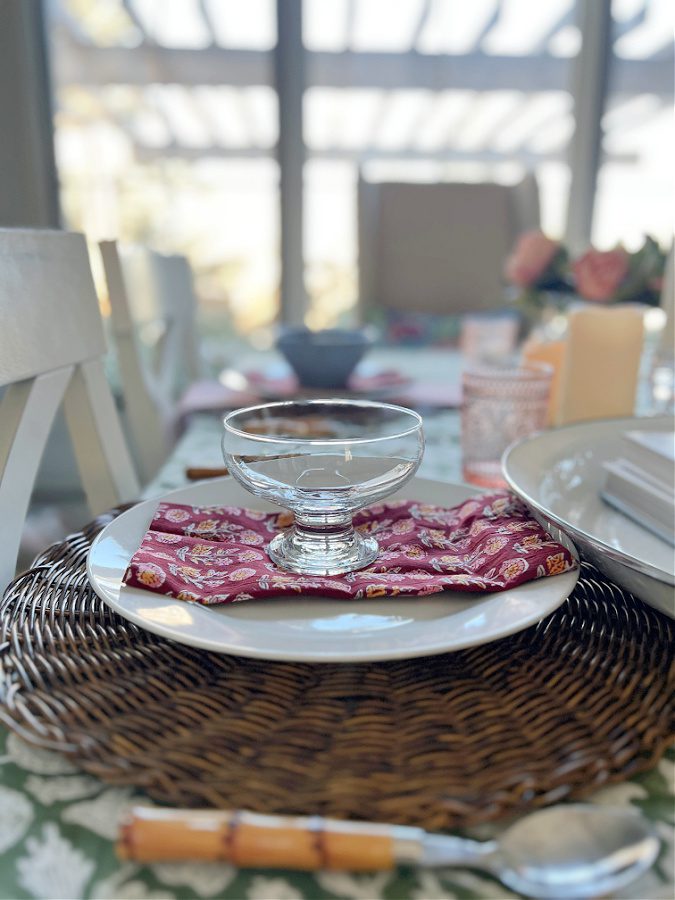 Faux Flowers
Are you team faux or real? I am usually both!

Faux flowers are a great way to add some color without having to worry about fresh blooms wilting if left out overnight or during dinner.
Pick up some faux roses, tulips, peonies, and daisies in shades ranging from pale pinks to deep fuchsias and arrange them into a bouquet at the center of the table. On my table you will see real touch faux peonies and tulips!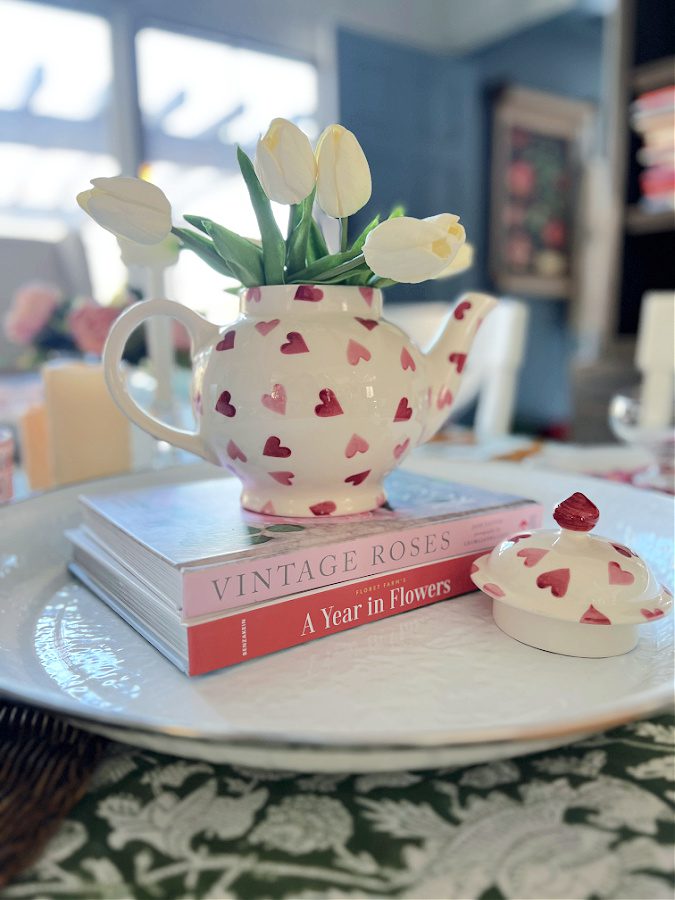 I added my favorite faux white tulips to this tea pot of my mom's. She let me borrow it since it has hearts on it. How darling is it for Valentine's Day? I also added them to this lovely new vase I got from Amazon! You can never have enough faux flowers on your table.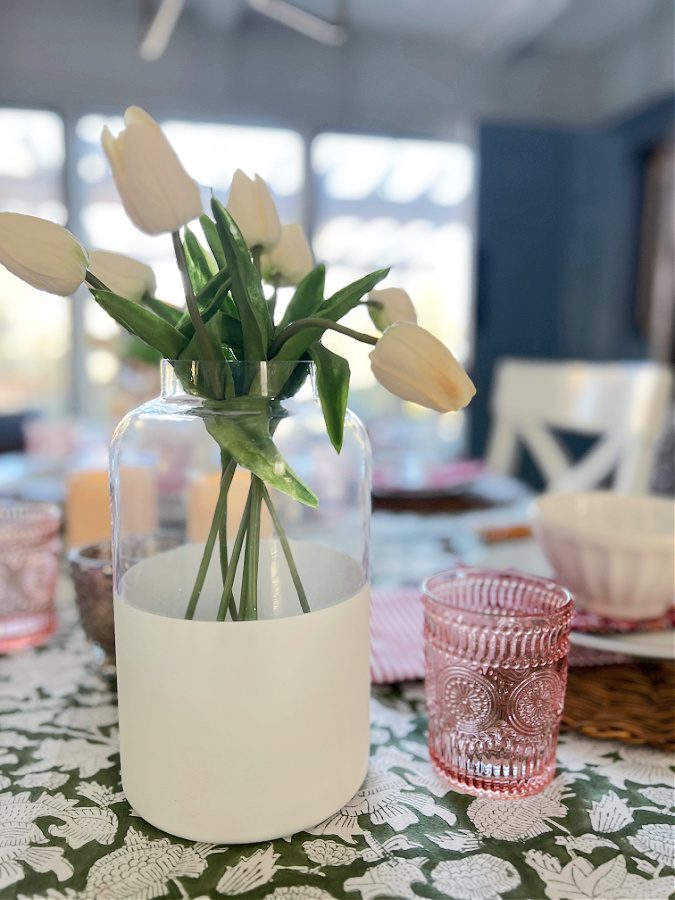 Battery Operated Candles and Real Votives
To keep with the holiday theme, pair faux flowers with battery operated candles in glass holders or tea lights arranged in votive holders for an ethereal glow.
If you'd rather use real candles, place them in hurricane lanterns for added protection against any accidental spills that could occur during your time at the table.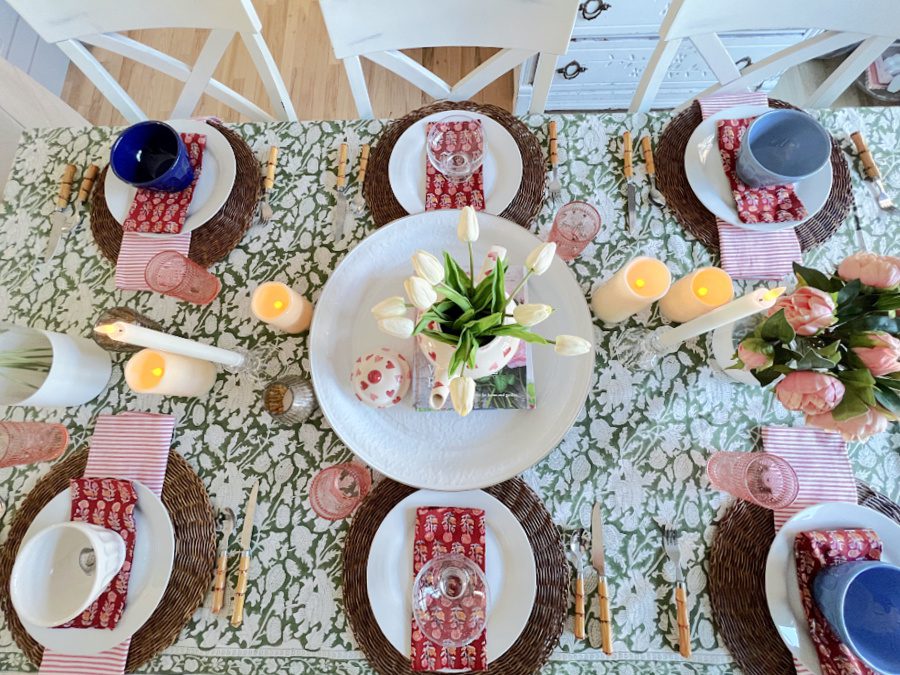 I used battery operated taper candles and pillar candles. Of course I also used some real votives sprinkled along the table as well.
Layering Around Your Place Settings

When setting up your place settings, layer different colors and textures together starting with a plain white plate at the bottom followed by a colored plate (think pink or red). Also don't forget what a fun touch glassware can add. When I saw these pink glasses that looked vintage I snagged them up. I cant wait to use them all Spring as well!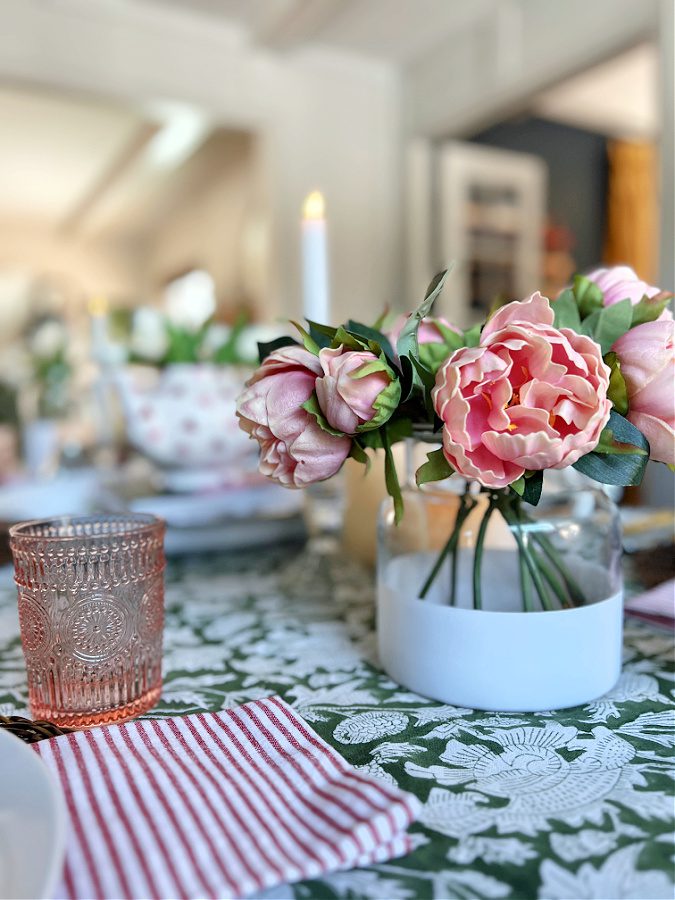 Top off each setting with coordinating faux bamboo silverware paired with fun pink glasses filled with water – this will bring all of your elements together beautifully! This silverware is my go to and I love that I can use it indoor, outdoor and in the dishwasher!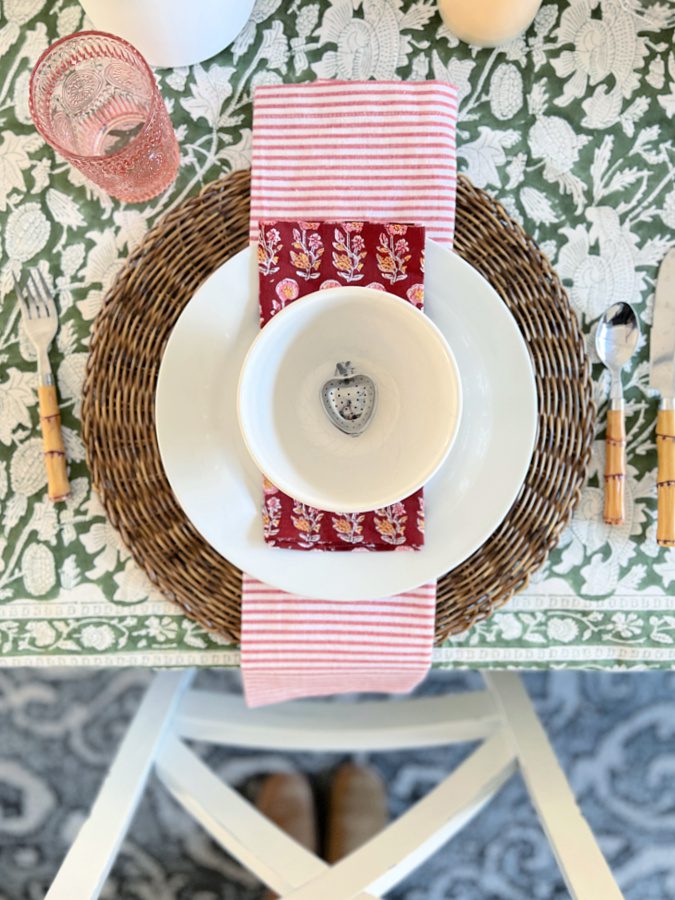 A Simple Valentine's Day Centerpiece
The final step of my table was the oh so simple Valentine's Day centerpieces. I use a large white enamel tray, two books and set the tea pot on them. In the tea pot I added the faux tulips! And that was it! easy to create and easy to move as well!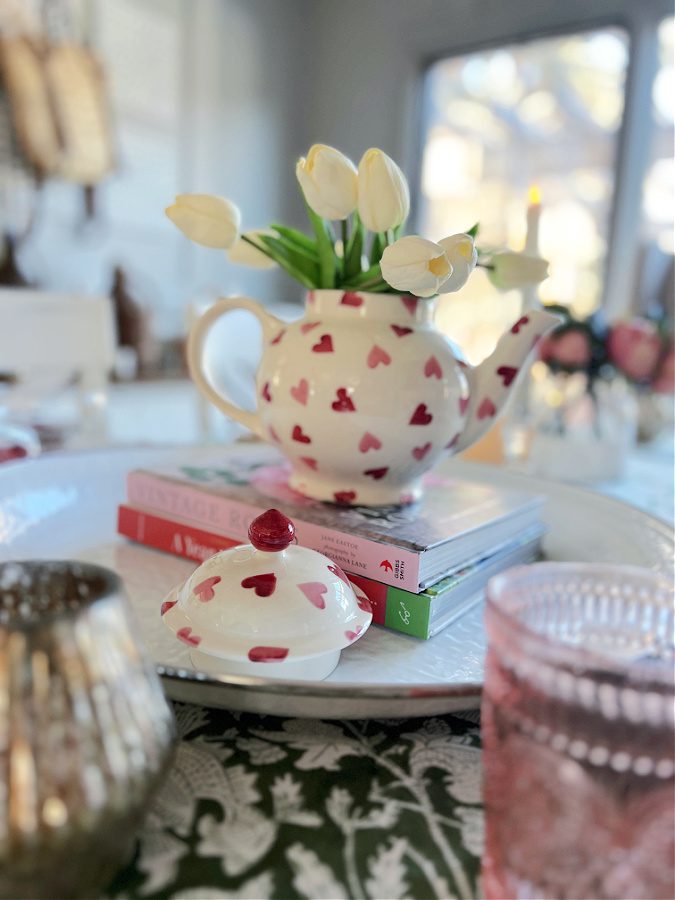 I let the tea pot be the star of the show!
Shop This Post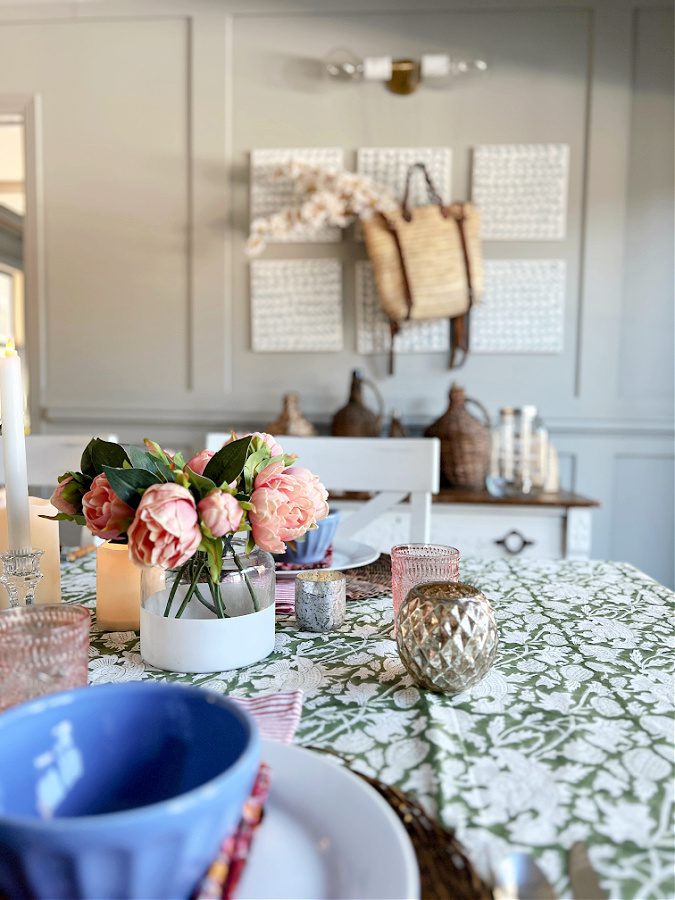 Colorful Valentine's Day Table Decor Ideas
These are just a few of the many ways you can set a beautiful and festive table this Valentine's Day. No matter what your style, there is sure to be an idea here that will inspire you. For me I needed to feel that Spring was near and this table gets me so excited for the upcoming season! I hope you liked these colorful Valentine's Day table decor ideas.
So get out those pretty plates and linens, break out the good silver, and have fun creating a special setting for the people you love. After all, isn't that what this holiday is all about? Will you be setting a table this year for Valentine's Day?
I'd love to have you hang out with me some more! Feel free to follow along with me on any of the platforms linked below.
LTK | Facebook | Instagram | Pinterest | Amazon
xoxo,
Kelly