Fall Favorites: Pillows, Blankets and Candles
Fall will be here before we know it and since I am back at school now I thought it might be a good idea to share some of my fall favorites with you! In my opinion it's never too early to start planning especially when it comes to decorating. So today I have a fun little round up of pillows, candles and blankets. The good news is that I have organized each section into a splurge and save category so you can have some fun dreaming and shopping all things fall!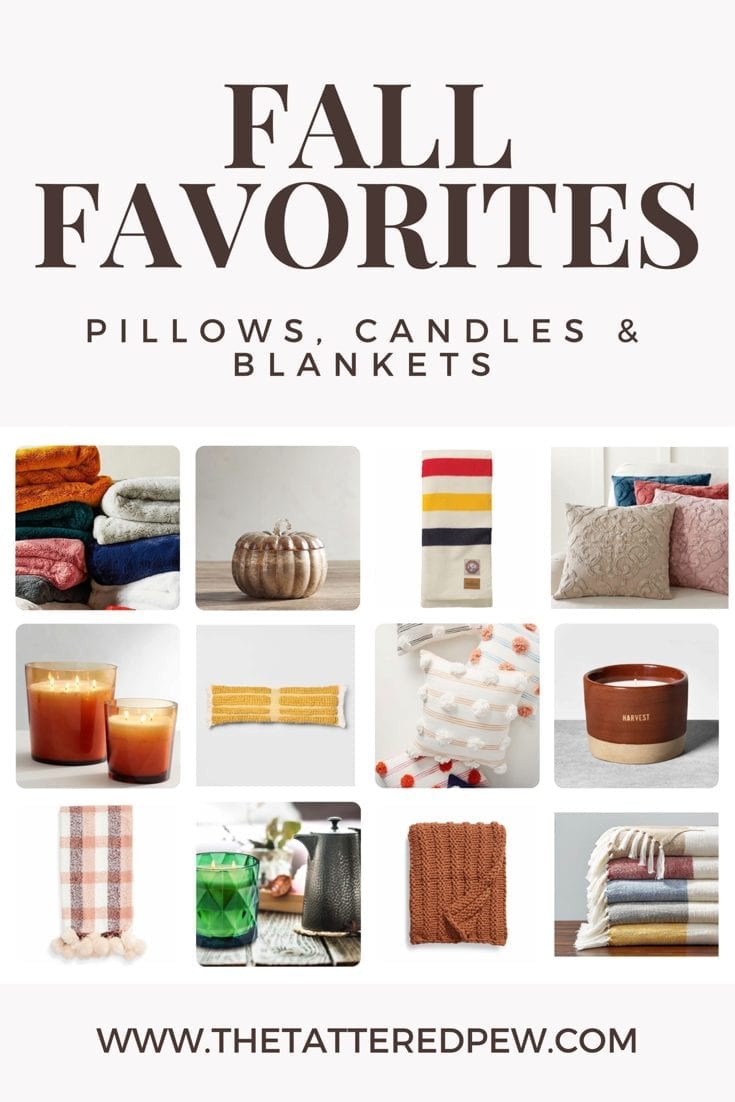 Fall Favorites: Pillows, Blankets and Candles
Last fall I shared a post on 3 easy ways to transition your home decor from summer to fall and it included pillows, throws and accessories. I truly believe making these small seasonal changes makes decorating ten times easier. This post will play off of that and give you all the links to shop some fall favorites for yourself!
Fall Pillows, Blankets and Candles
*This post contains some affiliate links for your convenience. Click here to read my full disclosure policy.
Have some fun browsing below and if you find something you like just click BELOW the picture! I have several of the pillows below, a few of the candles and a few of the blankets too! Ha! So let me know if you have any questions shopping and planning your fall decor!
Splurge Pillows
Pillows are a great way to add texture, shape and color to any room in your home. I always laugh when I see the quote that "throw pillows are the stuffed animals of grown women." I have to say that this is definitely true for me! 🙂


Affordable Pillows


Splurge Candles
When I think of Fall I think of candles! They add the perfect amount of ambiance and coziness on those crisp Fall evenings. They also look and smell pretty.


Affordable Candles


Splurge Blankets/Throws
Blankets and throws are a simple way to add warmth to any space.They can add color and texture and they are easy to change out and rotate whatever season you are in. Blankets are one of my favorites accessories besides baskets of course!


Affordable Blankets / Throws


Fall Favorites to Shop
I hope you found some fabulous fall pillows, blankets and candles! Which ones do you love? Happy shopping!
xoxo,
Kelly