Easy DIY Solar Water Fountain 3 Ways
There is something so soothing about a water feature in your yard or garden. But sometimes the cost just makes that impossible. Well today I have some really good news, I have found an incredible option for you that is very affordable and easy to get going. Come see how I added an easy DIY solar fountain 3 different ways in our yard!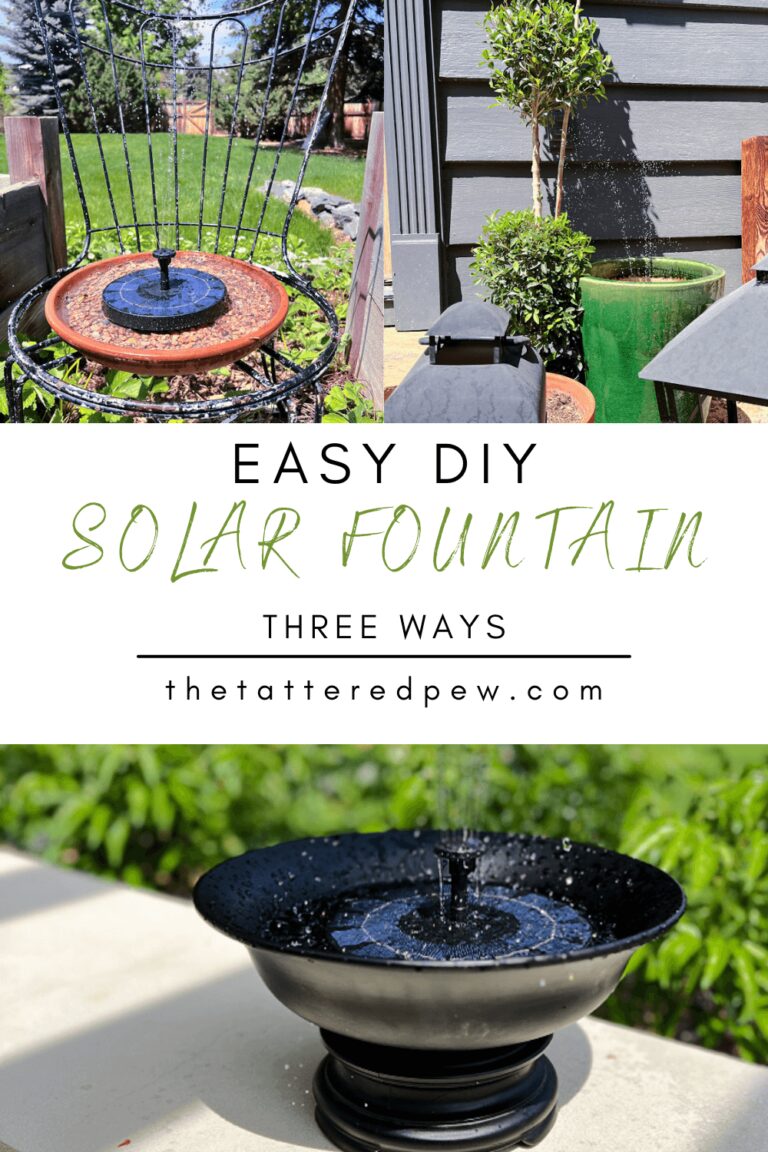 *As an Amazon Associate, I earn from qualifying purchases. This post contains other affiliate links too for your convenience. Click here to read my full disclosure policy.
The Cozy Creative Collaborative
Friends I am so excited to be joining some amazing fellow bloggers for our monthly blog series that are calling it the Cozy Creative Collaborative! This month we are all sharing creative ideas for your yard or garden.
Let me introduce you to the ladies. Make sure to visit all of their posts linked at the end too!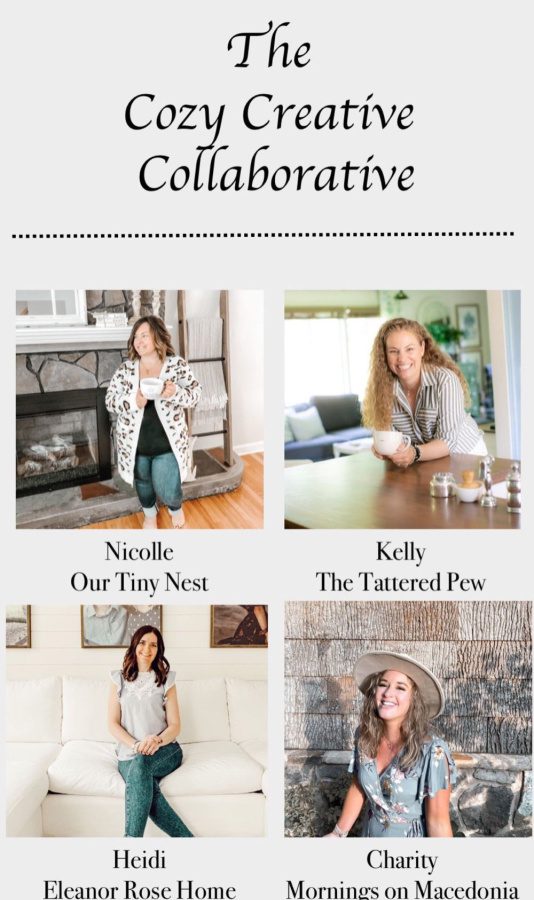 If you are popping over from Charity of Mornings on Macedonia and her post on how to hang string light without trees, welcome! Wasn't that just beautiful and so smart?
Easy DIY Solar Water Fountain
Have you been wanting a water feature in your yard or garden? For me there is something so soothing about the sounds of water and I love hearing it in our backyard. So when I found this affordable and simple option I was over the moon excited to give it a try!
The title of this post says DIY but really there is not much involved in this simple to assemble solar fountain. Everything comes all in one package and ready to be used instantly! And the best part is that it is VERY affordable too! The only thing you need to decide is what fountain attachment you want to add to the top.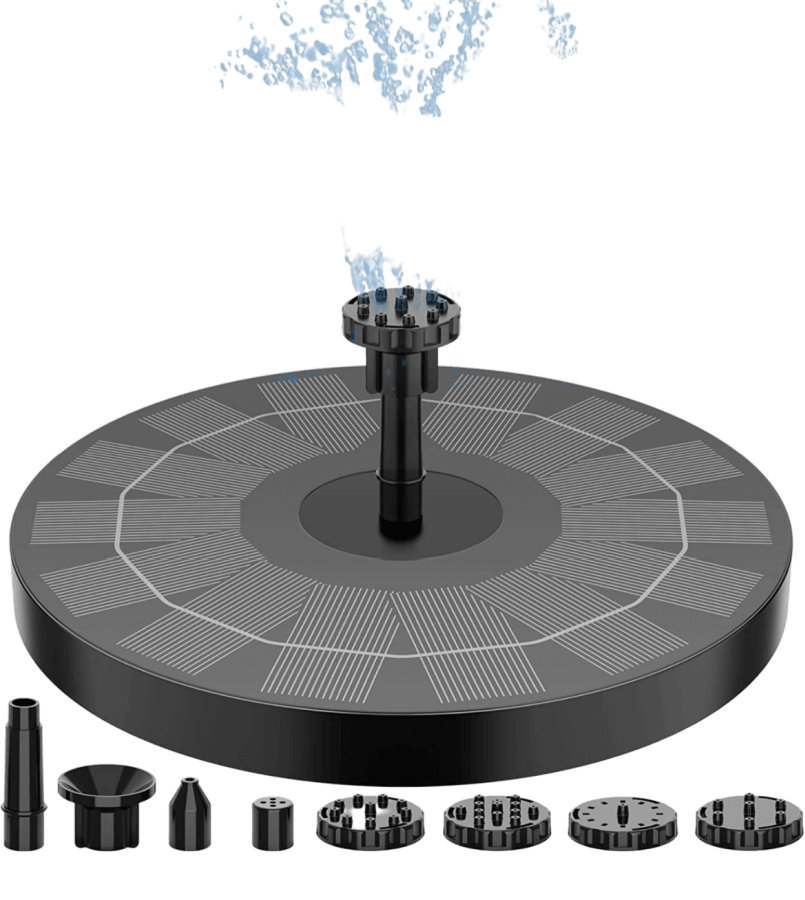 This solar fountain comes with 6 different nozzles, these spray shapes and patterns. The height of the spray can be adjusted by just replacing the nozzles if you want to stop the water from splashing out of the vessel you choose to place it in. The spray height can reach 15-27 inch and you can easily replace the nozzles.
There are several other sizes of solar fountains available as well. I suggest measuring the vessel or space you plan to use yours before purchasing! I have my eye on this one next, of course it is blue!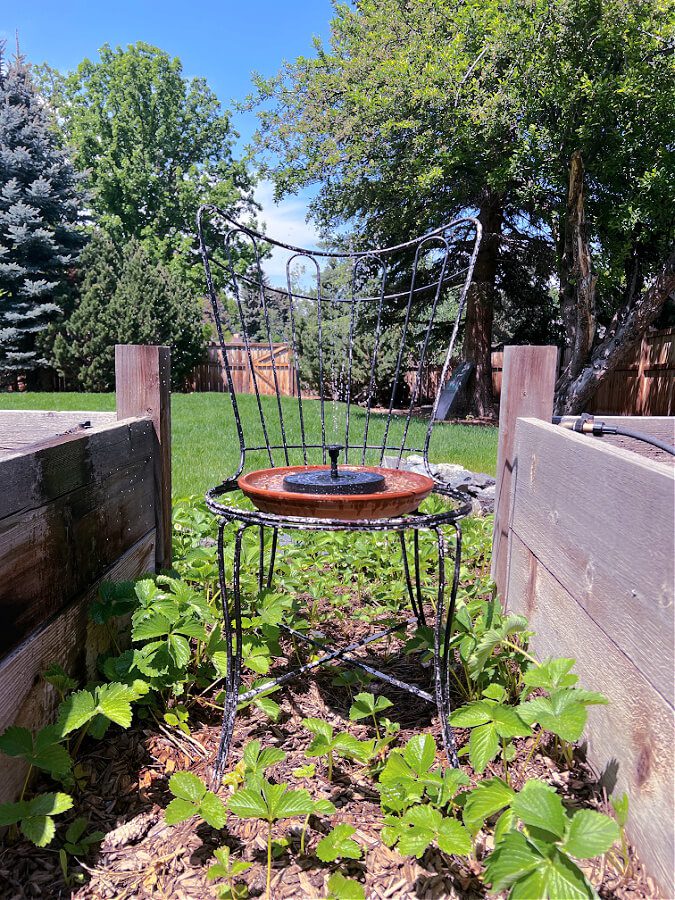 Materials You'll Need:
A small solar water pump/fountain: Look for a low-voltage floating pump that operates using solar energy. This ensures your fountain remains eco-friendly and cost-effective. This is the exact one I used!
A container: Get creative with your choice of container or vessel to hold your floating fountain! Consider using a large ceramic pot, a shallow basin or bowl, or even a repurposed birdbath. Just ensure it's sturdy enough to hold the weight of water.
Decorative stones or pebbles: These will add a touch of charm and stability to your fountain. (optional)
Water (of course) !
Building Your DIY Solar Fountain:
Step 1: Choosing the Right Location
Before diving into the process, scout your garden for the ideal location. Look for an area that receives ample sunlight throughout the day to ensure your solar panel functions efficiently. I love these solar fountains because you can use them on decks, gardens, railings, ponds, you name it. Great for apartments, houses and anywhere that has water or sunshine!
Step 2: Preparing the Container
This is the fun part! Find the container or vessel you plan to use and make sure it is ready for water , sealed so water will not leak and clean. I used a ceramic pot, terracotta saucer and pedestal bowl but there are SO many options! This is what makes this fountain so fun and doable.
Step 3: Positioning the Solar Panel
Place the floating circular water pump inside the container, ensuring it sits securely. The one I used has mini suction cups helping it to remain stable and position it in a way that maximizes exposure to sunlight. You can also use little rocks or pebbles to nestle the solar fountain on top of as well. But it will float on its own nicely!
Step 4: Adding Decorative Stones
This is optional but adds some extra beauty and stability. Place decorative stones or pebbles around the pump in your container. These stones will not only enhance the aesthetics but also provide stability and prevent the pump from shifting.
Different Ways to Use Your Solar Fountain:
Standalone Solar Fountain:
For a simple yet captivating water feature, let your solar fountain shine on its own. Place it in the center of your garden, on a patio table, or even on a balcony. The gentle sound of the water cascading down will create a soothing atmosphere, perfect for relaxation or meditation.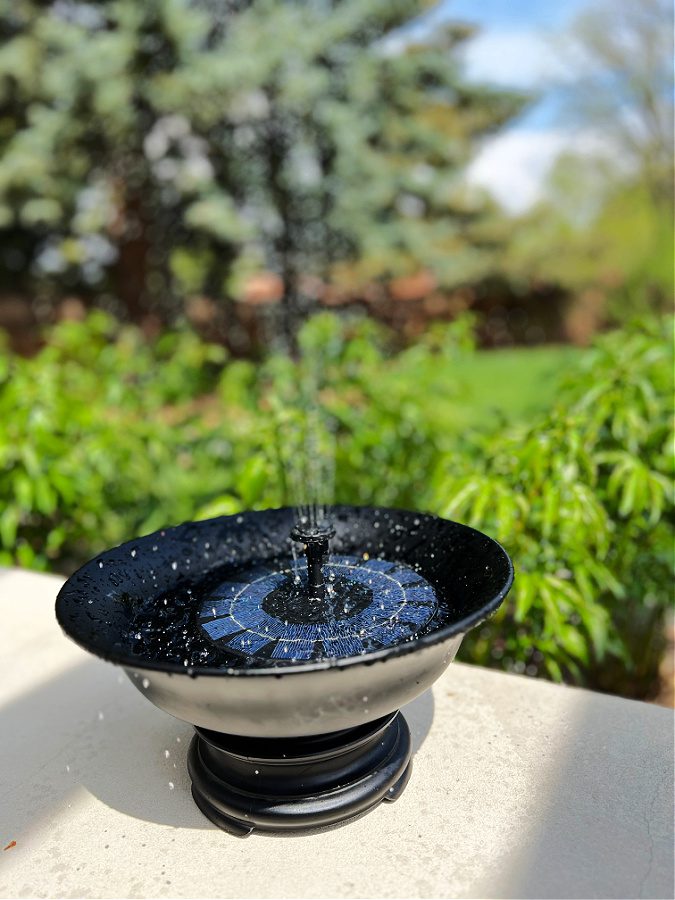 I set mine in this all black pedestal bowl that was my grandmother's. I chose it because the black solar pump blends in perfectly! It's such a simple little way to add beauty to any area outdoors with sunshine!
Terracotta Plant Saucer on Chair:
Transform your solar fountain into a mini pond by adding aquatic plants or little stones. Water features seem to bring an element of serenity and natural beauty to your garden. The soothing sound of the water will provide a haven for birds, butterflies, and other delightful creatures.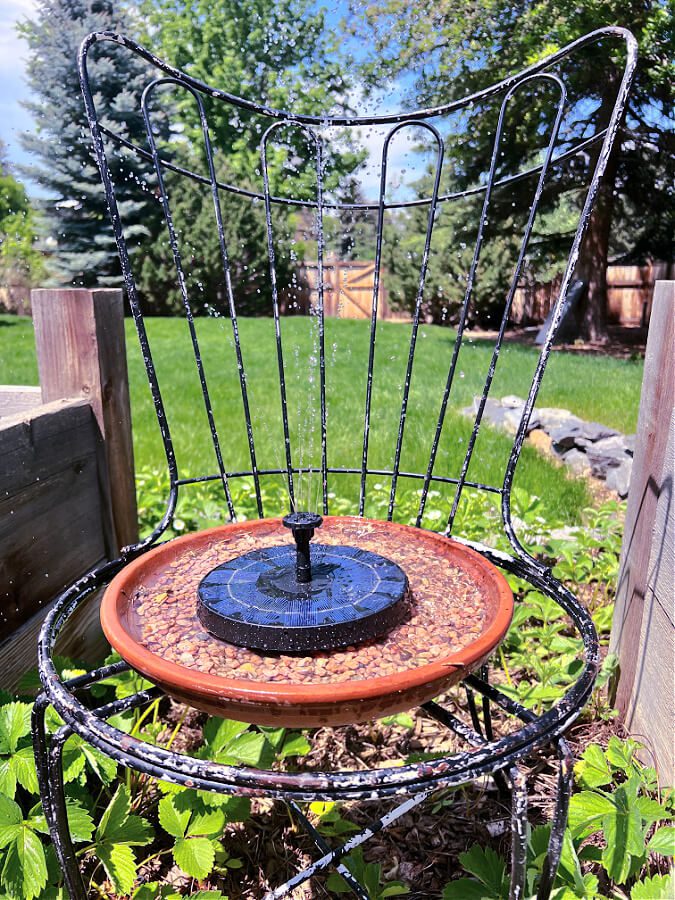 This old black metal chair was a perfect place for me to place this terracotta pot saucer/plate on. I simply added some small rocks, water and set the fountain on top for instant beauty. The chair is nestled in our strawberry patch and in between my raised garden beds. My mom and I talked about how it might look neat to spray paint the terracotta black and add black rocks. I like this idea a lot!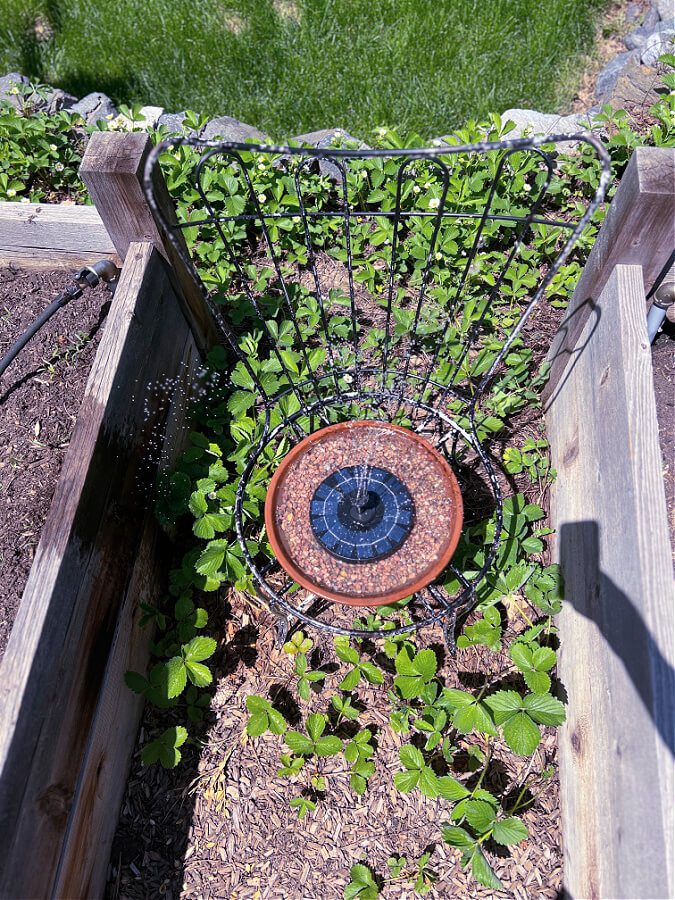 Solar Fountain In Ceramic Pot
Invite feathered friends to your garden by turning your solar fountain into a charming bird bath or water feature. Place it near shrubs or trees to offer birds a sense of security while they enjoy a refreshing dip. The gentle movement of the water will catch their attention and create a haven for bathing and drinking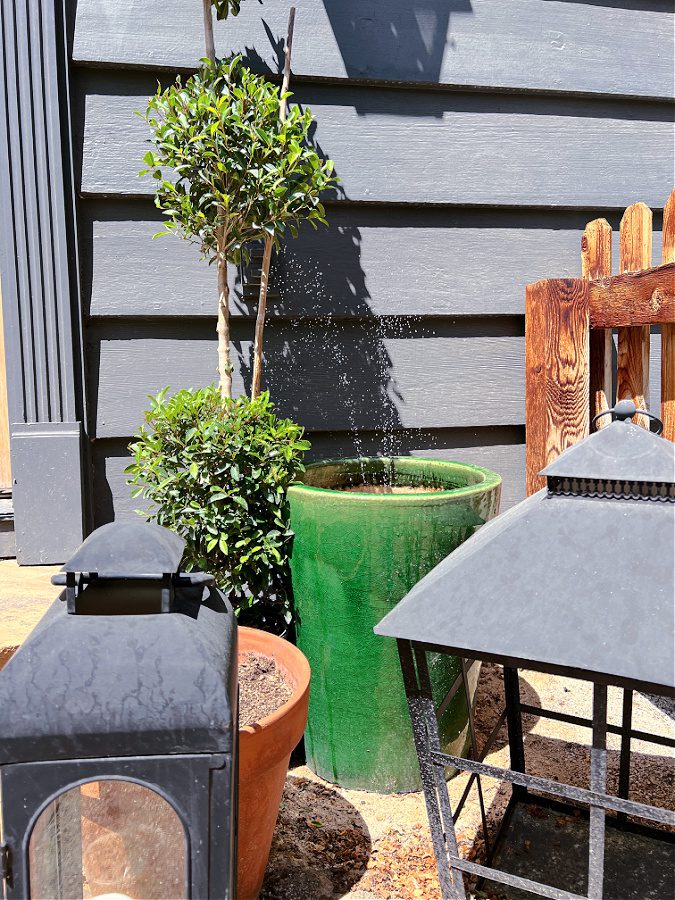 I added a deep plastic saucer, meant for plants, in the center of one of my green ceramic pots (it was also halfway full of dirt). Then I added water to it and simply set the solar fountain in it. It floated perfectly and created an unexpected water feature. You can adjust the nozzle for the water height!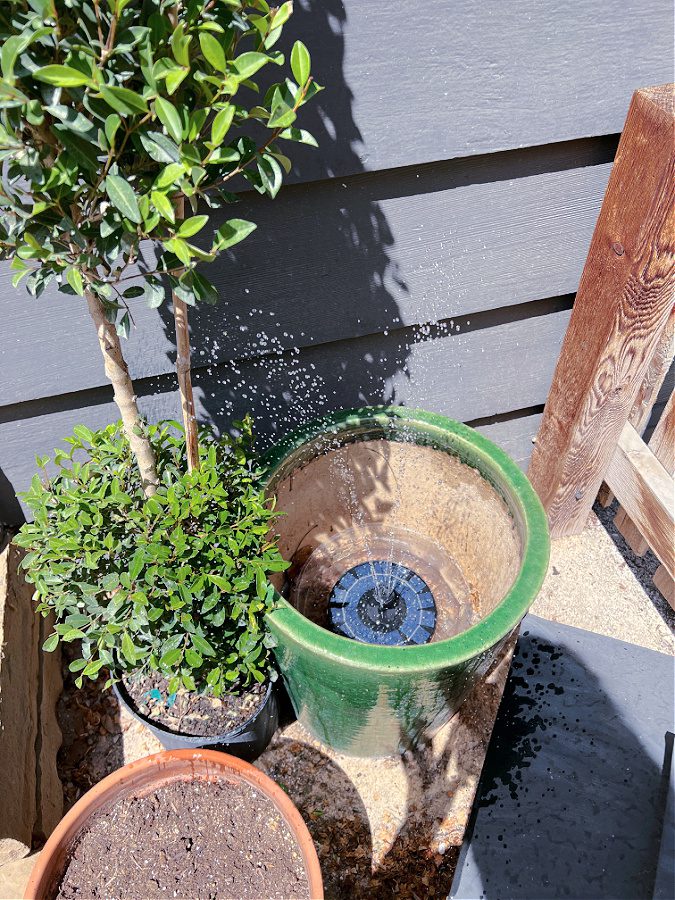 More Ideas for Solar Fountains
Birdbath
ponds
fish tanks
swimming pools
gardens
parties
centerpieces on tables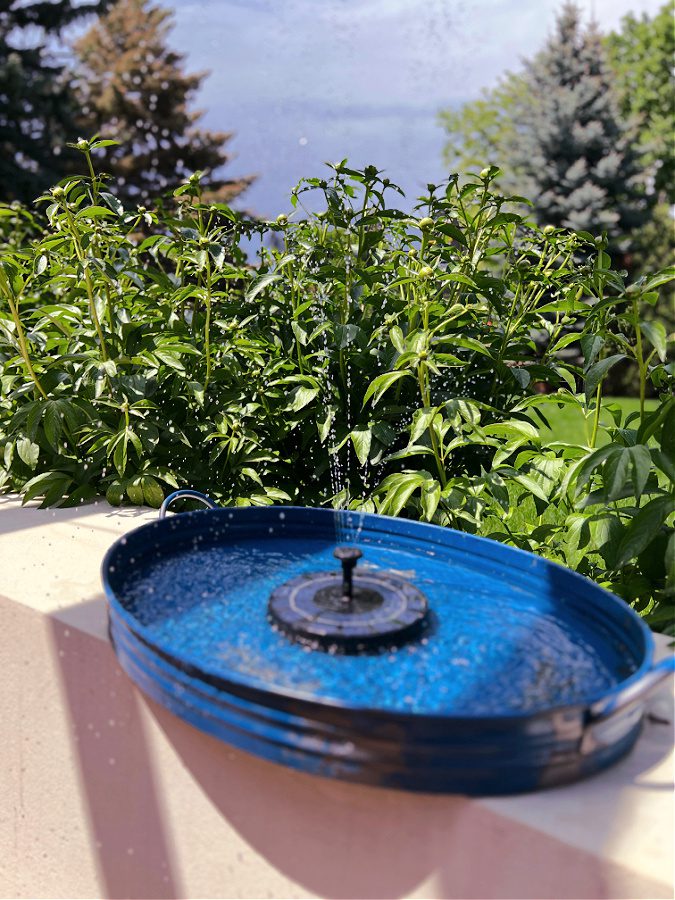 Easy DIY Solar Fountain 3 Ways
Are you ready to try an easy DIY solar fountain? Which of the 3 ways did you like best? These clever little solar fountains could actually be used in so many fun ways! Hopefully this has inspired you to try one of these in an outdoor space of your own! Let me know if you have any questions.
Now make sure to hop over to Rachel from The Ponds Farmhouse who is sharing how to make a DIY metal wreath! Then make sure to visit the other garden inspired post linked below that my Cozy Collaborative Crew is sharing as well!
I'd love to have you hang out with me some more! Feel free to follow along with me on any of the platforms linked below.
LTK | Facebook | Instagram | Pinterest | Amazon
xoxo,
Kelly