4 Simple Steps for Creating a Floral Centerpiece in a Pedestal Bowl
As you might have heard pedestal bowls are my latest obsession. To build on that I wanted to add in my forever flower obsession. Check out these 4 simple steps for creating a floral centerpiece in a pedestal bowl.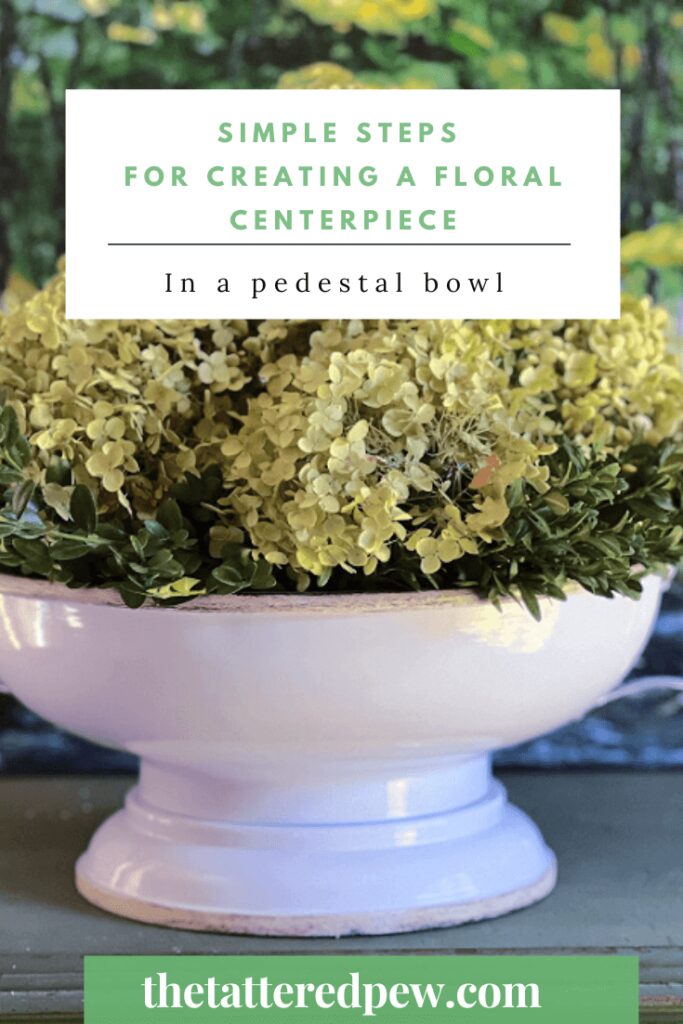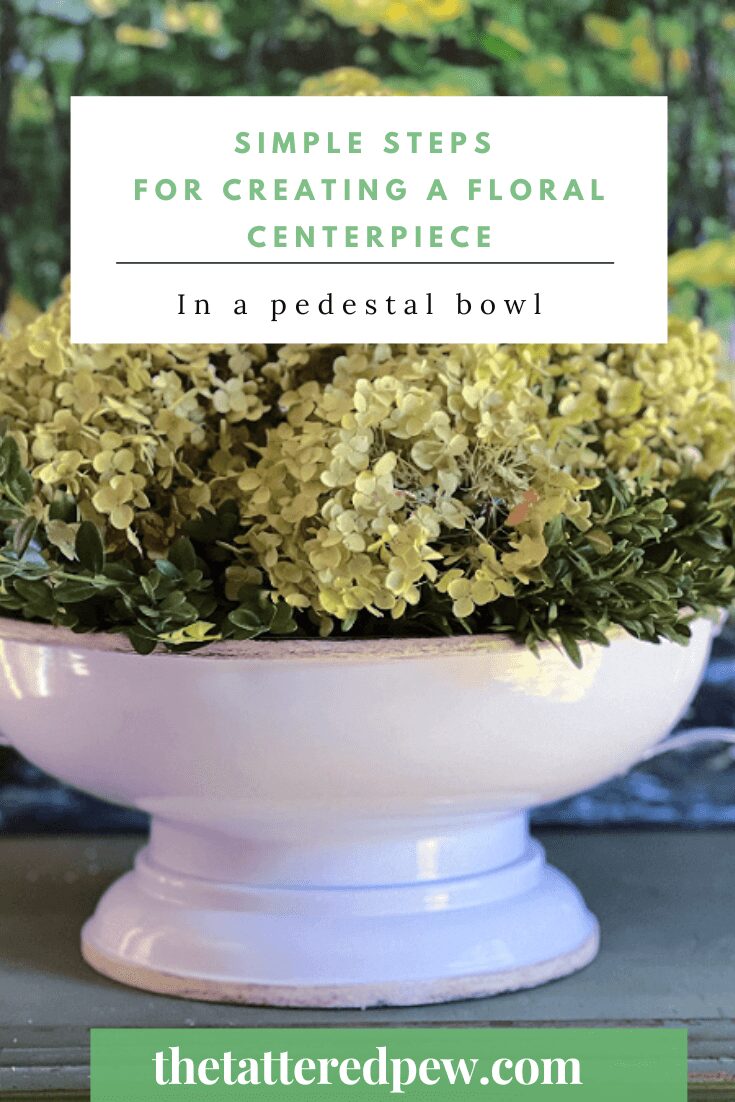 *As an Amazon Associate, I earn from qualifying purchases. This post contains other affiliate links too for your convenience. Click here to read my full disclosure policy.
4 Simple Steps for Creating a Floral Centerpiece in a Pedestal Bowl
I'm a girl who likes to keep things easy and beautiful. This floral arrangement falls into both categories.
Let me be very honest. I am not a florist by any means. I just love flowers and maybe even more I love using them around our home to bring some joy. Do you agree that flowers just seem to make everything better?
And if I can do this so can you!
Whenever I start a floral arrangement I like to find unique vessels to display them in. This usually helps if my arrangement aren't the best. But honestly, flowers all by themselves have no trouble being beautiful. The vase or vessel just adds to it.
Enter the most perfect distressed, metal pedestal bowl!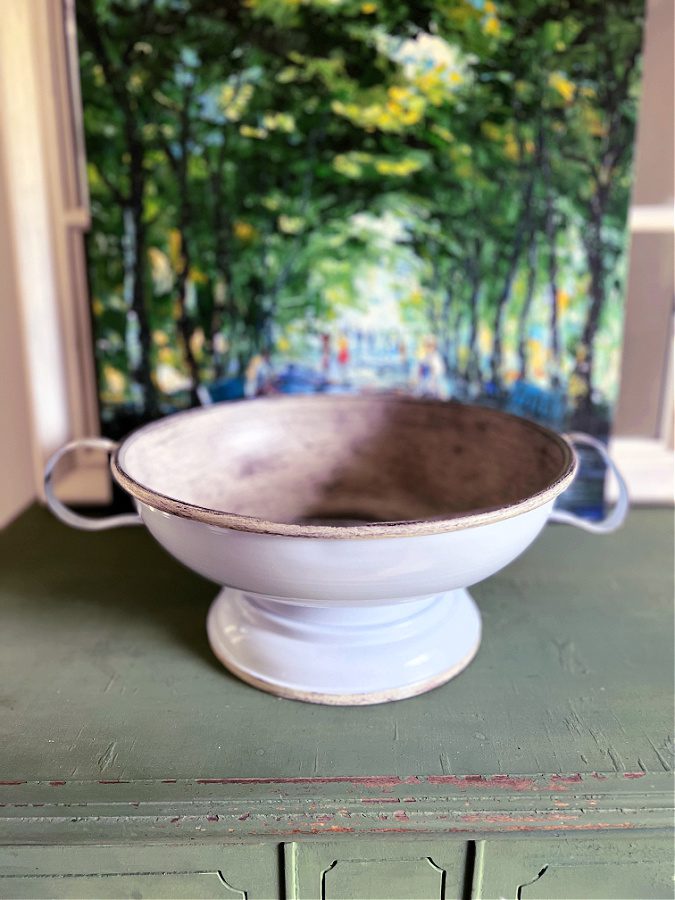 Supplies Needed to Create Floral Centerpiece in Pedestal Bowl
flowers
greenery
vase, pedestal bowl, vessel to hold flowers
scissors
Step 1: Pick Your Florals
Let me show you just how simple it really is to make your own floral arrangment!
For this floral centerpiece I chose flowers and greenery that I had in our garden. I also chose greenery and flowers that I knew would do well without water and would dry beautifully. (See my post about drying hydrangeas here for the sure fire way to know if they are ready!)
I grabbed several Annabelle hydrangeas from our front bushes, snipped some boxwood clippings too. Originally I wanted to add some limelight blooms as well as aspen leaves but neither of them were ready to be in an arrangement without water. So I decided to keep it simple with just the Annabelle blooms and boxwood clippings.
Step 2: Pick Your Vase ( or Pedestal Bowl!)
This gorgeous metal pedestal bowl is now officially one of my all time favorite Amazon finds. It's literally the perfect depth, shape and size. I chose it to create my floral centerpiece.
You could choose a similar one or walk around your home and look for a vase that speaks to you. Remember nothing is off limits as long as it can hold flowers!
When it comes to choosing your vessel for flowers it's important that you consider the shape and size and if it can hold water. Always check measurements because pictures can be deceiving! This bowl is 12.5 inches wide. The handles are a bonus too!
This bowl is not meant to hold water so I opted to do a dry centerpiece instead. But I could have lined it with saran wrap or another liner if I wanted to put some water in it. Maybe next time!
Once you have your vase of choice then you need to figure out how you are going to secure your flowers and greenery.
For this floral centerpieces I chose to use a round floral foam which is great for dry arrangements. There is also some wet foam for arrangements with water. Or the third choice is to create a grid of sorts to hold the flowers. You can see what I mean by grid in my post here, where I put together a flower arrangement in a basket!
TIP: When creating a living or cut hydrangea centerpiece that requires water, I always use Alum to help the hydrangeas last longer. Read why and how here.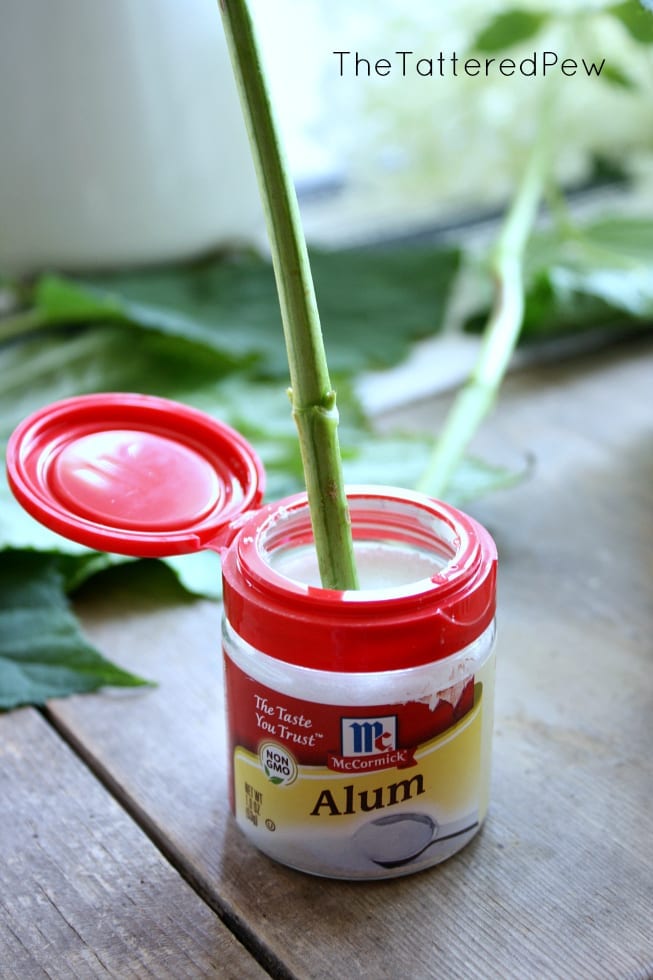 Step 3: Start with the Base
Now that you haves your pedestal bowl and foam ready to go you will grab your greenery first. Make your way around the bowl inserting the greenery into the foam at a slight angle so it will rest on the rim.
Fill in as much greenery as you like. Remember you can always remove it or add more if you don't like the look.
Step 4:
The last step is adding the flowers on top of the greenery. I chose hydrangeas because they are the perfect round shape that would fill the space nicely. They also dry nicely if they are green (remember my trick to know when they are ready to dry).
Simply remove all leaves, cut stems to size needed and stick the flowers into the foam while turning the pedestal around as not to miss any gaps in the arrangement. Feel free to add more greenery too as needed.
I used a large hydrangea bloom in the center top and smaller blooms around that to fill in the empty spaces. The simplicity is just lovely to me. If you wanted something a bit more fancy or full you could always add white flower like roses or ranunculus or baby's breath, which would all pop against the green.
Remember just have fun with it, no pressure!
Styling a Floral Centerpiece Around Our Home
Ok, if you know me you know that I had to move this centerpiece around our house as well as try other things in the bowl besides flowers!
I had a lot of fun walking this pedestal flower arrangement all over my house! The best part is that it is easy moveable and fits so well no matter where you put it or what you put in it.
Here it is with the flowers!
And here it is full of pinecones from our backyard.
Finally, here it is on our counters
What is your favorite? I'm not sure I can pick just one. Luckily I don't have to!
A few other flower post of mine you might enjoy….
Pedestal Bowls I Have My Eye On
Last week I shared a round up of 9 decorative pedestal bowls I have had my eye on. As you can see I snagged #7 and it has far out exceeded my expectations.
Which one would you pick?
4 Simple Steps for Creating a Floral Centerpiece in a Pedestal Bowl
There you have it, 4 simple steps to creating a floral centerpiece in a pedestal bowl, plus some inspiration! Do you think you will give this a try? Do you already have some pedestal bowls at home that could work? I would love to see your arrangements. You can leave me a comment below, email me ([email protected]) or tag me over on Instagram!
I'd love to have you hang out with me some more! Feel free to follow along with me on any of the platforms linked below.
LTK | Facebook | Instagram | Pinterest | Amazon
xoxo,
Kelly
Did you like this post? PIN it for later!