25 Budget Friendly Home Decor Projects
Welcome to our monthly installment of Thrifty Style Team! Once a month I get together with my talented and creative blogger friends and we each makeover, repurpose or transform something from our homes or thrift stores. A huge thank you to Julie of Redhead Can Decorate for hosting! Well, this month I am sharing not one but 25 budget friendly home decor projects! I know, crazy right?!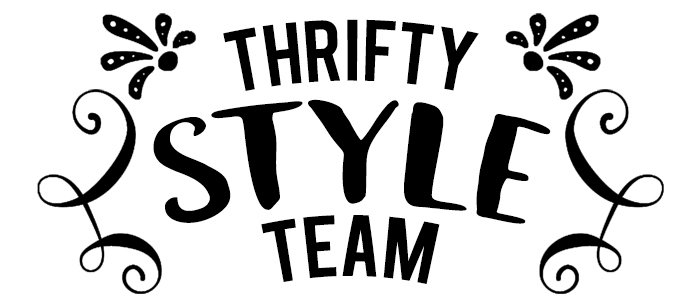 25 Budget Friendly Home Decor Projects
I had so much fun going through my posts and rounding up all of my favorites for you and putting them into one post. There were more than 25 but these are my 25 budget friendly home decor projects that I thought you would love! They are in no particular order and you can click on the green links to visit each post. So have fun browsing the ideas below and hopefully you will find a few that you want to try in your own home!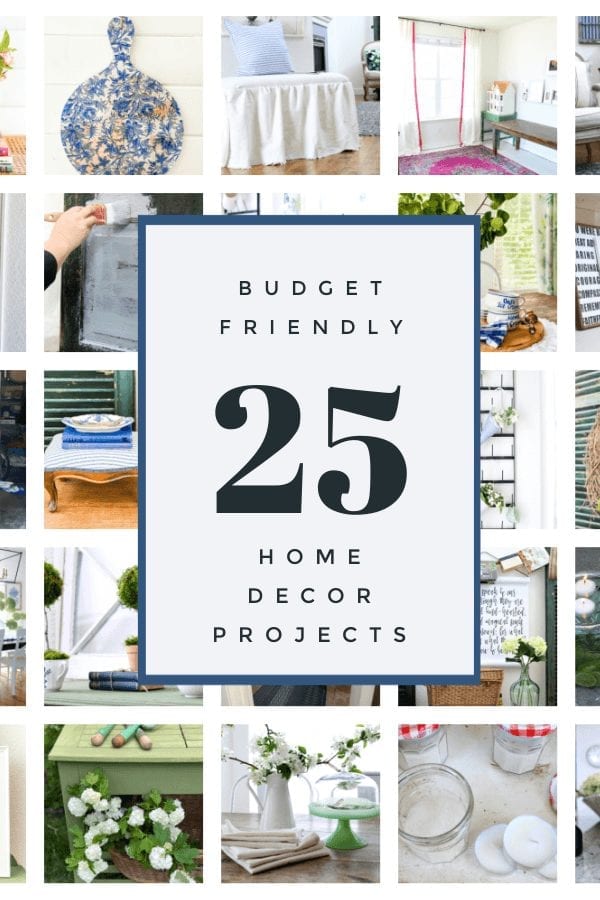 These topiaries were a blast to make! I got all of the supplies from the dollar store (super budget friendly) and they turned out even better than I had imagined.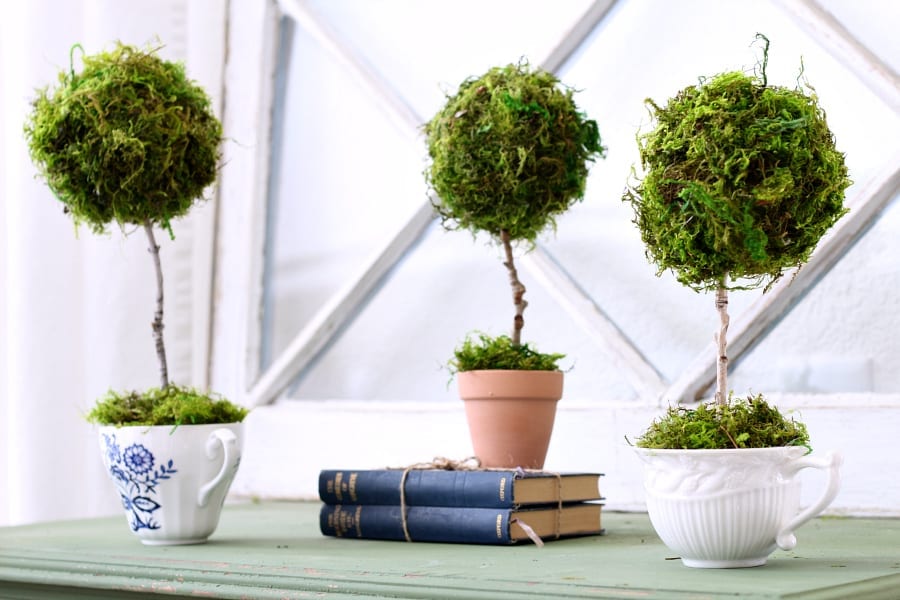 This was a fun project that I did with my mom! This is her footstool and her fabric and I love how it turned out. Now I am always on the hunt for tiny stools to give makeovers to.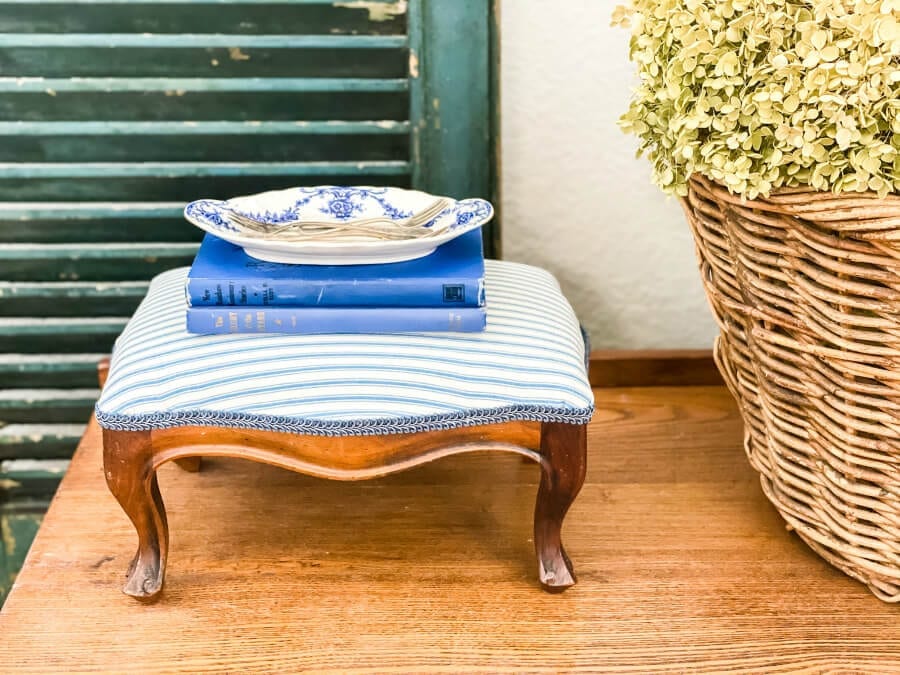 If you love drop cloth projects then you will love this budget friendly option for no sew curtains! I added some hot pink trim to spice them up and they are still some of my favorites in our entire home.
Yes, another drop cloth project. I was on a kick there for awhile and I love the budget friendly aspect of this fabric. These napkins were SO simple and turned out just adorable. I even had someone email me and tell me they made these for their wedding!

Have you fallen in love with the cane movement like I have? I fell in love with a gorgeous cane vase but the price was outrageous. So I found a way to make my own and you can too!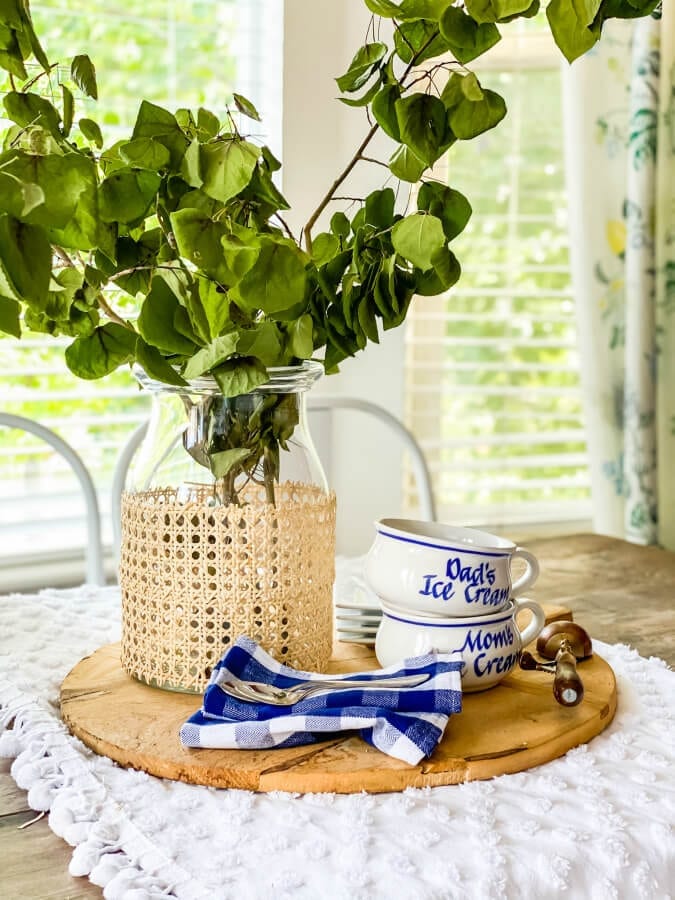 I'm not a great sewer so any no-sew project that is available I try! This one was super easy…it involved drop cloth fabric and a staple gun!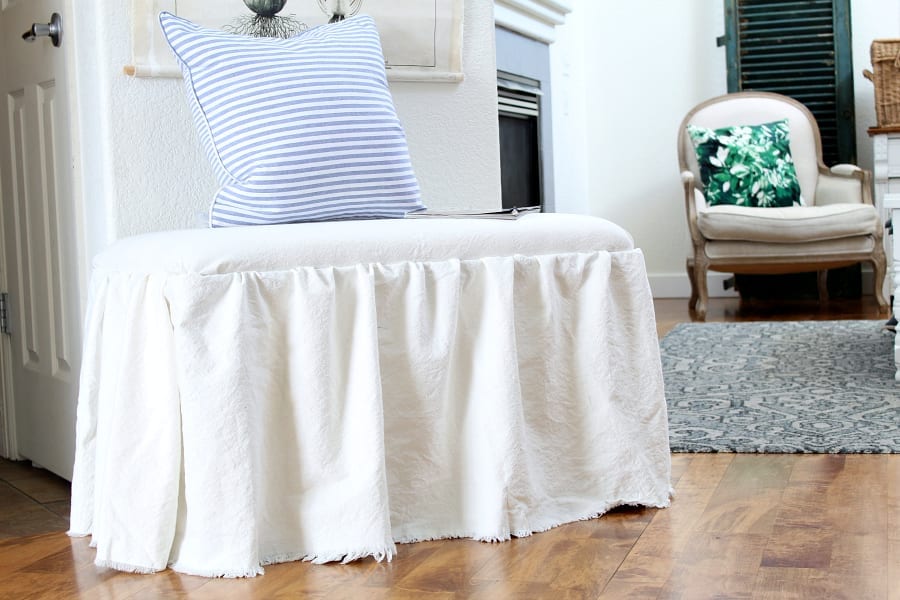 Remember I told you that I love drop cloth projects? Well I wasn't kidding! These no sew drop cloth bed skirts I made for my girls were the very first project that my blog was know for!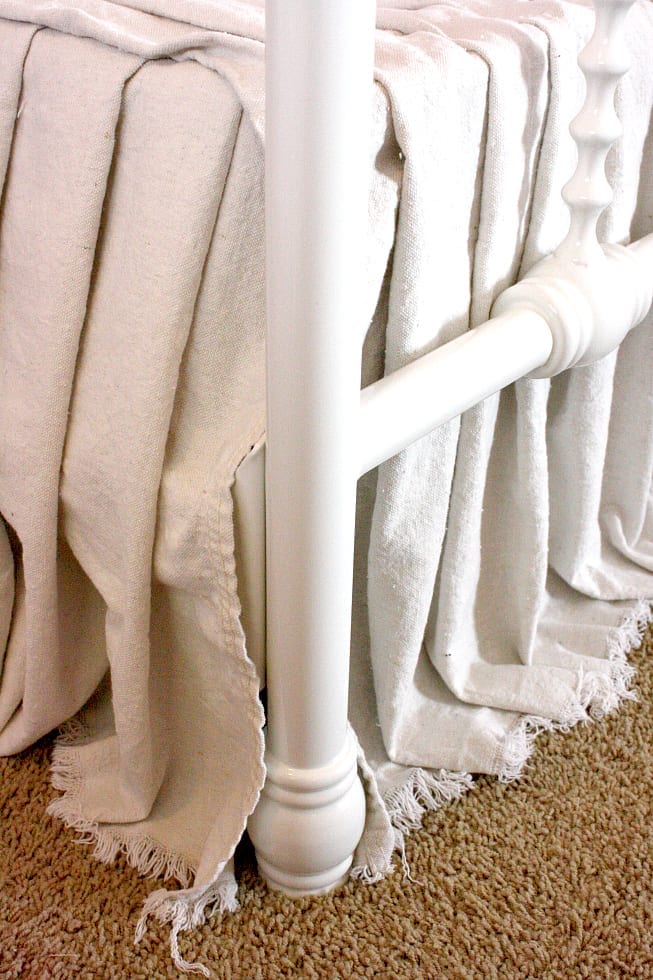 Do you have any old jelly jars? They make the cutest votives for your porch and patio. A simple and budget friendly decor project that anyone can do!

Ok this project is all about making your drawers pretty! You won't believe what I use to line mine.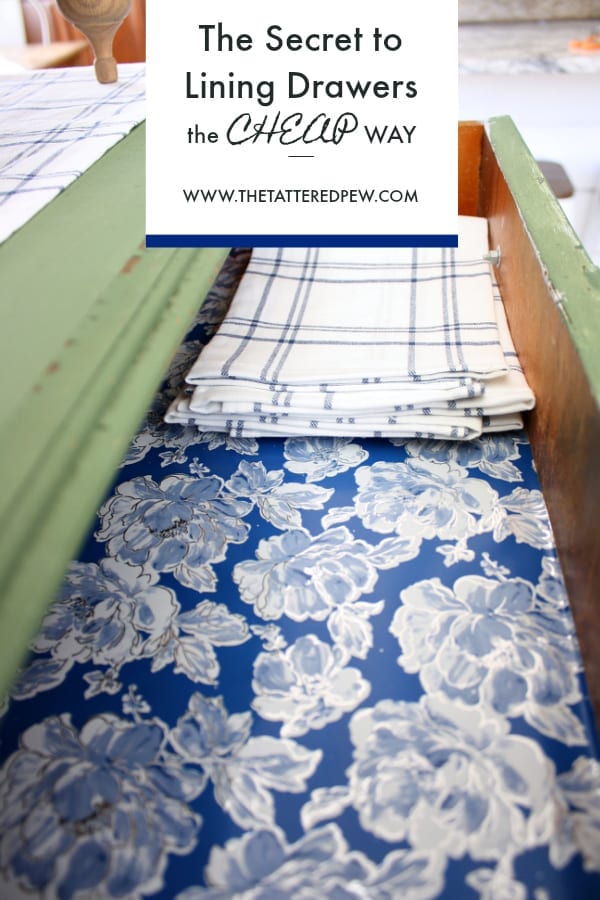 Art can get expensive and I for one am on a budget. But thanks to this awesome app I no longer have to worry about finding budget friendly art for our home.
My all time favorite post is my May Day baskets! It might be because they were just recently features in American Farmhouse Style's latest issue. Such a pinch me moment. I'm thinking that I might have to start a #maydaymovement this year!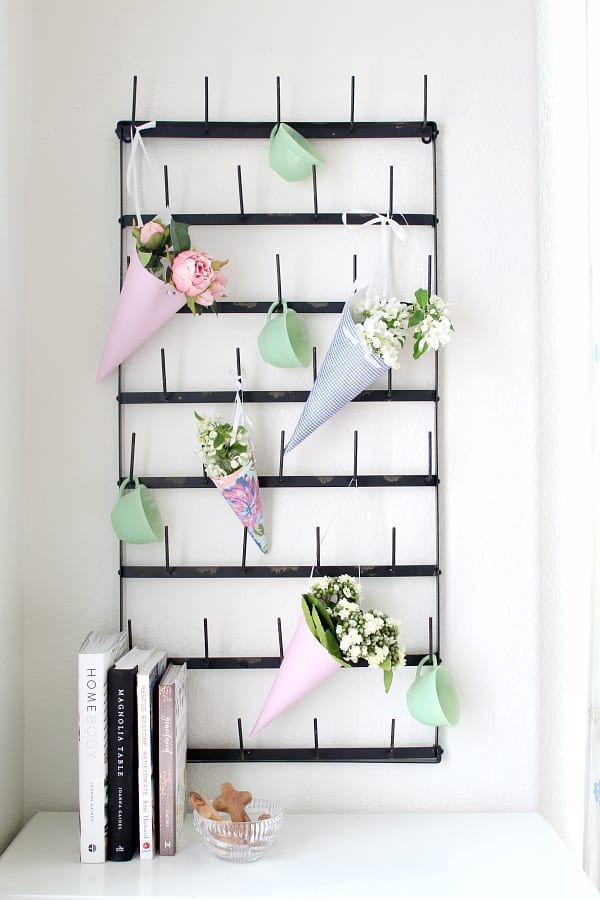 Weaber Lumber was one of my very first collaborations as a blogger. We have added their gorgeous white washed planks to several areas in our home. I like to call it instant character!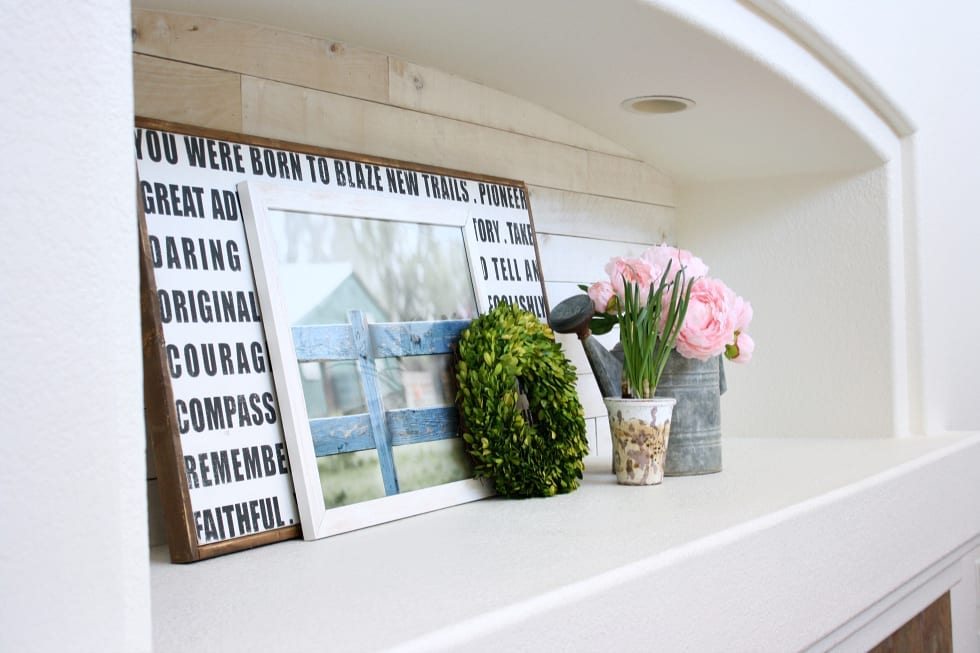 It's no secret I love the color Boxwood by Miss Mustard Seed milk paint. So I am always looking for something to paint in this gorgeous green color and this old beat up potting bench was the perfect piece! Paint is my favorite budget saving tip for decorating your home!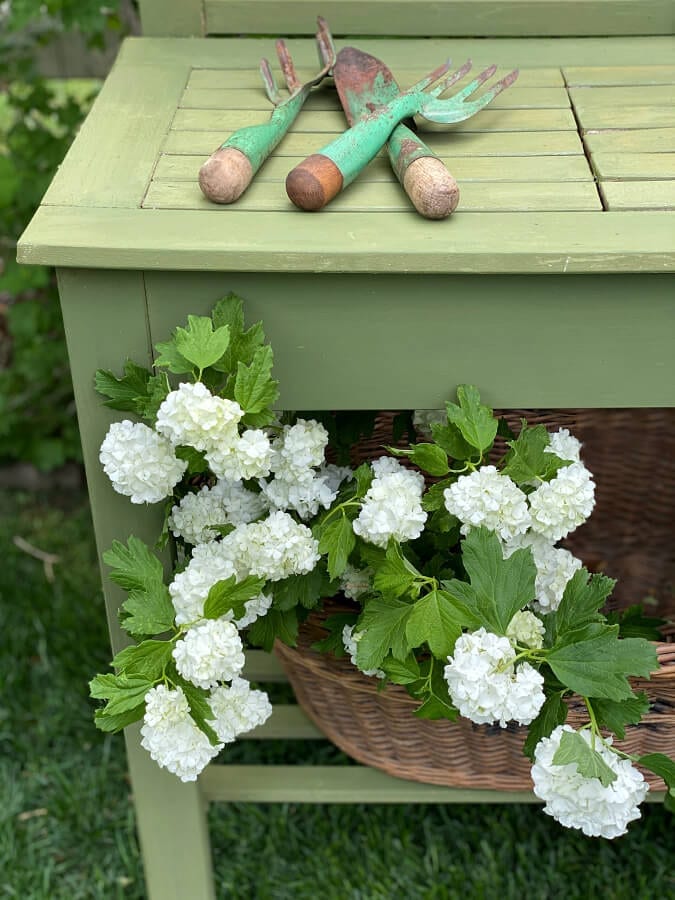 Do you love hydrangeas? I sure do and I dry mine all the time so have tons of them left over each summer. Since I always have so many I figured why not spray paint some a add them to a wreath? Free flowers a bit of paint and a grapevine wreath made this a thrifty project for sure!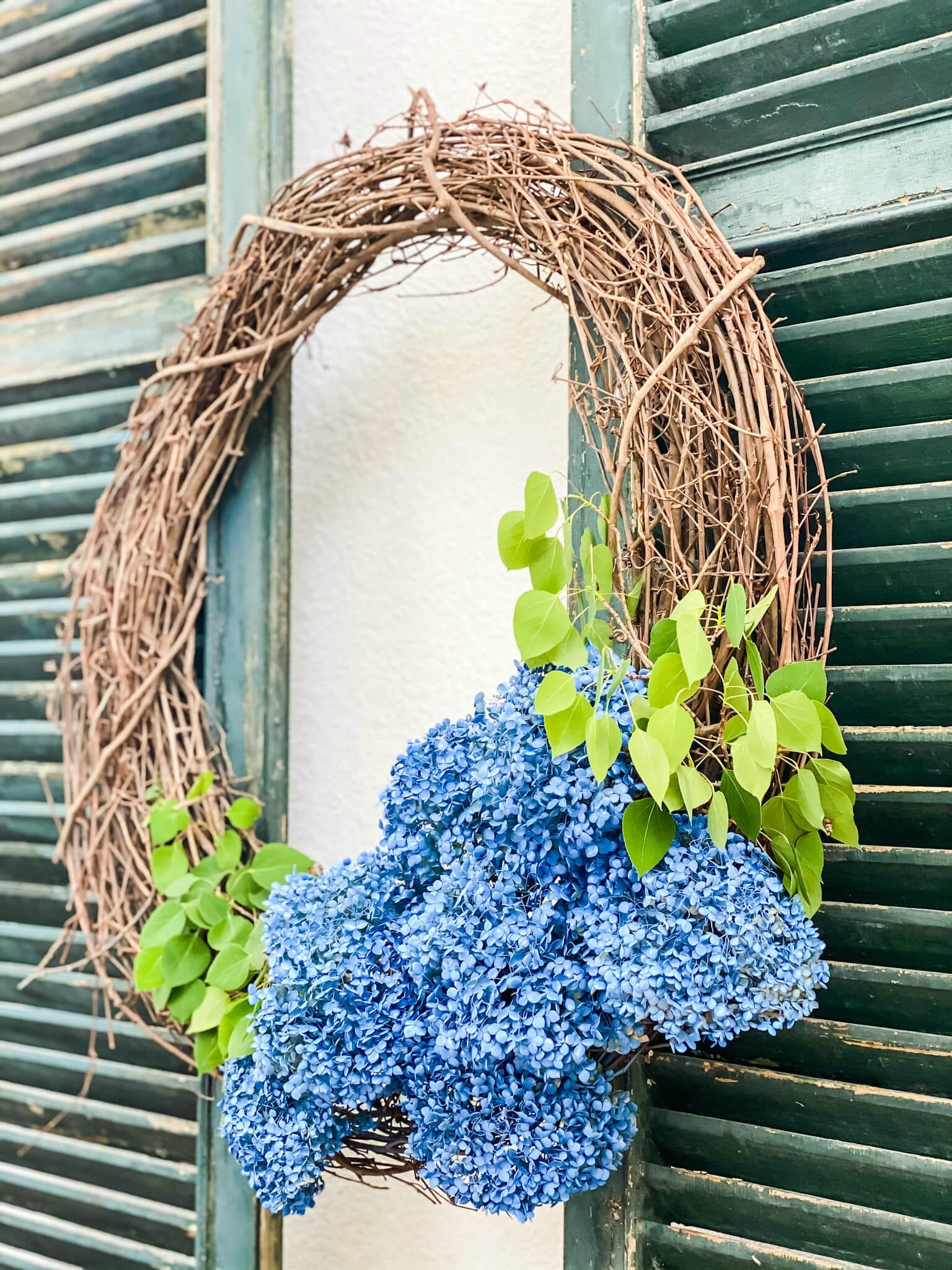 Have you ever seen a book garland before? Ha! Me either until I dreamed up in my head. Putting this together was a bit of a challenge but literally cost me almost noting! This project is a fun and creative way to decorate your home.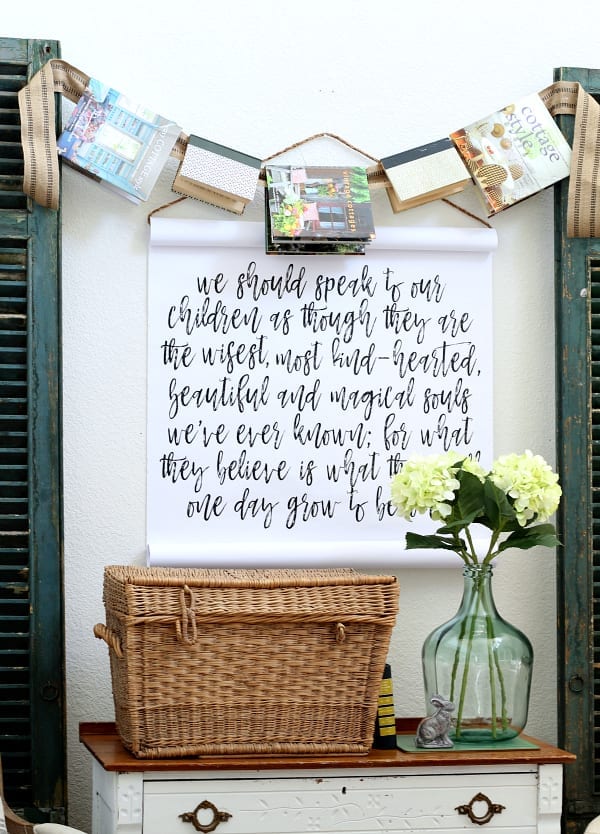 Give me all the faux flowers! These days you can find gorgeous faux flowers just about anywhere…even in the Target dollar bins! I love putting fun little arrangements all over my house.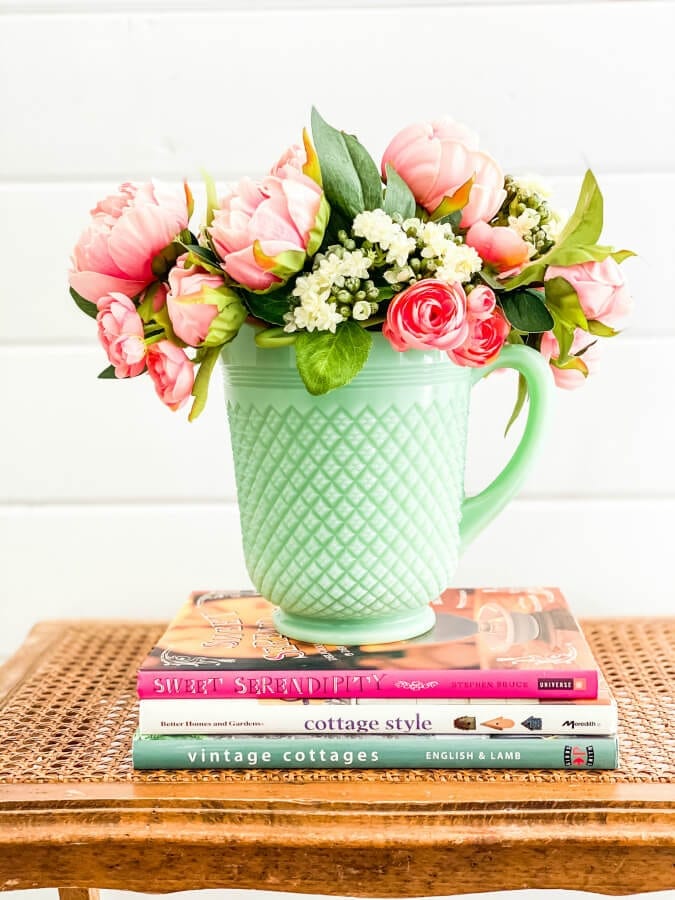 Have you played around with modge podge before? It's so fun! There are so many great home decor project you can create with this super fun product. I used some pretty napkins and an old cutting board and made something new within a matter of minutes!
This old armoire was a Facebook marketplace find. My sister, mom and I all worked hard to bring her back to life with some paint and cane webbing. She now lives in my niece's room!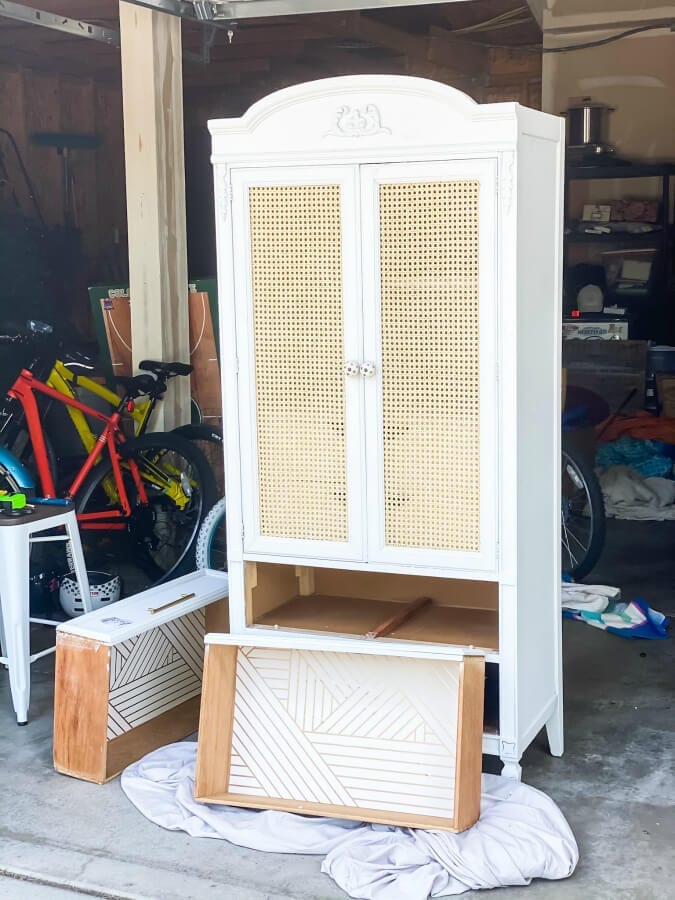 Mosquitos are my nemesis in the summer! So I made a pretty DIY citronella candle jar for our back patio. It was amazing, smelled amazing and even looked amazing too!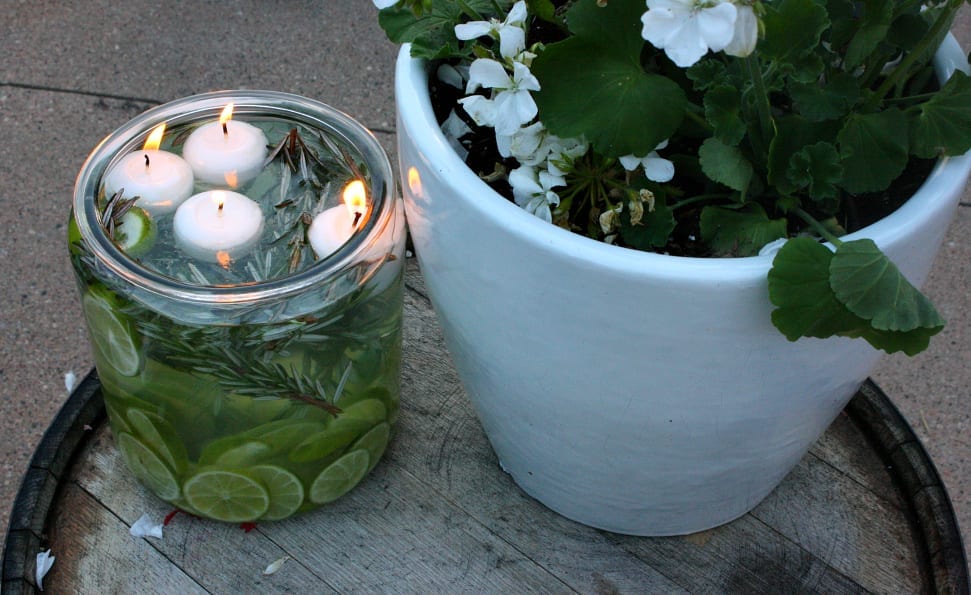 My latest project was our half bath refresh for under $200! Once again the power of paint came in clutch as did a few other small changes. Budget friendly doesn't have to look cheap if you know how to di it right.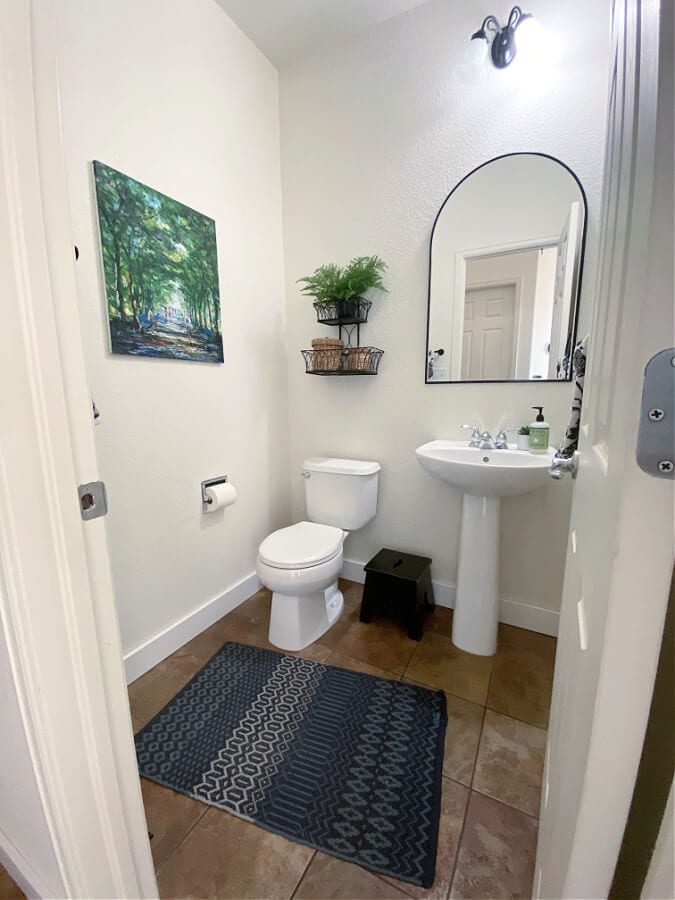 Remember that hydrangea wreath above? Well this is my post all about how I dry and preserve my hydrangeas so I can use them year after year during any season!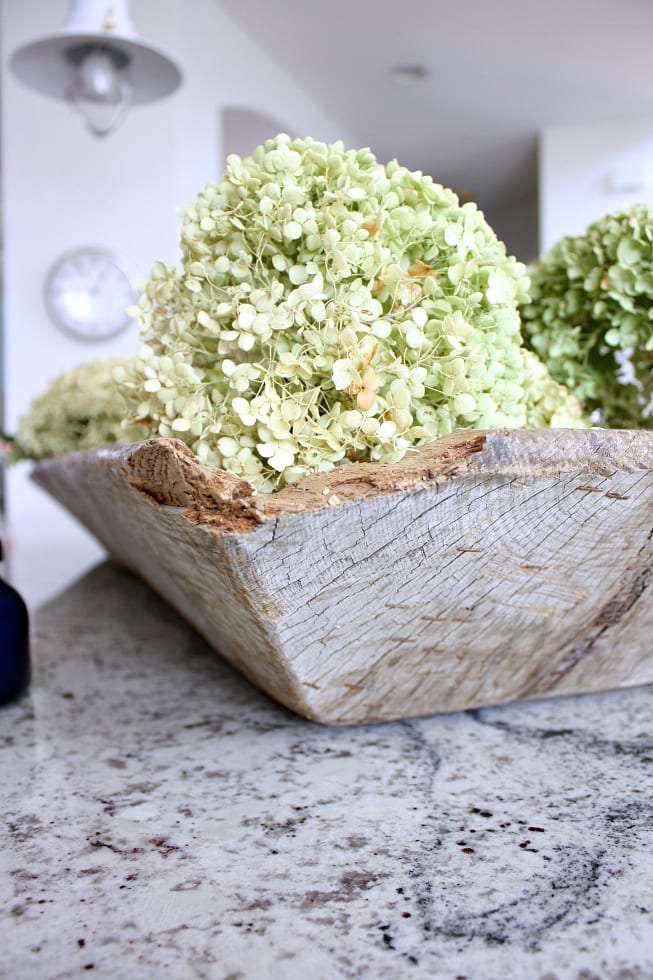 Flea markets are my favorites to visit when I am searching for budget friendly home decor projects! This centerpiece I created include more hydrangeas and flea market finds.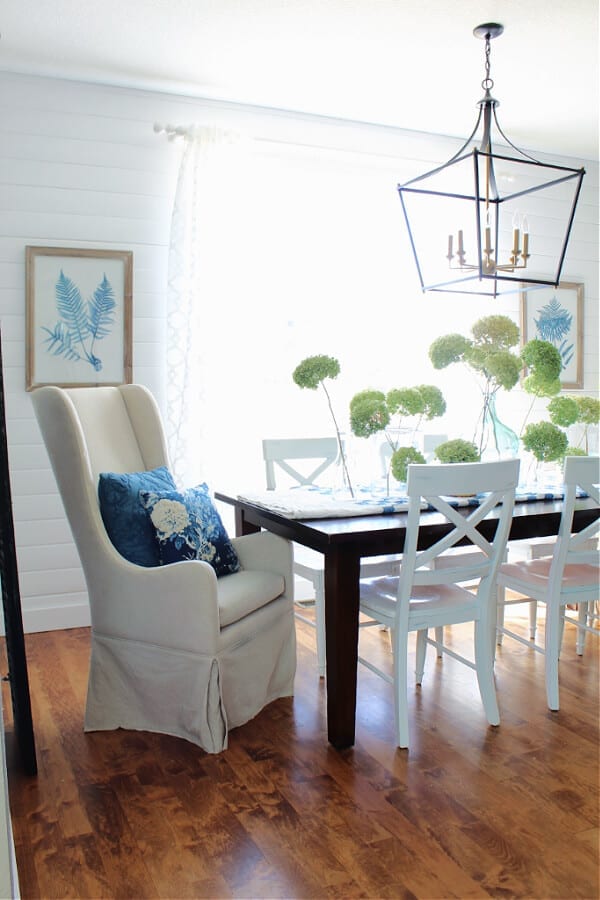 Need some tips and tricks for creating fresh flower centerpieces? You will love this post and how simple it really is.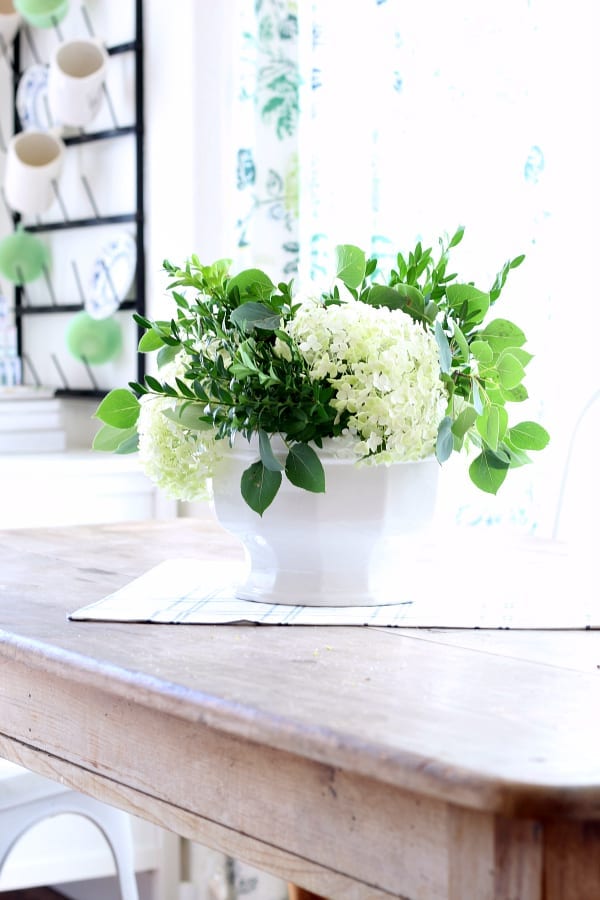 Paint projects are like therapy for me…they bring me happiness. After finding this beautiful old dresser on Facebook Marketplace and painting her I knew we would be friends for a long time!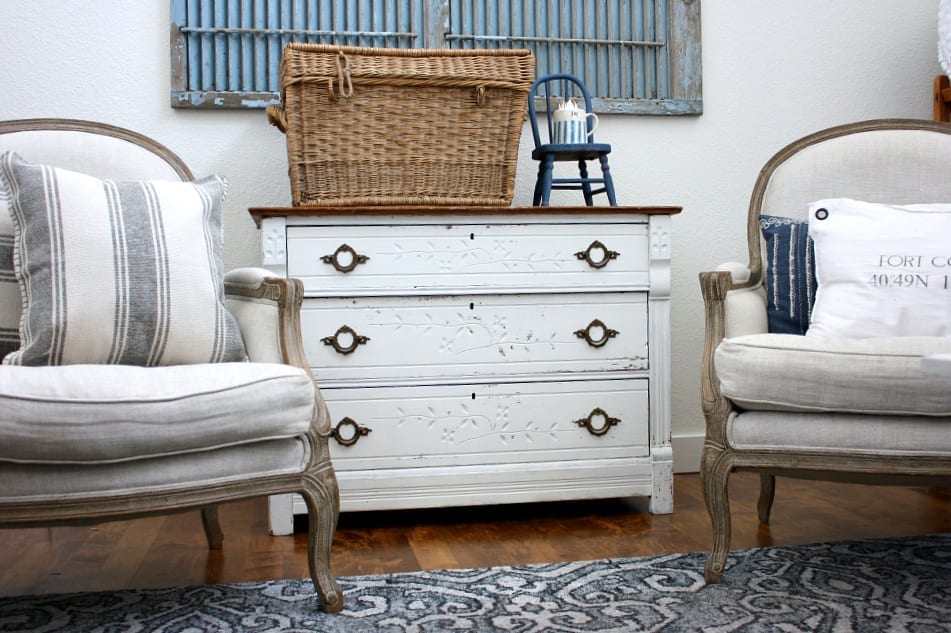 Miss. Mustard Seed milk paint to the rescue for these gorgeous vintage shutters! And guess what? I only painted one side of them…which means I didn't need a lot of paint and didn't have to spend a lot of money! Win win in the budget friendly decorating world! Turn them over for a whole new look. 🙂
Budget Friendly Home Decor Projects
Hopefully you were able to find a few projects that piqued your interest. It was so much fun for me to round all of these up for you and take a walk down memory lane.
Now come see what my thrifty friends are sharing this month!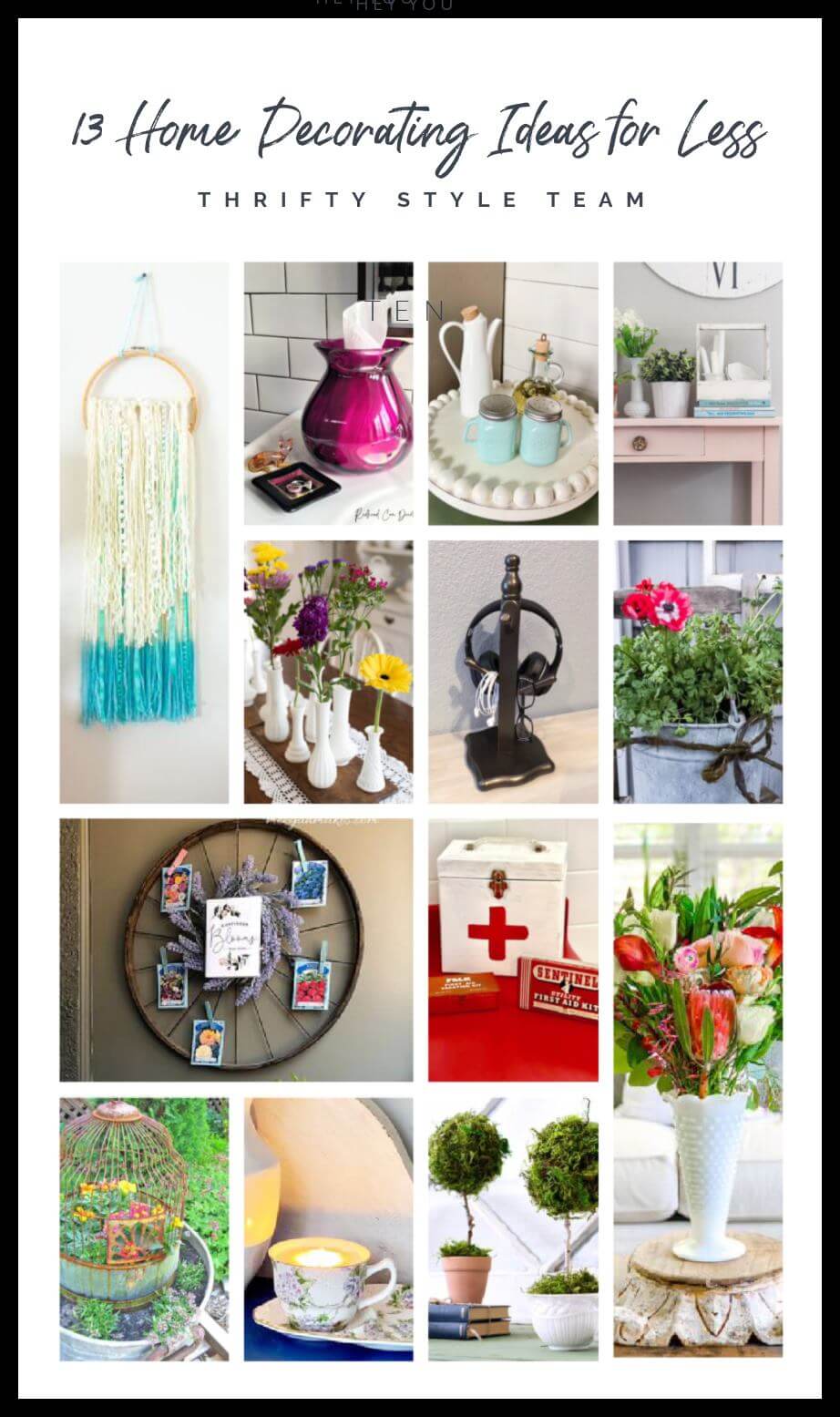 Thrifty Style Team
Thanks for stopping by today friends! What idea was your favorite? Are you up to any thrifty projects yourself right now? I'd love to hear about them! Just leave me a comment below.
XOXO,
Kelly
Did you like this post? PIN it for later!