Easy Haunted House Silhouette Craft
Halloween is creeping up on us now that it is September! I'm not a huge decorator when it comes to Halloween but my kids really love it. So I do try to sprinkle in a few spooky Halloween pieces around our home. If you are like me and don't want a ton of creepy decor then you will love this easy ( and inexpensive) haunted house silhouette craft!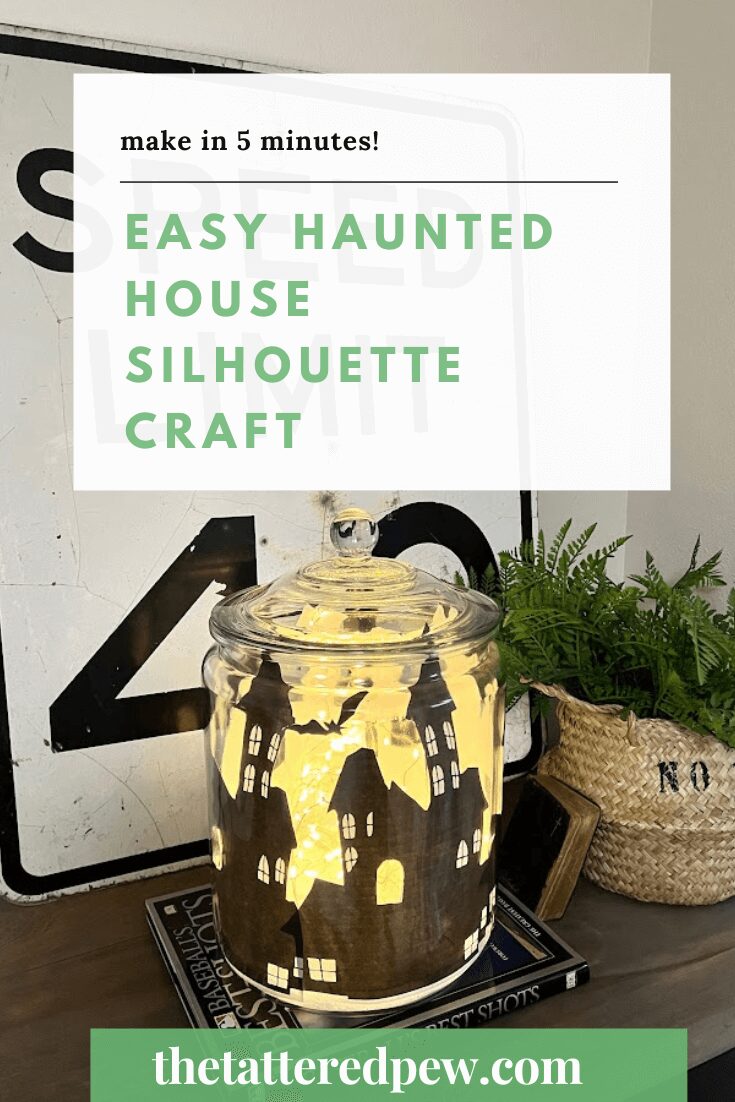 *As an Amazon Associate, I earn from qualifying purchases. This post contains other affiliate links too for your convenience. Click here to read my full disclosure policy.
Celebrate the Holiday Blog Hop
Today I am thrilled to be joining the Celebrate the Holiday Blog Hop hosted by Carol of Blue Sky at Home. As you probably guessed today is all Halloween and there are 10 creative ideas linked below for you to add to your list this year. Have fun checking those out at the end of my post.
And if you are hopping over from Michelle of Thistle Key Lane, welcome! Wasn't her black cat pumpkin tutorial so cute?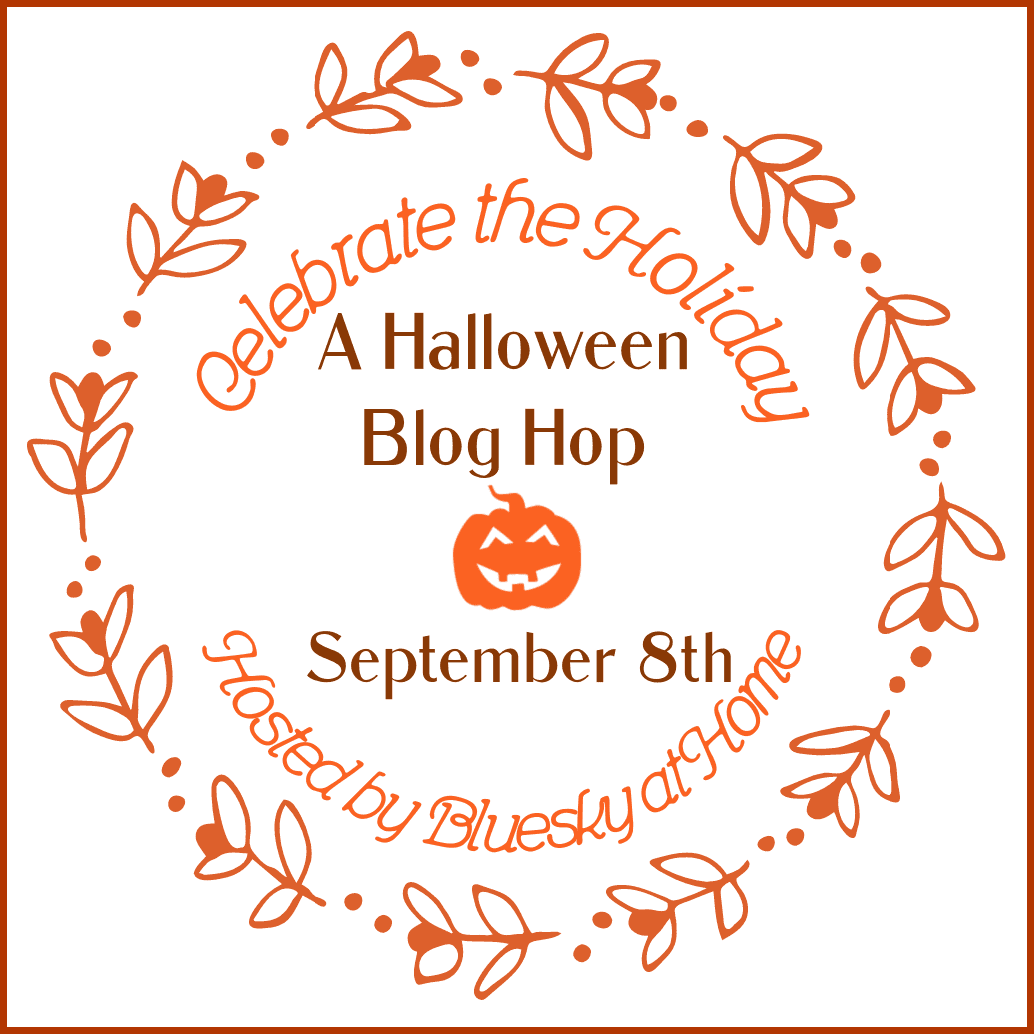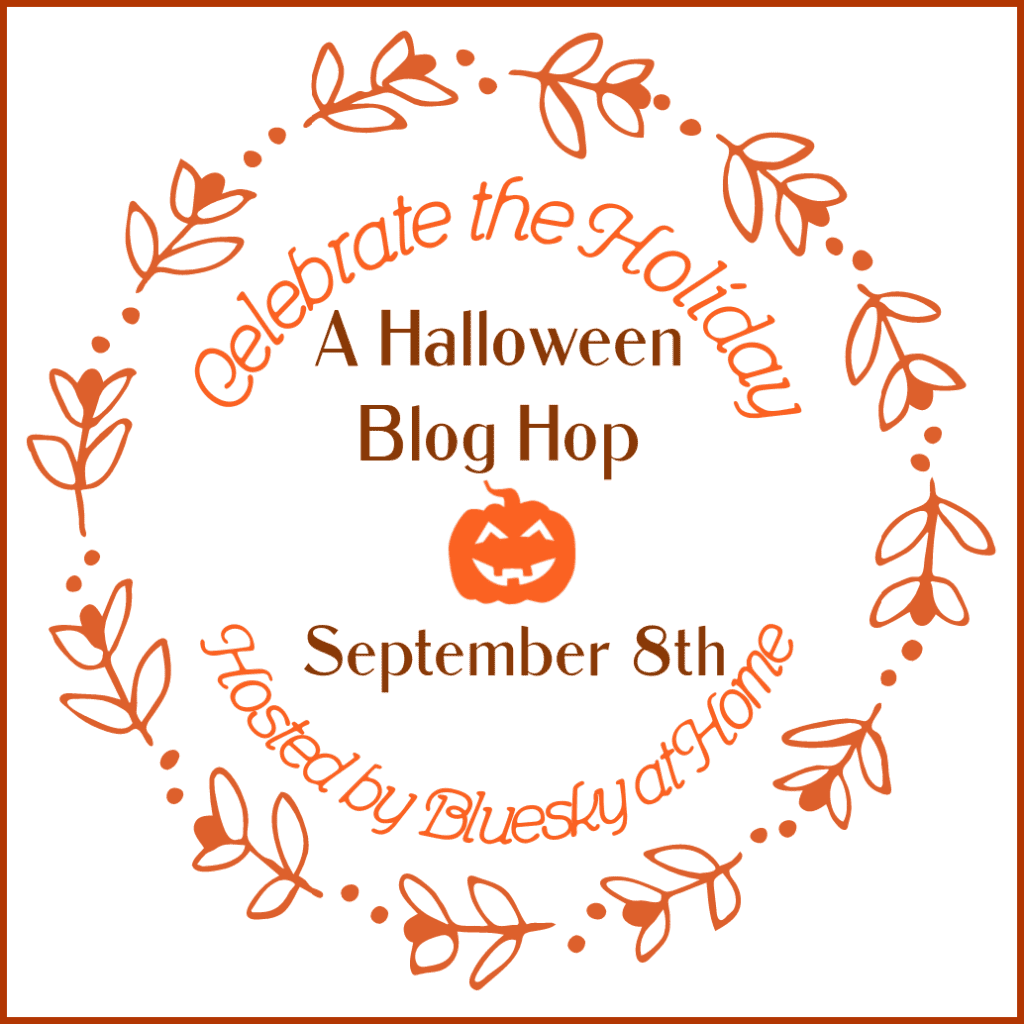 Easy Haunted House Silhouette Craft
Have you seen those haunted house silhouettes floating around on-line or over on Pinterest? I thought it would be fun to use a few of them to line the inside of a clear lidded jar to display in October. So that's what I did. And guess what?! It took me all of 10 minutes!
And let me just say it ended up being way cooler than even I expected!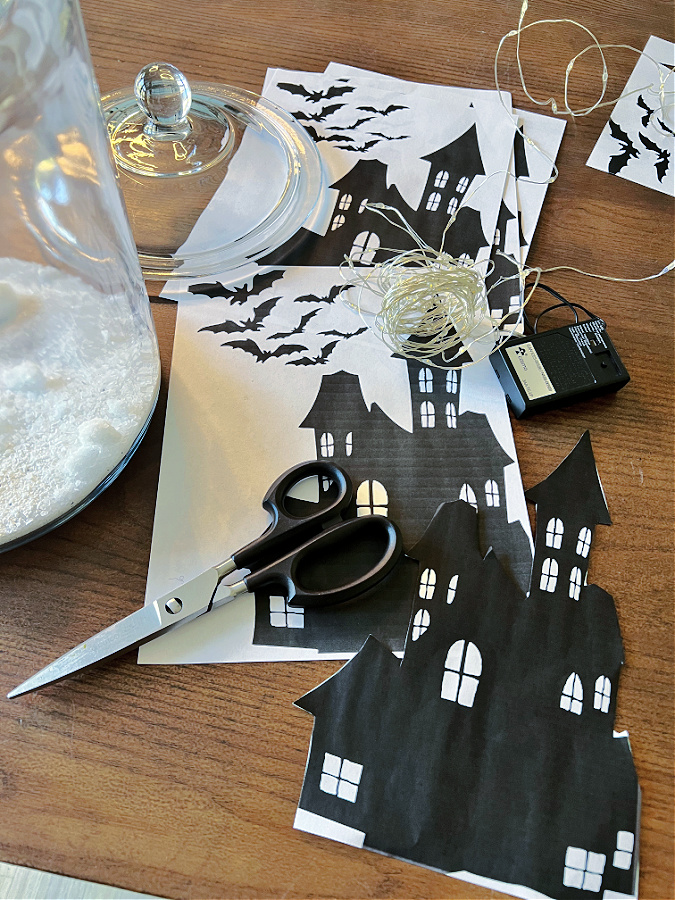 Supplies Needed
Grab these simple supplies to create your own haunted house in a jar craft!
Step 1: Print our that Silhouette
The first thing I did was search over on Pinterest for a FREE black haunted house silhouette printable. There were several cute options but I ended up choosing this one. Mostly beacuse it was free, cute and just what I was looking for.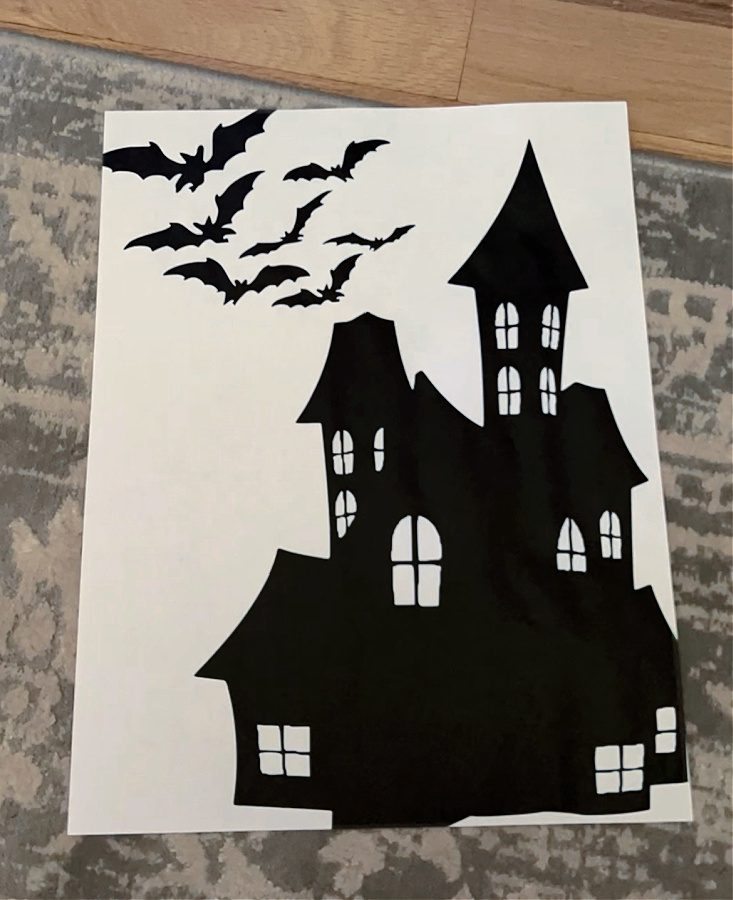 I was able to print it directly from my phone and ended up printing 5 total of the exact same house. For a hot minute I thought about finding other haunted house silhouettes to give the illusion of a town or neighborhood but after holding these up I thought they looked good repeating!
Plus it kept this project simple and easy, just how I like my Halloween decor!
Step 2: Preparing the Jar
Next I grabbed my largest lidded jar from Target that was only $14. I did a dry run of the houses around it and found that 5 printable houses were perfect.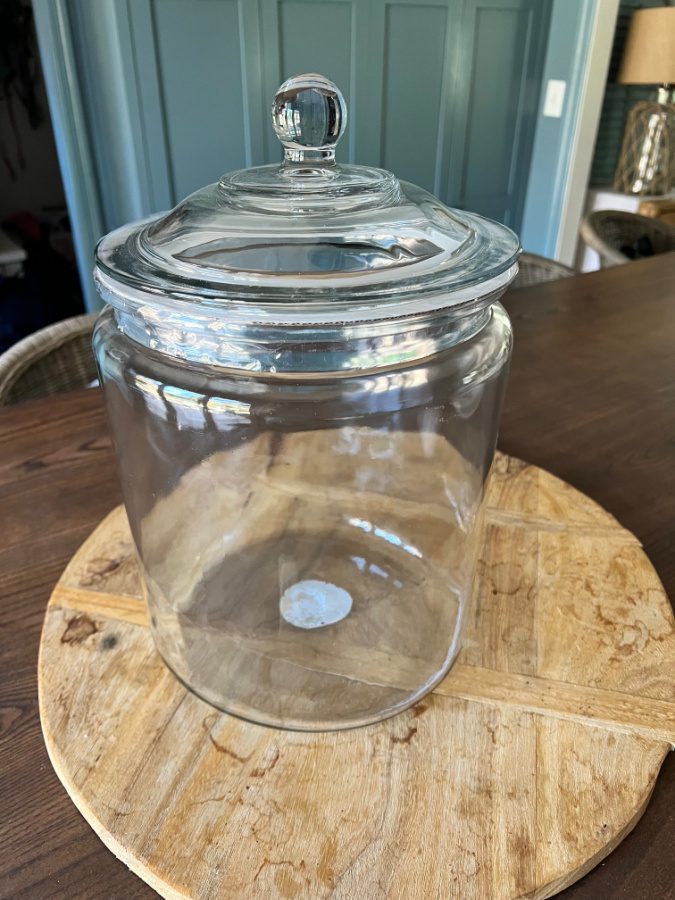 After cutting out one house and being careful to not let any white show on the edges where I was cutting I finally realized I should cut all of the papers at the same time.
This was a huge time saver and worked since all of the house were exactly the same. Wish I had thought of it earlier. Ha!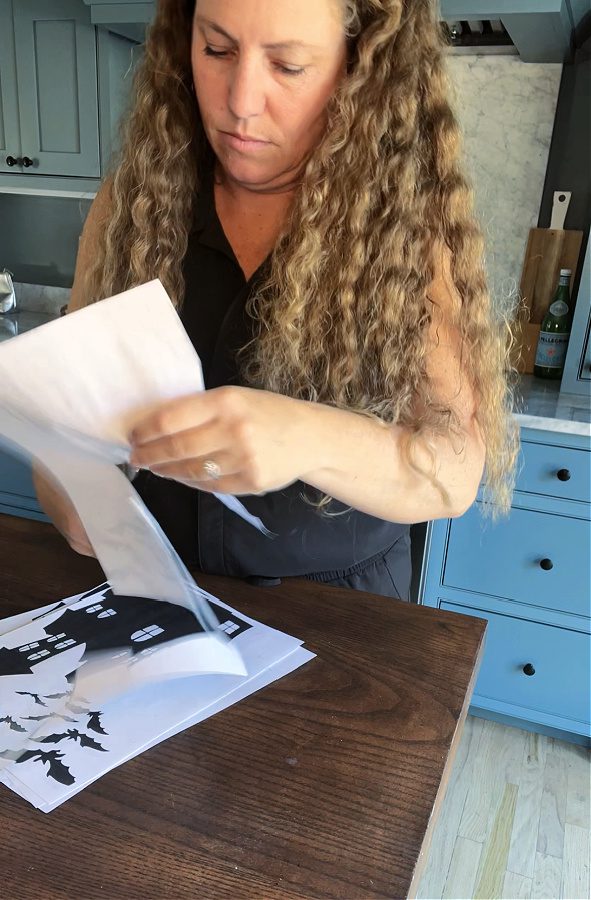 Step 3: Adding in the Haunted Houses
Once I had all of the houses cut out I decided to add some epsom salt to the bottom of the jar to help hold up the houses. I loved the look and it really did help support the paper.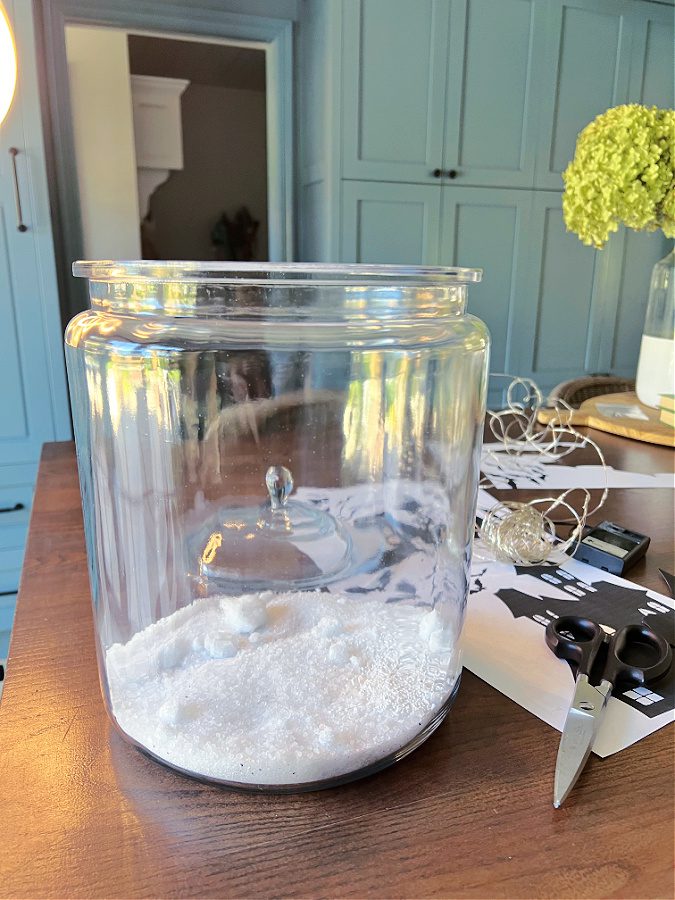 Next I pushed the houses down in the salt and made sure they were butting up next to each other so there were no gaps. It was instantly so cute!
Once I had them all in the jar with the black facing out, I added a string of fairy lights into the center of the jar and put the lid back on.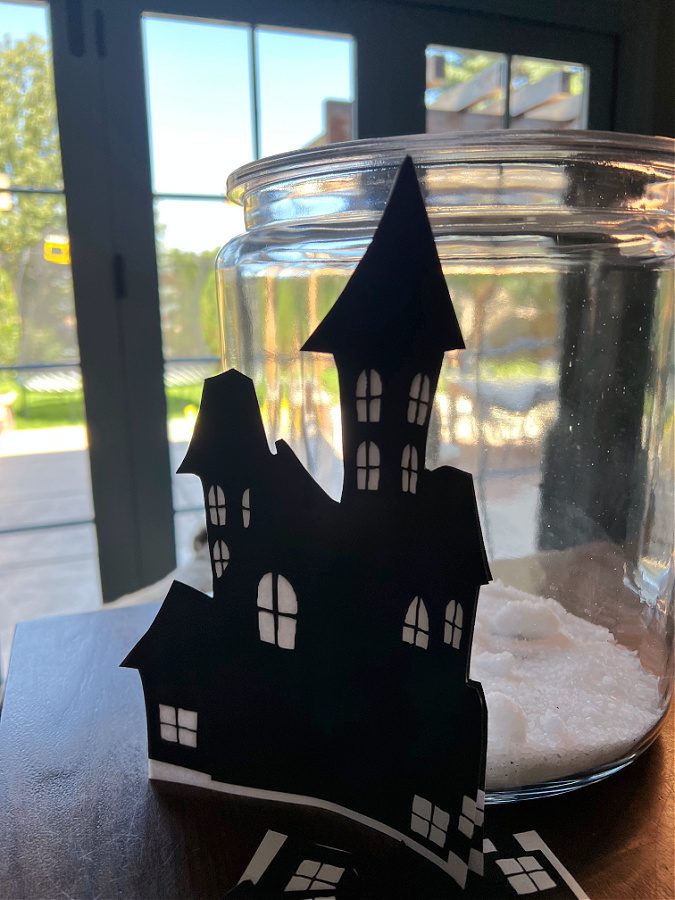 The fairy lights gave it that final push to being legit spooky Halloween decor. I suggest playing around with the different settings and colors for that customized look you like.
And that's it! So easy, right?! I absolutely LOVE how it turned out and I think this might have taken me only 20 minutes total to make.
Step 4: Enjoy Your Haunted House in Jar
Now take it to a space in your home and enjoy this simple Halloween decor! How cute is it sitting on my step-son's black dresser? So cute!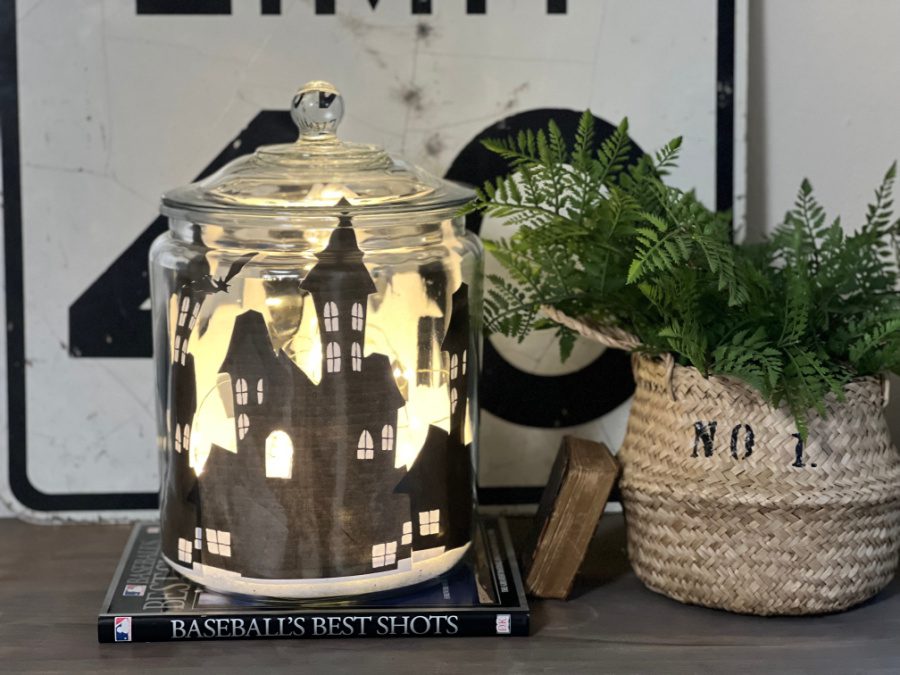 And here it is with the lights off in the room. My kids thought it was super fun and so did I.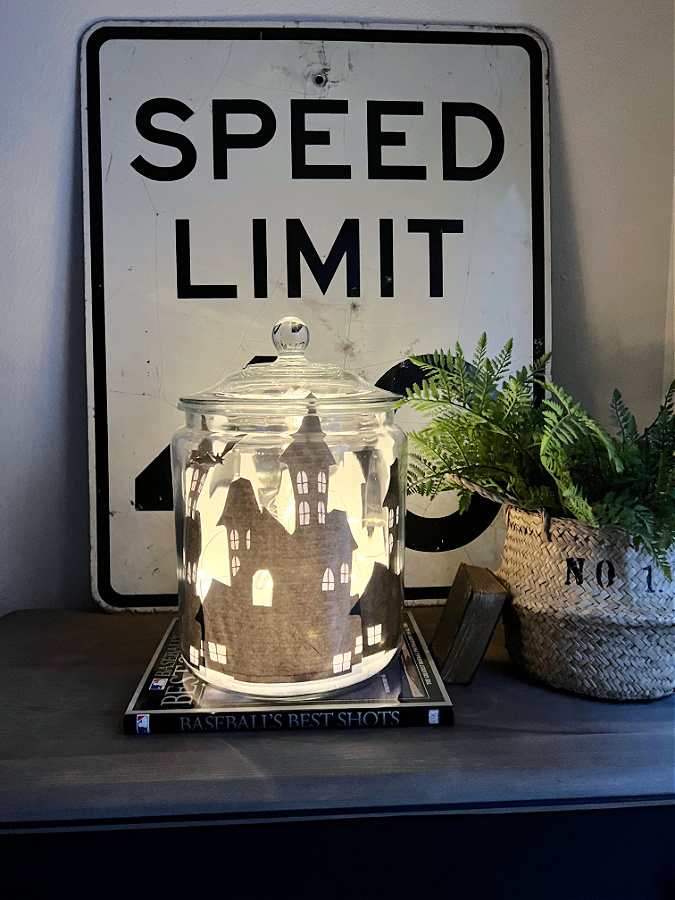 Maybe I am coming around and will start adding more Halloween decor this year. They still talk about the one year I decorated our porch at our old house. I think it might be time to do it again since we are now in our new home!
Some Halloween Decor I Have My Eye on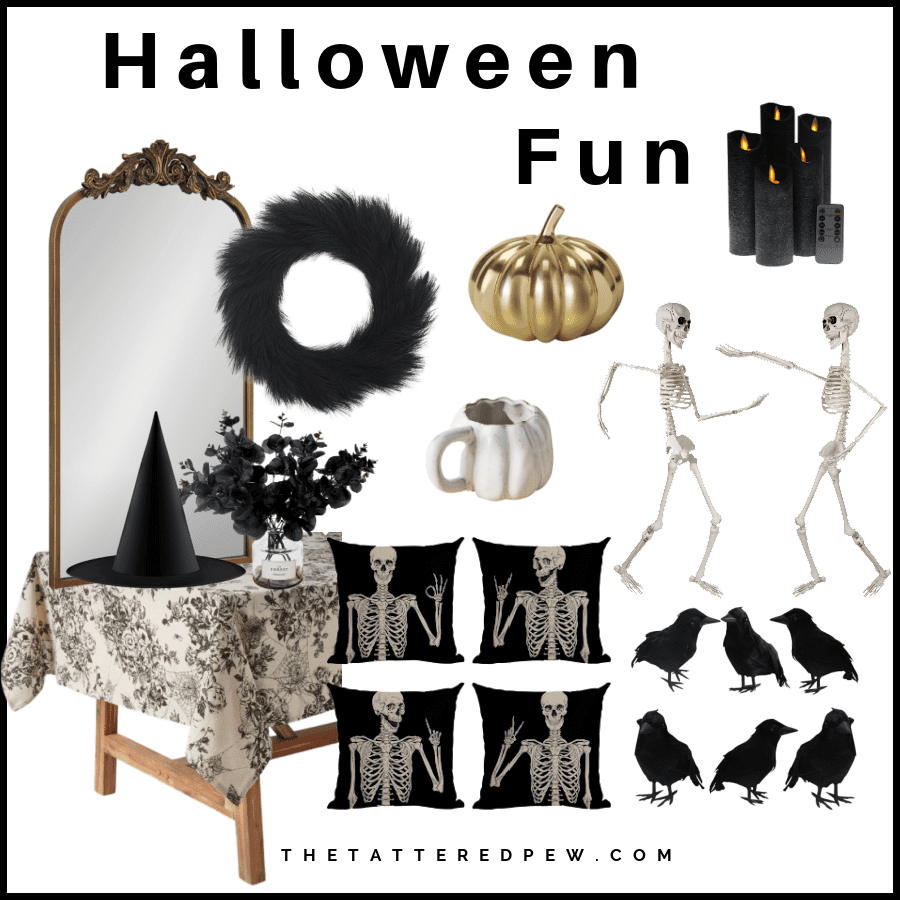 Easy Haunted House Silhouette Craft
So what do you think? Did you like this easy haunted house silhouette craft? I was thinking how cute it would be if I did this in several jars and created a tiny little lit up city! I guess I need to buy some more glass jars.
Do you decorate for Halloween? If so make sure to scroll down and check out the other 8 Halloween ideas linked below. But first keep the hop going and visit Lynn from Living Large in a Small House and her post on easy neutral Halloween decor! It's so pretty and well done!
I'd love to have you hang out with me some more! Feel free to follow along with me on any of the platforms linked below.
LTK | Facebook | Instagram | Pinterest | Amazon
xoxo,
Kelly
Did you like this post? PIN this for later.