Christmas Storage and Organizing Essentials From Amazon
If you are anything like me you have a ton of Christmas decor that needs to be stored or organized. I have rounded up the best Christmas storage and organizing essentials from Amazon all in one place to help you conquer the Christmas clutter and keep your keepsakes safe.
*As an Amazon Associate, I earn from qualifying purchases. This post contains other affiliate links too for your convenience. Click here to read my full disclosure policy.
Christmas Storage and Organizing Essentials From Amazon
Ok raise your hand if your Christmas decor is in need of better storage or organzing? Or roaise your hand if you jsut love oraganzing all the things especially your Christmas decor?
I know this won't surprise you but when it comes to Christmas I have a lot of decor. I mean A LOT!
Can you relate?
I guess that comes with the territory of being a home decor blogger or it just means I LOVE all things Christmas.
When we moved from our last house the movers were in awe of how many boxes said Christmas on them. It honestly became quite hilarious when we would hear them say, well here's another Christmas box.
It all ended up in our garage in the over head hanging storage we have.
And sadly it still needs some organizational help. I raised my hand with the first group from the question above.
My goal this year after Christmas is to get it organized. I might need someone to hold me to that because I am already dreading the thought of it.
Amazon Christmas Storage
So today I have rounded up some of Amazon's highly rated Christmas storage and organizing containers and such, perfect for Christmas decor. Not only am I hoping that this post is helpful for you but I'm hoping it is also very helpful for me too!
Below you will find everything from wreath storage, to ornament storage to tree storage. There are even some awesome gift wrapping storage options that can hang or fit under your bed. I made sure to look at ratings along with add a variety of price points too. Happy shopping!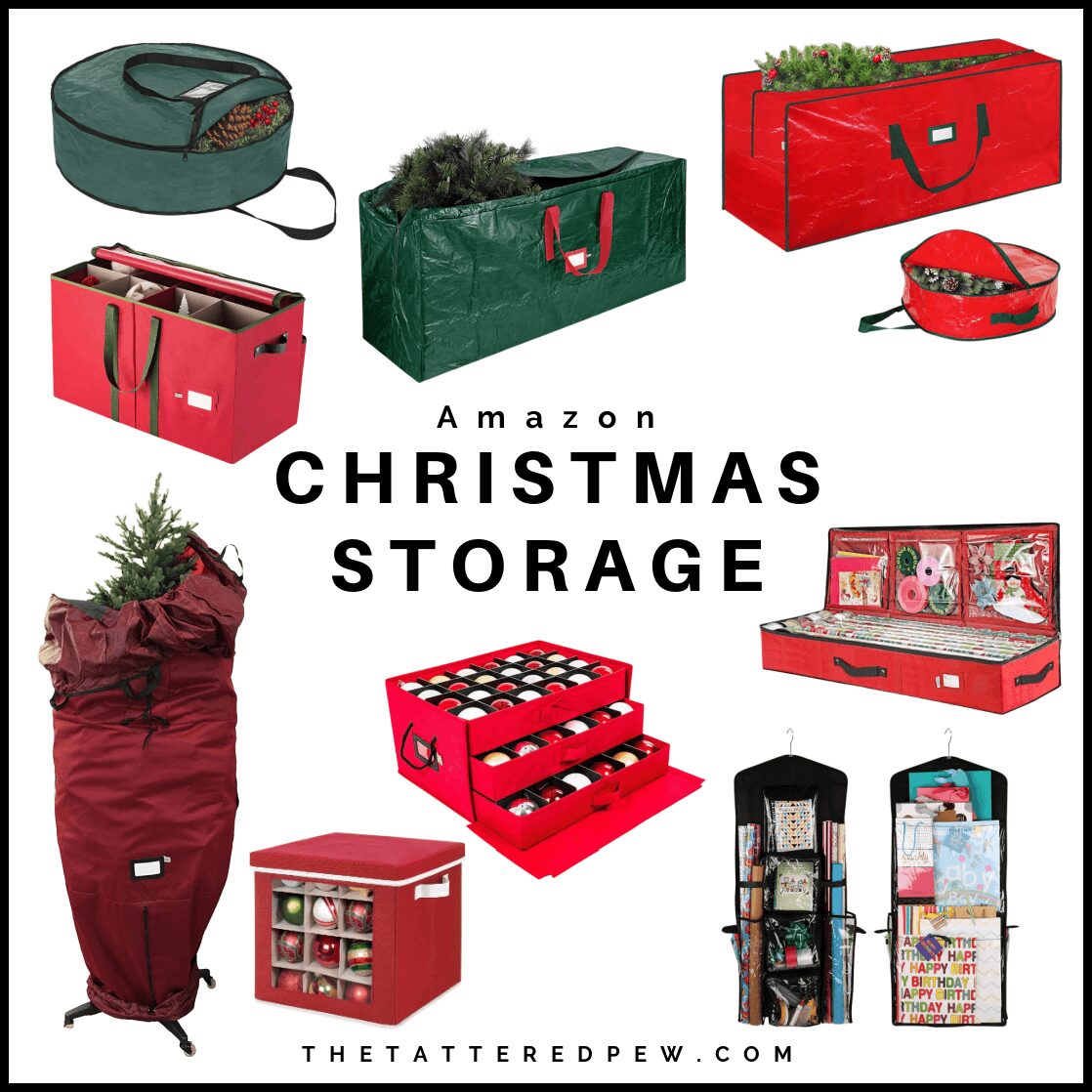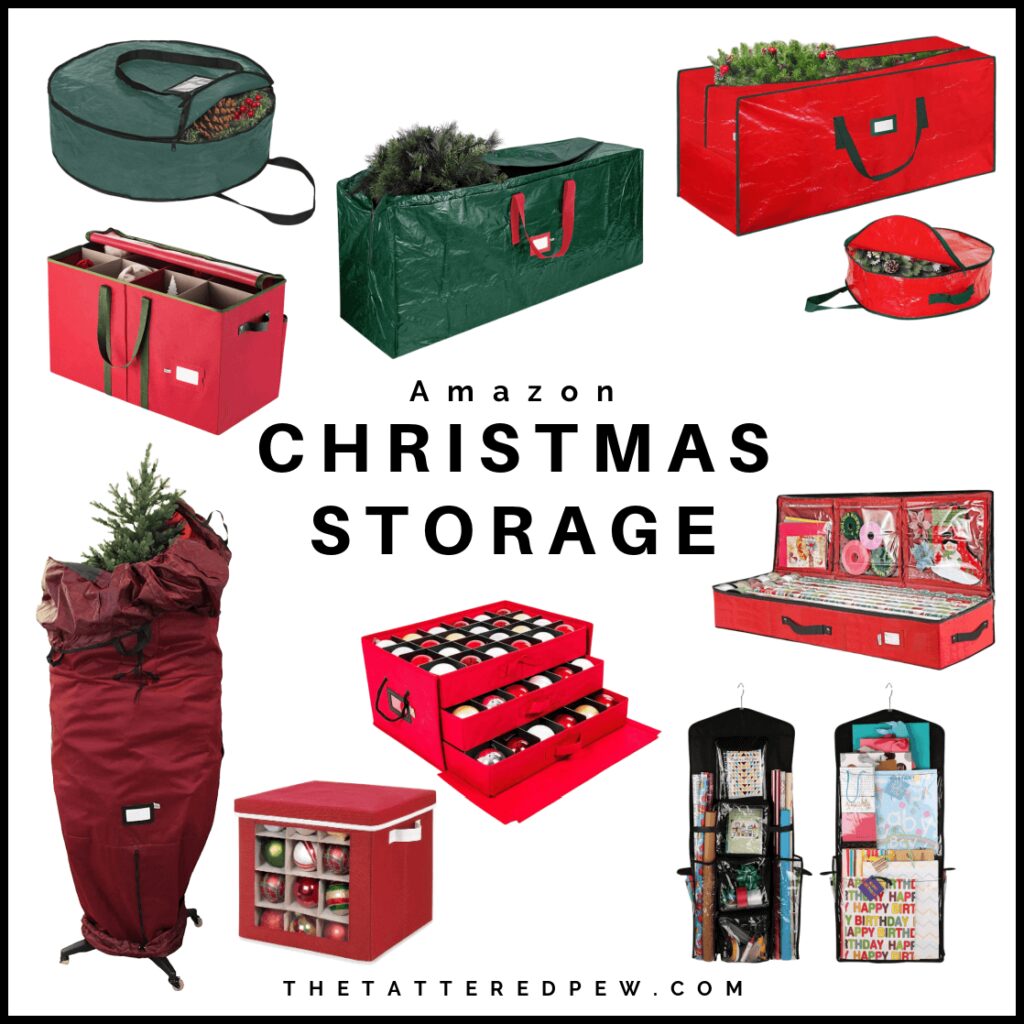 Sources: Green Wreath Storage Bag / Red Figurine Storage Box with Zipper / Large Green Christmas Tree Storage Bag / Red Christmas Tree Storage & Matching Wreath Storage Bag / Underbed Wrapping Paper Storage / Hanging Wrapping Paper Storage / Ornament Storage Box With Dividers / Ornament Storage Cube / Upright Christmas Tree Storage Bag /
If you want to see these items and more in one spot you can visit my Amazon Storefront or go directly to these items on Amazon where I have them all saved neatly for you!
What is the easiest way to store Christmas ornaments?
Christmas ornaments are an integral part of the Christmas season, making it so special for so many. Keeping these lovely decorations safe and secure is a must for every person decorating their Christmas tree; and it doesn't have to be a chore!
The best Christmas ornament storage involves creating an organized system that is both accessible and practical. Christmas ornament storage containers come in all shapes and sizes. You just have to find ones that work for you.
I have these storage bins and these Snapware ornament storage containers and they work well for our needs. But I have heard that some of the best ornament storage bins are the ones that have drawer style trays.
Not sure where to start? Create designated bins, labeled by type, size and color of ornament. For additional protection against moisture and dust, slip them in individual cloth bags before putting them in the bin. This makes Christmas ornaments storage not just easy but also enjoyable — one could almost say magical!
How do you store ornaments so they don't break?
Christmas ornaments are a treasured tradition, and their safe storage is essential to prevent breakage. Fragile Christmas ornaments come in various sizes and materials that must be taken into consideration when selecting the right Christmas ornament storage containers.
Stylish Christmas boxes, cardboard dividers, egg cartons and pop-up plastic versions can all be used to store Christmas ornaments safely. Careful packing with tissue paper around each ornament will also help protect fragile Christmas decorations from getting damaged while being moved.
If you want to ensure Christmas ornaments remain in one piece until next year consider using soft Christmas ornament blankets or fabric bags for extra protection. Ultimately, proper storage of Christmas decorations is the key for an organized holiday season!
Often times I will use some of my Christmas linens to wrap up the real fragile ones or place them in smaller boxes and then stack the smaller ones inside the larger ones.
What is the best way to store holiday decorations?
Holiday decorations can be a hassle to store, but they don't have to be! With a few simple tips, you can make holiday decor storage a breeze.
Start by investing in holiday storage bins and/or bags that are designed specifically for holiday items, like Christmas lights or tree stands. I always go for the clear ones to make sure I can see in them as well.
Then separate your holiday decorations into individual boxes or bags according to category–ornaments, wreaths, gift wrap, stocking stuffers and the like.
If you have room in your home for it, buy a large holiday-themed storage chest that can house all of your holiday decorations in one place. Or designate a spot in your garage (like I do) that is just for all things Christmas.
Finally, label each box or bin with the type of decoration inside so that you won't have any trouble finding what you need come holiday time. I recently came across this item over on Amazon called Tote Scan. It uses a QR code and creates labels for your storage needs. How perfect would this be fore Christmas!?
I also found another similar item called Elephant-Trax. Both come with great reviews and are awesome tools to make your ornament storage containers work for you!
With the right holiday decor storage solutions, decorating for the holidays is sure to be easier and more enjoyable than ever before!
How to Store Your Christmas Trees and Greenery
Christmas is a time of joy and peace, so don't let your Christmas decorations bring you extra work! The best way to save the Christmas spirit for next year is to properly store each Christmas decor item.
Christmas trees look great, but can be tough to store. A Christmas tree storage bag may be the perfect solution, as it will shield your tree from dust and moisture while taking up minimal storage space.
Have this bag and wreath storage and love them!
Wreaths, garland, branches and swags also need special care, which you can find in a specialized wreath storage bag. For garland storage, consider wrapping it around sturdy cardboard and sealing it in plastic before storing to prevent tangles or colors fading overtime.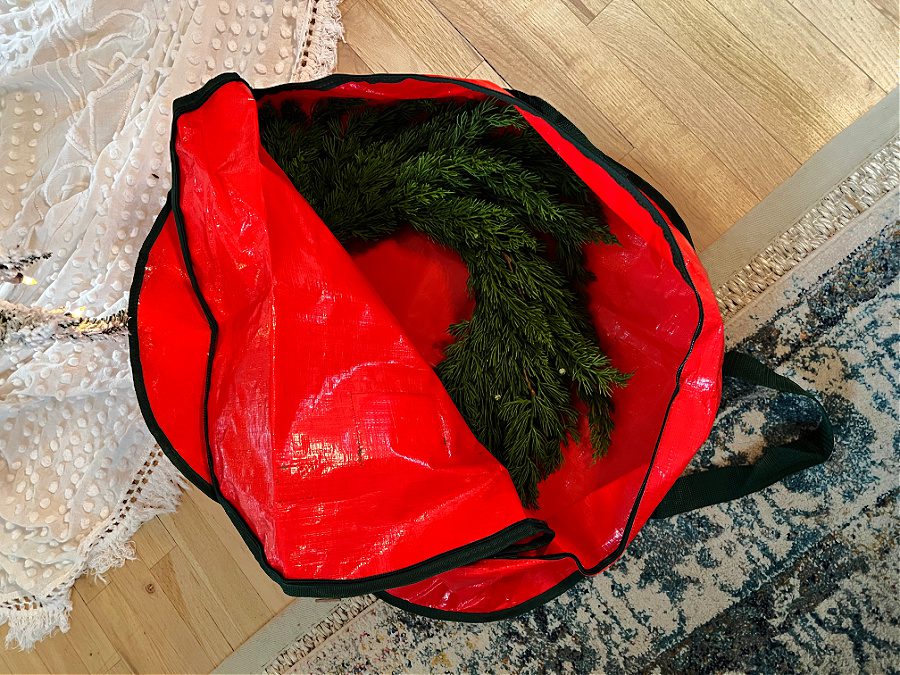 By following these simple tips on how to store your Christmas trees and decorations after Christmas has ended, you'll be ready when it's time to celebrate again come next year!
A Few More Storage Options

Christmas Storage and Organizing Essentials From Amazon
If you are like me getting a head start on your shopping and organizing always feels good. It also helps when you get things out the following year. It's never too early to start getting organized. Why not start with Christmas? Hopefully a few of these Christmas storage items from Amazon will be helpful!
Visit Other Amazon Shopping Posts of Mine
Below you can visit other Amazon gift guides, home decor posts and moods boards of mine.
I'd love to have you hang out with me some more! Feel free to follow along with me on any of the platforms linked below.
LTK | Facebook | Instagram | Pinterest | Amazon
xoxo,
Kelly