Christmas Storage and Organizing Essentials From Amazon
If you are anything like me you have a ton of Christmas decor that needs to be stored or organized. I have rounded up the best Christmas storage and organizing essentials from Amazon all in one place to help you conquer the Christmas clutter and keep your keepsakes safe.
*As an Amazon Associate, I earn from qualifying purchases. This post contains other affiliate links too for your convenience. Click here to read my full disclosure policy.
Christmas Storage and Organizing Essentials From Amazon
Ok raise your hand if your Christmas decor is in need of better storage or organzing? Or roaise your hand if you jsut love oraganzing all the things especially your Christmas decor?
I know this won't surprise you but when it comes to Christmas I have a lot of decor. I mean A LOT!
Can you relate?
I guess that comes with the territory of being a home decor blogger or it just means I LOVE all things Christmas.
When we moved from our last house the movers were in awe of how many boxes said Christmas on them. It honestly became quite hilarious when we would hear them say, well here's another Christmas box.
It all ended up in our garage in the over head hanging storage we have.
And sadly it still needs some organizational help. I raised my hand with the first group from the question above.
My goal this year after Christmas is to get it organized. I might need someone to hold me to that because I am already dreading the thought of it.
Amazon Christmas Storage
So today I have rounded up some of Amazon's highly rated Christmas storage and organizing containers and such, perfect for Christmas decor. Not only am I hoping that this post is helpful for you but I'm hoping it is also very helpful for me too!
Below you will find everything from wreath storage, to ornament storage to tree storage. There are even some awesome gift wrapping storage options that can hang or fit under your bed. I made sure to look at ratings along with add a variety of price points too. Happy shopping!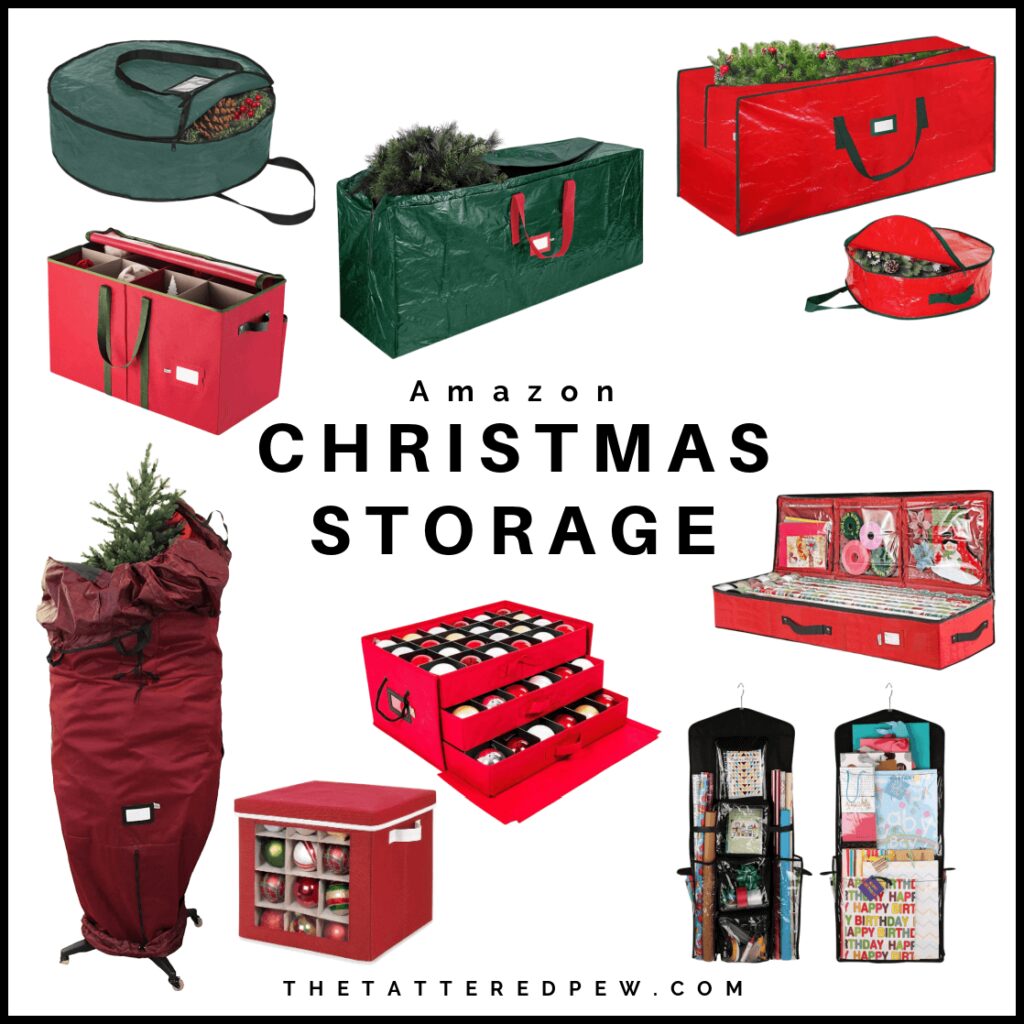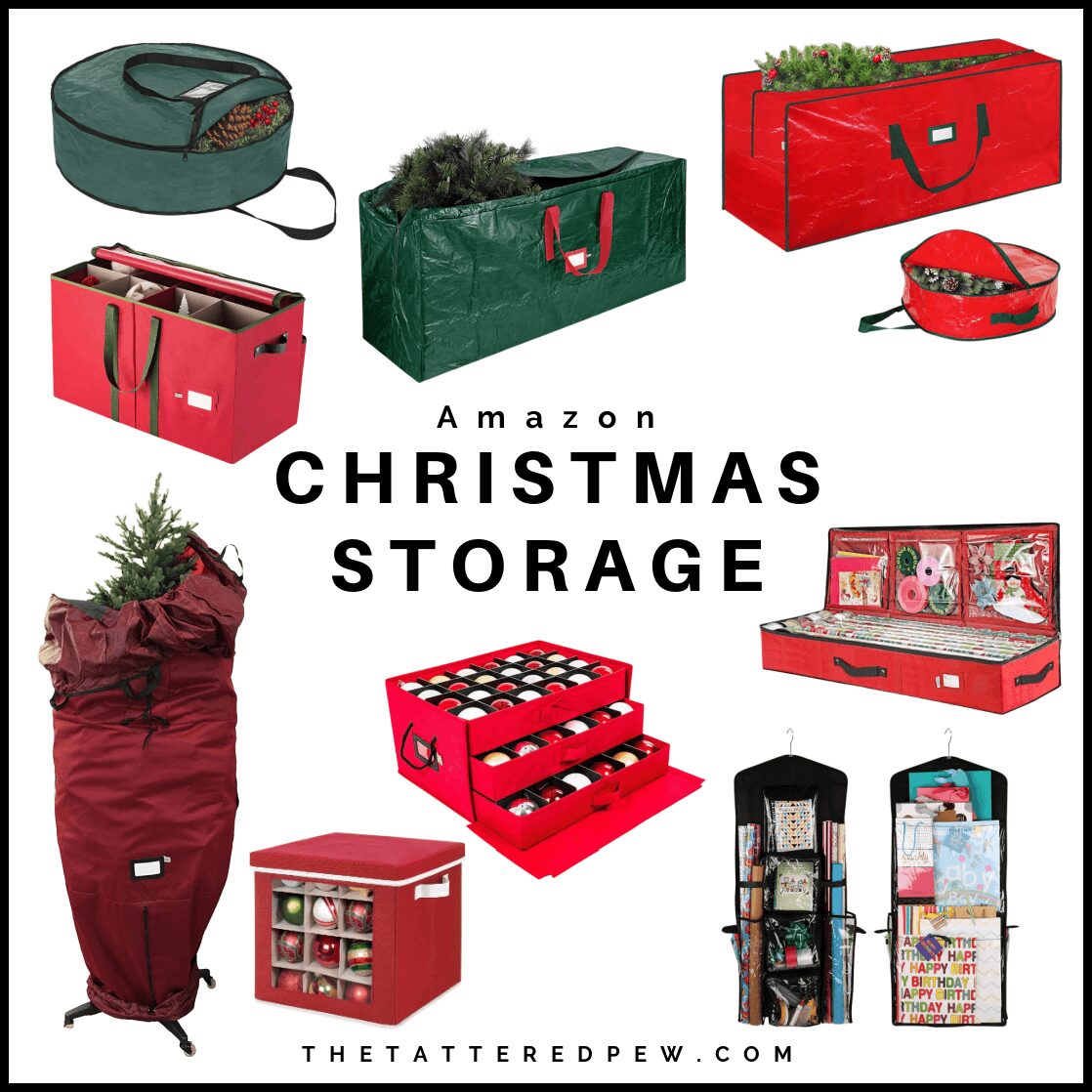 Sources: Green Wreath Storage Bag / Red Figurine Storage Box with Zipper / Large Green Christmas Tree Storage Bag / Red Christmas Tree Storage & Matching Wreath Storage Bag / Underbed Wrapping Paper Storage / Hanging Wrapping Paper Storage / Ornament Storage Box With Dividers / Ornament Storage Cube / Upright Christmas Tree Storage Bag /
If you want to see these items and more in one spot you can visit my Amazon Storefront or go directly to these items on Amazon where I have them all saved neatly for you!
A Few More Storage Options

Christmas Storage and Organizing Essentials From Amazon
If you are like me getting a head start on your shopping and organizing always feels good. It also helps when you get things out the following year. It's never too early to start getting organized. Why not start with Christmas? Hopefully a few of these Christmas storage items from Amazon will be helpful!
Visit Other Amazon Shopping Posts of Mine
Below you can visit other Amazon gift guides, home decor posts and moods boards of mine.
I'd love to have you hang out with me some more! Feel free to follow along with me on any of the platforms linked below.
LTK | Facebook | Instagram | Pinterest | Amazon
xoxo,
Kelly