10 Fall Tablescape Ideas to Try
As the days grow shorter and the temperatures start to drop, there's no cozier time of year than fall. And what goes hand-in-hand with sweater weather better than hosting friends and family for a cozy dinner party? I rounded up my favorite 10 fall tablescape ideas to try and give you some inspiration for your next soirée.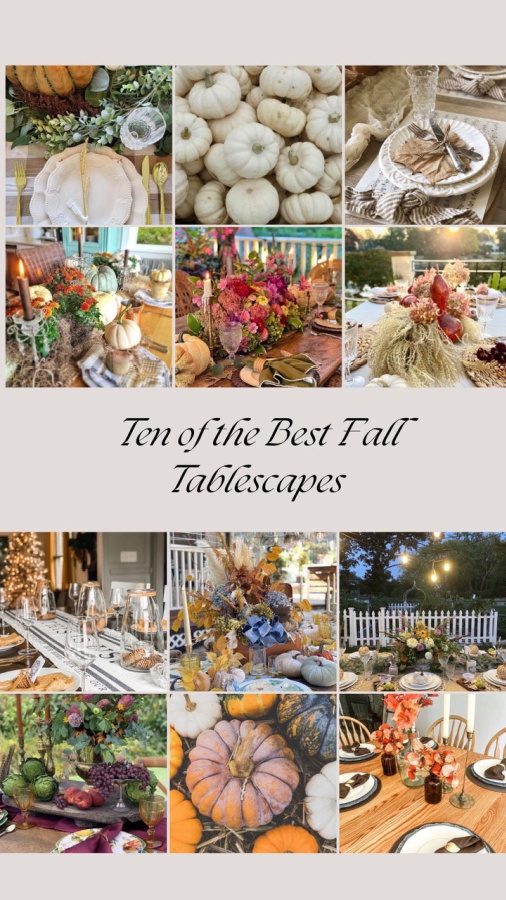 *As an Amazon Associate, I earn from qualifying purchases. This post contains other affiliate links too for your convenience. Click here to read my full disclosure policy.
Today I am showcasing 10 beautiful fall tables from some of my favorite blogging friends. Much thanks to Wendy from WM Designhouse for gathering us all together.
10 Fall Tablescape Ideas to Try
Fall is the perfect time to gather your friends and family around the table for a special meal. The cooler weather calls for comfort food and evenings spent inside, so why not make your table as welcoming and inviting as possible? With a little bit of creativity, you can transform your dining room into a cozy oasis that celebrates the best of the season. Here are 10 fall tablescape ideas to get you started.
1. Stunning Fall Table Decorations
Welcome guests with a DIY fall centerpiece. Gather some branches from your yard, or hit up your local craft store for supplies. Then, add some fall foliage, berries, and even a few pumpkins to create a festive display that sets the tone for your tablescape.
Wendy from WM Designhouse shares just how to create stunning fall table decorations that come to life! Her use of nature, and soft colors and brass accents makes her table stand out. I love her outdoor setting and would love to be a guest at her welcoming table.
2. Easy Ideas for Creating a Simple Fall Table
Incorporate natural elements into your tablescape. Pinecones, acorns, and leaves are all great additions that can be gathered for free if you have access to a park or forest area. Scatter them around your tablecloth for an organic look, or use them to create unique place cards.
Michele from Vintage Home Designs share tips and easy ideas for setting a simple fall tablescape. Her neutral table is full of stunning texture, patterns and thoughtful details everywhere you look. Follow her step by step directions for layering plates and creating natural place settings with leaves. Her vintage and rustic touches will have you searching for items on this table for yourself. Overall this table has caught my eye and has inspired me in so many ways!
3. Rustic Elegance For Your Fall Table
Stick to a palette of two or three colors. Too many colors can be overwhelming, so it's best to stick to a simple color scheme when creating your fall tablescape. Rich jewel tones always look beautiful in the fall, so consider using shades of burgundy, green, and gold throughout your décor.
Renae from Peacock Ridge Farms shares just how to do this in her post on how to create rustic elegance for your fall table. Her use of jewel toned colors is on point and oh so elegant! Plus, she shares how to do it while saving money. I am so inspired to try these ideas of her and host an outdoor gathering myself!
4. Foraged Fall Tablescape
Layer different textures and materials. A fall tablescape is the perfect opportunity to experiment with different textures and materials. Try layering a runner made of burlap or jute over a elegant linen tablecloth, or pile on the cozy blankets and throws for extra warmth on chilly nights. How about textures mixed into your centerpiece with natural elements?
Diane from South House Designs shares a stunning foraged fall tablescape that I am in love with. Her tips on finding free natural elements as well as elements you already have at home are so helpful. Besides the foraged centerpiece she also shares the cutest pocket napkins also stuffed with foraged nature in pretty colors. After seeing her beautiful pictures you will want to head outside and collect some natural decor for your own table!
5. Fall Table with Pumpkins and Mums
Bring the outdoors inside with potted plants or vases of fresh flowers. Greenery always looks lovely in the fall, so consider adding some potted plants or vases of fresh flowers to your tablescape. Just make sure to choose blooms that are in season so they stay fresh longer!
Kim from Shiplap and Shells shares a gorgeous fall table with pumpkins and mums. She has a beautiful garden and is known for being a master when it comes to bringing the outdoors in. Her use of moss and accessories is so well done that you can help but smile when you see the her pictures. Aren't those mums and pumpkins beautiful? They look so lovely on her table and even can be used again and again in other locations!
6. Dining Alfresco With a Harvest Table
Have fun with food! The best part about any gathering is usually the food, so make sure yours is up to par by getting creative in the kitchen. Serve up classic fall dishes like pumpkin soup or apple pie, or get experimental with flavor combinations like roasted squash grilled cheese sandwiches or sweet potato skillet cornbread. Yum!
Lynn from Living Large In a Small house shares a beautiful post about dining alfresco with a harvest tablescape! Not only does she add pretty elements like fresh flowers and burlap accents but she has included Individual charcuterie boards! How cute are they? What a special touch to a fun outdoor fall tablescape. I'll be right over Lynn!
7. Cozy Fall Harvest Table
Don't forget about ambiance! Lighting is everything when it comes to setting the mood, so make sure your tablescape is well-lit before guests arrive. Candles are always a good choice (unscented if there are allergies), but you could also string up some twinkle lights or lanterns for extra sparkle—just be careful not to go overboard!
Stacy from Brick n' Blooms shows us how to set a cozy fall harvest table that will stop you in your tracks! Not only does she share how to create the most beautiful floral centerpiece but she adds charming candles for ambiance! She embraces that rustic elegance in her table and shares all of her tips and tricks making it doable for you to achieve this look as well! So if you love color like me, then you will love seeing her full fall table!
8. Creepy and Chic Tablescape
One of the best things about fall and Halloween is getting to play with your decor, and that includes your tablescape! If you're looking for something a little more sophisticated than the usual spider webs and skeletons, try incorporating some chic elements into your design. For example, instead of using plastic skeletons, opt for ones made of brass. And instead of plain black tablecloth, try adding a pop of color with a deep red or purple. By incorporating these creepy-chic elements, you'll create a tablescape that's sure to wow your guests!
Kylie from Trumans Treasures shares how to create a creepy chic Halloween tablescape. Do you love to incorporate unique tablescape ideas? You will love this table! Her use of skeletons, moss and fancy tables settings take this table to the next level. If you want to have fun and set a spooky yet classy table this fall then this creepy chic table is for you!
9. A Simple Fall Tablescape
One of the best things about fall is all of the rich, beautiful colors. As the leaves start to change, it's the perfect time to bring some of those colors into your home with a fall tablescape. There are endless possibilities when it comes to fall tablescapes, but if you're looking for something simple, consider using gold hues. Gold flatware, charger plates, and even candles can help to create a warm and inviting setting. And for an extra touch of fall, try adding some fall foliage or pumpkins to the tablescape. Whether you're hosting a fall dinner party or just want your dining room to feel like fall, a gold tablescape is the perfect way to do it.
Nicole from Our Tiny Nest shares how to set a simple fall tablescape with autumnal and gold hues. You will love her tips about keeping things informal but still being able to use them in a setting like Thanksgiving. These traditional fall colors and table setting ideas will have you excited to set your table this season.
10. A Casual Thanksgiving Table
When it comes to setting the table, less is more. Keep the decoration simple and focused on nature-inspired elements in shades of black, white, and gold. Thanksgiving is a time to be thankful for what we have and enjoy being surrounded by loved ones. A beautiful Thanksgiving table should reflect that spirit by being warm and inviting without being overly fussy. By following these tips, you'll be sure to create a Thanksgiving table that your family and friends will love!
This final fall tablescape idea to try is one that I shared last fall all about how to set a casual Thanksgiving table. I had fun keeping it simple yet meaningful. It was our first Thanksgiving in our new home and I wanted the table to be about our family and not the decor. The table runner was a gift from my sister in-law and says This Is Us and it adds that thoughtful touch I wanted. Come on over to the post and see why I added salt and snag some free place cards too!
10 Fall Tablescpae Ideas to Try
Whether you're hosting Thanksgiving dinner or a Friendsgiving feast, these 10 fall tablescapes ideas to try will get you headed in the right direction. From using leaves and acorns for place cards to incorporating gourds into centerpieces, these ideas will give your dinner party an elevated touch. So go ahead and get creative—after all, 'tis the season for entertaining! Which one was your favorite table? Let me know in the comments below!
I'd love to have you hang out with me some more! Feel free to follow along with me on any of the platforms linked below.
LTK | Facebook | Instagram | Pinterest | Amazon
xoxo,
Kelly
Did you like this post? PIN it for later!