How To Make An Affogato At Home
Oh boy do I have the most delicious dessert to share with you today! If you love coffee and gelato then I guarantee you will fall in love with this very simple Italian treat. Have you heard of an Italian affogato? Come see how to make an affogato at home!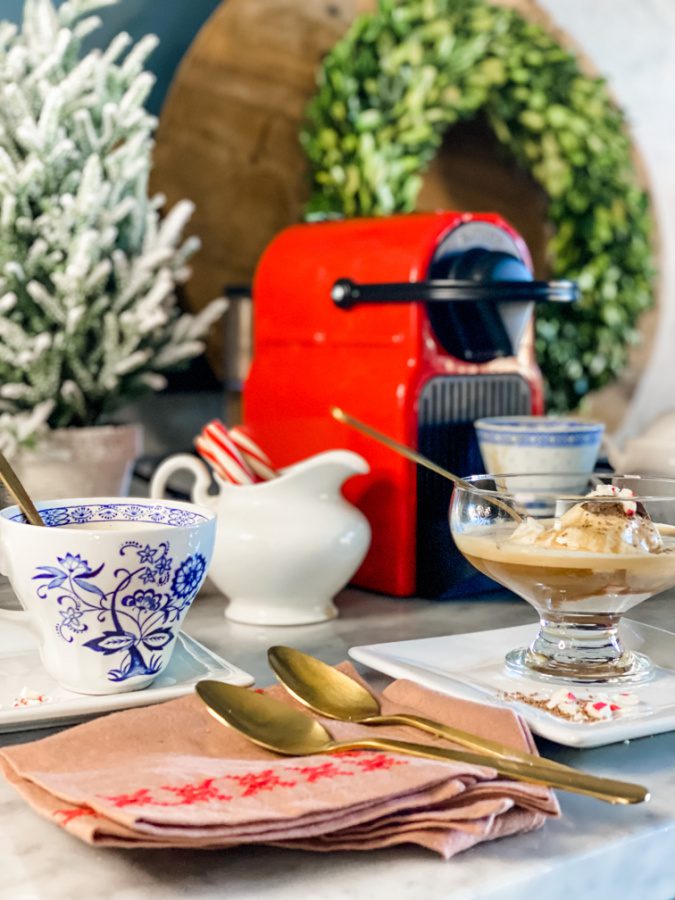 10 Delicious Christmas Treats
Holiday baking is upon us friends and today is your lucky day! I am joining 9 other extremely talented and lovely blogging friends to share our favorite Christmas treats with you! A huge thank you to Aliya of Open Doors Open Hearts and Jen of Midwest Life and Style for hosting us all.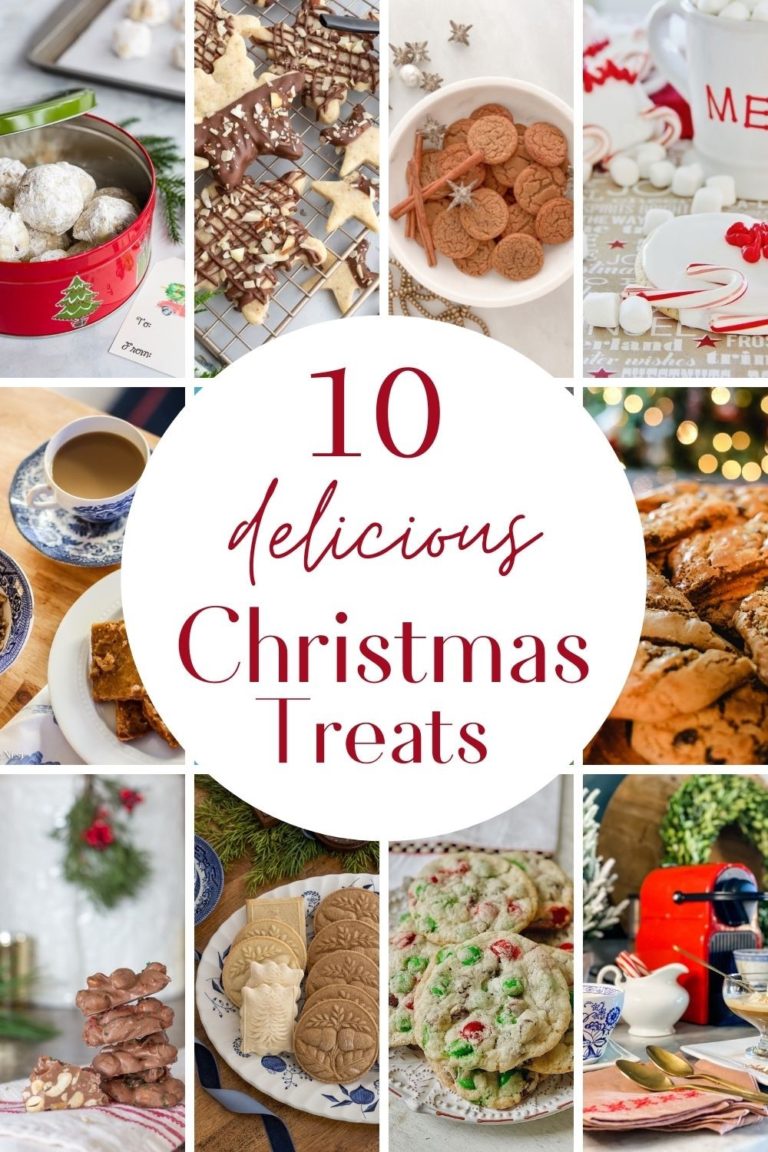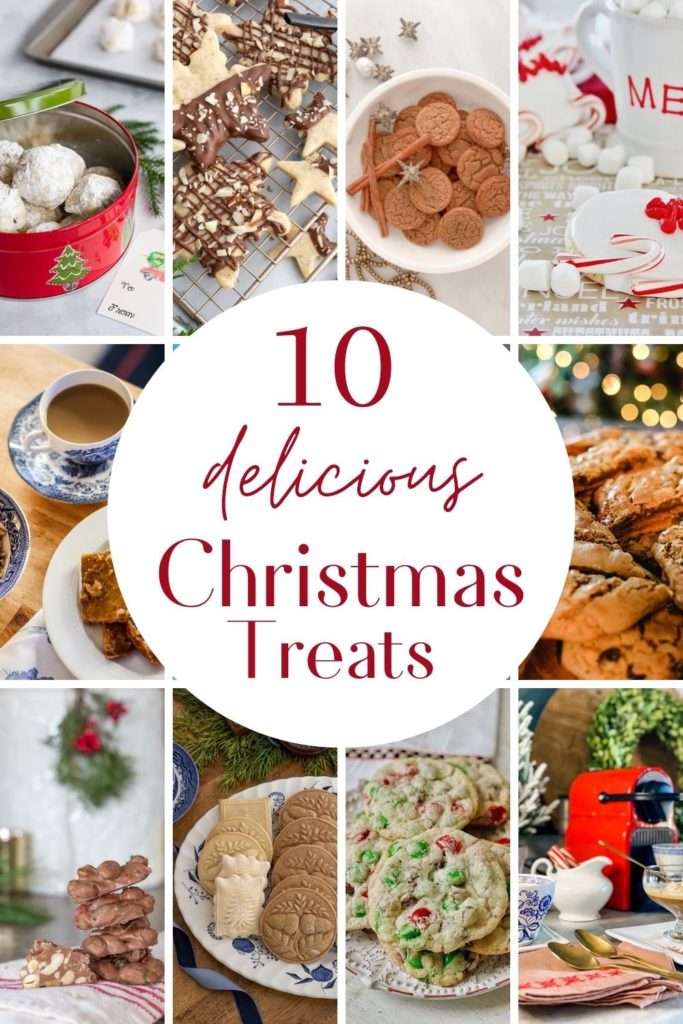 If you are coming over from my long time friend Jordan of A Blue Nest, welcome! Don't her graham cracker pralines look so tasty? After stopping by her post you can find the other 8 recipes linked at the end of mine. I promise they are all worth checking out!
This post contains some affiliate links for your convenience. Click here to read my full disclosure policy.
A Holiday Dessert
If I'm being honest the only time of year I actually do any real baking is during the holidays and usually my 12 year old daughter is helping me out. So if you are like me and looking for a special dessert for the holidays that involves just a few simple ingredients and no baking, than you have landed in the right spot.
And I promise you will thank me later!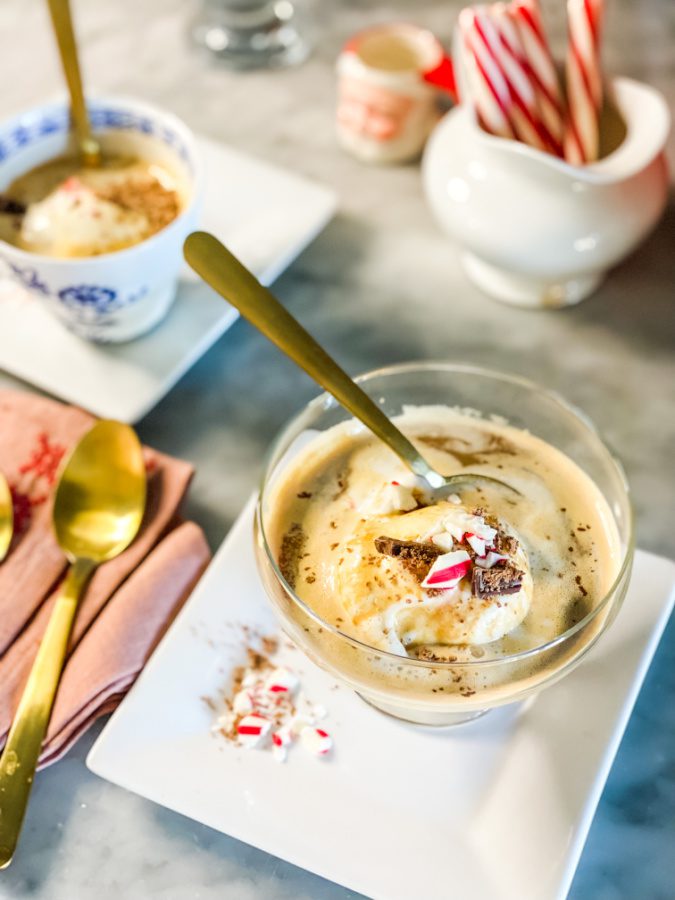 Let me introduce you to my latest crush, the affogato!
What Is An Affogato?
If you like coffee and ice cream then this dessert will blow your mind! An affogato is a creamy dessert that combines two simple ingredients, espresso and gelato. Yep, just two ingredients! I fell in love with this dessert at a restaurant on my birthday several years ago but could never remember the name. I literally talked about it for days but never thought I could make it myself. So sadly I forgot all about it.
Until recently.
After talking to my mom , and asking her the name again, I decided to do a bit of research.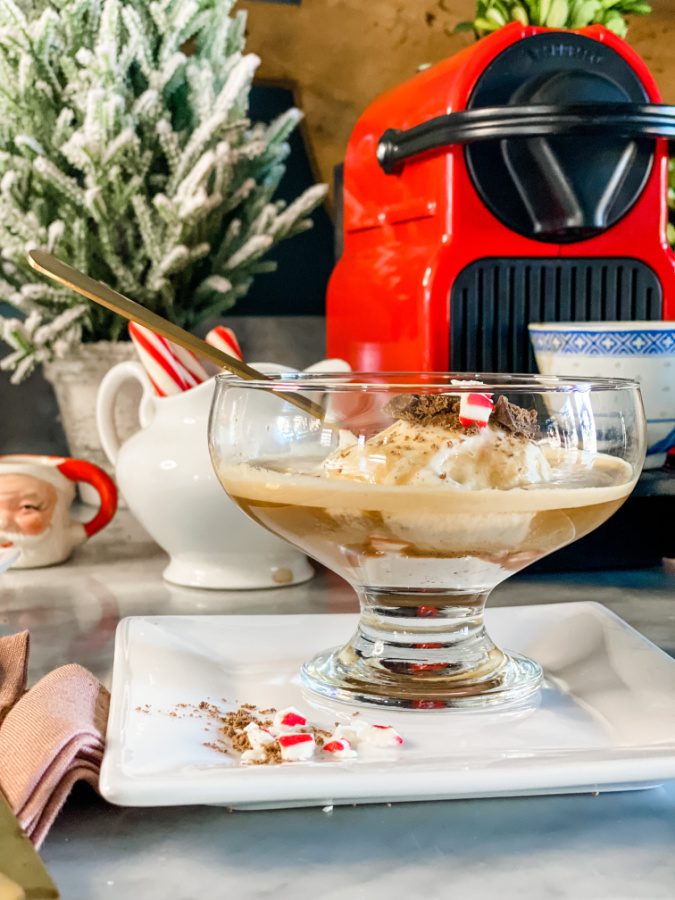 Well guess what I found out?
I found out that affogato means drowned in Italian and this might be the easiest and most delicious coffee dessert there ever was! And the best news was that I literally had everything already at home to make it. Well except the gelato, so I ran to Whole Foods and grabbed that real quick!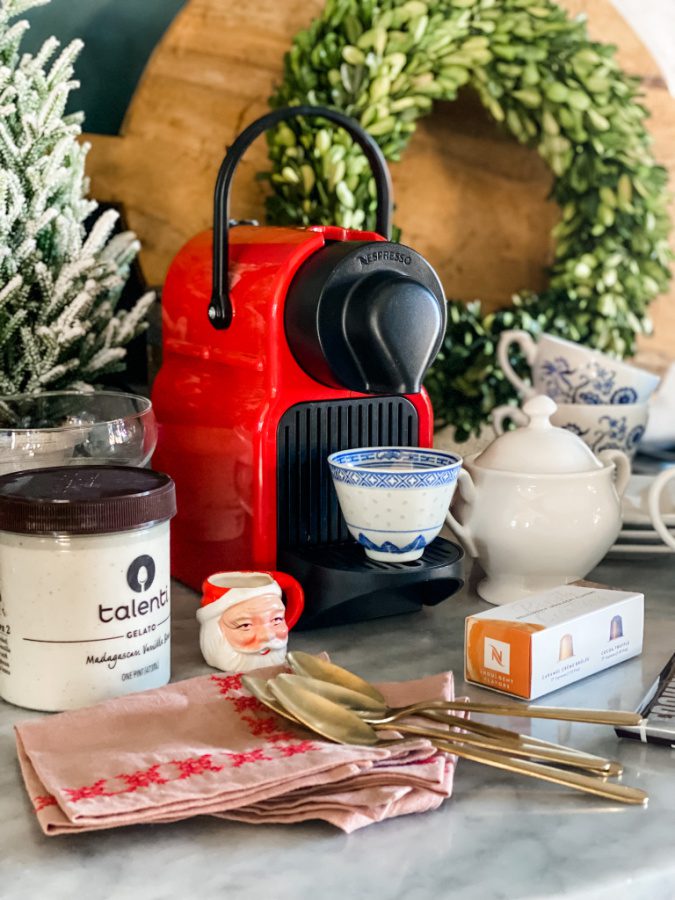 What Do I Need to Make An Affogato At Home?
Let's get down to the details so you can try one of these treats for yourself!
Like I mentioned above this dessert requires espresso. I have a Nespresso machine (that I use every day) and so I simply used one of their espresso pods I had on hand. But if you don't have a Nespresso machine or access to espresso don't worry, you can use strong coffee too! It just needs to be nice and hot.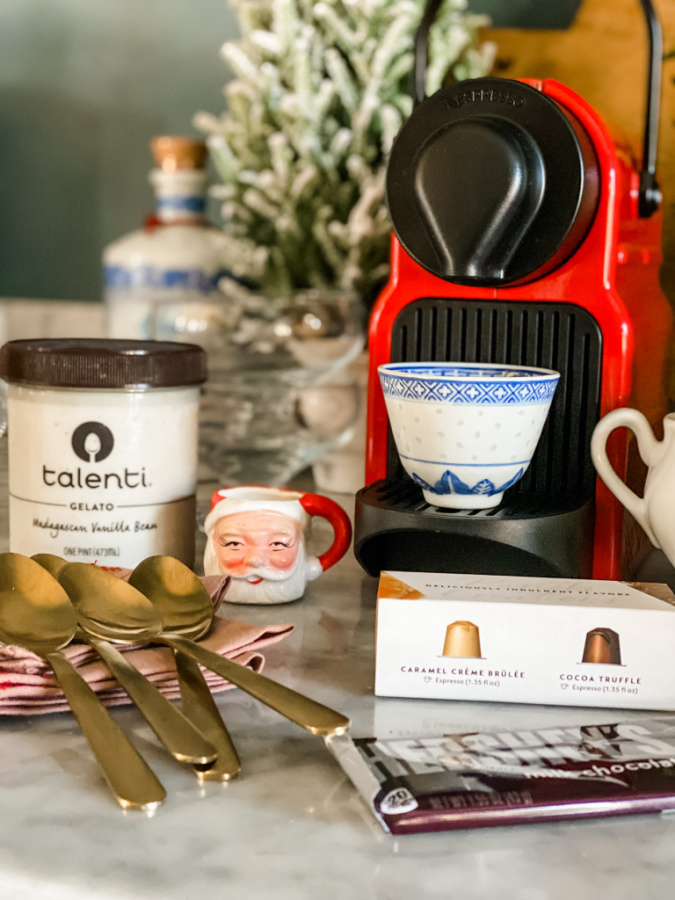 The other main ingredient is gelato. I picked up Talenti Madagascar Vanilla Bean gelato from Whole Foods but vanilla ice cream would do the trick too! You could even try a different flavor like chocolate or peppermint to give it a different vibe.
Step 1
Simply brew your espresso or coffee. (this is when you should decide if you want regular or decaf)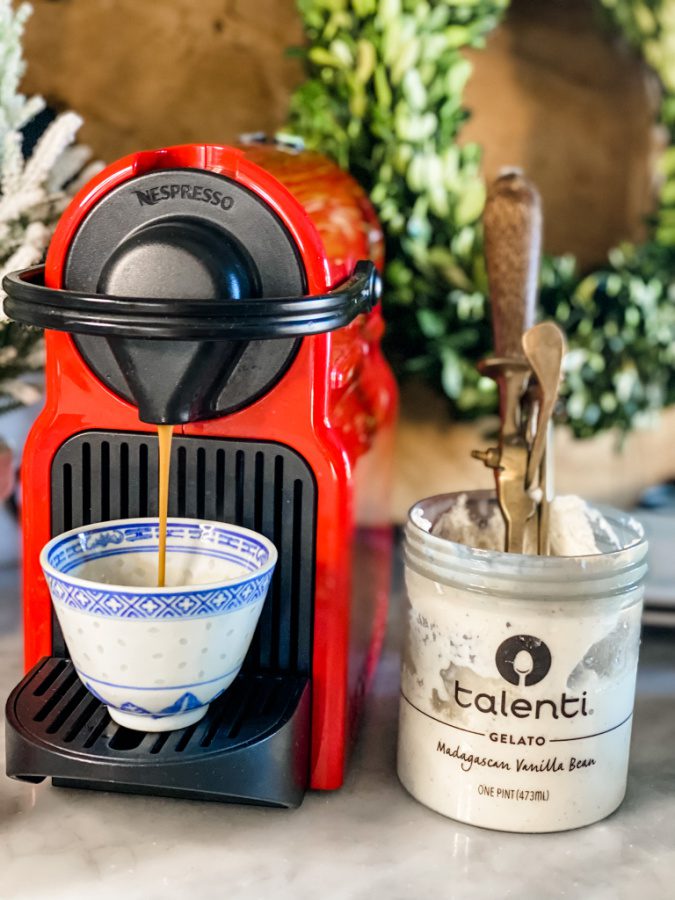 Step 2
While that is brewing scoop your gelato or ice cream into your dish.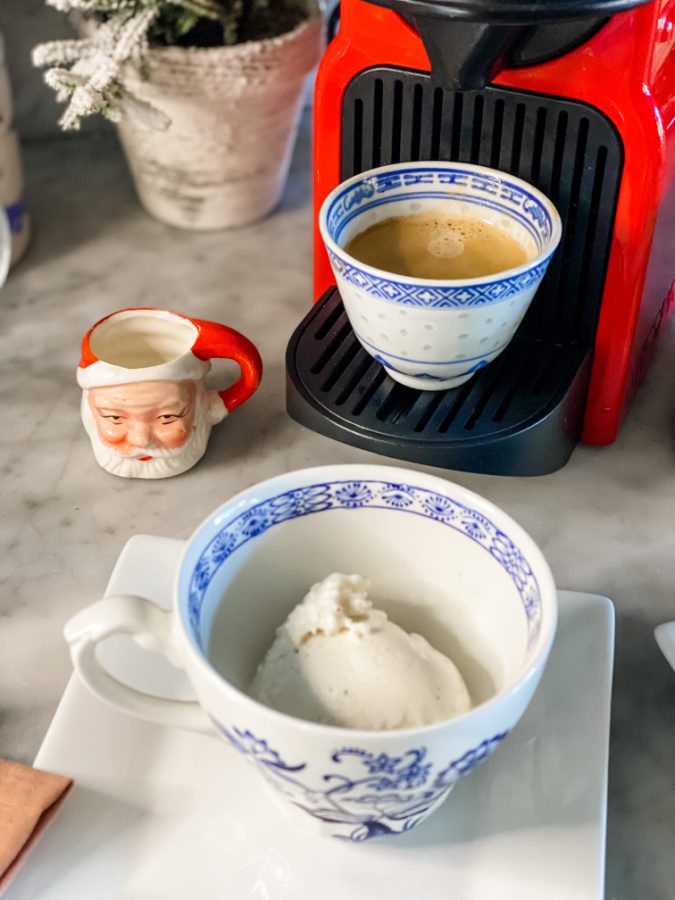 Step 3
Pour the espresso or coffee over the gelato or ice cream.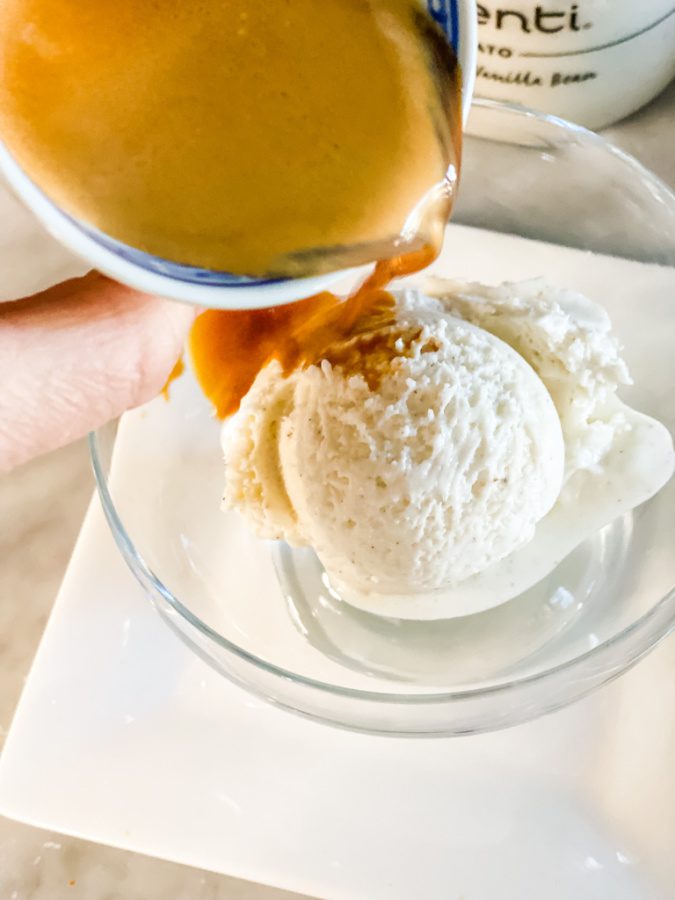 Step 4
Add your desired topping and enjoy your flavorful and heavenly dessert; affogato!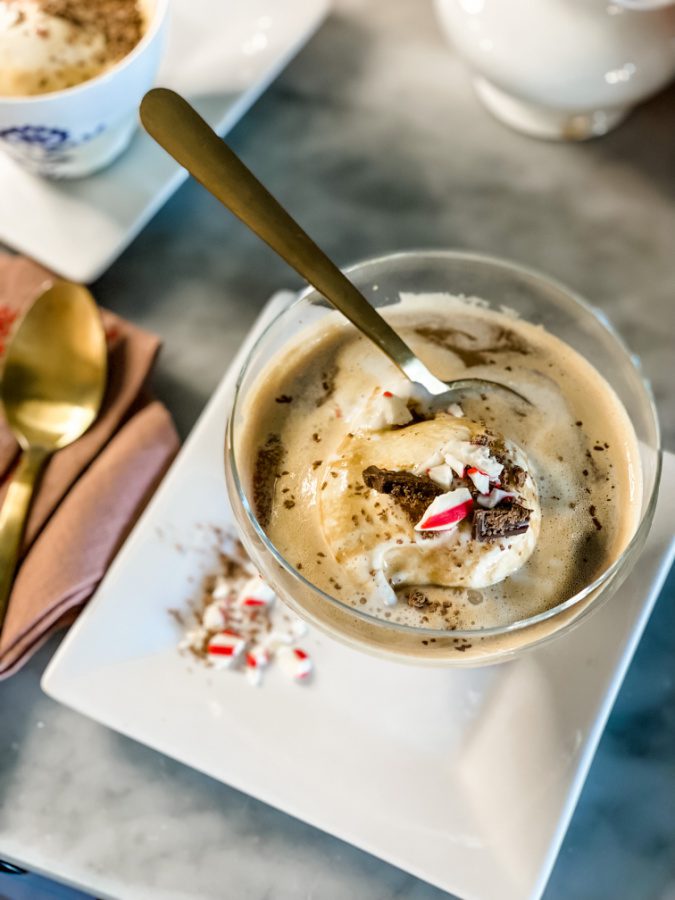 That is it my friends. Simple and literally to die for. It melted in my mouth and I couldn't get enough and I couldn't tell everyone around me enough about it. Just ask my sister and husband! Ha! I was hooked once again but this time I knew how to make it at home. And I plan to make it a lot and for all my coffee loving friends too!
Shop This Post

Affogato Optional Ingredients
There are a few optional ingredients you can add to your affogato dessert. I personally added Hershey chocolate bar shavings and crushed peppermint. But you could also serve this with shortbread or little cookies of your choice. I bet they would be so yummy dipped in this treat. Or if you wanted to take it to another level you could even add a bit of Kalua to it! Yum!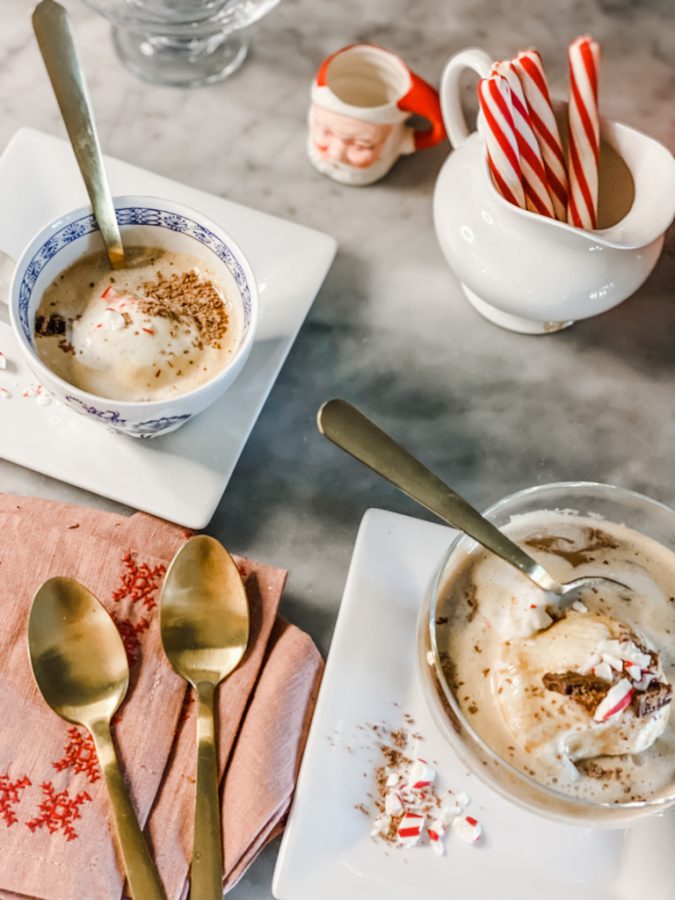 How Do You Drink and Eat an Affogato?
This is the perfect after dinner dessert, treat or drink. You can sip an affogato or simply eat it with a spoon. One tip I learned is to make sure your serving dish is chilled. This helps keep the gelato from melting too fast after you pour the espresso on it. It will still melt and the gelato mixed with the warm espresso makes a creamy mixture you will fall in love with!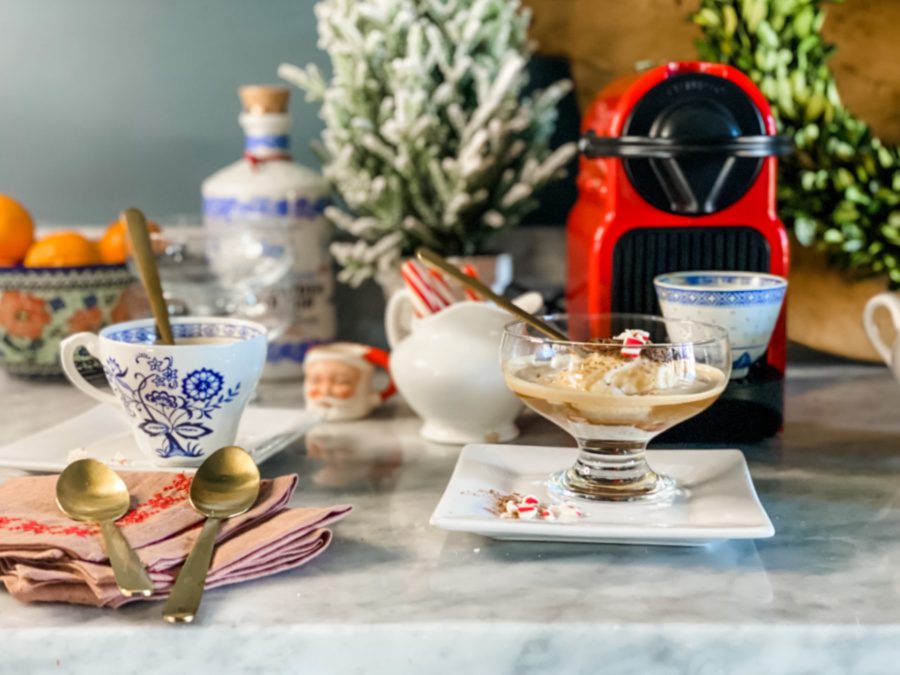 Italian Affogato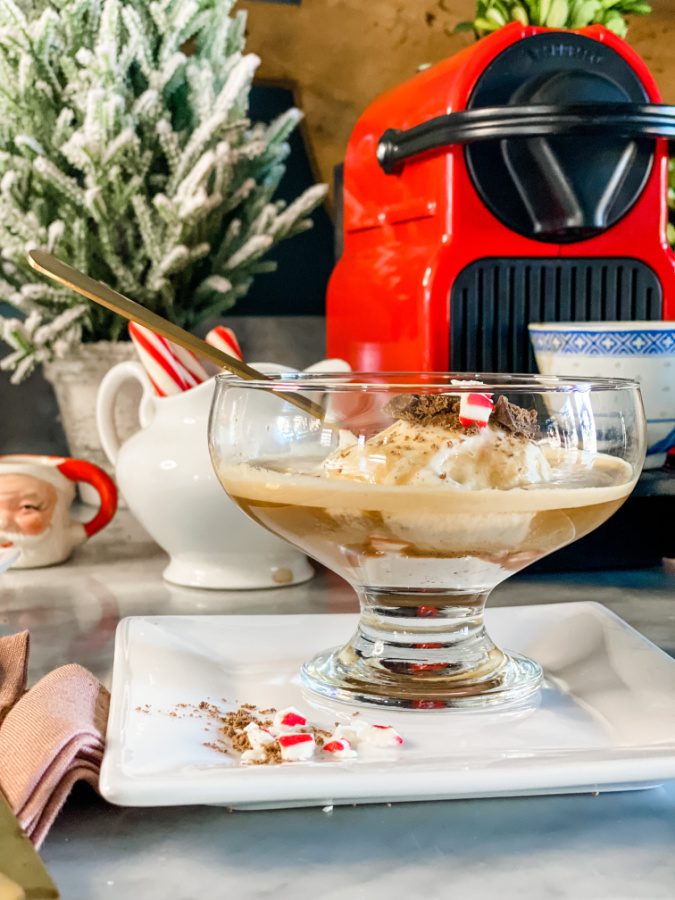 This creamy Italian dessert combine espresso with gelato for that perfect after dinner treat!
Ingredients
2 shots of Espresso or coffee
Vanilla gelato or ice cream
chocolate shavings
peppermint shavings
Instructions
Brew your espresso.
Scoop your gelato into a serving dish.
Pour your hot espresso over your gelato.
Top with desired toppings and eat immediately.
Notes
This dessert is best served in a chilled dish. Toppings and gelato flavor can change depending on your taste.
Nutrition Information:
Yield:
1
Serving Size:
1
Amount Per Serving:
Calories:

545
Total Fat:

31g
Saturated Fat:

18g
Trans Fat:

0g
Unsaturated Fat:

11g
Cholesterol:

203mg
Sodium:

234mg
Carbohydrates:

58g
Fiber:

1g
Sugar:

52g
Protein:

10g
How To Make An Affogato At Home
Now that you know how to make an affogato at home and how easy and delicious it is what are you waiting for? I would love to know what you think if you do try this creamy dessert. Or, I would love to know if you have had this before and if you had a different flavor or variation! You can let me know in the comments below. If you liked hanging out with me today and want to stay up to date with what else I'm sharing on the blog you can subscribe here!
Now make sure to head over to my dear friend Jennifer of Cottage On Bunker Hill and check out her New England Hermit Bars! Then head to the recipes linked below.
Christmas Treat Exchange
Sincerely, Marie Designs / Open Doors Open Hearts / Thistlewood Farms / Midwest Life and Style / First Day of Home
She Gave It A Go / A Blue Nest / The Tattered Pew / Cottage On Bunker Hill / Pasha Is Home
xoxo,
Kelly
Did you like this post? PIN it for later!