Flea Market Style Spring Centerpiece
Spring is just around the corner and I have been craving color and flowers. And so, I decided to do something about it! With some help from my dried hydrangeas, some lovely flea market finds and some recycled jars I was able to create a flea market style spring centerpiece in just under 10 minutes!
Flea Market Style Spring Centerpiece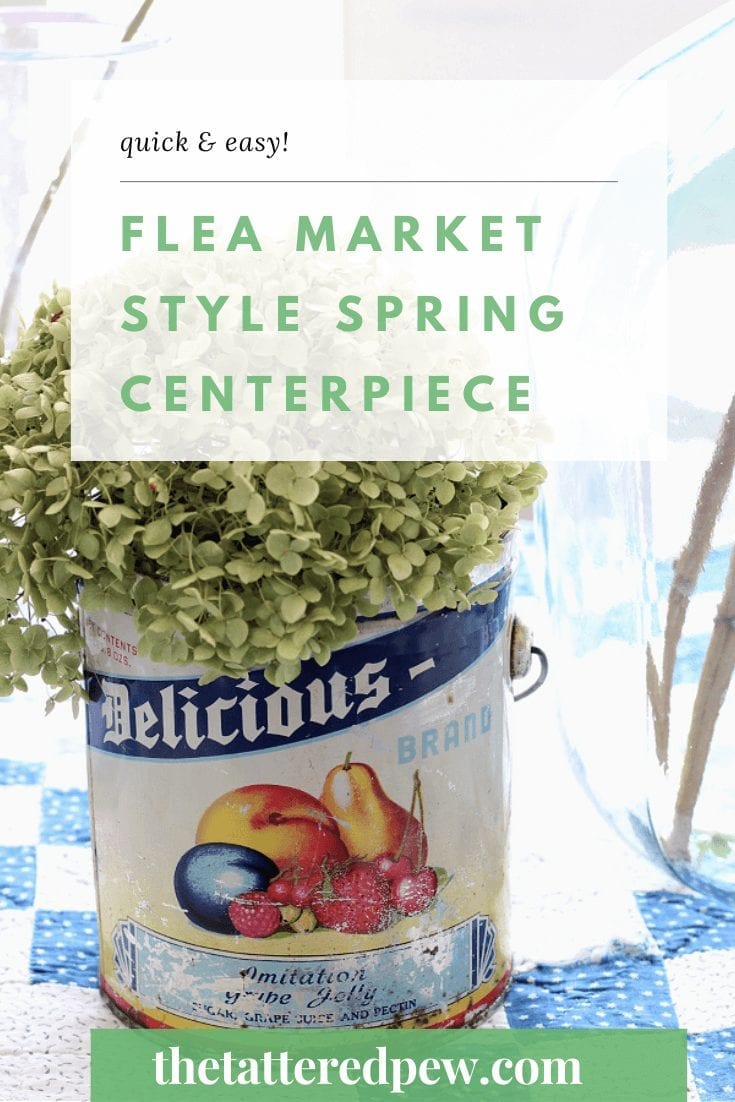 This post contains some affiliate links for your convenience. Click here to read my full disclosure policy.
I created this Spring centerpiece just in time for March's installment of the Thrifty Style Team hosted by Julie over at Redhead Can Decorate! The Thrifty Style Team is a group of awesome bloggers who get together once a month to bring you DIY projects and décor inspiration that won't break the bank! Check out their posts at the end of mine.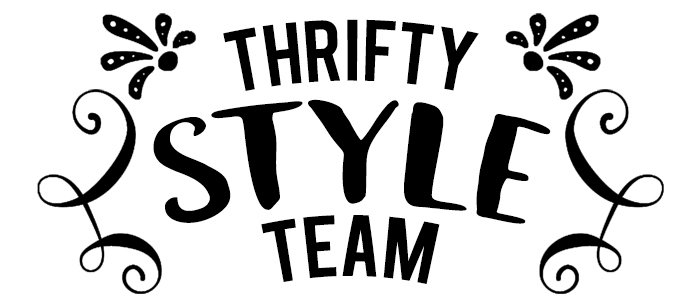 How To Create A Flea Market Style Spring Centerpiece
If you are looking for a fun, beautiful and easy to put together Spring centerpiece, then you have come to the right spot!
Welcome to our dining room. This space in our home is right off of our entry and gets a lot of great light. It needed a statement piece for Spring! And so I made that statement with hydrangeas.
Lots and lots of dried hydrangeas!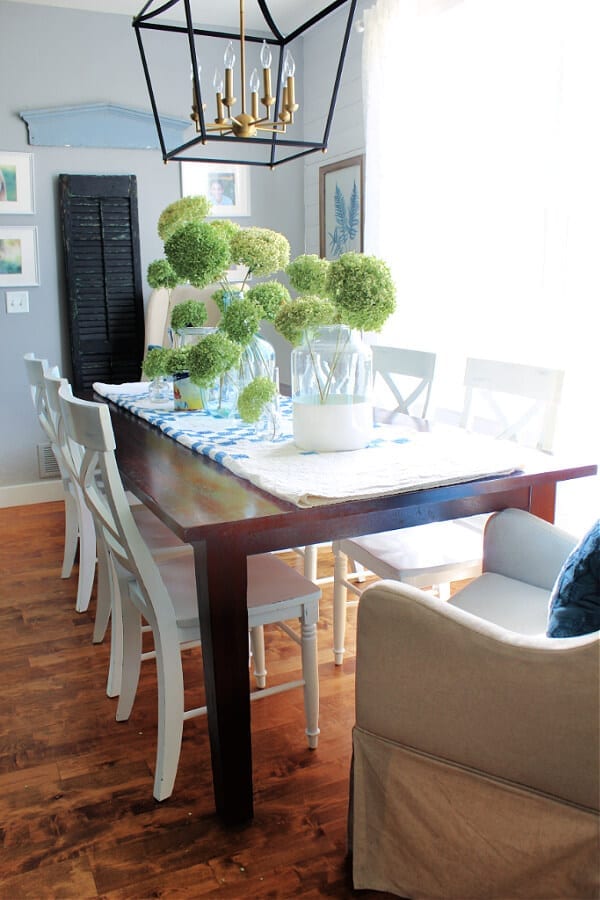 Friends, this centerpiece took me all of 10 minutes to whip up and I didn't spend a penny! Can I get an amen? But you will have to forgive me because I didn't take any pictures of the process. But I promise to fully explain it! Luckily it's a super simple process.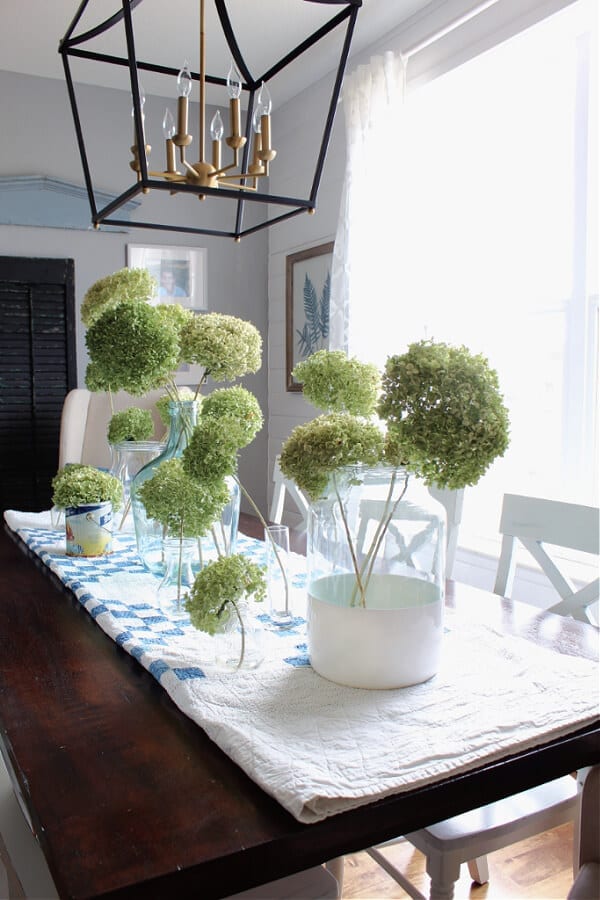 Collecting Containers That All Have One Thing In Common
I first started by collecting all of my clear glass jars, vases and containers that I had around our home.
Basically anything that could hold some stems I grabbed.
No shape or size was off limits. Think "old apple juice bottles" like the one below.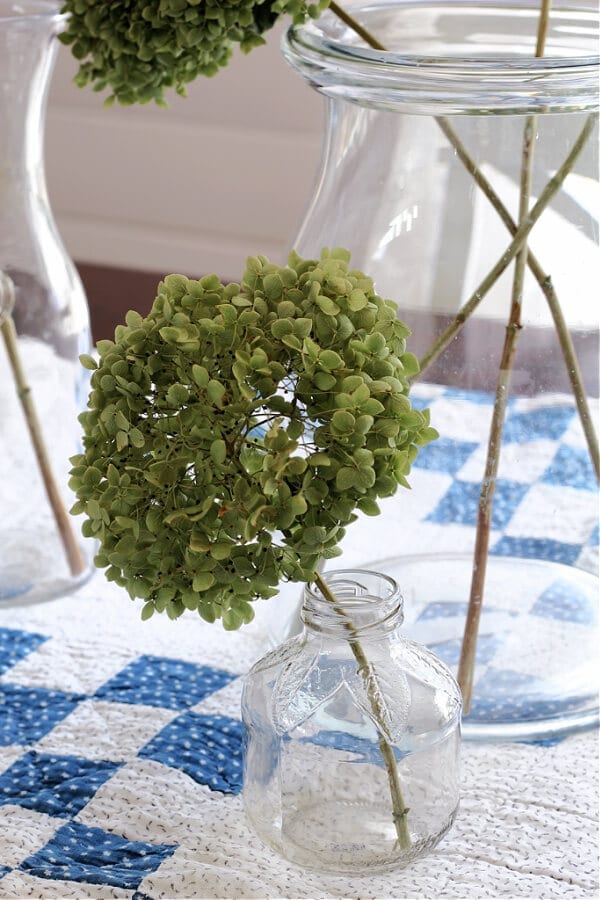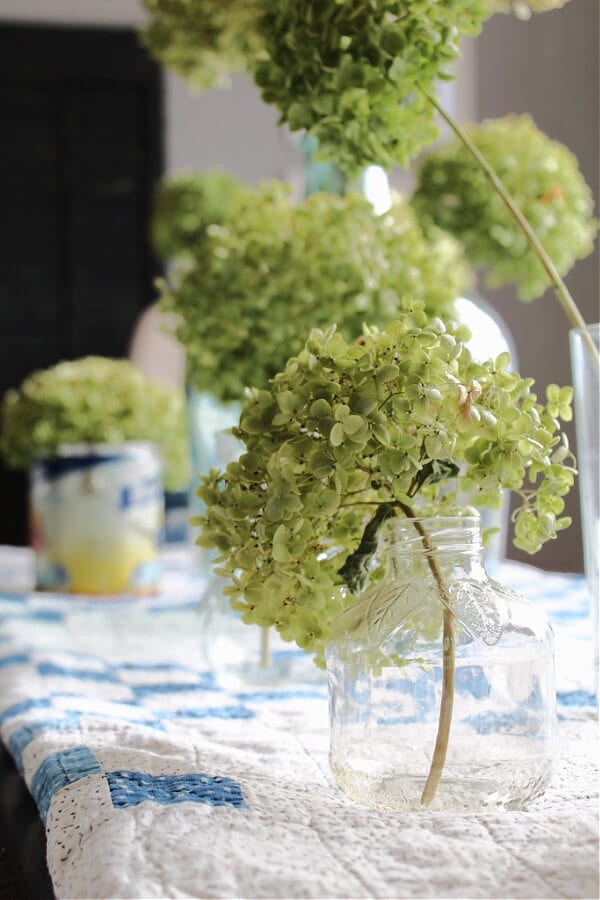 A Quilt On The Table?
Then I decided that it would be super pretty to use a blue and white quilt I've had as a runner and foundation for the centerpiece. The quilt was found at my favorite local flea market, A & J Antiques on one of my shopping adventures with my mom and sister.
I very rarely use real tablecloths on tables and I always like to think outside the box a bit for table coverings. This quilt did just that!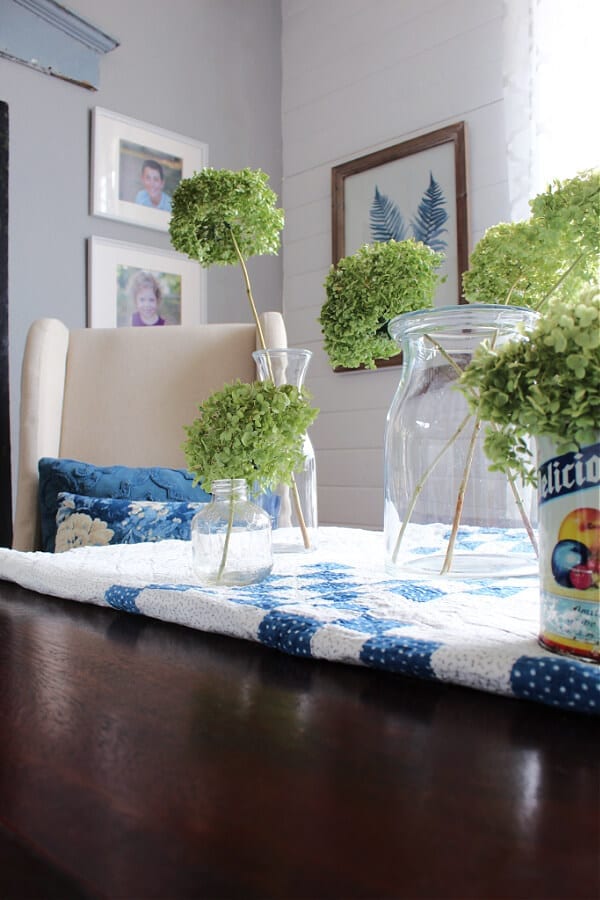 Flea Market Find
Did you spy the one oddball item in this centerpiece? My favorite flea market find in this Spring centerpiece is the old delicious brand jelly can. I was initially drawn to it for it's bright blue color! It serves as the "off center" focal point of this centerpiece and I love it!
Adding one different container gave this Spring centerpiece the extra oh la la it needed!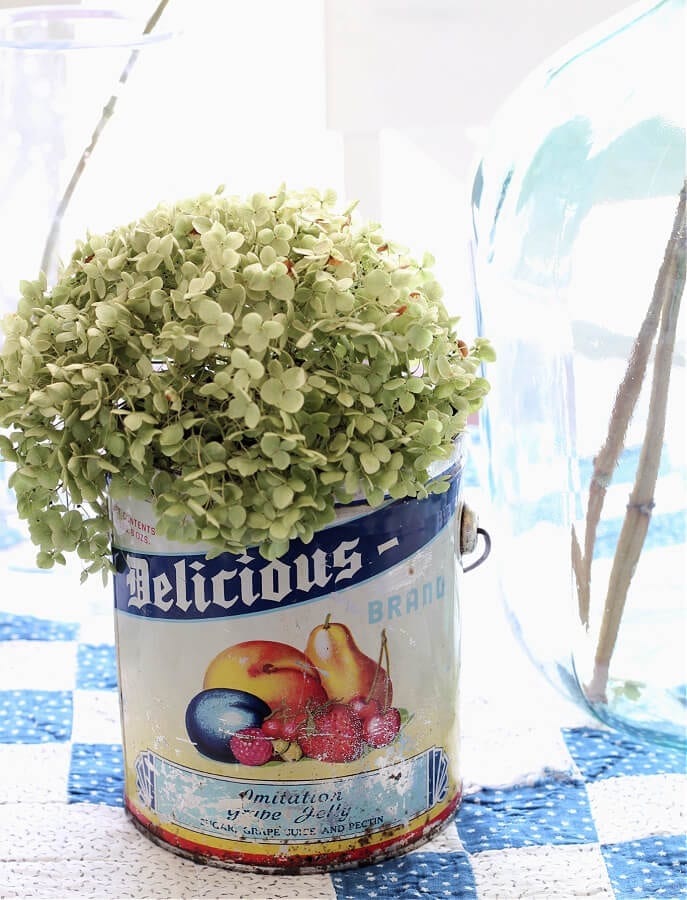 Between the jelly jar and the quilt I feel like this flea market style Spring centerpiece is just the right amount of pop for Spring! Kona agrees too. 🙂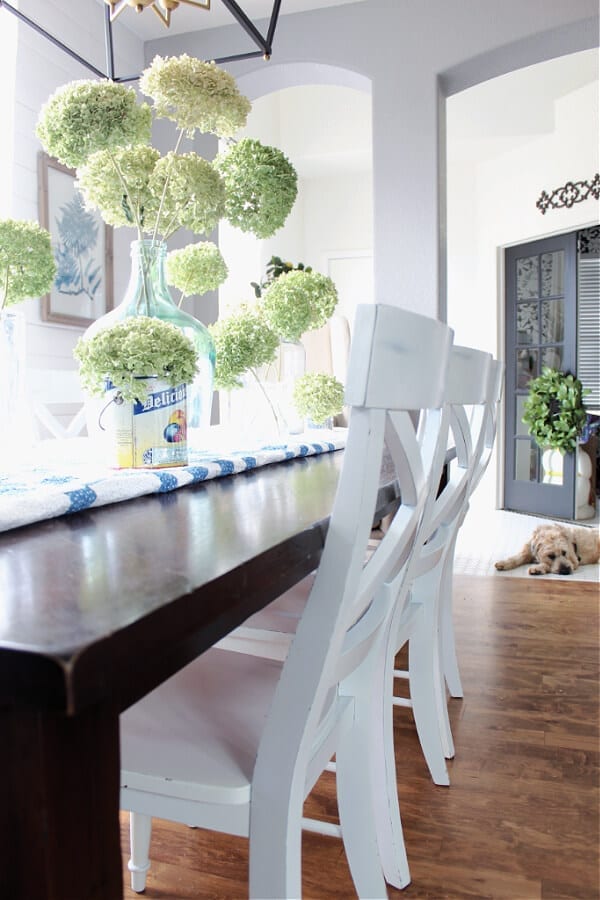 Adding The Dried Hydrangeas
Once I had all of the glass containers chosen I went to my basement and grabbed all of the hydrangeas I had dried from last summer. We have several Annabelle hydrangea bushes in our front and back yard and one of my favorite things to do is to dry them and decorate with them. They are great for all seasons.
Drying hydrangeas is so simple!
You can read all about my secret tip for drying hydrangeas here.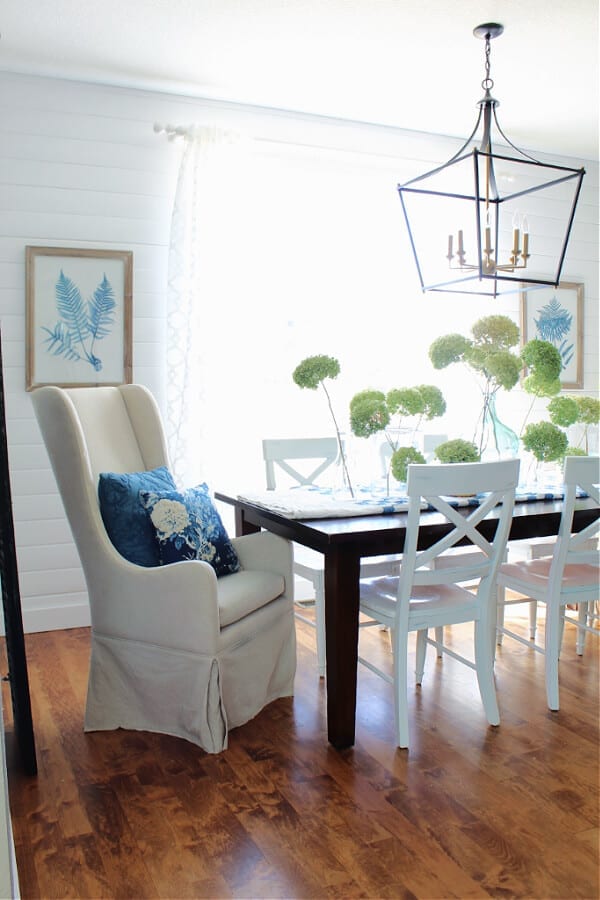 Can you believe these beauties are from last summer and they still look this amazing?!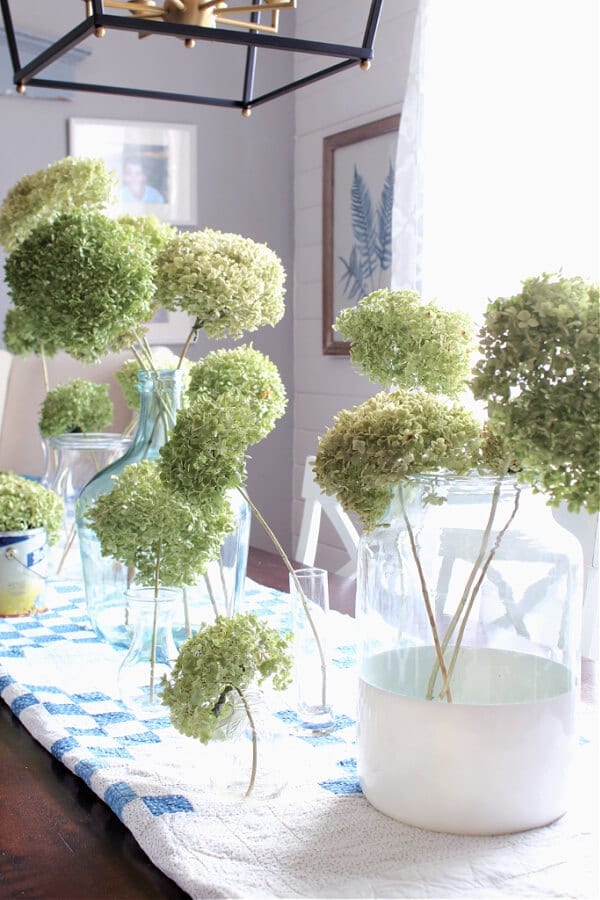 Once they were upstairs I simply used my scissors to cut them down to the size of the glass vases I was putting them in. A few of them look like they are floating in the vases and I love it! I also love the varying sizes and feel that it give this centerpiece a very eclectic and unique feel.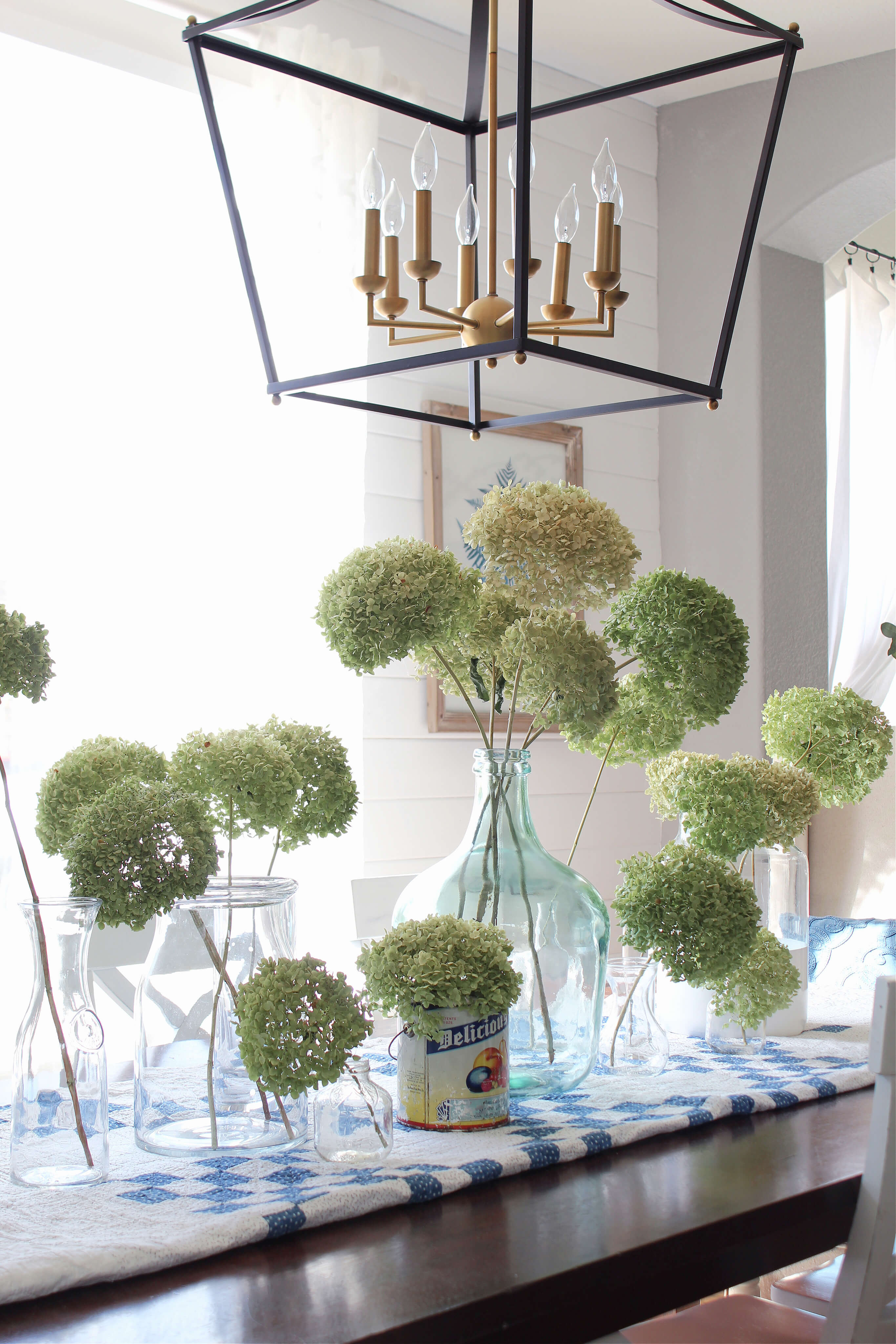 Arranging It Just Right
Once I had the flowers in their respective containers I started arranging them along the quilt in the center of the table. I tried to balance a big jar on one side with another big jar on the opposite end. In the center I placed my largest glass container to center it all. I kept moving the others around and stepping back and then moving them some more and stepping back until finally, I liked what I saw.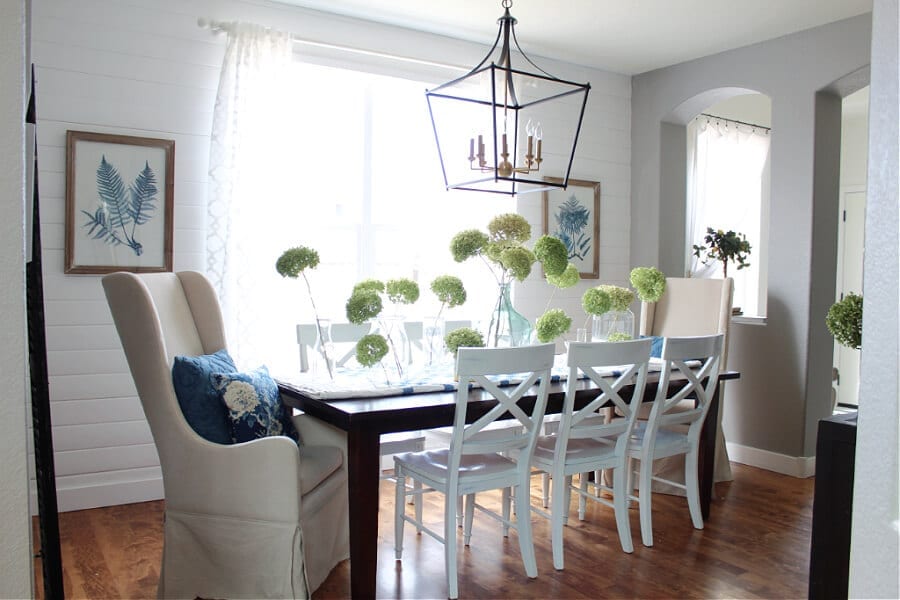 A Simple Centerpiece Process
It was a very simple process to create this flea market style Spring centerpiece and one that you could recreate very easily. Just make sure to have a large assortment of containers that all have a similarity.
Flowers! If you don't have dried hydrangeas like me you can always get the same look by using faux florals. Some of my favorite places to shop for faux flowers are : Michael's, Amazon, Afloral, Hobby Lobby and Rod Works.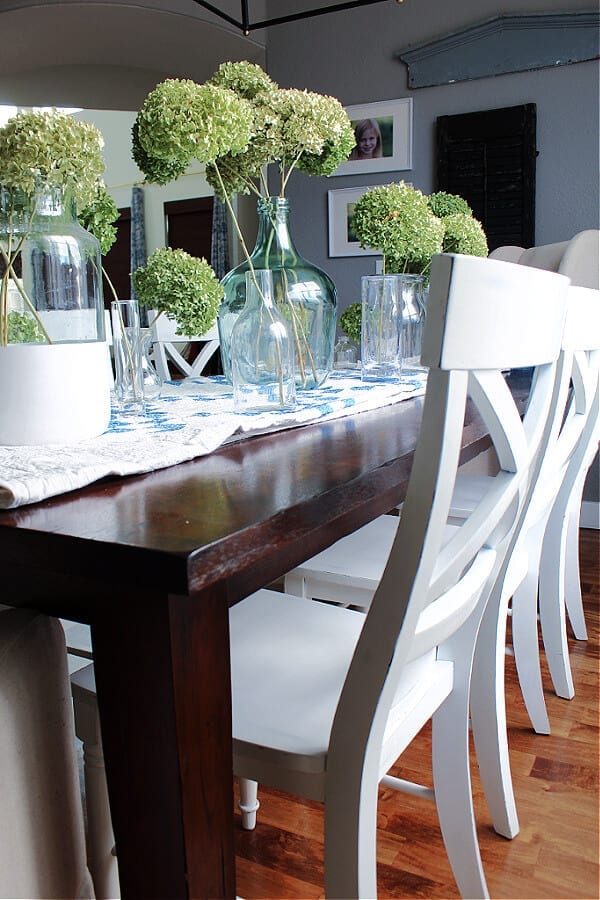 Shop The Post

Flea Market Style Spring Centerpiece
See, I told you it was super simple! Hopefully this flea market style Spring centerpiece has inspired you to try your own. I sure had fun creating mine and love the Spring vibes it brings to our dining room. There is just something about flowers that makes everyone happy. Happy Spring my friends! Remember, you don't have to spend a lot of money to make your home beautiful or ready for Spring! Now make sure to visit The Thrifty Style Team posts all linked below!
XOXO,
Kelly
Thrifty Style Team
Redhead Can Decorate – Simple Minty Green Scrunched Tissue Paper Tree
DIY Beautify – Blue and White Decoupage Chargers
2 Bees In A Pod – Painted Frame Makeover
Postcards From The Ridge – Simple Spring Mantel with Milk Glass Vases and Daffodils
The Creek Line House – How to Whitewash a Stone Wall
The How To Home – Easy DIY Paper Bunny Garland
The Tattered Pew – Flea Market Style Spring Centerpiece
Sweet Pea – Easy to make Spring Wreath
What Meegan Makes – Champagne Bucket Spring Floral Arrangement
Cottage At The Crossroads – DIY Bunny Garland
I Should Be Mopping The Floor – DIY Potted Hyacinth Bulbs
Lora B. Create & Ponder – Simple Garden Theme Decor DIY
White Arrows Home – Nautical Candle Holders
Our Crafty Mom – How To Tint Mason Jars With Food Coloring
Chas' Crazy Creations – How To Stencil On Wood