5 Simple Tips For Adding Spring Decor To Your Entry
Spring is just around the corner and I couldn't be happier! I have recently started adding touches of Spring to our home and I started in our entryway! While doing this I thought I might share my 5 simple tips for adding Spring decor to your entry in case you might find yourself ready for touches of Spring too!
This post contains some affiliate links for your convenience. Click here to read my full disclosure policy.
5 Simple Tips for Adding Spring Decor To Your Entry
I am thrilled to be joining the Celebrating Spring blog hop hosted by Leen of Sand Dollar Lane. This week long tour consists of 24 of your favorite bloggers! Today's inspiration posts are all about front entryways. If you are coming from Carol of Blue Sky At Home, welcome! Didn't you just love her blue and white entry ideas?
Come On In
Welcome to our home friends! If you can't visit in person this is the next best thing! I'm Kelly and I live in beautiful Colorado. I'm a wife, mom and kindergarten teacher who loves Jesus and needs my coffee everyday. I love keeping it real and decorating as I go!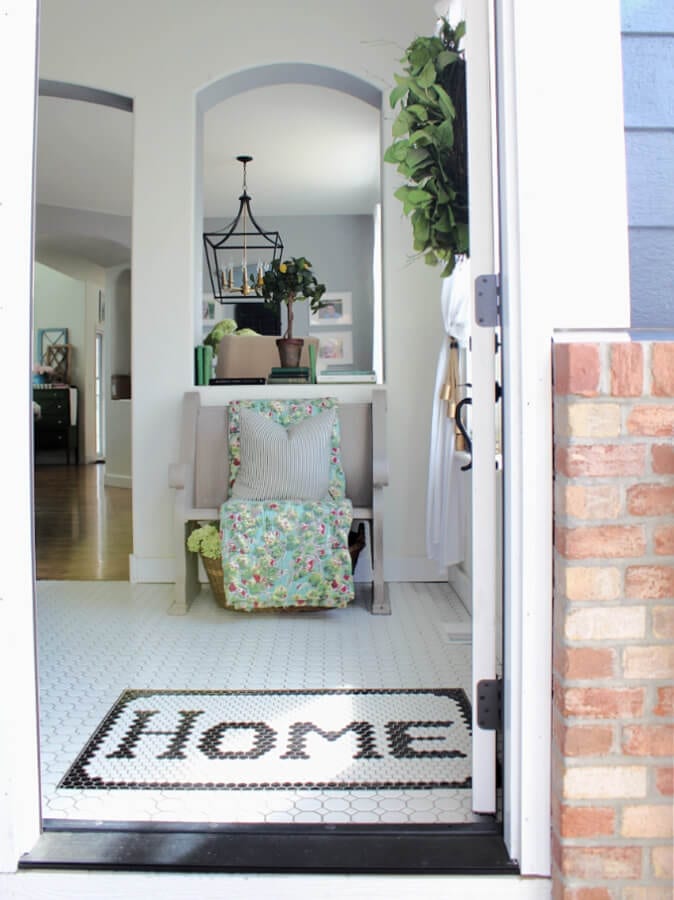 This Spring our entry is all about my favorite color…GREEN! We recently replaced our front door with this gorgeous new door from Home Depot and I am loving all the light it brings into our entryway. Plus it makes our tiled "home" mat pop! I simply added my favorite lemon leaf wreath to her and she instantly felt ready for Spring!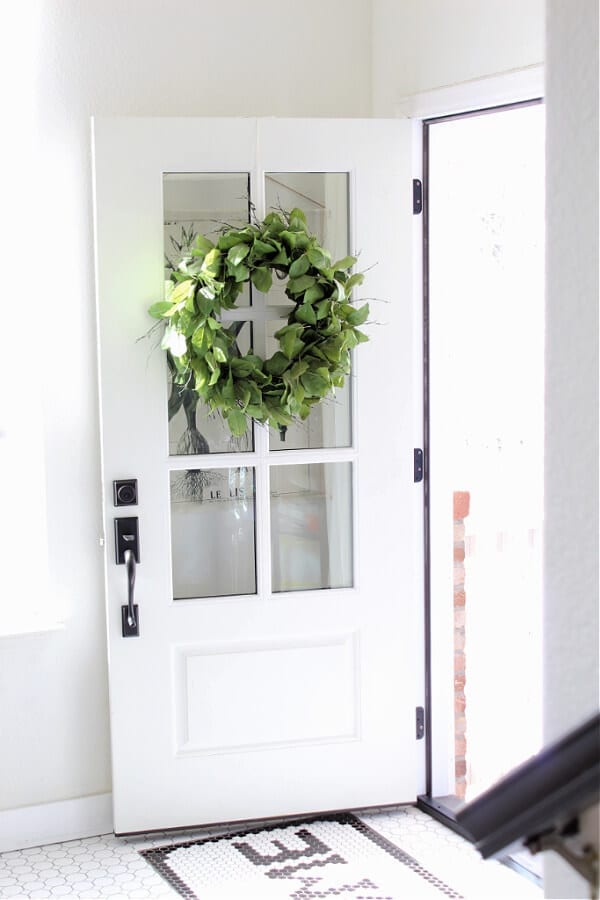 Spring Entry Décor Tip #1
My first tip for adding Spring decor to your entry is to choose what colors you want to focus on in the space. The entry is the very first thing people see when they come to your home so for Spring it's always fun to add pops of fresh color! Like I mentioned earlier, I am loving all things green lately. So the first thing I did was walk around my house and grab all of my green or greenish books!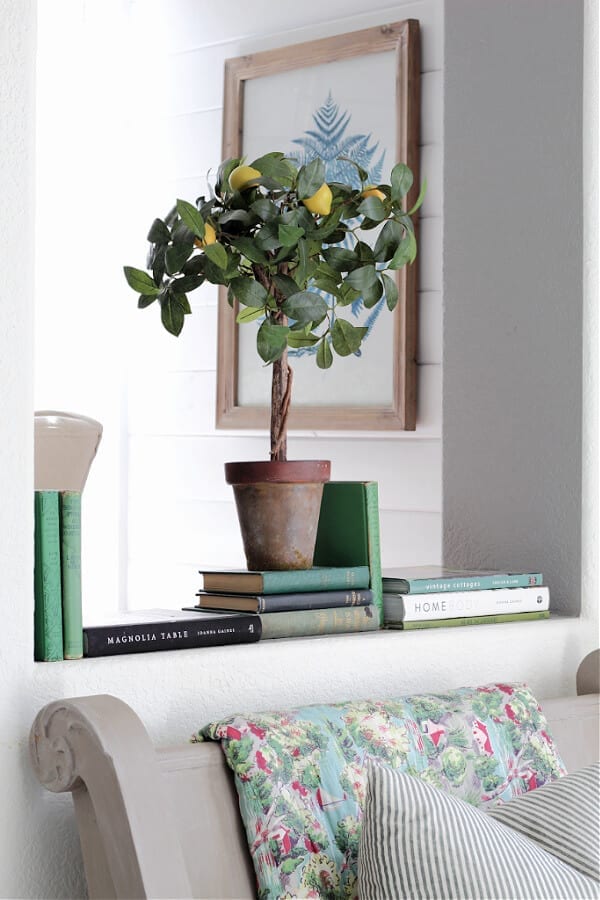 I had fun arranging them in the little nook you see as you enter our home. Creating a cohesive color pallet makes unique items work together. Not only do the books complement the lemon topiary but they compliment the quilt and pillow below them on my pew.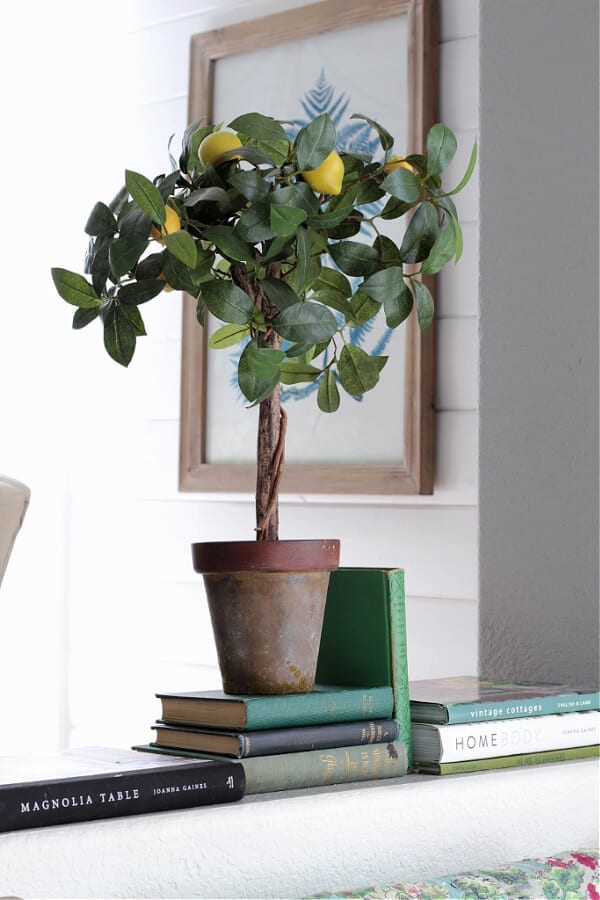 Spring Entry Décor Tip #2
For tip #2 it's all about the mixing of patterns! Of course this all starts on my sweet little pew found in our entry.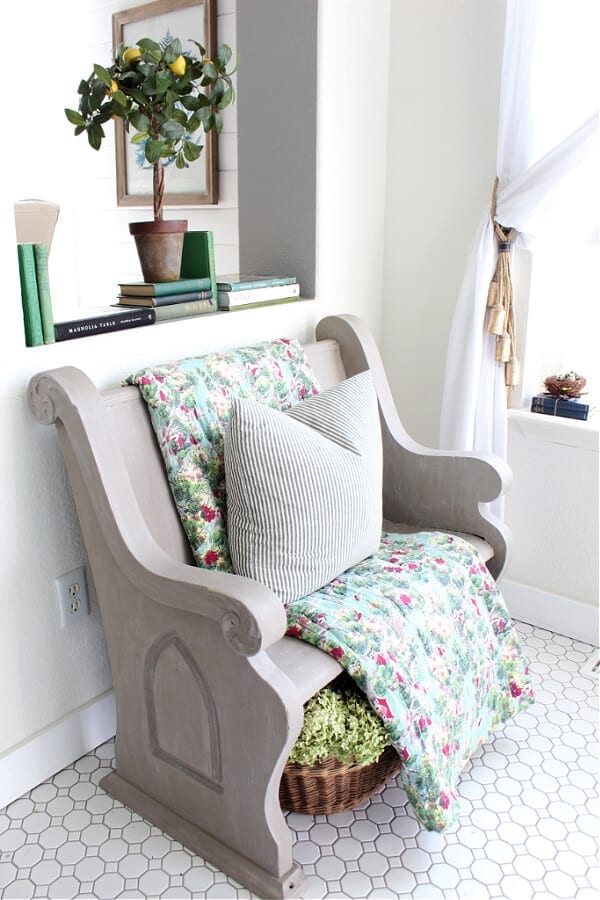 Recently while out shopping at the flea markets with my mom I bought this gorgeous old quilt. I was drawn to the pattern, and of course the different colors of green in the quilt. The fun colors pop off of my painted pew nicely. I paired it with this simple green and white striped pillow. Mixing patterns makes me happy…just like this quilt and pillow combo!
And what's fun is that this quilt is doubled sided. So cool, right?! So when I get tired of this pattern I can switch it up. If you have been with me for awhile here you know I love decorating with double sided items like my bergere painted shutters!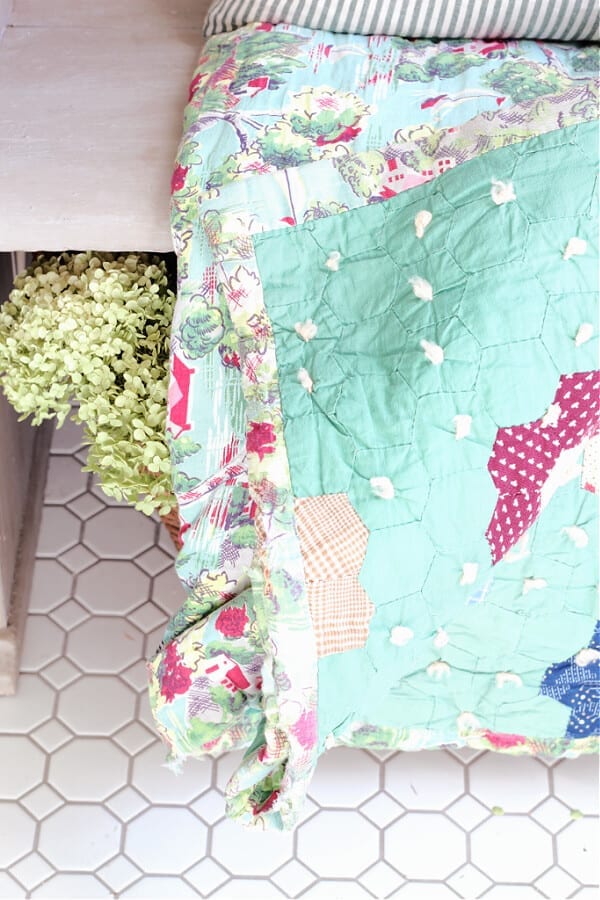 Spring Entry Décor Tip #3
Of course you can't forget the Spring accents when decorating any space for Spring! One of my favorite things to bring out are my dried hydrangeas. Here in Colorado things are still pretty dreary and not much is blooming yet. In fact we are supposed to get over a foot of snow this weekend. Yikes! SO these hydrangeas give the feel of Spring blooms that I crave this time of year!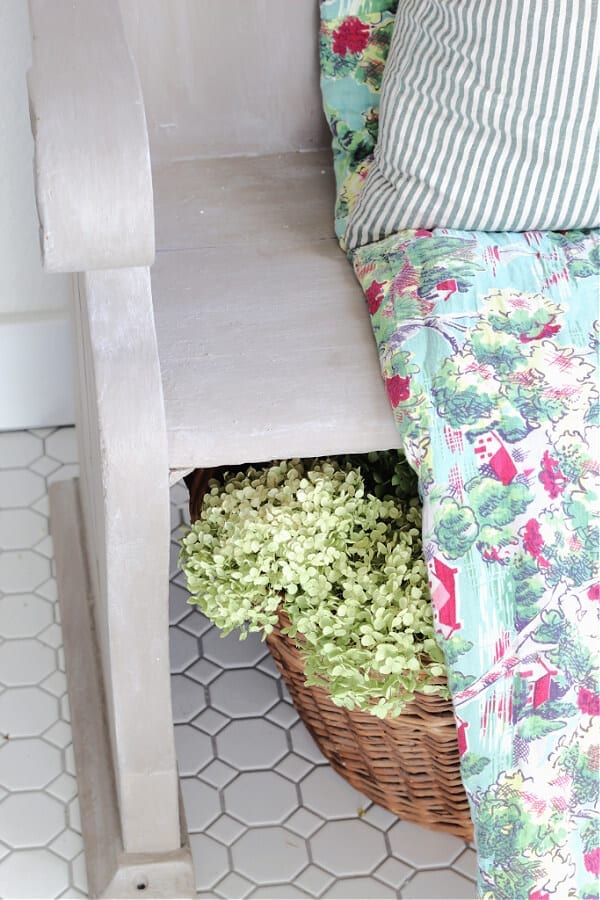 The lemon topiary also adds a Spring touch that greets you as you enter. Of course the green leaves tie in nicely with my other green accents. More and more I am loving how green works for every season!
Spring Entry Décor Tip #4
My fourth Spring entry decor tip is using what you have. I am a huge fan of shopping your home (and my husband supports this 100%! Ha!) and if I'm being honest, I have plenty to shop. Would you believe that this sweet little birds nest and eggs were from our wedding 14 years ago? They sure are! Loved them then and still love them now!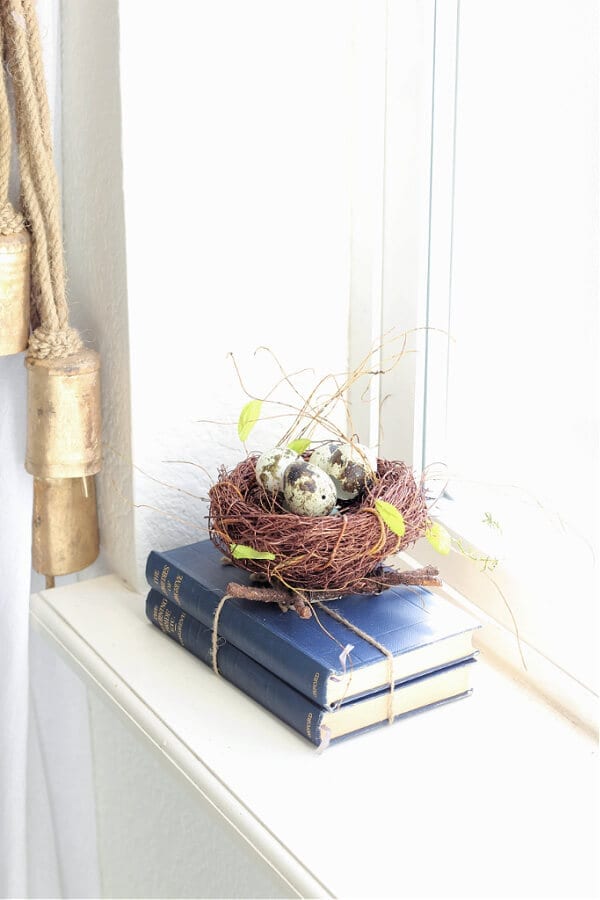 Sentimental items like these are the little things that help make a house a home. And this nest makes me smile every time I see it!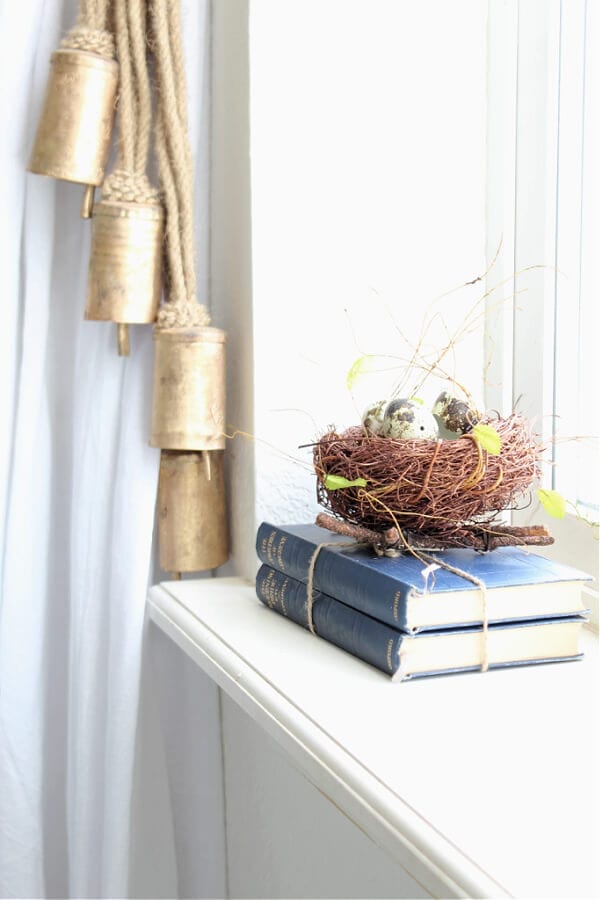 I also brought out this botanical tapestry from Hobby Lobby I found a few years ago. I have moved it around the house a few times and now I am loving in in our entry. Notice the green? Do you move decor around your home? I have to admit it's one of my favorite decorating tricks!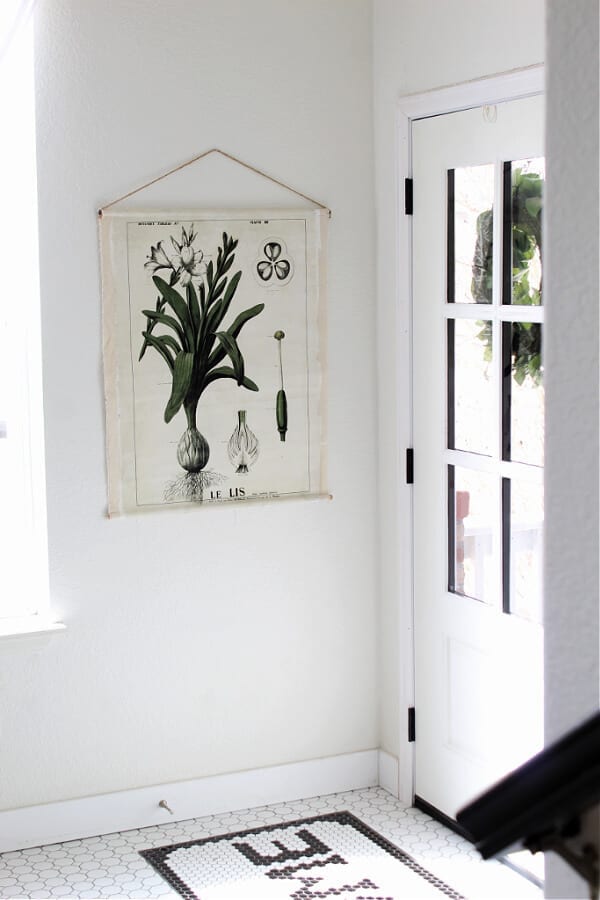 Spring Entry Décor Tip #5
Finally, my last Spring entry decorating tip is to do what makes you happy and brings you joy. If it makes you smile and just feels right, go with it. You don't have to follow the trends or do what others are doing. You just have to decorate from the heart!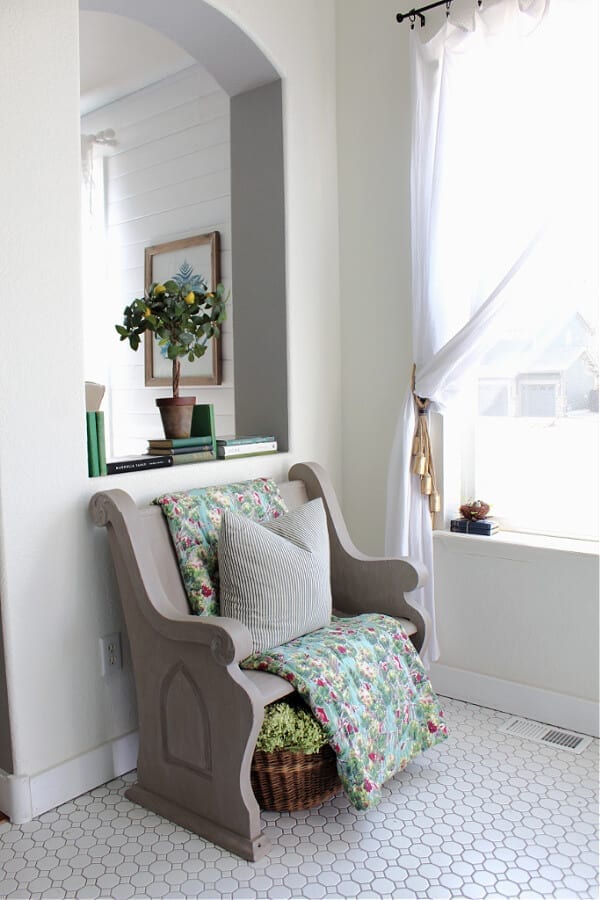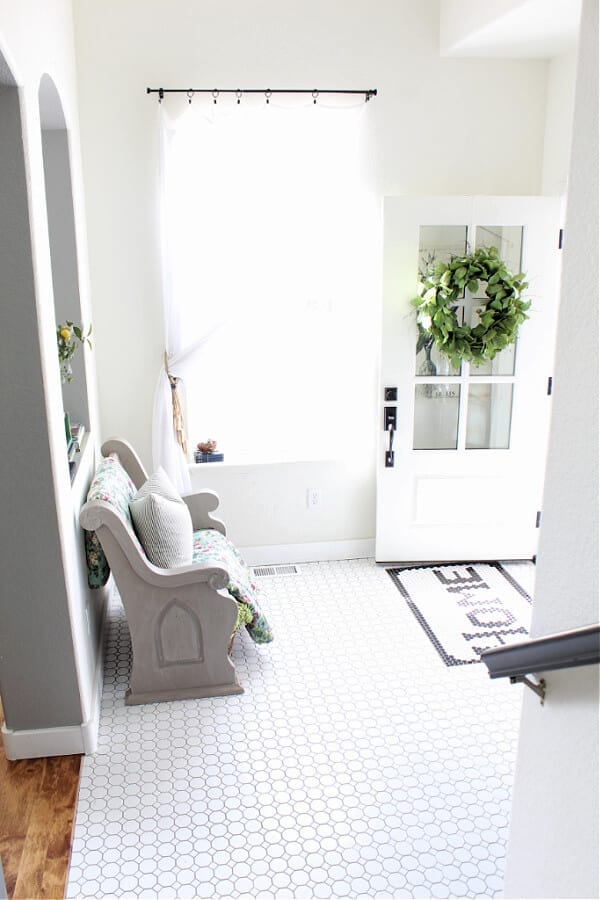 5 Simple Tips for Adding Spring Decor To Your Entry
Thank you for stopping by today. Hopefully you were able to take away a few simple tips for adding Spring decor to your entry. Have you started Spring decorating yet? What colors are you crushing on this Spring? Now make sure to stop by my sweet and talented friend KariAnne's blog, Thistlewood Farms and her Spring home tour with extra flowers! You can visit the other bloggers from Monday and Tuesday and the rest of the week by finding their links below. Tomorrow the Zucchini Sisters are the first ones up! Have fun!
XOXO,
Kelly
Celebrate Spring Blog Hop
Did you like this post? PIN it for later!