How to Prepare Pine Cones for Crafts or Decor
Our backyard is overflowing with pinecones and you can bet I plan on using them in my Fall and Winter decor. But the number one question that I get asked or that I myself have asked is, do you need to bake pine cones if you find them outside and plan to use them indoors? Today I will be sharing several ways on how to prepare pine cones for crafts or decor.
My answer might surprise you!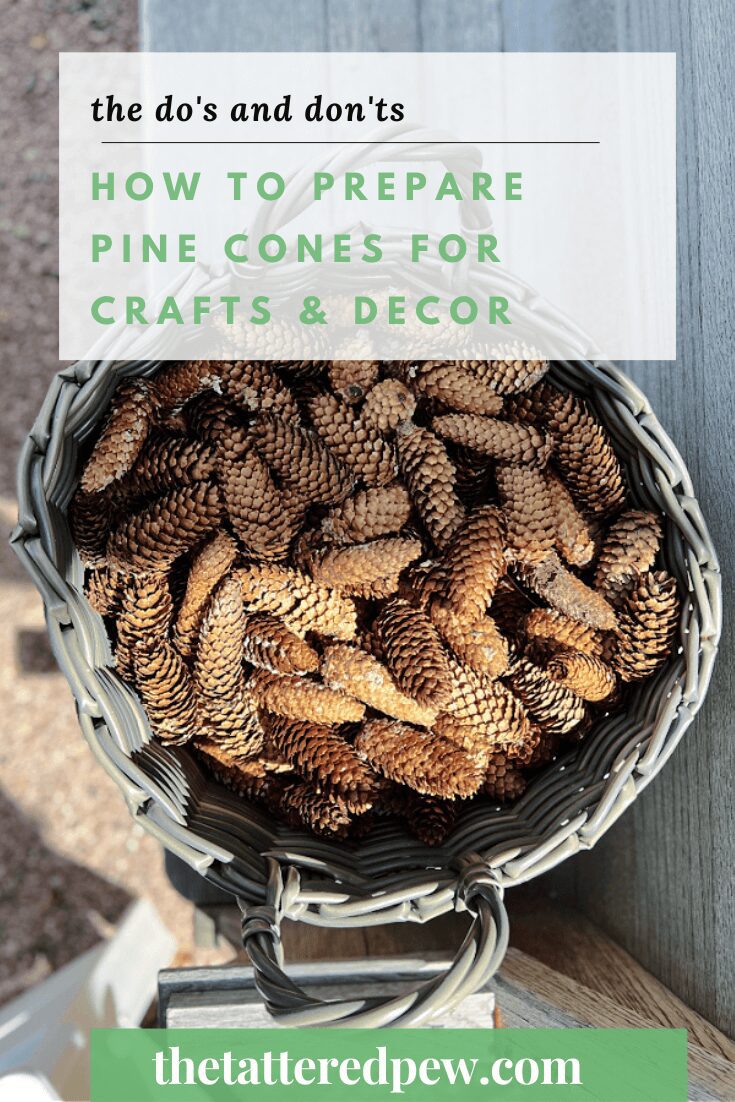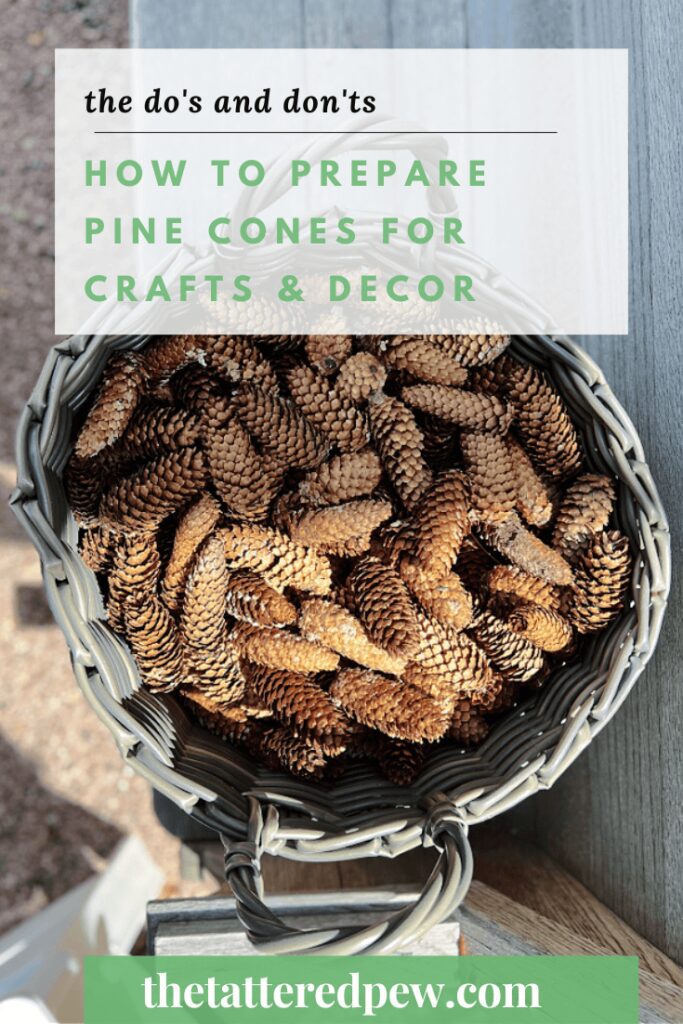 *As an Amazon Associate, I earn from qualifying purchases. This post contains other affiliate links too for your convenience. Click here to read my full disclosure policy.
Fall Decor on a Budget
Before I jump right into all things pine cones I am excited to be joining some of my blogger friends for a fun blog hop challenge. Our challenge was to come up with some Fall decor on a budget and our budget had to be $25 or less! Heidi from Eleanor Rose Home is our lovely host and she is sharing some great ideas.
If you are hopping over here from Robyn of Robyn's French Nest, welcome! I loved her 5 free decor items she suggested using for Fall. She is the queen of decorating and I always learn a ton from her beautiful styling tips!
Now let's talk pine cones!
Pine Cones, Nature's Decor
One thing that I love about decorating, no mater the season, is that beautiful decor doesn't have to be expensive. I am constantly on the hunt for items to use in our home and decor from our front and backyard.
This Fall I have decided that I will be using pine cones in my decor. I am loving all natural elements and I am loving their price too. These count for the under $25 challenge, right?
Like I mentioned before our backyard is covered in pine cones. We have several mature pine trees here in our backyard in Colorado and I adore them. So this Fall I am bringing them inside and giving blues and browns the moment they deserve in my decor. There is something so classic about this combo!
My Favorite Ways to Use Pine Cones for Crafts or Decor
Displayed in bowls
stuffed in tall cylinders
added to the bottom of lanterns on a porch
used to hold place cards like these at Thanksgiving!
Scattered down the center of a tablescape
Made into a garland (I am making one for Christmas this year!)
Made into ornaments
Used as a filler in a large dough bowl
wreaths
It looks like I could go on forever and probably could write an entire post all about ways to decorate with pine cones! I just adore them.
How To Prepare Pine Cones for Crafting or Decor
But before you use those pine cones you must ask yourself if you like bugs and sap and other gross things in your pine cones. If not then you most likely will want to clean them before you bring them inside. There are several ways to prepare your pine cones to use for crafts or decor.
Here are a few of the do's and don'ts that I have found researching this process.
Do I Need to Clean My Pine Cones Before Using them in Crafts?
This truly is a personal preference.
Ok, it's no secret that I like to usually take the easy and simple route on most things ( remember my lazy girl's guide to planting zinnias?) Originally I had no plan on cleaning my pine cones until my mom mentioned baking them.
I honestly didn't even think about it.
I mean every other year I have literally just brought them inside and have had no problems. But once I started collecting them in my back yard I noticed they had a ton of sap and I for sure saw a few spiders.
But I myself didn't end up cleaning them. Instead I just bagged them up and kept them in our hot garage for several weeks. This seemed to do the trick for mine. So if you are asking if you should clean your pine cones before using them I say do what works for you.
TIP: You can also freeze them in ziploc bags!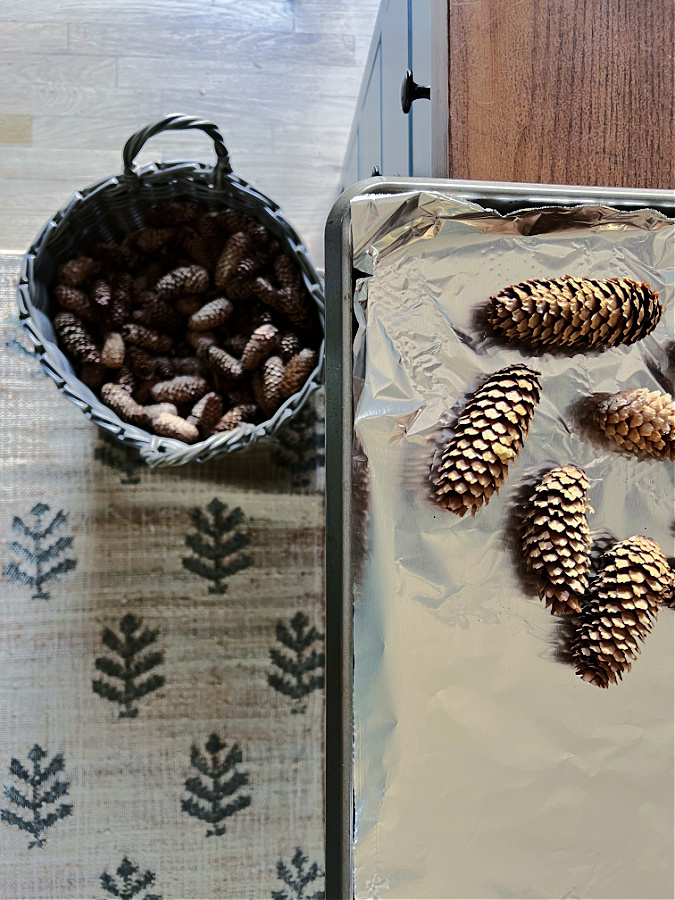 How to Bake Your Pine Cones
This method is the most popular method for cleaning your pine cones. Simply line your cookie sheet with parchment paper or foil and add you pine cones in a single layer. Set your oven to 200 degrees F and bake them for about 25-30 minutes. Make sure to monitor them closely!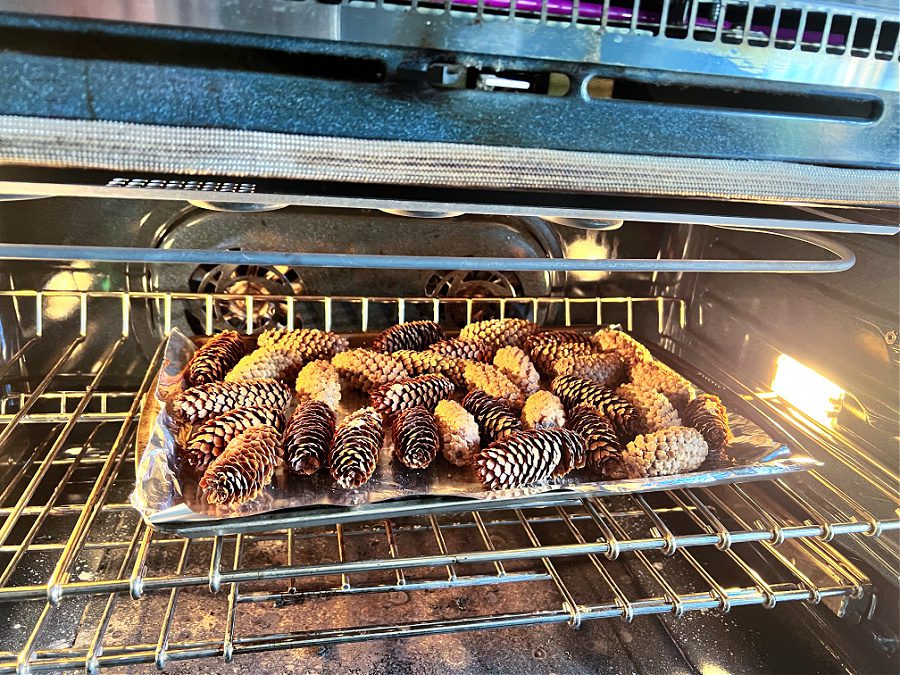 This is a quick and simple way to prepare you pine cones and feel confident that they are ready for crafts and such. Do you have to bake your pine cones? No. But does it help? yes.
How to Bleach Your Pine Cones
Have you heard about bleaching pinecones? I had not until I came across an beautiful blog post from my friend Yvonne over at StoneGable blog. She loves decorating with natural elements just like I do and she always has the best ideas!
The minute I saw her pictures I was smitten with how pretty pine cones are bleached! I have seen painted pine cones but I don't think they compare to bleached one.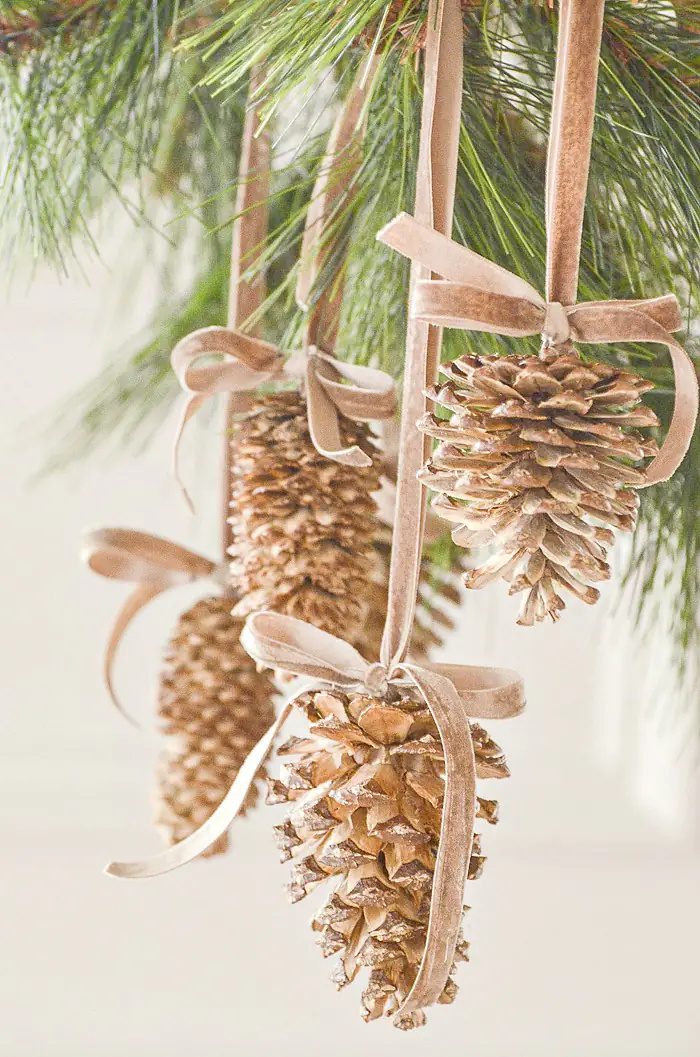 In order to bleach your pine cones Yvonne suggests mixing 2 parts bleach to 1 part water in a large container and fully submerging the pine cones. Let them stay in this mixture for 48 hours or more. Then take them out and lay them out to dry for a week or more. You will know they are dry when they open up.
Soaking and Washing Pinecones
One way some people like to prepare their pine cones is to soak them. You can do this in a sink, large bowl or bucket. Simply mix 1/2 cup of white vinegar with 1/2 cup of water then soak your pine cones for about 30-40 minutes. Just make sure to not leave them in too long as they will close up. Remove them and rinse them thoroughly and then lay them out on a cookie sheet to dry out. They should be good to go in a day or two.
I like this method as well because it is a natural and safe way to clean your pine cones.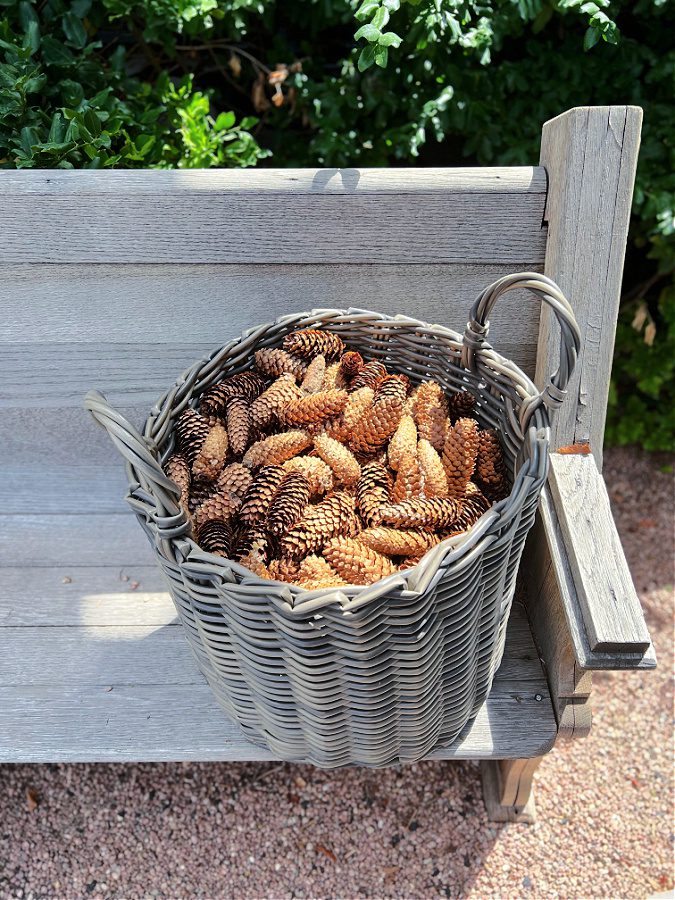 How to Prepare Pine Cones for Crafts or Decor
So this Fall if you are looking to add some affordable yet classic decor to your home don't count out pine cones! Luckily there are several options for how to prepare pine cones for crafts or decor. You just have to decide which works best for you!
Now, make sure to hop on over to my dear friend Jennifer of Cottage on Bunker Hill's post all about how to make a faux terracotta beaded garland! I promise it's stunning!
I'd love to have you hang out with me some more! Feel free to follow along with me on any of the platforms linked below.
LTK | Facebook | Instagram | Pinterest | Amazon
xoxo,
Kelly
More Fall Décor on a Budget Inspiration
Eleanor Rose Home | The Country Peony | Green Valley Gable | Stilettos & Shiplap | Cottage In The Mitten
Le Cultivateur | Midwest Life & Style | Robyn's French Nest | The Tattered Pew | Cottage on Bunkerhill
Did you like this post? PIN it for later!