Affordable Ways to Incorporate Coastal Decor in Your Home
I've always had a thing for coastal decor and after returning from our recent trip to Florida it's been on my mind even more! More and more though I have been finding that it can be very costly. So I have recently been finding budget friendly options and will share some of my favorite and affordable ways to incorporate coastal decor in your home!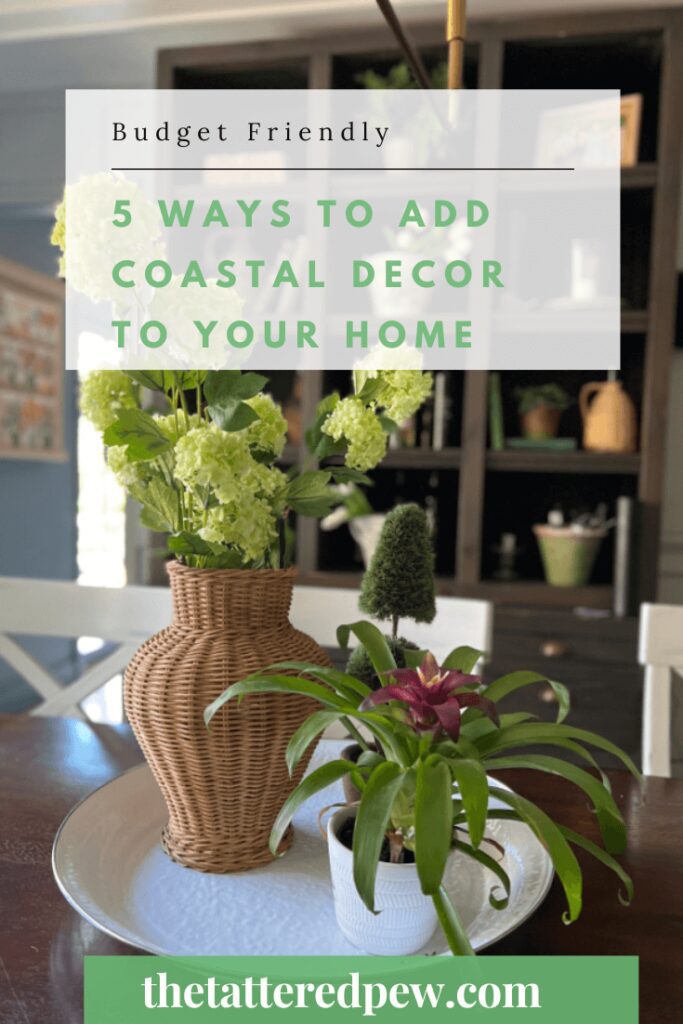 *As an Amazon Associate, I earn from qualifying purchases. This post contains other affiliate links too for your convenience. Click here to read my full disclosure policy.
Coastal Vibes Blog Hop
If you too love coastal decor than I am happy to share that today I am joining some blogging friends for the Coastal Vibes Blog Hop, hosted by Amber from Follow The Yellow Brick Home.
If you are coming over from Debra of Common Ground, welcome! Didn't you love her coastal vibes and seashell buffet? Make sure to stop by and visit all the other blog links at the end of my post too.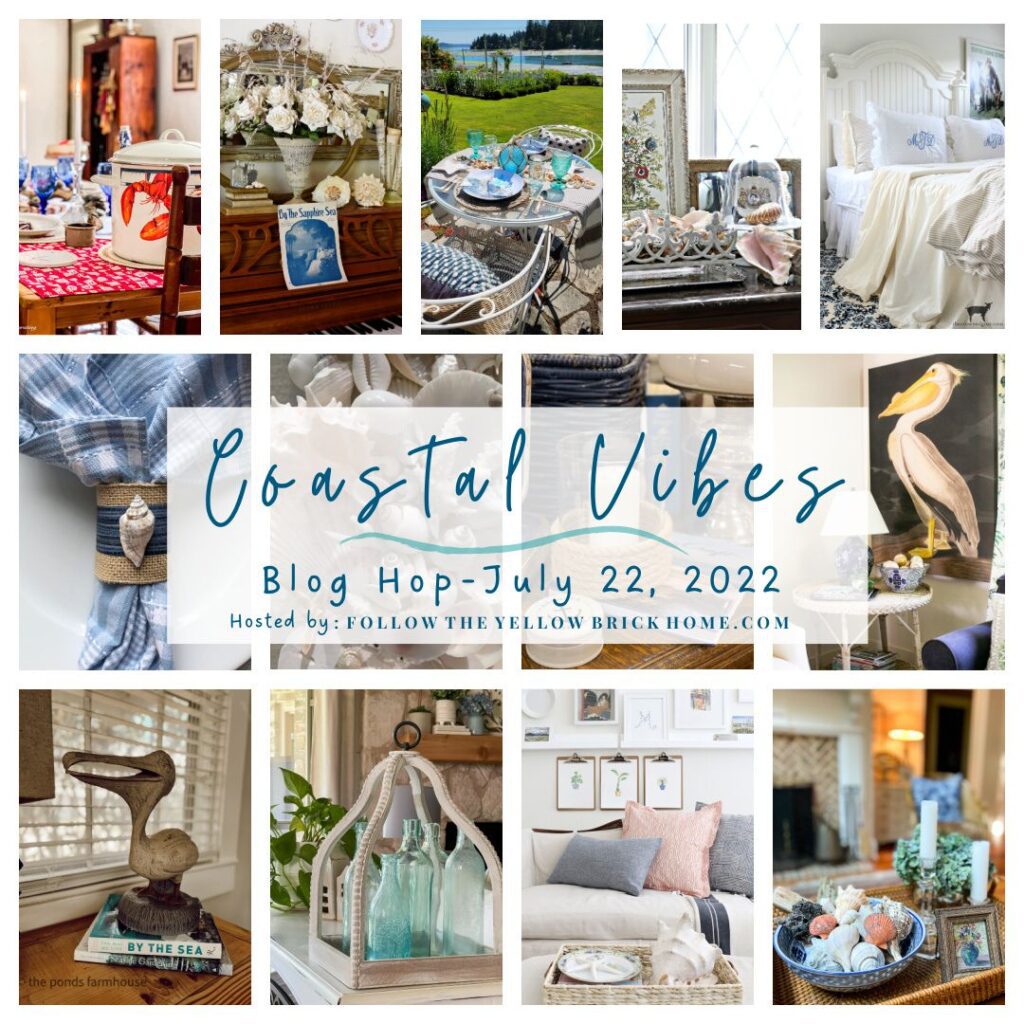 Affordable Ways to Incorporate Coastal Decor in Your Home
So, are you curious about the affordable ways I incorporate quality coastal decor into our home?
I have you covered!
Keep reading to see what my top 5 secrets are to finding affordable coastal decor!
1. Shop on Facebook Marketplace
My go to for finding awesome coastal decor at an affordable price lately has been on Facebook Marketplace. My husband and I were just talking about how most of our furniture is from FB Marketplace. I love the collected and curated feel. And gosh it sure feels good when you score a find!
Have you shopped marketplace before?
It's changed a bit since it first came out and now there are a lot of ads but if you narrow down your searches you can usually find great stuff!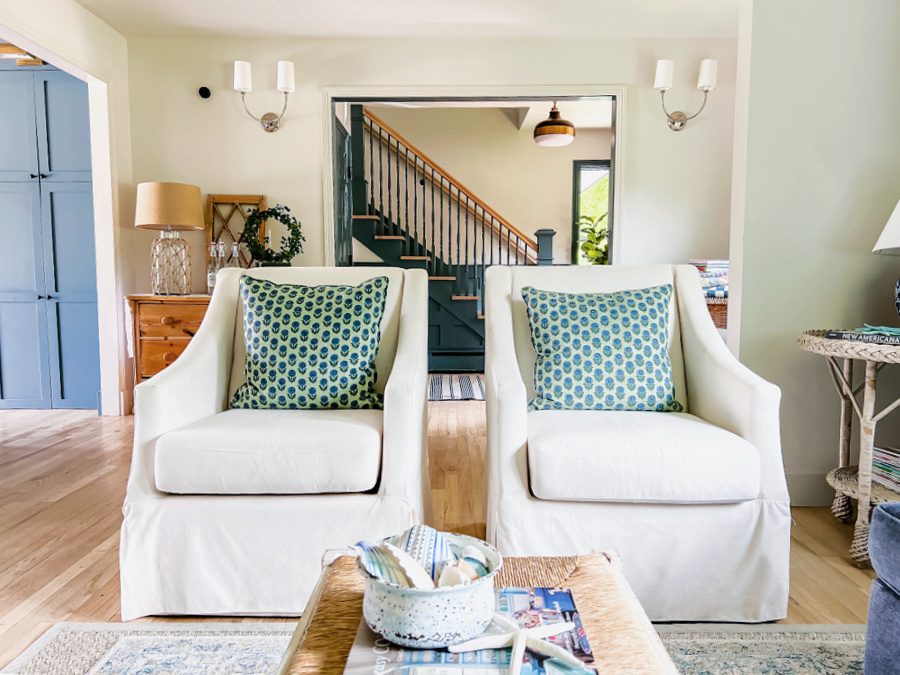 I found these two white slipcovered chairs for $100 total! Yep! Crazy deal, right?! Anything slipcovered (especially white) puts off a pretty coastal vibe! If you know what you are looking for and put that in your search then you will start to see more of these come through your feed.
I love anything wicker or rattan so I often have these words in my search.
You can't have a coastal home and not have both, right?!
Well recently I saw this gorgeous and very expensive console table on Pottery Barn and this one on Serena and Lily and knew they would look great under our tv. I just couldn't afford them so thus began my search on FB Marketplace for one I could afford!
Low and behold I found these beauties while searching for wicker console table! There were actually three of them but only two of them came inside and fit perfectly under out TV! Patience and searching paid off for me and generally does. I've learned not to rush the process. Doesn't the basket look cute tucked under them?
Tips for Searching on FB Marketplace
Set your distance parameters. How far are you willing to drive?
Search specific key words: wicker, console table, slipcovered chairs, etc.
Have friends or siblings search for you too. Different people see different things in their feed.
If you see it and love it and its a good price, don't think about it. It will be gone. Just message and say if this is still available I will take it!
Don't worry if you get there and it's crap, you can always change your mind. I always have something prepared like, oh darn this won't actually work in my space after all, but thank you!
Ask for measurements.
Take someone with you!
Have cash or the venmo app.
If you can't go pick it up right away offer to pay a little bit for them to hold it. Most people are nice!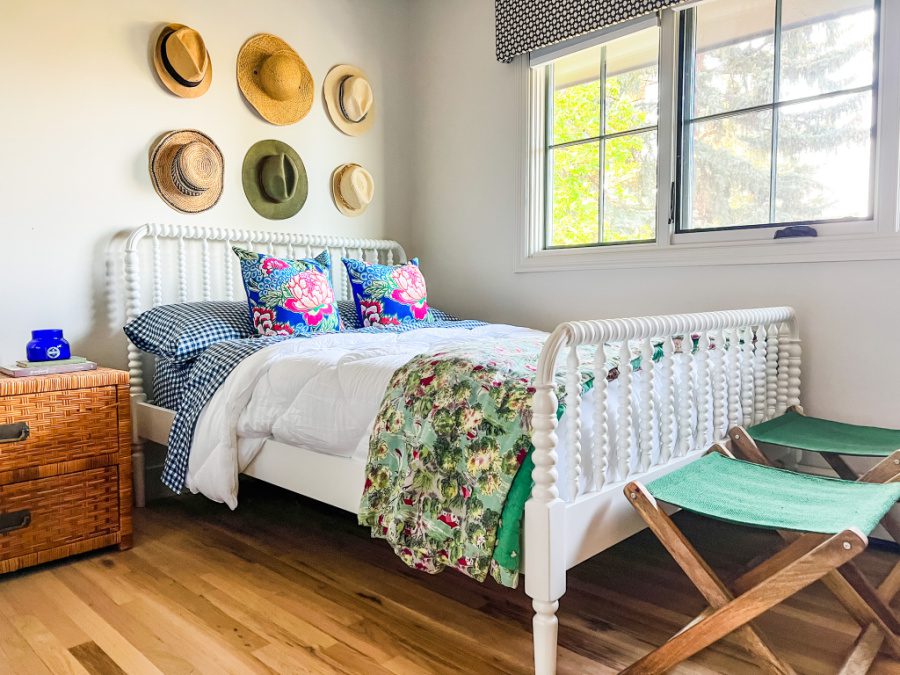 Bedroom Sources: Bed /Floral Pillows / Sheets / Candle / Camping Stools / green quilt vintage / hats collected / White Down Comforter /
2. HomeGoods
Whenever I am in the need for some quality coastal decor at an affordable price I always find myself at Homegoods. Remember the 2 huge Audubon art pieces from my summer home tour?
Yep! Homegoods finds.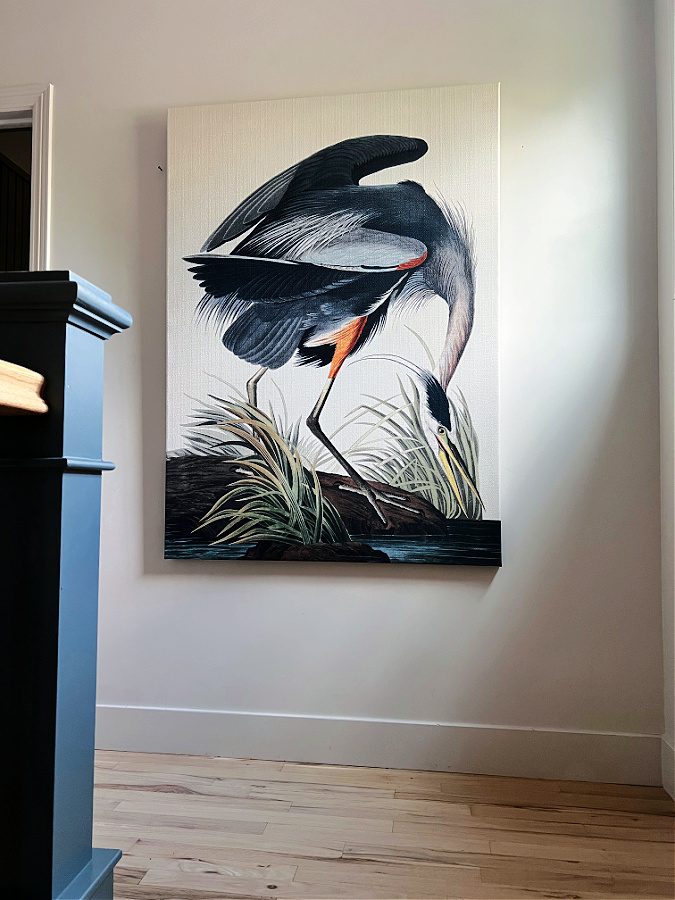 They have excellent prices and always seem to be up to date with the latest styles. They have name brand items deeply discounted or name brand dupes that are just as good. I always look for art, rugs, dishes, bedding, pillows, trays, cutting boards, lamps…the list could go on! Things turn over fast and new items come in weekly so when I have time I like to pop in and check their inventory. Even if I don't buy anything I just love to browse and get inspired!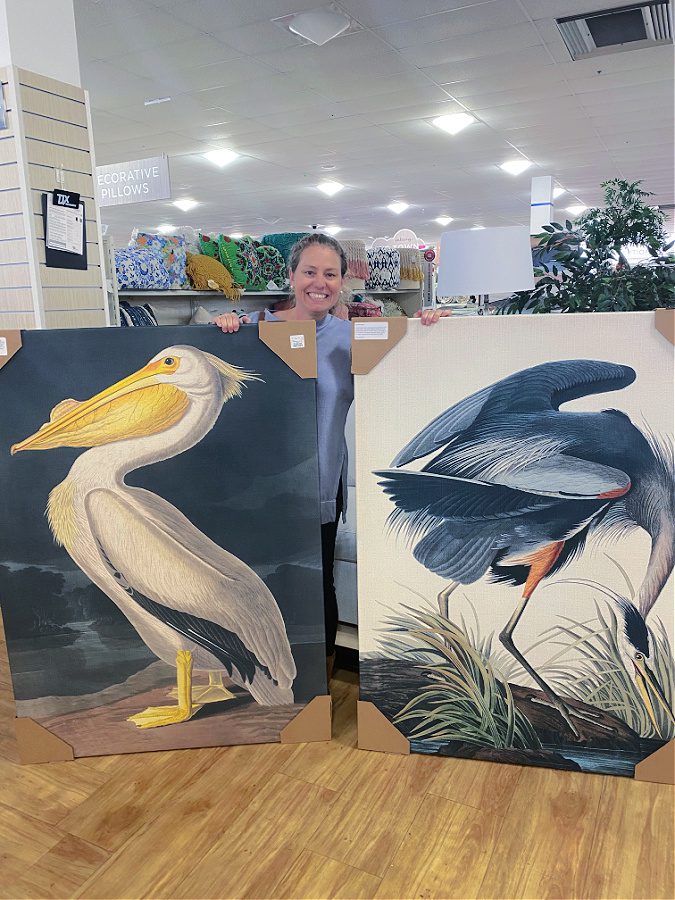 Bonus: their return policy is fabulous! You can always take it back if it doesn't work. This is my mom's motto and it has helped me out every time!
3. Sales
Ok so every once in awhile Pottery Barn or Serena and Lily or other high priced home decor stores will have things that go on sale. And I am a sucker for a good sale. In our old home we splurged on our Pottery Barn sofa when it was on sale.
My mom gets a lot of her rugs from Pottery Barn because they are classic and well made. She of course waits for sales too!
Also, this lidded glass apothecary jar is from Pottery Barn and we added some of our sea shell collections to it and just like that, coastal decor! This could be an entire category on its own, collecting and displaying shells! We have so many from our recent trip and I will be sharing those soon. I even have some ideas for how to incorporate them into our Christmas decor as well!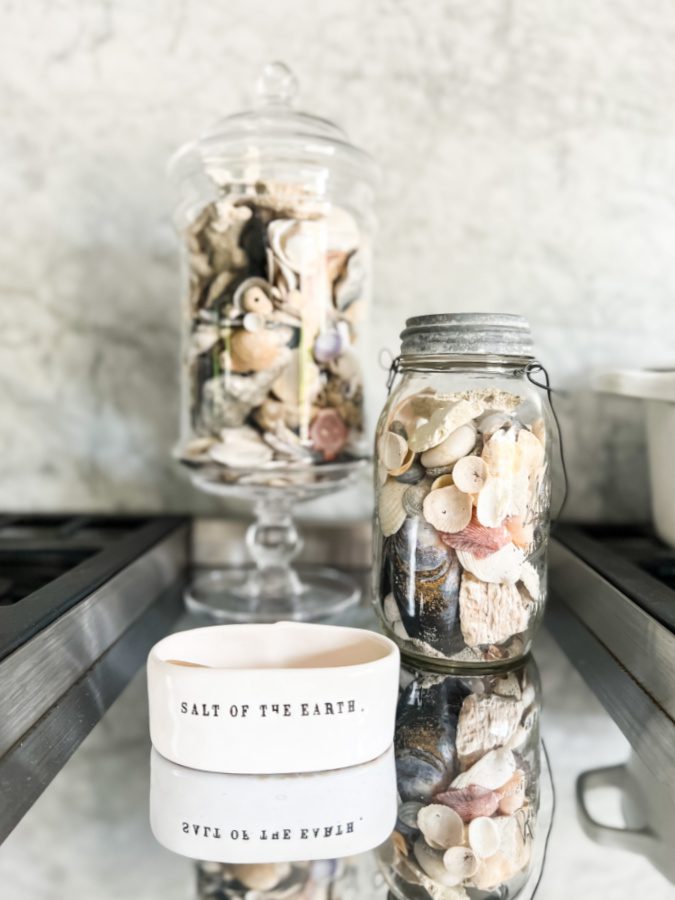 I get the Serena and Lily catalog but have never bought anything from them. Well, actually I did buy some of their gorgeous Priano Blue wallpaper for our prior home and then had to return it once I discovered we were moving. It's on sale now and still outrageous. They currently have their tent sale going on now which is their biggest sale!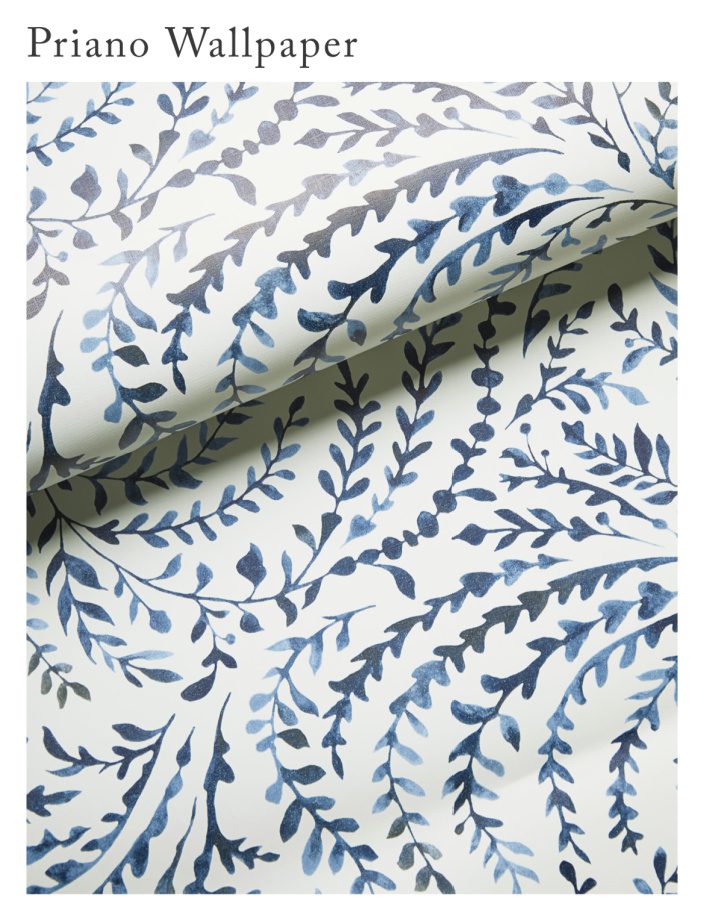 But I also like to think about quality and longevity of items. Will it be timeless and classic or is it trendy? Always a good question to ask yourself before you purchase.
Of course I also shop sales at Target, Wayfair, Walmart and many other places too!
Loves this wicker vase with coastal vibes I scored from Target! It's on sale if you purchase it online!
4. Flea Markets and Consignment Shops
Ok this might be my favorite way to source affordable and unique coastal decor for your home (besides collecting shells from trips) ! If you have known me for awhile you know that I LOVE flea maret and consignment shops.
They are my go to!
Almost every piece of furniture in our home is from both of these types of stores.
You just have to be willing to search through flea markets and keep your eyes peeled at consignment shops. I love searching for books, dishes, baskets, demi johns, wicker items, tables, art. You name it I look for it!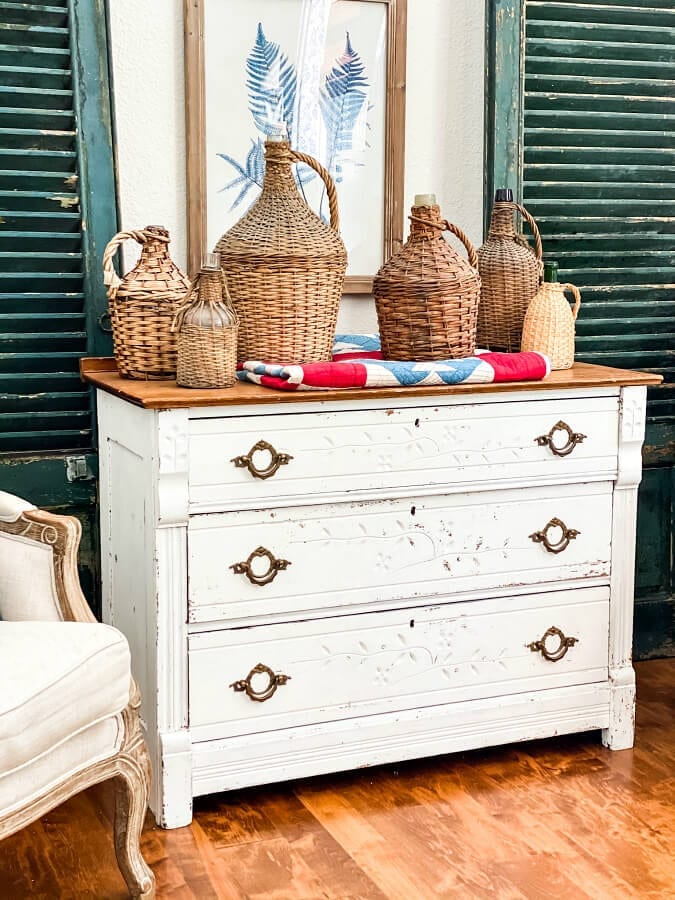 My wicker demi john collection is all from different flea market adventures!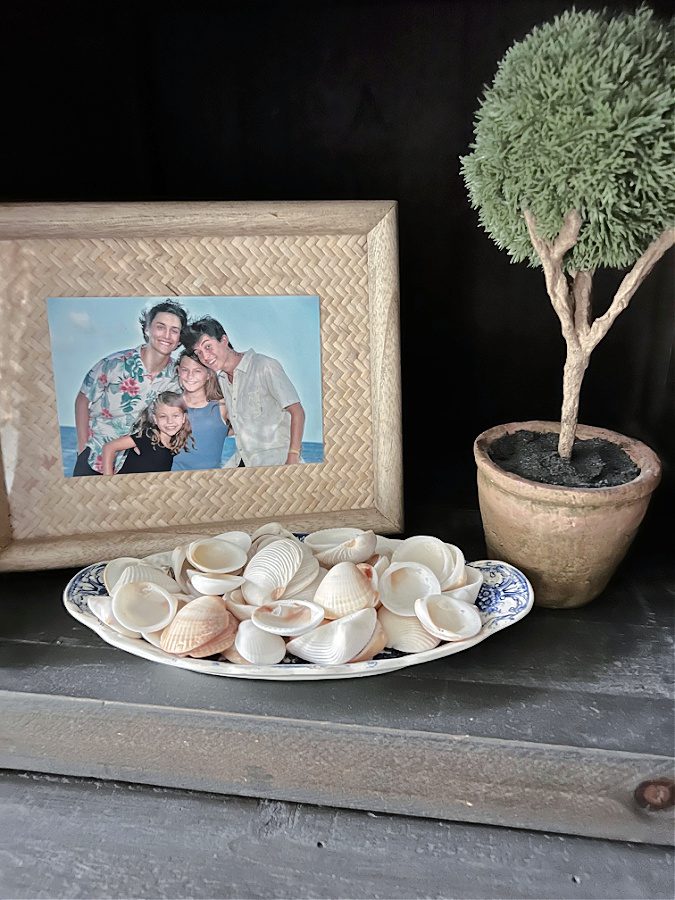 Our blue sofa in our family room is from Curate Consignments in town as is the bench we are using for a coffee table. Both pieces offer a coastal and traditional feel.
Also the small side table next to our blue chair was a flea market find. Of course my green dresser was a FB Marketplace find!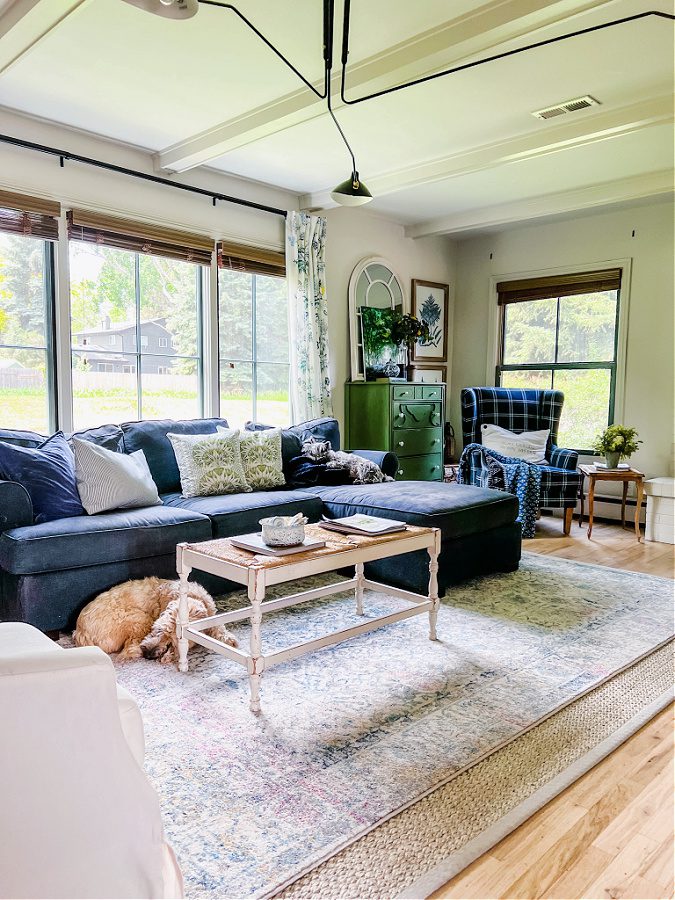 I could go on forever because most of the items in our home are from consignment shops or flea markets. So don't count them out when you are looking for budget friendly ways to add coastal touches to your own home!
5. Amazon
It's no secret that I love shopping on Amazon. It can be a bit of a rabbit hole and hard to find the quality items so I have created a few coastal inspired mood boards for you! Amazon has a ton of affordable and budget friendly coastal decor and I am so excited to show you what I have found and been buying myself!
We have the bamboo flatware, rattan decorative boxes, whale hooks, and green pillows you will see below. The rest are all on my Christmas list. Ha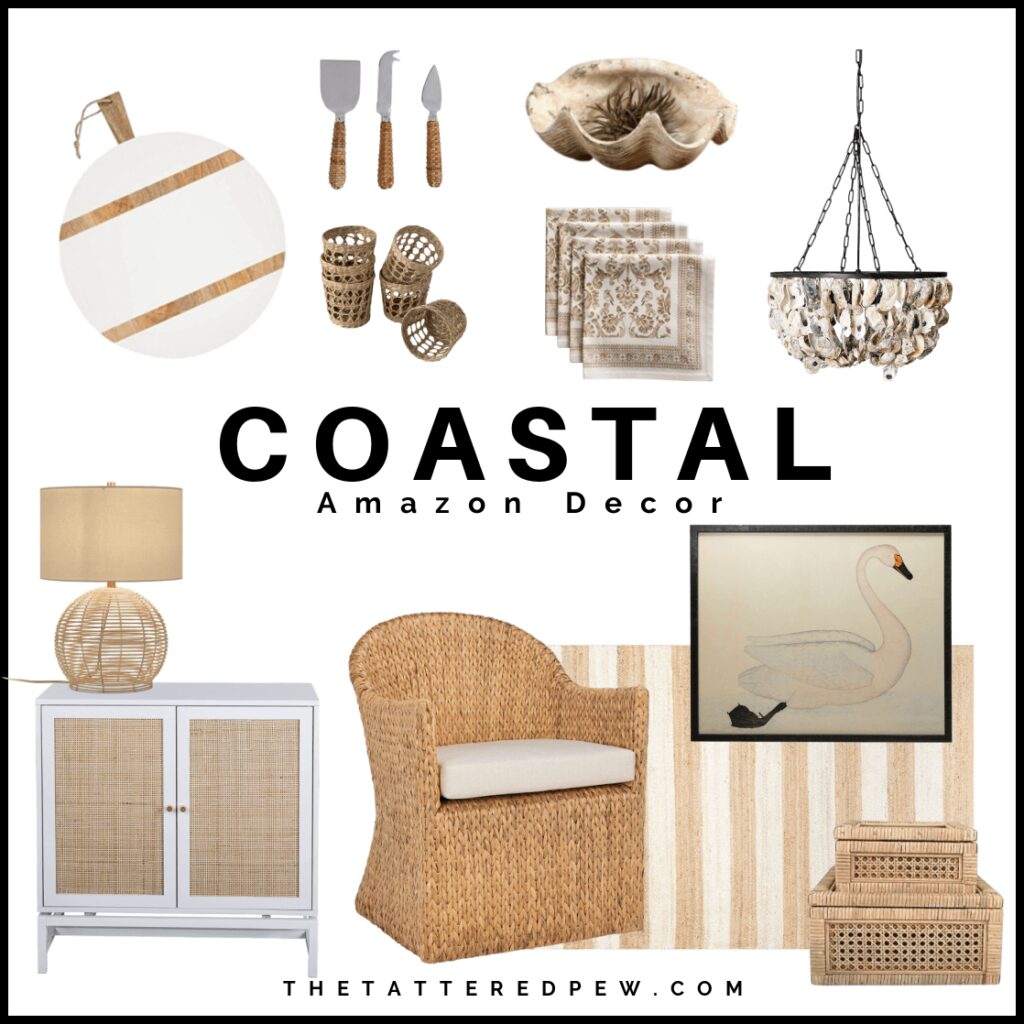 SOURCES: wood & white cutting board / set of 3 cheese knives / wicker cup holders / cement clam shell / block print napkins/tablecloth / shell chandelier / rattan lamp / white sideboard / rattan chair / swan art / striped rug / rattan cane boxes
SOURCES: white beaded chandelier / blue and white striped rug / blue glass beads / fish doormat / sailboat art / blue & white fish ginger jar / whale hooks / blue Moroccan box / blue twist candles / white pitcher w/ blue handle / blue bistro set / Coastal Blues book / pillows
Sources: Framed Wall Art / recycled glass vase / faux bamboo flatware / beaded chandelier / faux monstera leaves / cane wrapped vase / white & cane sideboard / green pillow covers / white slipcovered sofa /ladder / Coffee Table / Pink Rug / India Hicks Book / Beachside Book
I am constantly updating my Amazon Storefront with not only coastal decor but all the things! So stop by there and take a peek too. Which mood or decor piece is your favorite?
Even More Amazon Coastal Decor
Scroll through to find some more of my favorite coastal decor items!

Affordable Ways to Incorporate Coastal Decor in Your Home
What do you think? Hopefully a few of these ideas sparked some ideas for you! My home is not overly coastal but it has just enough to hold me over until Mike and I own that beach house we have always dreamed of.
Now make sure to head over to my friend Rachel of The Ponds Farmhouse as see her 15 coastal decor ideas for any home!
I'd love to have you hang out with me some more! Feel free to follow along with me on any of the platforms linked below.
LTK | Facebook | Instagram | Pinterest | Amazon
xoxo,
Kelly