The Best Aesthetic Halloween Decor From Amazon
Get ready to elevate your Halloween decor game with the best aesthetic finds from Amazon! Whether you're planning a Halloween party or simply want to infuse some spooky charm into your living space, these carefully curated items will help you achieve that perfect vintage Halloween aesthetic.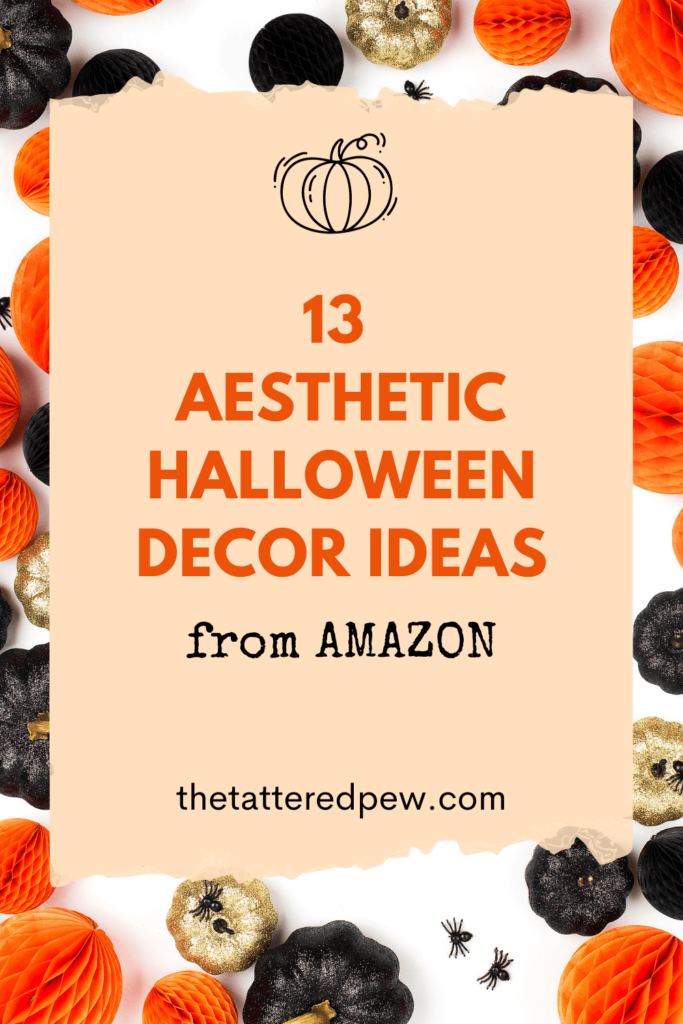 *As an Amazon Associate, I earn from qualifying purchases. This post contains other affiliate links too for your convenience. Click here to read my full disclosure policy.
The Best Aesthetic Halloween Decor From Amazon
From spooky skeletons to eerie ghosts, these decorations cover a wide range of themes. Explore wall decor, candle holders, and wall hangings to create a unique and captivating atmosphere. With a hauntingly beautiful color palette and a touch of cuteness, these items will bring the spirit of Halloween to life in your home!
This set of 12 hanging witches hats are not only aesthetic but easy to store and use. They come folded up and can also collapse easily as well. Included with these hats is clear nylon hanging rope so it appears as if the hats are floating. I hung these in our front yard this year and love them!
They look even better when there is a slight breeze!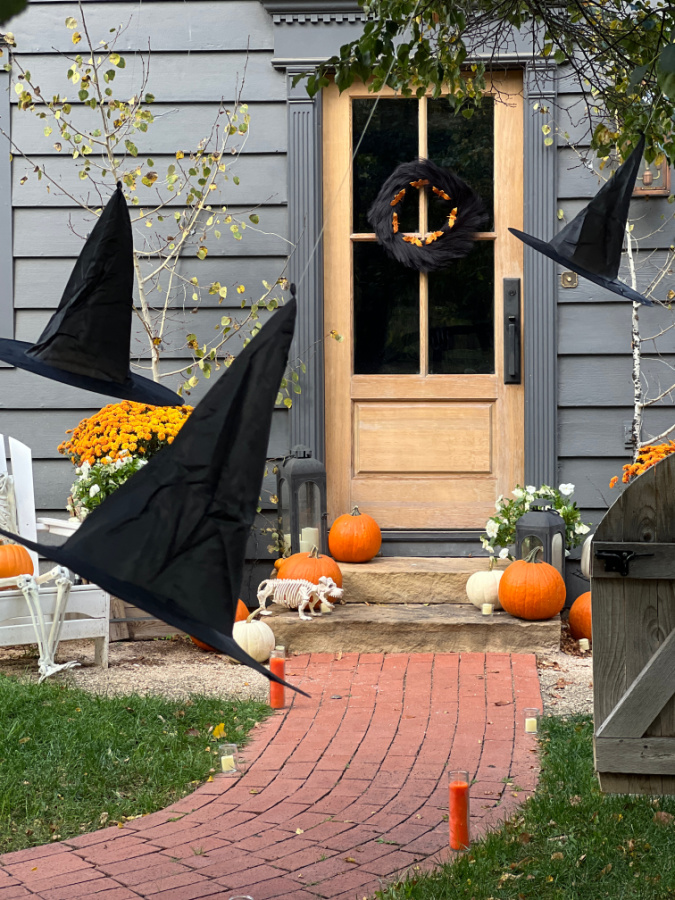 This Anchor Hocking glass jar set includes two Half Gallon Heritage Hill jars with lids, offering versatile storage options. These jars are durable, lead-free, and BPA-free, featuring wide mouths for easy scooping.  You may be thinking, how are these Halloween decor? Well I used these jars to create an easy haunted house silhouette craft!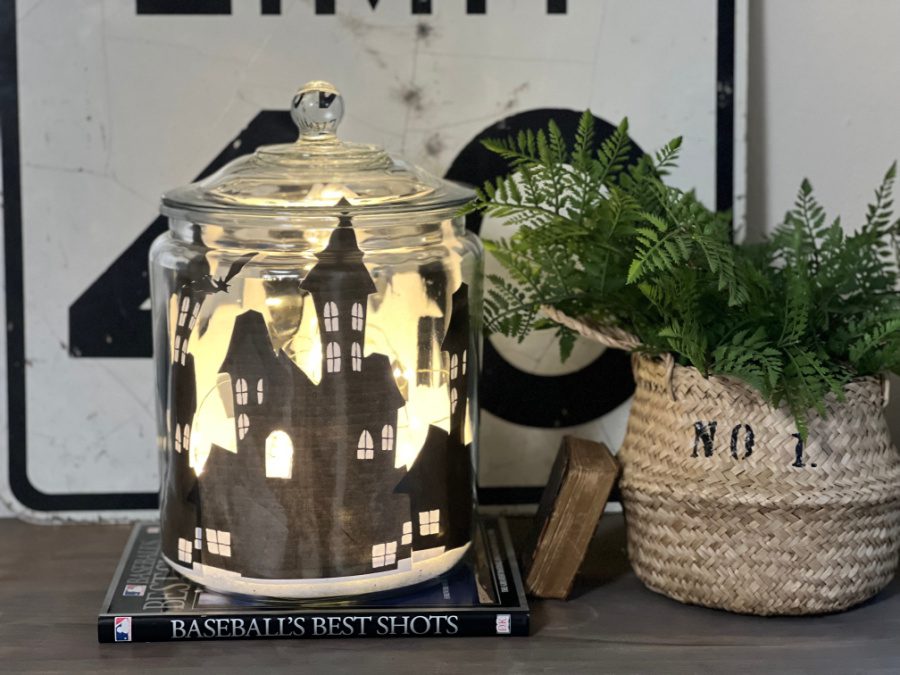 This imported 100% polyester pillow cover in stylish black measures 12×20 inches, tailored for a 12×20 inch insert. It features a soft striped corduroy texture and an invisible zipper closure for easy insertion and a sleek look. Cleaning is easy with machine washing in cold water and low heat tumble drying. Elevate your space effortlessly with this chic and comfortable cover.
This is the exact cover I used to make my simple DIY Halloween ghost pillow!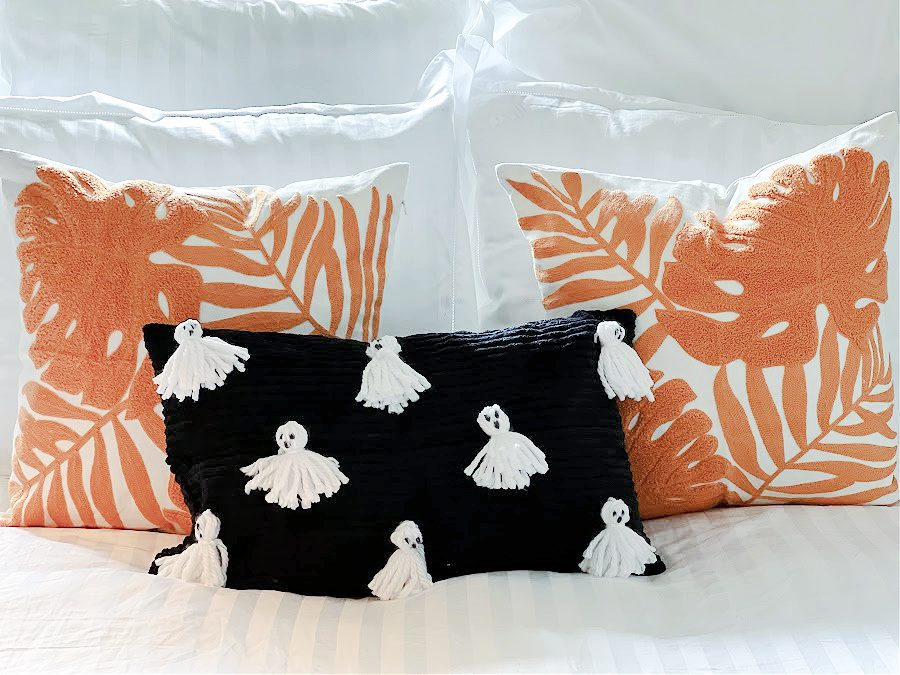 Discover the Halloween magic of 3D changing portraits that reveal hidden secrets as you view them from different angles. Ideal for Halloween parties and home decor, these eerie portraits come in various sizes, resist water and oil, and can be hung on walls or placed on tables. Surprise your friends with spooky gifts that add a mysterious and festive touch.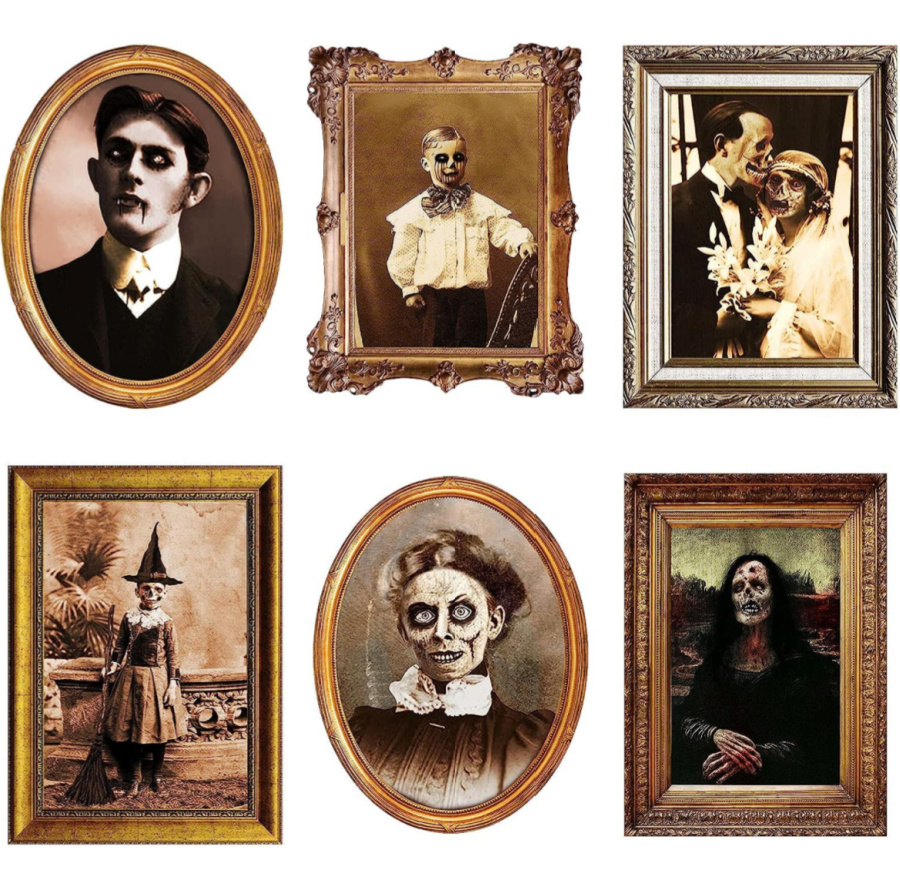 This package includes 12 black flameless taper candles (11 inches tall), a remote control, and comes in a box. Crafted to mimic real candles, they offer various modes, timers, and brightness settings with a 16-foot remote range. Safe and stylish, they come in four colors and last over 150 hours with 2 AAA batteries per candle.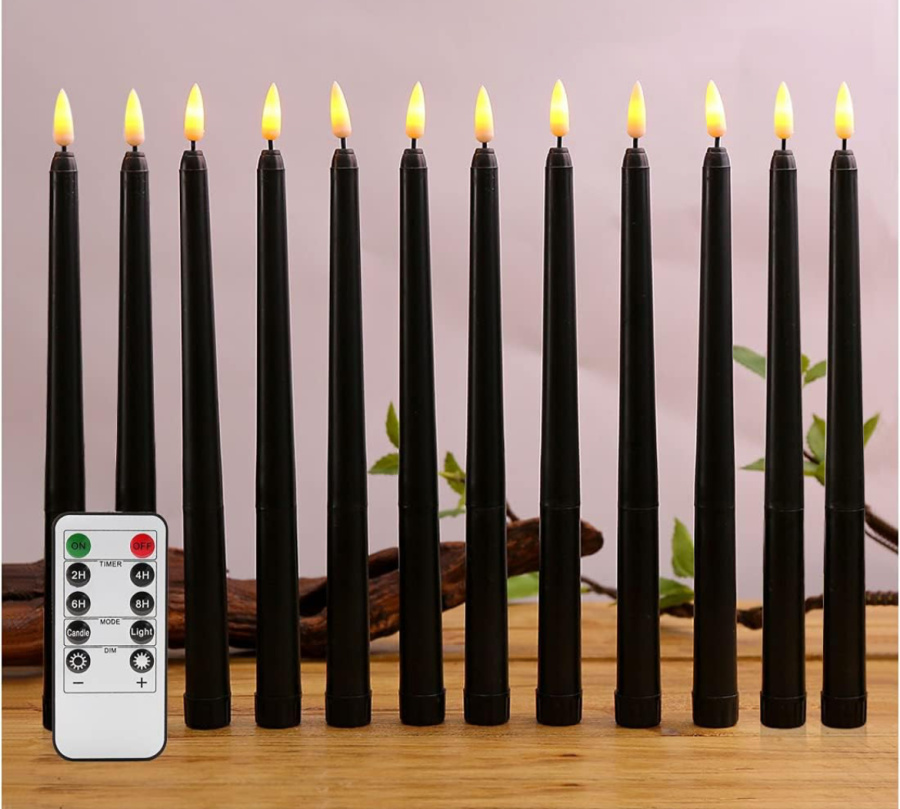 This versatile artificial pampas grass wreath is perfect for Halloween and we have it on our front door this year! ( I also have the same wreath in the natural color as well) It's customizable, can be used as wall or table decor, and comes with a hanging hook. The package includes one black pampas wreath, about 26-27.5 inches in diameter, made from premium silk with 108 pampas stems for a fluffy look. Enhance its fluffiness over time and tease out the plume for a larger appearance, instantly elevating your decor.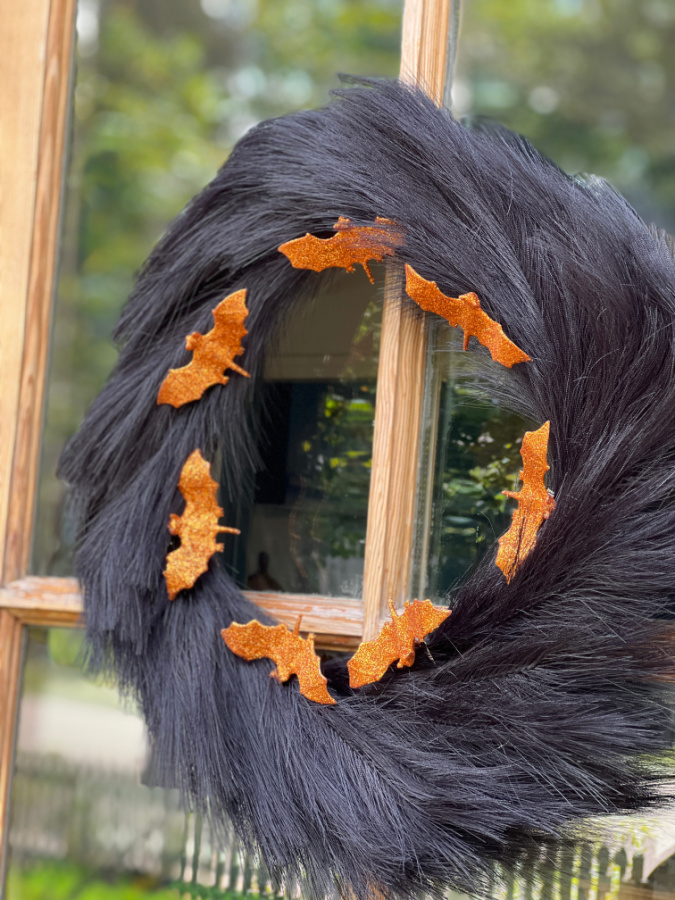 This set features five artificial Gold Dollar Eucalyptus stems with around 32 leaves each, crafted from quality silk with bendable iron wire stems. Standing at approximately 14 inches, they offer realism and flexibility for various DIY projects like bouquets, table arrangements, garlands, centerpieces, and wreaths.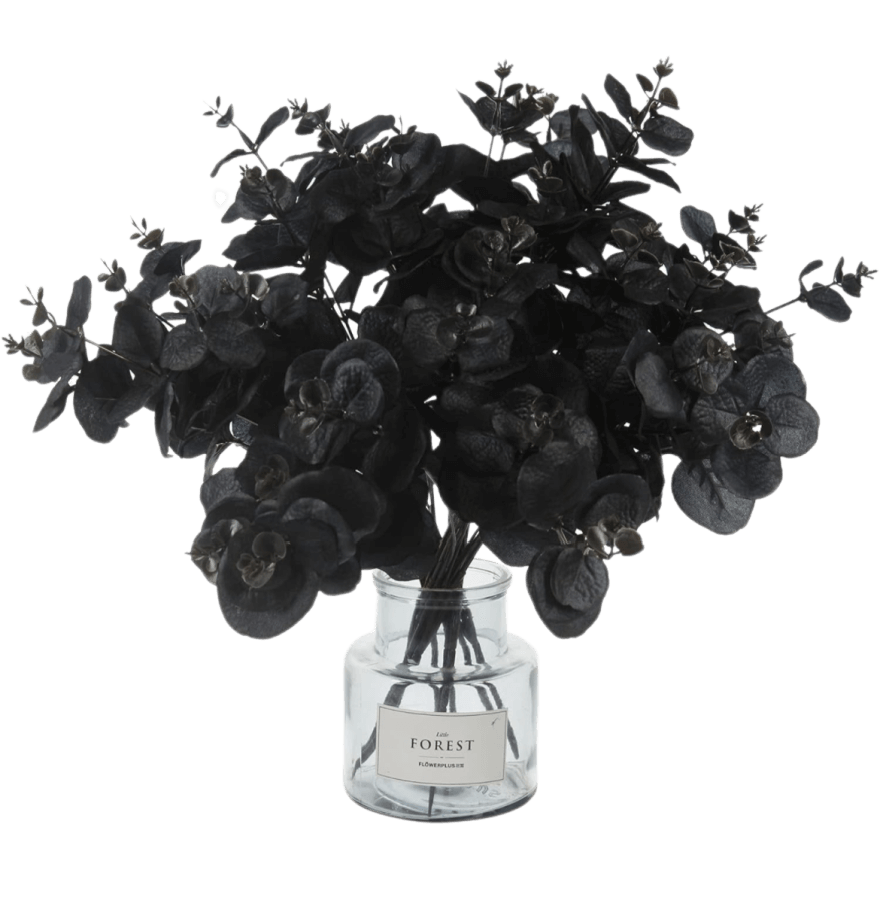 These durable waterproof outdoor candles come in a set of 12 with two remote controls and a manual. Powered by 2 AA batteries each (not included), they can be turned off at the bottom to save power. The remotes have a timer function for automatic daily use, offering 2, 4, 6, or 8 hours of warm and romantic flameless lighting for various occasions like birthdays, Halloween, parties, and weddings.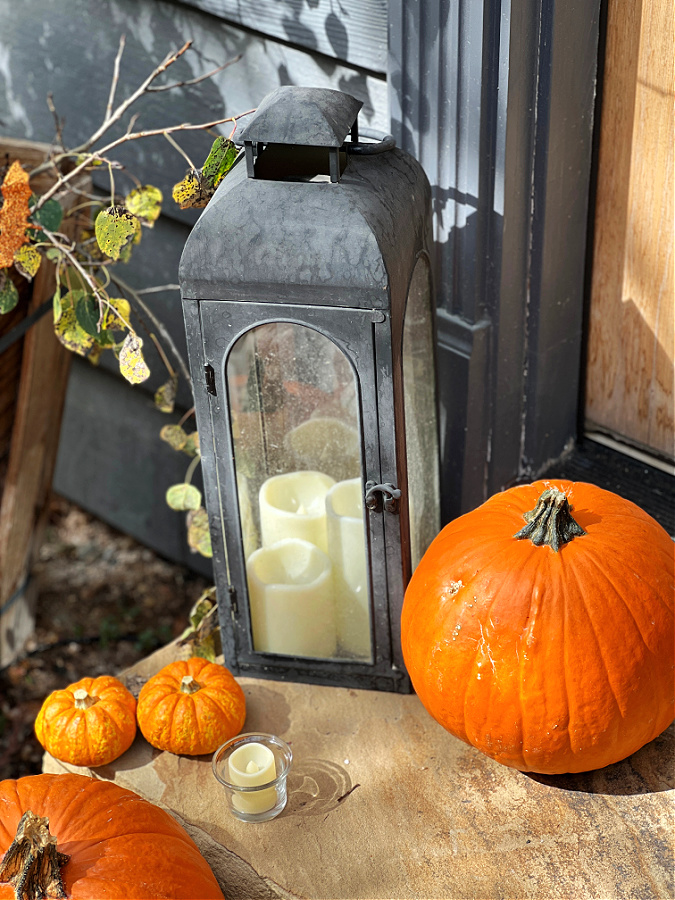 Mine survived our crazy Colorado weather last year and are back for round two on our Halloween porch. The timer function is my favorite so I never have to remember to turn them on in the evening. They are beautiful lit up at night! Also, please disregard my dirty lanterns. Ha!
Dazzle Bright fairy lights feature 60 LED bulbs, covering 20 feet with 3.7-inch bulb spacing. They run on 3 AA batteries, offering long-lasting brightness. Waterproof for outdoor use, the flexible copper wire allows DIY shaping, making it ideal for homes, gardens, and more. Have these and LOVE them!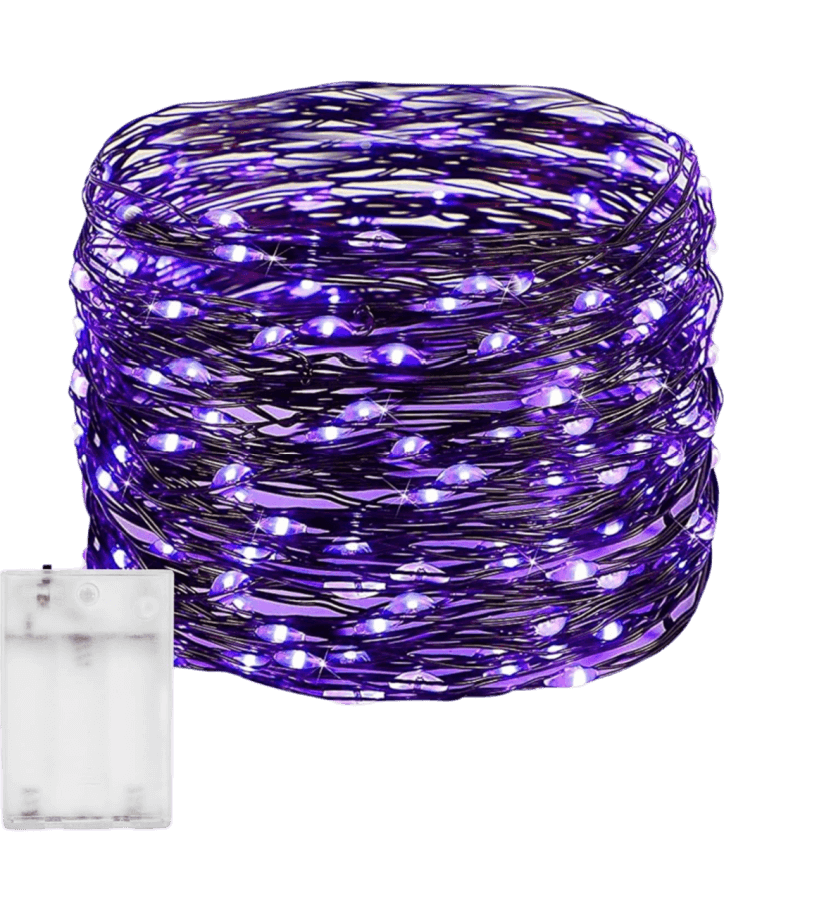 This enchanting set of floating candles includes 12 candles, 12 hooks, 12 thumbtacks, and 1 remote control. Each candle arrives pre-attached with a string for easy hanging using hooks or thumbtacks. Enjoy lifelike flickering flames reminiscent of traditional candles, powered by 2 AA batteries each (not included) for long-lasting illumination, capturing the magic in the air.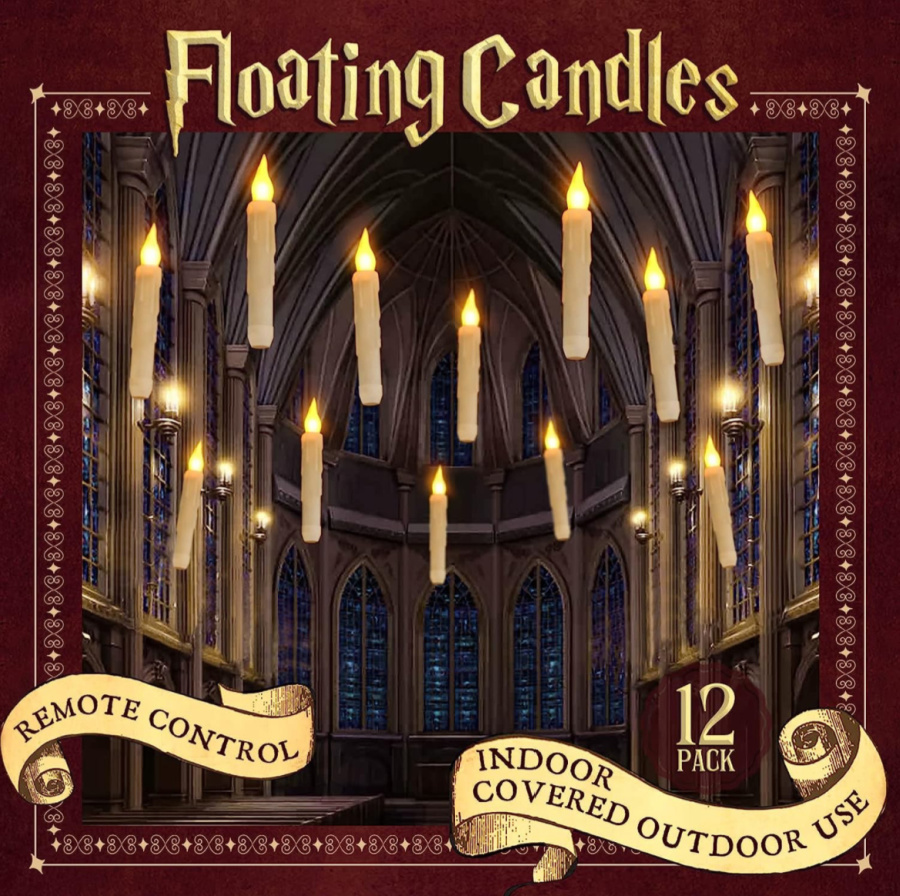 These Black Flickering Flameless Candles offer a flame-free experience, making them ideal for families with pets or young children. They enhance various occasions, from Halloween decor to birthdays, Christmas, and more. These candles create a tranquil atmosphere, ensuring peace of mind during evening gatherings.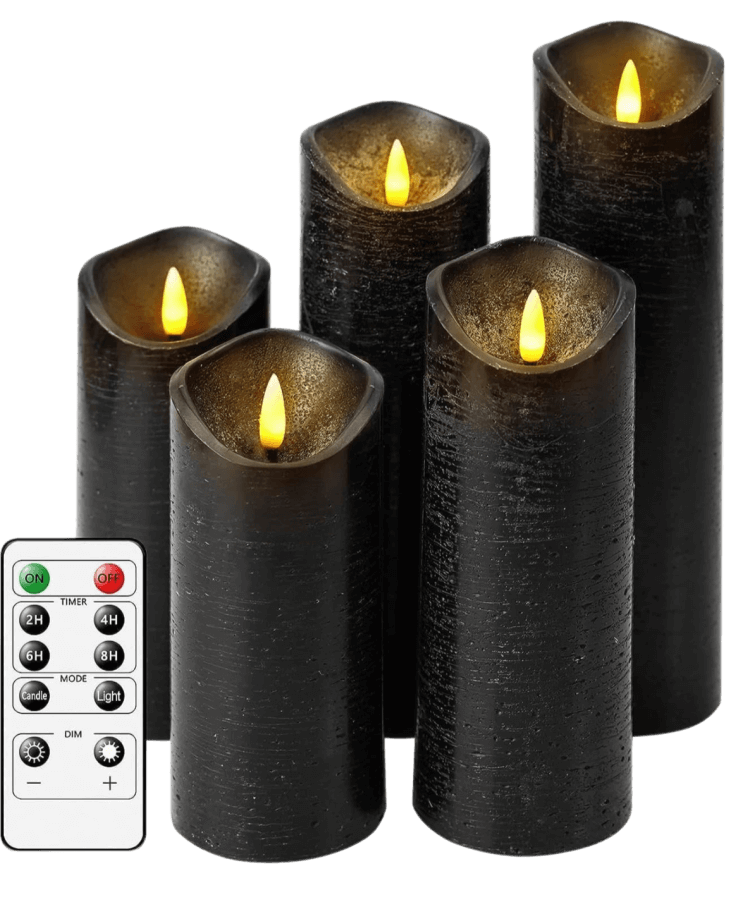 Aren't these skeleton pillow covers so fun? This 18×18-inch product, crafted from high-quality thickened linen fabric, offers comfort without odors. It features high-definition printing, an invisible zipper, and suits various home settings. For maintenance, gently machine wash with water below 30℃ and use low-temperature drying, avoiding ironing or dry cleaning.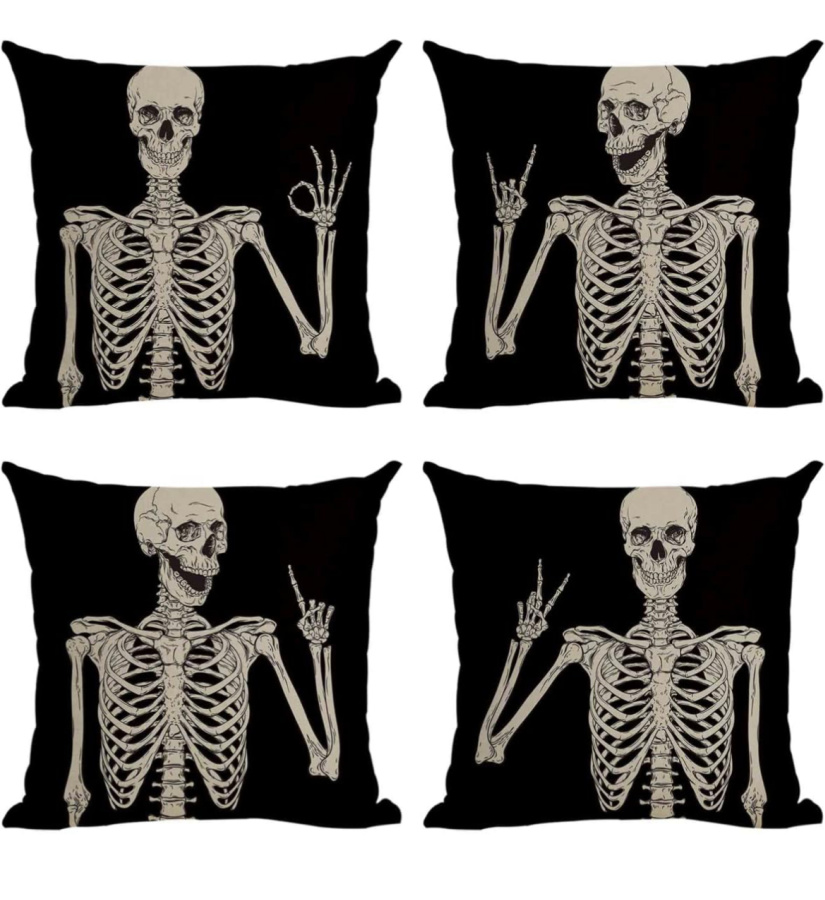 This brand of vintage inspired papers is one of my favorites! I love their price point and enjoy switching them out seasonally. My mom just got this exact poster and is so sweet to let me borrow it! I love the vintage vibe it offer and the price point can't be beat.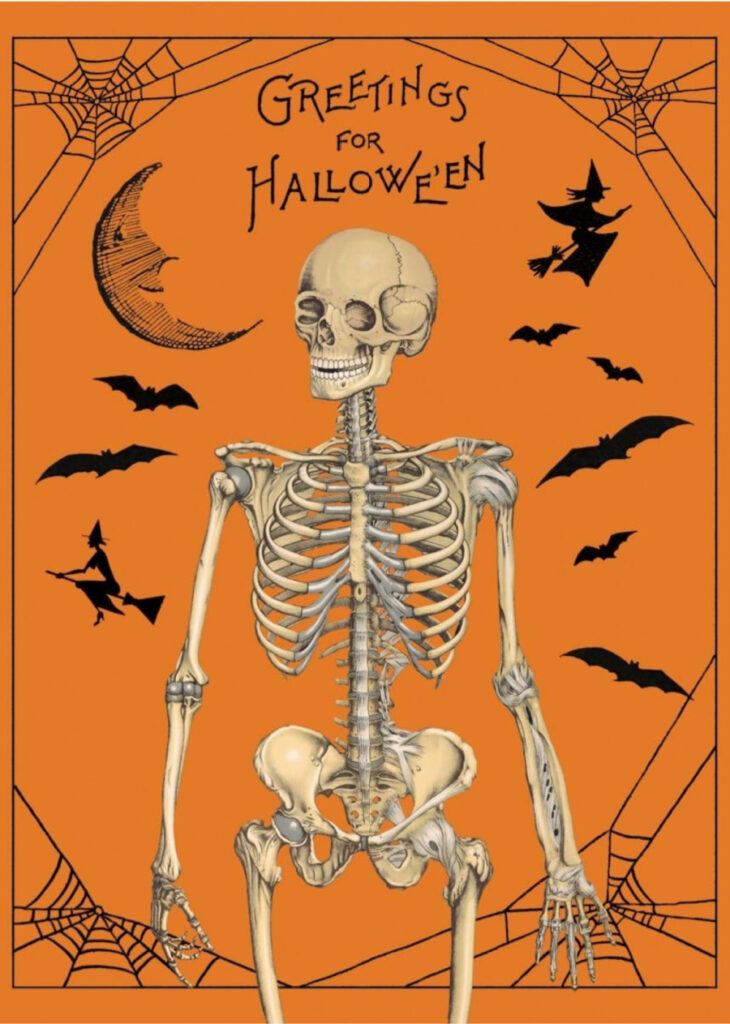 Shop Aesthetic Halloween Decor From Amazon

You'll Love This Spectacularly Spooky Decor!
This Halloween season, transform your living space into a bewitching wonderland with our handpicked selection of decor items available on Amazon!
From ghostly wall hangings to charming flickering candles, these items cater to a range of tastes. Create the perfect ambiance for your Halloween party, or simply indulge in the spooky aesthetic to enjoy the season to the fullest.
With convenient delivery and a variety of options, you can easily find the perfect pieces to turn your space into a Halloween haven. Don't miss out on these enchanting finds; shop now and get ready to celebrate Halloween in style!
More Halloween Posts
Check out this post full of HAlloween Wreath inspiration!
This simple pillow is transformed into a Halloween pillow with some darling yarn ghosts!
Make your own haunted house in a jar in a few short minutes!
I'd love to have you hang out with me some more! Feel free to follow along with me on any of the platforms linked below.
LTK | Facebook | Instagram | Pinterest | Amazon
xoxo,
Kelly
Did you like this post? PIN it for later!