Easy Summer Styling Home Tour
I am SO excited that you are here for the Easy Summer Styling Home Tour!  I have joined up with some very creative and talented bloggers to show you how we decorated our homes for the summer; so make sure to stop by and visit them at the bottom of this post.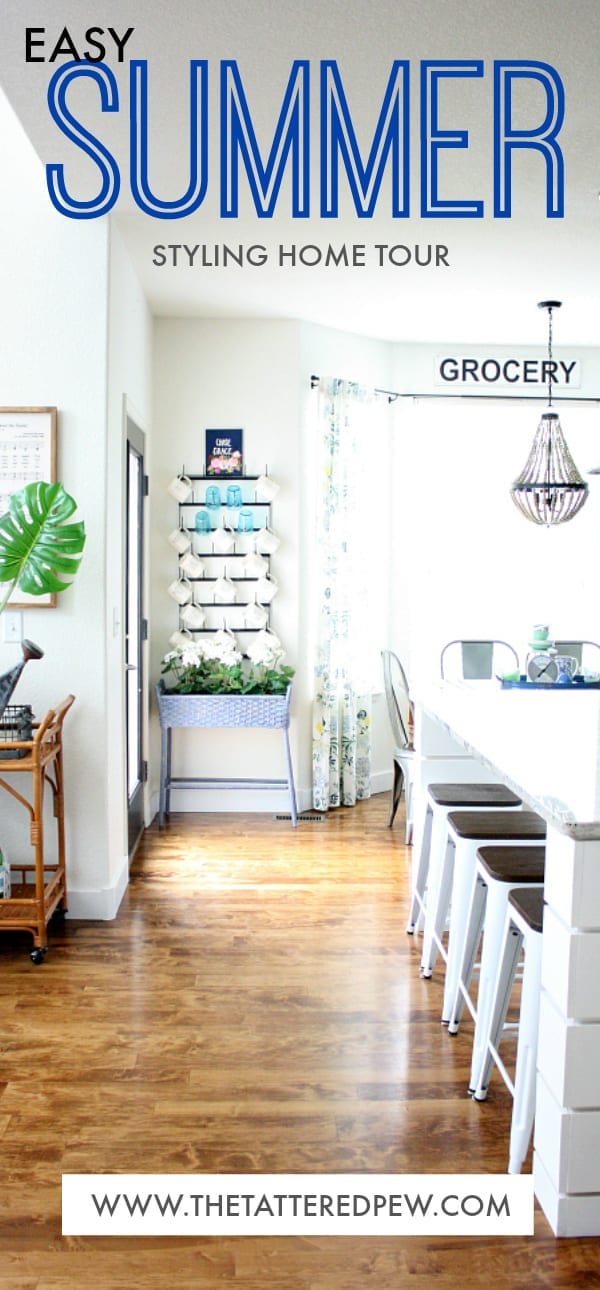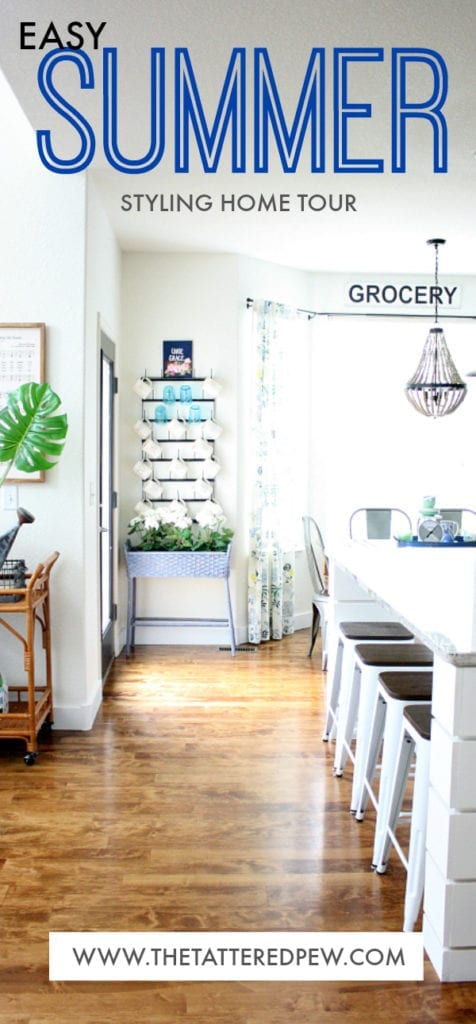 *This post contains affiliate links.
Our Home
Welcome! Come on in and take a peek at our home. I like to think of my summer style as Coastal in Colorado.  Oh, and don't forget to shut the front door!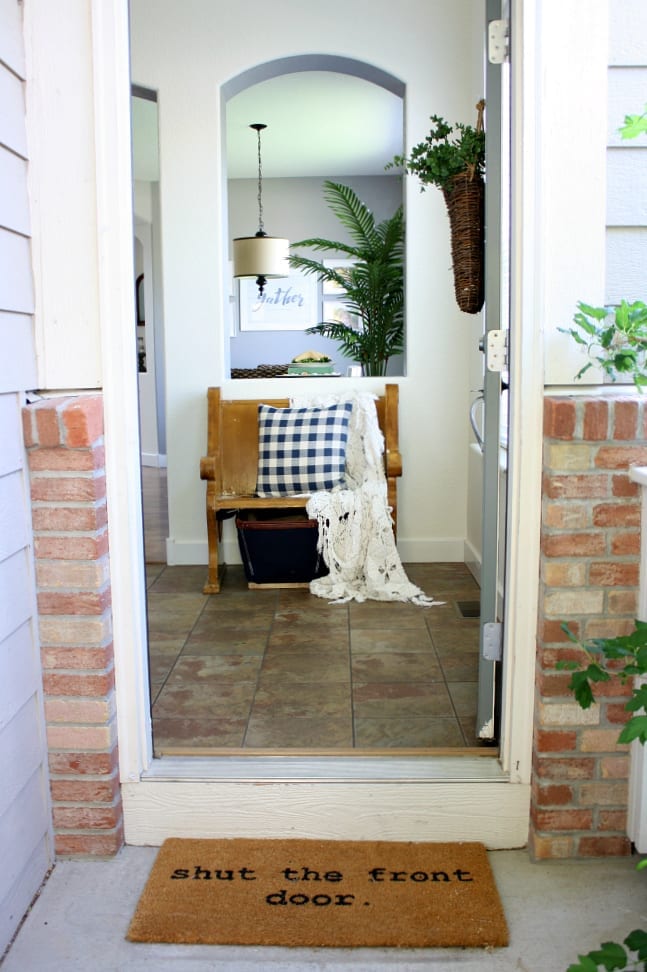 If you are visiting here for the first time, my name is Kelly and I live in beautiful Colorado. I'm a wife, mom, step-mom and kindergarten teacher. I pride myself on being able to update and upgrade our builder grade house into a Pinterest worthy home all on a tight budget!  But honestly, I'm just a hot mess mama who needs Jesus and coffee every morning!
I hope I can offer you some inspiration and a few laughs along the way!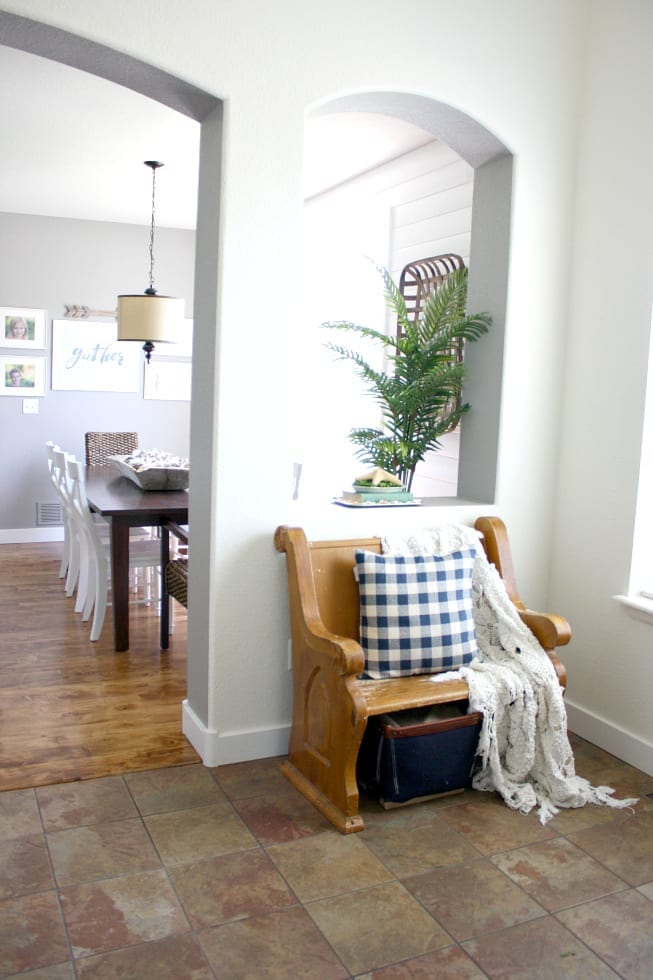 First, let's just stop and stare at this precious little pew right here.
Our entry is one of my favorite spots because it showcases my very first pew! This sweet little thing is the perfect size and the first thing you see when you walk in to our home.  I love decorating her for all of the seasons.  The story of the pew is a great one and will give you all the juicy details on how we found her and why I started this blog!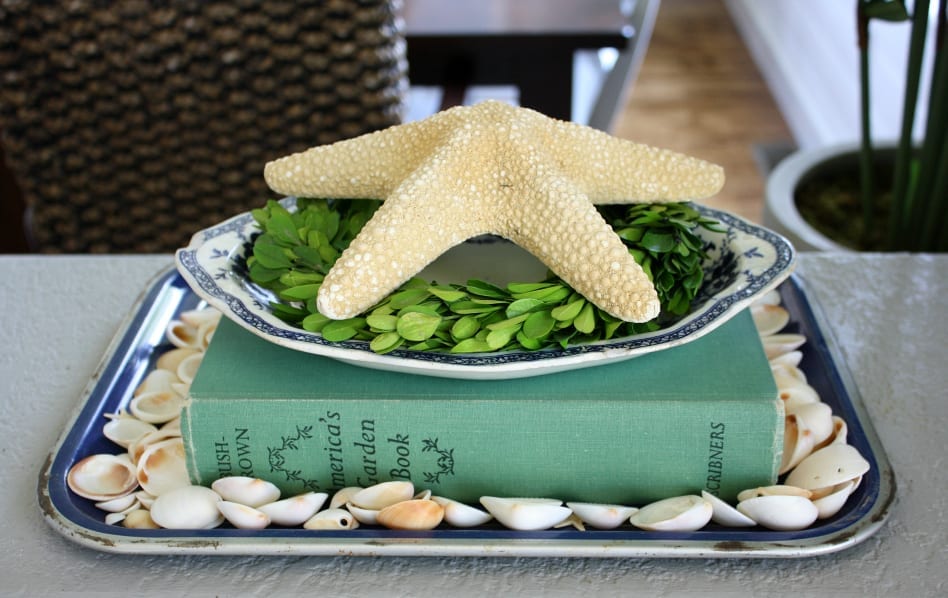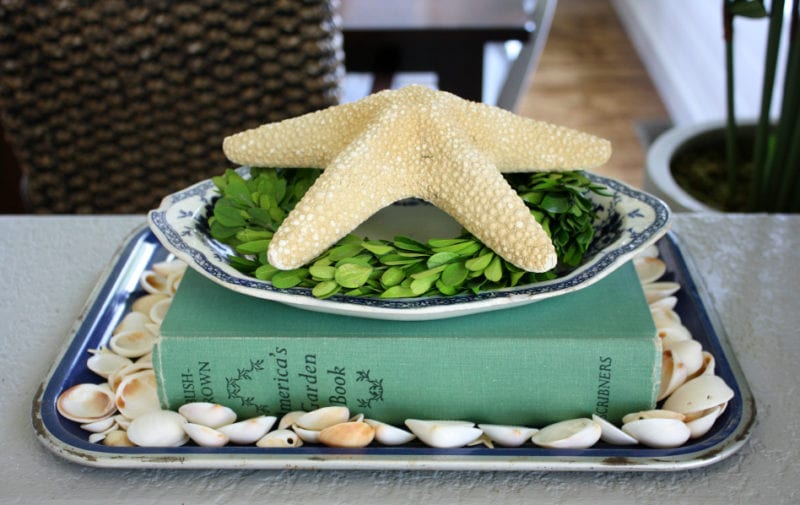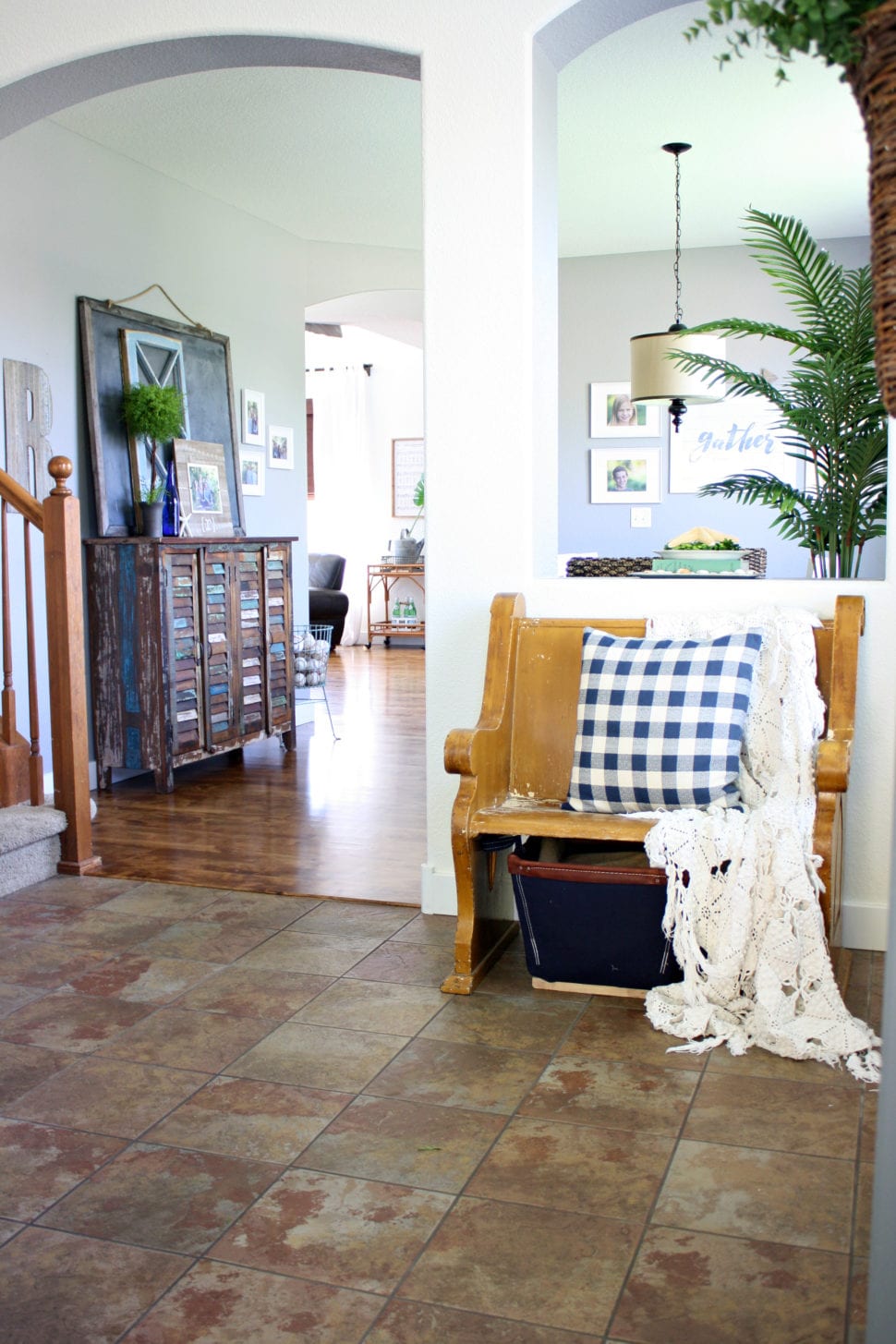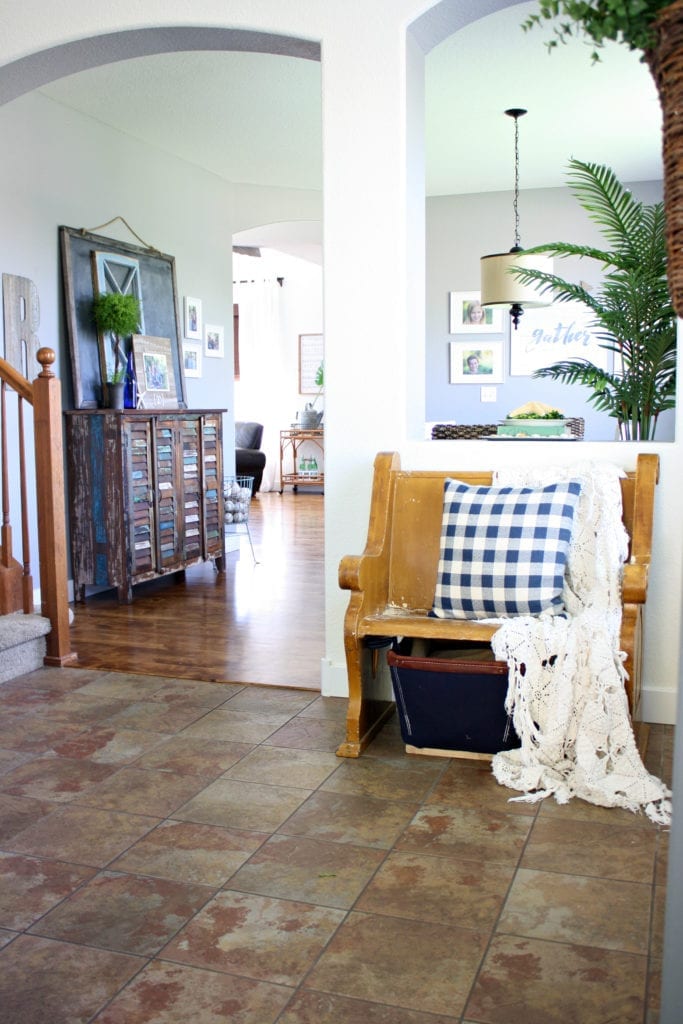 I'm sure you noticed, but this summer, unlike last summer's home tour, I am all about bringing in coastal touches.  My sweet mom let me borrow a "few" items from her home and the rest I already had. I love shopping my home as well as my mom and sister's homes because that is the only way to stay on budget when you have the "redecorating sickness" like I do! 🙂  Luckily they are willing to share!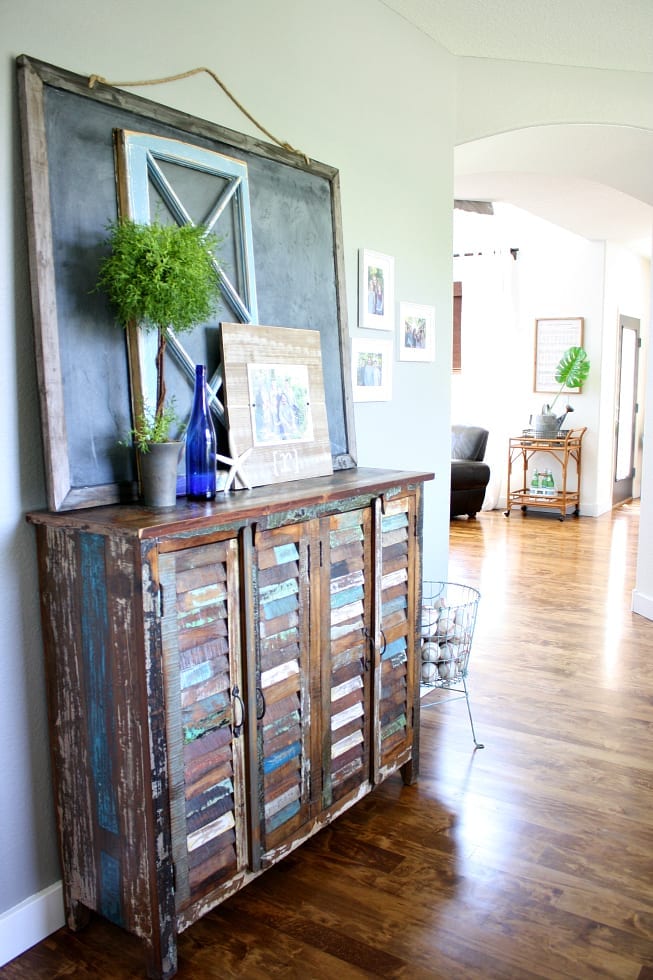 The Dining Room.
Come on in to our dining room, or the room that I like to lovingly refer to as, my heavenly shiplap room!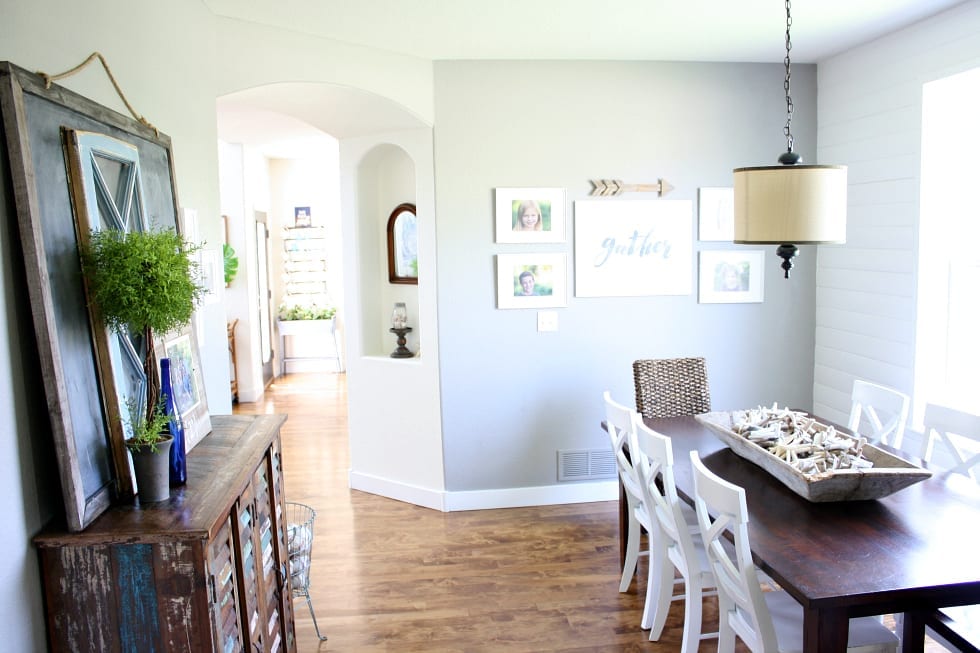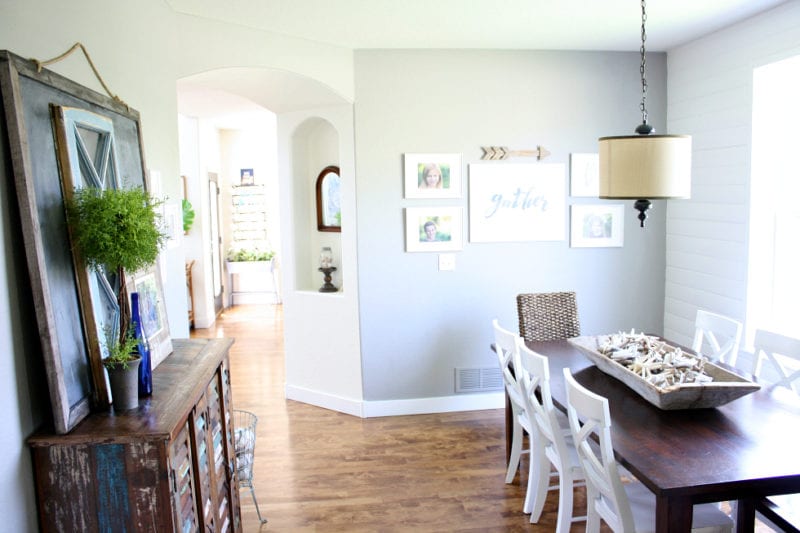 This vintage dough bowl full of driftwood and starfish was effortless but has quickly become one of my favorite summer decorations.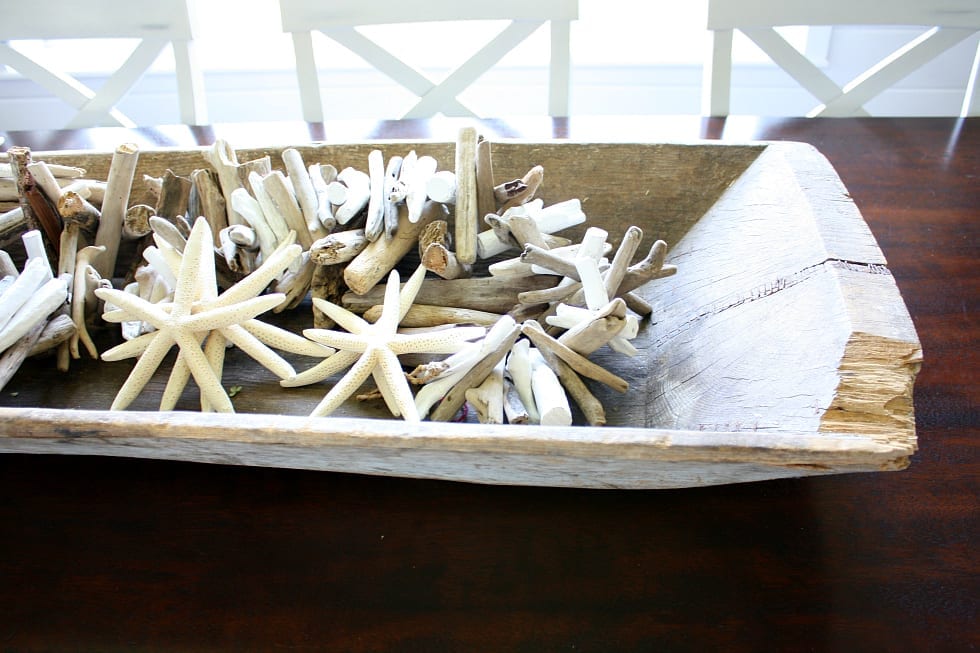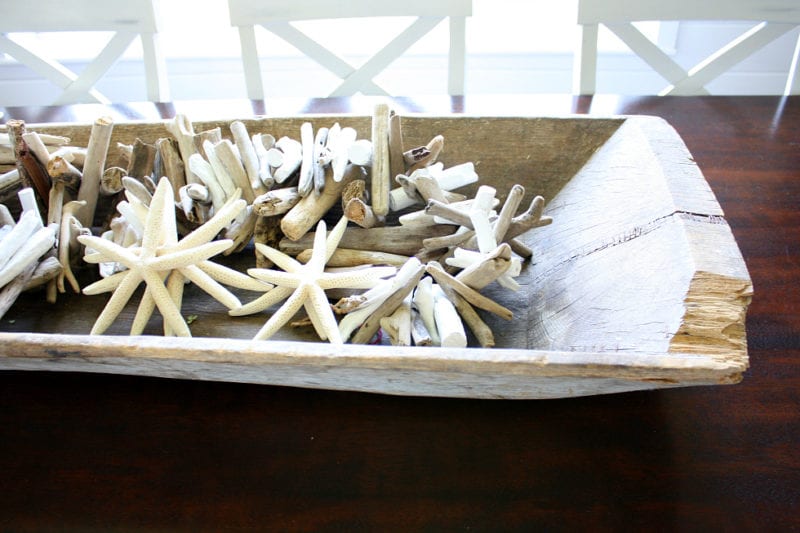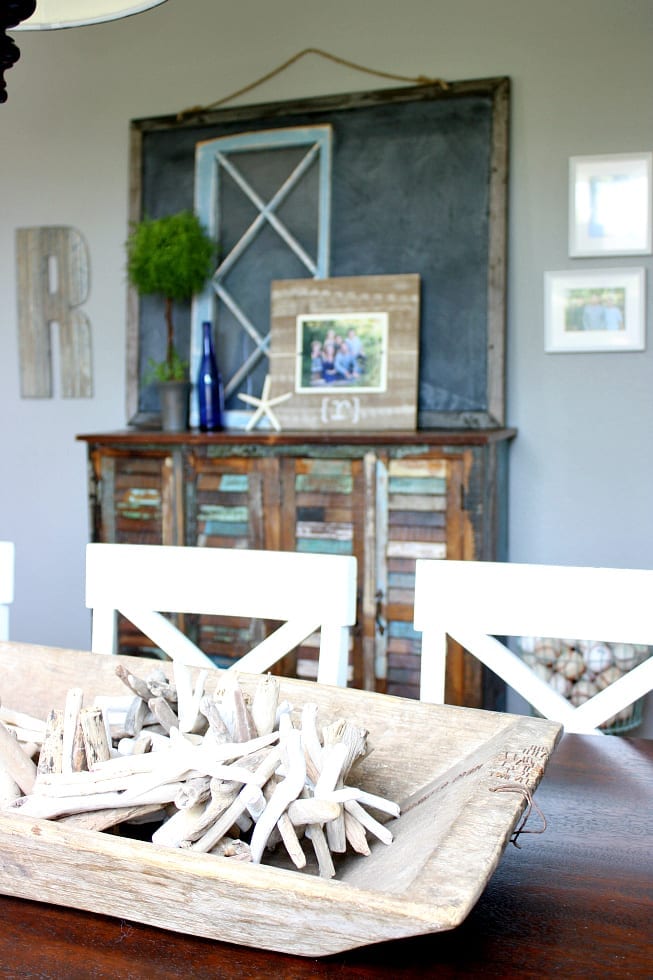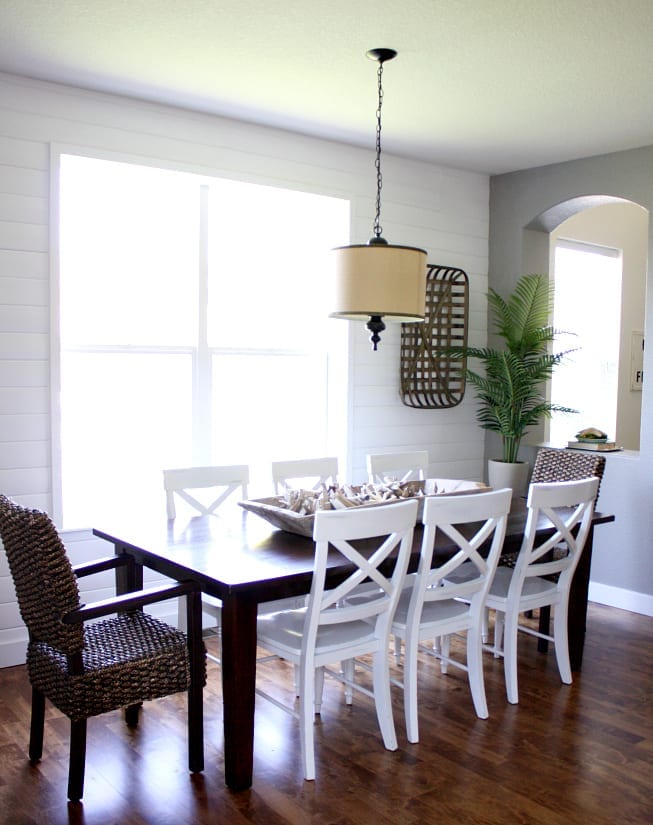 The tobacco basket hanging on my beloved shiplap was bought from my favorite local shop, Knapsack.  The best part is that I was able to use gift cards given to me by last year's kindergarten class to purchase it . My class knew how to spoil me!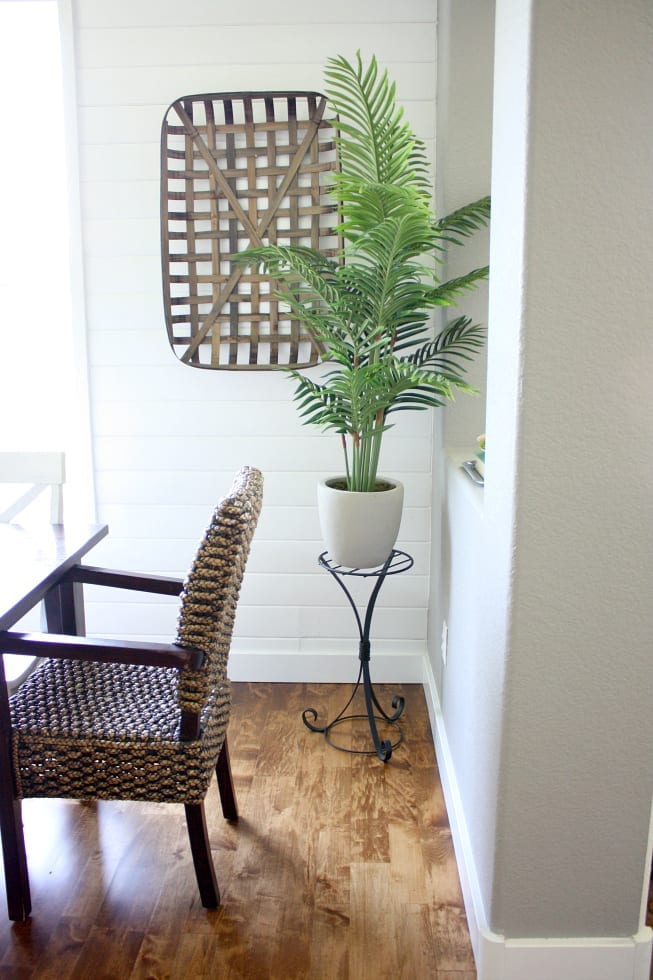 These rattan chairs were a Home Goods purchase from almost 10 years ago!  They give our dining room that coastal feel for sure.  That faux palm from Target (that I scored for $30) just might make an appearance in our master bedroom that I will be sharing on Wednesday! 🙂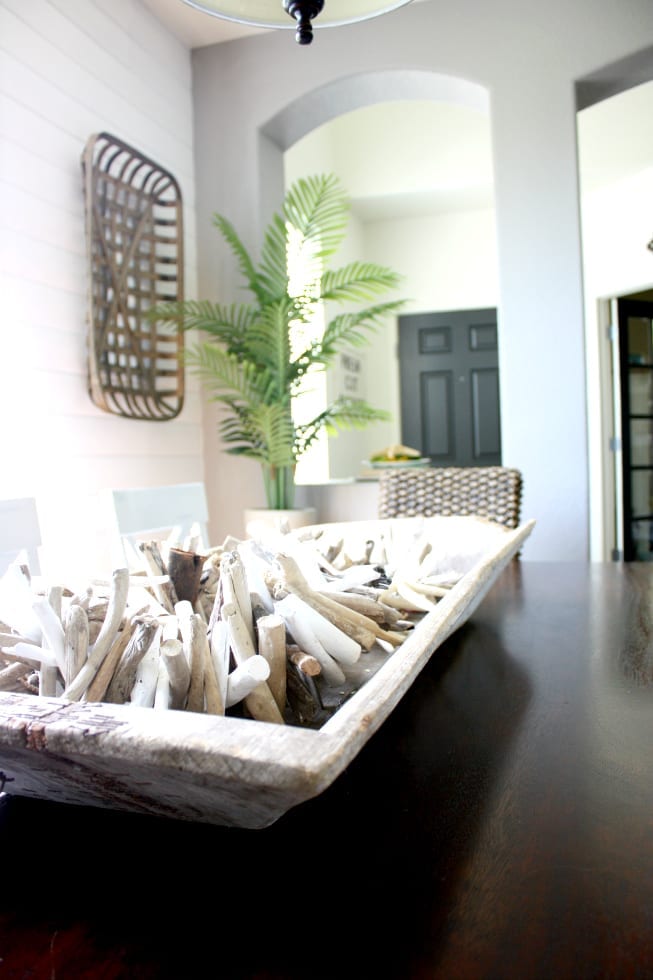 Do you see that black door peeking through? Just a few months ago we repainted our interior doors Tricorn Black  and our walls Albaster, both colors from Sherwin Williams.  You can see the incredible transformation HERE.  Hands down the best decision we ever made!
Well actually, we made some pretty good ones in the kitchen too! 🙂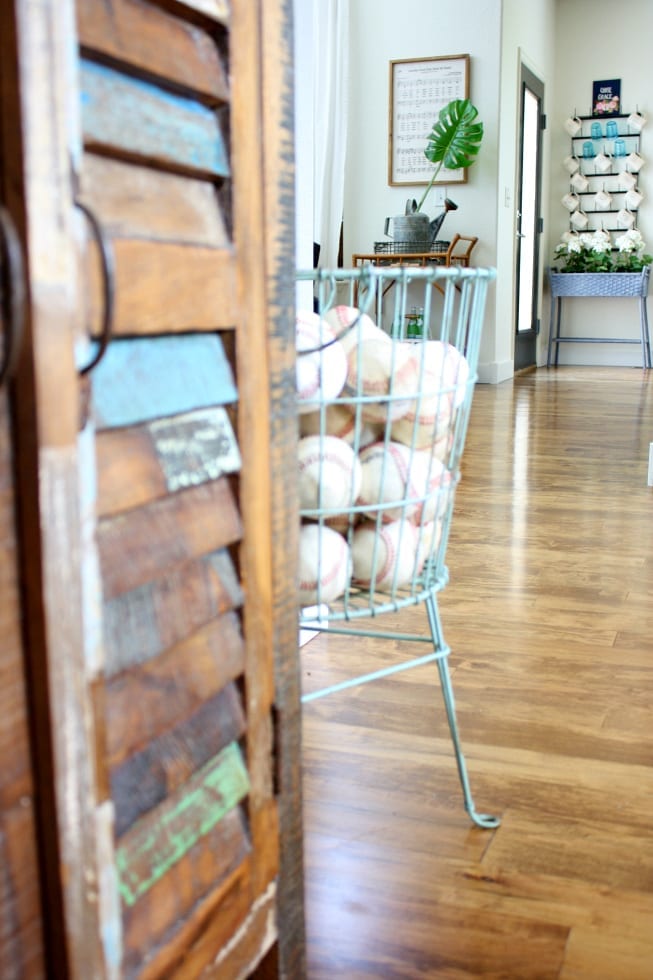 I had to show you this view as you walk to the back of our home where our kitchen is located. Mostly because I love this shot of our collection of baseballs .
One of my favorite decorating tips is to use what you love to decorate. Our family loves sports; especially baseball.  So needless to say we had a few laying around.  Don't they look so cute in this basket from Decor Steals?
The Kitchen.
The brightest spot in our home!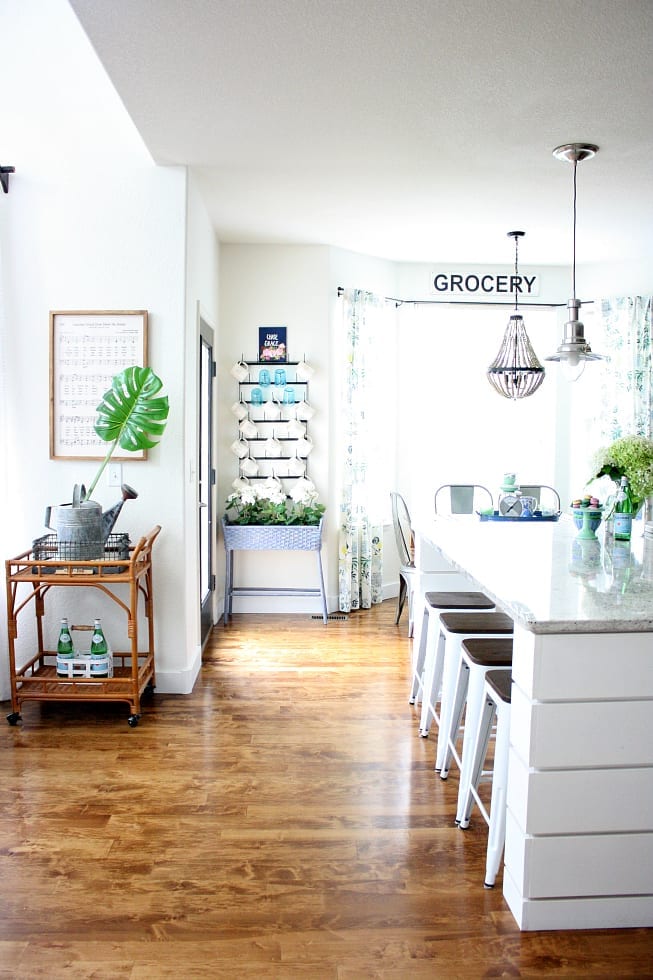 Here she is…our kitchen! My husband and I designed this space ourselves and we LOVE it! It is the gathering place for our family and friends.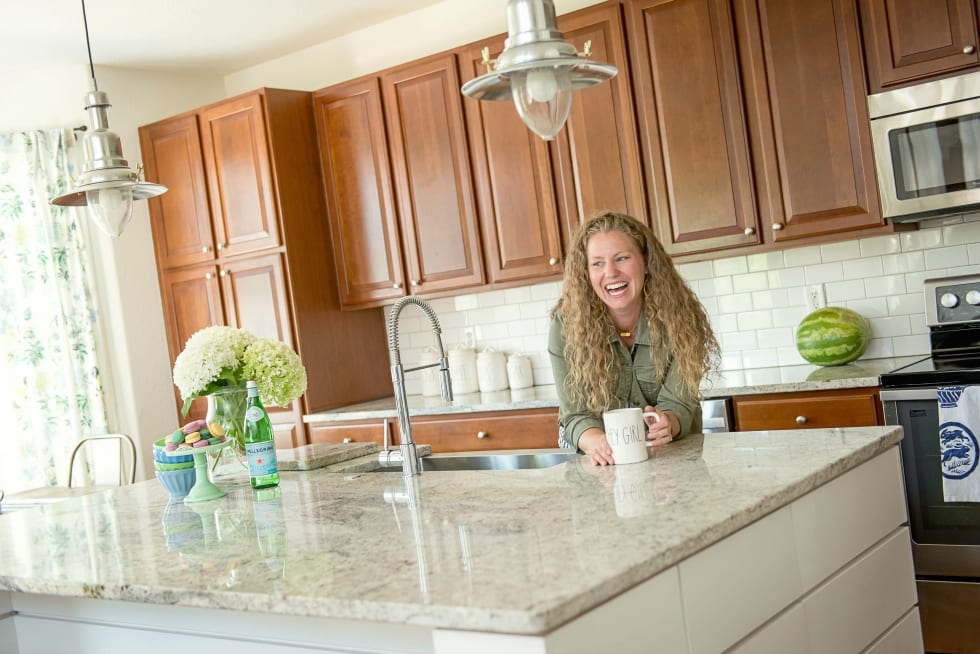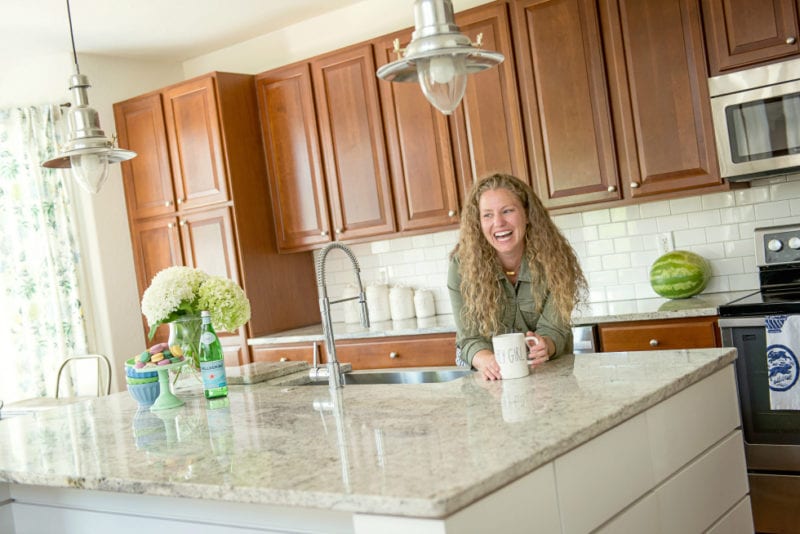 Oh, hey girl!  I thought it would be fun for you all to see ME in my happy place!  So my dear friend Thalyta over at Thalyta Swanson Photography came over and we had some fun taking photos. It felt weird for me to be in front of the camera for once and of course, I had to have one of my favorite Rae Dunn mugs with me in this picture!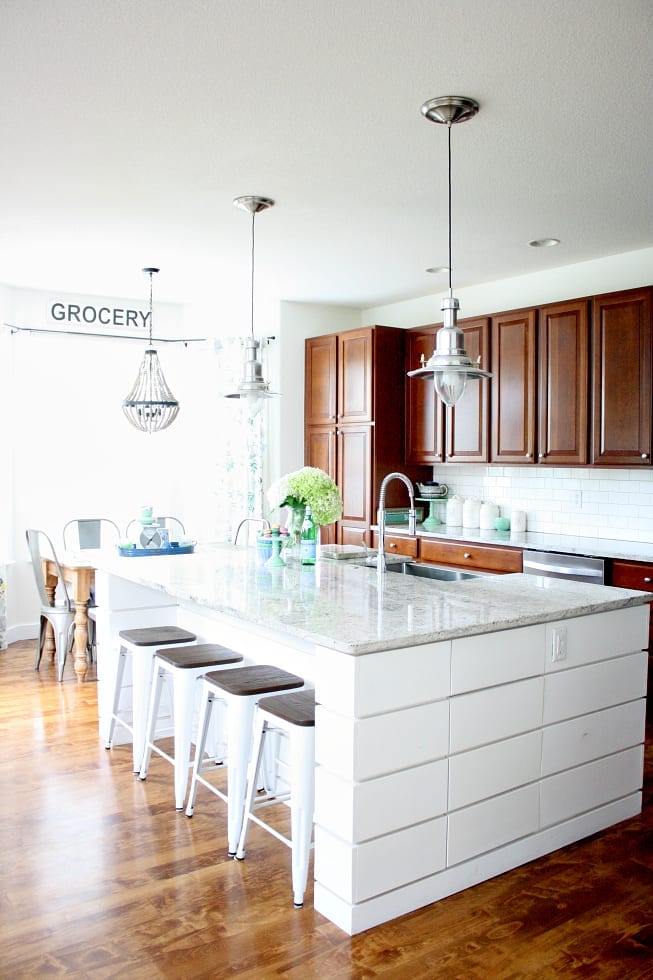 Over the past ten years we have made this space ours. The pendants over the island are from IKEA and the chandelier in the kitchen nook is from World Market.  I purchased the stools from Target and that amazing mug rack is from Decor Steals!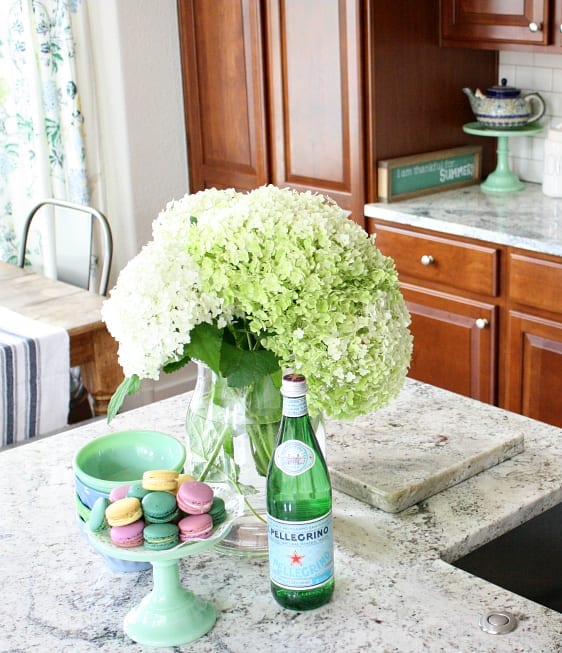 These Annabelle hydrangeas are blooming all over our neighborhood currently! I have three bushes myself, however these huge blooms were a part of a "flower heist".  I like to think of it as helping thin out the thousands of hydrangeas in the neighboring townhouses so that they come back even more full next summer! 😉 Can you blame me?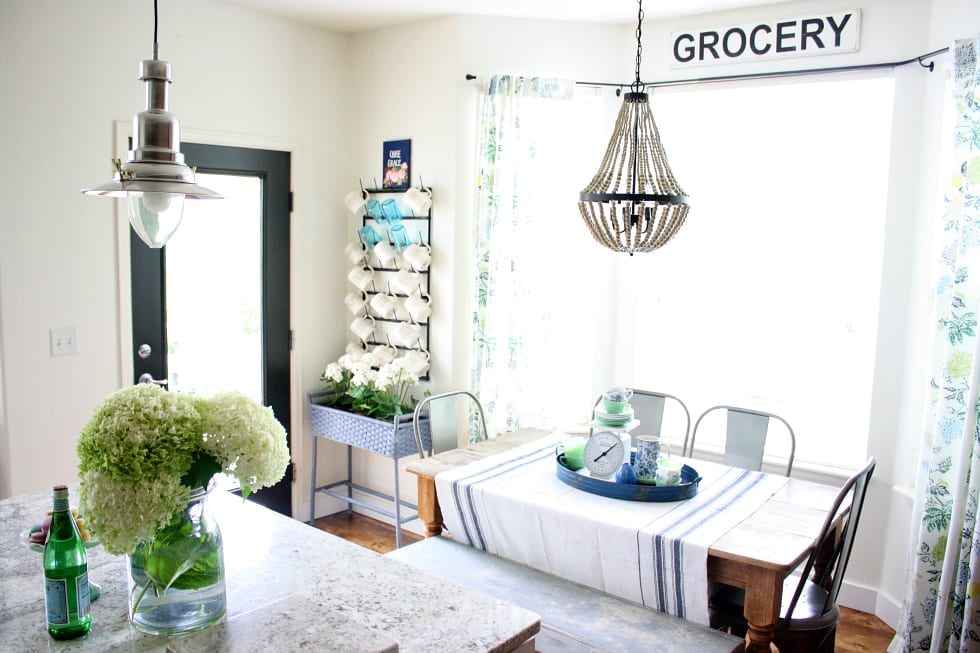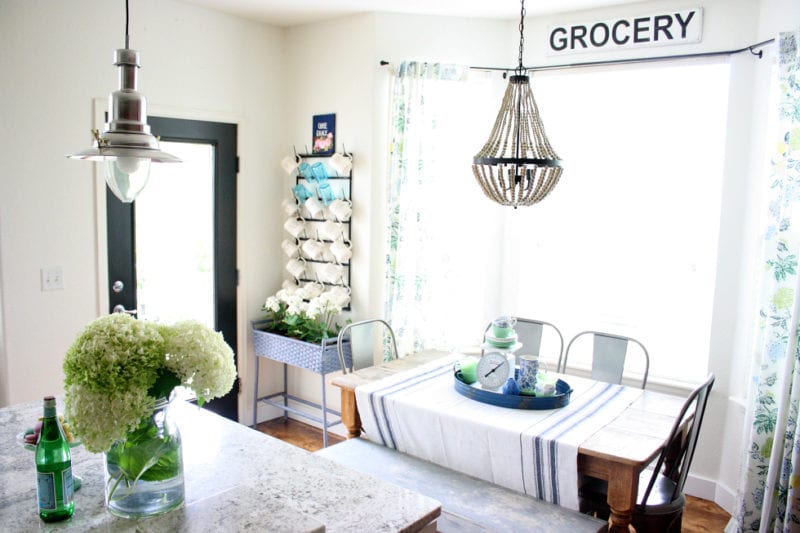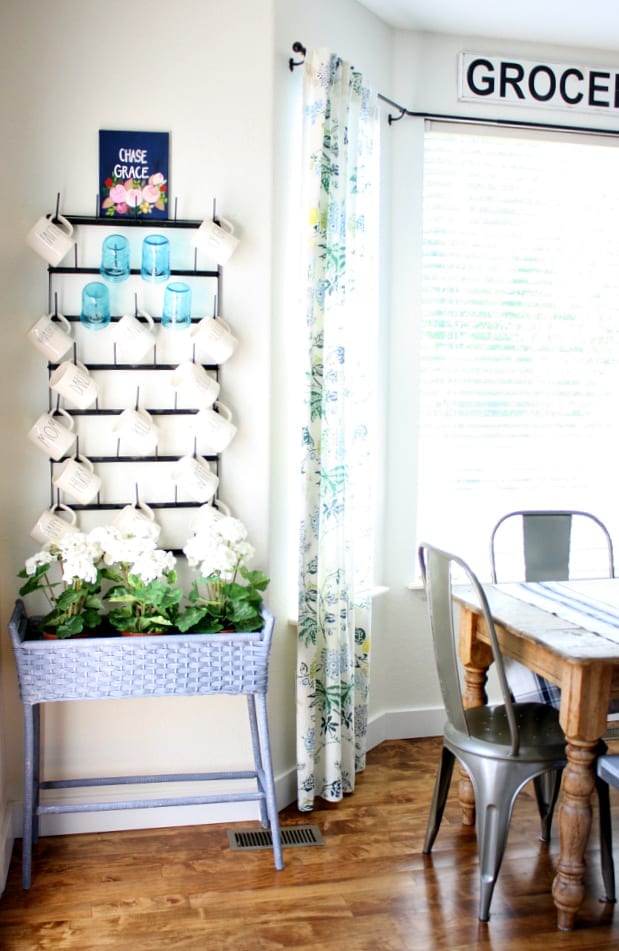 I love displaying all my Rae Dunn mugs!  Believe it or not I do use them and this is not even all of them!  I usually have luck (and so does my husband) finding these darling mugs at TJ Maxx, Home Goods and Marshalls. They hang above my FAVORITE faux white geraniums from JOANN!
A Peek into the Nook.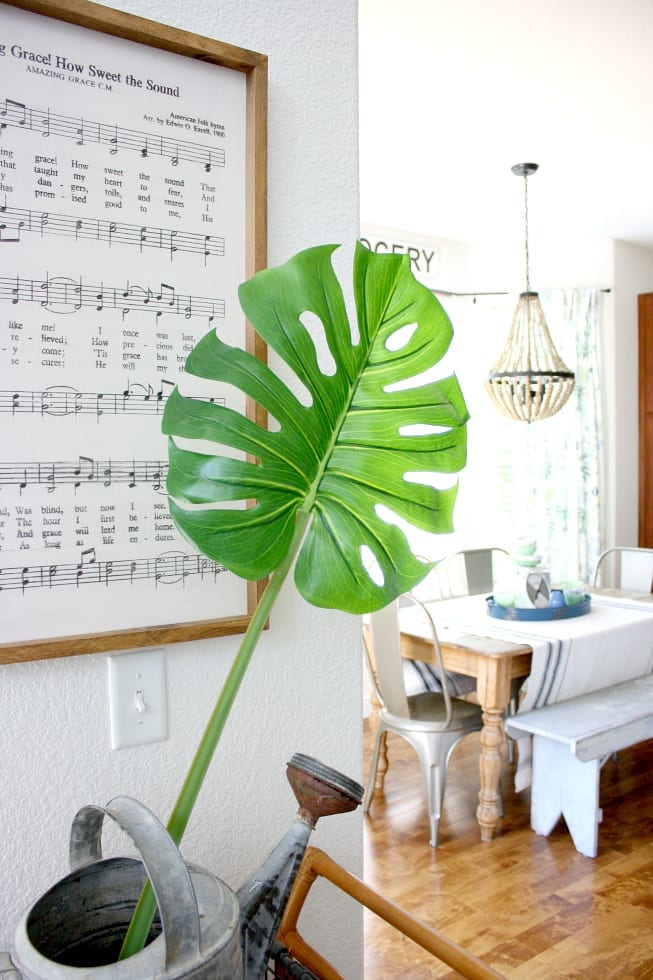 I love looking back into our kitchen nook at the farm table I scored for free from a friend who was moving and this palm frond from Pier One carries the green from our curtains into the family room.  The Amazing Grace wooden sheet music sign was made by my friend Vanessa over at Modern Vintage Home.  I love supporting small shops and I encourage you to check her out!
The Family Room.
Our family room is connected to our kitchen and I just love how it is all so open! If you haven't noticed I LOVE the color blue! I also enjoy greens and teals and I have weaved all of these colors through each of the rooms.  This color combo is my go to color scheme for summer.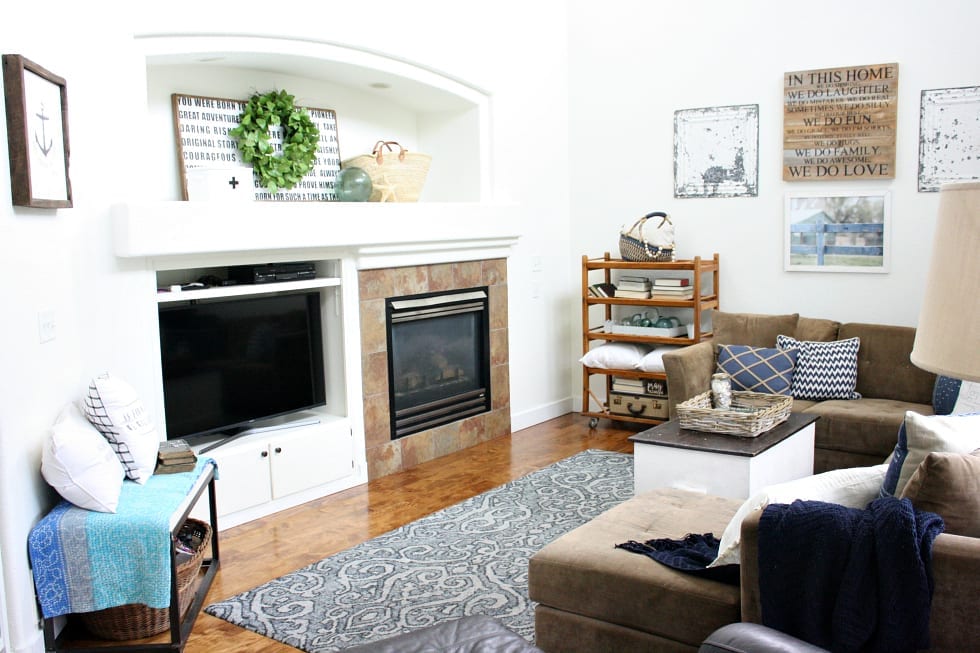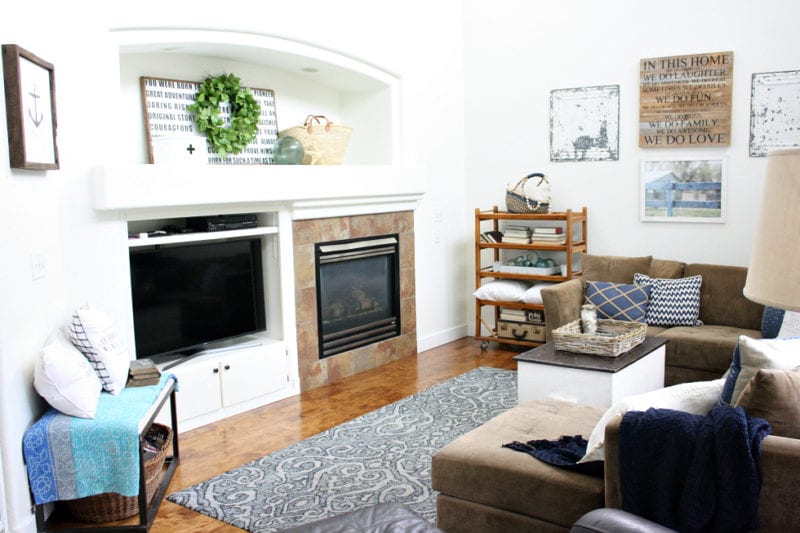 The darling basket you see in our alcove is actually my mom's and it is from Amazon.  Ok, the starfish and the floating glass ball are her's too!  She loves me!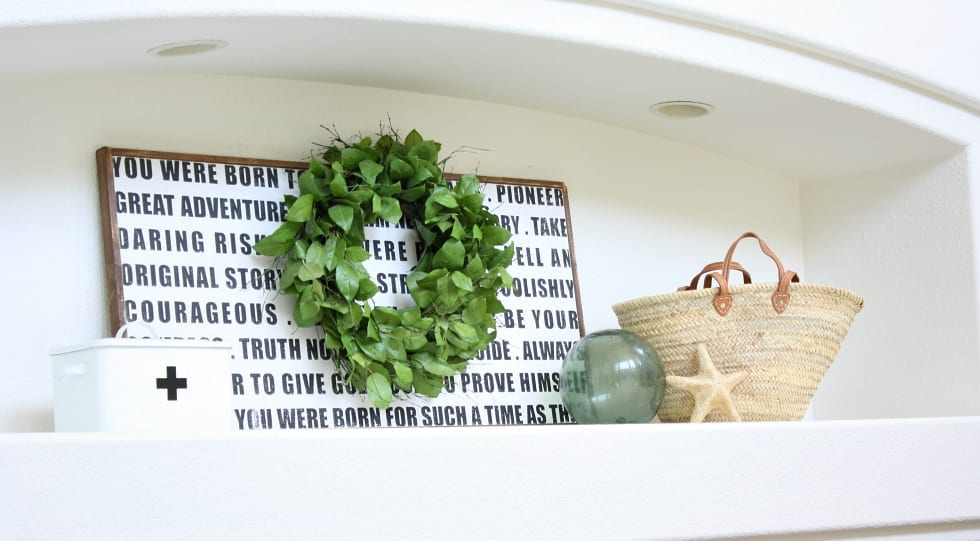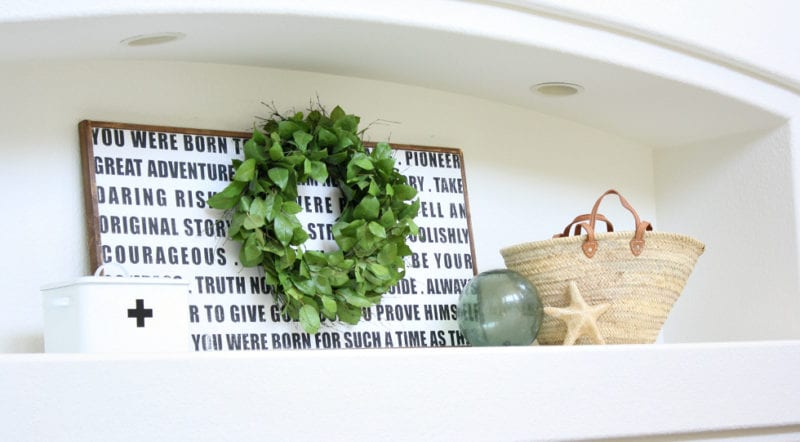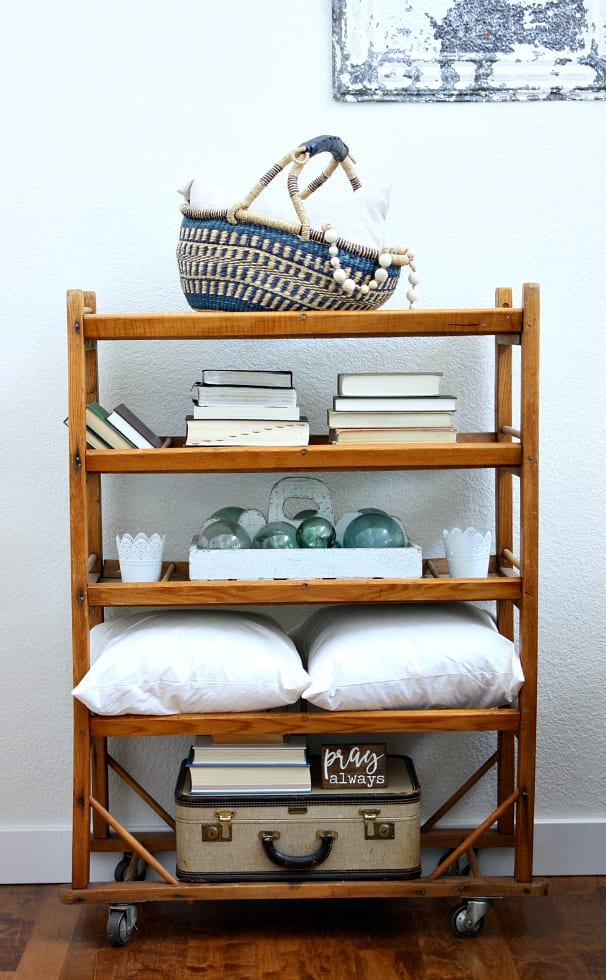 This amazing antique drying rack was a surprise gift from my husband and probably my second favorite thing to decorate next to my pew in our entry.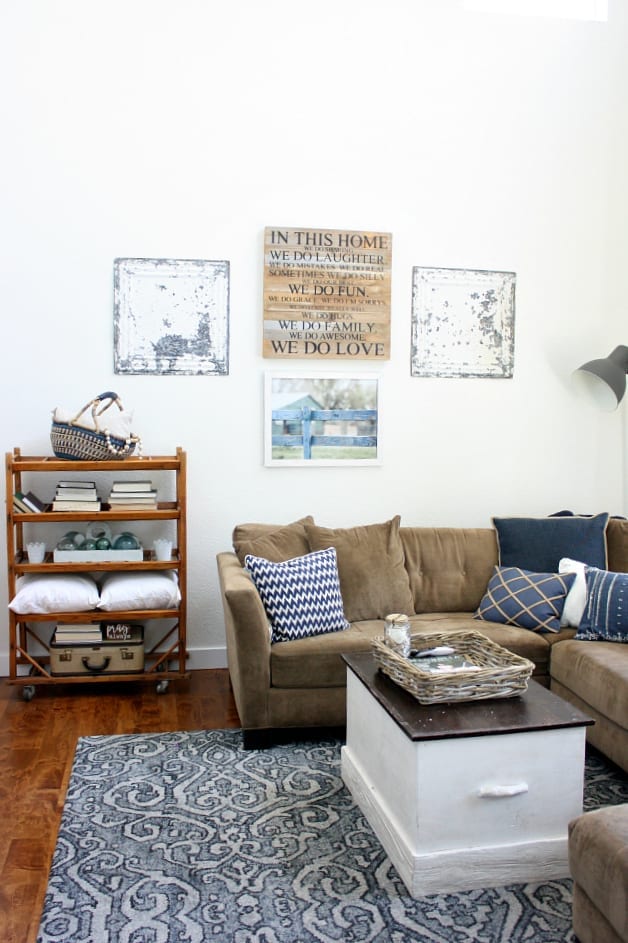 Loving the blues in this room currently!  This is our TV room and since we have 6 in our family we need this huge sectional!  That also means more room for pillows!
The fun basket on our coffee table was a Target find. The great blue fence print is from my friend Buddie who owns another small shop I connected with over on Instagram called, Southern Home Designs.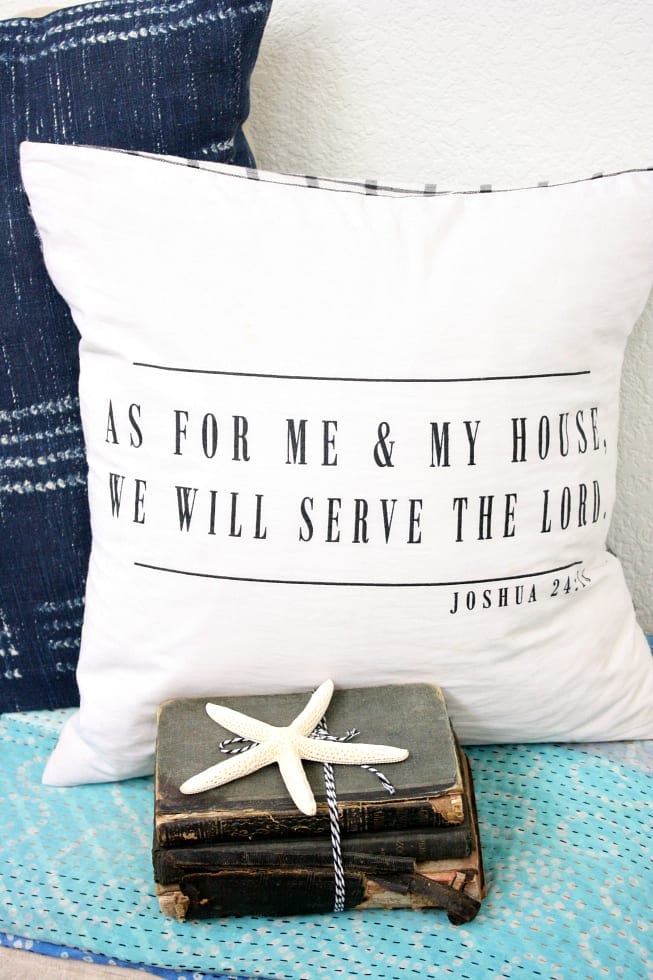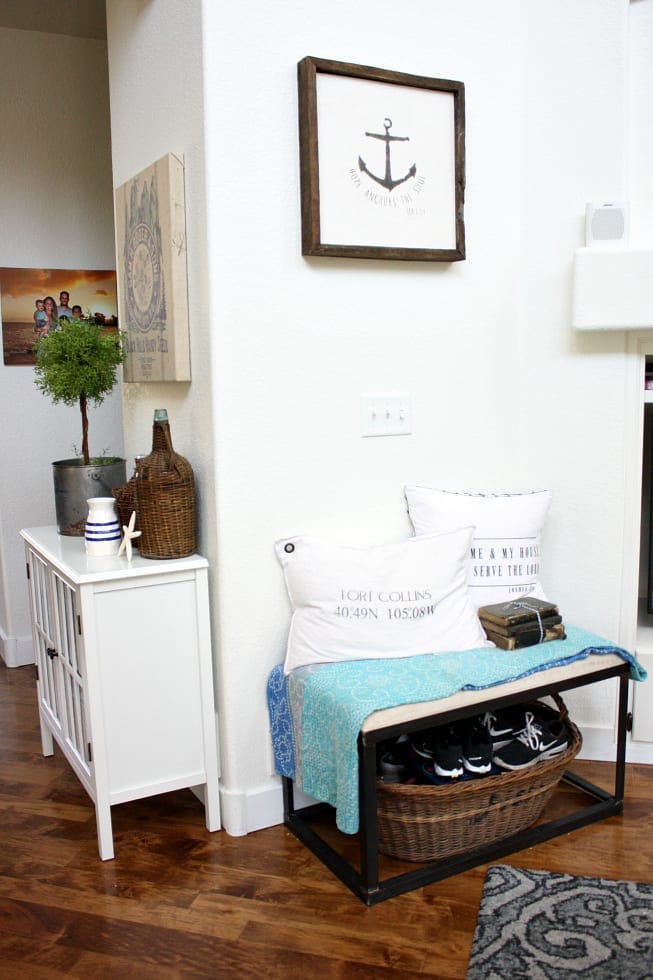 This fantastic metal bench is the perfect spot to sit and put shoes on. Don't you just love our basket full of shoes? Just keeping it real my friends!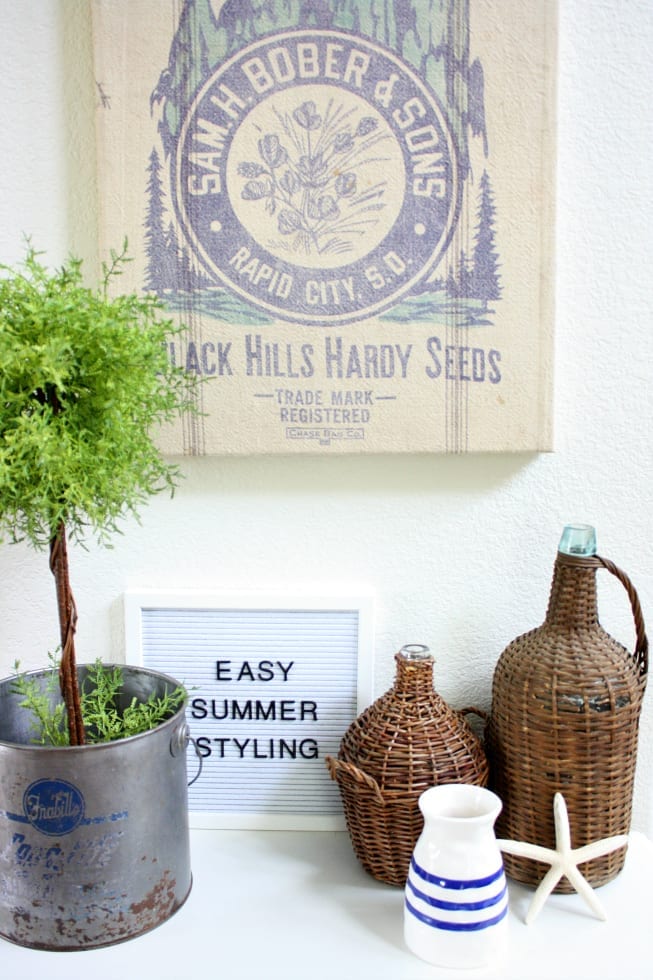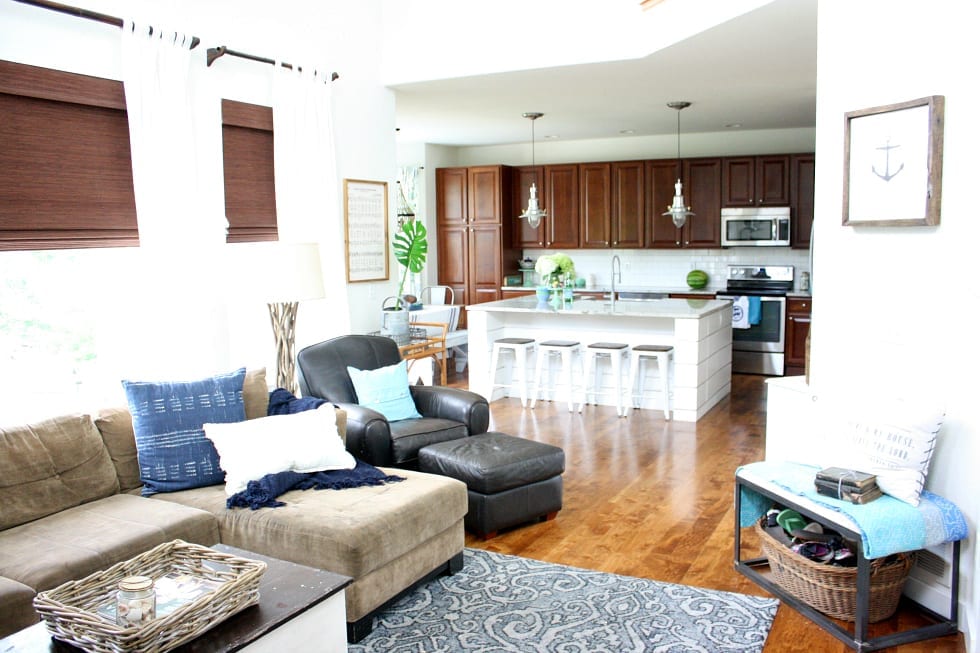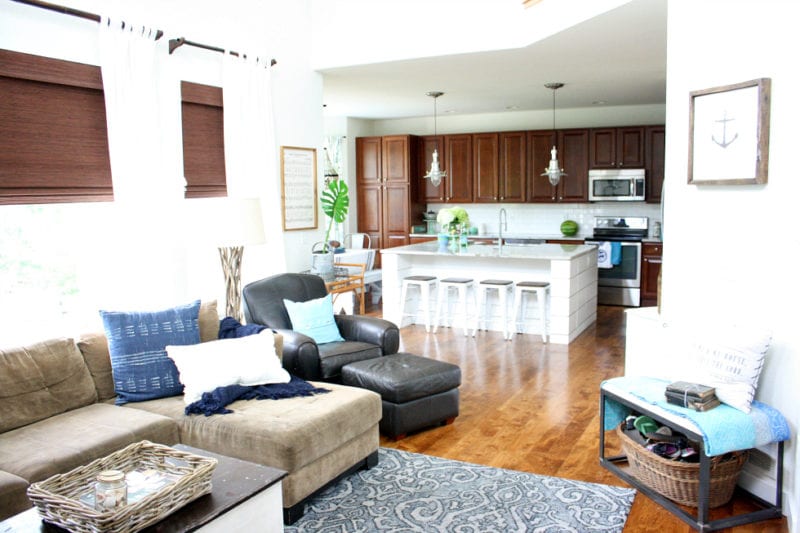 This is looking back in to the kitchen and gives you an idea of how open the space is! I love it especially in the summer because of all of the light!!
Well, that's it for the tour of the downstairs ! If you pop back over on Wednesday I will be sharing our Master Bedroom makeover that I have been working on for the $100 room Challenge!
Thank You.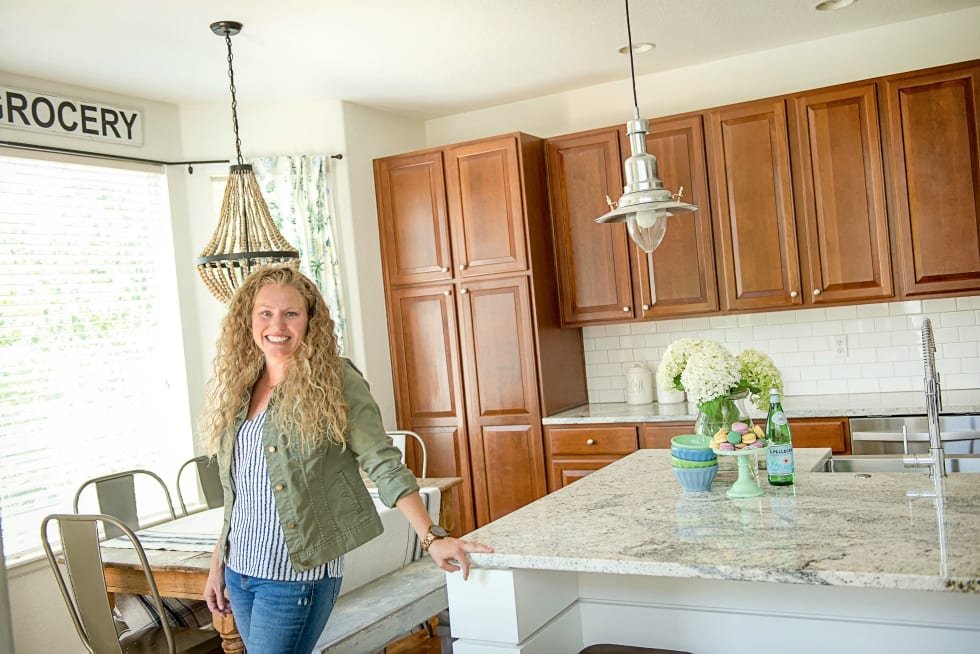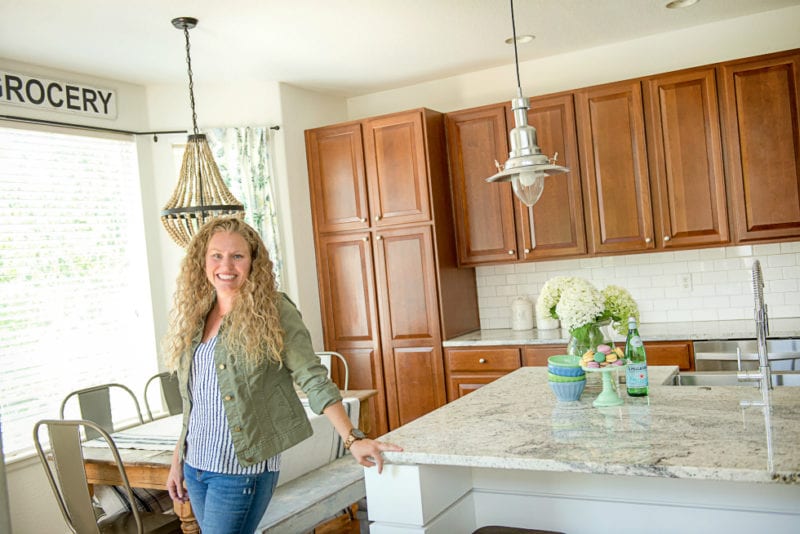 Thank you for stopping by and checking out my take on coastal in Colorado!  Our home has been a labor of love over ten wonderful years.  I hope you enjoyed it and please leave a comment below if you have any questions or wonder where something might be from.  I am always happy to help. 🙂
You can also find me over on Pinterest, Instagram and Facebook!
xoxo,
Kelly
BE SURE TO VISIT ALL THE BLOGGERS TAKING PART!
The Tattered Pew (me)