Creative Backyard Landscaping Ideas on a Budget
Turn your boring backyard into the gorgeous retreat you have always dreamed of. Give these 10 creative backyard landscaping ideas on a budget a try, and you will find your yard will be the talk of the neighborhood!
When my husband and I were first married we use to walk around our neighborhood and look for different landscaping ideas that we liked and dream of designing our own. Our backyard was a blank slate and we didn't have a very big budget. Slowly but surely we added things to our backyard to make it our own little oasis. Today I am going to share with you 10 of the creative backyard landscaping ideas on a budget that we used ourselves!
Today I am joining  AnnMarie & Anne from Simply2Moms for their Summer Outdoor Spaces Blog Hop! If you're visiting from Jessica at Itty Bitty Farmhouse or if you just happened to stop by, I'm so glad you're here. Come on back to our backyard!
*This post contains some affiliate links for your convenience. Click here to read my full disclosure policy.
10 Creative Backyard Landscaping Ideas on a Budget
Below is a list of 10 things we actually did in our own backyard here in beautiful Colorado. We were very frugal with our budget and did these projects over a span of 2-3 years. Sometimes, (especially in the summer) I like to step out back and just smile at all that my husband and we have accomplished. It took time, work and research but we did it all on our own. If we can do it you can too! Read my advice below on how you too can be creative with your backyard landscaping while staying on a budget!
Search For Inexpensive or Free Landscaping Materials & Supplies Online
Retaining Walls Define Spaces
Transplant Plants and Flowers
Inexpensive Outdoor Lighting
Easy DIY Backyard Projects
Alternative Planters
Composting 
Do Your Research on Garden Zones
Invest in Furniture that Will Last
Add Rocks and Pathways
Search for Inexpensive or Free Landscaping Materials & Supplies Online
I like to consider myself a beginner gardener and landscaper. With that being said I am also always on a budget. One of the best ways to find cheap or inexpensiveness landscaping materials or supplies, is by searching online marketplaces. I have been able to find free rocks, free or cheap sod, free plants, free or cheap pavers and sometimes even inexpensive patio furniture! My favorite place to search is Facebook Marketplace. It's quick and simple and local to your own area. Just be sure your search is specific to what you need. Craigslist is also another great online tool for scoring free or dirt cheap gardening materials as well as some garage sales.
Retaining Walls Define Spaces
In our yard my husband had to build a retaining wall. Not only was it a necessity but it created the perfect area for a flower garden. Creating specific areas in your landscaping defines spaces and makes your backyard look custom. You can do this on a budget and even beginners can do this simple DIY project. I did some research and found that Bob Villa has a fantastic guide on the Dos and Don'ts of Building a Retaining Wall.
Another custom look for not too much is cement curbing. My father in-law gifted us our backyard curbing for our anniversary one year and it still might be one of our most favorite gifts! It makes our yard look finished and custom!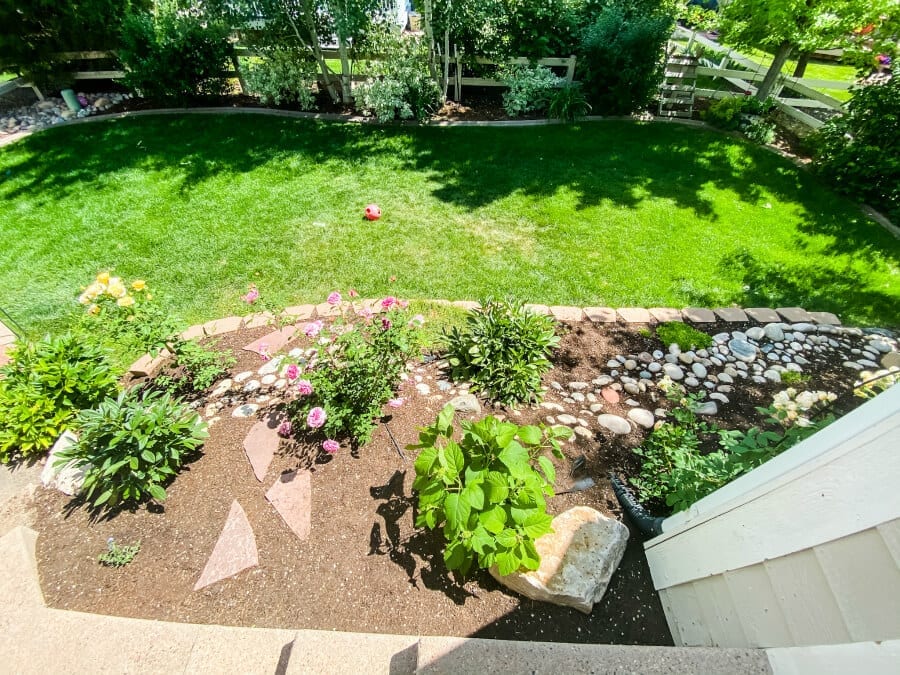 Transplant Plants and Flowers
This has been a game changer for our backyard! Over the years, and more recently, I have been able to transplant some existing and mature flowers and plants from our yard and friends' yards to other spots. Once plants mature, often times they need to be divided or they can be divided. Three cases of such plants that we currently have in our backyard are seedum, lillies and hostas. 
I transplanted our seedum from one end of our garden to the other by simply using a shovel to divide a portion of the plant down to it's roots. This is another great landscaping ideas that helps keep the budget in check!
The hostas in our backyard were divided by a friend in her yard and then given to us. So they were free! This is a great way to save money on plants! I recently shared all about planting hostas in pots which could be helpful in answering more of your questions about transplanting this specific plant. 
As for the lilies, a few years ago a friend at my husband's bank had recently gotten new landscaping and no longer wanted her lilies. She dug them all up and offered them up to anyone who wanted them for free! My husband was a very smart man and grabbed several for our yard. Twelve years later they are still thriving!
So my suggestion is to always keep your ears and eyes open for people giving away plants or those willing to divide their plants. Also be willing to offer up some of your divided plants for others to use and they will generally repay the favor. It never hurts to ask and free is as budget friendly as you can get!
Inexpensive Outdoor Lighting
Remember when I said you have to be creative when you are landscaping your backyard? Well it's true! Outdoor lighting is one of the best ways to bring your outdoor spaces to life. However, sometimes outdoor lighting can be so expensive and often it doesn't fit in your budget! Don't be discouraged because I have been able to find several outdoor lighting budget friendly options for you! You just have to be willing to look and search.
If you are frugal like me then you know that the Dollar Store has some great outdoor lighting options. I have used their solar lights in our landscaping and they actually work!
 I have also scored outdoor cafe lights at places like JOANN when they are on end of the season clearance or by using their amazing coupons. Target often puts their garden and outdoor lighting on sale at the end of the season as well. You just have to be patient and sometimes store it away until the next season.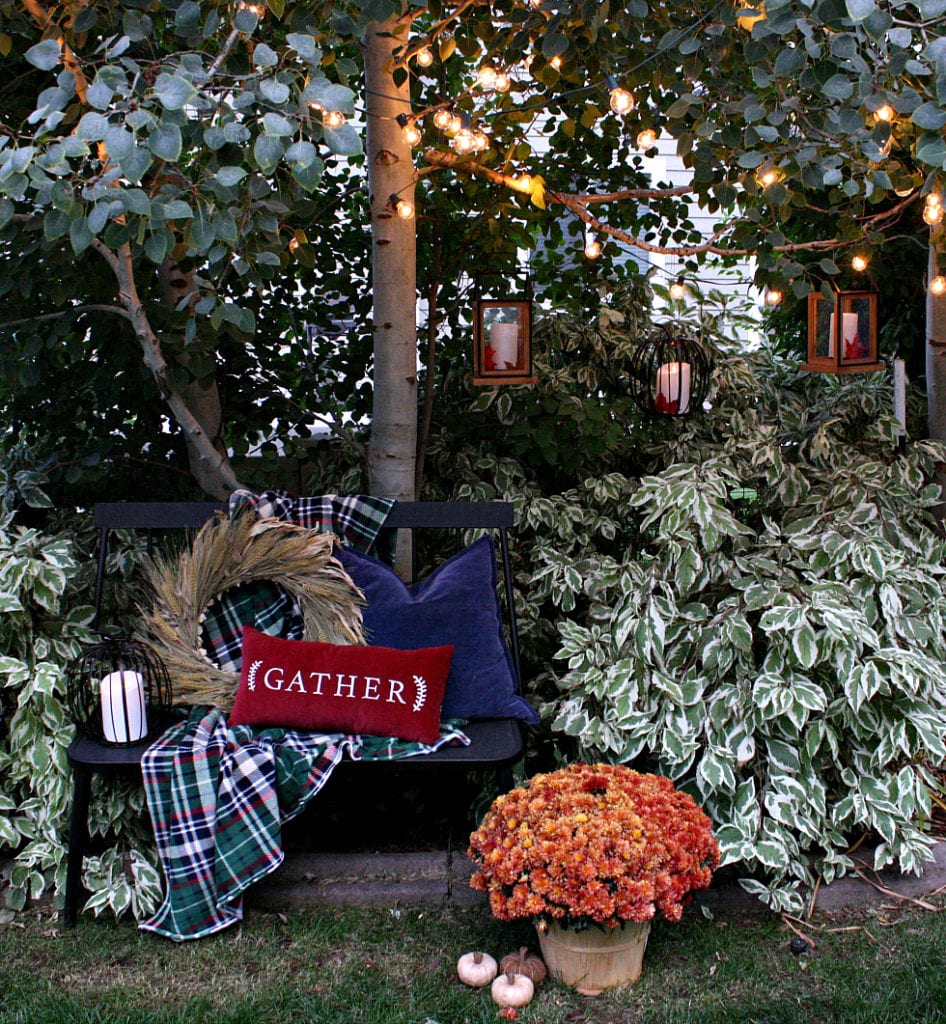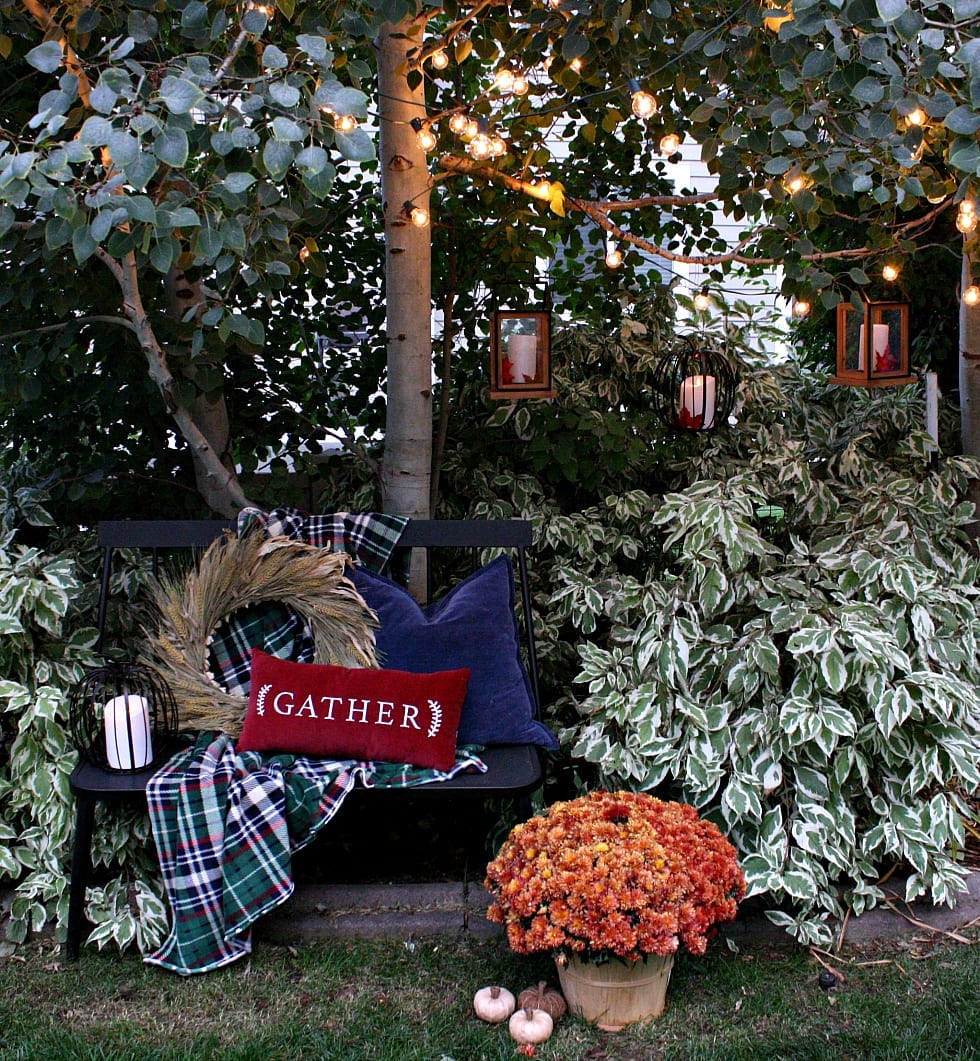 Don't forget that candles and tiki torches are considered outdoor lighting too! These are budget friendly options that you can often find at Lowes or Home Depot! Just don't be afraid to be creative or try new things. If they don't work no problem, because you didn't spend a lot on them. If they do work, then you are frugal landscaping genius!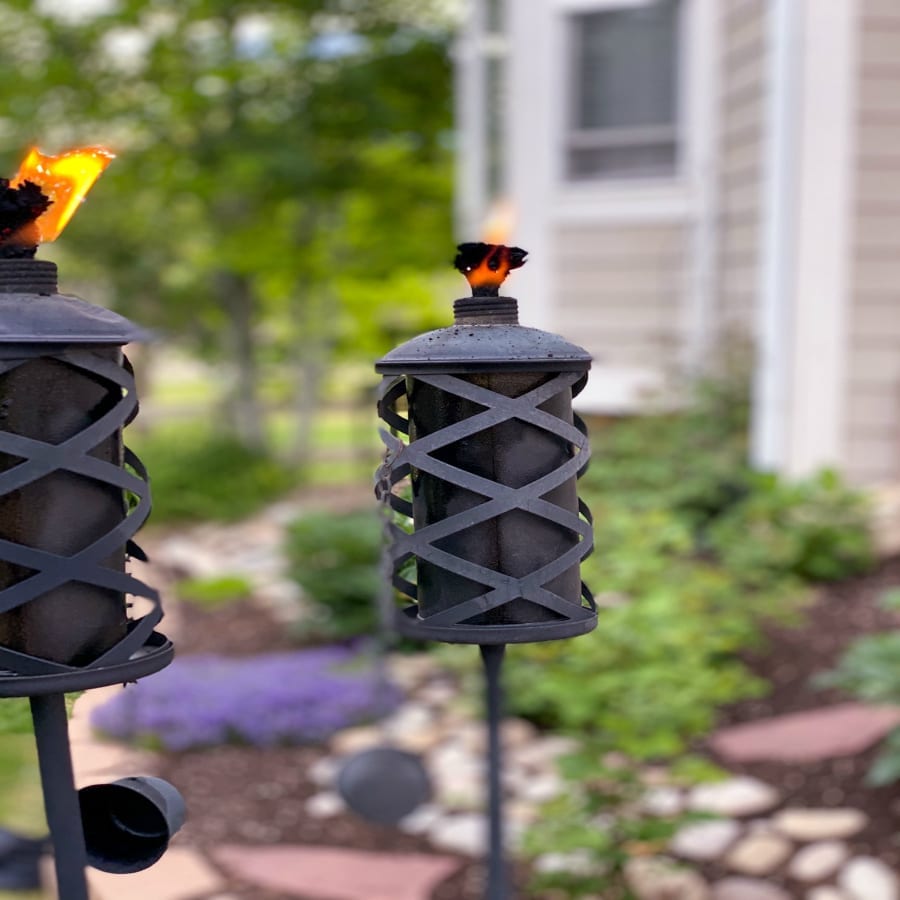 Easy DIY Backyard Projects
Our backyard has a few DIY projects that didn't break the bank but definitely make a statement. I already shared our retaining wall with you which is a wonderful and easy DIY project. But my favorite one is our potting bench makeover. It was an old and weathered potting bench that I gave a new look with some quick work and paint.
Our backyard backs to our neighbor's and they have a little girl our youngest daughter's age and the two of them love playing together. So my awesome neighbor decided to build them a ladder that they could use to get over to each other's backyards easier. It is such an awesome addition to our yard and he claims it is a very simple DIY! I found something similar here with directions on how to build your own. All I know is that it makes life easier for both families!
In the summer mosquitoes are quite pesky in our backyard. So I made these DIY citronella candles to use in our backyard. I love that they are pretty and functional!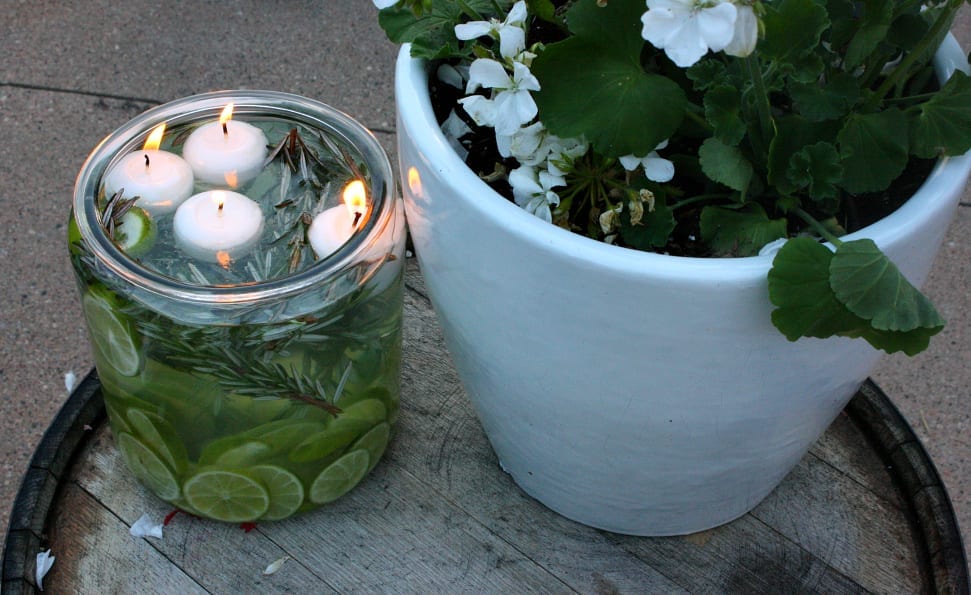 Alternative Planters
When it comes to planting flowers and plants in our backyard I am always looking for easy and frugal landscaping ideas that I can do as a beginner. One idea that I love and have incorporated into our backyard and our porch is using alternative or out of the box ideas for planters. We currently have an old rusty vintage wheelbarrow that I scored at a flea market for $20 dollars that holds several flowers and plants. I love that it's fun and unexpected.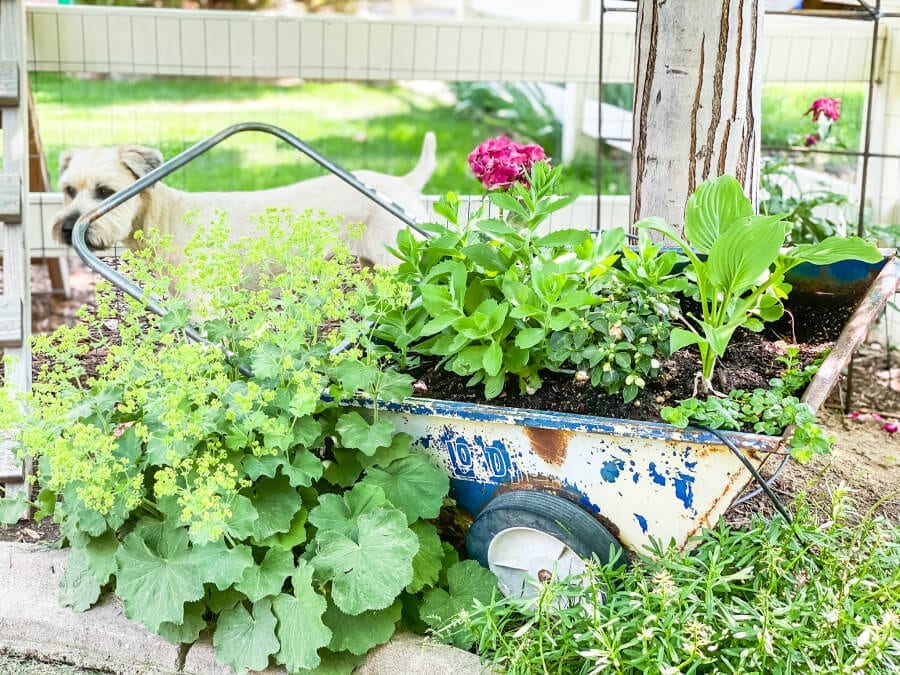 We also have an old whiskey barrel that holds a rose bush as well as an old copper boiler pot holding some hostas on our porch.  I have even used an old tree crate to hold ferns. All of these items were cheap and so easy to incorporate into our yard.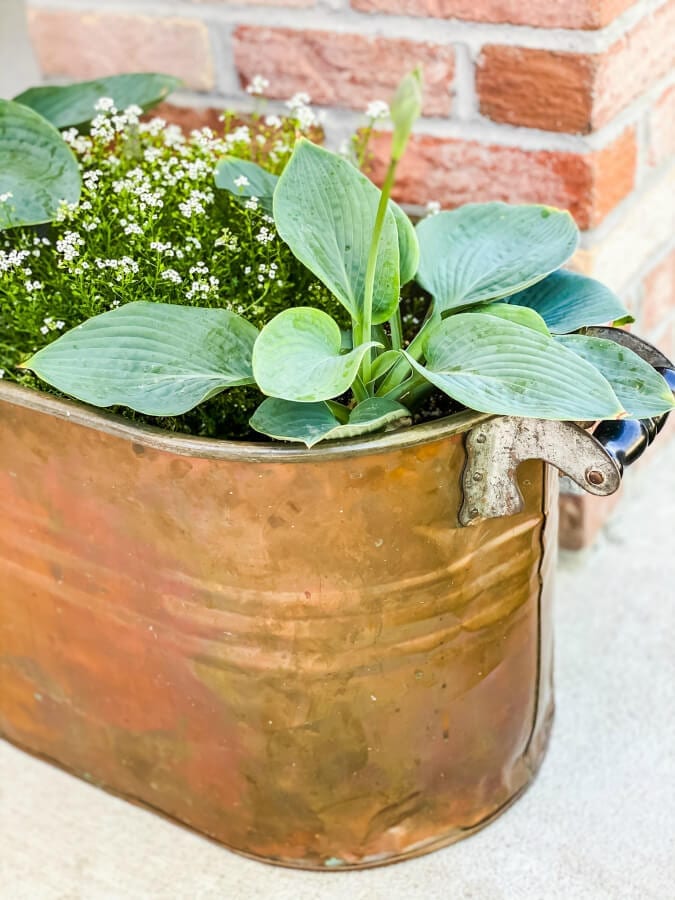 Composting 
We don't currently have a composting bin but our neighbors do. I love the idea of composting and having our own and hope to add one to our yard sometime soon. Meanwhile the neighbors are so generous and let me use their compost when I am planting new plants. This not only saves me money, but helps our plants grow better while meanwhile saving the earth! Karianne of Thistlewood Farms just shared a fabulous blog post all about "How to Use a Composter" that I highly encourage you to check out!
Do Your Research On Garden Zones
One of the best tips I think beginner gardeners need to take into account is what zone they are in for planting. Knowing your specific zone not only helps you find which plants will do well in your yard, but also saves you time from wasting money on plants that won't do well. Trust me, I have learned the hard way. We live in Colorado and our planting zone is 5b. This is very specific to where we live. After much research I have complied a post all about my favorite sun loving perennials that do well in our yard.
Want to find your planting Zone? Then head over to Garden.org and simply enter your zip code. I can't recommend this site enough! It is a wealth of knowledge for beginning gardeners and will get you started on the right foot.
Invest In Furniture That Will Last
When getting creative for your backyard landscaping there is a time to be frugal with your purchases and there is a time to be smart. When adding furniture to your backyard or patio you want to be very smart. Since we live in Colorado and the weather can be an issue we knew we had to invest in patio furniture that would last and stand the test of time. For us that included these gorgeous white Adirondack chairs. Let me be honest, they are not cheap. But if you do your research and buy them on sale you can get the price down to within reason. We bought two at first and then added two more once we knew they were exactly what we wanted!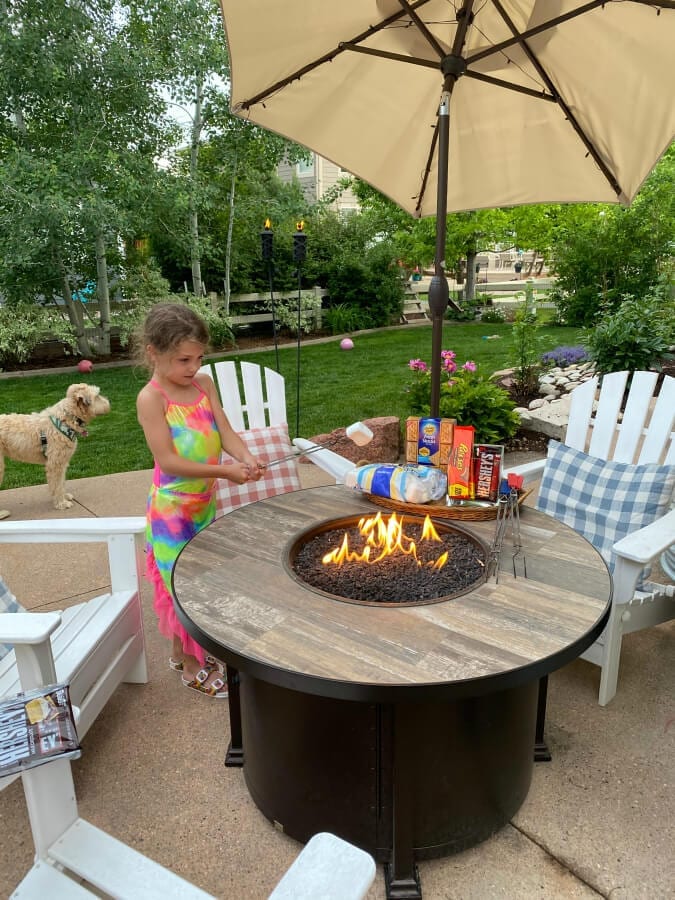 Recently on the blog I shared all about our favorite backyard summer activities that we love and this fire pit of ours as on the top of the list!  This circular fire pit  has brought much fun and entertainment to our backyard and was an easy addition since it simply uses a propane tank.
Add Rocks and Pathways
Finally, one of my favorite things that we have added to our backyard that was easy, and creative to do, included dry river rock beds and flagstone pathways. We have the one river rock bed that runs through the garden above our retaining wall. Also in that garden are some flagstone steps. I put these here for us and the dogs so we would have a clear path around my flowers. We were lucky to have a neighbor give us some free flagstone and I am always seeing free rocks on Facebook Marketplace!
Rocks and path are great way for adding dimension and interest to your yard on a budget. It's a quick and simple DIY that you can do in one day.
Creative Backyard Landscaping Ideas on a Budget
Now that you have read all about these 10 creative backyard landscaping ideas that you can do on a budget it's time to get started on that backyard you have always dreamed of. Remember it takes time but it is attainable! Don't be afraid to get your hands a little dirty. 🙂 I would love to answer any questions you may have. Just leave them in the comment section below!
The Summer Outdoor Spaces Blog Hop continues with Wendy from The Curated Farmhouse. You can find links to all the inspiring outdoor spaces below!
XOXO,
Kelly
Did you like this post? PIN it for later!