Today is the day when I invite you in to our home to take a peek at our pretty Spring home tour! Each year I love to do a new tour and it's fun to look back and see how things have changed around our home. Spoiler alert…they are constantly changing! 🙂 You can check out last year's Spring tour here! It's weird to think that this time last year the pandemic was just getting started.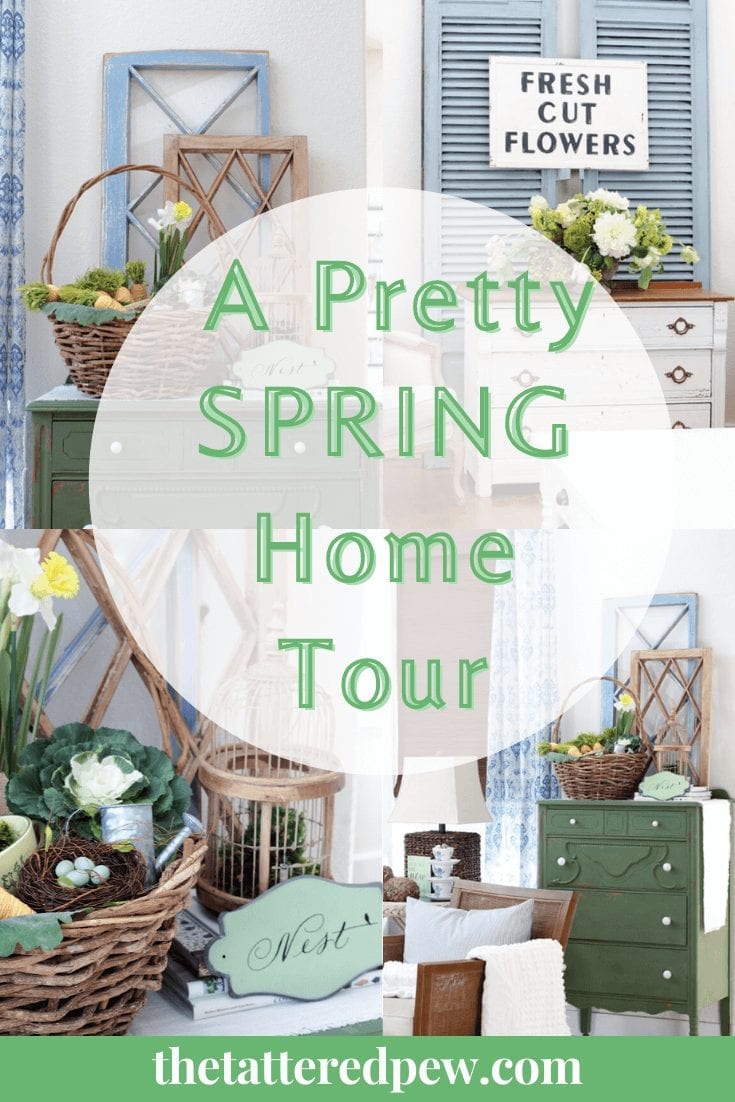 This post contains some affiliate links for your convenience. Click here to read my full disclosure policy.
Bloggers Best Spring Pretty Home Tour 2021
Today I am honored to be co-hosting the Bloggers Best Spring Home Tours with Mansa of This Is Simplicite! There are 30 amazing bloggers who are opening their homes to you this week. Each day, Monday through Friday, 6 different bloggers will share their individual tours and Spring styles. It's a blogger party! You can visit all of the links each day this week at the bottom of my post.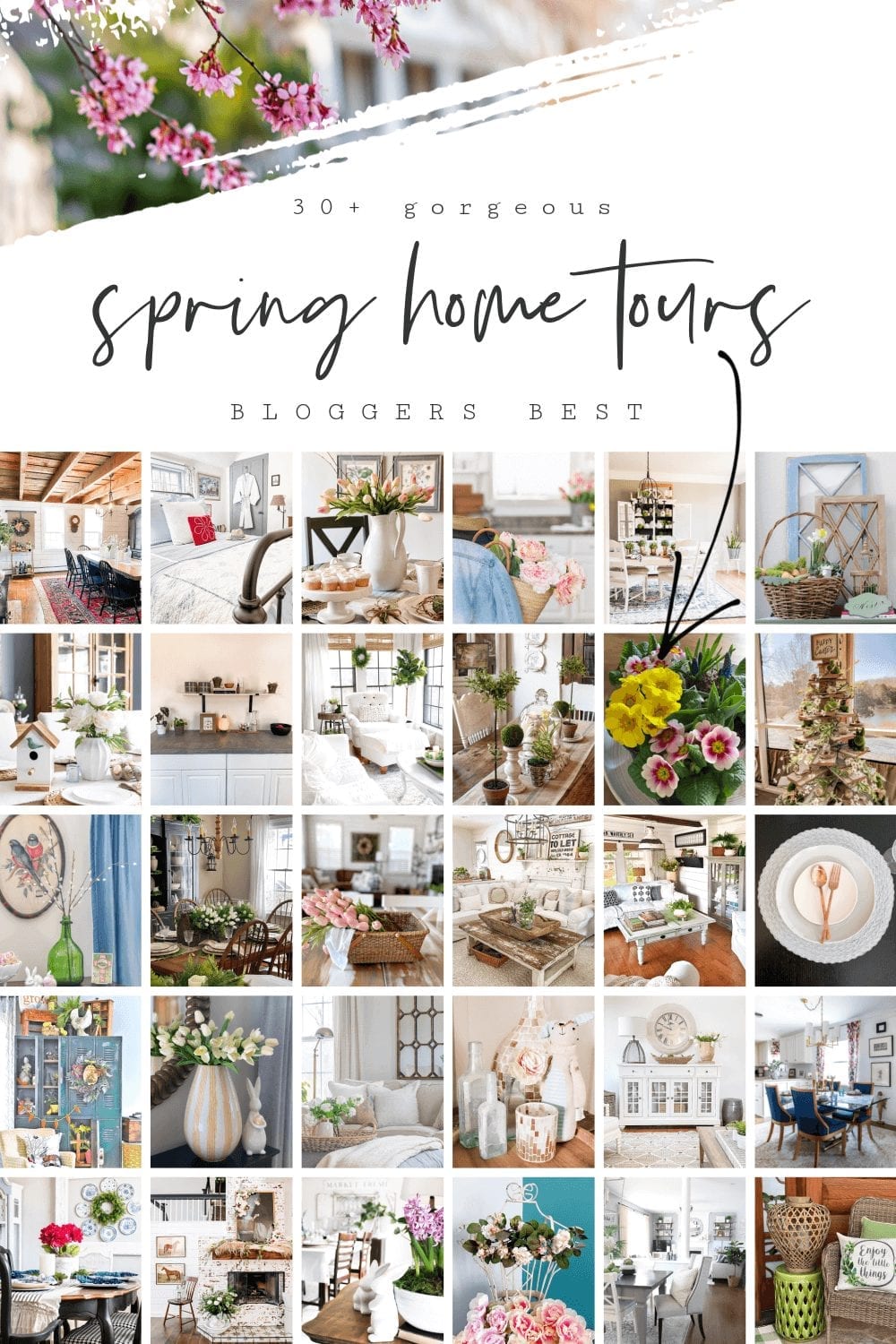 If you are coming over from Paula, of Sweet Pea's tour, welcome! I'm Kelly and I live in beautiful Colorado with my family and two sweet pups. I like to joke that I'm a kindergarten teacher by day and decorating diva by night! But really, I'm just a hot mess mama who needs Jesus and coffee on a daily basis!
Come On In To Our Home
This year for Spring I mostly stuck with my favorite colors green and blue. You will notice the green right away as you walk up to our new front door and in to our entry! The first thing you are greeted with is my sweet little pew. You can see more of our Spring entry here in my post, 5 Simple Tips For Adding Spring Decor to Your Entry!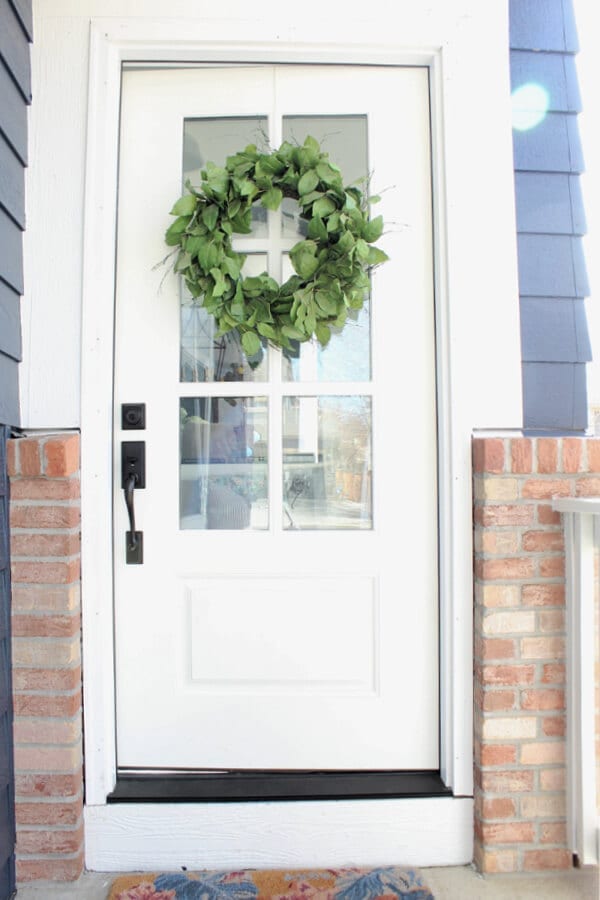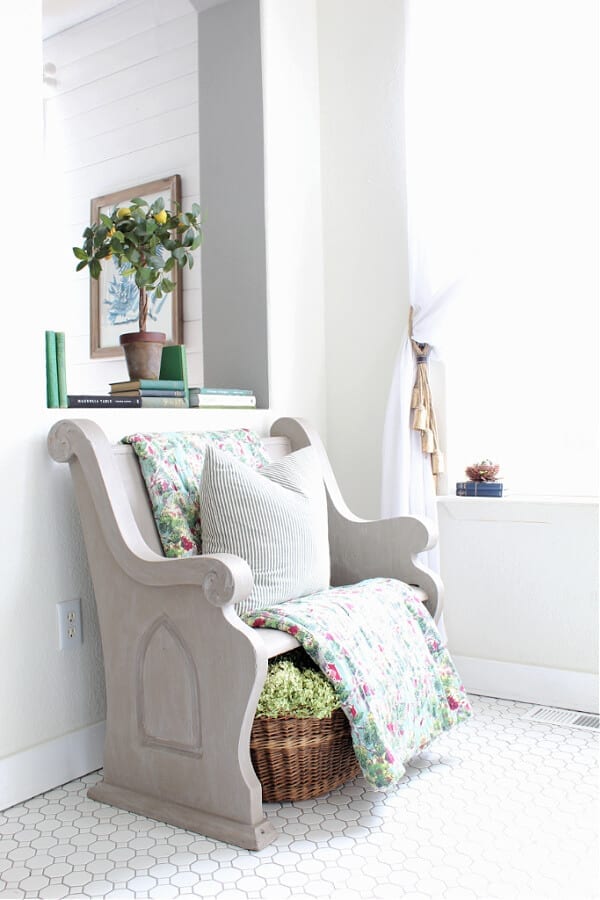 Just beyond our entry is our dining room. I had so much fun creating a flea market style Spring centerpiece on our table. It's all about my favorite dried hydrangeas.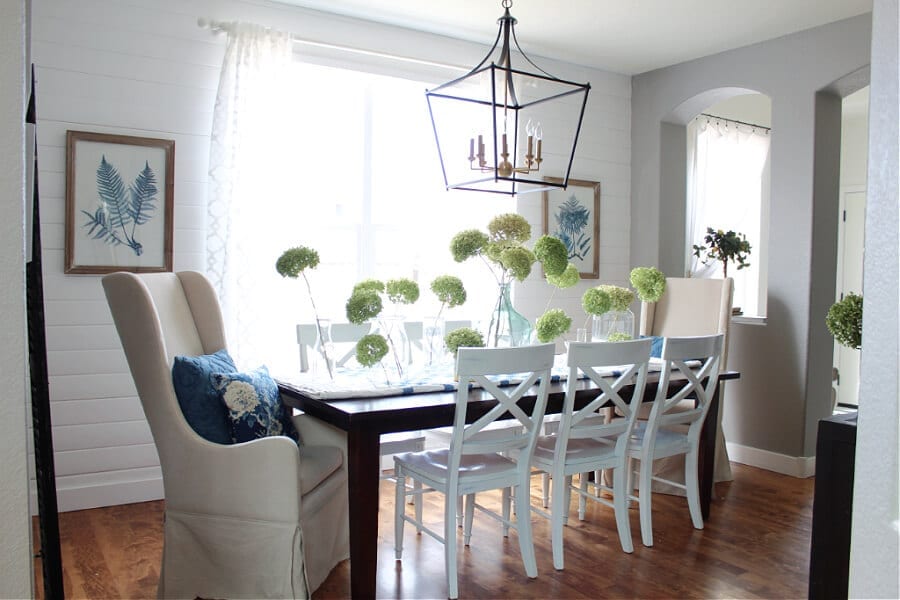 Every year I use my secret tip to drying hydrangeas method and it never fails me. It a great way to decorate on a budget and have hydrangeas year round! I don't know about you, but when Spring rolls around I am craving flowers, and here in Colorado I have several months to wait. So dried flowers to the rescue!
How cute is this dried hydrangea in this old tin?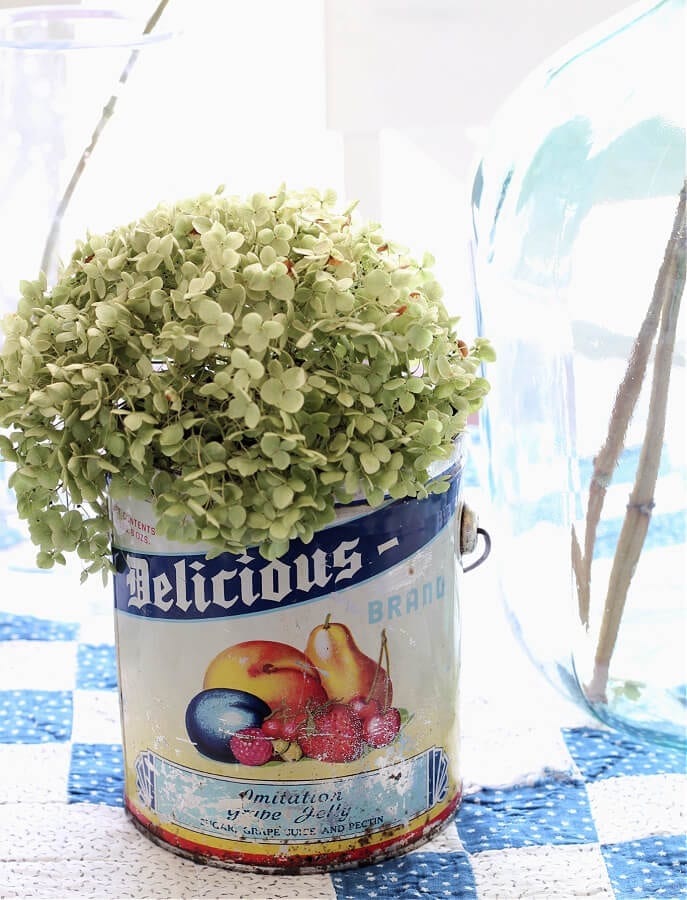 Our Pretty Spring Kitchen
Next on the tour is our kitchen. A lot has changed in here since last Spring…namely our newly refinished kitchen cabinets! The cabinets went from cherry wood to white! They have brightened up this space so much!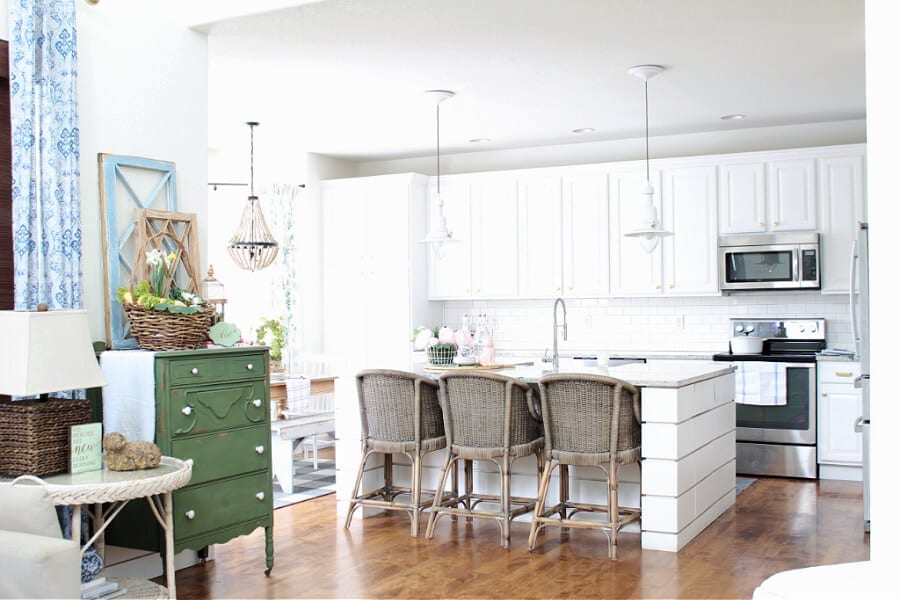 We also got an awesome new Ruggable for under our kitchen table. Have you heard of these? They are machine washable rugs for your home! I am obsessed with ours. See more of our Spring kitchen (and my cute pups) in my post Simple Spring Decorating Ideas For Your Kitchen.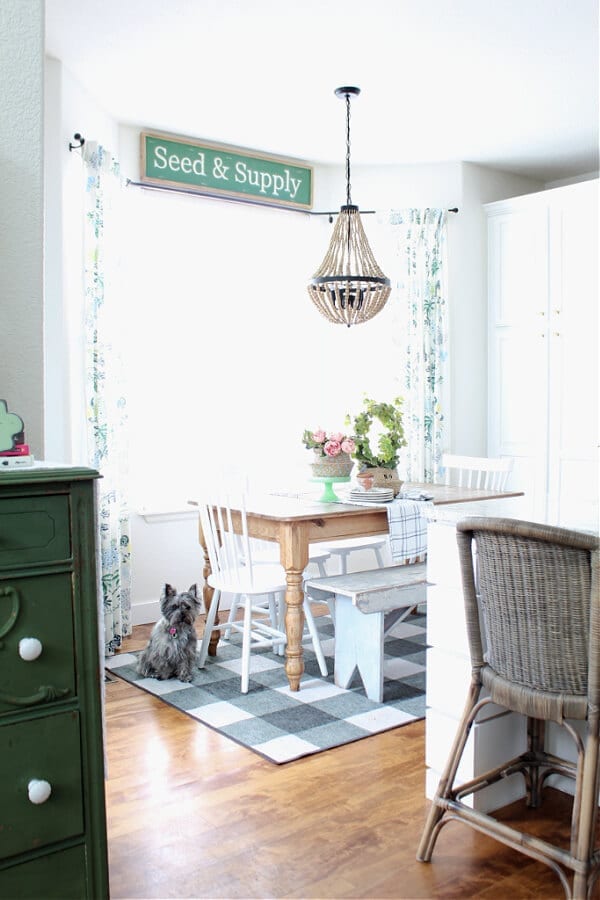 Our Family Room Decorated For Spring
Our family room is attached to our kitchen. It's a nice wide open space that we are constantly using. And just between these two spaces is my favorite boxwood green dresser. Each season I decorate her differently and this Spring is no different!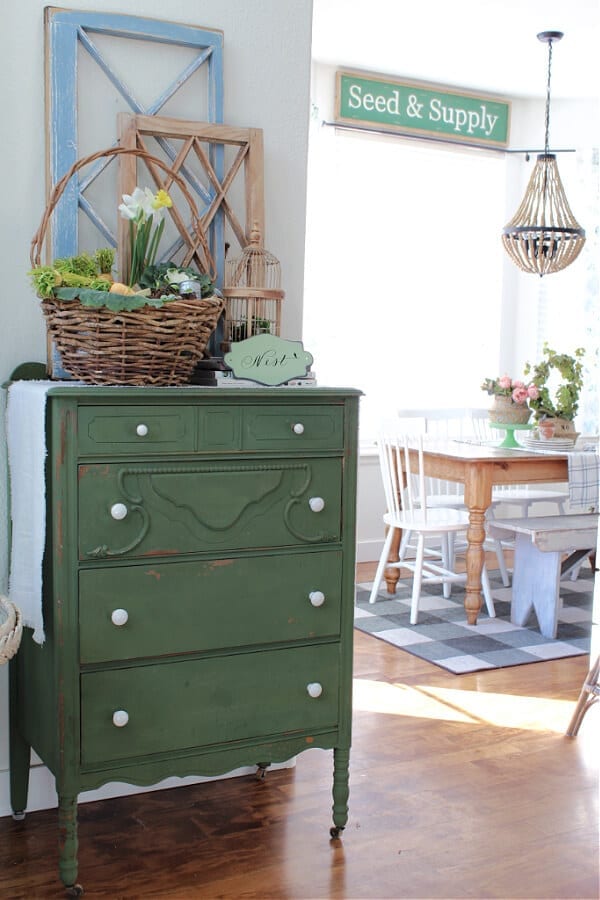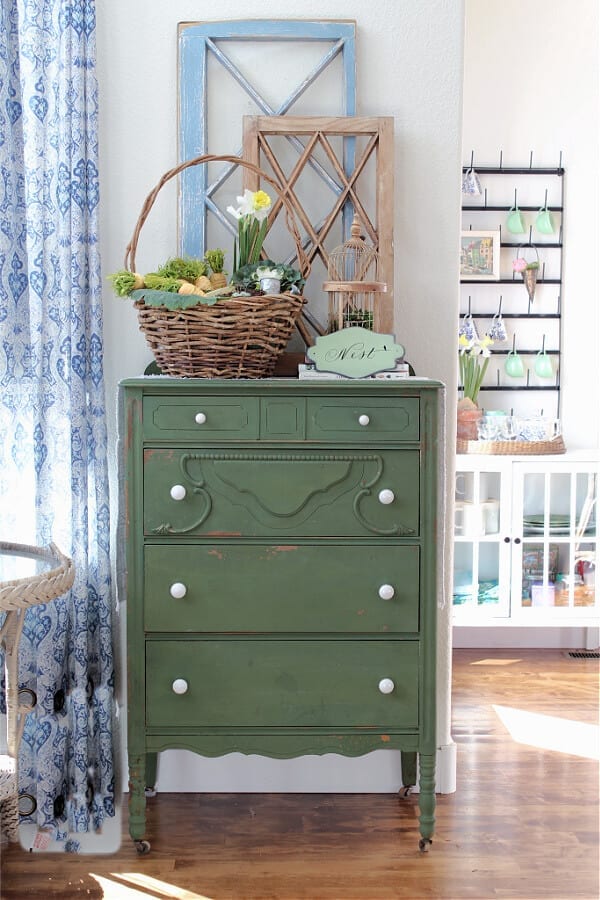 I grabbed this gorgeous basket and all of the Spring décor I could find and had fun creating a Spring basket vignette of sorts. It just all came together!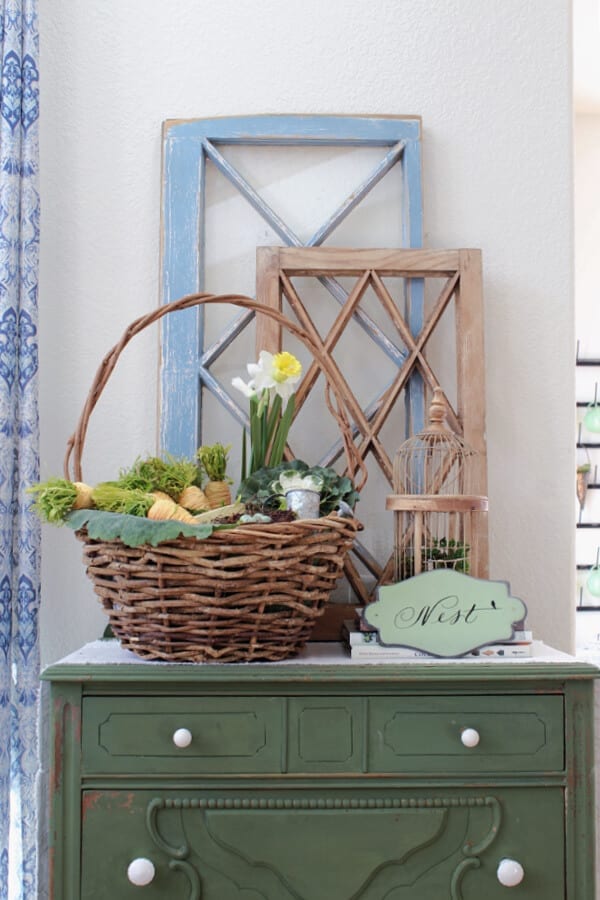 I love how the basket looks like a nest…hence the green "nest" sign and bird cage is perfect on top of my dresser.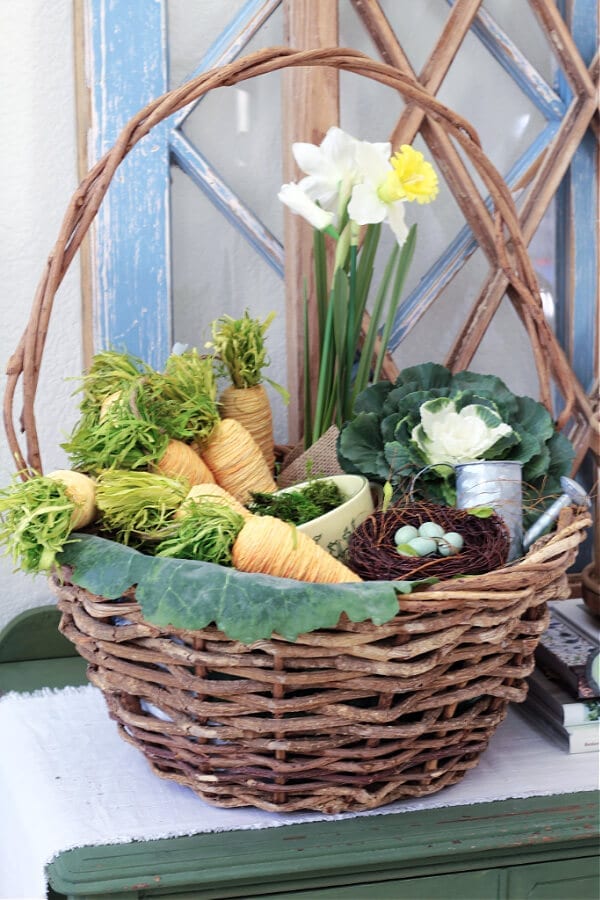 Do you see the nest in the basket? Just like in our Spring entry I used another nest from our wedding! For me nests are a fun way to welcome Spring in my décor.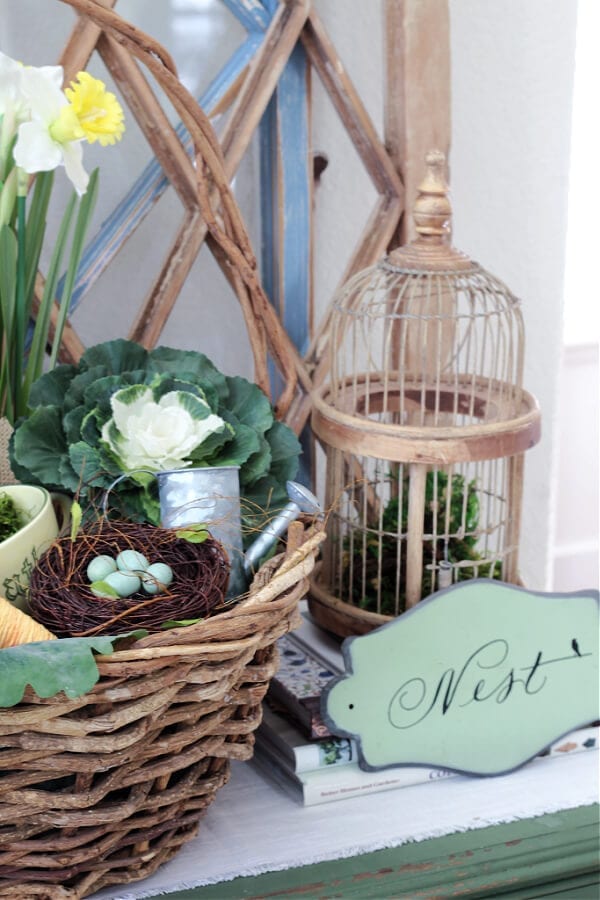 My Curtain Dilemma
Next to my dresser is this fun table I found at a local flea market. But I want you to look past the table and I want you to look at the blue curtains. Do you see how the curtain is too short and that there are grommets at the bottom ( I hung them upside down)? Well friends this is where you find out that I am normal and sometimes like to cut corners. When I bought these curtains from Amazon they didn't have the length that I needed. But I LOVED them and decided that I could buy an extra smaller panel to add to the bottom of this one you are seeing. Well I have never gotten around to that.
Does it drive me crazy? Yes. Have I done anything about it for the past year? Nope. Maybe I will this summer. HA!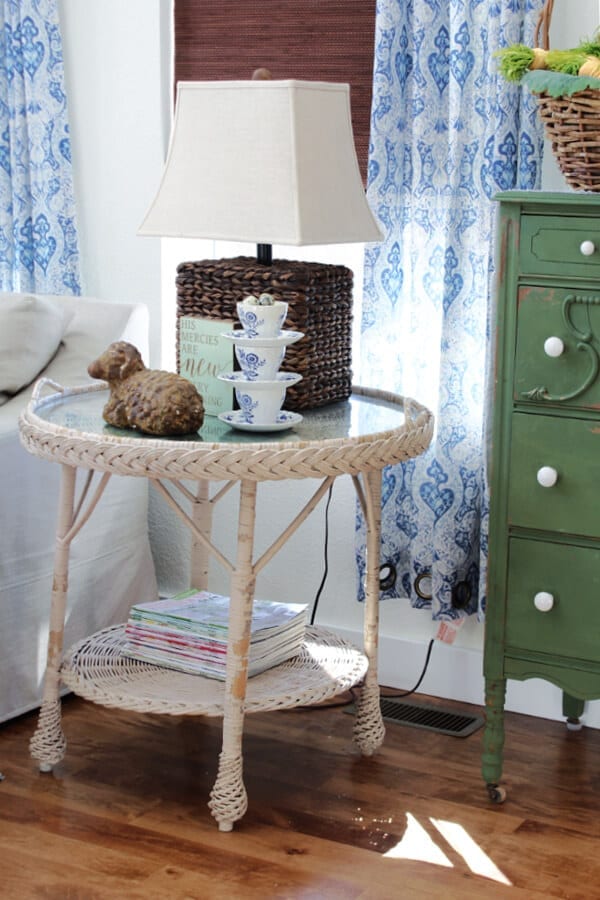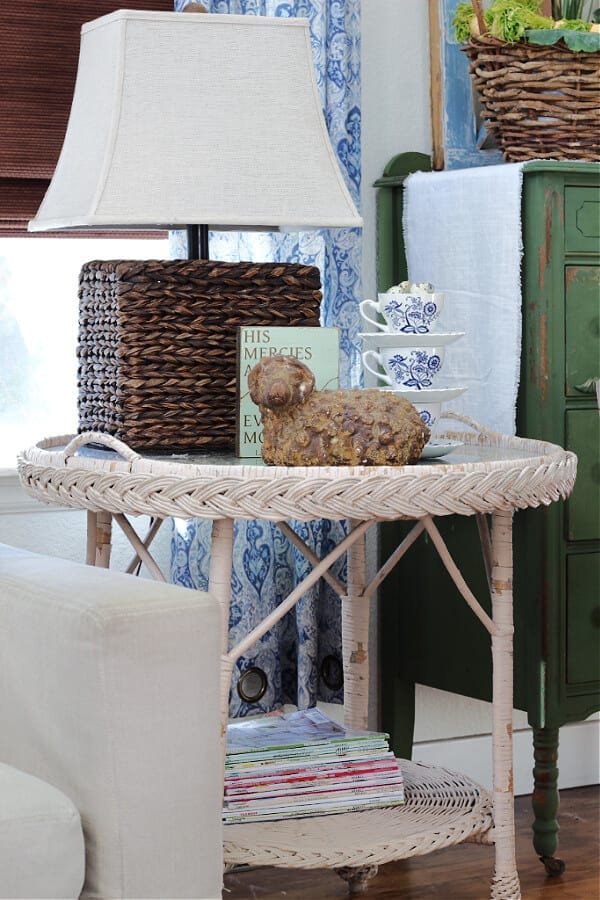 Do you see those darling eggs in my blue tea cup? Those eggs are also décor from our wedding too, just like the nest! I'm hoping they are distracting you from my crazy curtain situation.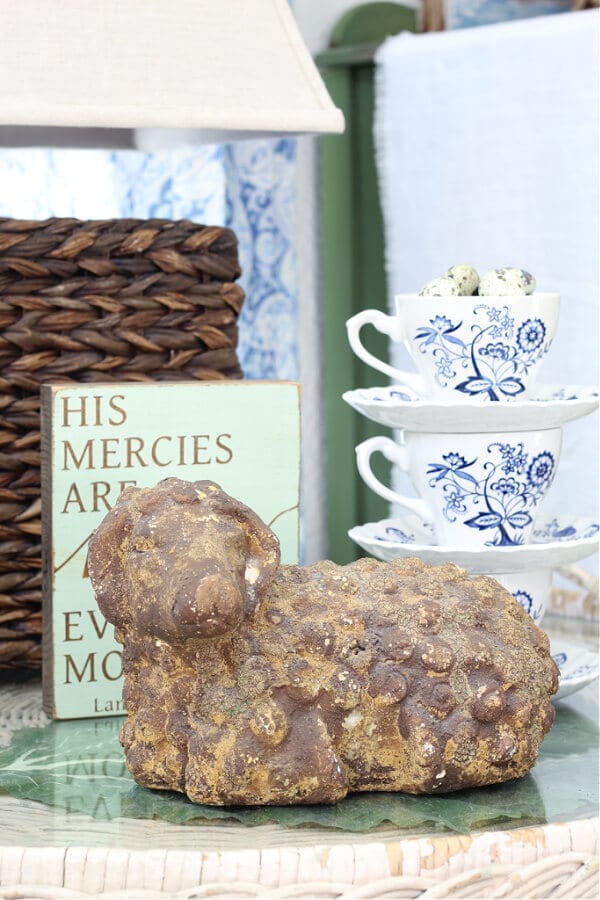 Fresh Cut Flowers and Shutters
Further into our family room sits my favorite pair of vintage shutters. I originally got these beauties from my good friend Brooke of Brooklyn Finds and Design. They use to be a chippy green on both sides until recently I gave them a bit of a one sided makeover with some Miss Mustard Seed milk paint. Now on one side they are the color Bergere that you see in the picture below.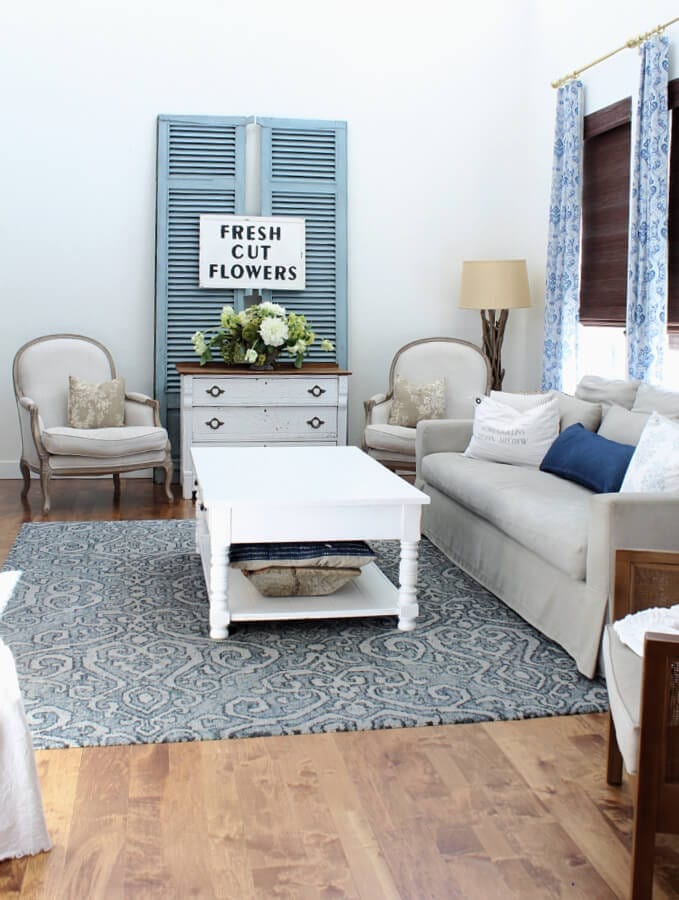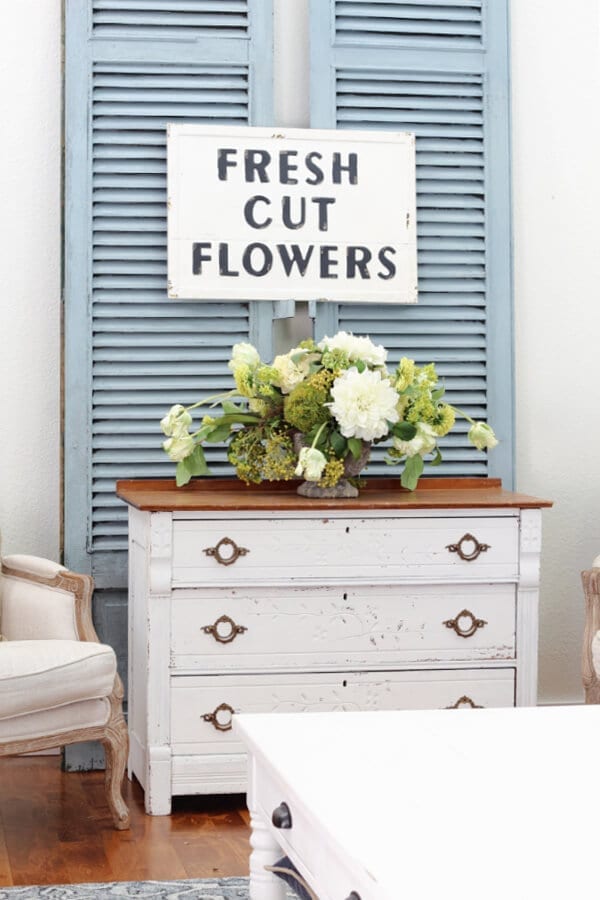 For Spring I pushed the shutters together and added this fresh cut flowers game. I literally set it on the hinges from the old shutters. On the dresser in front of it I added this gorgeous faux flower arrangement. And guess what? It's one that we had made for our wedding 14 years ago! I have had fun reusing sentimental décor this Spring!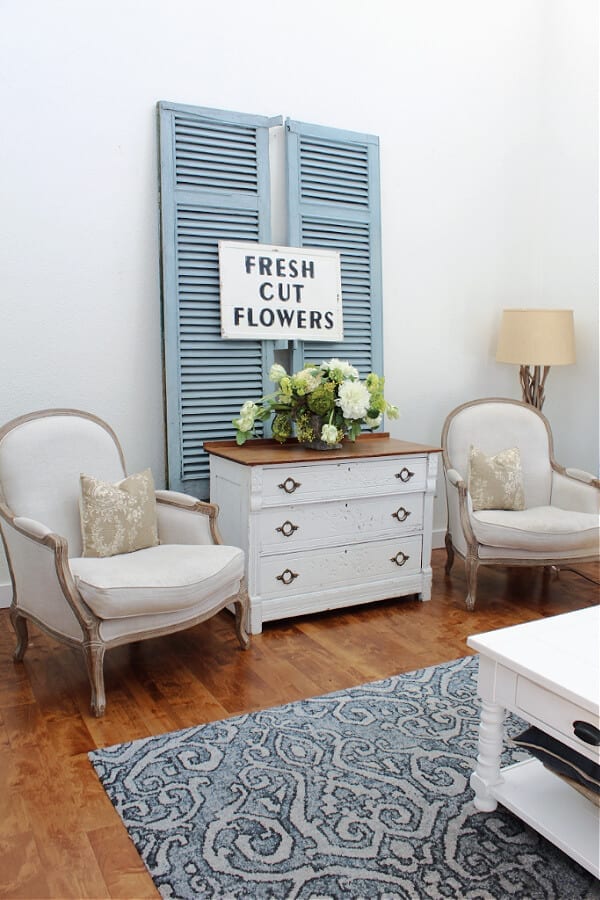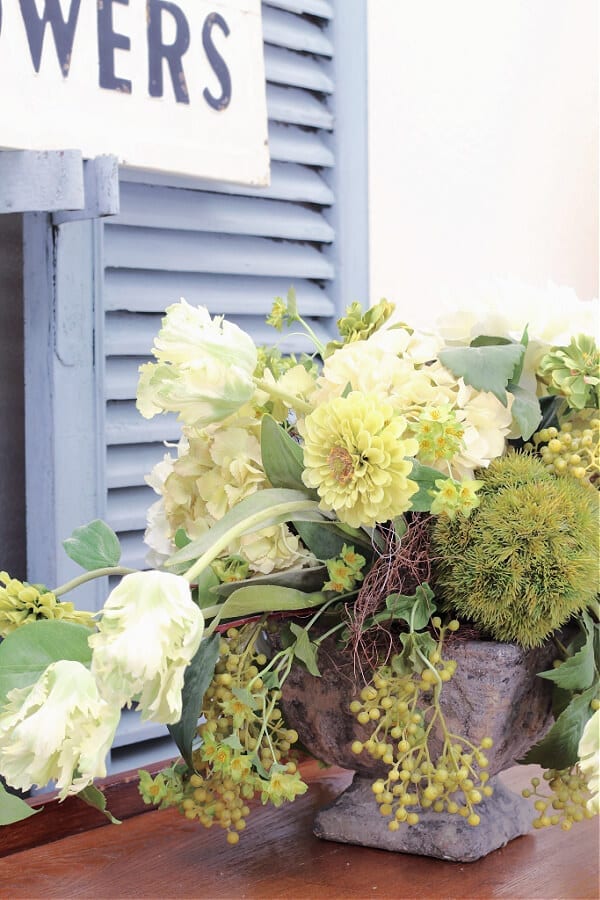 Shop This Post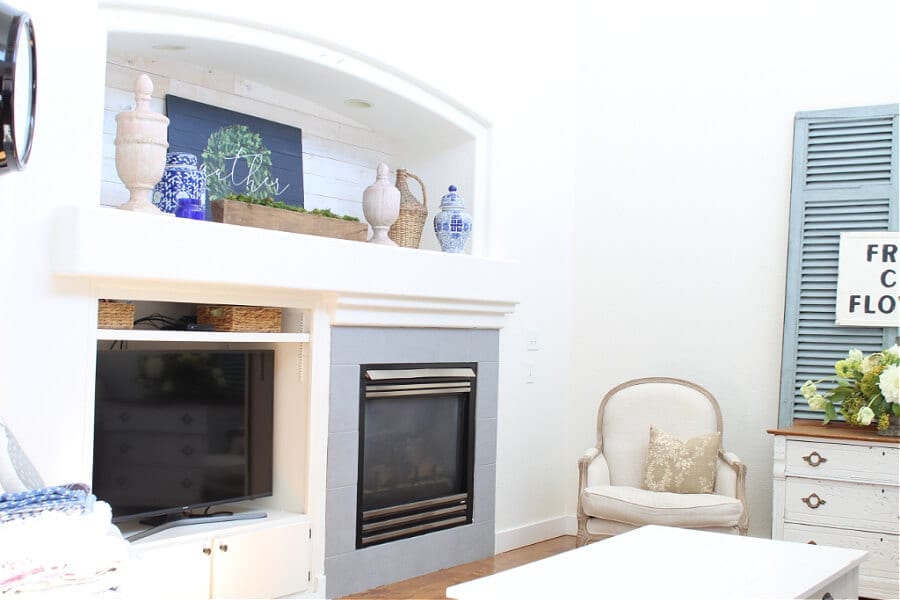 Thanks For Stopping By Our Pretty Spring Home Tour
Well friends that's it…thanks for stopping by our pretty spring home tour! I would love for you to hang out with me some more. You can find me over on Pinterest, Instagram and Facebook too! Plus you can subscribe to my blog at the bottom of this post and never miss a thing. Like if I ever fix my curtains! Ha!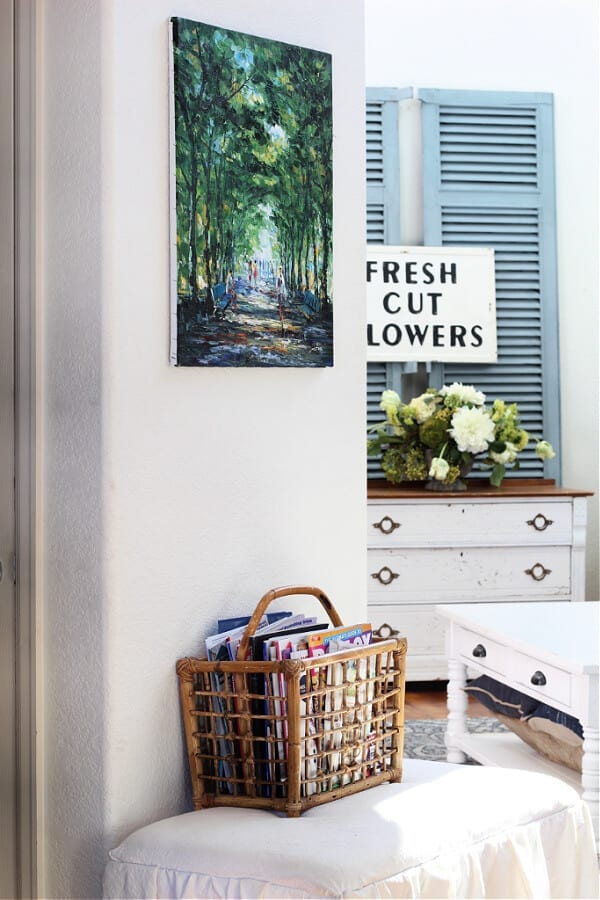 Now make sure to head over to Stacy Ling of Bricks n' Blooms for her Spring home tour. Then make sure to visit the rest of the bloggers listed below as they each share the remainder of the week!
XOXO,
Kelly
Bloggers Best Spring Home Tour
This week I'm joining some of my lovely blogging friends for the Bloggers Best Spring Home Tours! All week long we are welcoming you into our homes decorated for spring. You can visit each tour by clicking on the links below the images!
Monday's Tours

Tuesday's Tours

Wednesday's Tours

Thursday's Tours

Friday's Tours