3 Natural Christmas Decorations You Can Make
If you're looking for a way to spruce up your Christmas decor this year without breaking the bank, why not try making some of your decorations yourself? There are lots of simple, natural Christmas decorations that you can make with materials you probably have lying around your home. In this post, I'll show you three examples of natural Christmas decorations you can make. So let's get creative and have some fun!
*As an Amazon Associate, I earn from qualifying purchases. This post contains other affiliate links too for your convenience. Click here to read my full disclosure policy.
Thrifty Style Team
For this month's Thrifty Style Team post I am so excited to be sharing 3 budget friendly natural Christmas decorations for you to try! Each month my Thrifty friends and I gather together to share and inspire you with how we are keeping things thrifty around our homes and in our decor. Julie from the blog Redhead Can Decorate is our lovely host and all of the team's links can be found at the end of my post.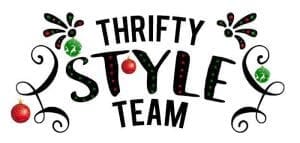 3 Natural Christmas Decorations You Can Make
More and more I find myself falling in love with adding natural elements into my Christmas decor. I love it's texture, simple beauty and of course the price tag! All three of the projects I am sharing today are natural, handmade and include pinecones.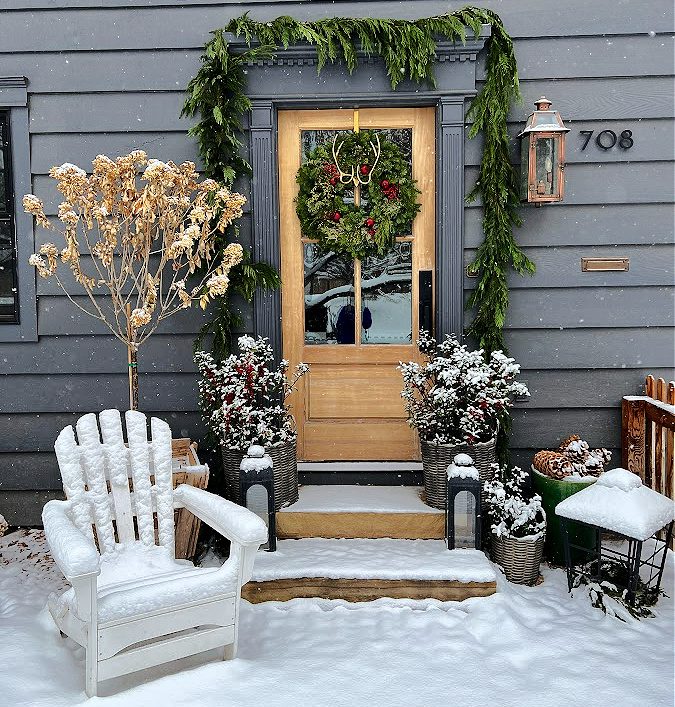 No matter what you choose to use for your decor for the holidays don't forget that often times you have some of the best decor right outside your door!
Using natural items collected from our yard I was able to make these lovely ice votives! These are basically candle holders that are frozen and made using natural things I gathered from our own yard, which means this is a budget friendly project. These took a lot of trial and error to make but they were so much fun. And if you are like me you will have all of the items on hand to make these.
The rustic and natural glow that come from ice votives is one that once you see it you will never forget! These would be beautiful for a winter wedding, lining a path leading to a house or oven chilling some wine on a table! Aren't they beautiful!?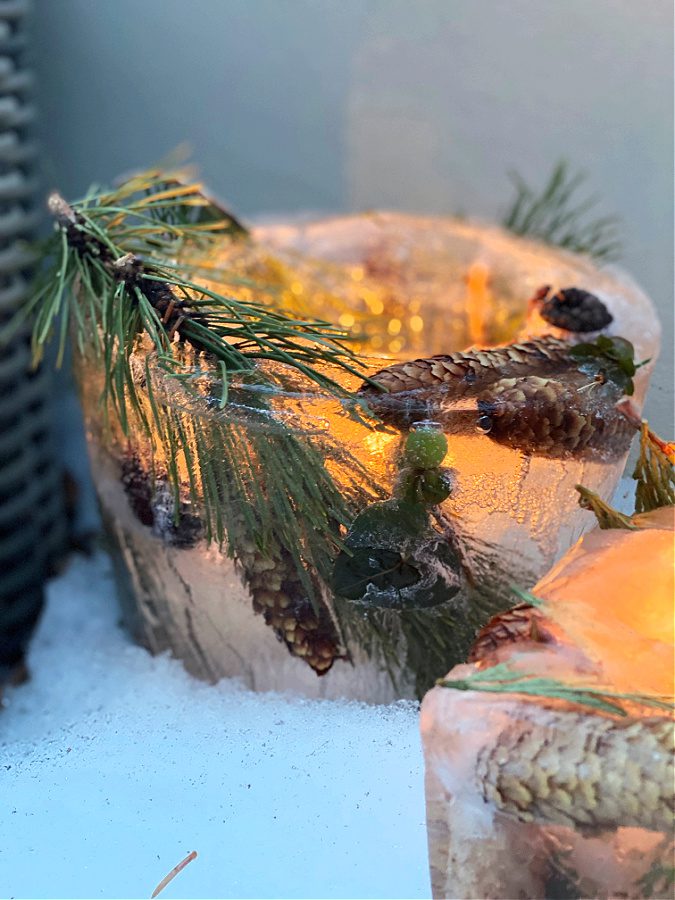 These simple and easy to make pinecone star ornaments have made their way not only on to my tree, but the garland on my banister as well. If you love natural Christmas crafts these are so simple to make and only require just a few simple materials that you most likely have on hand!
So if you love a good budget friendly project then you will most definitely enjoy these easy DIY star shaped pinecone ornaments. Plus, they are great all through the winter as well!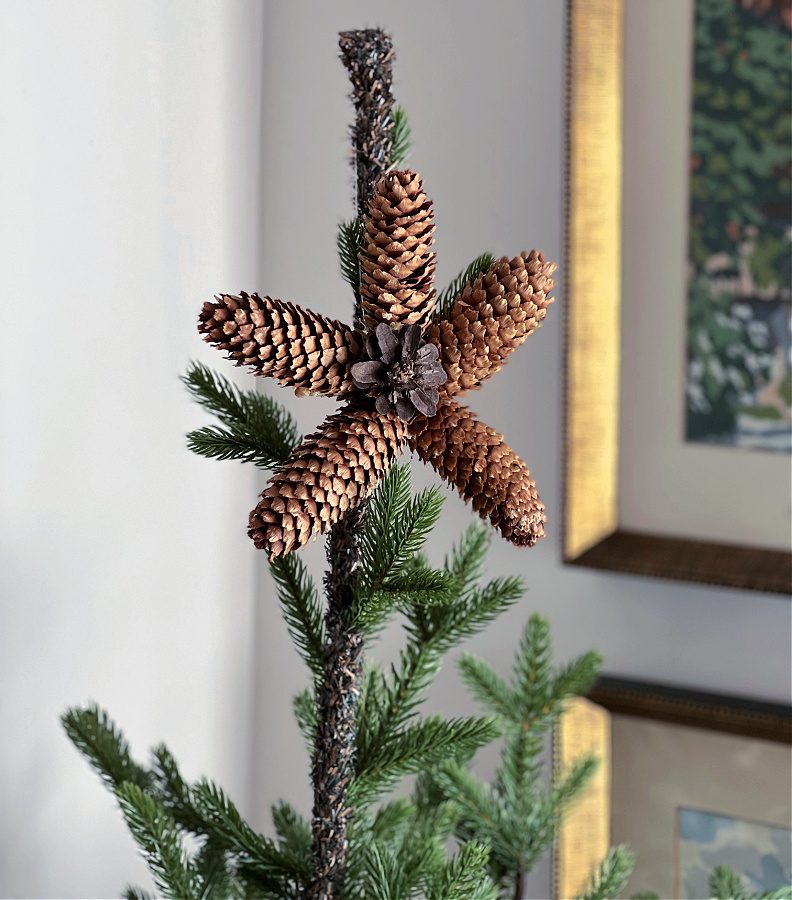 This wreath is my all time favorite wreath that I have ever made! I mean ever, and I have made a lot of wreaths! Ha But this one is my favorite because it is huge and makes a statement and it was affordable!
This natural wreath came together so effortlessly as I was able to make it using all natural materials that I had on hand. The red berries and a bit of faux ivy are the only parts not natural on my wreath. And the red is what made it really pop! You can read here all about how to make your own large outdoor Christmas wreath!
How Can I have a Natural Christmas?
One of the best ways to have a natural Christmas is by using natural decorations, such as natural Christmas ornaments. Natural ornaments are typically made from natural materials and can provide a special and unique look to your holiday decorations.
For example, natural pinecones like my ornaments above, make an attractive centerpiece with added string-of-lights and some fresh greenery draped over the mantle, while natural twigs can be used to hang natural holiday ornaments throughout your home.
You can also find and make natural wreaths, garlands, and other festive accents to use outside and inside your home as part of your natural Christmas decorations. With a little bit of creativity, you can create beautiful natural décor for your holiday celebration that will make everyone feel at ease in their natural environment!
How Can I decorate for Christmas Without Spending Money?
Decorating for Christmas doesn't have to break the bank! With a bit of creativity and rustic natural materials found around your home or in the outdoors, you can create beautiful natural Christmas decorations.
Start by using things like pinecones, fir sprigs, holly leaves, and evergreen boughs to make decorative centerpieces or beautiful natural-looking Christmas wreaths. Not only are these rustic décor elements surprisingly easy to craft with just a little guidance (and some wire!), but they look stunning without any added expense. Plus, rustic natural decorations are perfect for showing off the beauty of the winter season while decorating your home on a budget!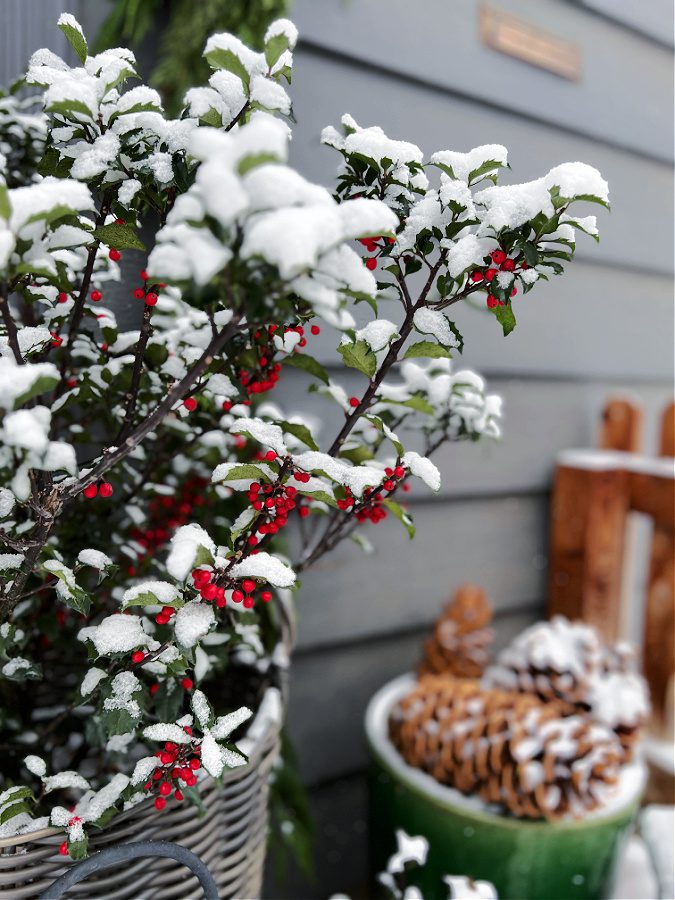 How can I decorate for Christmas using Naturals items?
Decorating for Christmas with rustic and natural items can be an incredible way to not just add charm to your home, but also save time and money.
You can create your own rustic natural decor by harvesting a variety of evergreen branches from outdoors or investing in various types of rustic woods from online. These type of rustic decorations will instantly make any area feel warm and inviting. This is perfect for guests during the holiday season.
If you're feeling extra crafty, you may want to consider making Christmas crafts using topiaries, holly sprigs, and pinecones. These can be used to decorate your walls and mantles.
Natural Items to use in Your Christmas Decor
Here is a list of some natural
Greenery from your yard
Pine cones from outdoors
Dried flowers
fruits and vegetables (pomegranates dry nicely, as do artichokes and orange slices)
branches
wood slices
berries
stones
moss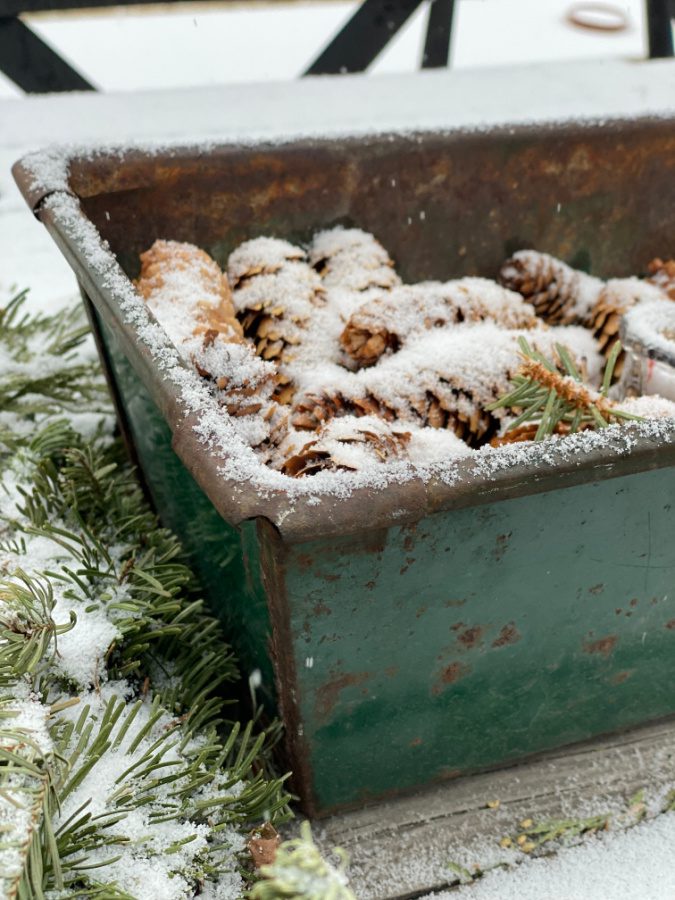 3 Natural Christmas Decorations You Can Make
With a little creativity, you can have a beautiful and festive Christmas without spending a lot of money. By using natural items that are readily available to you, such as branches, pine cones, and berries, you can create charming rustic decorations for your home. What natural items have you used in your Christmas decor? I'd love to see pictures!
I'd love to have you hang out with me some more! Feel free to follow along with me on any of the platforms linked below.
LTK | Facebook | Instagram | Pinterest | Amazon
xoxo,
Kelly
Thrifty Style Team
Redhead Can Decorate – 10 Christmas Decorating Ideas That Are Almost Free
Our Crafty Mom – 17 Easy to Make DIY Ornament Ideas
I Should Be Mopping the Floor – 7 Christmas Coffee Bars
The How to Home – Last Minute Christmas Crafts and Decor DIY's
DIY Beautify – 6 Thrifty Christmas DIY's Using Wood
2 Bees in a Pod – 40 Thrifty Christmas Ideas
The Tattered Pew – 3 Natural Christmas Decorations You Can Make
Cottage on Bunker Hill – DIY A Beautiful Christmas – My Best DIY Ideas to Try
Amy Sadler Designs – 7 Easy Homemade Gifts to Give at Christmas
Songbird – Simple Ideas for Outdoor Christmas Decorations
My Family Thyme – Simple DIY Christmas Crafts
Simple Nature Decor – DIY Christmas Mason Jar Snow Globe
Zucchini Sisters – 9 Christmas Craft Ideas for Adults
Sonya Burgess – Budget Crafts From Christmas Past
Did you like this post? PIN it for later!