Beautiful Outdoor Christmas Decorating Ideas
Are you looking for fun, festive and beautiful outdoor Christmas decorating ideas that won't break the bank? Look no further! Whether you have a small front porch or a sprawling backyard, I've got some simple yet stunning Christmas decorations to transform your outdoor space into an enchanting winter wonderland. Read on for inspiring ideas sure to help spread some holiday cheer.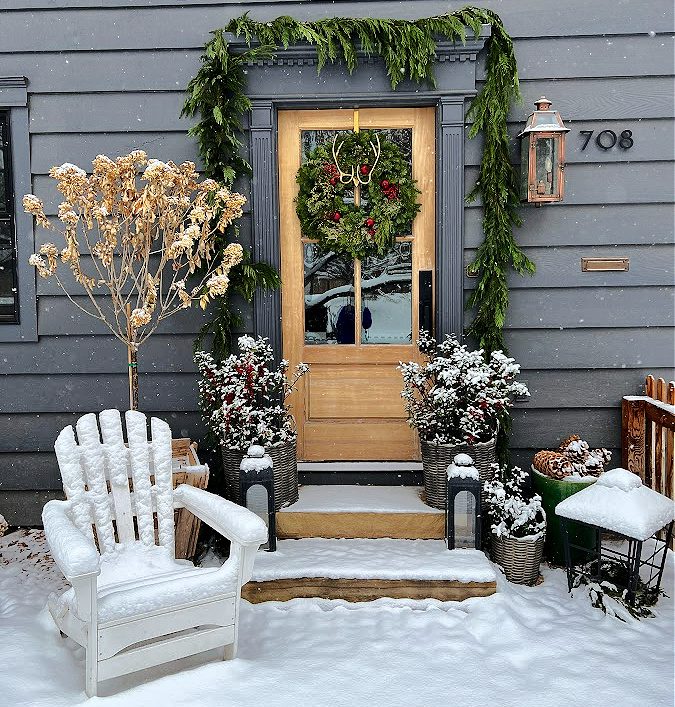 *As an Amazon Associate, I earn from qualifying purchases. This post contains other affiliate links too for your convenience. Click here to read my full disclosure policy.
Christmas Porch Inspiration Blog Hop
Today I am so excited to be joining a very fun and festive Christmas Porch and Outdoor Inspiration blog hop hosted by my friend Rachel of The Ponds Farmhouse. Rachel has one of my all time favorite porches and it is pure magic at Christmas. She has gathered up 9 total bloggers sharing their outdoor Christmas spaces today and you are in for a treat!
If you are stopping in from Kim of Shiplap and Shells and her darling front porch, welcome! After you browse my steps make sure to visit the other homes all linked below!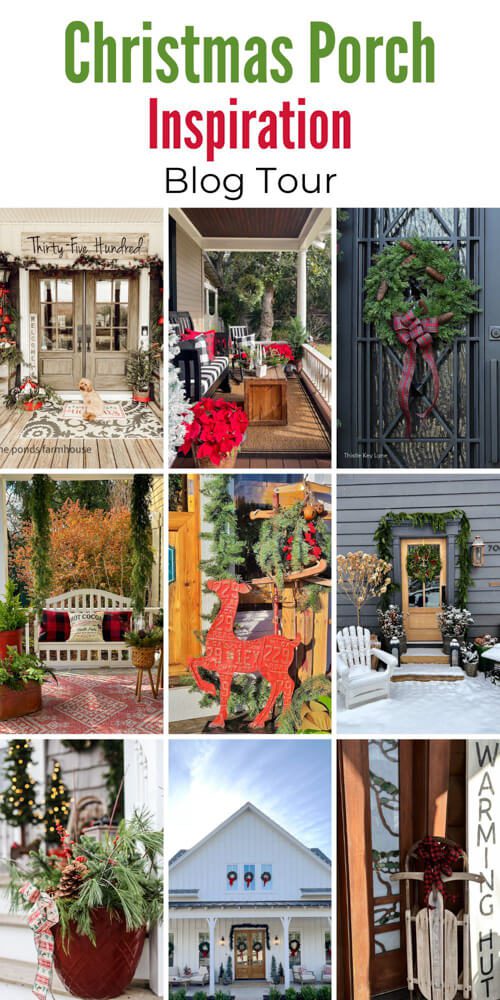 Welcome to our front steps! I'm Kelly and I live in Colorado in a lovely 1960's house that has been updated inside and out.
Our exterior color is Peppercorn by Sherwin Williams and I love how it contrasts against our wood front door. If you want to take a peek inside feel free to visit our red and green Christmas home tour!
Beautiful Outdoor Christmas Decorating Ideas
This is our second Christmas in this home and last year I enjoyed decorating our front steps but this year, I loved decorating them! I hope this post will inspire you with some beautiful outdoor Christmas decorating ideas.
Below is a peek back at last year's steps. You might see that I reused a few of the same items this year. That is one of my favorite ways to save money!
It has been a fun new challenge since we previously had a front porch. The one thing I do miss about our former porch is that I was able to have my pew outside. You can see our Christmas porch from our last home below! On that pretty pew, which is now in our new backyard, is my all time favorite wreath that I have ever made! (see the tutorial here)
And here is this year's steps decorated for Christmas!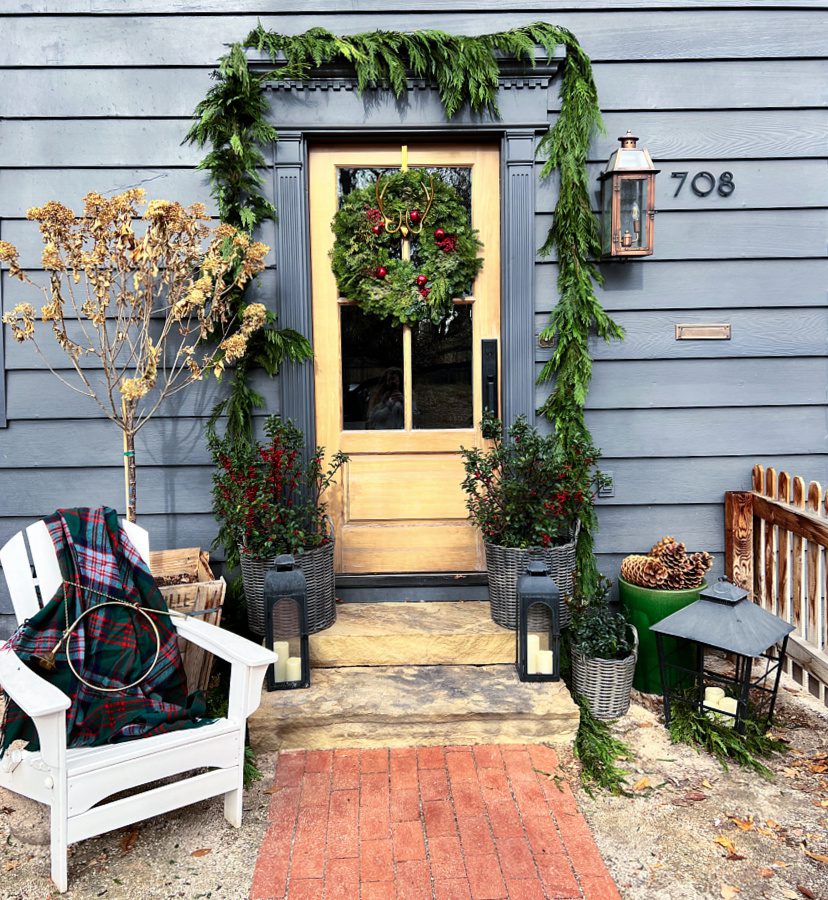 Real or Faux Greenery at Christmas
This year, like last year, I decided to use real greenery around our front door. I found my beautiful fresh garland at O'Tooles Garden Center. They had an amazing selection and I fell in love with their cedar variety.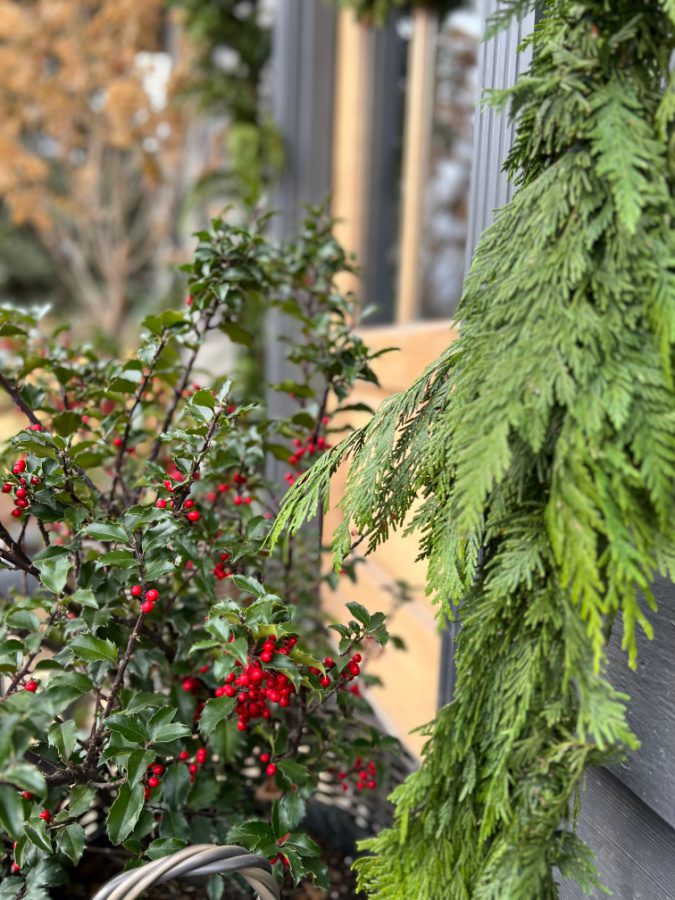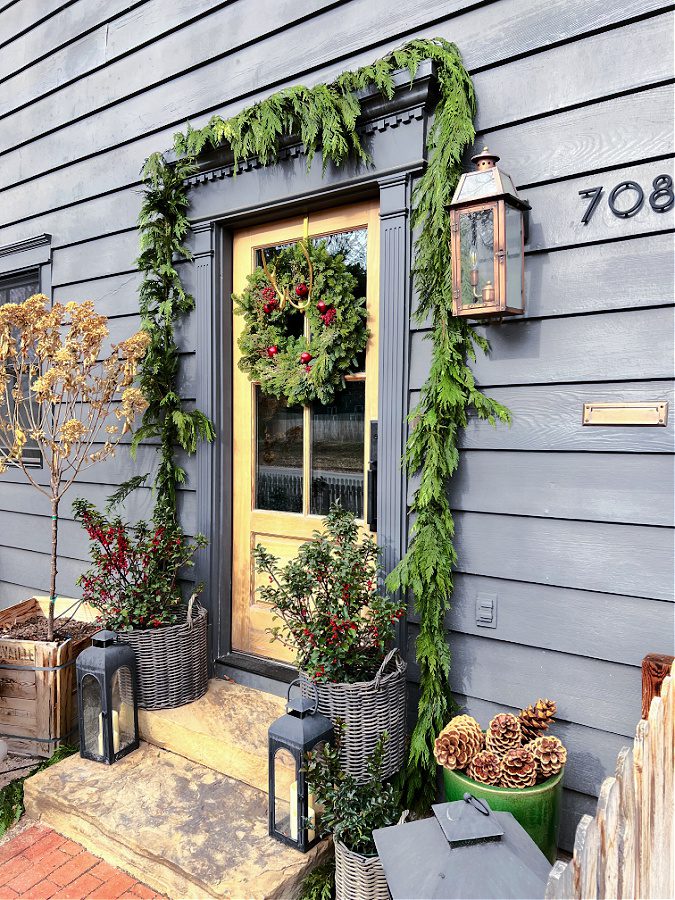 I also opted for a wreath, also from O'Tooles, this year on the door and I love it! It has some faux pomegranates on it as well as berries and a beautiful mix of greenery. For a fun touch I hung it on a gold antler wreath hanger that I have had forever. I get asked about it often but I can't find this exact one, but I did find this similar one for you!
The red picks up the red in the holly plants below and gives a slight nod to the traditional Christmas colors.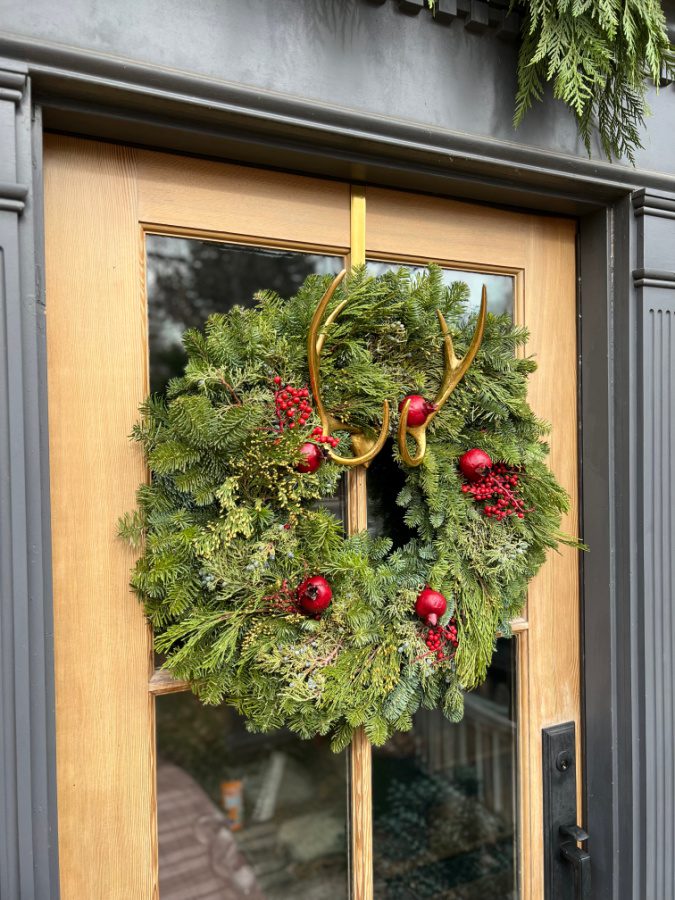 Add Seasonal Plants that you Can Keep
I also surprised myself and picked up two holly plants. Their red berries were too pretty to pass up and I knew they would add a fun pop of color to our steps. I even snapped a pretty picture of the holly after it snowed! Aren't they beautiful in these outdoor baskets?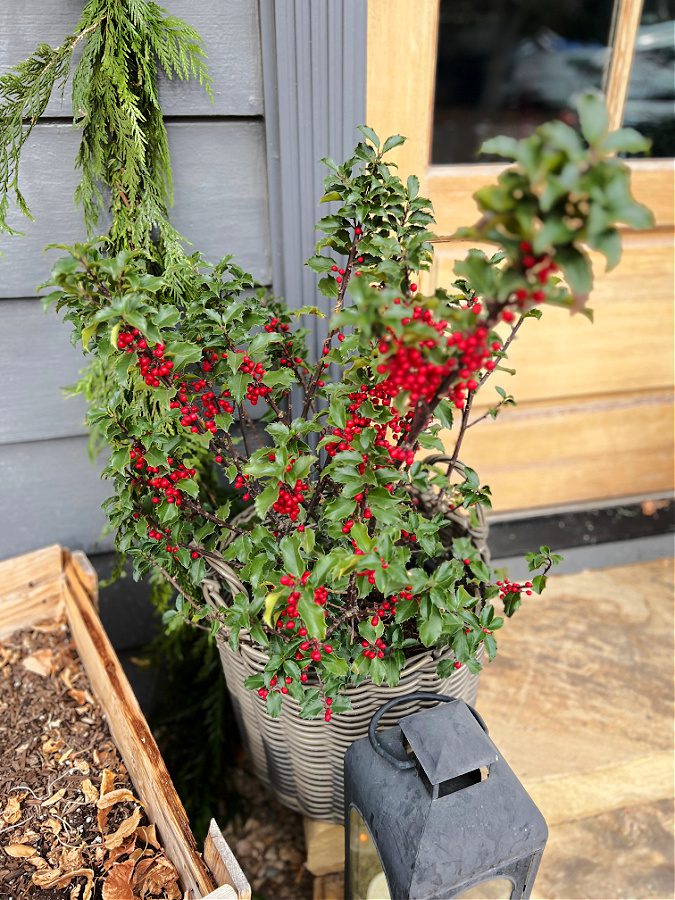 These plants will be able to be planted in our yard (even in the winter) after they live on our porch for awhile. I am so excited to add them to our garden.
Simple Outdoor Decor Touches
Besides the greenery and plants I always like to add a few simple decor pieces that feel like Christmas. This year I grabbed a wool plaid blanket that I found at a flea market and draped it over our polyword adirondack chair. It adds color and pattern to this area that greets you as you walk up to our home. I also added an old brass horn I found at a thrift shop.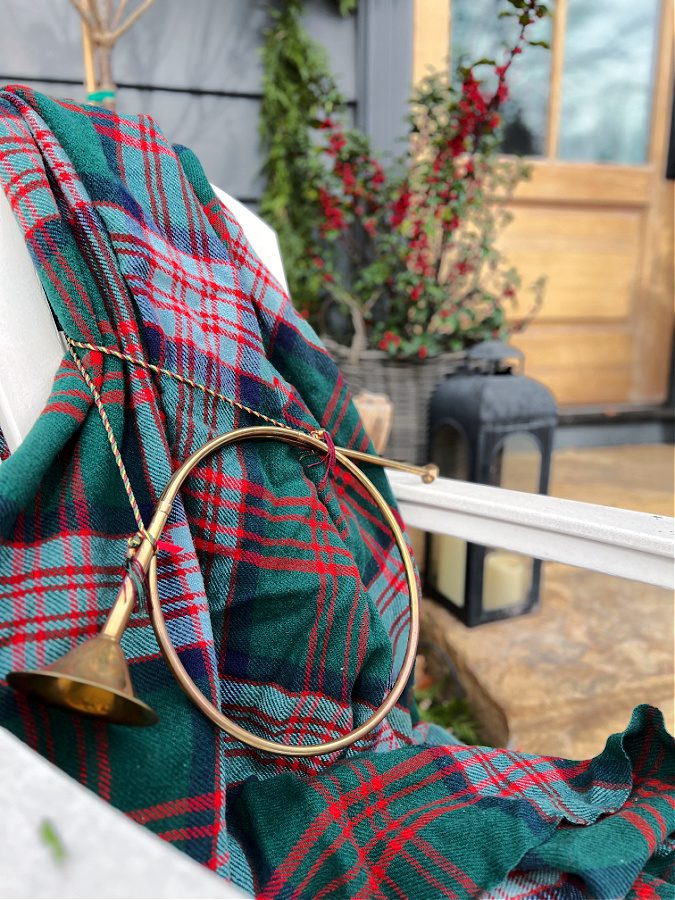 Over on the steps I layered in my favorite black lanterns from Walmart along with some battery operated outdoor candles. They look so pretty at night!
Nothing too fancy and nothing that I will worry about if it snows!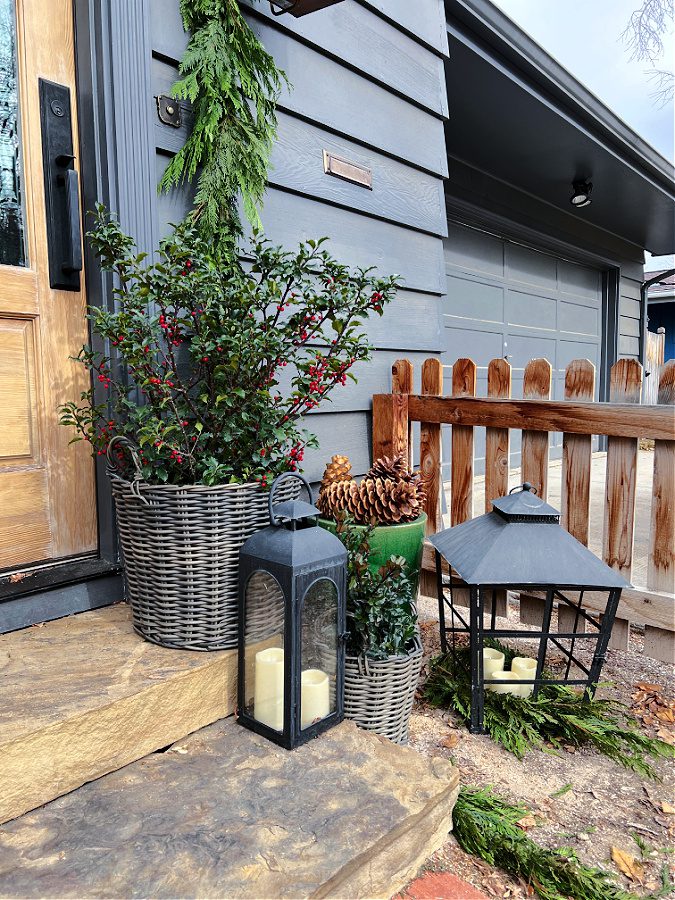 The pinecones I have collected from our yard and the large sugar pinecones I bought at a flea market. They are simply set on a green pot and add some lovely texture. They will stay out all winter!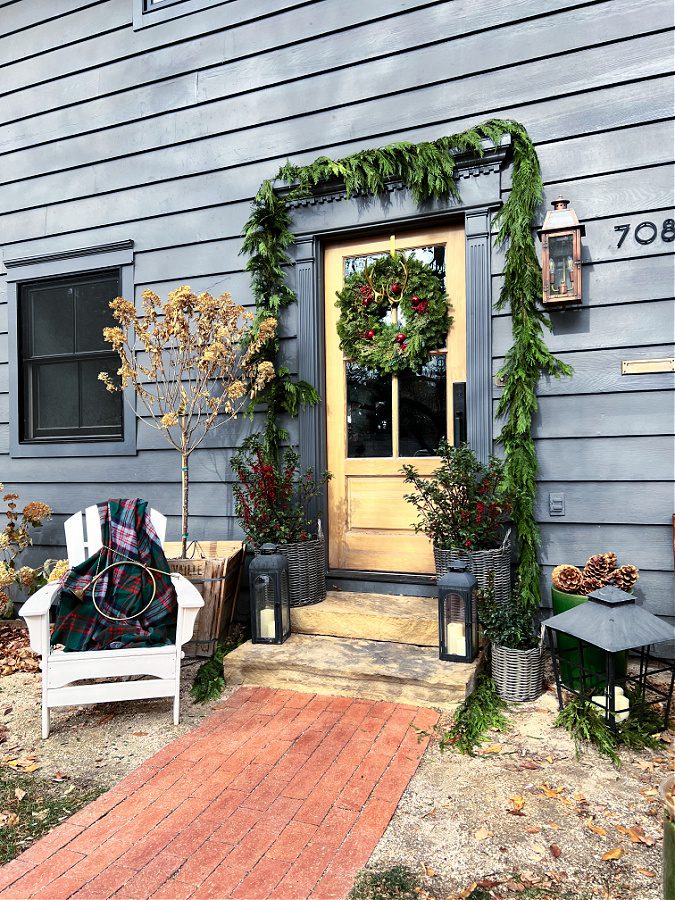 How Do you Decorate Outdoors for Christmas Cheap?
Ok, I'll be honest. I don't really like the word cheap but I do like to keep things budget friendly. So I thought I would share those tips with you.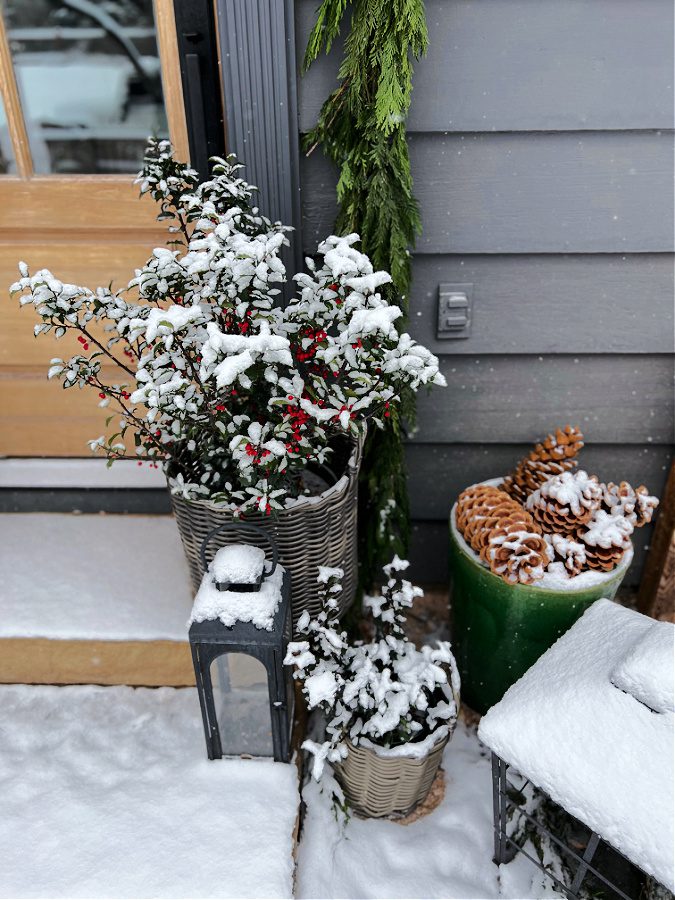 Having a beautiful yard of decorations for Christmas doesn't have to be expensive. There are plenty of creative, budget-friendly ways to dress up your outdoor space for the festive season. Get your front yard in the Christmas spirit with homemade garlands, DIY ornaments and reused holiday decorations. Look no further than your local thrift store or dollar store for cheap finds to add life and color to your display. Beautiful outdoor Christmas decorating ideas don't have to break the bank – they just take a bit of resourcefulness and planning!
re-use items
share and rotate decor with friends or family members
purchase pieces that can be used year after year
shop for Christmas decor during the off season
Find items at thrift stores, garage sales or flea markets
use greenery, twigs and natural materials from around your yard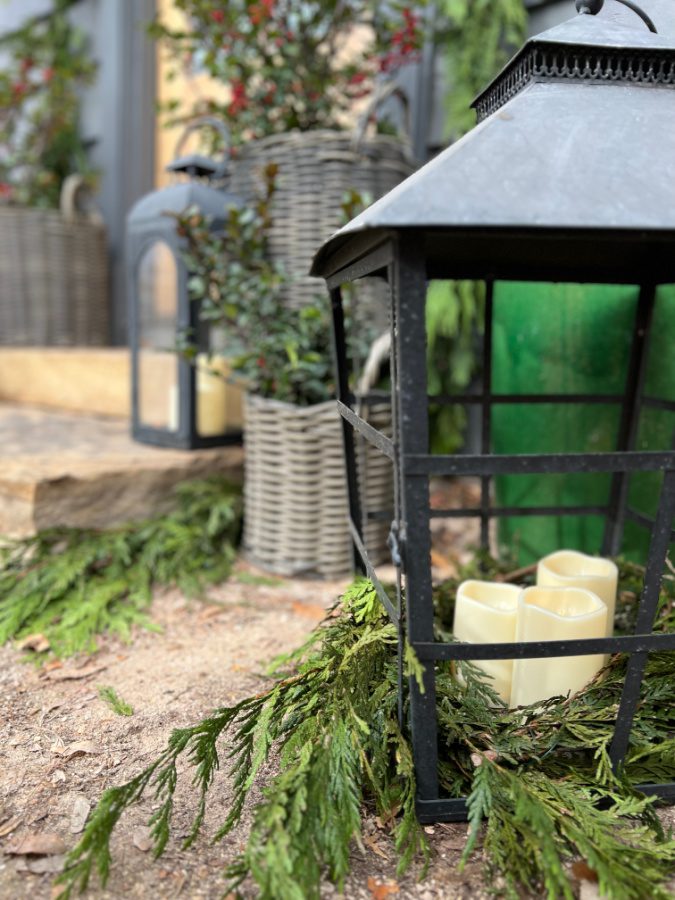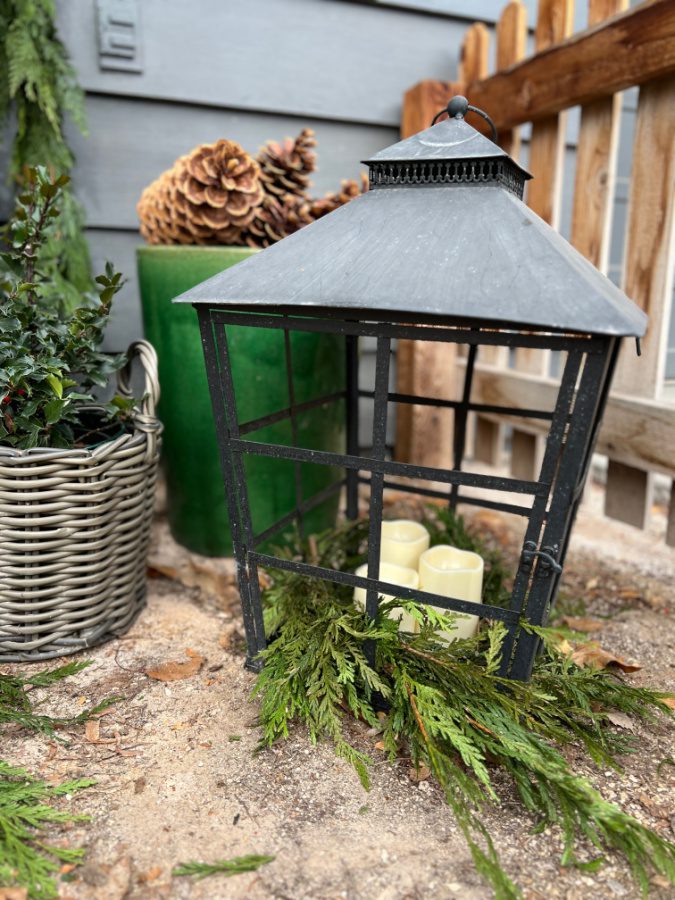 I still plan to add some light around the door and garland. But for now I am in love with the simple beauty of our outdoor space decorated for Christmas. Whether it's covered in snow or not, I hope it gives that welcome feeling I want all our visitors to feel.
Beautiful Outdoor Christmas Decorating Ideas
And that my friends was the tour! My hope is that you were able to find a few beautiful outdoor Christmas decorating ideas that you can incorporate yourself! Do you have steps, a porch or patio or somewhere else you decorate for Christmas that is outdoors? I'd love to know, leave me a comment at the end of this post!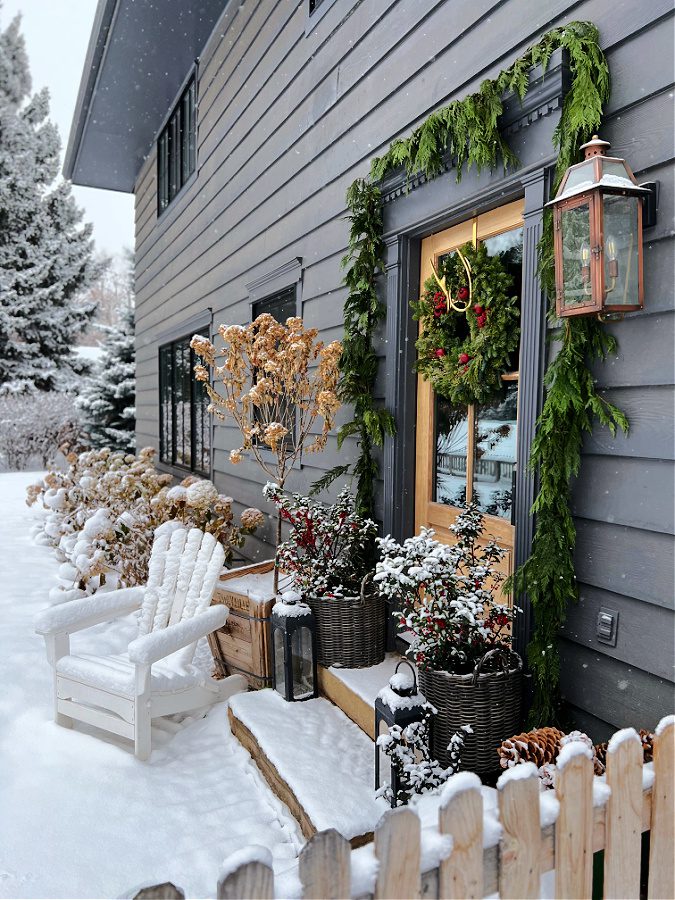 Now make sure to continue the hop by stopping by my friend Jen's post from Cottage on Bunker Hill and her lovely New England front porch! Then scroll down for the links to the other outdoor spaces decorated for the holidays.
I'd love to have you hang out with me some more! Feel free to follow along with me on any of the platforms linked below.
LTK | Facebook | Instagram | Pinterest | Amazon
xoxo,
Kelly
Christmas Porch Inspiration Blog Tour
Click the highlighted link below each image to follow along on the tour.
Rachel at The Ponds Farmhouse / Wendy at WM Design House / Michelle at Thistle Key Lane
Stacy Ling at Bricks N Blooms / Kim at Shiplap and Shells / Kelly at The Tattered Pew
Jennifer at Cottage on Bunker Hill / Jessica at Old Barn Company / Kristin at White Arrows Home
Did you like this post? PIN it for later!