How To Make Heart Shaped Soap for Valentine's Day
Have you ever wanted to know how to make heart shaped soap for Valentine's Day? Let me walk you through the simple steps for this darling little gift that will leave you and your friends feeling loved. Plus, grab the bonus freebie printable to help wrap up the darling soaps.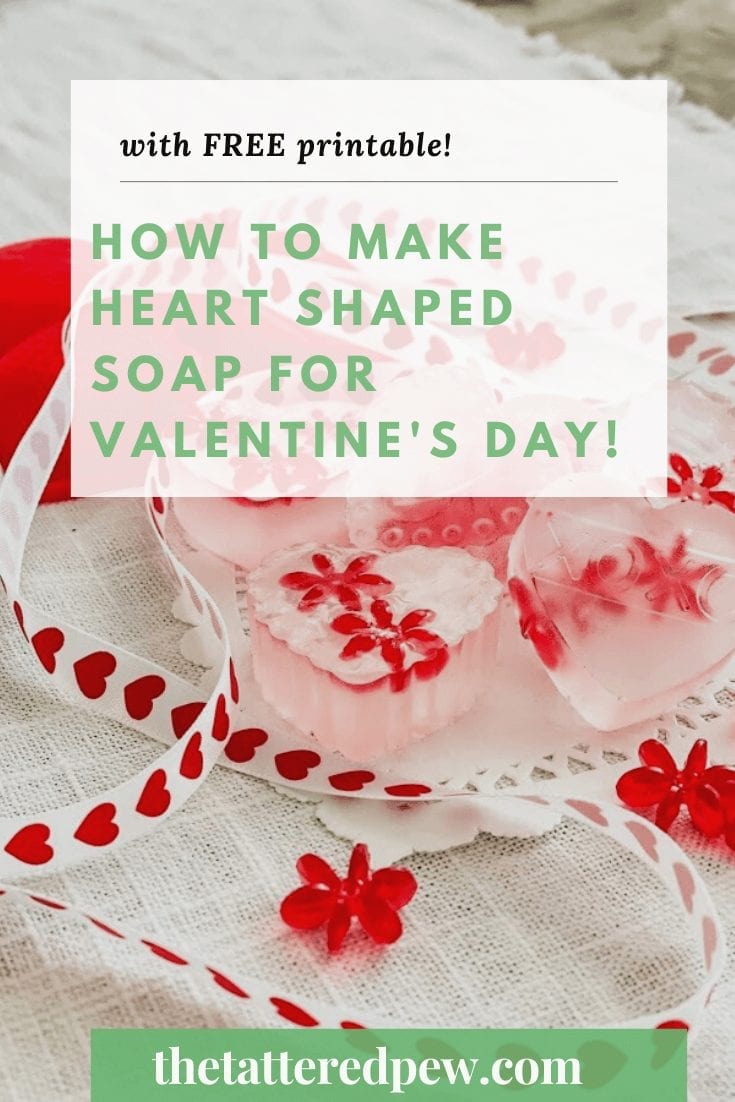 This post contains some affiliate links for your convenience. Click here to read my full disclosure policy.
In honor of today being February 1st and Valentine's Day being just a few weeks a way I have joined two other lovely blogger friends for a fun Sweet Valentine's Day Hop! If you are coming over from Leigh's blog The Little By Little Home and her family Valentine's celebration, welcome! Now let me show you what I have been up to!
How To Make Heart Shaped Soap or Valentine's Day
Well friends like I said above it's that time of year…love is in the air and Valentine's Day is right around the corner. If you remember my post about the easy homemade Christmas soaps for kids, well guess what…we are at it again. But this time with a twist! If you are looking for a hands on, creative and thoughtful Valentine's Day gift to make then you will LOVE these heart shaped soaps and so will your kids!
The best part is…they are super simple to make!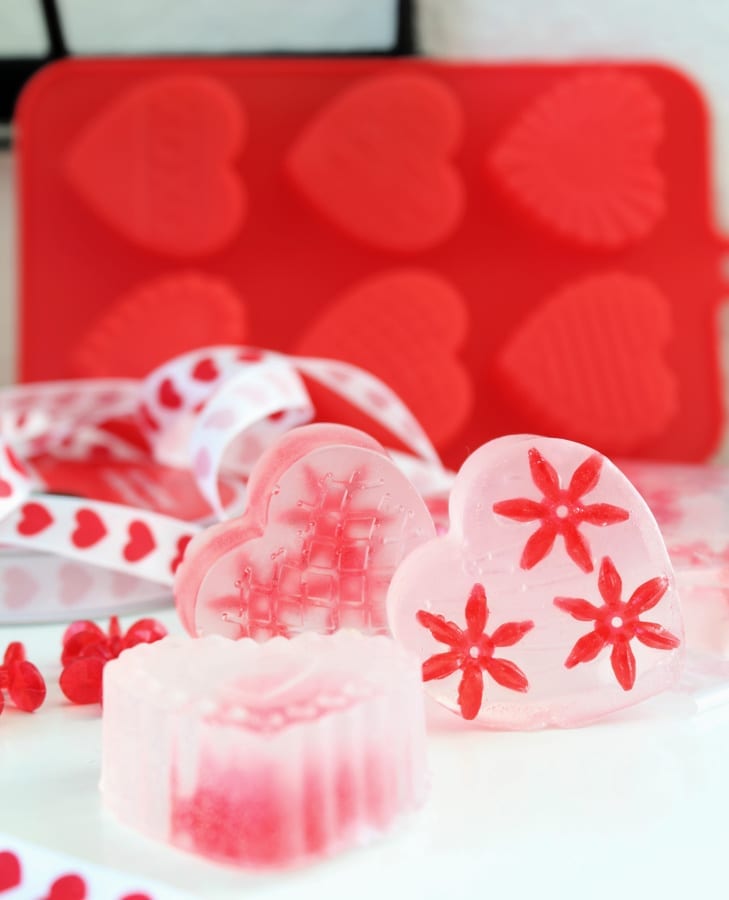 Soap Making Supplies
glycerin
silicone heart shaped candy molds
microwave
beads
stir stick
cellophane bags
stapler
Shop The Post

Making The Heart Shaped Soaps
My oldest daughter is the soap making expert and has taught me everything she knows. We thought it would be fun to make mini heart shaped soaps to give to her friend's and the students in my class for Valentine's Day. So when we spotted some silicone heart shaped candy molds at Michael's we knew we had hit the jackpot!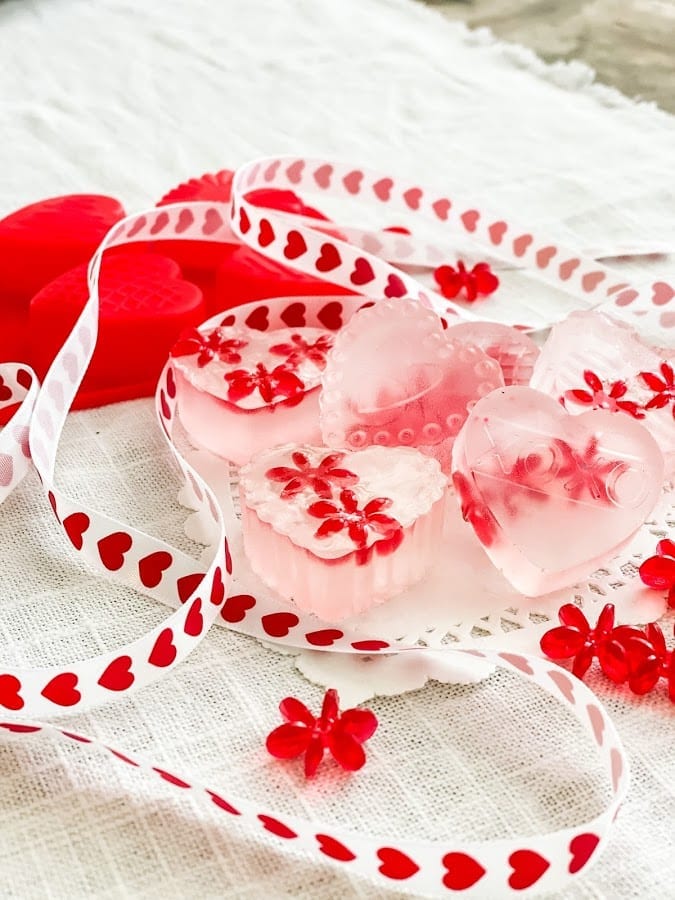 Getting Started
First, we got out our block of glycerin and cut it into small pieces. We melted the pieces in the microwave heating them in 25 second increments until they were completely melted. We used a stir stick to make sure the glycerin was fully melted.
Next, we poured the melted glycerin into the heart shaped molds and added in some fun red beads! We let the soaps sit for a couple of hours. Once they were firm we popped them out of the molds. They were so cute!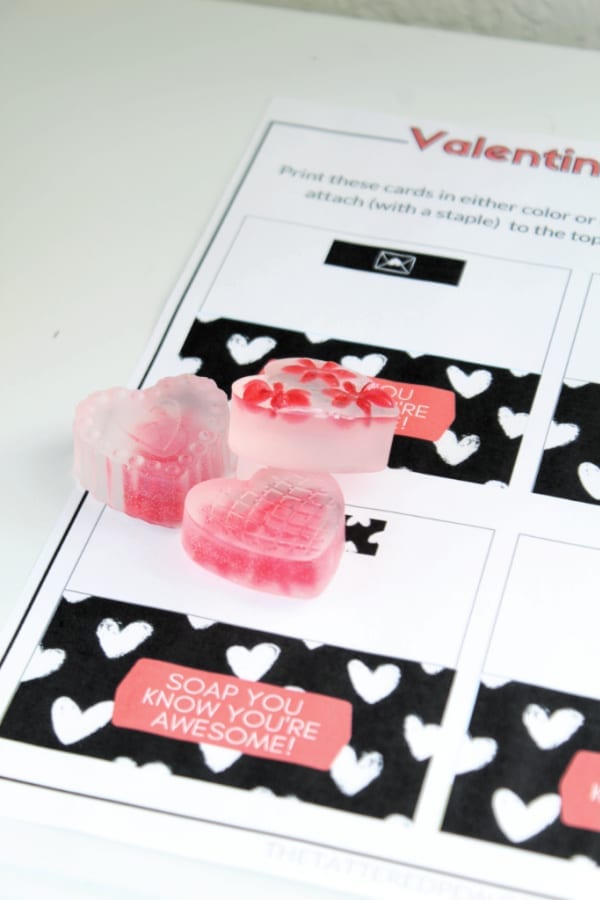 Packaging Up The Heart Shaped Soaps
I wanted to find a fun way to package up the soap so I created a printable that goes along with the soap theme! The printable says: Soap You Know You're Awesome! Pretty cute huh? My husband helped me come up with it!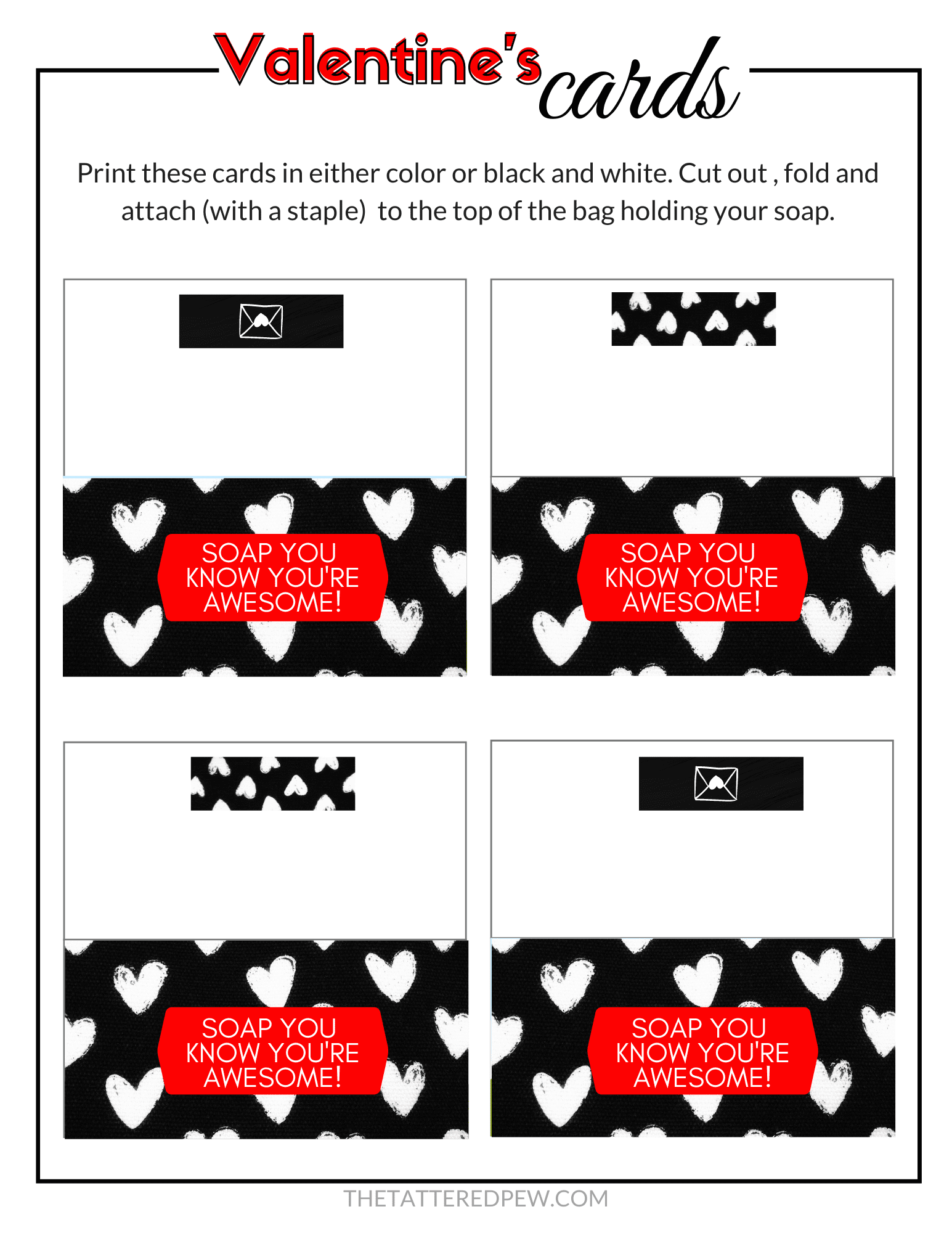 All you have to do is print out the printable Valentine's, fold them in half and staple them over the top of the cellophane bag holding the soap. Adorable right?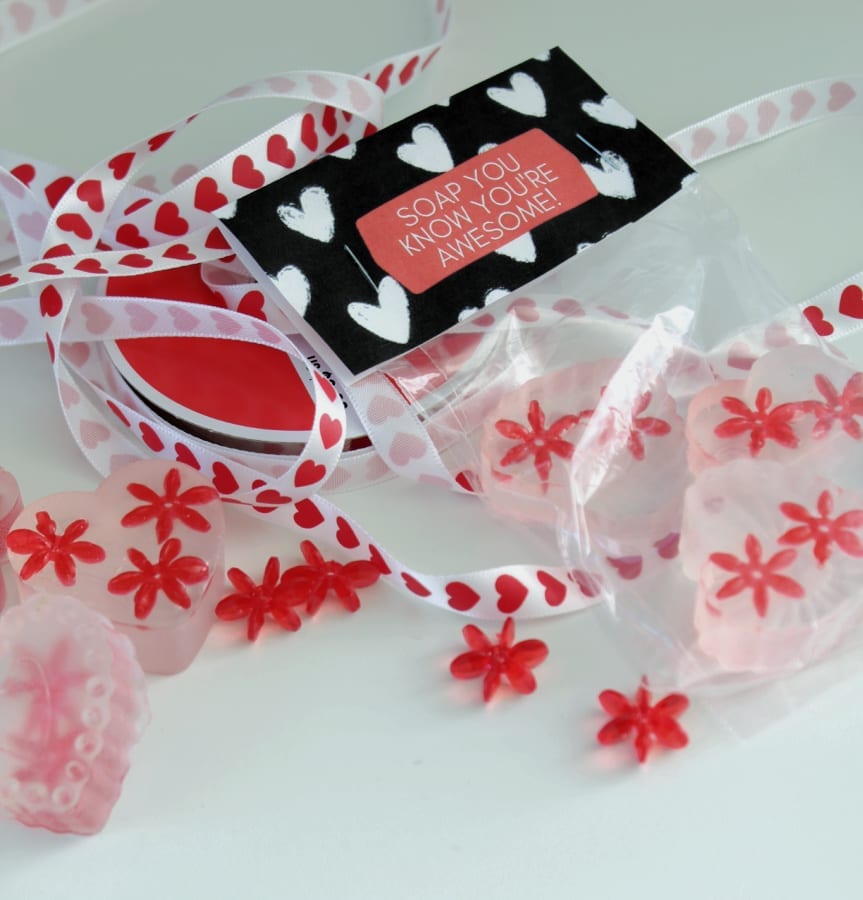 Oh and don't forget to sign the printable on the back so your friends know who made them!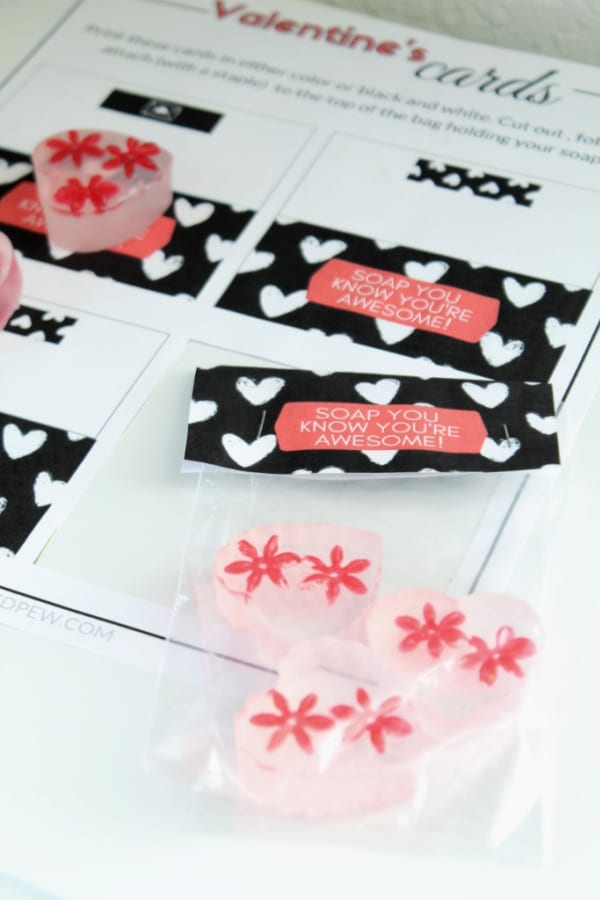 And that's it! Once you have them all packaged up they are ready to hand out. You can add one, two or three heart shaped soaps to each package depending on how many you want to make.
The perfect handmade gift for your favorite Valentine. Made with love! My daughter and I are both so excited to hand them out. There is something so special about handmade gifts!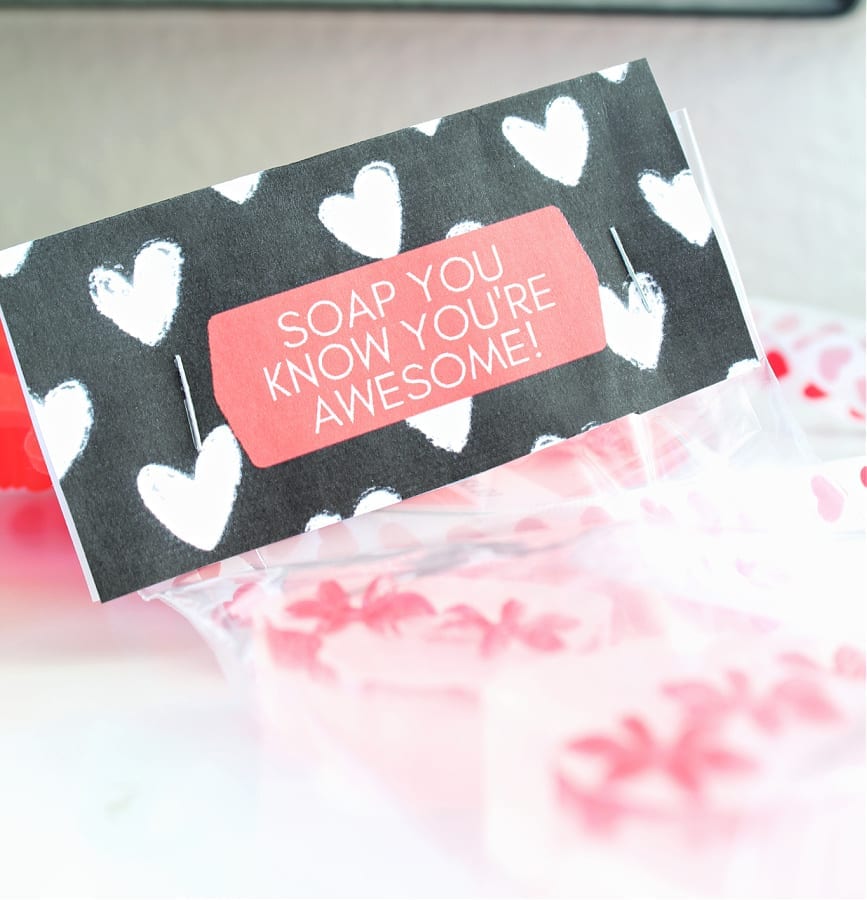 How To Make Heart Shaped Soaps
Hopefully this was a helpful tutorial and you and your family will enjoy learning how to make heart shaped soap for Valentine's Day! Plus, I hope you enjoy the free printable as a little gift from me to you …just to say thank you for stopping by the blog! Let me know what you think or if you have any questions.
Now make sure to hop on over to Jen at Jenron Designs to read all about her Valentine's Day Advent!
Happy Valentine's Day friends!
XOXO,
Kelly
Jenron Designs / The Little by Little Home / The Tattered Pew
Did you like this post? PIN it for later!